Asus has improved upon an already proven motherboard by offering RAID on the SATA 3 controller which the original motherboard lacked. Say hello to the P6X58D-E.
Introduction
A little while ago Tony Chartland did an excellent review on a motherboard from Asus. It just so happens that Asus made an improved version of this motherboard. On the surface, both of these motherboards look identical. Both of these motherboards also contain the same exact feature. But as they say in this business, there is more to it than just looks; it is what's on the inside that counts. That is what we over at Bjorn3D.com going to find out.
That motherboard is none other than the Asus P6X58D. As I mentioned Tony Chartland did an excellent job on reviewing the original motherboard (located HERE). The motherboard we going to look at is the improved Asus P6X58D-E.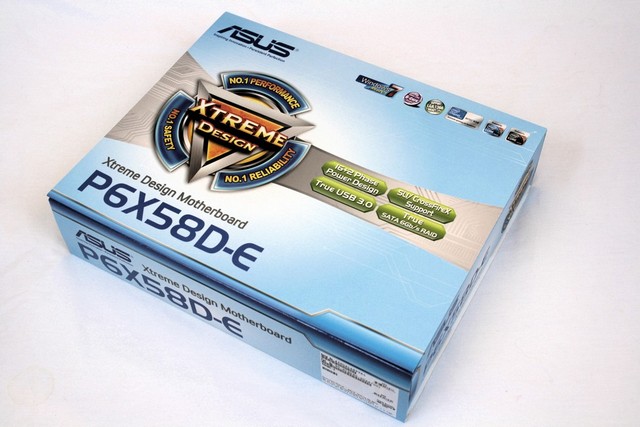 Let's fire up "Mini Me", throw on the proven Core i7 930 CPU, and start pushing buttons, and see exactly how far this motherboard will go.
Features
CPU, Chipset and Graphics features
LGA1366 Intel® Bloomfield Processor Ready
This motherboard supports the latest Intel® Core™ i7 processors in LGA1366 package with integrated memory controller to support 3-channel (6 DIMMs) DDR3 memory. Supports Intel® QuickPath Interconnect (QPI) with a system bus of up to 6.4 GT/s and a max bandwidth of up to 25.6 GB/s. Intel® Core™ i7 processor is one of the most powerful and energy efficient CPUs in the world.
3-Way SLI and Quad-GPU CrossFireX Support!
Flexible Multi-GPU solutions, Your Weapon of Choice!
The P6X58D-E breaks the boundaries to bring you the multi-GPU choice of either SLI™ or CrossFireX. The motherboard features a dedicated graphics engine on the most powerful Intel X58 platform to optimize PCIe allocation in multiple GPU configurations. Expect a brand-new gaming style you've never experienced before!
Intel X58
The Intel® X58 Express Chipset is one of the most powerful chipset designed to support the Intel® Core™ i7 Processors with LGA1366 package and Intel® next generation system interconnect interface, Intel® QuickPath Interconnect (QPI), providing improved performance by utilizing serial point-to-point links, allowing increased bandwidth and stability. It also supports up to 36 PCI Express 2.0 lanes providing better graphics performance.
PCIe 2.0
Double Speed; Double Bandwidth
This motherboard supports the latest PCIe 2.0 devices for double speed and bandwidth which enhances system performance.
Specifications
CPU
Intel® Socket 1366 Core™ i7 Processor Extreme Edition/Core™ i7 Processor
Supports Intel® Turbo Boost Technology
Chipset
Intel® X58 / ICH10R
System Bus
Up to 6400 MT/s ; Intel® QuickPath Interconnect
Memory
6 x DIMM, Max. 24 GB, DDR3 2000(O.C.)*/1600/1333/1066 Non-ECC,Un-buffered Memory
Triple channel memory architecture
Supports Intel® Extreme Memory Profile (XMP)
*Hyper DIMM support is subject to the physical characteristics of individual CPUs.
*Refer to www.asus.com or this user manual for the Memory QVL (Qualified Vendors Lidts).
Expansion Slots
3 x PCIe 2.0 x16 (at x16/x8/x8 or x16/x16/x1 mode)
1 x PCIe x1
2 x PCI
Multi-GPU Support
Supports NVIDIA® 3-Way SLI™ Technology
Supports ATI® Quad-GPU CrossFireX™ Technology
Storage
Intel ICH10R controller
6 xSATA 3.0 Gb/s ports
Intel Matrix Storage Technology Support RAID 0,1,5,10
Marvell® 9128 PCIe SATA 6Gb/s controller (Drive Xpert Technology)
– 2 x SATA 6.0 Gb/s ports (gray)
– Supports EZ Backup and SuperSpeed functions
LAN
Gigabit LAN controller Marvell 88E8056® PCIe Gigabit LAN controller featuring AI NET2
Audio
Realtek® ALC889 8-Channel High Definition Audio CODEC
– DTS Surround Sensation UltraPC
– BD audio layer Content Protection
– Supports Jack-Detection, Multi-streaming, Front Panel Jack-Retasking
– Coaxial / Optical S/PDIF out ports at back I/O
IEEE 1394
VIA® VT6308P controller 2 x 1394a port(s) (one at mid-board; one at back panel)
USB
NEC® USB 3.0 controller
– 2 x USB 3.0/2.0 ports (at back panel)
Intel® ICH10R Southbridge
– 8 x USB 2.0/1.1 ports (4 ports at midboard; 4 ports at back panel)
ASUS Unique Features
True USB 3.0 Support
True SATA 6Gb/s RAID Support
ASUS Xtreme Design
ASUS Xtreme Phase
– ASUS 16+2 Phase Power Design
ASUS Exclusive Overclocking Features
– ASUS TurboV
ASUS Exclusive Features
– MemOK!
– ASUS EPU
– Express Gate
ASUS Quiet Thermal Solution
– ASUS Fanless Design: Heat-pipe solution
– ASUS Fanless Design: Stack Cool 3+
– ASUS Fan Xpert
ASUS Crystal Sound
– ASUS Noise Filter
ASUS EZ DIY
– ASUS Q-Design: Q-Slot
– ASUS Q-Shield
– ASUS Q-Connector
– ASUS O.C. Profile
– ASUS CrashFree BIOS 3
– ASUS EZ Flash 2
– ASUS MyLogo 2
– Multi-language BIOS
Overclocking Features
Intelligent overclocking tools
– ASUS TurboV
Precision Tweaker 2
– vCore: Adjustable CPU voltage at 0.00625V increment
– vCPU PLL: 36-step reference voltage control
– vDRAM Bus : 49-step DRAM voltage control
– vChipset(N.B.) : 31-step chipset voltage control
– vNB-PCIe : 65-step chipset-PCIe voltage control
SFS (Stepless Frequency Selection)
– PCI Express frequency tuning from 100MHz up to 180MHz at 1MHz increment
– Internal Base Clock tuning from 100MHz up to 500MHz at 1MHz increment
Overclocking Protection
– ASUS C.P.R.(CPU Parameter Recall)
Back Panel I/O Ports
1 x IEEE 1394a
1 x LAN(RJ45) port
8 -Channel Audio I/O
1 x PS/2 Keyboard (Purple)
1 x PS/2 mouse port (Green)
1 x Clear CMOS button
1 x Coaxial S/PDIF Output
1 x Optical S/PDIF Output
2 x USB 3.0/2.0 ports
4 x USB 2.0/1.1 ports
Internal I/O Connectors
2 x SATA 6.0 Gb/s connectors (gray)
6 x SATA 3.0 Gb/s connectors (blue)
2 x USB connectors support additional 4 USB 2.0/1.1 ports
1 x CPU Fan connector
3 x Chassis Fan connectors (1 x 4-pin, 2 x 3-pin)
1 x Power Fan connector
1 x IEEE1394a connector
Front panel audio connector
1 x S/PDIF Out Header
1 x CD audio in
24-pin ATX Power connector
8-pin ATX 12V Power connector
System Panel(Q-Connector)
1 x MemOK! Button
1 x Power on switch
BIOS
16 Mb Flash ROM , AMI BIOS, PnP, DMI 2.0, WfM 2.0, SM BIOS 2.3, ACPI 2.0a, Multi-language BIOS, ASUS EZ Flash 2, ASUS CrashFree BIOS 3
Manageability
WfM 2.0,DMI 2.0,WOL by PME,WOR by PME,PXE
Accessories
User's manual
4 x Serial ATA 3.0Gb/s cables
2 x Serial ATA 6.0Gb/s cables
ASUS Q-Shield
2 in 1 Q-connector
1 x ASUS 3-Way SLI bridge connector
1 x ASUS SLI bridge connector
Support Disc
Drivers
Anti-virus software (OEM version)
ASUS Update
ASUS Utilities
Form Factor
ATX Form Factor
12 inch x 9.6 inch ( 30.5 cm x 24.4 cm )
Packaging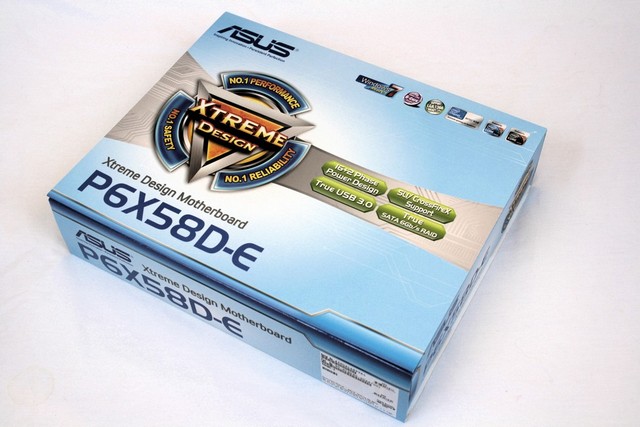 In typical Asus style, the packaging is colorful, it informs the end user exactly what is inside of the packaging, and what the product is fully capable of doing. Now the only thing I can see that is different from the original P6X58D motherboard, and this motherboard the P6X58D-E, is the original P6X58D did not support RAID on the 6Gb/s controller.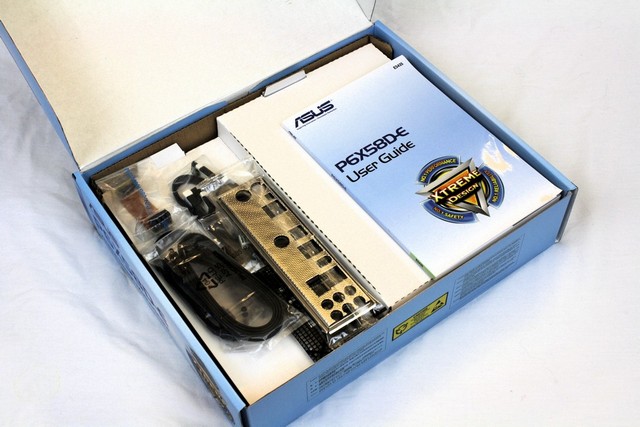 Asus decided to keep the contents of this packaging pretty simple. What we get with the P6X58D-E motherboard is, four standard SATA 3Gb/s cables, two SATA 6Gb/s cables, a rear IO shield. We also get a single SLI ribbon, tri SLI ribbon, then finally a user manual with a driver disk. Nothing fancy, just the bare essentials.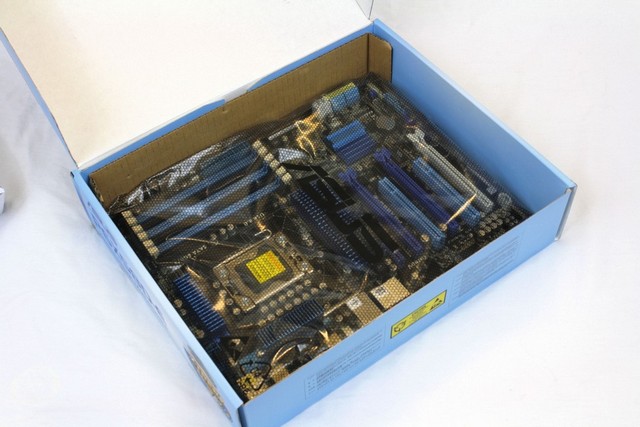 Removing the upper cardboard separator, and all of the added extras, we get to see the motherboard all peaceful like. But like everything else I review, that will soon change.
Overview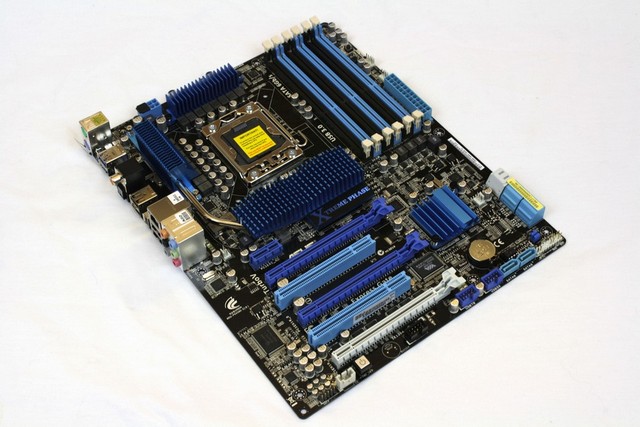 Time for us to start the overview of the P6X58D-E motherboard, so far I like the overall layout of this motherboard.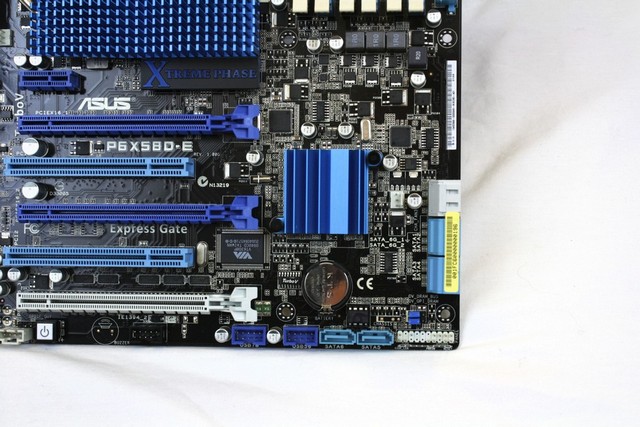 Starting off on near the ICH10R south bridge, on the leading front edge of this motherboard, we see that Asus places four standard SATA 3 Gb/s connectors, and two SATA 6 Gb/s connectors. To the bottom end corner of the motherboard, we have the front IO port connectors; then right behind the front IO connectors we can see the last two native SATA 3 Gb/s connectors. This design I have seen before previously with the Asus Sabertooth 55i motherboard (review can be found HERE). Right directly behind the SATA 6 Gb/s connectors we can see fan header #1, counting them as I see them.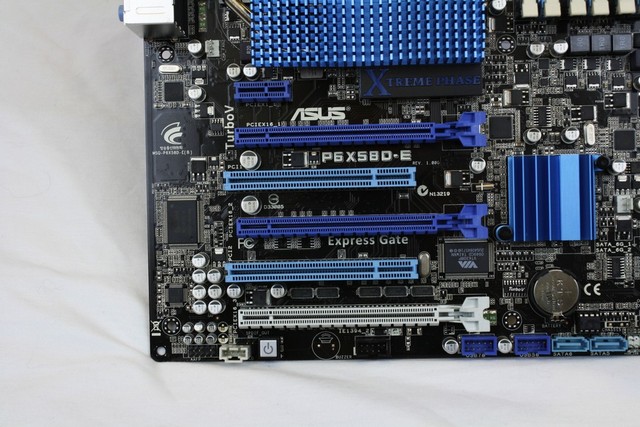 Moving our way towards the backside of the P6X58D-E motherboard, we can see two front USB headers, an extra front 1394 FireWire header, then a on-board on/off power switch. Now the placement of this power switch, and the two SATA 3 Gb/s connectors on the bottom edge of this motherboard, got me scratching my head. Counting up the PCI-E ports, from the top to bottom, Asus includes a PCI-E x1 port, followed by a PCI-E x16 VGA port, a PCI expansion port. Continuing on, we get another PCI-E x16 VGA port, followed again by a PCI port, too lastly a PCI-E x8 VGA port. The nature of the X58 chipset, it only supports two full x16 PCI-E video cards, or one full x16 PCI-E with two x8 PCI-E ports if all PCI-E ports are used with VGA cards. So far I am really starting to like this motherboards layout, I will explain this a bit more later. Just right above the IOH heat-sink (North Bridge) we can see fan header #2.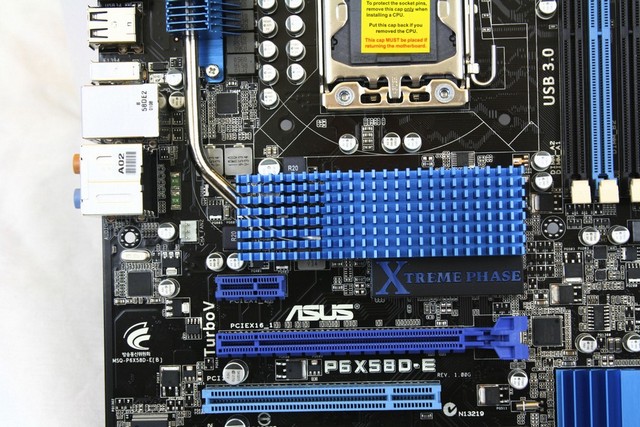 A better close up the IOH heat-sink; this heat-sink is the largest one I have seen personally. But the one area I am interested in, is not the size of it. Is whether or not I can still use the upper PCI-E x1 port. Do not get me wrong the IOH heat-sink is quite impressive, and should help keep the IOH quite cool.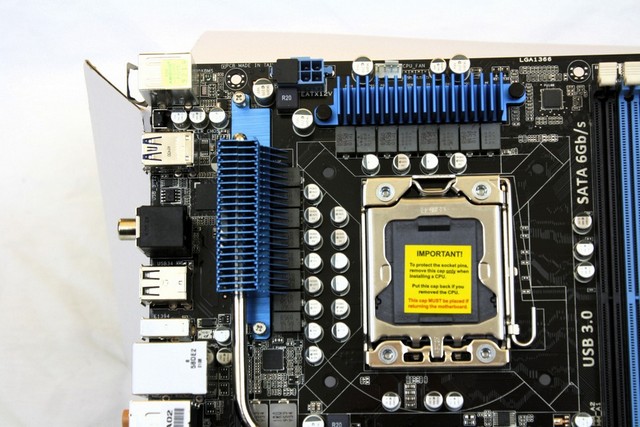 Time to turn our attention over near the rear IO/CPU area of the motherboard; Asus includes two mosfet heat-sinks to help the 16+2 phase CPU power cool during our oveclocking endeavor. Another area I like is that Asus only links the rear IO mosfet heat-sink to the IOH heat-sink, and not to the second mosfet heat-sink. This tends to keep things nice and tidy, while keeping the CPU area clear. The EPS CPU power plug is located in an easily accessible area. This is placed right on the leading edge of the motherboard instead of in between the mosfet heat-sink and the rear IO ports, right above the upper mosfet heat-sink is fan header #3.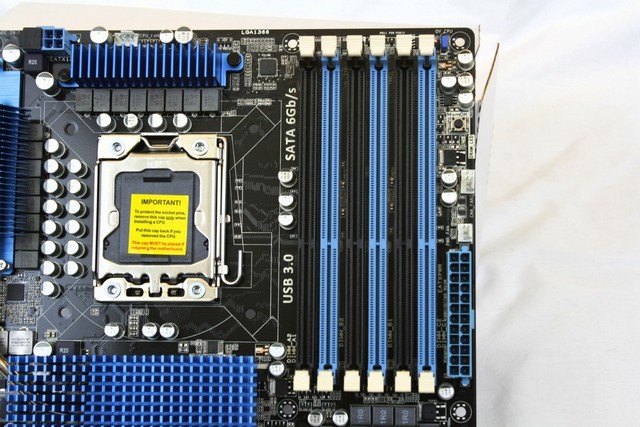 it is time for us to give a looks'y at the DIMMs. Like all X58 based chipset motherboards, the Asus P6X58D-E also supports triple channel memory. The primary memory DIMMS are the light blue ones. Unlike previous newer motherboards by Asus, these memory DIMMs use two physical memory locks. Near the upper corner the motherboard we can make the Mem-OK switch. This is a rather useful device for when we may have a memory incompatibility with this motherboard. If you do, just press this switch and the motherboard configures itself to correct an incompatibility. Right below the Mem-OK switch we can make out fan header #4,5.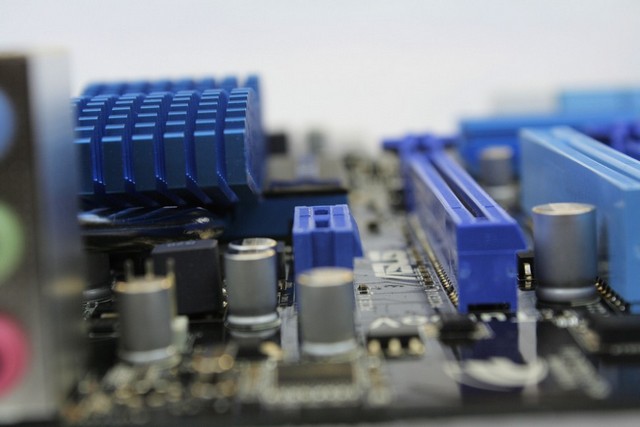 Just as I suspected, I can use the upper PCI-E x1 port, without it interfering with the IOH heat-sink. Sometimes it is the little things that makes my day when it comes to motherboards. Since I plan on using three PCI-E based video cards, and I have a Creative X-FI Fatality Pro sound card, I can use all three video cards and plus my sound card as well. Good job Asus.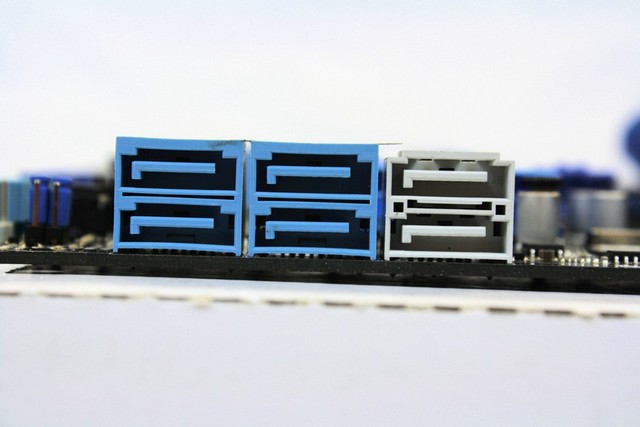 Winding down our overview, here is what the forward facing SATA ports look like.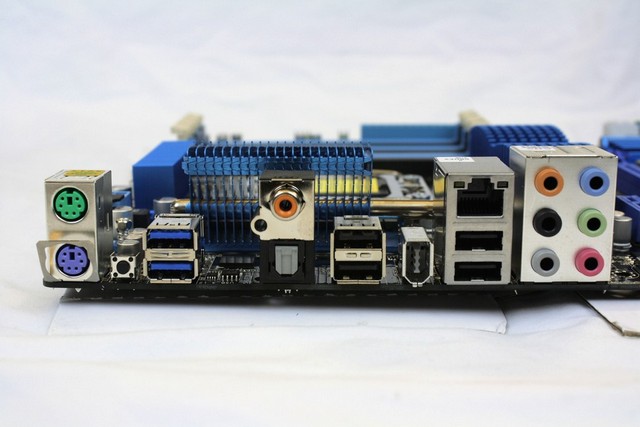 Let's finish up the overview with the rear IO ports. Lately, we have been seeing motherboards using one PS2 port with two USB headers. Kind of odd that Asus included a two PS2 header. Nothing wrong with this, just it is different to see. Moving to our right, we can see the rear-ward clear CMOS button. Then a USB 3.0 header, followed by a SPDIF Toslink (Lower)with a Mini-Opitcal (Upper) ports. Moving to our right further down the line, we get another set of standard  USB 2.0 ports, a FireWire 1394 port, Ethernet/USB 2.0 Header, then finally the 8 channel on-board audio header.
Extra
Some extra pictures for you to get a good look at Asus' quality.
BIOS Part 1
These images are here for you to get an idea on how Asus lays out the BIOS. As we can see it is not much different from their previous motherboards. So for those who already used of Asus motherboards, this BIOS should be a familar sight.
BIOS Part 2 
Better known as how to Properly Torture Your P6X58D-E motherboard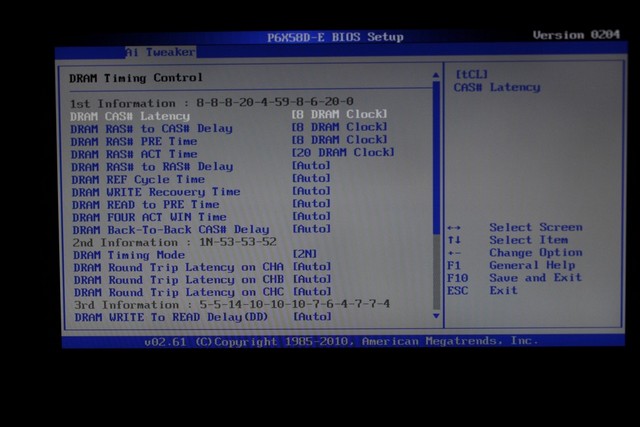 Like all of my previous motherboards I have reviewed; I have always taken screen shots of my personal settings. The AI Tweaker portion of the BIOS again is nothing out of the ordinary when it pertains to Asus's BIOS'. When it comes to overclocking any motherboard, so TREAD LIGHTLY, Asus does give us warnings when we are about to go over recommended voltage settings. But like always you can go above and beyond those recommended settings.
There were some things that I forgot to mention in this review, more specifically what BIOS portion. So I do apologize for this oversight.
Asus offers two options for CPU voltage control – Absolute Vid and Voltage Offset depending on the usage of the user and potential overclocking one is more beneficial than the other. Absolute providing a consistently driven level of set voltage. Voltage offset offering a more efficient ( and produces less heat ) method of applying a voltage offset(%) to the VRD being applied dynamically.
Asus offers fan level controls in the BIOS – On the P6X58D-E Asus offers our manual fan controls for the CPU which allow for more flexibility in setting the cooling performance relative to noise field you want.
Phase Adjustment – Asus also has an option presented in the BIOS allowing the adjustment to the driving strength of the PWM/Phases. Default it is set to Auto/Normal this uses our Xtreme Phase design which is not only efficient and uses unique phase angles to produces a clean consistent  level of power distribution at different load levels but dynamically adjusts. During a idle or light load state as little as 4 phases will be used. During moderate to heavy load the maximum of 16 phase will be used. If users wish to ensure the highest level of performance when pushing for higher overclocks then can enable to run 16 phase active always. Overall this allows for a high level of flexibility.
The Torture Chamber
Test Setup &Testing Methodology

"Mini Me"

CPU
Intel Core i7 930 D0, + 1 mystery CPU @ 2.6GHz
Motherboard
ASUS Rampage II  Extreme, Gigabyte X58A-UD3R, ASUS P6X58D-E, and one other one.
Case
Open Chassis
Memory
Crucial Ballistx 1333MHz @ 1333MHz, and 1720MHz
Video Card's
PNY 470GTX, Gigabyte SOC 275GTX (Physx Duty)
Hard Drives
4x Seagate 320Gig 2.5″ Momentus HDD's RAID -0, Western Digital 1 TB green drive (back up duty)
CDRom Drive
Lite On Blue Ray
Power Supply
SilverStone 1200 Watt Zeus
CPU Speeds Used
2.8GHz, 2.6GHz, 4.3GHz. Makes you wonder what other CPU I included.
Operating System Used
Microsoft Windows 7
Video Card Cooler

So "Top Secret", I have to kill ya if I told ya. paired with a Swiftech Tri 120mm Rad.
CPU Cooler

EK Supreme HF paired up with a Quad 120mm XSPC Radiator
For testing purposes only, I will run each benchmarking program a minimum of three times per benchmark. I will be using the average scoring out of each benchmark run, so your results will vary greatly from my own. I will be including three motherboards in with the Asus P6X58D-E motherboard, these motherboards will be using their absolute base speed of 133 x 21 = 2.8GHz, or 133 x 20 = 2.6GHz respectfully. The CPU I will be using is none other than the Intel Core i7 930. The only motherboard that will be overclocked is the P6X58D-E, since overclocking varies from computer to computer. This result is only here to give you an idea on the performance increase once the CPU is overclocked.
List of benchmarking programs used during "The Torture Session"
SiSoft
Everest
wPrime
Excel
Auto MKV
Blender
POV Ray
CineBench RC11
Win RAR
Dirt 2
3DMark Vantage
Stone Giant
Unigine Heaven 2
Overclocking
Since I have gotten used to my Intel Core i7 930 CPU, I pretty much already know its limitations; as far as BCLK, CPU multiplier, and voltages needed. I started off a little light on the P6X58D-E motherboard overclocking. I set the BCLK to a mere 205 and left the multiplier of the CPU at 21. I do not recommend using the "Turbo Feature" of the CPU when we are going above the 200 BCLK mark. After I got everything all dialed in on the overclock and tested out, I felt it was time to see how far this motherboard will go. Keep in mind on two other motherboards I have used, can easily reach a 220 BCLK. I dropped the CPU multiplier down to 19, adjusted memory, QPI settings that needed to be made for my all out assault with this motherboard, set the BCLK to 220; then I prayed. Well needless to say, this did not go over to well. After fiddling with various settings voltages, BCLKs, CPU multipliers, the whole works I settled out for a 205 x 21 overclock. 4.3GHz is still nothing to be laughing at; especially when all of the threads (8) are active on the Intel Core i7 930 CPU.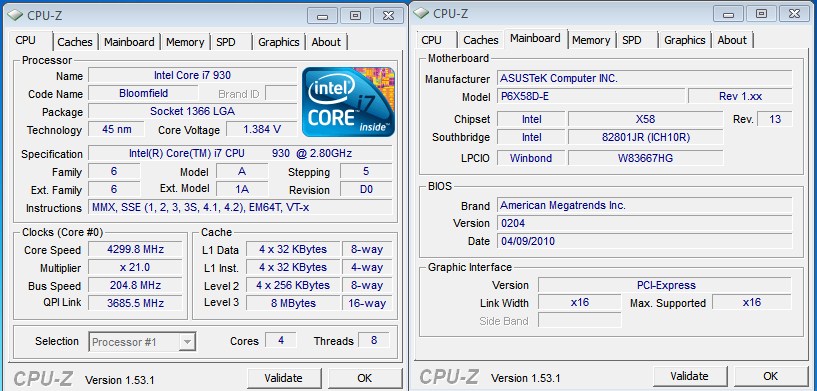 Settings used during the overclock listing of the P6X58D-E motherboard.
The Begining of the Torture Sessions
SiSoft
 "SiSoftware Sandra (the System Analyser, Diagnostic and Reporting Assistant) is an information & diagnostic utility. It should provide most of the information (including undocumented) you need to know about your hardware, software and other devices whether hardware or software. It works along the lines of other Windows utilities, however it tries to go beyond them and show you more of what's really going on. Giving the user the ability to draw comparisons at both a high and low-level. You can get information about the CPU, chipset, video adapter, ports, printers, sound card, memory, network, Windows internals, AGP, PCI, PCI-X, PCIe (PCI Express), database, USB, USB2, 1394/Firewire, etc."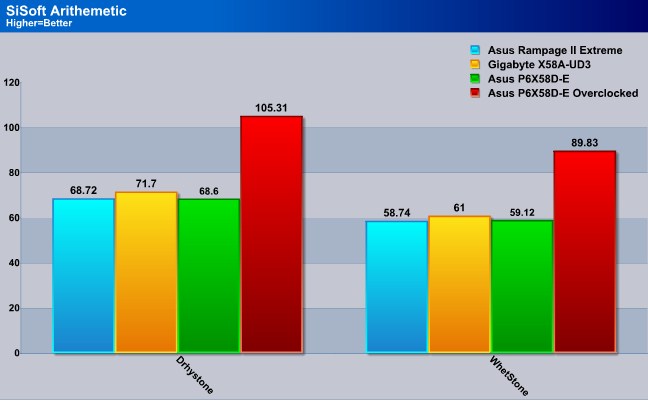 Starting off on of our favorite banchmarks over here at Bjorn3D.com, we can see that the P6X58D-E motherboard is just about on par when being compared to the Asus Rampage II Extreme motherboard. The Gigabyte X58A-UD3R motherboard still maintains a slight lead over both motherboards.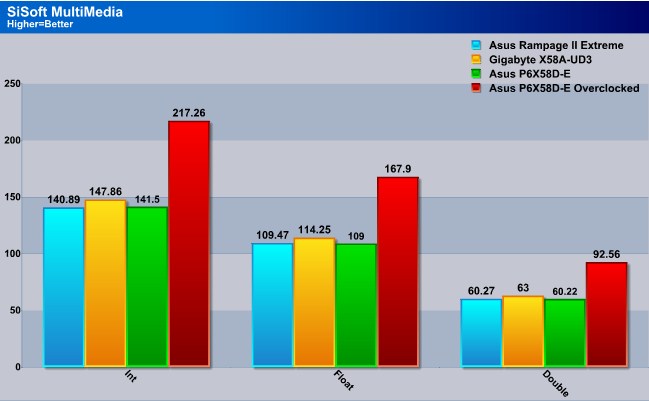 Once again the performance between the P6X58D-E and the Rampage II Extreme motherboards are nearly identical.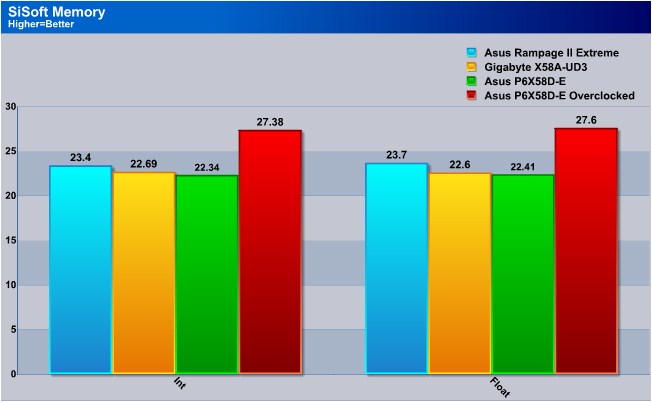 This is where the Rampage II Extreme motherboard comes out with a decent lead over the two other motherboards tested. Leaving the P6X58D-E motherboard in last place. In my expereinces with memory bandwidth, a slight difference of 1 GB/s of bandwidth is not nearly enough too say it will be noticeable.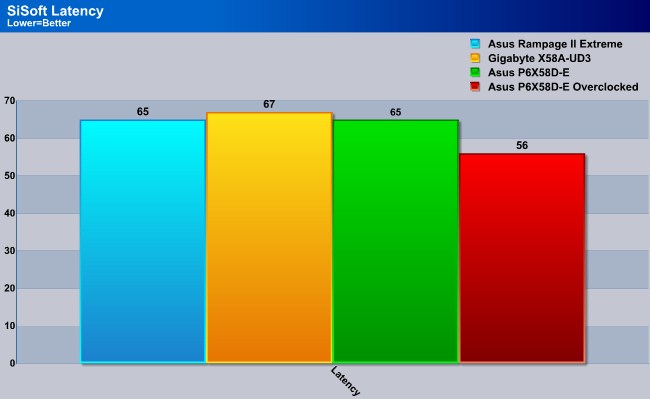 The one area that does make a bit of difference when dealing with memory is the latency of the memory, or how fast it can react to our commands.This is where Asus motherboards always shined the best in.
Everest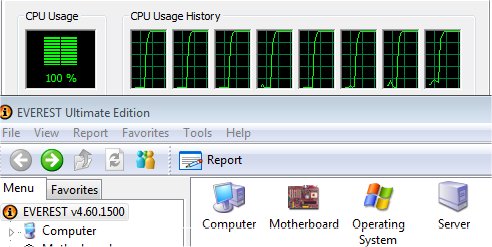 "EVEREST Ultimate Edition is an industry leading system diagnostics and benchmarking solution for enthusiasts PC users, based on the award-winning EVEREST Technology. During system optimizations and tweaking it provides essential system and overclock information, advanced hardware monitoring and diagnostics capabilities to check the effects of the applied settings. CPU, FPU and memory benchmarks are available to measure the actual system performance and compare it to previous states or other systems. Furthermore, complete software, operating system and security information makes EVEREST Ultimate Edition a comprehensive system diagnostics tool that offers a total of 100 pages of information about your PC."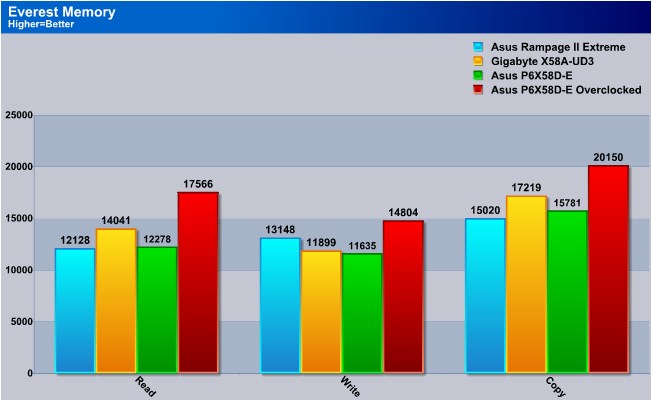 Starting our Everest benchmarking runs, we can see that this pattern of the P6X58D-E motherboard performance almost on par to the Rampage II Extreme motherboard again, in both the Read, and Copy portion of the memory bandwidth testing. Then during the Write portion of testing the P6X58D-E motherboard ties with the X58A-UD3R motherboard.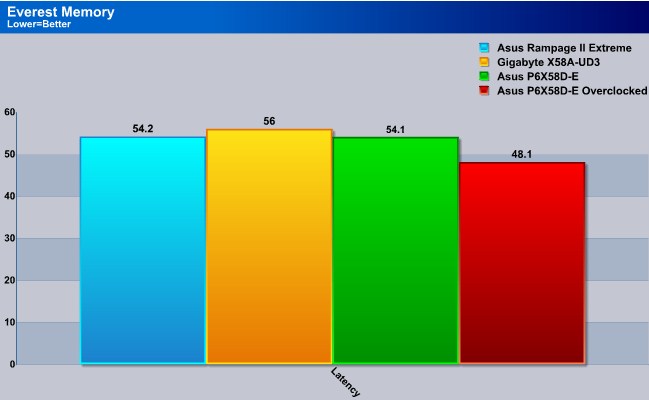 Once again Asus still dominates the scene when it comes to memory latency.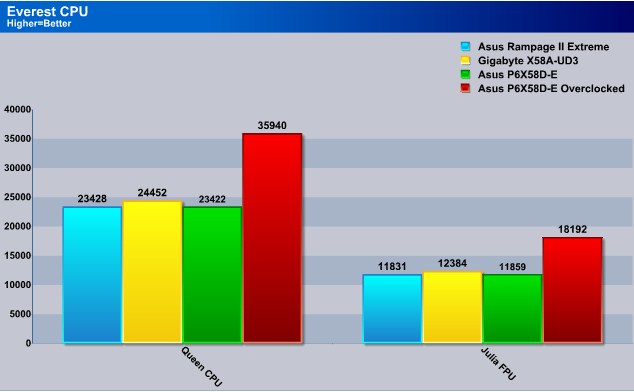 The X58A-UD3R motherboard manages to maintain a lead through out the CPU portion of Everest testing. Both of the Asus motherboards again are showing the same relatively performance of one another.
wPrime
wPrime is a benchmarking application designed to use a highly multithreaded approach to calculating the square-roots of large amounts of numbers (up to 32 billion)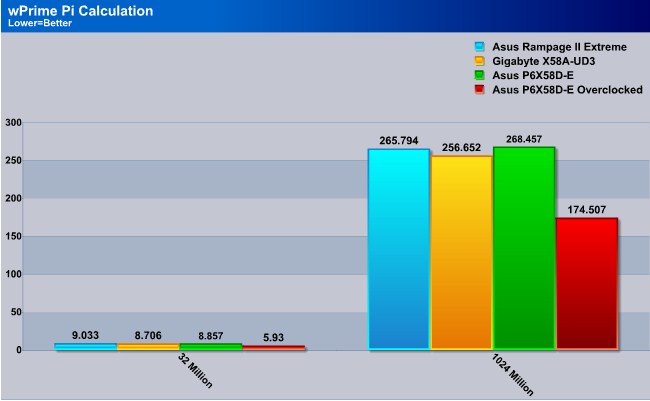 During the 32 Million portion of testing I can not declare a clear winner, as all motherboards tested came in close to one another. It is not until the 1024 million portion of testing we see that the Gigabyte motherboard taking the lead.
Excel
Microsoft Excel is the widely known and most used spreadsheet application for the manipulation and calculation for number crunching. With Excel you can analyze and share information on small scale or the largest scale you can imagine. We've seen spreadsheets in every day use that contain literally tens of thousands of numbers and hundreds of equations. Bjorn3D uses two tests in Excel to determine CPU and Motherboard performance.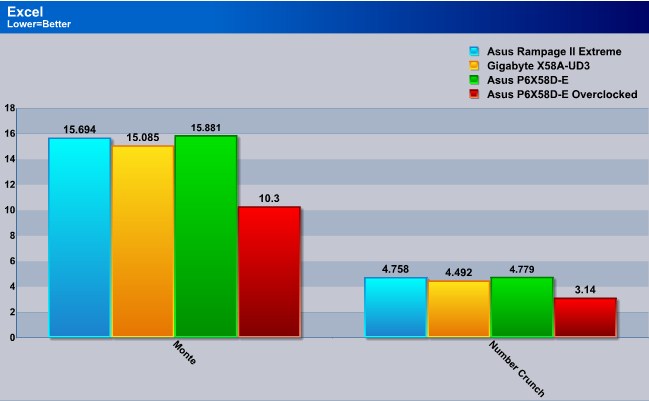 Excel testing again reconfirming what we already been seeing on previous tests. That the two Asus motherboards are about equal to one another when it pertains to performance.
AutoMKV
 AutoMKV is an application aiming for easy media conversion between various media formats using various third party codecs. With improved internet speed and enhanced computing power, more users are interested in encoding to different media formats for their various multimedia needs. With AutoMKV and x264 codec, a freeware H.264 encoder, users can easily create media files. For more information and to obtain AutoMKV 0.95c and AviSynth* 2.5.7, please visit (http://forum.doom9.org/showthread.php?t=134478). We create a media file using AutoMKV and x264 codec. The input file used in the document is a raw 416 MB 720×480 DV file and the output is a 253MB H.264 media file.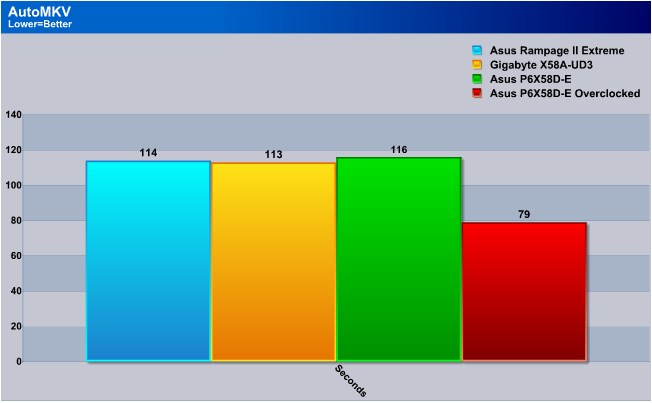 Hmm, this is another tough call, having only a mere 3 second time difference between the Gigabyte X58A-UD3R, and the P6X58D-E motherboards. To me it is not truly enough of a difference to truly declare a clear winner: mainly because this 3 second time difference could be caused by just about anything.
Blender
Blender is a free open source 3D content creation suite that is available for various operating systems. The application is popular among many independent animation studios and game makers. For more information, please visit http://www.blender.org/.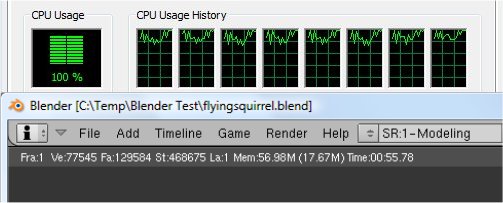 The workload consists of a ~6.9 MB character model of a flying squirrel. Due to time constraints we don't render the entire image which would be time consuming and rather pointless except to yield larger benchmark numbers. A portion of the image, the right arm is what we render, it's a large enough portion to show differences in CPU performance, yet small enough that we don't have to grind through a 45 minute Render waiting for a single result.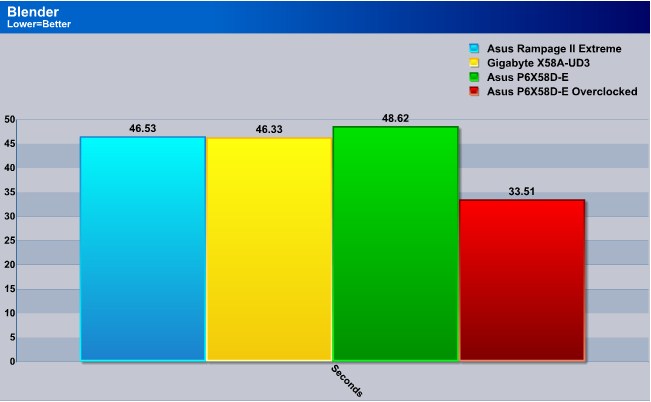 When it came to our rendering program Blender, the P6X58D-E motherboard came in dead last.
POV RAY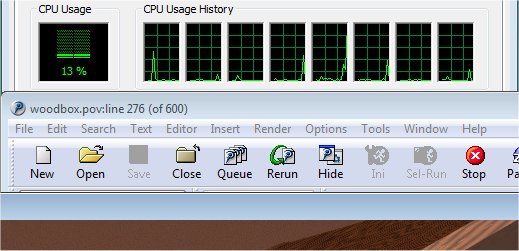 The Persistence of Vision Ray-Tracer was developed from DKBTrace 2.12 (written by David K. Buck and Aaron A. Collins) by a bunch of people (called the POV-Team) in their spare time. It is a high-quality, totally free tool for creating stunning three-dimensional graphics. It is available in official versions for Windows, Mac OS/Mac OS X and i86 Linux. The POV-Ray package includes detailed instructions on using the ray-tracer and creating scenes. Many stunning scenes are included with POV-Ray so you can start creating images immediately when you get the package. These scenes can be modified so you do not have to start from scratch. In addition to the pre-defined scenes, a large library of pre-defined shapes and materials is provided. You can include these shapes and materials in your own scenes by just including the library file name at the top of your scene file, and by using the shape or material name in your scene. Since this is free software feel free to download this version and try it out on your own.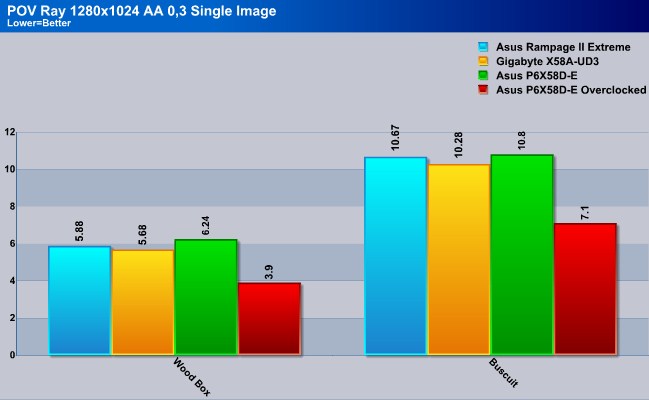 With these results I am having a hard time determining the clear winner. The difference between each motherboard tested here could be caused by anything. POV Ray, normally fluctuates about 1 – 3 seconds from one run to the next run.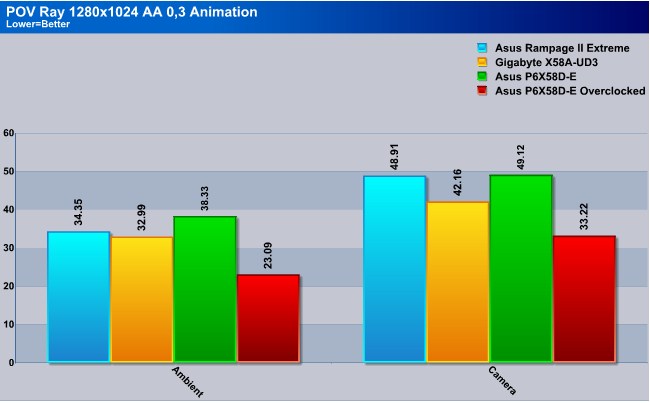 This is where the time gap starts to widen, the Gigabyte motherboard clearly holds onto the lead through out testing.
CineBench
 "CINEBENCH is a real-world test suite that assesses your computer's performance capabilities. MAXON CINEBENCH is based on MAXON's award-winning animation software, CINEMA 4D, which is used extensively by studios and production houses worldwide for 3D content creation. MAXON software has been used in blockbuster movies such as Spider-Man, Star Wars, The Chronicles of Narnia and many more. MAXON CINEBENCH runs several tests on your computer to measure the performance of the main processor and the graphics card under real world circumstances. The benchmark application makes use of up to 16 CPU's or CPU cores and is available for Windows (32-bit and 64-Bit) and Macintosh (PPC and Intel-based). The resulting values among different operating systems are 100% comparable and therefore very useful with regard to purchasing decision-making. It can also be used as a marketing tool for hardware vendors or simply to compare hardware among colleagues or friends."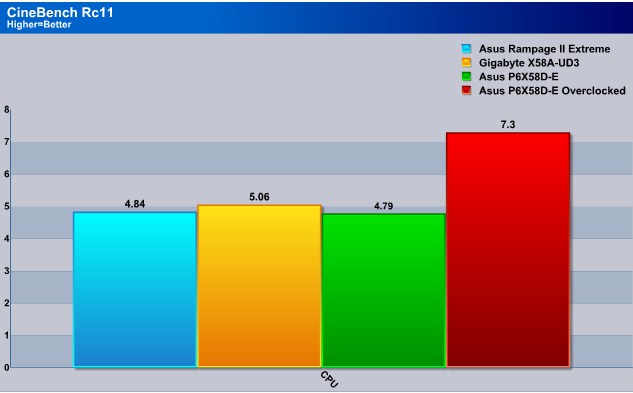 During our CineBench RC 11 testing, we see that all motherboards tested here perform nearly identical to one another.
Win RAR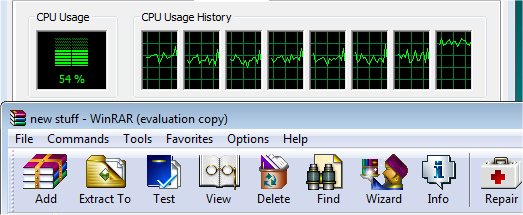 This module in WinRar generates random data, which contains specially introduced redundancy, increasing the load to both the processor and memory. Data is then passed through RAR compression and decompression algorithms, and the output of the decompression algorithm is compared to the source data. If any differences are found, WinRar then reports "Errors found – Yes" in the command window. WinRar displays a size of processed data and compression speed, current and resulting, in kilobytes per second.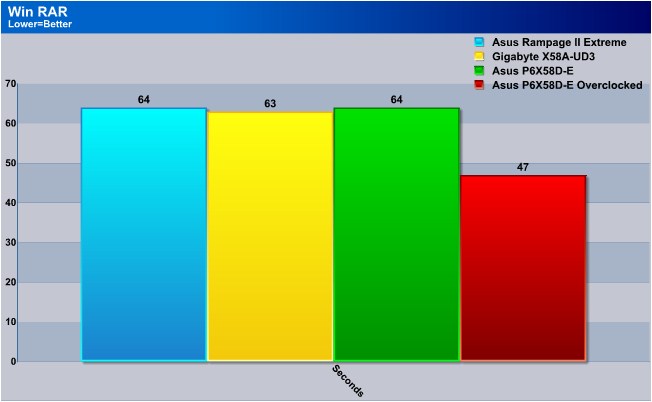 Win RAR again reconfirms that there is no true performance difference between each of the motherboards tested.
The Games
Dirt 2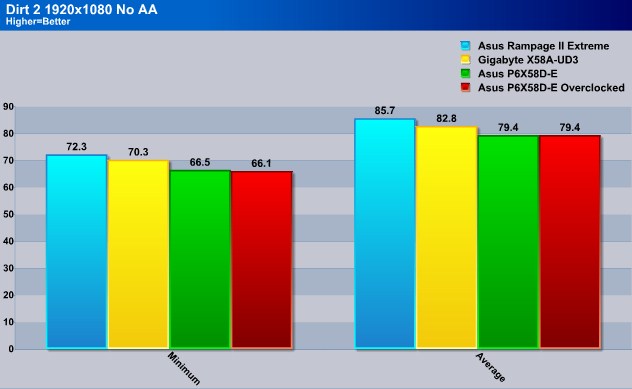 Unlike our previous testing where the Rampage II Extreme and the P6X58D-E motherboard were literally neck, and neck, the P6X58D-E motherboard came in last place during testing. But keep in mind I would not consider 66 FPS on a minimum exactly slow.
3DMark Vantage

For complete information on 3DMark Vantage Please follow this Link:
www.futuremark.com/benchmarks/3dmarkvantage/features/
The newest video benchmark from the gang at Futuremark. This utility is still a synthetic benchmark, but one that more closely reflects real world gaming performance. While it is not a perfect replacement for actual game benchmarks, it has its uses. We tested our cards at the 'Performance' setting.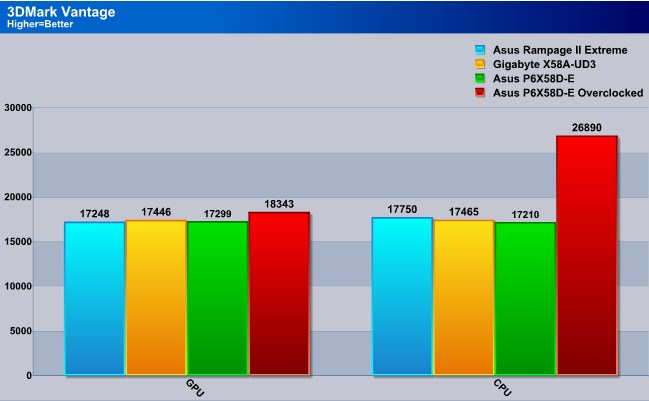 Knowing how 3DMark Vantage fluctuates from one run to the next, I again cannot declare a clear winner.
Stone Giant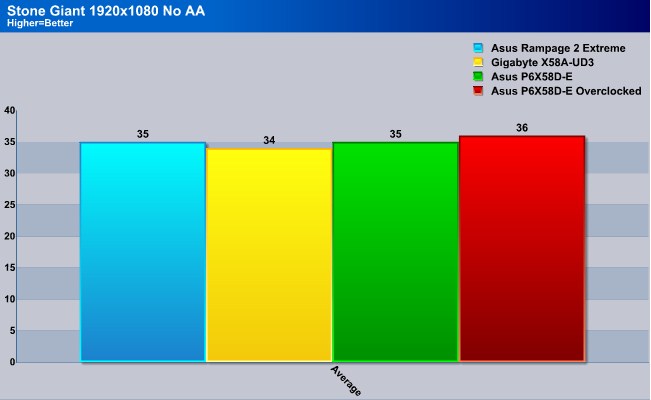 Stone Giant is one of our newer members of benchmarking programs you will see in the future with us at Bjorn3D.com. there is not much of an difference between any one of the motherboards tested.
Uninge Heaven 2.0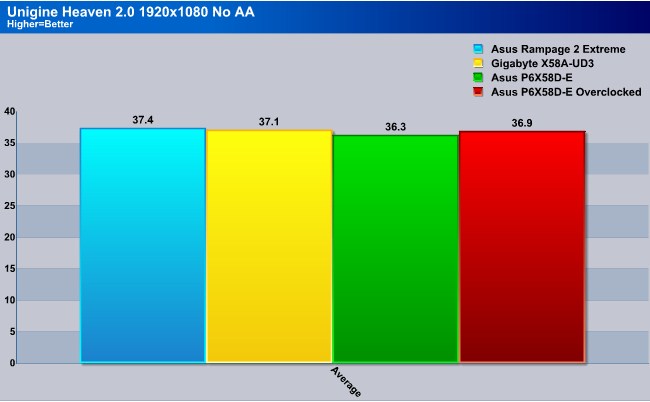 Same story as Stone Giant testing, Unigine Heaven did not perform any better or any worse then any motherboard tested here today.
Conclusions
During my testing of the P6X58D-E motherboard I was not all that disappointed with its performance. I tend to look at three main characteristics when it comes to reviewing motherboards. One of these three characteristics I look at is, how is the layout of the motherboard? Can I populate all three PCI-E ports and still be able to use my high end Creative X-FI sound card? In the case of this motherboard the answer is yes, I can. When it comes to my computers sound system I use nothing but the best. The second area I look at is, how does this motherboard overclock? The P6X58D-E motherboard did not disappoint me at all, being able to maintain a 205 BLCK for extended periods of times without so much as a hiccup, has got to say something about this motherboard. The final area I look at, is what comes with motherboard as far as features? The P6X58D-E motherboard supports some of the newest capabilities on the market today, USB 3, and being able to use SATA 3.0 (SATA 6Gb/s) and not to forget that this motherboard officially supports RAID on the SATA 3 controller has definitely gotten my attention.
 
Which comes to the final thing we need to consider; what about the pricing of this motherboard? Searching around the internet, I can see this motherboard comes in around the 230USD mark. Which makes this motherboard just about perfect for anyone wanting a solid performing motherboard that can support SATA 3, USB 3, and also can accommodate Intel's Latest CPU creation the Core i7 980 HEX core.
OUR VERDICT: Asus P6X58D-E
| | |
| --- | --- |
| Performance | 9 |
| Value | 9 |
| Quality | 10 |
| Features | 9 |
| Innovation | 9 |

We are using a new addition to our scoring system to provide additional feedback beyond a flat score. Please note that the final score isn't an aggregate average of the new rating system.

Pros
Cons

Good Quality

USB 3, SATA 3, RAID support on the SATA 3 controller

Good overclockability

Stable

 Great layout

Nothing

 

 

 
Summary:
The Asus P6X58D-E motherboard is for anyone needing a rock solid motherboard with some of the latest and greatest features.