Zalman had some impressive new products to show off at Computex 2010 this year, including their new 3D Monitor, Laptop Cooler with external HDD enclosure, their new VGA cooler for ATI and nVidia based cards and a low-profile CPU cooler for HTPC systems.
Zalman @ Computex 2010
This year at Computex 2010, Zalman had some interesting new products to show off, as well as promote their older products with some improvements. In this article we will focus strictly on the newest products Zalman has to offer, as well as take you through some new products that will be available later on this year.

(Zalman at the beautiful Grand Hyatt hotel right next to the Taipai 101)
VF3000N/A/F
Features
Powerful Cooling Performance with 5 Quiet Heatpipes
Zalman's State-of-the-art IHD (Interactive Heat transfer Design) technology
Ultra Quiet Design (19~32dBA ± 10%, Switching Noise Free)
Excellent Peripheral Component Cooling
Manual Fan Speed Control by Fan Mate 2
Sleek Colored Aluminum Cover with Attractive Appearance
Supports NVIDIA latest Fermi series (VF3000F), GTX 285/280/275/260 (VF3000N), and ATI HD 5870/5850/5830 (VF3000A)
MSRP for VF3000F is 64.90 US Dollars.
Zalman has just released their new VF3000N and VF3000A VGA coolers. The name and colors can quite easily distinguish which model is designed for the Nvidia or ATI cards. The VF3000N is designed for the Nvidia cards, the GTX285, 280, 275, and 260 models. The VF3000A is designed for ATI's latest single GPU cards, the HD5870, HD5850 and HD5830. As far as i understand, it is 100% compatible with reference based cards, but could be also compatible with non-reference cards. In the pictures, the black model is the Nvidia model, and the red one is the ATI model.
Click Image For a Larger One
The Zalman VF3000F model from the latest VGA coolers is designed for the new Nvidia Fermi video cards. We do not know which Fermi cards this model will be compatible with, but hopefully all the models currently on the market. What I really like about these coolers is that they come with dual 92mm fans instead of a single 120/92/80mm fan. The reason being is because I currently have a Thermalright HR-03 with a quiet 120mm fan on my GTX275 video card which efficiently cools down the GPU, but it fails at cooling down the other components like the VRM on the video card efficiently. Because the VF3000 comes with dual 92mm fans that span across the whole card, this should be plenty enough to cool down all parts of the video card, including the GPU and the other components that might get hot during operation.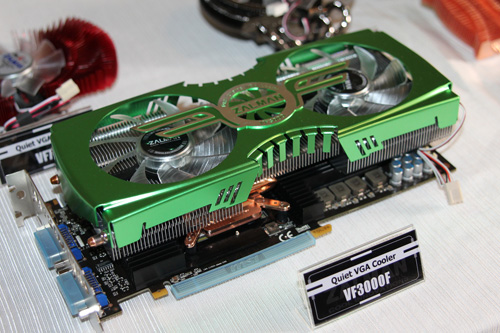 Click Image For a Larger One
Here is the VF3000N and the VF3000A from the side. The first thing we can see is that they are not low profile. This means that the video card will take up two expansion slots on the back of the system instead of just one. There is an advantage to this, but also a disadvantage. The advantage is that there will be more heat dissipated due to the higher surface area present, but the disadvantage is that you won't be able to install a different card into the second expansion slot due to the cooler being quite large. But if you think about it. If you have a high-performance video card already, that video card most likely already came with a stock cooler just as big as the Zalman VF3000. The difference is that with the VF3000, you can cool down your video card, a lot quieter than the stock cooler, while also getting lower temperatures.
Click Image For a Larger One
 Finally, let's take a look at the base of the VF3000. From what we could see at the Zalman booth, the copper base did not have a mirror finish, but it was close to being that smooth. As mentioned in the features, there are 5 heatpipes that help spread the heat through the fins of the cooler.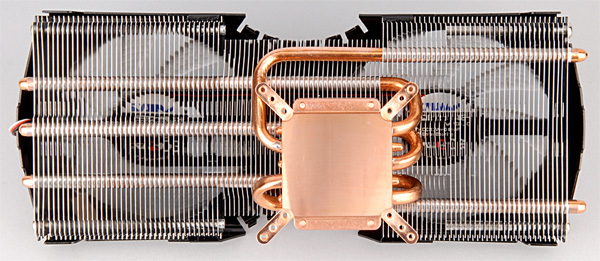 Click Image For a Larger One
Let's continue on to the next page were we are going to check out some exciting products, including Zalman's new 3D filter based LCD Monitor.
Zalman's Filter Based 3D Monitors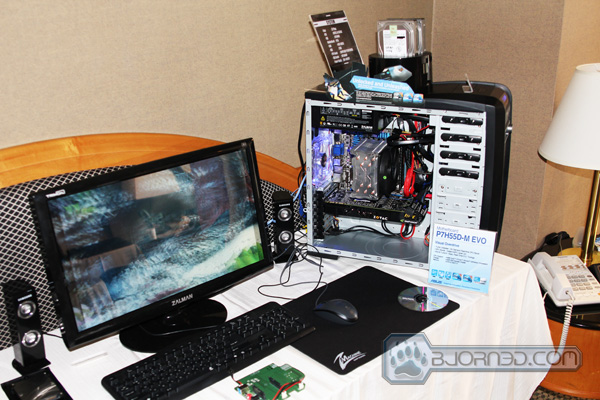 Click Image For a Larger One
One of the most noticeable products Zalman showed off at their booth was their 3D Monitors. Zalman just came out with their new filter based ZM-M215W 21.5″, and ZM-M240W 24″ Full HD monitors. The interesting part was that it did not require the necessary Nvidia based solution that most of the current LCD monitors and HDTVs use for gaming. All you need is Zalman's glasses, and their monitor, and you get a fantastic clear 3D image that will blow your mind away. The Zalman monitor had far the best quality and clarity with 3D that I was not able to experience with any of the Nvidia based solutions and compatible monitors. According to Zalman, you do not need special shutter glasses like the other monitors. Any glasses, even the theatre glasses should work with the Zalman monitors, but you will always get better results with Zalman's glasses.
ZM-M215W
Click Image For a Larger One
Features
Full HD (16:9) Panel
Ultra Creal 2D/3D Imaging
Easy 3D/S3D Convertibility
No Ghost Images
Fast Response and High Contrast Ratio
Stereoscopic 3D Gaming Driver (Optional)
Stereoscopic Player Included
HDCP Support
Comfortable and Light 3D Glasses Included
Specs
1920 x 1080
300cd/m2
Contrast Ratio: 1000:1
5ms Response Time
90 degree Horizontal and 10~12 degree Vertical viewing angle in 3D mode
10,000:1 (Dynamic Contrast Ratio)
MSRP 379.90 US Dollars
ZM-M240W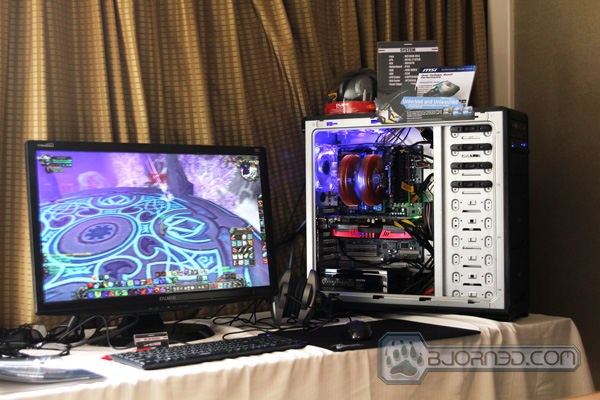 Click Image For a Larger One
Features
Full HD (16:9) Panel
Ultra Creal 2D/3D Imaging
Easy 3D/S3D Convertibility
No Ghost Images
Fast Response and High Contrast Ratio
Stereoscopic 3D Gaming Driver (Optional)
Stereoscopic Player Included
HDCP Support
Comfortable and Light 3D Glasses Included
Specs
1920 x 1080
300cd/m2
Contrast Ratio: 1000:1
5ms Response Time
90 degree Horizontal and 10~12 degree Vertical viewing angle in 3D mode
10,000:1 (Dynamic Contrast Ratio)
MSRP 529.90 US Dollars
I was able to try out the ZM-M240W 24″ 3D LCD while I was at Zalman's booth, and it worked very well. In my opinion, it was at a level, that 3D became enjoyable to watch, and work with. The monitor is rated at around 77Hz, which is not a problem with this monitor. Because this monitor does not use the shutter glasses, it is not required to have a 120Hz monitor like all the other 3D monitors come with. The 77Hz was actually perfect, I did not see any flicker, I did not get nauseous after wearing the glasses for several minutes, and everything felt very comfortable. The Nvidia glasses seem to be a little stiff for my liking, but the Zalman glasses were very comfortable.
Another great feature of this monitor is that you have a 90 degree Horizontal viewing angle for the 3D. So you could have 5-6 people sitting next to the monitor and they would see the 3D almost as good as the person sitting in the middle. However, the downside to this monitor was that it has a horrible 3D Vertical viewing angle. You have to be exactly in level with the monitor in order to see the 3D correctly. If you move up or down a bit, you will see the 3D getting worst. So overall I was actually very satisfied with what Zalman had to offer with their 3D LCD Monitors. Very impressive!
That was not the only thing we noticed in the room though. We also noticed that while there was a gaming system in the room, the room was extremely quiet. I could not even hear the computer running when I came inside the room. I could only hear the computer when I put my ears about 6 inches away from the inside. So even if the computer is right next to you, about 1-2 feet away, the system would actually be silent. I shot a short video about the system and the coolers Zalman had that kept the components cool and quiet.
On the next page, we'll take a look at some of the exciting new products that will be coming out this year.
Other New Releases
To sum up this article, we'll explain some of the features and comments on the newest products coming out this year. Most of these products are not yet released, but should be coming out in June and July 2010.
CNPS5X – CPU Tower Cooler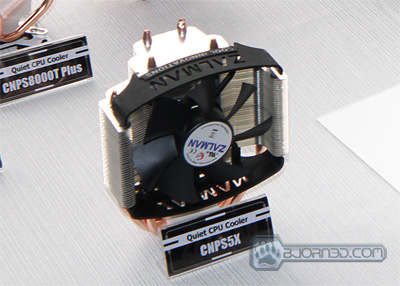 Click Image For a Larger One
Features
DTH (Direct Touch Heatpipe) Performance Effect
Support Intel Core i5/i7 Processors
Powerful Cooling Performance with No Noise & Vibration in Silent Mode
Maximized Cooling Performance
Optimizing 3 Heat pipes & Aluminum Fins
Minimizing Noise with 92mm EBR Bearing Fan
Accommodates a broad range of sockets. Intel LGA1156/1366/775 AMD AM3/AM2+/754/939/940
PWM Control
The fans are rated at 1,400 ~ 2,600 RPM and at 20.0 ~ 30.0dBA. MSRP should be at 34.99 US Dollars. Looks like this cooler with a quite nice for computer systems where silence is the main focus, or the user wants to mildly overclock their processor to gain some speed.
CNPS9900 Max – CPU Cooler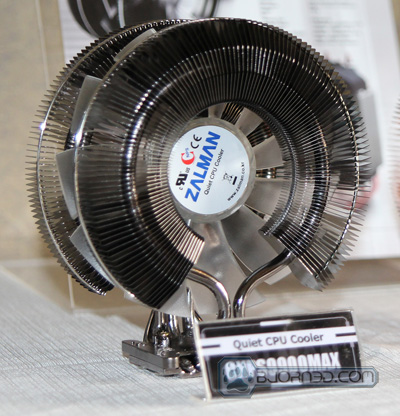 Click Image For a Larger One
Features
High Performance Composite Heatpipe Applied
Excellent Cooling Performance (supports up to 280W)
Low Noise 135mm FDB Bearing Fan
PWM fan speed Control
Omega design that is perfect for the FET of M/B
High Performance ZM-STG2 included
Heatsink band installed
Utilizing Multi clip for broader compatibility
Intel LGA 1156/1366/775 AMD AM3/AM2+/AM2/754/939/940 socket support
This cooler is extremely similar to the older CNPS9900 series coolers, however, this cooler is suppose to get the user better performance over the older models. It's suppose to have a 3 degrees Celsius drop in the overall temperature of the CPU. It is also designed to withstand up to 280W TDP. The older 9900 series models were only capable up to 170W TDP. The fan speed is at 1,000 ~ 2,200 rpm, which is going to produce around 18.5 ~ 43.0dBA. The fans speed should be controllable with Zalman's fan mate fan controller. MSRP will be 84.90 US dollars.
ZM500HP Plus / ZM600HP Plus / ZM850HP Plus / ZM1000HP Plus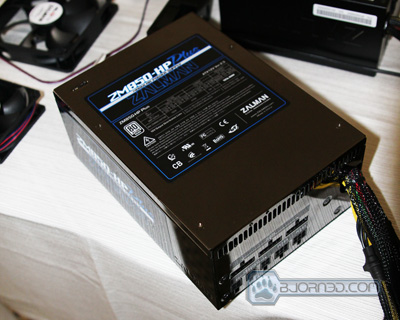 Click Image For a Larger One
Zalman took their time to upgrade their PSU line-up with some newly certified motherboards. the 500 and 600 Watt models will be 80 Plus Bronze certified PSUs, while the 850 and 1000 Watt power supplies will be 80Plus Silver certified. We'll have the features for the ZM1000HP Plus bellow. The other models come with different features, but should be quite similar, except for the number of RAILs, power output, and number of graphics cards that it can support.
ZM1000HP Plus Features
Heat-Pipe Installed for Maximum Cooling Performance and Ultra Quiet Operation
Two-Forward Switching Design
80Plus Silver Certified High Efficiency Design
Less Than 1W Standby Power Consumption
Meets ErP Lot 6 Standby Power Standards (ErP: Energy-related Product)
Modular Design
Dual and 3-Way Graphics Card Support
Ultra Quiet 140mm Fan
Improved Power Factor & Reduced Harmonics through Active PFC
Supports ATX12V CPU 4-Pin and EPS12V CPU 8-Pin
ATX20+4 Pin Main Connector
Power on-off function added
This power supply should be a interesting one to look at later on when it becomes available. The heat-pipe solution proved to be exceptional on the older ZM1000-HP model, hopefully it still is on the new PLUS series PSUs. MSRP is at 350.00 US Dollars.
ZM-NC2500 Plus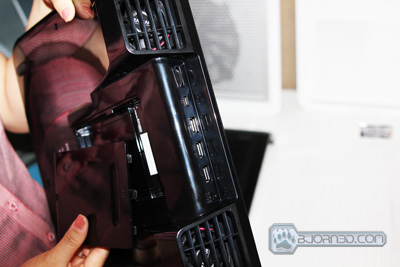 Click Image For a Larger One
Features
Dual Fan for Maximum Cooling Performance in Silent Operation (17.0-23.0dBA)
3x USB port Hub
Built-in 2.5″ SATA HDD/SSD Bay (Enables Hot-Swap) for expanding the Notebook's HDD storage.
USB Powered Convenience
Compatible with Notebooks up to 17″ widescreen
Fan Speed Adjustable
Adjustable Height with the Use of a Riser for User Convenience
Built-in USB Cable Storage Compartment
Auxiliary Power Support (DC In, 5V. *AD100 Adaptor Optional)
Minimized Vibration Design
This laptop cooler seems quite interesting. I really like the idea of having a hot-swapable compartment built inside the laptop cooler, allowing users to extend their storage capacity. The only downside I see to this is that this laptop cooler is most likely still uses the old USB 2.0 connectors. If Zalman could come out with a model that supports USB 3.0, that would be great. The reason for USB 3.0 support would come handy with the internal HDD or SSD that could be installed in the laptop cooler, allowing for much faster transfer speeds than USB 2.0.
Other Products
There will be several other products hitting the market this year, including new case fans, H.D.D Docking Stations, PCMs, and other coolers. I hope you guys enjoyed this overview of the latest products that Zalman will be releasing in the following months. For more information, visit Zalman's official website.