If your on a budget and are looking for a great card then you have come to the right place. Sparkle has packaged together a GPU that will fit anyones budget while still packing a punch.
 INTRODUCTION
For some, cards in the $200+ range are just not an option and Sparkle has found a way to get them a great card in their price range. Although this card may not have the ability to max out all of the latest games it is still a great choice because it performs well for its price point. This card aims at replacing older 8xxx series cards and lower end 2xx series card while keeping the damage to your wallet low.
One of the great things about this card is its power efficiency and it's a low profile card so you can fit it in even the smallest of cases. This card is a great choice for a low budget gaming machine but let's take a look at this card and see how it performs.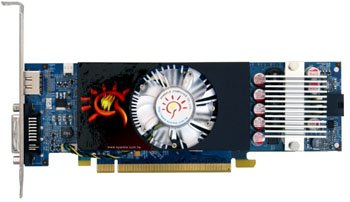 FEATURES
 
 
 

Dual-link DVI


Able to drive two of the industry's largest and highest resolution flat-panel displays up to 2560×1600.
 

SLI™ Technology


Delivers up to 2X the performance of a single GPU configuration for unparalleled gaming experiences by allowing two graphics cards to run in parallel. The must-have feature for performance PCI Express graphics, SLI dramatically scales performance on 60 top PC games.
 

RoHS Compliant


As a citizen of the global village, GIGABYTE exert ourselves to be a pioneer in environment care. Give the whole of Earth a promise that our products do not contain any of the restricted substances in concentrations and applications banned by the RoHS Directive, and are capable of being worked on at the higher temperatures required for lead free solder. One Earth and GIGABYTE Cares!
 
Windows Vista®
Enjoy powerful graphics performance, improved stability, and an immersive HD gaming experience for Windows Vista. ATI Catalyst™ software is designed for quick setup of graphics, video, and multiple displays, and automatically configures optimal system settings for lifelike DirectX 10 gaming and the visually stunning Windows Aero™ user interface.
 
 
OpenGL 2.1® Optimizations
Ensure top-notch compatibility and performance for all OpenGL 2.1 application.
 
 

Shader Model 4.1


Shader Model 4.1 adds support for indexed temporaries which can be quite useful for certain tasks.Regular direct temporary access is preferable is most cases. One reason is that indexed temporaries are hard to optimize. The shader optimizer may not be able to identify optimizations across indexed accesses that could otherwise have been detected. Furthermore, indexed temporaries tend to increase register pressure a lot. An ordinary shader that contains for instance a few dozen variables will seldom consume a few dozen temporaries in the end but is likely to be optimized down to a handful depending on what the shader does. This is because the shader optimizer can easily track all variables and reuse registers. This is typically not possible for indexed temporaries, thus the register pressure of the shader may increase dramatically. This could be detrimental to performance as it reduces the hardware's ability to hide latencies.
 
 

PCI-E 2.0 


PCI Express® 2.0 –Now you are ready for the most demanding graphics applications thanks to PCI Express® 2.0 support, which allows up to twice the throughput of current PCI Express®cards. Doubles the bus standard's bandwidth from 2.5 Gbit/s (PCIe 1.1) to 5 Gbit/sec.
 

HDCP Support


High-Bandwidth Digital Content Protection (HDCP) is a form of copy protection technology designed to prevent transmission of non-encrypted high-definition content as it travels across DVI or HDMI digital connections.
 

HDMI Ready


High Definition Multimedia Interface (HDMI) is a new interface standard for consumer electronics devices that combines HDCP-protected digital video and audio into a single, consumer-friendly connector.
 

PureVideo™ HD


Available on HD DVDs and Blu-ray discs, high-definition movies are bringing an exciting new video experience to PC users. NVIDIA® PureVideo™ HD technology lets you enjoy cinematic-quality HD DVD and Blu-ray movies with low CPU utilization and power consumption, allowing higher quality movie playback and picture clarity. PureVideo HD technology provides a combination of powerful hardware acceleration, content security, and integration with movie players, plus all the features found in PureVideo.
 

CUDA Technology


NVIDIA® CUDA™ technology unlocks the power of the hundreds of cores in your NVIDIA® GeForce® graphics processor (GPU) to accelerate some of the most performance hungry computing applications. The CUDA™ technology already adopted by thousands of programers to speed up those performance hungry computing applications.
 

PhyX Technology


NVIDIA® PhysX™ is the next big thing in gaming! The best way to get real-time physics, such as explosions that cause dust and debris, characters with life-like motion or cloth that drapes and tears naturally is with an NVIDIA® PhysX™-ready GeForce® processor
SPECIFICATIONS
GPU

9800 GTX+


SPARKLE GTS 250 1 GB


HD 4850

GPU Frequency

740 MHz

600 MHz

750 Mhz

Memory Frequency

1100 MHz

1500 Mhz

993 Mhz

Memory Bus Width

256-bit

256-bit

256-bit

Memory Type

GDDR3

GDDR3

GDDR3

# of Stream Processors

128

128

800

Texture Units

64

64

40

ROPS

16

16

16

Bandwidth (GB/sec)


70.4

70.4

63.6

Process

55nm

55nm

55nm

 
PICTURES & IMPRESSIONS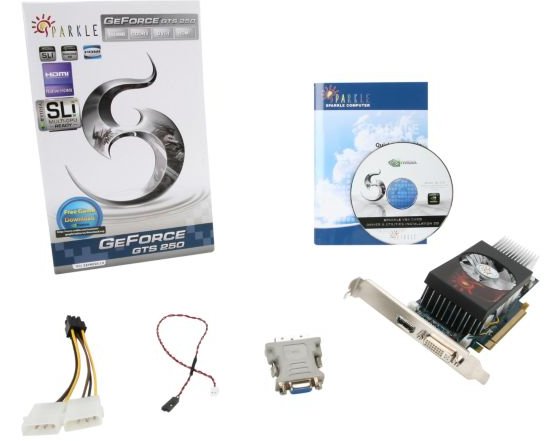 Sparkle includes the standard manual that will help those novice users with installing their brand new card. They also include a few other thing, a Driver Disk, Low Profile Bracket, DVI to VGA Adapter and a 6 pin PCIE adapter. Sparkle also made sure you card was safe by wrapping in bubble wrap and a static proof bag.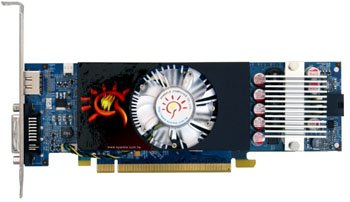 Right out of the gate here is a great view of the cooler on this card and a look at how low of a profile it really has. The fan and cooler are relatively large considering the low profile design which will help to keep things cool even in the most heated battles.

This GTS 250 gives you a DVI and HDMI port so you can hook up multiple monitors or have your choice in connectors. This shows just how small the card really is and is also a look at how it would fit great in a low profile case.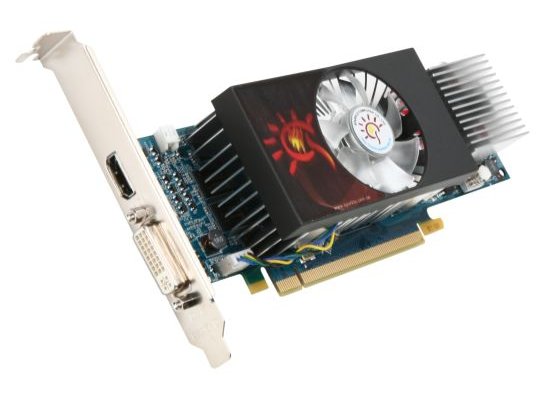 (Please note the last 3 images were inserted by the editor as well as the comments) From the large heatsinks and 4 connector PWM fan you can tell the GTS-250 was designed for a quiet environment like the HTPC market.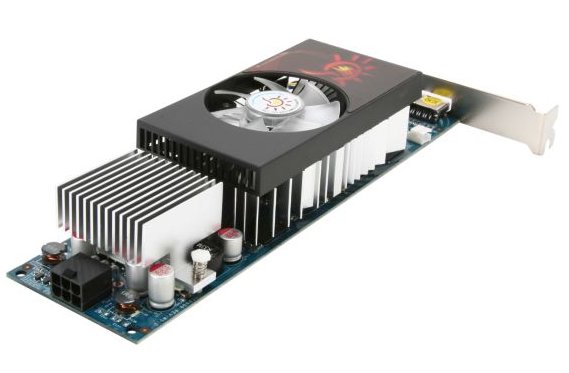 Minimal additional power is needed and the GTS-250 only needs one six pin PCI-E power connector.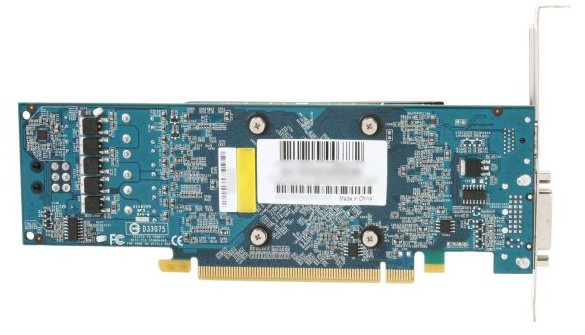 The back of the card is fairly unremarkable and sports a Blue PCB.
TESTING & METHODOLOGY
To test this card we did a fresh load of Windows Vista Ultimate 64 bit and applied all of the patches and updates for the OS, then we updated all of the motherboard drivers and made sure we had the latest NVIDIA drivers. We didn't install any video drivers on the test rig at first, we just installed the basics and then cloned the hard drive using Acronis that way when we switch from ATI to NVIDIA GPU we can have a fresh load with no old drivers hanging around to mess up our benchmarking numbers.
We ran each test 3 times and averaged the results, the average of those results are reported here. Below is a detailed list of the components used during testing.
Test Rig

Case Type
Cooler Master HAF 932
CPU
AMD Phenom II 940 BE 
Motherboard
ASUS M4A79 Deluxe
Ram
Corsair XMS2 DDR2 1066
CPU Cooler
OCZ Vendetta 2
Hard Drives
250GB Western Digital / 750GB Western Digitial
GPU Tested

Sparkle GTS250

Sapphire 5770 Vapor X

Leadtek GTX275

Drivers for Nvidia GPU's 197.41
Drivers for ATI GPU's 10.3

Case Fans
3x120mm Fans
Docking Stations

 IcyDock

Testing PSU
Xion 600 Watt
Mouse
Razer Imperator
Keyboard
Logitech G15
Gaming Ear Buds

Plantronics GameCom 377
Speakers
Logitech X240
Synthetic Benchmarks & Games
Synthetic Benchmarks & Games
Crysis
Crysis Warhead
 FarCry 2
Dirt 2
Unigine Heaven v.2.0
FurMark
CRYSIS V. 1.21

Crysis is the most highly anticipated game to hit the market in the last several years. Crysis is based on the CryENGINE™ 2 developed by Crytek. The CryENGINE™ 2 offers real time editing, bump mapping, dynamic lights, network system, integrated physics system, shaders, shadows, and a dynamic music system, just to name a few of the state-of-the-art features that are incorporated into Crysis. As one might expect with this number of features, the game is extremely demanding of system resources, especially the GPU. We expect Crysis to be a primary gaming benchmark for many years to come.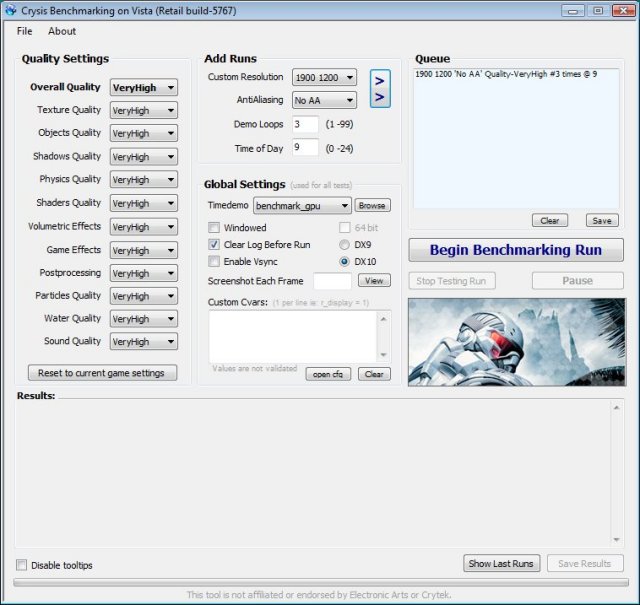 The Settings we use for benchmarking Crysis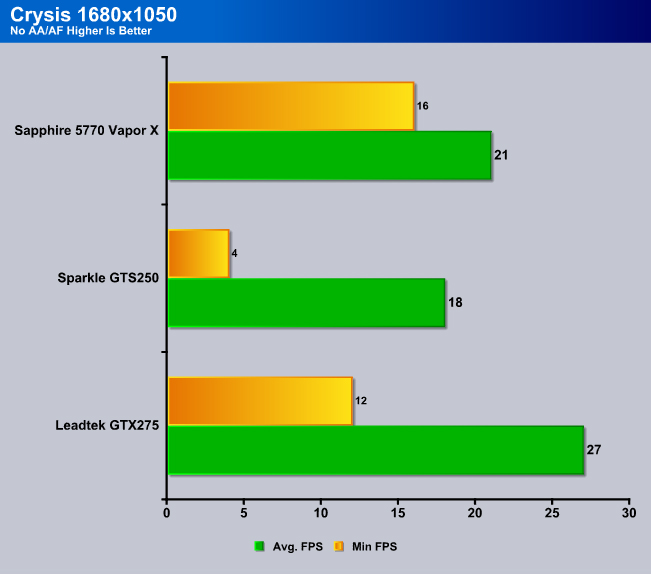 Starting off with the extremely stressful Crysis benchmark, the GTS 250 performs really well for its price range and on top of that they managed to fit this card in the small package of a low profile design so those who are looking for a small card should definitely take a look at this guy.
We crank up the settings in Crysis a bit more and the GTS 250 still manages to hang in there.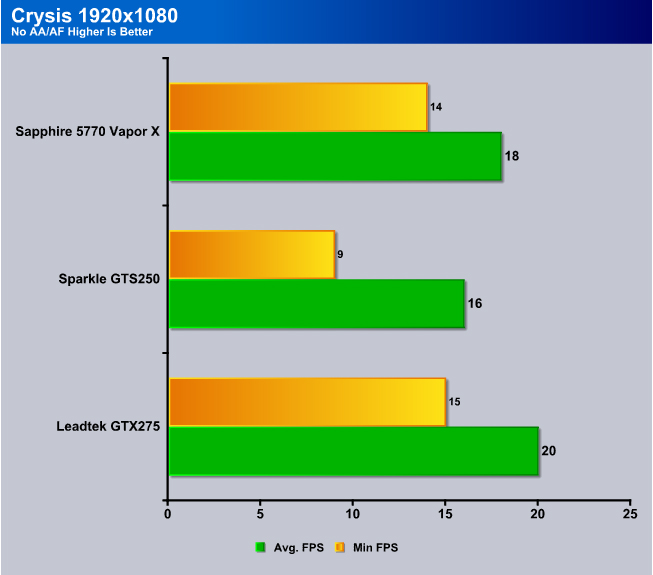 As we turn up the resolution, all of the cards get noticeably lower FPS as expected and this is where the GTS 250 surprised me with its ability to keep up at higher resolutions.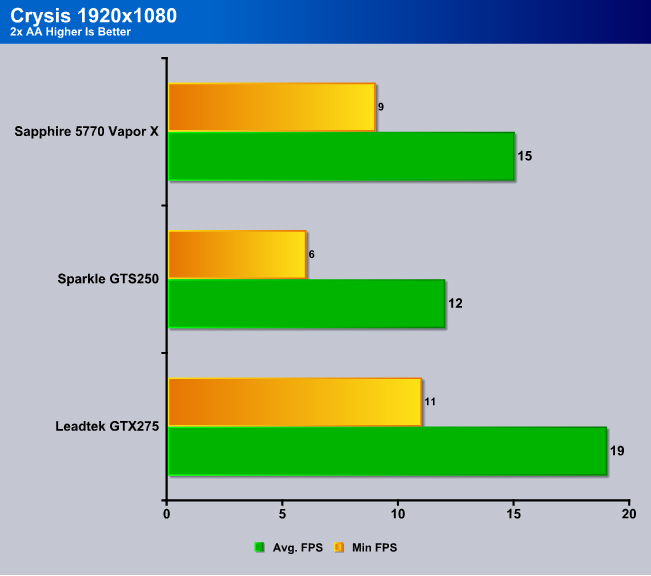 For the end of the Crysis benchmark we turned up the settings all of the way, on the highest resolution, and all of the cards were still able to stay alive long enough for the next benchmark.
CRYSIS WARHEAD
Crysis Warhead is the much anticipated sequel to Crysis, featuring an updated CryENGINE™ 2 with better optimization. It was one of the most anticipated titles of 2008.
The Settings we use for benchmarking Warhead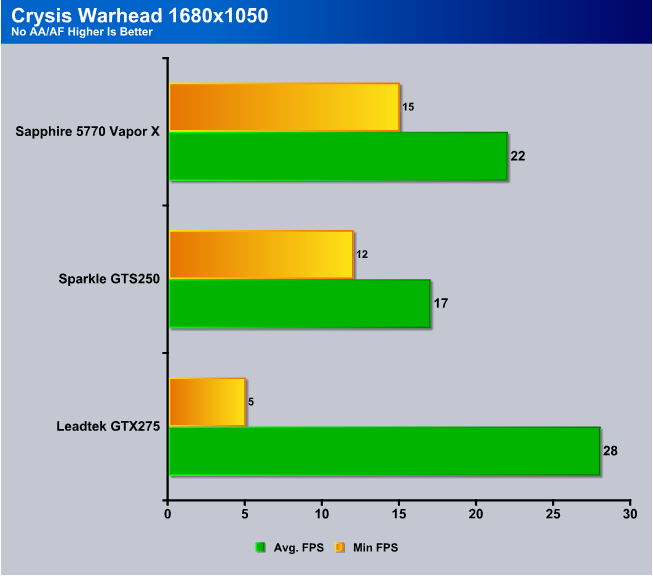 Crysis Warhead is a great benchmark for video cards and surprisingly enough, all of the cards performed relatively well except for the GTX 275 which received a noticeable difference on its minimum FPS.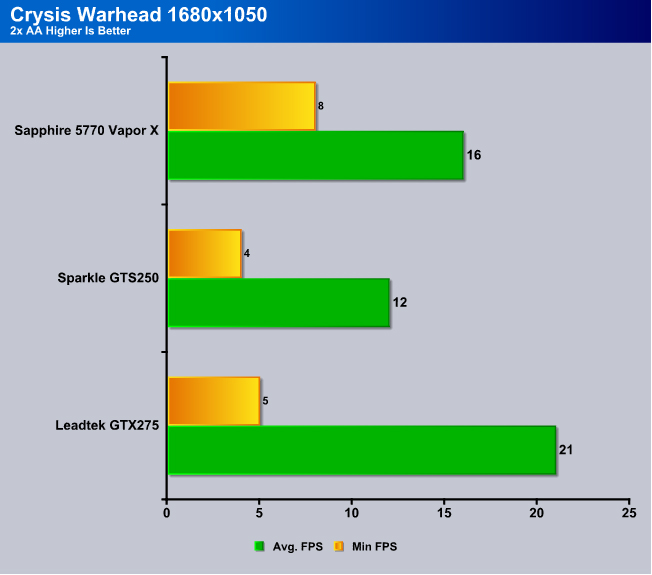 As we turn up the settings all of the other cards fall in line with the GTX 275 leading the way whereas the GTS 250 is slowing down a noticeable amount.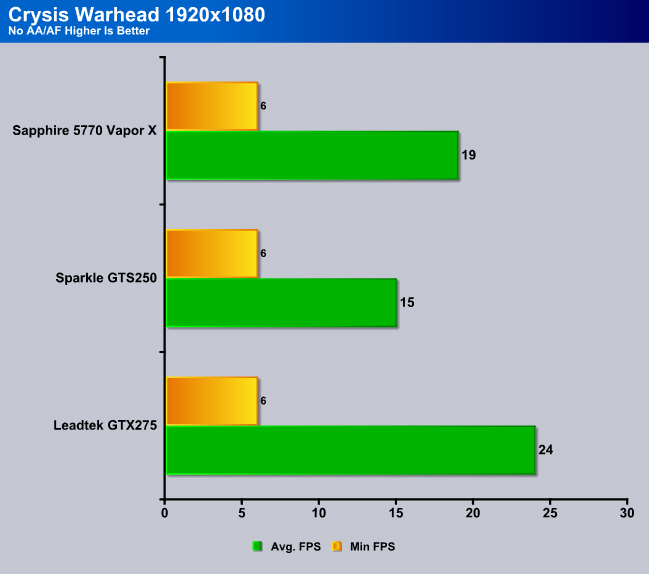 As we turn up the resolution we are able to notice all of the maximum FPS for each card have lowered a decent amount.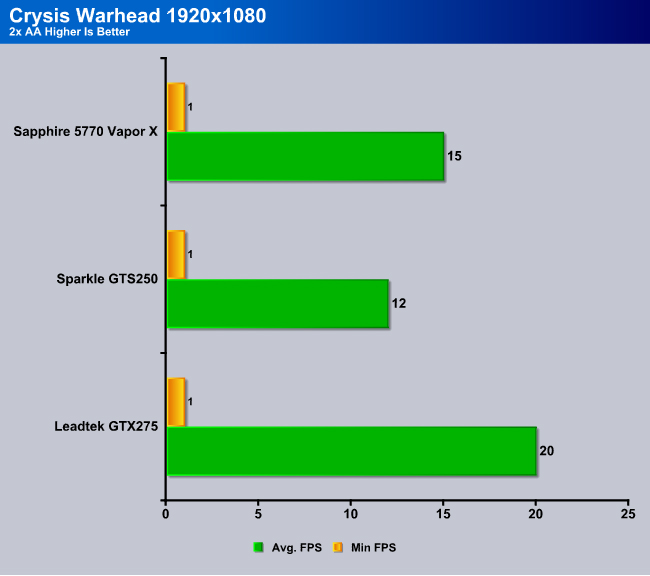 As we turn the settings all of the way up every card seemed to fail at the same point and drop to the ridiculously low FPS of 1 and all I can say is, with max settings in Crysis Warhead these cards sure are getting stressed.
FAR CRY 2

Far Cry 2, released in October 2008 by Ubisoft, was one of the most anticipated titles of the year. It's an engaging state-of-the-art First Person Shooter
 set in an un-named African country. Caught between two rival factions, you're sent to take out "The Jackal". Far Cry2 ships with a full featured benchmark utility and it is one of the most well designed, well thought out game benchmarks we've ever seen. One big difference between this benchmark and others is that it leaves the game's AI (Artificial Intelligence) running while the benchmark is being performed.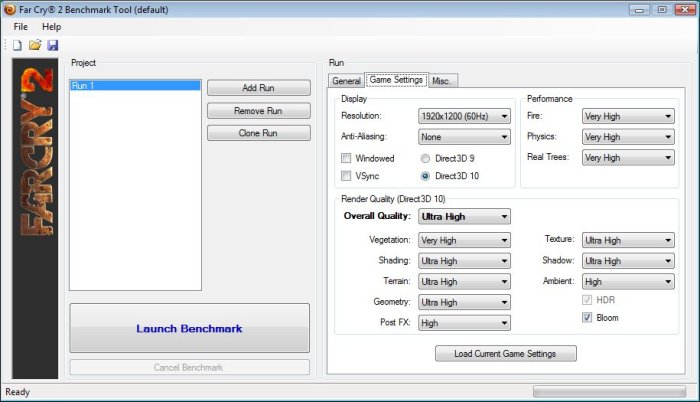 The Settings we use for benchmarking FarCry 2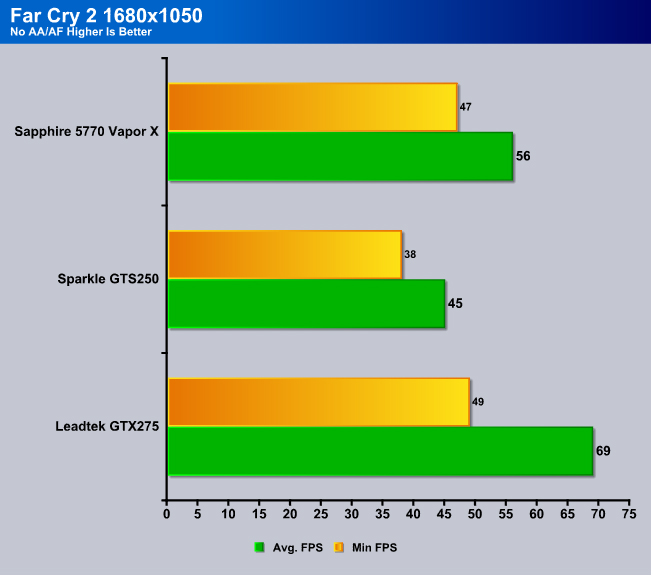 We start off slow with low settings in Far Cry 2 and all of the cards perform very well, managing to keep the minimum FPS above 30 at all times.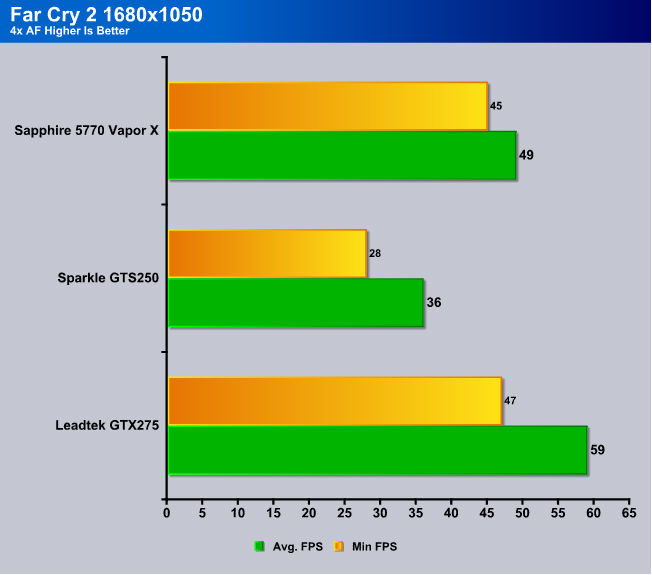 As we turn up the settings you can notice that the GTS 250 is dropping slightly below 30 FPS at times but overall it performed quite well.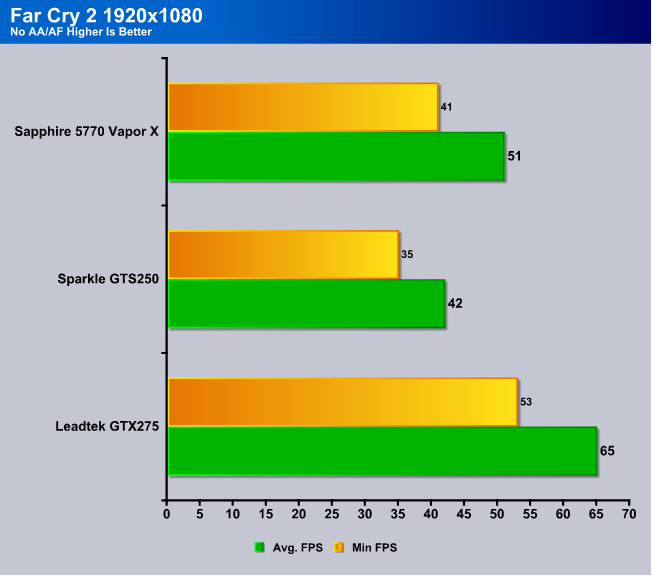 As we crank up the resolution all of the cards are once again able to hold there own and keep the minimum FPS above the mark of 30.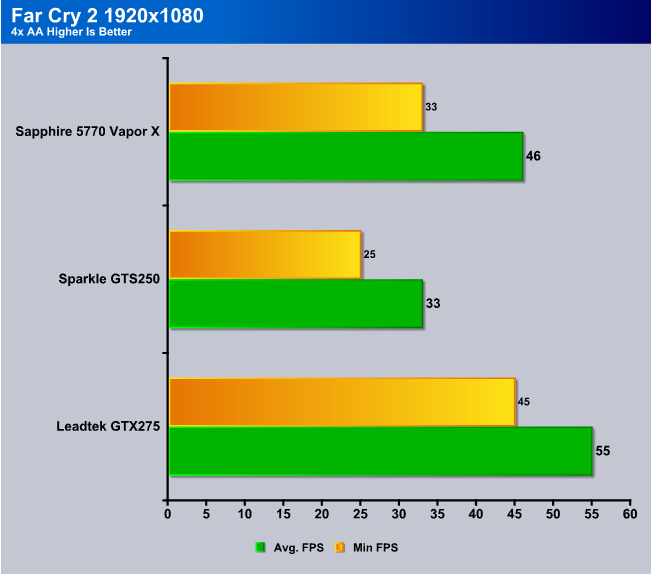 This is the part where we get to really stress the cards on the highest resolution by turning up a few of the settings. All of the cards performed very well and managed to keep the average frame rate above 30.
DIRT 2

Colin McRae
 Dirt 2 is the squeal to the popular racing game Colin McRae Dirt. The game is a racing game, but with an off road twist. Instead of racing Bugattis and Porsches your going to be racing trophy trucks and rally cars. The newest addition adds DirectX 11 effects, and modified physics from the original game.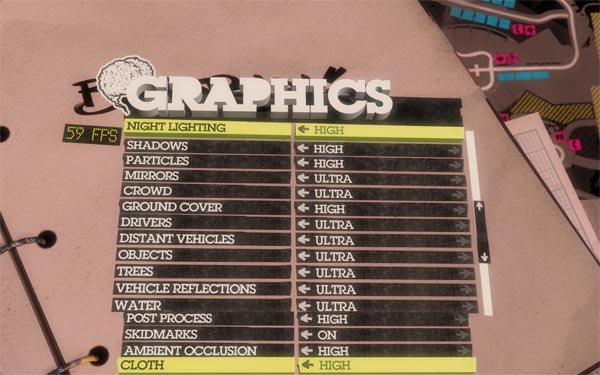 The settings we used in Dirt 2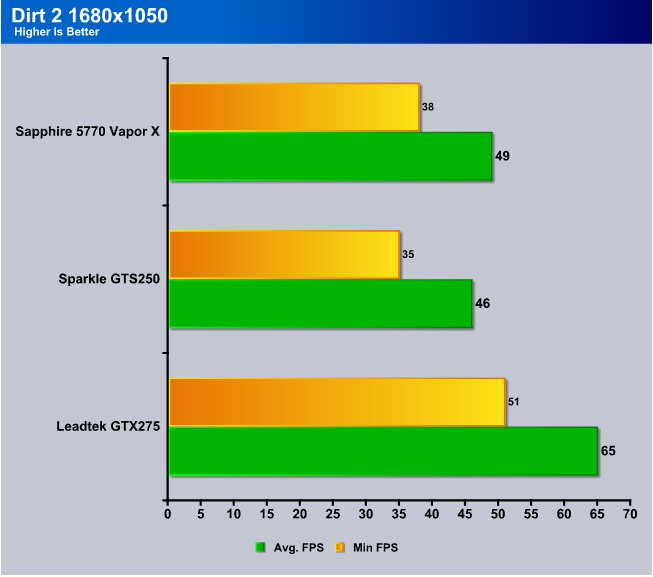 This benchmark was one of the most surprising as the GTS 250 from Sparkle was able to keep up with the 5770 which is an impressive feat for a low profile card.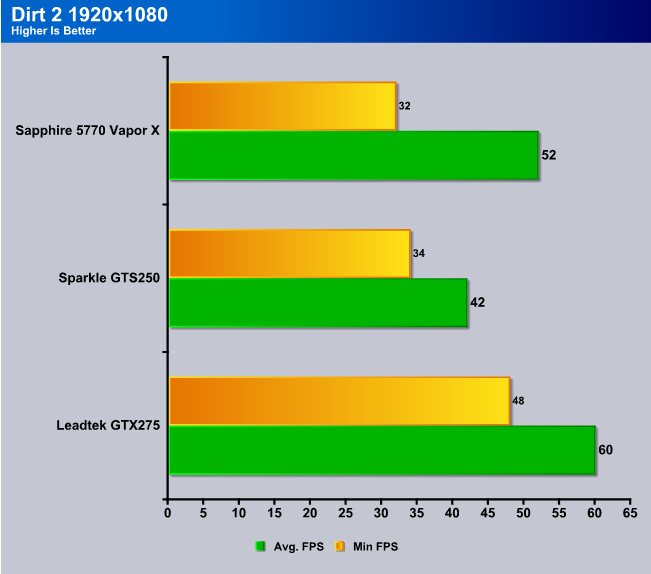 As we turn up the resolution you are able to notice a slight drop in FPS but the GTS 250 is able to hang in there.
FURMARK
Since Furmark has a built in benchmark we decided to play with that a little bit to evaluate it's benchmark viability. This is a shot of the Furmark results from a previous review so you can see what the results page looks like. We went ahead and built charts for this review.
This shot of Furmark benchmark results isn't from this round of testing, it's just there to show you what the results page looks like.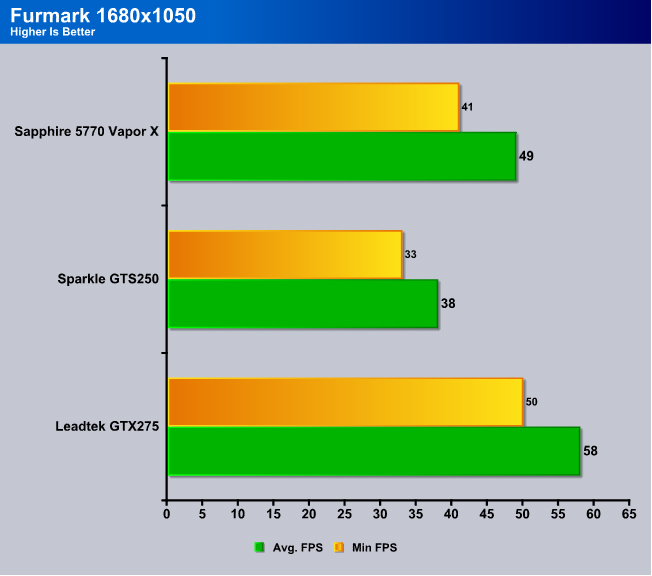 As we start off a bit slow at the smaller resolution we are able to see which cards can maintain their fps for a sustained period of time. The GTS 250 did very well here and shows that it can pack the perfect punch for its price range.
As we turn up the resolution you are able to notice a slight decrease in the performance as expected.
UNIGINE

Unigine Heaven is a benchmark program based on Unigine Corp's latest engine, Unigine. The engine features DirectX 11, Hardware tessellation, DirectCompute, and Shader Model 5.0. All of these new technologies combined with the ability to run each card through the same exact test means this benchmark should be in our arsenal for a long time.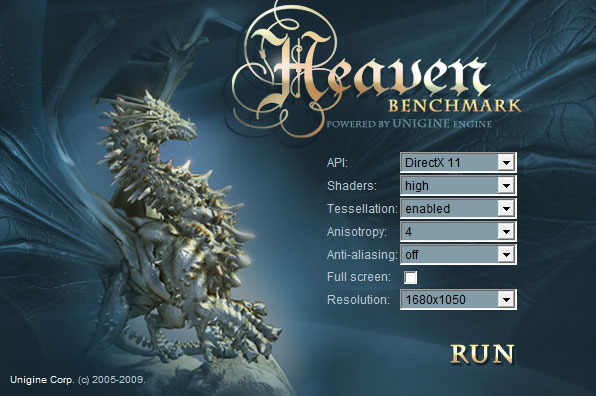 The settings we used in Unigine Heaven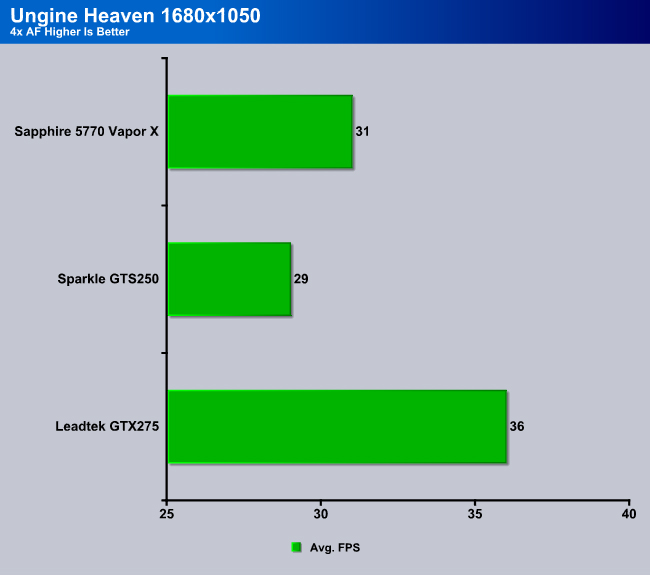 Ungine starts us off with great results from all 3 cards on the smaller of the two resolutions.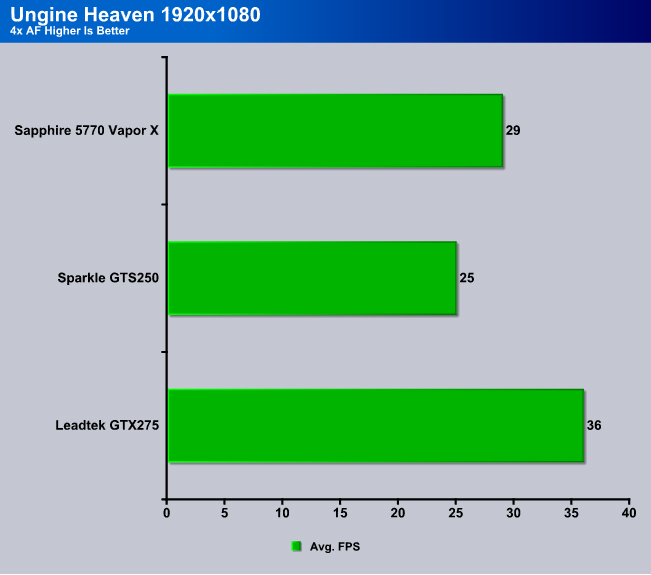 Turning up the resolution yields us a noticeably lower average FPS but the three cards were able to hang in there.
TEMPERATURES
The GTS 250 really suprised me here with its poor performance considering the size of its cooler. Even with the fan at 100% and my case fans blowing directly on the card under load it got surprisingly warm. Throughout testing the fan was very hard to hear over my case fans so I couldn't tell how loud it was. To test the load temperature I loaded up Furmark 1.7, and let it run for 30 minutes. I then recorded the maximum temperature reached. To test the idle temperature I let the card idle with no programs running. Below is a table of the results.
| Idle Temperature | Load Temperature |
| --- | --- |
| 44 | 81 |
Take in mind that these temperatures where obtained in a full tower case with a fan blowing directly on the graphics card. If you are using the card in a low profile case, then your temperatures may be higher.
CONCLUSION
Overall this card performed above my expectations for it. Sparkle was able to implement a great card in the small size of a low profile card while keeping it surprisingly quiet. This card was able to keep up with higher end cards that are out of its price range which is why it's such a great choice for anyone who wants a low profile or budget card for their gaming machine. In combination with its powerful punch for its price point Sparkle kept the card small, quiet, and great looking which is why I would suggest it to anyone looking for a great card in the $100-150 dollar price range.
OUR VERDICT: SPARKLE GTS 250
| | |
| --- | --- |
| Performance | 8 |
| Value | 10 |
| Quality | 9 |
| Features | 7 |
| Innovation | 9 |

We are using an addition to our scoring system to provide additional feedback beyond a flat score. Please note that the final score isn't an aggregate average of the rating system.

Pros
Cons

Price

Low Profile

Performance for its size

Great PhysX card

Small Fan

Outperformed by Full Size Cards

High Temperatures

 

 

 
Summary: Overall this is a great card for someone interested in a low profile card because it performs exceptionally well for its price range and is able to hold its own against cards well above it. This would also be a great addition as a PhysX card because of its small size.