Getting tired Of not finding a true left handed Mouse for you left handed users? Then you shall wait no longer.
Introduction
When it comes to high performance, high DPI mice for gaming, Razer is on top of the list for gamers to use. Unfortunately when it comes to the left handed people, it has been a long and hard road to find a mouse that is both high quality, and have the high DPI capabilities. Normally Left handed users had to use ambidextrous gaming mice (which feel clumsy), or they had to resort too using crappy mice that did qualify as gaming mice.
Razer, has come up with a mouse that is designed specifically for left handed people. This mouse carries a 5 button configuration, has on the fly DPI adjustment up to 3500 DPI and on the fly profile switching. This mouse also contains Razers very own 1000 mhz polling rate (1ms response time) and it finally contains a 3.5g laser for all of your left handed precision mousing needs.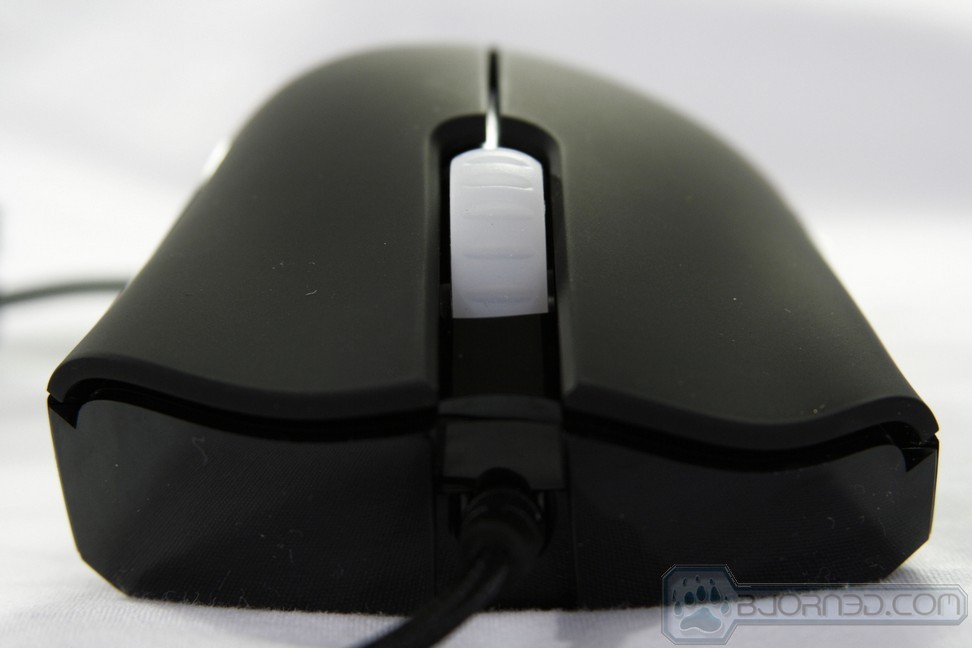 I am proud to present the totally revamped, just for you left handed gamers, DeathAdder gaming mouse. Since I am not a left handed gamer (I am a right handed), I am going to let my roommate use this mouse. He is a left handed user that has been scouring the net for that perfect mouse to fit his unique abilities, but ended up coming up short every time.
Specifications
Ergonomic left hand design
3500dpi Razer Precision™ 3.5G infrared sensor
1000Hz Ultrapolling™ / 1ms response
Five independently programmable Hyperesponse™ buttons
On-The-Fly Sensitivity™ adjustment
Always-On™ mode
Ultra-Large non-slip buttons
16-bit ultra-wide data path
60–120 inches per second and 15g of acceleration
Zero-Acoustic Ultraslick™ Teflon® feet
Gold-Plated USB connector
Seven-Foot, lightweight, braided fiber cable
Packaging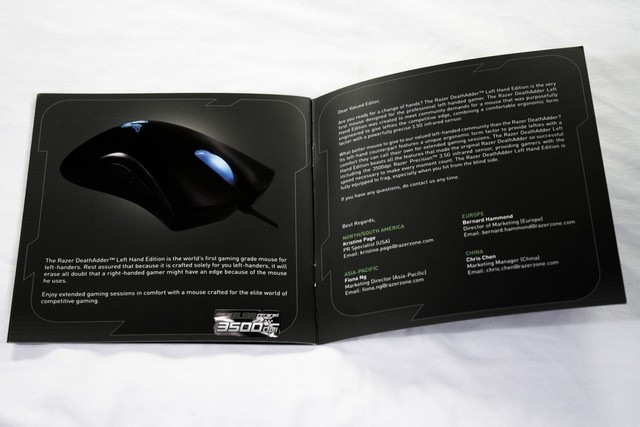 The user manual came separate from the packaging. What I thought was rather unique about the user manual, was that it opens up from left to right instead of the right to left as normal books open.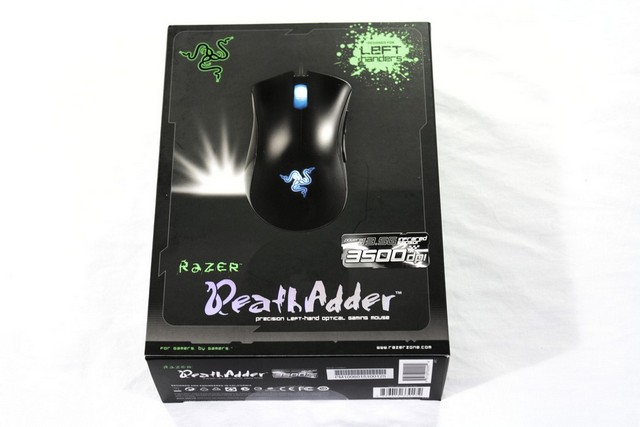 Time to see how Razer packaged the DeathAdder Mouse. Like always, Razer goes above and beyond the call of duty when it comes to packaging. There is plenty of information on the packaging to ensure us what this mouse is capable of.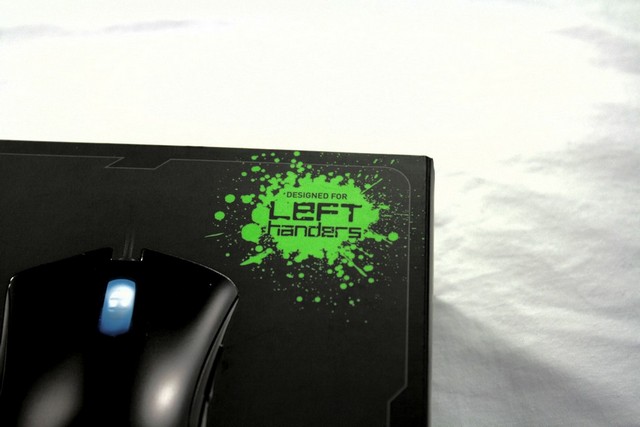 Once again this mouse is intended for Left Handed users only.
Upon opening the packaging, Razer makes sure this mouse will not get harmed during shipping.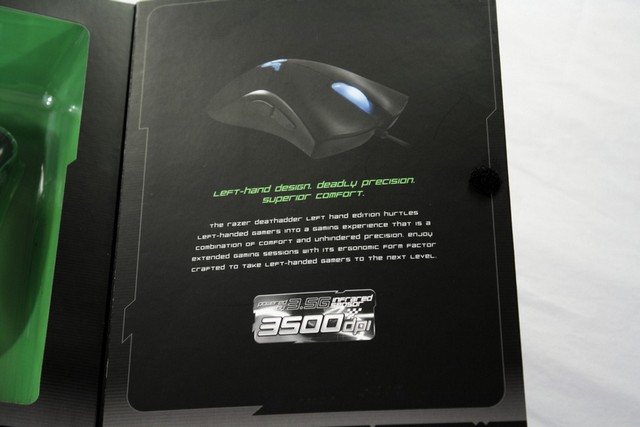 Just like the instruction manual, the packaging lid also opens up from the left.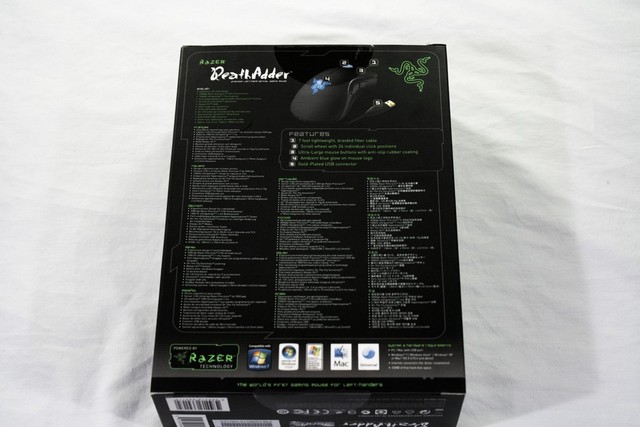 On the backside of the packaging, Razer lists all important features of this mouse.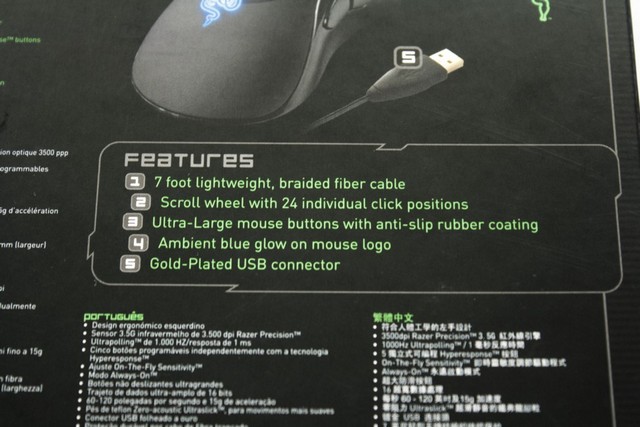 The five most important features of the Left Handed DeathAdder mouse.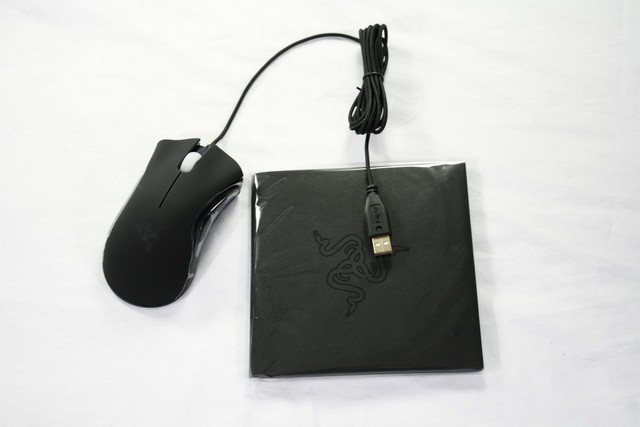 Razer has always put the extras inside of a plastic sheath to keep things nice and tidy.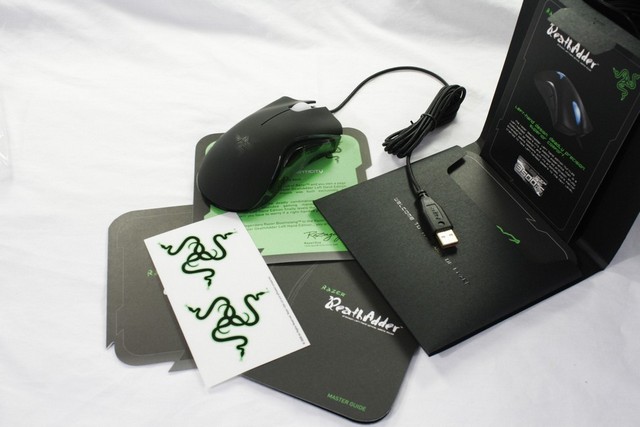 All of the contents outside of its very own plastic sheathing. We get a master guide, a certificate of authenticity, an instruction manual, the Mouse itself,then finally a brochure.
Overview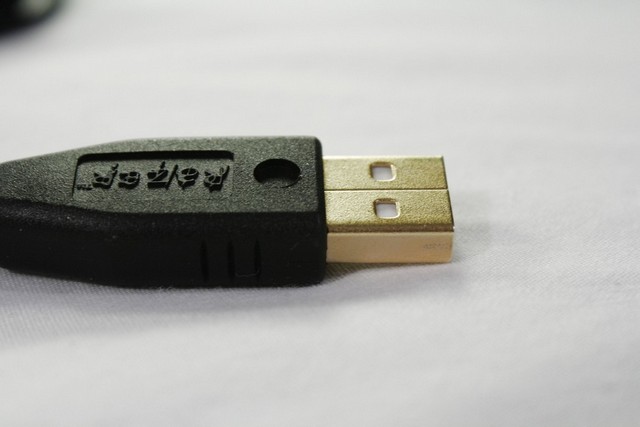 It is time for us to go over what the DeathAdder mouse looks like. Starting off on the USB connector, Razer gold plates this connector to ensure good connectivity to our mouse.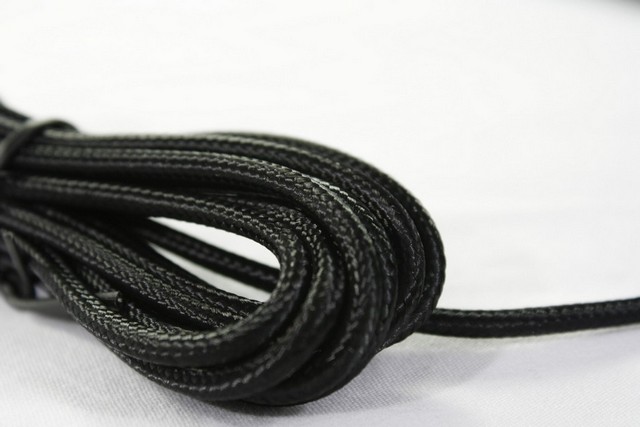 Like the Imperator Mouse (review can be found HERE), the DeathAdder also uses a cloth like covering instead of the traditional rubber coated mouse lead.
Imperator on the left, DeathAdder on the right. Both of these mice, have a similar appearance to one another. Just that the DeathAdder is for left hand users, the Imperator is for right handed users.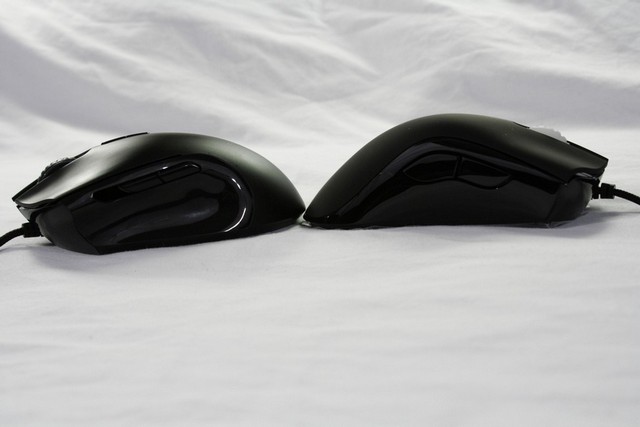 Unlike the Imperator, the DeathAdder mouse can not move the side buttons forward or back. But the buttons are slightly larger than that of the Imperator.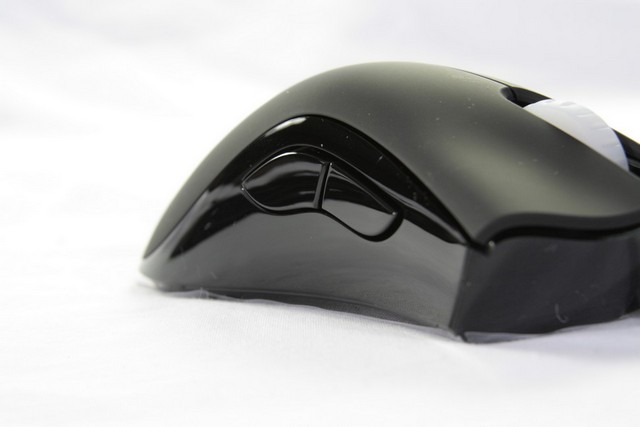 A better image of the thumb side buttons.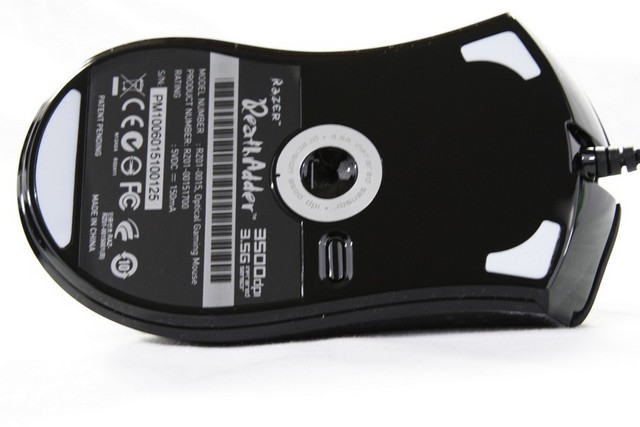 Lets check out the bottom side of the DeathAdder mouse.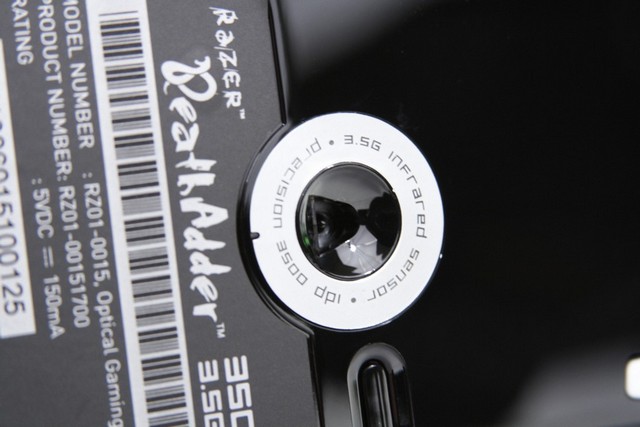 Here is a close up of the 3.5G laser that Razer used.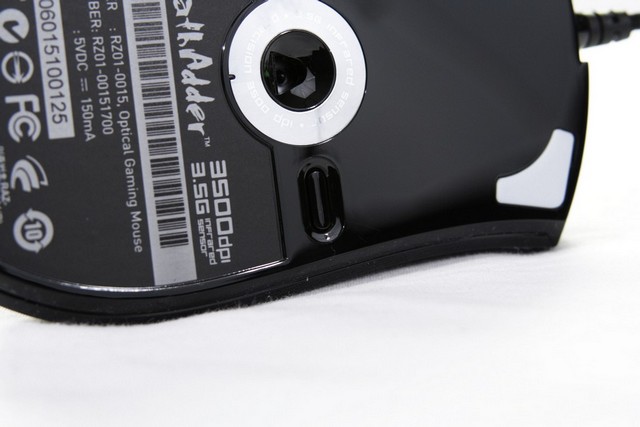 The profile switching button is on the bottom of the mouse as well. I personally like this placement, this will keep you from accidentally switching out profiles while you are in the heat of battle.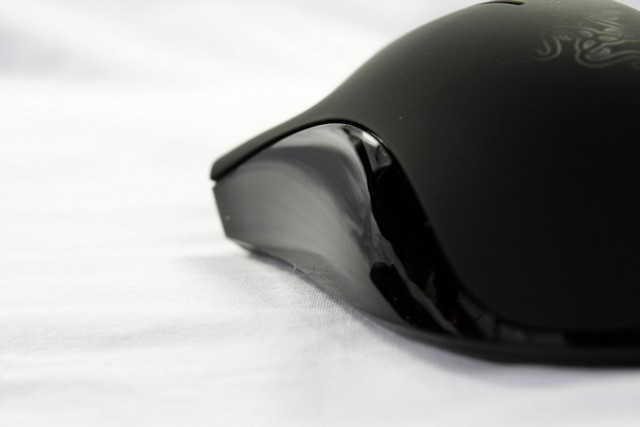 The outer side of the mouse. If you have not yet noticed, this mouse has some rather nice curves to it.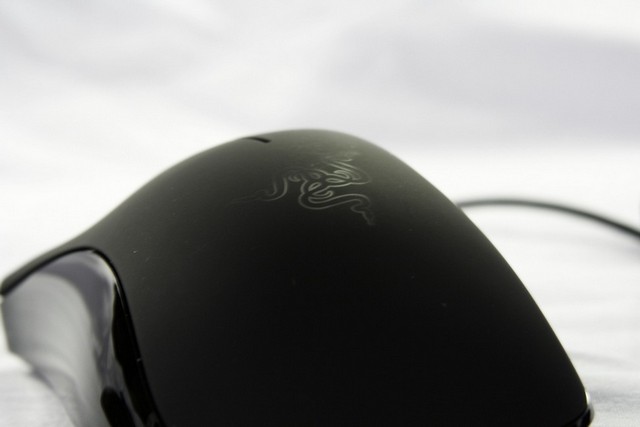 The Razer symbol, this will pulsate once the mouse is plugged in.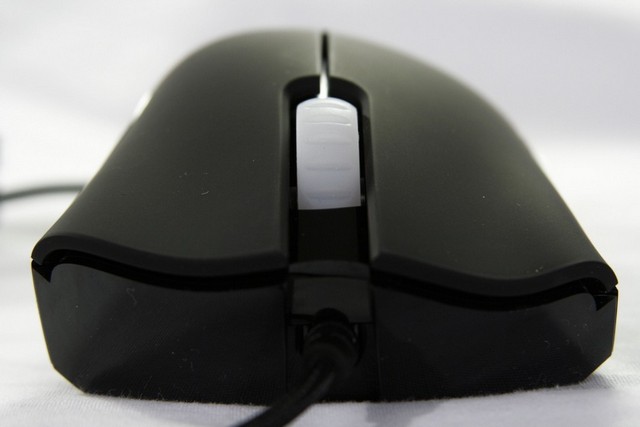 If this is not intimidating, I don't know what is.
If you have not noticed unlike the Imperator, the Death adder is absent of the upper DPI adjustment buttons. You can program these to the two side buttons. The only thing I wish Razer would have done was include the two extra DPI adjustment buttons.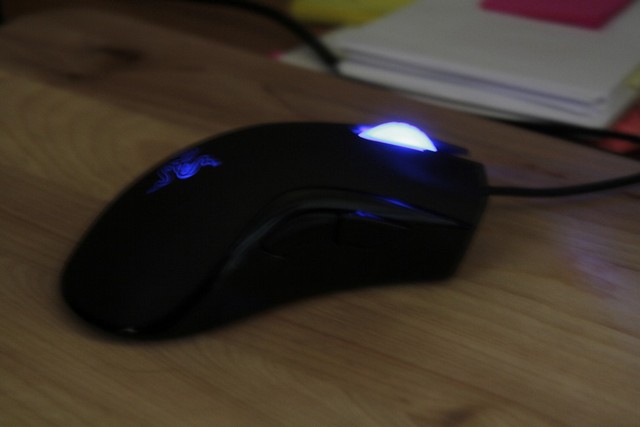 The back side of the DeathAdder all plugged in and ready for battle.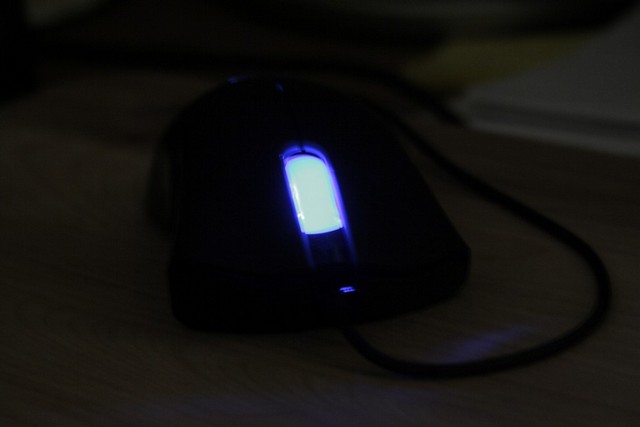 Time for us to start slaughtering all who oppose us.
Software
This portion is all about Razer's included software where we make all of our mouse adjustments
Once you get the software for the left handed DeathAdder installed, the icon to launch this program is in the task bar start up. By double clicking this icon, you can start to fine tune the DeathAdder too your specific needs. You can also update the firmware of the mouse through this software and also check to see if there are any newer drivers for the DeathAdder mouse.
Testing
Since mice don't really care what you running as far as a computer is concerned, there is no real point in listing the system specifications. Instead my roommate ran this mouse through its paces and gave me a quick little write up on how he feels about this mouse. His last mouse was a 1800 DPI Razer DiamondBack ambidextrous mouse. It did its job well, but being as he was a left handed user it felt rather awkward all the same.
When he first started using this mouse, he was shocked that this mouse had such a High DPI. He had to hold onto his monitor a couple of times keep him and his character from getting dizzy. And of course I just had to make fun at him from time to time because he was not quite used to the high DPI, when he would over shoot a button on his desktop and when he over shoot his target when he was gaming.
So these next couple of paragraphs are in his words, I am just retyping what he had to say about the DeathAdder left handed mouse.
"The DeathAdder mouse is more comfortable, as I have a fairly large hands. I was able to game for several hours with out my hand cramping or shifting during my gaming or while during my general software usage. The two thumb buttons are located high enough of the mouse but still close enough for me to use with very little effort. The thumb buttons are easy enough for me to activate them just by rocking my thumb upwards. The standard top two buttons were extremely easy to use, in fact so easy I kept giving my position away in my games by accidentally firing my weapon, or I would click on something that did not need to be clicked on. Since the DeathAdder lacked the top two DPI adjustment buttons, like Raymond's Imperator, I ended up setting the thumb buttons to adjust the DPI up and down. This allowed me to quickly move from full range 3500DPI to a much more controlled slower DPI when scoping in on my weapon. The Death Adders wheel, and middle button were sharp and crisp to the touch. they did not require a lot of scrolling and I did not have problems when I was switching from one weapon to the next. Scrolling web pages were smooth and non jarring, and did not require me too scroll forever for the web page to move.

During my program usage, I did not have any real problems with this mouse. I either game or browse the internet on my computer. This mouse was very precise while moving around my desktop, and the sensitivity of the top two buttons, made it a lot easier for me to open programs and close them with considerable ease."
Agapito Hurtado (Nyborg)
Conclusion
As we could see the DeathAdder fits you left handers quite well. Razer prides themselves on their dedication to the gaming community. So much in fact that if gamers have a specific problem with a mouse, Razer does what it can to accommodate us. The DeathAdder is a prime example of this continuation for all of us gamers. Razer definitely can truly say "Built for Gamers, By Gamers."
The only area my roommate says he wishes that could be different, is to have the availability of different colors instead of just blue LED. I am going to add that I wish that Razer could have added the top two DPI buttons similar to the Imperator mouse. And this is truly is just nit picking on my part. My roommate does not mind either way if there are upper DPI buttons or not. Having a price point on or around 60USD "Makes this a mouse affordable for any left handed gamer that truly needs an awesome mouse that fits perfectly into their hands". "This mouse will truly make our South Claw into a true South paw killing machine."
Agapito (Nyborg) Hurtado
OUR VERDICT: Razer DeathAdder
| | |
| --- | --- |
| Performance | 9 |
| Value | 9 |
| Quality | 10 |
| Features | 9.5 |
| Innovation | 9.5 |

We are using a new addition to our scoring system to provide additional feedback beyond a flat score. Please note that the final score isn't an aggregate average of the new rating system.

Pros
Cons

Good Quality

Excellent fit for left handed users

Smooth Non jarring movement of the mouse

 

Other then nitpicking; Nothing

 

 

 
Summary:
Finally there is a gaming mouse, that converts my South Claw into a South Paw.