If you are looking for the absolute lowest power consumption computer then you may want to take a second look at this RAM. Running at a mere 1.25 volts at 1600 MHz, this is the absolute lowest voltage DDR3 available today.
Introduction
If you are a system builder looking for the absolute lowest power consuming PC then RAM may be something thats overlooked. Extremely low voltage RAM like the kit of HyperX we have here today can really help bring down power usage. This can be a great building block for an extremely low power PC. This also future proofs your components in a way since Intel has stated that the next generation of CPU's will use even lower voltage DDR3 than what is common today. However we will be using this RAM on an AMD based system which does not require the RAM to run at 1.65 volts or lower. This may be the case in a lot of computers since AMD makes some of the most power efficient CPU's currently available.
With that in mind you may think that this RAM would run at a very low speed. However the opposite is true. This RAM can either run at 1600 MHz using an amazing 1.25 volts, or 1866 using a slightly higher 1.35 volts. Whether you sacrifice some of the power savings for raw performance is up to you, but with the capability to run 1866 MHz with a mere 1.35 volts, this RAM almost seems unbelievable. Let's take a look and see if this RAM is able to live up to the high expectations given to it.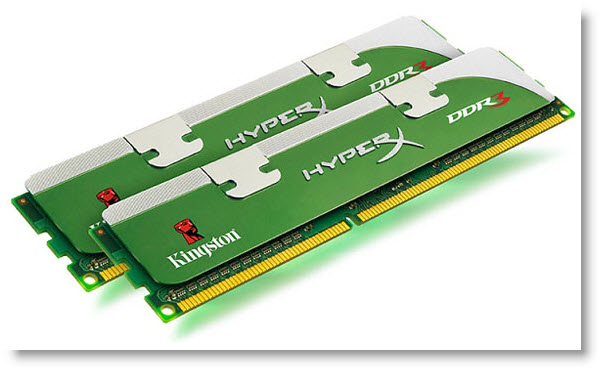 Specifications
1600 MHz operation at 1.25 volts (Lowest currently available)
1866 MHz operation at 1.35 volts
JDEC standardized timings
Impressions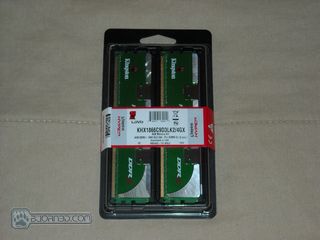 Here we have the RAM in its package. Kingston decided to go with a very basic package. This actually saves material that might have been used for a box which in turn can help reduce pollution. Very good thinking on Kingston's part.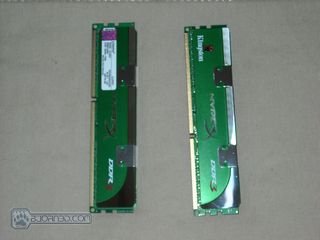 Here we have the two RAM sticks individually. They both have the same pattern on either side, but one side includes the model number and timings. I like the choice of a green color, because it really fits with the whole low power thing.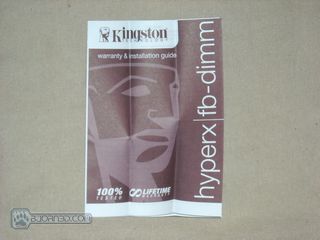 Finally we have the manual and warranty information. These RAM sticks come with a lifetime warranty, which is excellent if we say so ourselves. This shows that Kingston feels their RAM is excellent, and thus back it with an incredible warranty.
Methodology
We've expanded our testing suite considerably for P55 and will continue to use the same tests across most of the motherboards and CPU's we test. We run each test a total of at least three times minimum, some tests we run more than 3 times. We average the total of all the tests from each benchmark then report the average here.
The OS we use is Windows 7 Ultimate 64bit with all patches and updates applied. We also use the latest drivers available for the motherboard and any devices attached to the computer. We don't disable a bunch of background tasks or particularly tweak the OS or system for bigger numbers. We do turn off drive indexing and daily defragging. We also turn off Prefetch and Superfetch. This is not an attempt to produce bigger benchmark numbers. Drive indexing and defragging can interfere with testing in that one test might occur without defragging going on and the next test defragging might be active, the same thing goes for drive indexing. We can't control when defragging and indexing occur precisely enough to guarantee that they won't interfere with testing, so we turn them off.
Prefetch tries to predict what you will load the next time you boot the machine. We disable it because we want to know how the program runs without any of the files being cached, otherwise each test run we'd have to clear pre-fetch to get accurate numbers. Lastly we disable Superfetch, Superfetch loads often used programs into memory and is one of the reasons people consider Vista to be such a memory hog. Vista fills the memory in an attempt to predict what you will load. Having one test run with files cached, and another test run with the files being un-cached would result in skewed numbers. Again since we can't control it we turn it off. Other than those 4 things which can potentially interfere with benchmarking, and do so out of our control, we leave everything else running.
Test Rig

Case Type
NZXT Hades
CPU
AMD Athlon 2 X4 635
Motherboard

Gigabyte 890GPA-UD3H

RAM
GSkill 4GB DDR3 1600 @ CAS 9
Patriot G Series 1600
Mushkin DDR3 1600 @ CAS9
CPU Cooler
Cooler Master TX-3
Hard Drives
Western Digital SE16 640 GB
Optical
Lite-On DVD R/W
GPU(s)
Sapphire HD 5770 Vapor-X
Testing PSU
Kingwin Lazer 850w
Synthetic Benchmarks
Synthetic Benchmarks & Games
Everest 5.0
Super Pi
SiSoft Sandra 2010
SISOFT SANDRA
"SiSoftware Sandra (the System Analyser, Diagnostic and Reporting Assistant) is an information & diagnostic utility. It should provide most of the information (including undocumented) you need to know about your hardware, software and other devices whether hardware or software. It works along the lines of other Windows utilities, however it tries to go beyond them and show you more of what's really going on. Giving the user the ability to draw comparisons at both a high and low-level. You can get information about the CPU, chipset, video adapter, ports, printers, sound card, memory, network, Windows internals, AGP, PCI, PCI-X, PCIe (PCI Express), database, USB, USB2, 1394/Firewire, etc."
We see here that all of the RAM kits are neck and neck. Since they are all running on the same frequency, and identical timings this is almost to be expected.Overall the Mushkin RAM is just a tiny bit better than the other kits, but this difference easily falls into the margin of error.
EVEREST ULTIMATE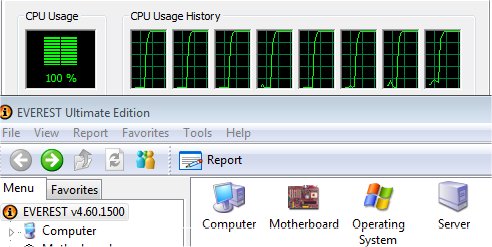 "EVEREST Ultimate Edition is an industry leading system diagnostics and benchmarking solution for enthusiasts PC users, based on the award-winning EVEREST Technology. During system optimizations and tweaking it provides essential system and overclock information, advanced hardware monitoring and diagnostics capabilities to check the effects of the applied settings. CPU, FPU and memory benchmarks are available to measure the actual system performance and compare it to previous states or other systems. Furthermore, complete software, operating system and security information makes EVEREST Ultimate Edition a comprehensive system diagnostics tool that offers a total of 100 pages of information about your PC."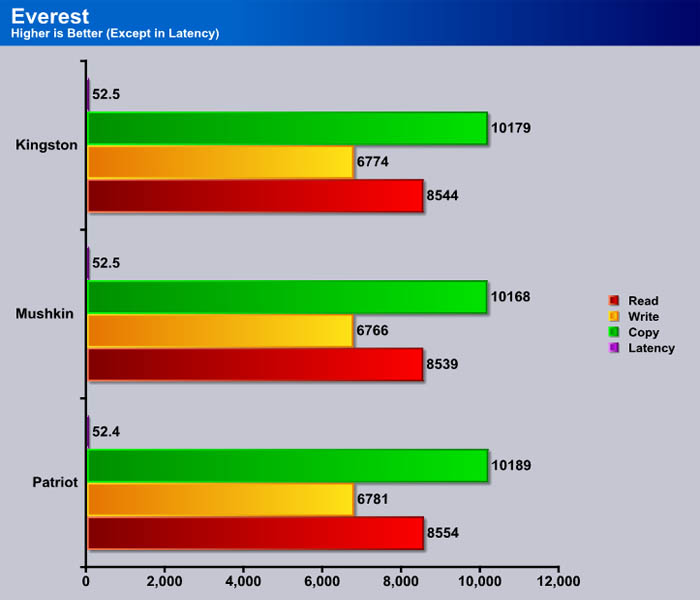 Again all of the RAM kits are neck and neck here. This time the Patriot RAM manages to just squeeze out the win.
SUPER PI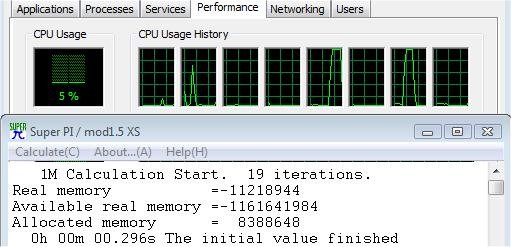 "Super PI is the "Gold standard" for many when it comes to judging system performance. We ran 1 Meg and 2 Meg calculations, again running each test three times and reporting the average of the results."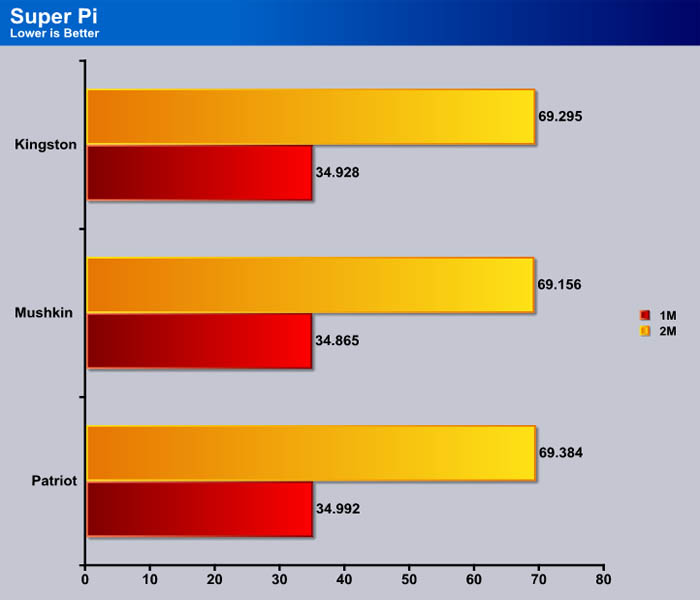 As with the other two tests, we once again have what amounts to a three way tie. This time the Mushkin kit takes a slight lead over the other kits in the bunch. If the HyperX was running at its maximum rated speed of 1866 it would certainly be in the lead right now.
Conclusion
Kingston really has a dangerous RAM kit on their hands. The claim of the lowest voltage DDR3 is certainly not a small one. Many users are looking for more power efficient products, and this RAM really delivers. In many cases a product such as this sacrifices performance for efficiency. However that is not true in this case since this RAM will run at a blazing 1866 MHz, but the user also has a choice of running the RAM at a slower speed with lower voltage. This allows the Kingston kit to cover a wide variety of audiences.
While this kit works just fine on AMD platforms, the performance speed is better used on an Intel based system where you can reach higher memory clocks. The low power profile will work extremely well on any AMD based machine, because of this you can't rule this kit out of any machine making this kit a great buy for anyone.
OUR VERDICT:  Kingston 1600/1866 DDR3
| | |
| --- | --- |
| Performance | 9 |
| Value | 8 |
| Quality | 9 |
| Features | 8 |
| Innovation | 9 |

We are using an addition to our scoring system to provide additional feedback beyond a flat score. Please note that the final score isn't an aggregate average of the rating system.

Pro
Cons

Low Voltage

Cool Design

Low Profile

 None

 
Summary: The Kingston 1600/1866 DDR3 low voltage RAM kit is an excellent addition to Kingston's amazing variety of RAM. This RAM gives the user a choice of higher performance or lower power usage which makes this kit very versatile.