GF100 is here and OCing it is different, peek into the future of overclocking and join us using EVGA Precision to OC the 480. (The Boss is going to kill me for this one 😉
Introduction
GTX-480 and 470 are a different creature when it comes to overclocking. The folks over at EVGA have it down pat with EVGA Precision 1.9.2 and we thought since they took the time to build Precision we'd take toe time to OC GF100 with it and show you how to OC GF100 and Precision at the same time.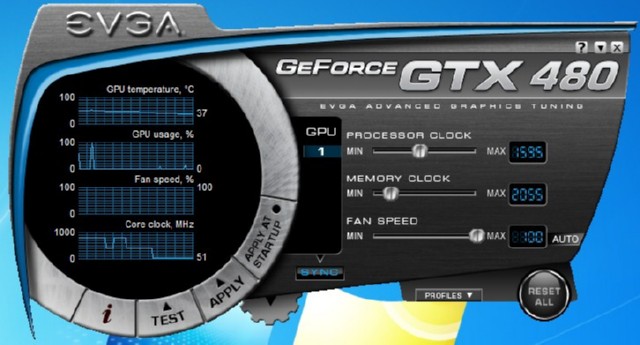 Here's what Precision looks like wearing the GTX-480 skin but it may not be what most of you are used to seeing so I switched to Precision Classic. Take notice now that on the GTX-480 skin all you see is Processor Clock, that's the same as Shader Clock in Precision Classic. When using this skin you increase the Processor clock, when using Classic you increase the Shader Clock.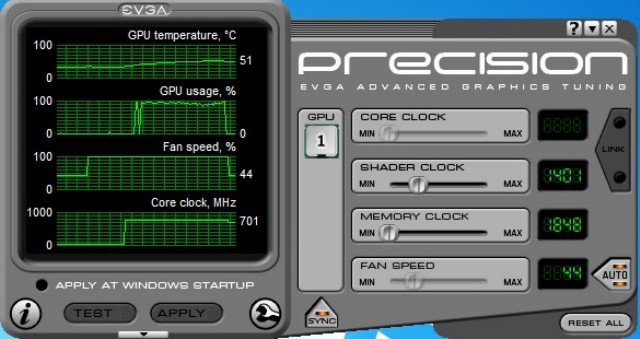 When installed you will notice that EVGA Precision has the Core Clock for the GPU locked and you can't unlock it. The reasoning behind that is the Shader and Core Clocks are linked and locked.
The GPU Core is linked to the core clock but to get true core speed divide the Shader clock by Two. So 1401/2 = 700 or the default core clock on GTX-480. Memory shows at 1848 so use the same division to get true GDDR5 speed. The 1848/2 = 924 or the default Memory speed on GF100.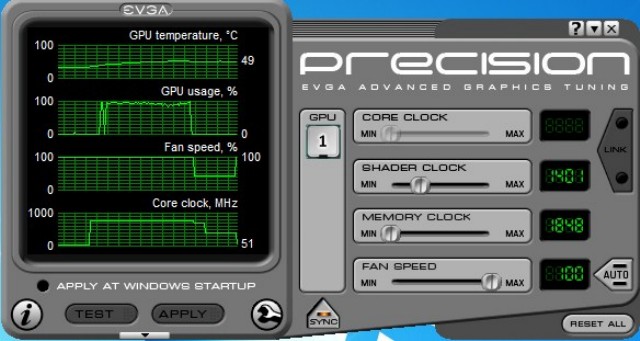 On GF100 the absolute first thing you need to do is get earplugs, err click Auto to the right of the Fan speed  slider, then slide it up to 100% and click apply. No that's not a light aircraft trying to land on your house it's GTX-480's fan winding up at 5000+ RPM.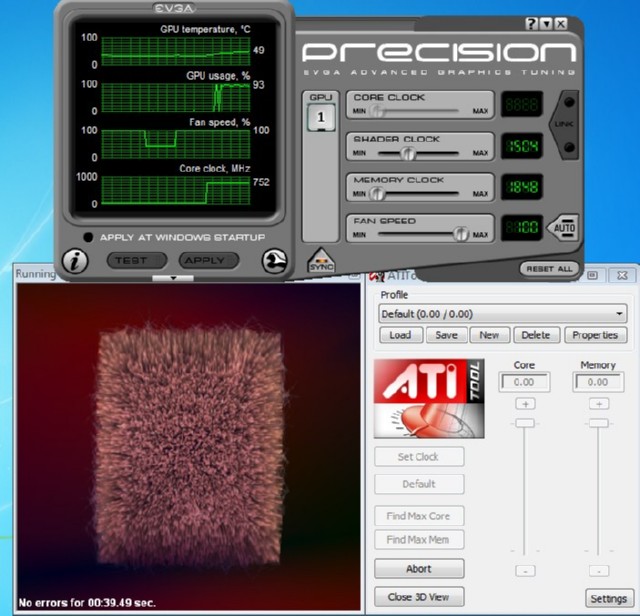 Next slide the Shader clock up to what you feel comfortable with. I slid it up to 1504 and clicked apply. Then I fired up ATITool and scanned for artifacts. You can use FurMark or OCCT whatever you prefer but scan for artifacts for like 5 minutes between steps. In this shot it says 39 seconds but I scanned for like two minutes then moved on.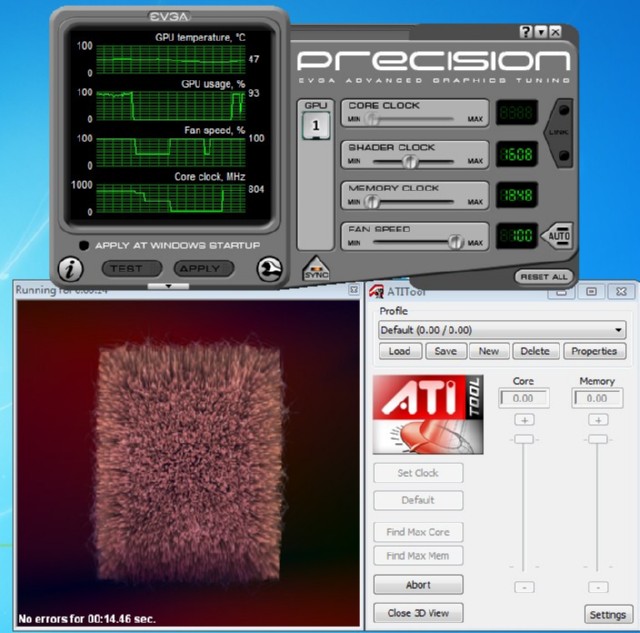 Next I moved the Shader clock up to 1608 or around 801 core clock and started scanning for artifacts again. This time I let it run for the full five minutes and it passed. Yes I took the screenshot early it's a nasty review habit. Get the screenshot before the fire department shows up or you pop a core or something stupid.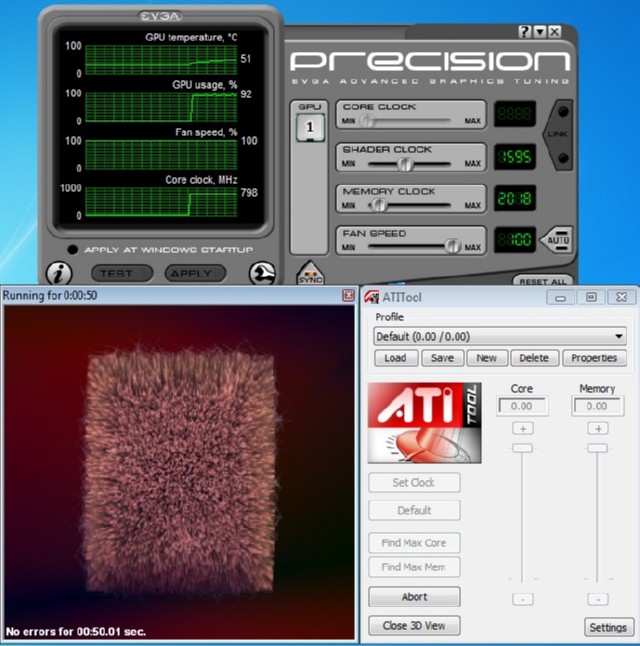 Once you found the core overclock you want do the same thing with the memory. Slide the memory slider up to what you are comfortable with and click apply. Take note that if at any point you get artifacts it's better to abort the scanning and reboot. There is a driver error on Nvidia GTX-480/470 that will keep the GPU at 100% AFTER THE REBOOT. That's normal Nvidia knows about it and it will be fixed in the next driver release.
Once you click apply scan for artifacts again. Memory is touchy to heat so scan for the full five minutes.
We checked in with GPU-Z 0.3.9 and it's telling us 797 Core and 1028 Memory and we had already scanned for five minutes and felt we could get a few more MHz.
Overclocking GTX-480 Page Two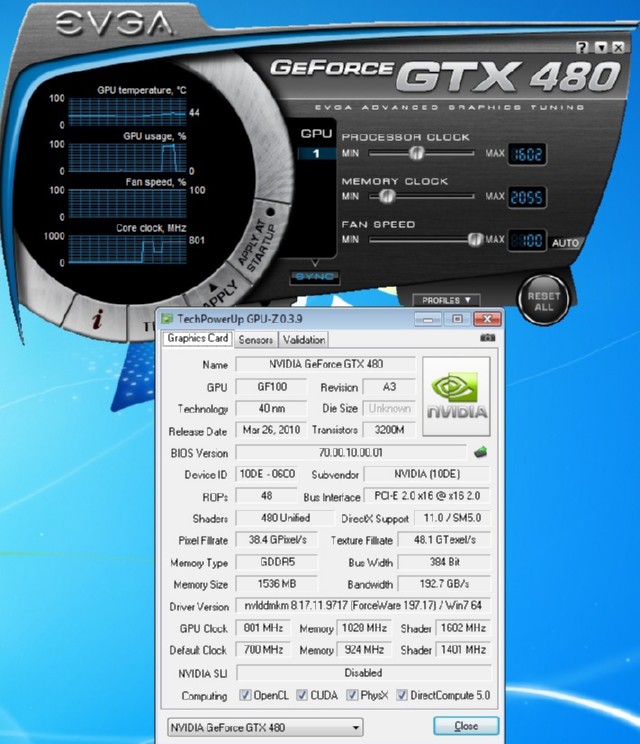 We inched up the Shader Clock until we finally came to 801 MHz Core, 1028 MHz Memory, and 1602 Shader and we could get a little more out of the memory but if we ran Artifact scanning for to long it would artifact at 1050 so we backed up to 1028 MHz and at 1028MHz it was rock stable. We were able to run Vantage, play games and benchmark at these settings.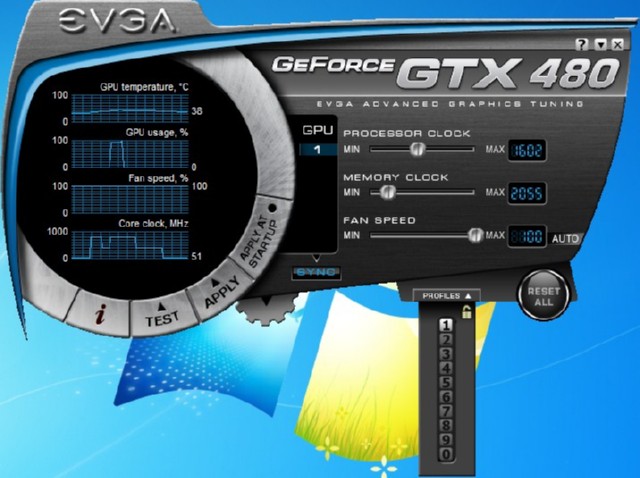 Once you have the OC you want click the profiles tab and right click on the profile slot you want to save to.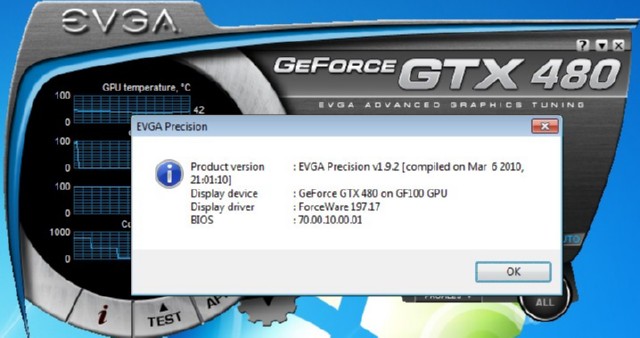 We got version 1.9.2 Precision and were using the Refrence GT100 GTX-480 provided by Nvidia and using public release 197.17 ForceWare Drivers.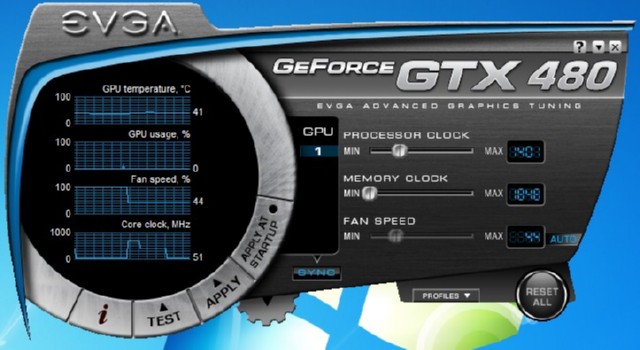 Once you have your OC profile saved it's time to think about longevity. Click reset and the all the clocks go back to stock setting and the fan goes back to Auto a peaceful 44% and you can remove the earplugs and let the poor dog out of the bathroom.
That's pretty much it for EVGA Precision, MSI Afterburner has a Beta out that supports GF100 but it's a BETA so we are waiting on word from MSI if it's close enough to Final to show you that little jewel.
Enjoy the GF100 OCing article and know that if you ignite the  atmosphere OCIng GTX-480 or GTX-470 or otherwise pop a core, watch a memory chip fly through the wall or just silently pop a GPU core we will shed a tear for you; but we are not responsible for any happy little overclocking accidents you might have. That includes your wife/dad/mom/grandma kicking the crud out of you for burning up a $350 to $500 GPU.
Happy OCing!