If that original CPU water block on your ThermalTake Big Water set up, is not cutting it. well then we got a perfect candidate for you.
Introduction
When we think of water blocks and of water cooling in general, we think of names like Danger Den, Koolance, EK, Heatkiller and D-Tek. At the bottom of our list is Coolermaster, Corsair and finally ThermalTake. These companies have been only been known for water blocks that barely cut the grade, a quick intro to water cooling, cheap easy to set up water cooling, and in most cases a good aircooler would out perform these types of water cooling.
Now since air coolers are getting outrageously overpriced, people who want to have good cooling and quiet operation, can venture into water cooling. ThermalTake has brought to us a rather unique CPU water block. This water block does not conform to their traditional designs and in fact performs quite well. It can be used as an upgrade from ThermalTake's Big Water series water cooling or as a separate block for those who want more of a customized water cooling set up for their computers.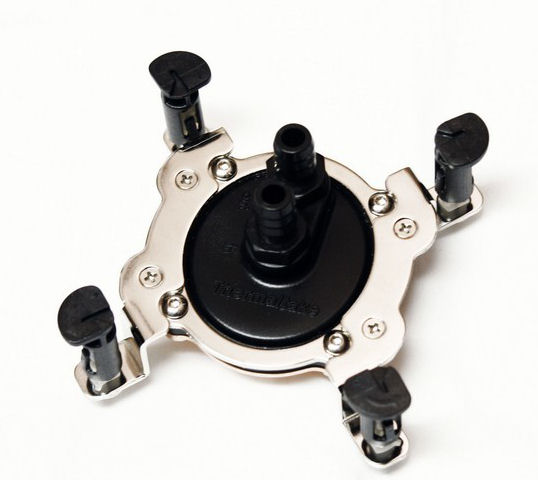 If you have not already guessed, this review is based upon ThermalTake's PB100 water block. We are going to take a look at what makes this water block tick, and also put this water block on one of my proven CPUs; an Intel Core 2 Quad Q6600.
Specifications
Application / Compatibility / Installation Fit into
Intel LGA 775 / 1366
AMD K8 / AM2 / AM2+ / AM3

Material

POM (Cover & Connector)
Copper (Base)
Dimension
68 (L) X 64 (W) X 41 (H) mm
2.68 (L) x 2.52 (W) x 1.62 (H) in
Quick install connector
For 9.5mm ID (3/8") tubing
Weight
114 g
ThermalTake Price Grabber Quotes
Packaging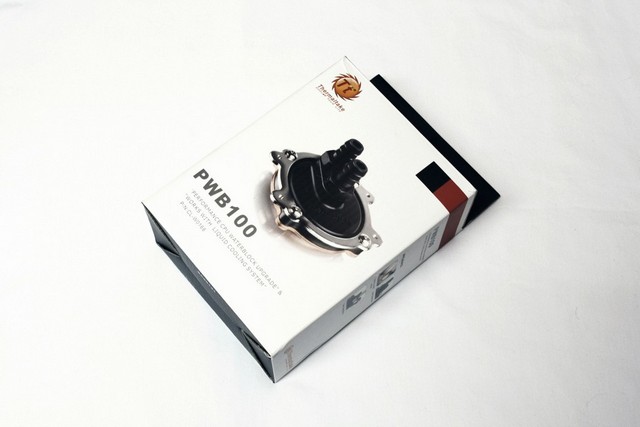 Let's start off on how ThermalTake packaged up the PB100 water block. The packaging has not changed from previous ThermalTake products. ThermalTake makes sure that people know what they are getting with their purchases.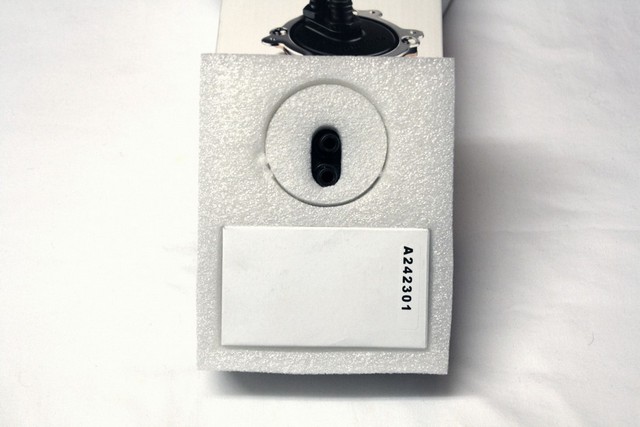 As they say in the automotive world, " It is not what the hood looks like, it is whats underneath it." In this case, we are looking at how well ThermalTake packaged the PB100 water block. I will have to say that this water block is well protected, and will not get damaged during shipping. Inside of this foam encasement, is the water block (top), and a box that holds all of the included mounting hardware.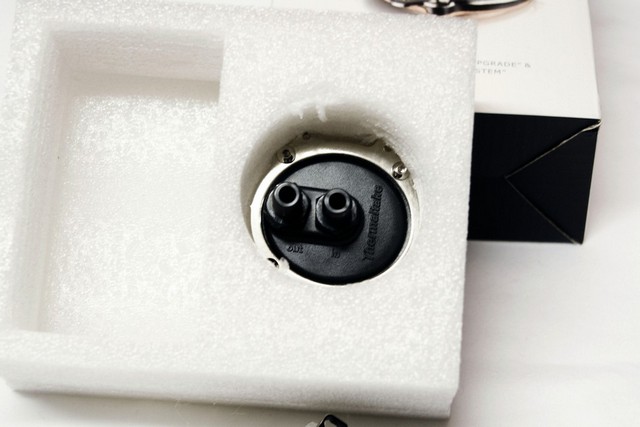 This is how the water block sits inside of the foam encasement that ThermalTake used. Again this is an outstanding packaging job.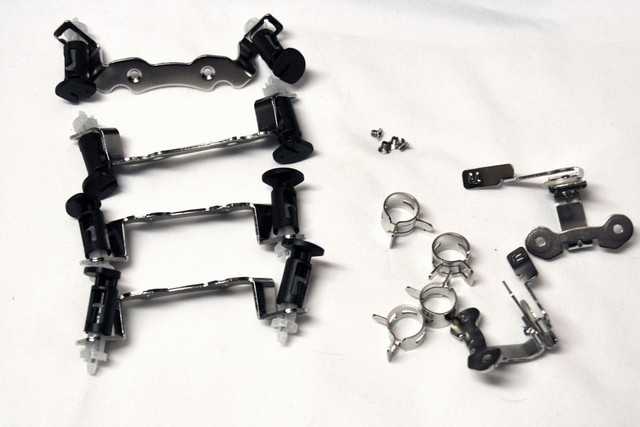 The contents of the box all laid out. ThermalTake includes mounts for the Intel socket 775 CPU's, the 1366 socket CPU's, and finally AMD's Socket AM2/AM3 CPU sockets. ThermalTake also includes 4 spring type clamps that will hold our hoses onto our water blocks and radiators. Then finally there are 4 small screws that we use to secure the mounting hardware to the PB100 water block.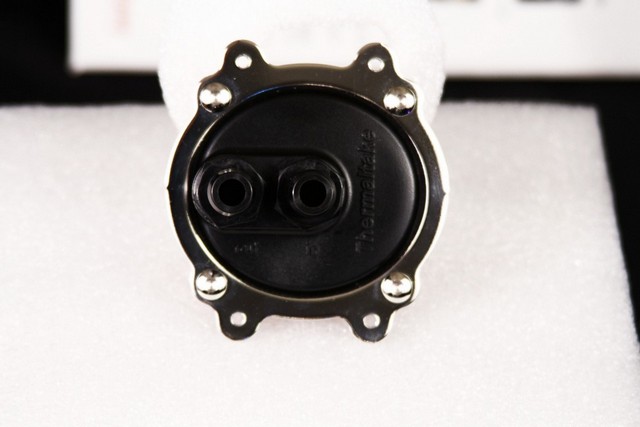 A quick look at the PB 100 water block. This water block uses 3/8″ barbs on 1/8″ NPT (National Pipe Thread). The center barb is the inlet, and the farthest barb (edge) is the outlet. Do not hook these up backwards.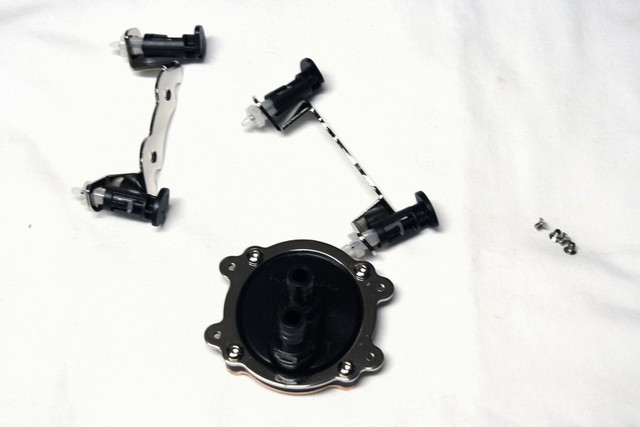 This is just before I started to install this CPU water block to a socket 775 Core 2 Quad Q6600 CPU.
Overview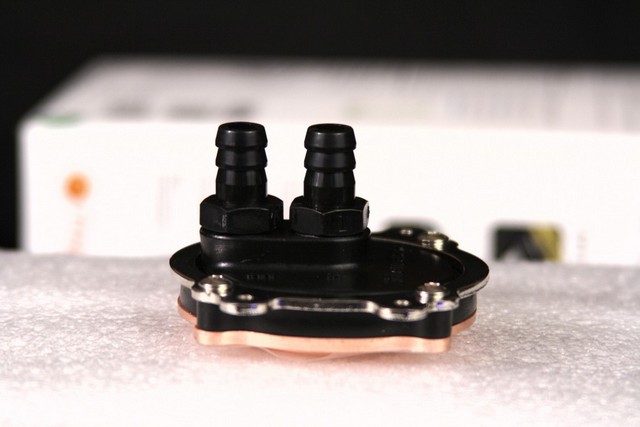 It is time for me to see what makes this little water block tick. Here is a side view of the PB100 water block. As we can tell, it does have a low profile to it. The barbs are indeed 3/8″s on a 1/8″ NPT. I will get to that in a few.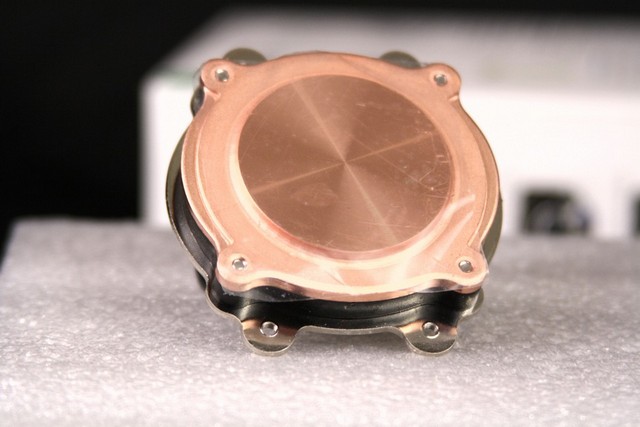 This water block comes with a protective cover over the base to keep it from getting scratched up during shipping and packaging, it will have to be removed prior to installation.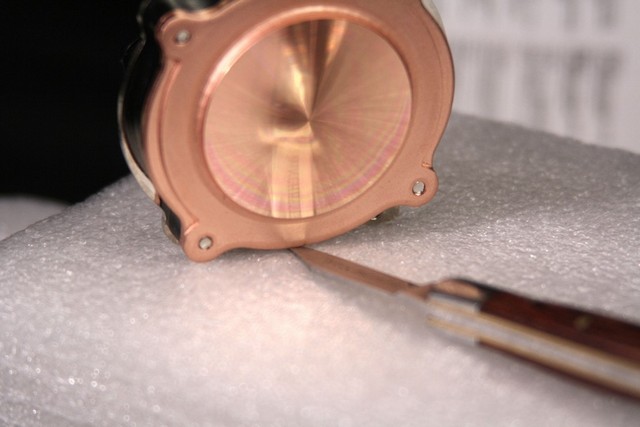 I removed the plastic cover over the base of the PB100 water block an did a reflection test. The base of the water block is smooth, and flat, and it also does have a semi reflection to it. Not to bad if i say so.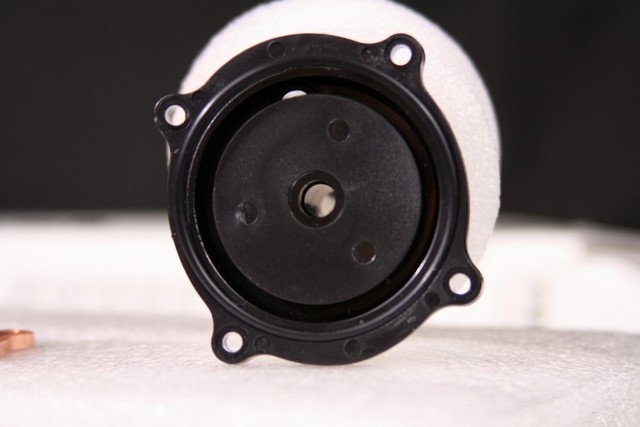 I removed the four screws that were securing the water block together. This is getting a look at the inside of the top cap of the PB100 water block. The water comes in from the inside barb and exits out the towards the the outer barb.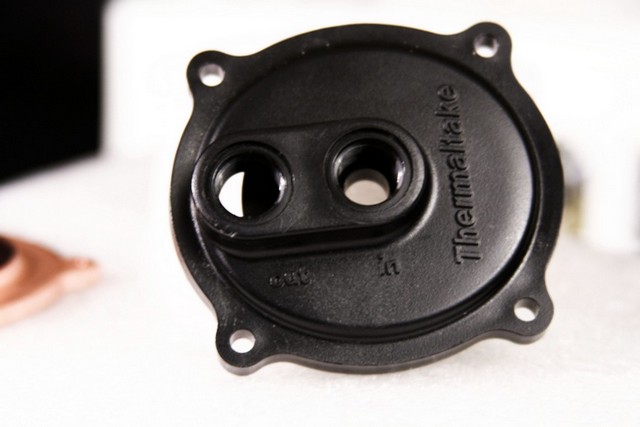 Looking through the top of the blocks top piece, I do not see any major restrictions that can be caused by the block itself. The 3/8″ barbs will be where all the restriction will come from.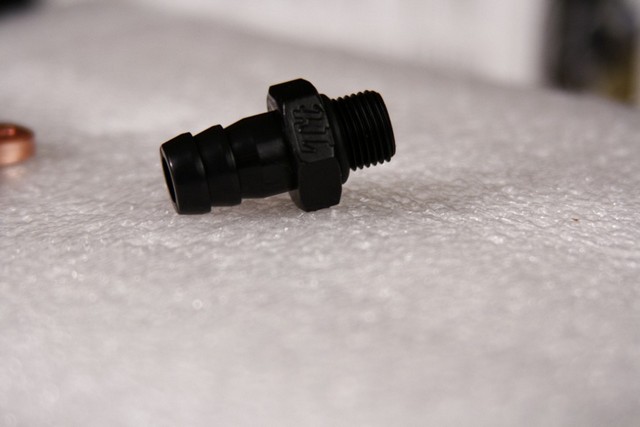 Time to look at the barb itself. ThermalTake uses a 3/8″ x 1/8″ NPT barb. These are plastic, and you will have to careful when securing these to the block itself.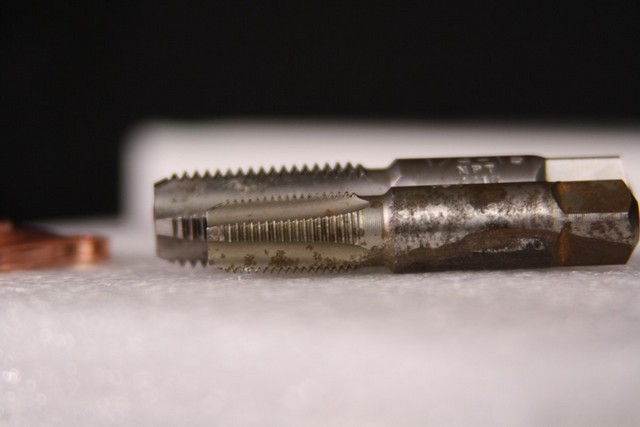 This image is to show you the difference between a 1/8″ NPT to a 1/4″ NPT. Barbs and the pipe type of thread is always done in a radius not its diameter. The forward NPT tap is a 1/8″, and the back tap is a 1/4″ NPT, as you can tell the 1/8″ is significantly smaller then its bigger brother the 1/4″ NPT tap.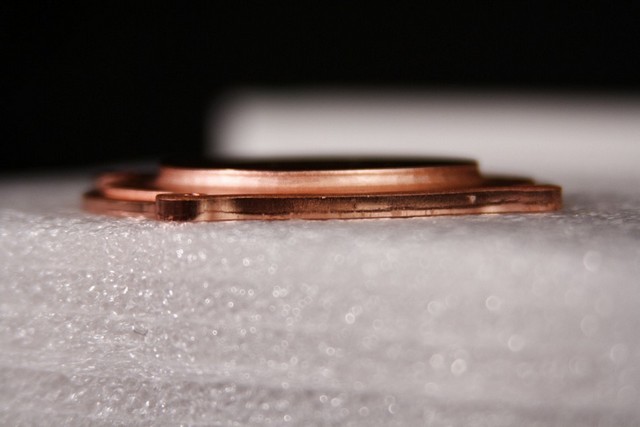 Since we have seen what the barb looks like, and the top of the PB100 water block looks like, it is time to check out the base of the water block. Like most water blocks the base is not very thick at all.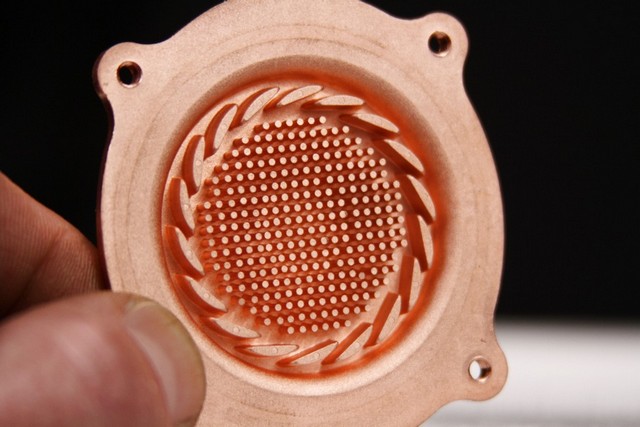 Time to turn our attention over to how ThermalTake designed the pins of the water block. Hmmm, this water block looks like it has some good potential. A lot different from what I initially thought this water block was going to look like.
Installation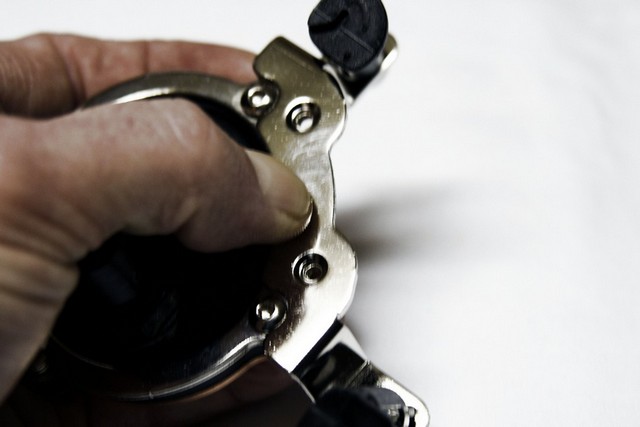 Installation was pretty straight forward. Grab the correct mounts you will be using (in this case I will be using the Intel socket 775 mounts), line up the holes on the mounts to the block, then use the included screws to secure it.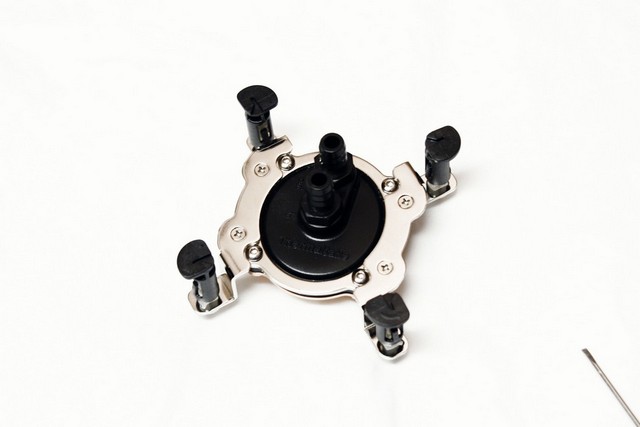 And that's it for mounting the mount portion. The only thing I did not care for is ThermalTake's use of the Push Pins that holds this water block to the motherboard. We at Bjorn3D prefer to see a retention plate with the use of our CPU coolers.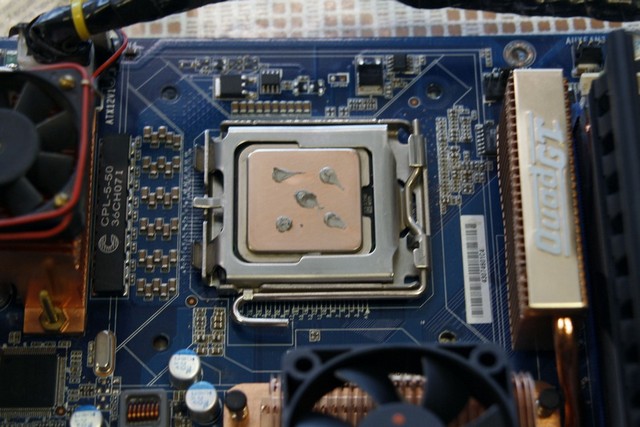 Before I get right into Installing the CPU cooler to the motherboard, we need to do a quick test fit. This is the same five dot pattern I have used for years when applying my thermal paste.
I placed the water block right onto the CPU, and pressed with my fingers, counted to thirty and removed the water block.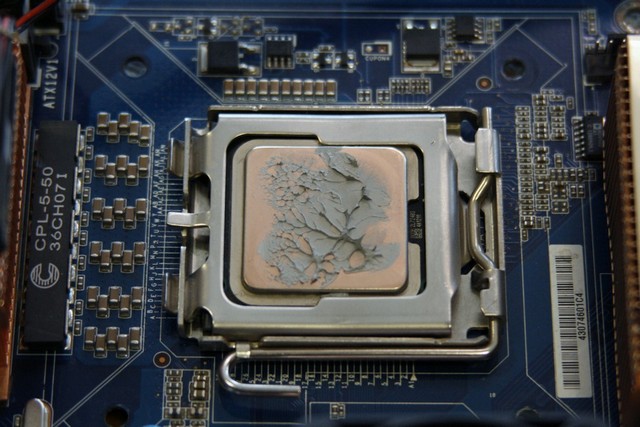 Hmm, Maybe the thermal paste I had chosen was not exactly the best choice. The GC2 thermal paste is a tad thicker than I expected. Oh well it is only a test fit, and from the looks of it, the dispersal pattern does look good.
Always make sure what you have on the CPU you get on the water block. Again, the same thermal paste dispersal we had on the CPU IHS.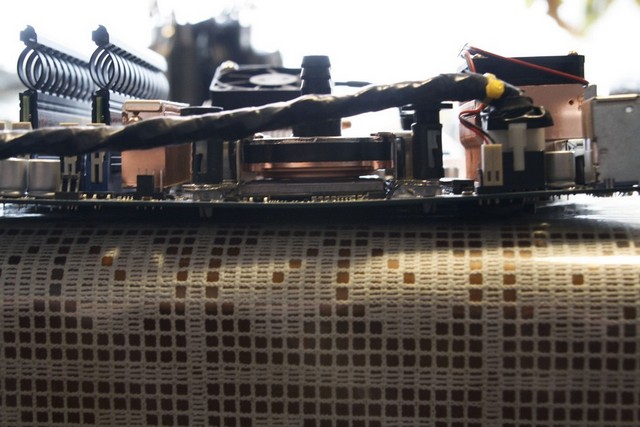 This time I did a full install with the GC2 thermal paste. This is why I prefer to use retention plates with my CPU coolers. Notice how the motherboard got warped? The use of a retention plate will keep this from happening.
Maybe I was wrong about the GC2 being a tad thick. The dispersal pattern looks great here.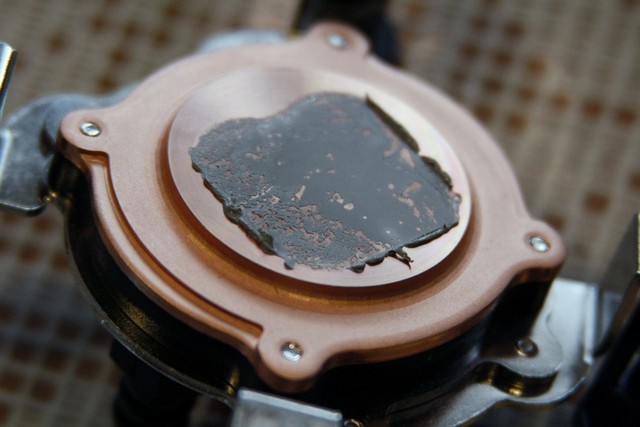 Ok the first impression is normally the best one. Yep, this confirms the GC2 was a tad too thick to use on this water block, (my fault not ThermalTake's). But I still can't help noticing how the thermal paste did spread out evenly and thinly as possible across the water block's base.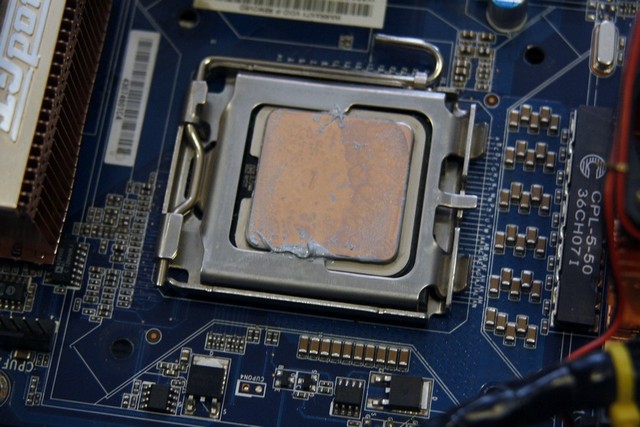 I decided to ditch the GC2 for now and go with the GC1 thermal paste I had laying around. Now this looks loads better.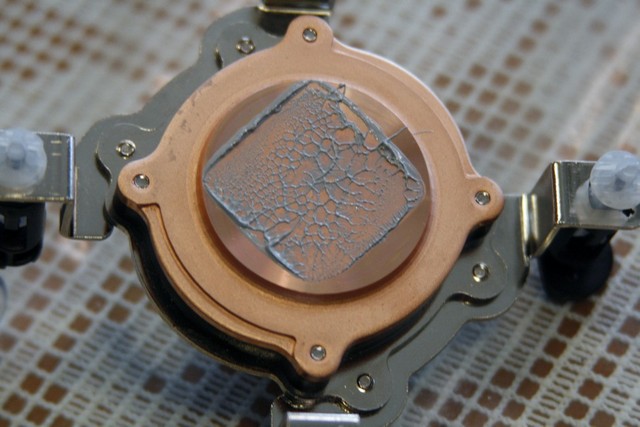 The base of the PB100 reconfirms what we had on the CPU IHS. It is almost too perfect.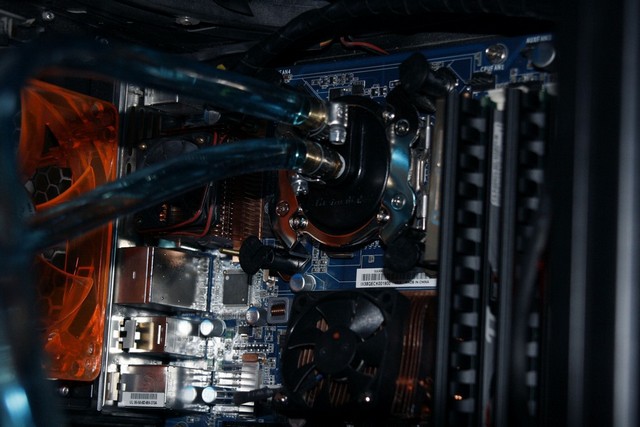 The PB100 water block all nestled up and rip raring to go. Remember when I said to be careful when tightening the plastic barbs? Well I ended up snapping one in half because I went a tad to far. I used a set of brass 3/8″ by 1/8″ NPT barbs for the replacements. Looks pretty good for a small water block.
Testing Methodology
Test Setup &Testing Methodology
CPU
Intel Core 2 Quad Q6600
Motherboard

Abit IX38 Quad GT

Case
Antec 9 Hundred two
Memory
GSkill Pi Black DDR2
Video Card's
Sapphire 4870X2
Hard Drives
WD 320 Main, WD 160 backup
CDRom Drive
LG DVD Burner
Power Supply
PC Power and Cooling 750 watt
CPU Speeds Used
2.4 GHz, 3.6GHz
Operating System Used
Microsoft Windows 7 Retail
Video Card Cooler

Arctic Accelero Xtreme
CPU Cooler

Coolermaster V8, ThermalTake PB100
For testing purposes I decided to pit the PB100 water block up against one of the best CPU air coolers I have used. The reason for this choice is because my more higher end water blocks do not fit the Intel socket 775 CPU, plus it should give us a good indication on how well the PB100 water block compares to a good air cooler. The air cooler I am using is the Coolermaster V8. Since I do not have a ThermalTake Big Water set up, I will be hooking the PB100 water block onto a 300 GPH pump (submersible, unfortunately it was the only pump I had available) and then for the radiator I will be using one of my Swiftech 320MCR. I am expecting to see some flow restriction from the PB100 water block because of the nature of the 3/8″ barbs, your results may vary. The ambient temperature is around the 23°C mark, my roommate likes it a tad warmer then I do.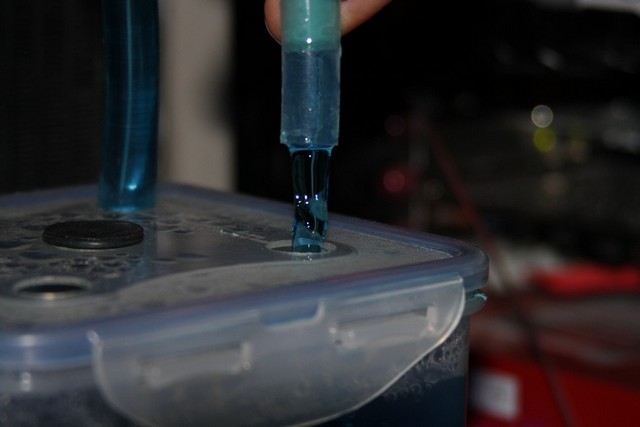 Flow rate of the fluid. Considering I am using a 300GPH pump, and the block uses 3/8″ barbs flow rate does seem to be rather good.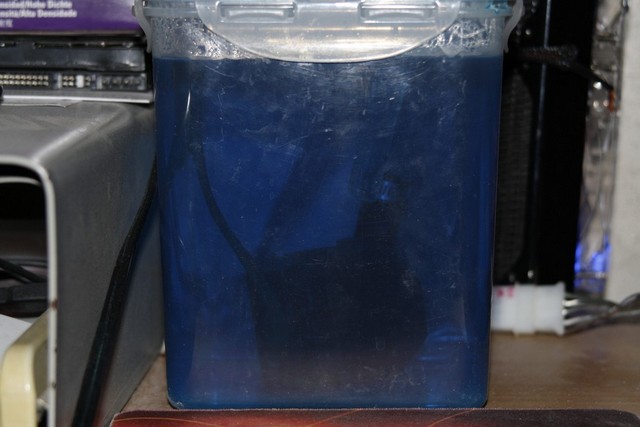 The reservoir/pump combination I will be using.
Results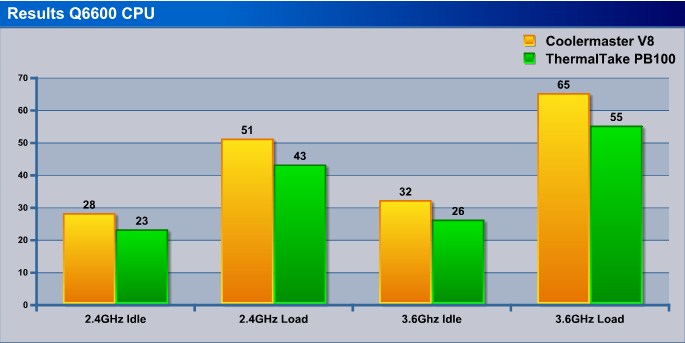 The ThermalTake PB100 water block does perform quite well against the CoolerMaster V8 air cooler. During the default CPU speed of 2.4GHz, idle mode the PB100 water did out perform the V8 by 5°C, then once I loaded up all four cores of the Q6600 CPU, the PB100 had a 6°C gain. Once I overclocked the Q6600 CPU, the V8 quickly hit my personal temperature limit of 60°C +/- a few degrees (I am not goin to worry much about a 65°C), the PB100 out did the V8 by 10°C, during our full load test. Now keep in mind the PB100 water block is being used with a high end radiator, and with a high flow pump. The ambient temperature is 23°C.
COnclusions
The PB100 water block performed pretty decent for its small 3/8″ barbs. These are not staggering results, but it does show that with the right radiator and pump even a small little water block like the PB100 from ThermalTake will put up some rather decent numbers.
I feel one of the areas that ThermaTake needs to work on, is to use a retention plate systems instead of the standard everyday Push Pins. We all know that using a retention plate does reduce temperatures, as well as reduce any major stresses that will be placed on a motherboard with these style of mounting systems. Another area I feel Thermal Take can improve upon, is to include the use of 1/2″ barbs, this will allow a lot higher flow of fluid which in turns will reduce our CPU temperatures down a bit more. Looking around the web, several E-Tailors have this water block listed on or around the 60 USD mark, the pricing I feel is a tad high, because we can purchase a much higher end water block from Danger Den for on or around the same price range.
ThermalTake Price Grabber Quotes
OUR VERDICT: ThermalTake PB100
| | |
| --- | --- |
| Performance | 8 |
| Value | 6 |
| Quality | 10 |
| Features | 8 |
| Innovation | 8 |

We are using a new addition to our scoring system to provide additional feedback beyond a flat score. Please note that the final score isn't an aggregate average of the new rating system.

Pros
Cons

Small size

A good amount of internal pins to help keep our CPU's cool

Ease of installation

Cools well

Push Pin mounting

Could have used 1/4″ NPT, 1/2″ barbs

Price is a tad high

 
Summary: The ThermalTake PB100 water block is a decent water block that does have quite a bit of potential. And it would make a perfect upgrade for those allready using a ThermalTake Big Water cooling set up.