GSkill has come up with a set of 'Green' memory that operates at below JEDEC standards of 1.55 volts, without sacrificing frequency and timings.
Saving the Planet One Computer At A Time
JEDEC standards state that DDR3 memory has to be able to run at 1066MHz, 9-9-9-24 2T timings with only 1.55 volts. When DDR3 was first introduced a couple of years ago, it was suppoosed to use less volts then its predecessor, DDR2. DDR2 memory needed on average 1.85-2.0 volts and above to properly operate at its optimum frequency. DDR3 memory came in starting at 1.55volts, but because of the limitation of the socket 775 CPU's (needing to use an MCP) the only true way of getting any serious performance out of DDR3 memory, people and companies alike were cranking the volts of their DDR3 memory modules past the 2.0 voltage mark, which kinda defeated the whole purpose of upgrading from DDR2 to DDR3. The required amount of voltage and the minor performance gain did not justify the added cost of this newer memory standard.
It wasn't until last year when Intel introduced the 1366 CPU's, the mighty and still reigning champions, the Core i7 that Intel placed a voltage limitation of 1.65V. Intel states that going higher then this rated "Safe" voltage can and will torch the IMC (Integrated Memory Controller) in the CPU. Memory manufacturers scrambled for a little while tring to come up with high frequency memory with this voltage limitation. Naturally it did not take too long to adhere to this new limitation. The memory manufacturers stayed within this 1.65 voltage limitation, I've even heard some memory modules being able to operate at 1.55-1.6 volts while maintaing their high frequencies. A year has passed and Intel has come out with a whole new CPU platform, the 1156 socket, and this newer CPU comes with the same memory voltage limitation of 1.65 volts. Unlike its bigger brother the Core i7 1366 CPU this CPU only uses dual channel memory. Memory manufacturers still used the 1.65 voltage requirement for their memory. Until Now, Gskill has come up with high frequency memory that operates below the average voltage of 1.65 volts, and even lower then JEDEC standard of 1.55 volts.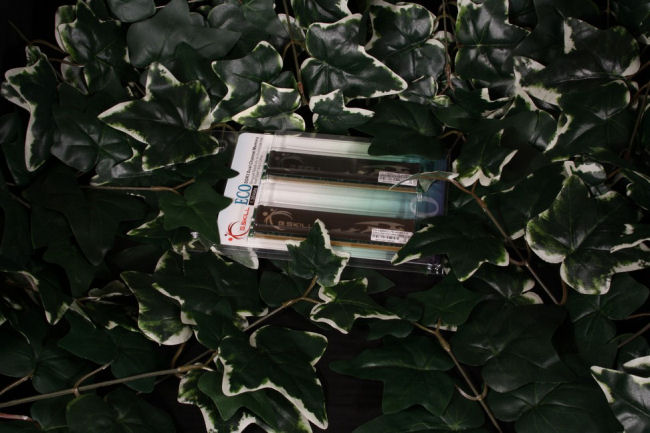 I bring forth the GSkill ECO 1600 memory, this memory uses a frequency of 1600MHz, 7-8-7-20 2T timings, and only needs 1.35V. The use of this memory will add that extra little bit of power saving into our casual/high end computers that we all need.
Since this memory is ECO friendly, the theme of this review is Green.
Specifications
| | |
| --- | --- |
| Feature/Specification | GSkill PI Blue |
| Main Board | Intel |
| System | Desktop |
| System Type | DDR3 |
| M/B Chipset | Intel P55* |
| CAS Latency | 7-8-7-24-2N |
| Capacity | 4GB (2GB x2)/8GB (2GB x4) |
| Speed | DDR3-1600 (PC3 12800) |
| Test Voltage | 1.35 Volts |
| Registered/Unbuffered | Unbuffered |
| Error Checking | Non-ECC |
| Type | 240-pin DIMM |
| Warranty | Lifetime |
Looking over the Specifications, the GSkill 1600 ECO memory is definitely rated for 1.35 Volts. And the timings of this memory are fairly tight for a high frequency of 1600MHz, and being rated @ 1.35 volts.
| | |
| --- | --- |
| Qualified Motherboard  List | GSkill PI Blue |
| ASUS | Maximus III Formula |
| ASUS | Maximus III Gene |
| ASUS | SABERTOOTH 55i |
| ASUS | P7P55D Premium |
| ASUS | P7P55D Deluxe |
| ASUS | P7P55D EVO |
| ASUS | P7P55D Pro |
| ASUS | P7P55D |
| EVGA | P55 Classified 200 |
| EVGA | P55 FTW 200 |
| EVGA | P55 |
| EVGA | P55 Micro |
| EVGA | P55 FTW |
| EVGA | P55 LE |
| Gigabyte | P55 UD6 |
| Gigabyte | P55 UD5 |
| Gigabyte | P55 UD4 |
| Gigabyte | P55 UD4P |
| Gigabyte | P55 UD3 |
| Gigabyte | P55 UD3P |
| Gigabyte | P55 UD3R |
| MSI | P55-GD80 |
| MSI | P55-GD65 |
| MSI | P55M-GD45 |
Looking at the Qualified Motherboard List, it lists both of my motherboards, the GIGABYTE P55-UD6, and the ASUS Maximus III GENE. Pay real close attention to that, because it will come up later.
Packaging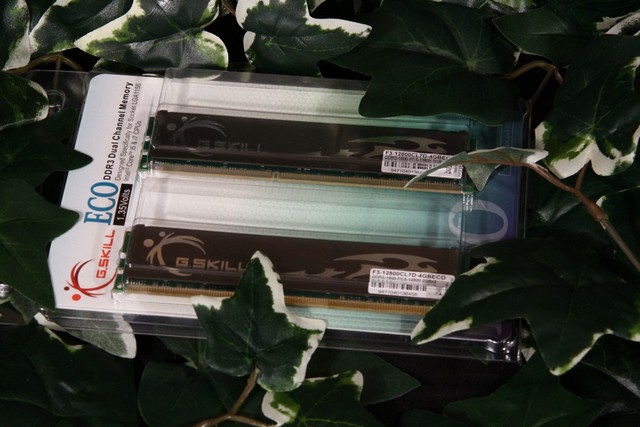 Lets see how GSkill packaged up the ECO memory. As we can see this particular memory uses a standard style blister packaging. Right below where it has the name of the memory ECO, it states this memory is rated to run with 1.35 volts.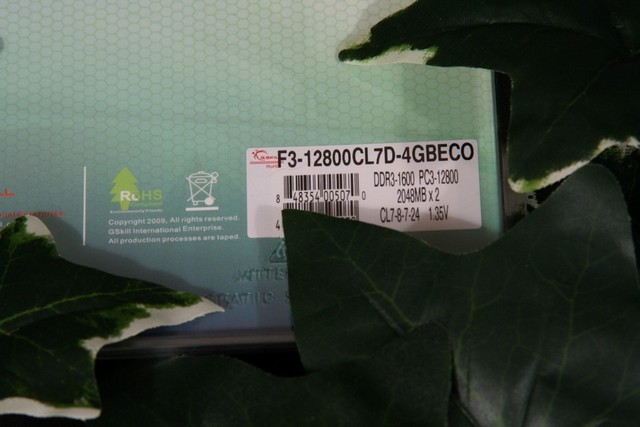 Clearing out all of the new found leaves that surroundthe GSkill ECO memory packaging, I can show you whats on the backside of the packaging. On the bottom right hand corner of the package GSkill lists the specifications of this memory, it has a frequency of 1600MHz, 7-8-7-24 timings, and again only needs to use 1.35 volts for optimal performance.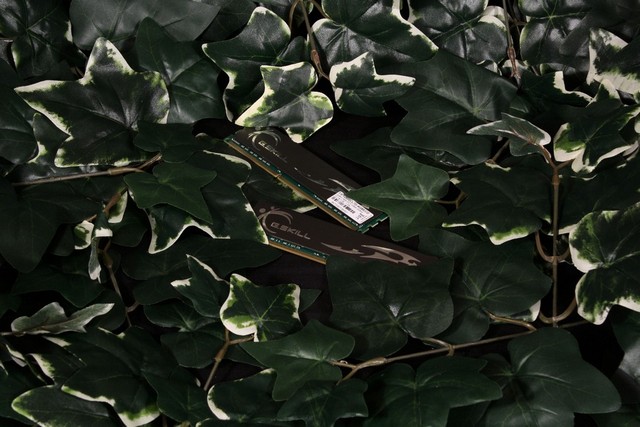 No sooner then I get the memory sticks out side of the blister packaging, the plants started to reclaim their area.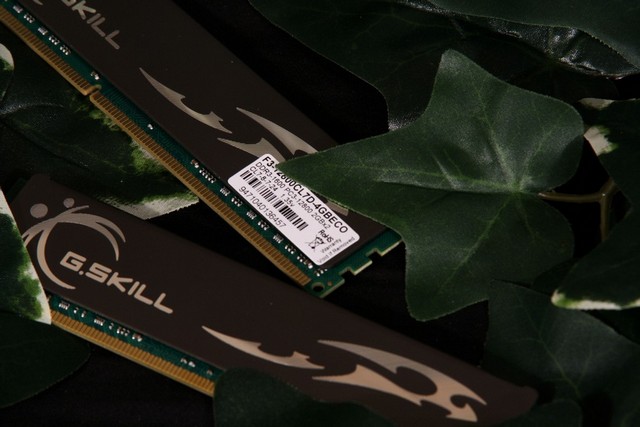 Gskill places another specification sticker over the heat-spreaders, now I would think that since this is ECO friendly memory, GSkill would have used a different color heat-spreader that would go with the type of memory this is.
Installation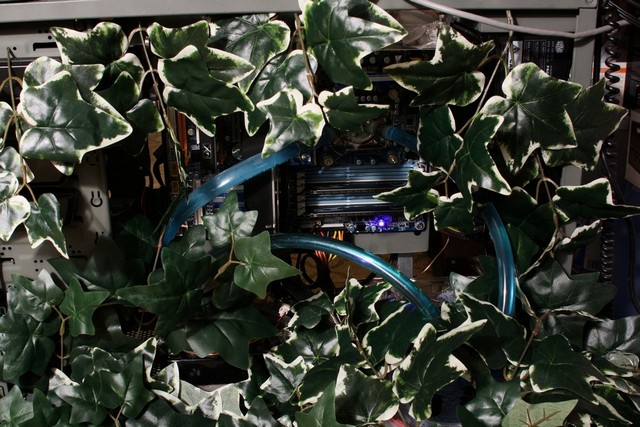 No sooner then when I put the GSkill ECO memory into my computer, it too was being overrun by plants.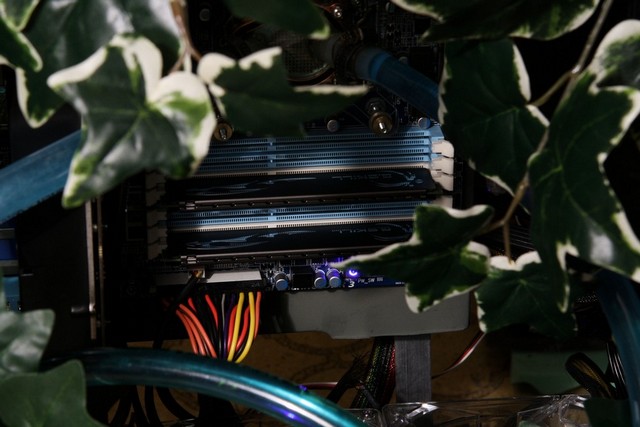 An up close shot of the GSkill ECO memory installed onto my GIGABYTE P55-UD6 motherboard. Like the previous memory I reviewed (GSkill PI Blue HERE), this time the GSkill ECO memory did not like the GIGABYTE P55-UD6 (Review can be found HERE) motherboard. I could post and use default settings, any attempt on upping the CPU multiplier or the BCLK beyond 133 would result in a continuous reboot with this motherboard, it would tell me I had a failed overclock. After messing around with the BIOS of the GIGABYTE P55-UD6 motherboard, I ended up giving up and finally just switched out to the ASUS Maximus III GENE motherboard (Review can be found HERE). Well of coarse after having to trim the jungle that was growing around my computer, lol.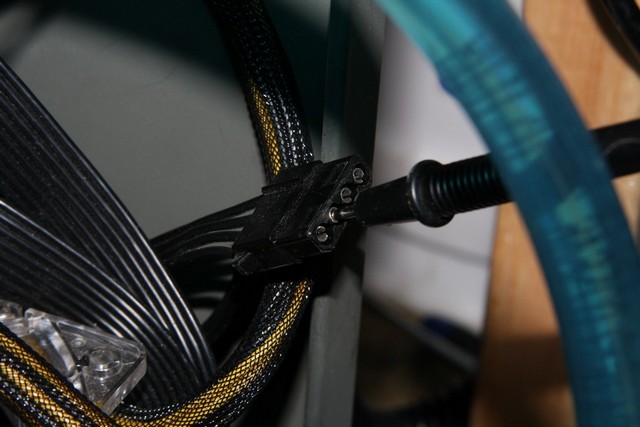 Since the ASUS Maximus III GENE has real-time voltage check points, I can actually see if this memory runs at its default volts of 1.35. First up to do, is to put the Ground probe into one of my molex grounds port, (handling one probe is loads easier then handling two).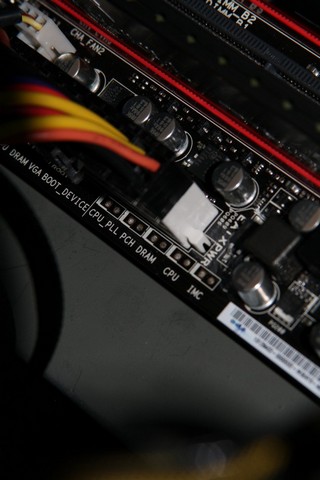 Next up is to locate the positive check point onto the ASUS Maximus III GENE motherboard. The check point I need to look for is under DRAM, and the positive point is the Square looking solder pad. Next up is to crank the memory and the CPU to their maximum achievable speeds. I left the memory voltage at 1.35 volts, I did not up the voltage at all during the testing. Kinda defeats the whole point of using ECO memory, if we start jacking up the volts.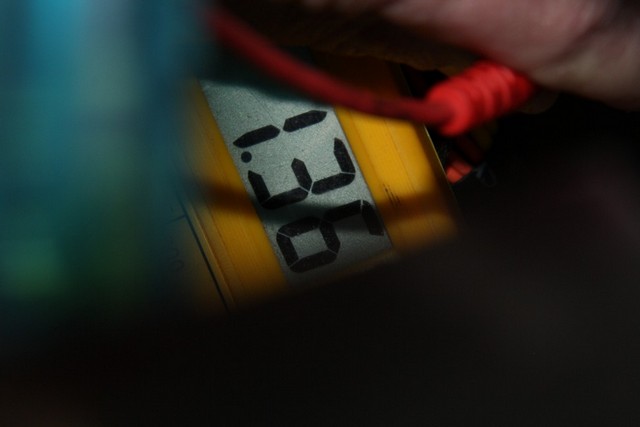 Yep the memory is at is running at its rated volts of 1.35 volts. Ok, the memory is using 1.36 volts, the ASUS Maximus III GENE does not have an actual 1.35 volt setting in the bios, and this motherboard does slightly over-volt the memory. No, it is not enough to worry our pretty little heads over.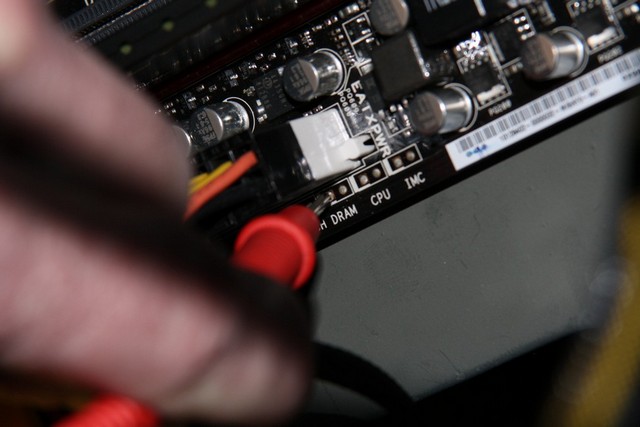 After a few twists, moans, groans, and cursing out the camera for not cooperating with me, here is how to check the memory volts on the ASUS Maximus III GENE.
Testing Methodology
"Minor Me"

CPU
Intel Core i5 750 Lapped
Motherboard
ASUS Maximus III GENE
Case
SIlverStone Raven RV-02
Memory
GSkill RipJaw, Corsair Dominators, GSkill PI Blue
Video Card's
EVGA 275GTX
Hard Drives
Patriot SSD 128 Gig
CDRom Drive
Lite On Blue Ray
Power Supply
Seasonic 850W
CPU Speeds Used
2.66GHz, 4.2GHz
Operating System Used
Microsoft Windows 7 Retail
Video Card Cooler

Stock cooled
CPU Cooler

Modified Danger Den MC-TDX custom water cooled
To fully test the GSkill 1600MHz ECO memory, I used the best programs that measured the performance of the memory itself. There are only a few programs that are memory sensitive, mainly because of the nature of the P55 chipset and the IMC of the CPU itself. I ran each program a minimum of three times to ensure my results were accurate and no errenous readings were present.
I ran all three sets of memory with identicle motherboard settings. the only thing that seperated one from the other, is each memory's own timings and or frequencies. The Default CPU speed used was 2.6GHz 200×13, this will ensure that each set of memory had the same exact CPU/BCLK used.
Overclocking
Overclocking the ECO memory proved to be somewhat different from what I am used to. My first rule I put into play was that I was not going to go over the rated voltage of 1.35 volts this memory uses. At first I used the XMP profile of this memory, and it set the CPU multiplier to 16, BCLK to 160, and used the default memory divider of 10, also the XMP adjusted the memory timings accordingly to the specifications of the memory. Well personally I do not really care to use such a low BCLK on my motherboards. Besides, I ran the Corsair 1600MHz Dominators at 200 BCLK, 13 CPU multiplier, with a 8 memory divider, the GSkill Rip Jaws were ran at the same BCLK and CPU multiplier as well. So it only seemed fair to set the BCLK of the ECO memory to follow suite. After manually setting the memory divider, timings, voltages, and the CPU multiplier, I tried to up the BCLK to 210 FSB, (1680 actual memory speed) I would get a BSOD from Windows 7, I know it is not the CPU causing the trouble, so i made several attempts on looser timings and upping the volts on the QPI(VTT) on the CPU. Still kept getting a BSOD, I dropped the BCLK to 205, still getting the same thing BSOD. I gave up tring to increase the memory's overall frequency, I resorted back to the 200BCLK, standard timings, and upped the CPU multiplier from 13 to 21. This loaded windows right up no BSODs or instability was present.
I ran a few benchmarking programs, to get an idea on how this memory performed, I decided to reenter BIOS, and instead of upping the BCLK, I decided to play with the timings, I tried to change the CAS from 7 to 6, motherboard refused to post, adjusted the other three memory timings down, motherboard refused to post this was not looking good. Out of an act of desperation, I decided to adjust the memory from 7-8-7-24 2t to 7-8-8-24 1T, Long story short this did provide me with stability in Windows 7. If anything else Windows 7 was a tad bit snappier when dealing with the desktop icons and or Windows themselves.
Default memory screen shot.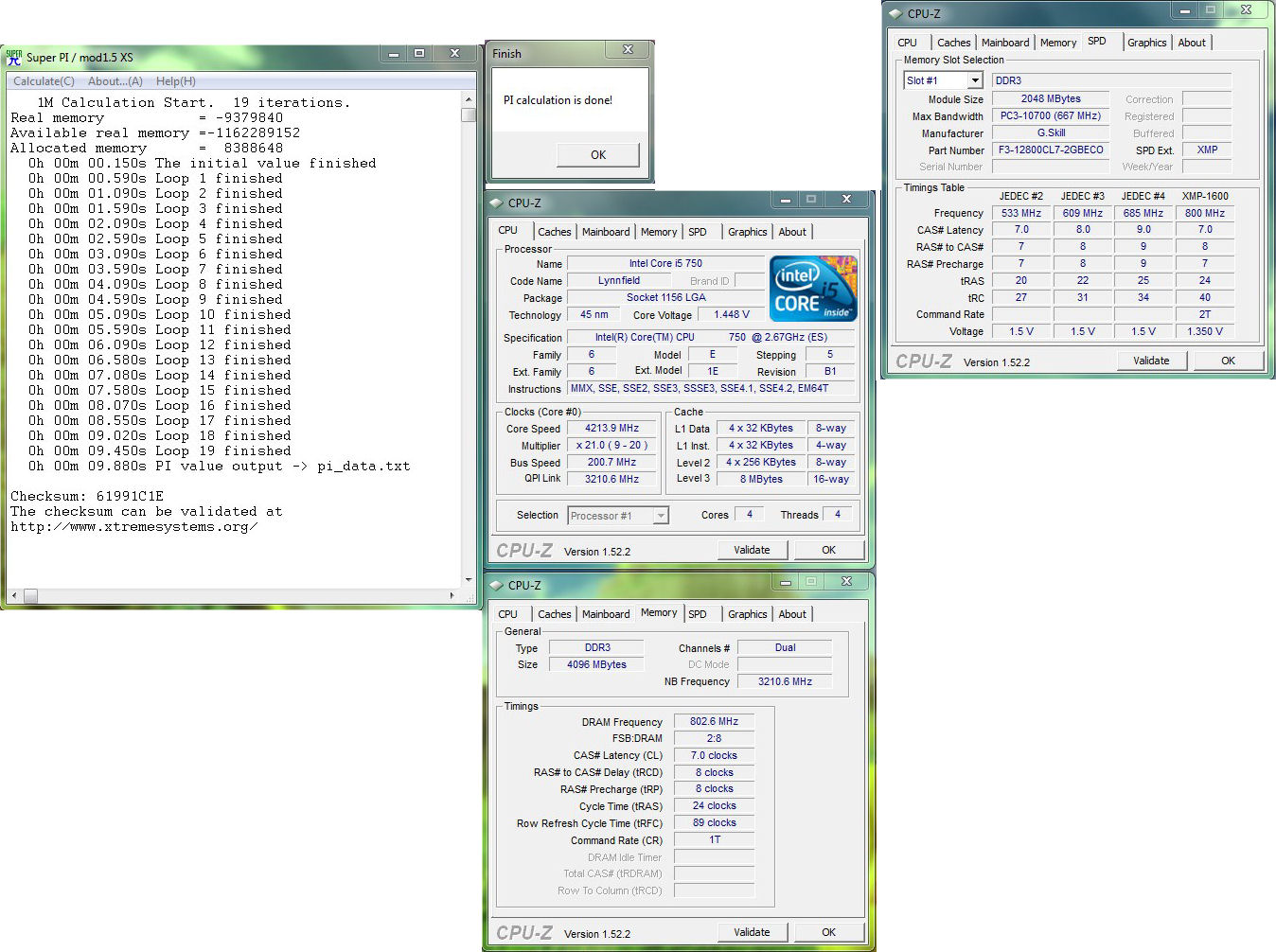 Overclocked (or slightly modified) memory settings used.
Sisoft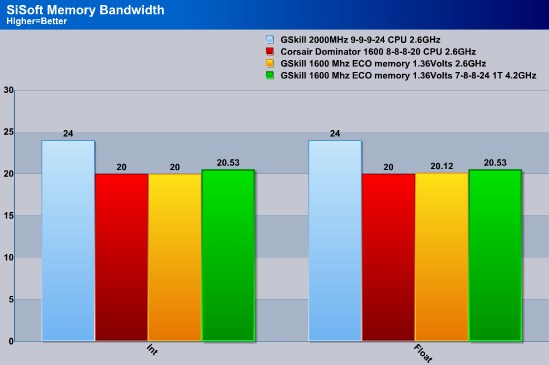 Starting things off with SiSoft Memory Bandwidth testing, it is only natural for the GSkill 2000MHz Rip Jaws to perform the best. Between the Corsair 1600MHz Dominators and the GSkill 1600MHz ECO memory, these two memory modules performed identically to one another. Keep in mind the GSkill 1600MHz ECO memory is only using 1.36Volts vs the Dominators 1.65Volts.
Now in the Latency testing portion of SiSoft, all of the memory performed almost identically with one another. The only time we saw a difference was when I overclocked the CPU and when I tweaked the ECO memory timings a bit.
Everest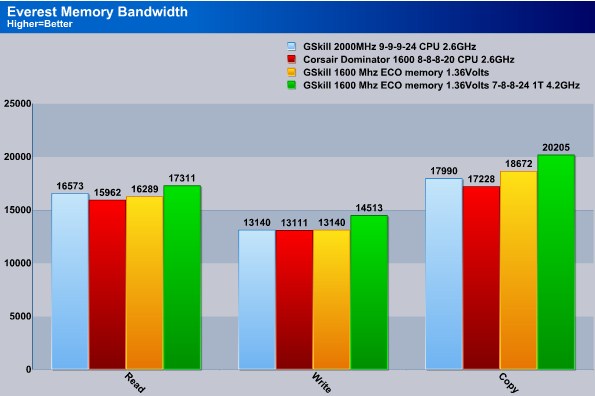 Moving on over to Everest Memory Bandwidth testing. During the Read testing, the GSkill Rip Jaws performed the best, followed by the GSkill ECO memory, coming in last place is the Corsair Dominators. Write testing all three sticks of memory performed identically with one another. For the Copy testing, The GSkill ECO memory had the best performance followed by the GSkill Rip Jaws, finally coming in last place were the Corsair Dominators.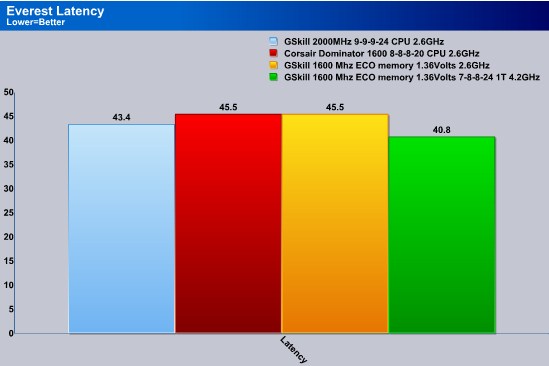 During the Latency testing in Everest, Both the Corsiar and the GSkill ECO memory tied with one another. The GSkill Rip Jaws came in first place.
Wprime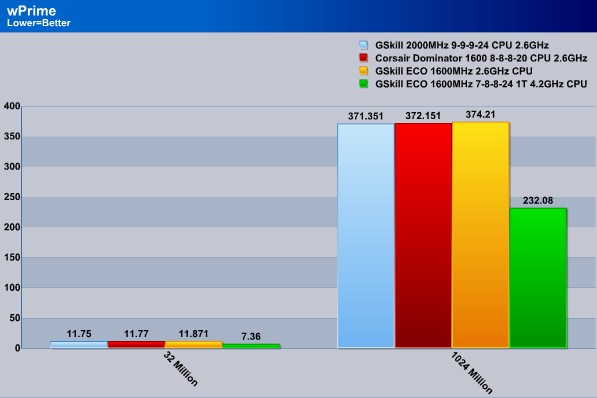 Time to move on to a more real world benchmarking program. Unlike, the synthetic benchmaks used on the previous page, this time the Corsair Dominators were able to keep up with the GSkill RIp Jaws. The GSkill ECO memory was trailing behind, but its not enough to clearly declare a clear winner either. Windows it self can cause a minor fluctutation like this.
Super PI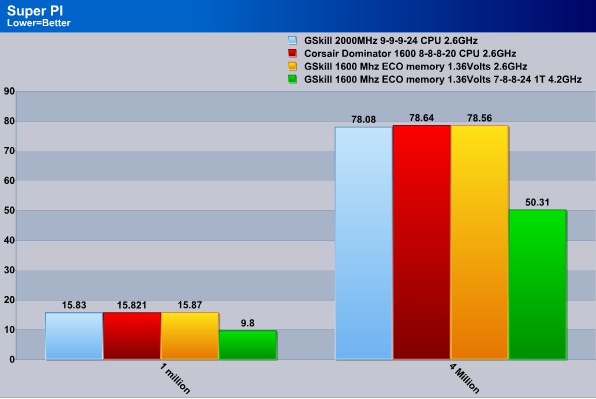 Hmm, with Super Pi testing, all three memory sets performed about the same during the one million calculation testing. Then on the four million calculation testing, the GSkill Rip Jaws had the best time, while the Corsiar Dominators and the GSkill ECO memory tied with one another.
POV RAY


POV Ray starts to show us a little bit of a different story, Wood Box rendering prefers the tighter timings of the GSkill ECO memory. For Biscuit rendering, The GSkill ECO memory had the highest rendering time.
A Penny Saved Is A Penny Earned
As we have seen throughout testing, the GSkill 1600MHz ECO memory performed on par to comparable 1600MHz memory that uses higher voltage.
Now I will not guarantee that you will see drastic power saving, and your computer will all of a sudden start sprouting up trees, bushes and the likes all around it. But I will say the GSkill 1600MHz ECO Memory will run at its rated timings and voltage of 1.35, and still provide you with a good performance ratio that we have not seen with other "Green" products.
Which becomes the "Myth Buster" about "Green" products and performance. We all used to think in order to have a "Green" computer that we need to make sacrifices in order to keep our power bill down. And sometimes the cost of a "Green" computer was slightly higher then a normal everyday computer that's the Myth. In today's real world we can have both a high performance computer, and also make it "Green" all at the same time. Don't forget it won't cost much more then any other machine out their. Instead of having to go out and get a Intel Core i7 1366 CPU that uses 130 watts of power, you can use a Core i7 1156 CPU that only needs a paltry 95 watts. Change out your everyday 3.5″ HDD's for more economical 2.5″ Laptop HDD's (I have yet seen a standard 3.5″ HDD be able to be powered up just by the USB alone, unlike the 2.5″ Laptop drives). Video cards, well for all out power saving capabilities, while being able to play all of our games, the 5750/5770 fits this bill perfectly. Not forgetting on adding GSkill ECO 1.35 Volt memory to the mix we can truly have a "Lean, Mean, Green, Computing Machine".
Having a price point on or around the 95USD mark, makes you wonder how could you not afford this set of memory sticks?
OUR VERDICT: GSkill 1600MHz ECO memory

| | |
| --- | --- |
| Performance | 9 |
| Value | 9 |
| Quality | 9 |
| Features | 9 |
| Innovation | 10 |

We are using a new addition to our scoring system to provide additional feedback beyond a flat score. Please note that the final score isn't an aggregate average of the new rating system.

Pro
Cons

Low voltage requirement

Great Speed for the voltage

Other then the rating sticker, Nothing

 
Summary: GSkill 1600Mhz ECO memory is for just anyone who is looking for that perfect "Green" computer. Or just about anyone needing great memory period.