The GlacialPower GP-AX950AA power supply is a single +12v rail PSU with 76A available on the Rail. Designed for gamer enthusiasts, the 950W PSU is capable of Dual GPU operation.
Introduction
GlacialPower is fairly new to the computer power supply industry and was founded in 2006. They are comprised of a team that has an average of 12 years of experience per member and have designed for some of the top names in the industry. Companies like Acer, Asus, Cisco, Dell, Fujitsu-Siemens, Gateway, HPQ, IBM, LG Electronics, Microsoft, Samsung, Sony, Toshiba and Wistron. With a list of vendors so distinguished you know GlacialPower has talent and designs top of the line power supplies.
With the GlacialPower GP-AX950AA you get their top of the line enthusiast grade gaming power supply with an 80 Plus Silver rating. The GP-AX950AA's modular design and sharp looks make it a good choice for those wanting a great power supply. Since the OEM on the power supply is GlacialPower and ChannelWell technologies you can bet this one is a good one.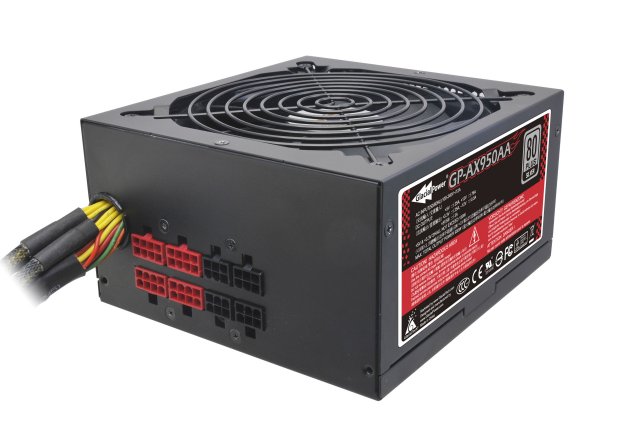 With a nice matte black finish and 140mm fan the GP-AX950AA GlacialPower should have extended the cable shielding inside the chassis of the PSU instead of stopping short. They included a grommet to protect the wiring but we like to see the cable shielding all the way into the chassis to help protect your investment. You really shouldn't be swinging a PSU by the cables so it's not much of an issue but one worth noting.
Pictures & Impressions
The GlacialPower GP-AX950AA is a well designed PC powerhouse waiting for a gaming rig to curl up in and quietly do its job. Even under the heaviest load we could throw at it, given the dual GPU design, it was entirely silent in the chassis. We did toss on a third GPU using adapters (which we don't recommend) to increase the load and the PSU remained silent.
Oh BTW new Olympus 420 model DSLR camera so cut me a little slack on the images until I learn the new camera and software 😉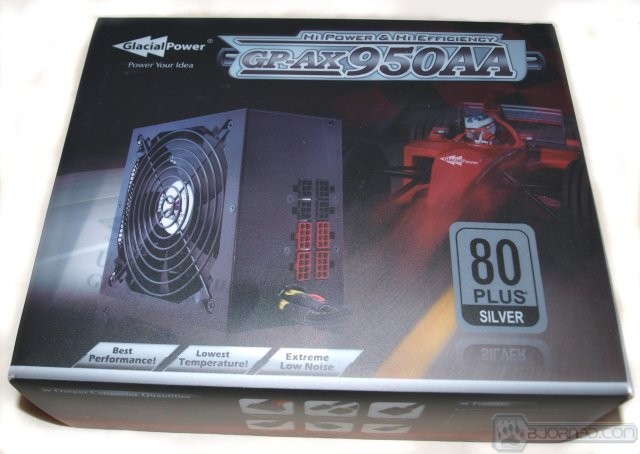 Packaged in a tasteful black box with plenty of information and specification to help inform the end consumer about its purchase the GP-AX950AA arrived in pristine condition.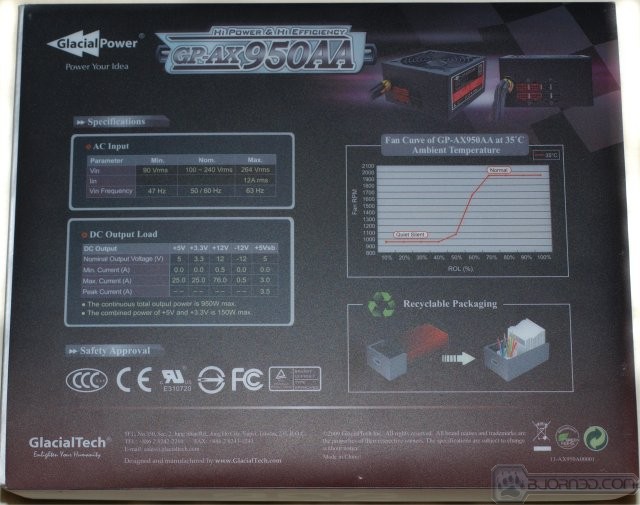 The back of the box has the Rail output table and certifications. In this shot you can't tell but the outer skin is nothing more than plastic and the box inside has no top. We would rather see a fully closed box inside to help protect the product but since it arrived in good condition maybe it's enough to protect it.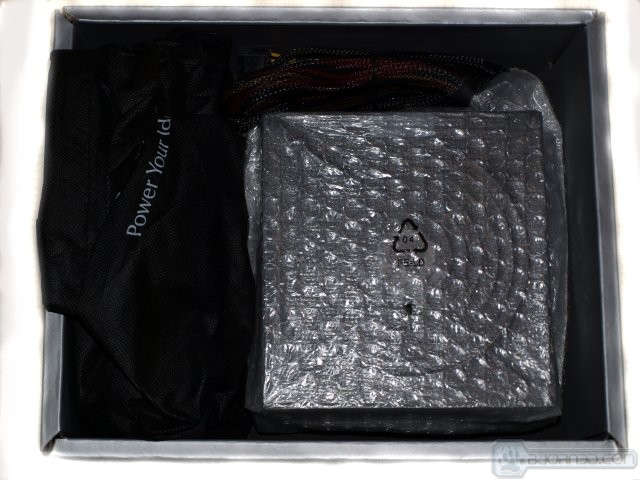 The PSU itself is packed in thick foam but this is the box we were talking about. It's just an open box with a thin sheet of plastic over it. Notice the small hole on top the bubble wrap on the PSU, we can't say if that was intentional to let it breathe or something that happened in shipping but a full box might have prevented that if it was a shipping accident.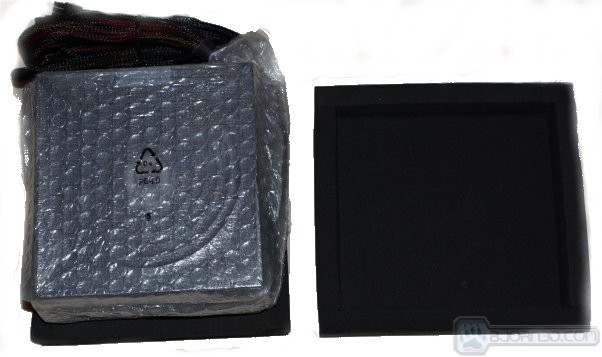 The foam protecting the PSU is better than a half inch thick and did a good job keeping the matte black finish intact.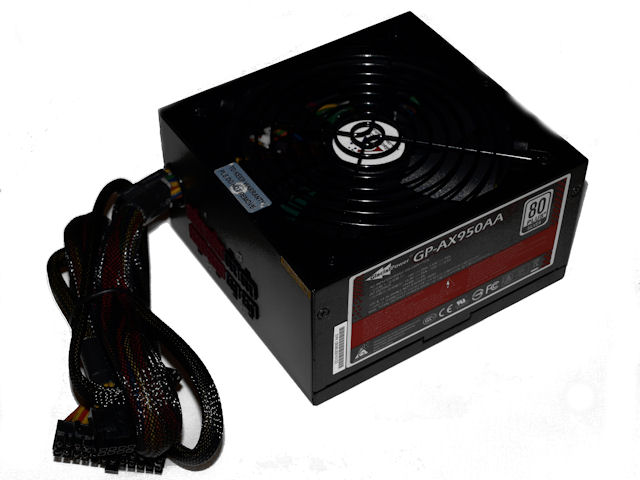 One thing we hate about most "Modular" power supplies is that vendors hang a half dozen wires from the unit and call it modular. The GlacialPower GP-AX-950AA (Wouldn't "The GlacialPower Ax 950 been a better name) only has the mainboard power connector and a couple of CPU power connectors on it so it's good to go there.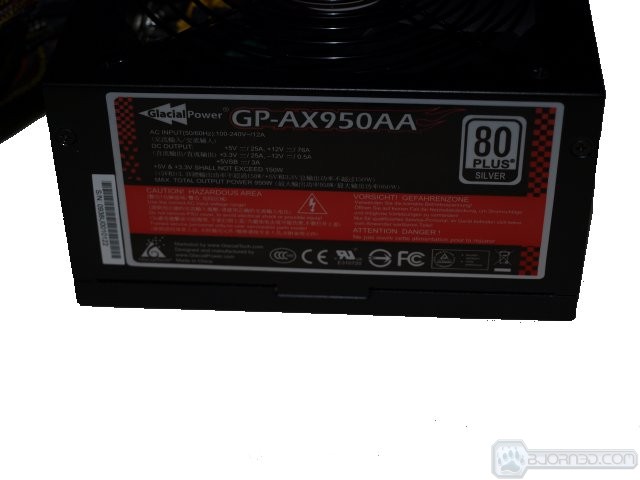 Rated at 950w and 80 Plus Silver and having that large single 12v rail makes this a great choice for enthusiasts that may want Dual GPU's in the future but if you are looking for triple GPU operation this one isn't what you want. That's Dual PCI-E connector GPU's anyway the GP-AX950AA will accommodate 4 single PCI-E power connector cards.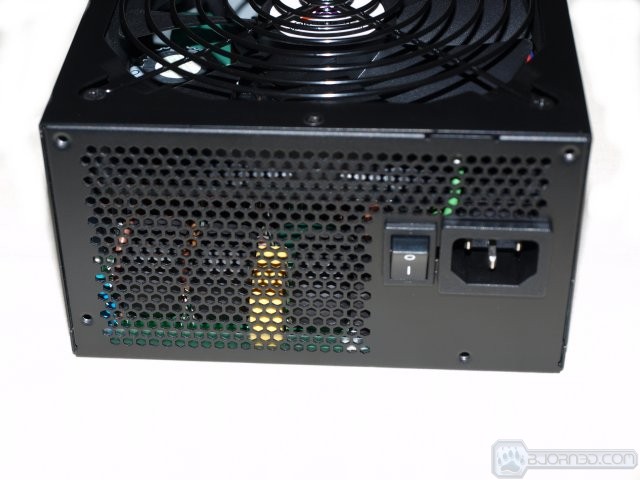 The back of the PSU uses the now familiar honeycomb design to maximize airflow. It seems once again nature (Bees) were ahead of human design by some tens of thousands of years with the honeycomb design but we finally got the clue.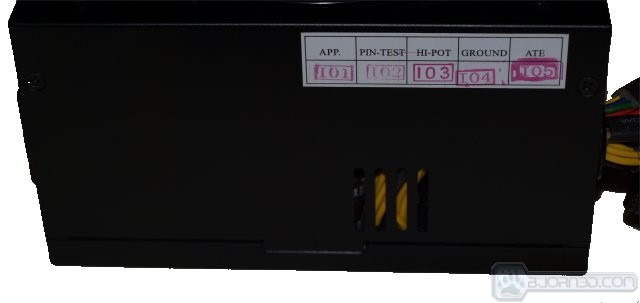 This side of the PSU has a small vent in it and you can see some of the wires going down to the main PCB on the PSU.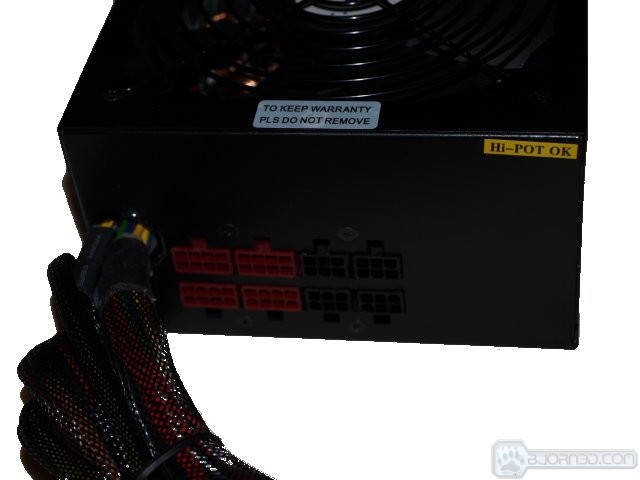 The front shows four PCI-E power connectors and four for Molex and Sata connectors. We like the nice clean design presented here.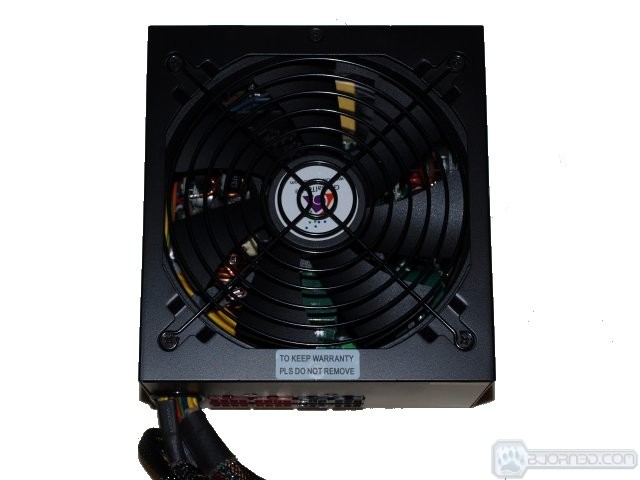 The 140mm fan by Hong Hua is model number HA1425H12S-Z and is rated at 0.5A 12VDC and is keyed to the thermals on the PSU so as heat increases the fan kicks up its speed.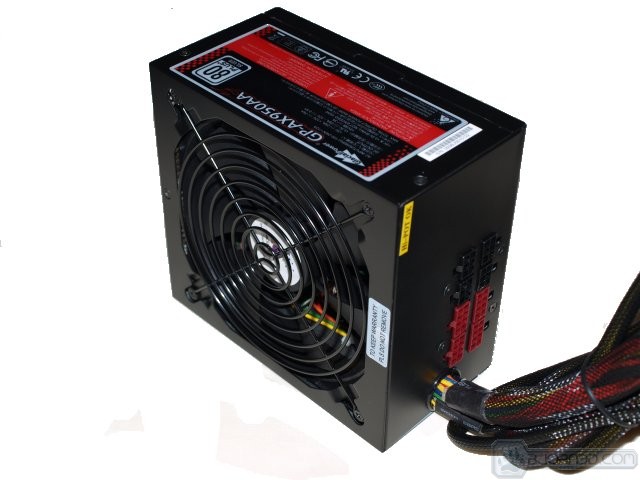 We could never figure out this conundrum. Most Power Supplies sit in the chassis with the PSU on top and the fan facing downward. That position makes the sticker upside down so why not make the sticker's top face away from the fan so you can read it without having to stand on your head or turn the chassis. Other than that the GP-AX950AA is a nice looking power supply.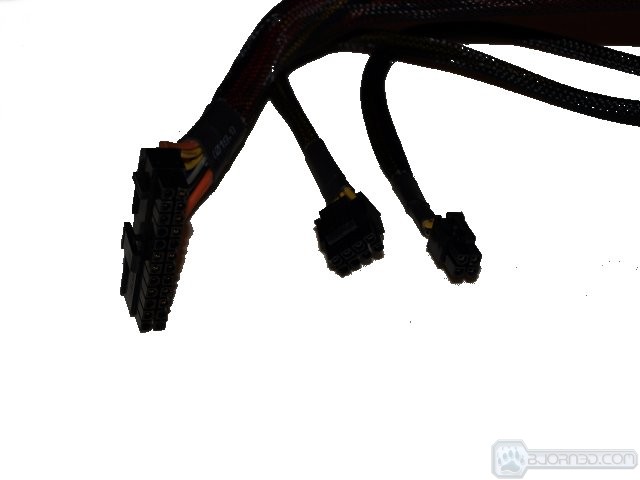 Standard 20/4 pin mainboard connector so unlike some recent power supplies we've seen this one could be used on a 20 pin board but we suspect that the GP-AX950AA is way overkill for a 20 pin board. We found an 4+4 pin and a 4 pin CPU power connector and we would have liked to seen two 4+4 pin CPU power connectors because boards with that configuration are appearing more often now.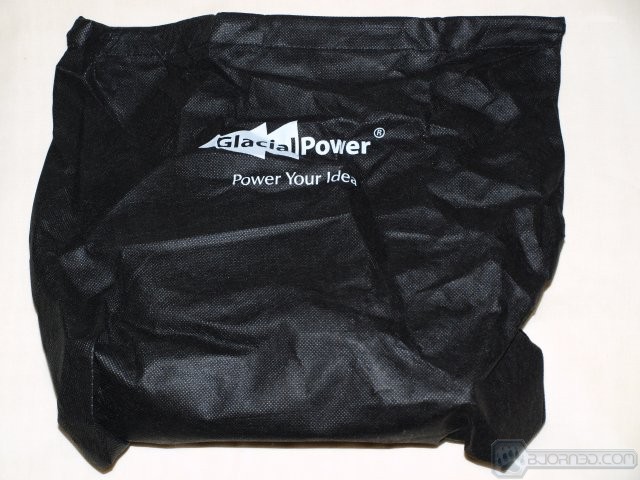 Of all the packaging this is probably our biggest gripe. We like having a bag to keep cables in but this one looks like it's 30 days past laundry day and doesn't present itself well. It's also just an open topped bag with no draw string and is 3x the size needed to protect the cables. Close but no cookie on the included bag. Its better than nothing but wrinkled like that, it's a little ugly.
Rather than jaw flap about the cables let's just do a concise table explaining them.
Type of connector:
GlacialPower GP-AX950AA
ATX connector (485mm)
20+4 pin
4+4 pin EPS12V/ATX12V (490mm)
1
4 pin ATX12V (490mm)
1

Modular Cables

SATA (490mm+150mm+150mm+150mm)
8
Molex (500mm+150mm+150mm+150mm)
7
3.5″ Drive (+150mm)
1
6+2 pin PCIe (595mm)
4

Unit Dimensions(L x W x H)

160mm x 150mm x 86mm
Sata cables; you get two with four Sata connectors on them, we would have liked to see three Sata with 3 or 4 each because 4 on each cable might make you compromise the position you want devices in. Normally the Optical drive is on top (one cable) and the hard drives are on the bottom (Second cable) so unless you get adapters after 4 HD's the fun is over. Two Molex; we are good with that but one would have been fine and substitute another Sata cable or provide adapters (Sata Adapters) for one cable.
With an MSRP of $330 we don't feel like that's asking a lot. Nicer bag, two 4+4 CPU power connectors, Sata adapters for one Molex cable and full cable sleeve's on the cables that are wired to the PSU directly. With power supplies like the Corsair TX950 at $150 the last time I checked $330 is a hard sell. This is a largely ChannelWell PSU though so it is top of the line good but $330 is a little hopeful. We hope that it retails more in the $200 price range when it does go to E-tailors….
Features & Specifications
Power efficiency meets Energy Star 80 plus Silver level requirement
Compatible ATX12V Version 2.3″
Designed with active PFC function
Full output power from 0°C to 50°C
Full protection features of SCP, OVP, OCP, OPP
Internal 14cm Fan
100% full load burn-in test and RoHS compliance
Manufactured with the high reliability and in strict accordance with processes
Compliant with RoHS, GP-AX950
2 years warranty
Efficiency on the GP-AX950AA is Energy Star 80 plus Silver and it's compatible with ATX12V Version 2.3 so it's up to date on ATX12V requirements. You'd be surprised how many PSU we see that only go to version 2.1 or 2.2. Like most modern power supplies this one has Active PFC (Power Factor Correction) and operating temperatures range from 0°C to 50°C. Power protection includes SCP, OVP, OCP, and OPP. The fan itself (described earlier) is a 140mm fan and is whisper quiet. Each GP-AX950AA is 100% load and burn in tested which we like a lot. Some vendors scrape on load and burn in and that can result in the PSU popping the first time you turn the rig on. The PSU is also RoHS (green) compliant and carries a 2 year warranty. With a skimpy 2 year warranty and an MSRP of $330 GlacialPower needs to rethink a 5 year warranty so your investment is protected.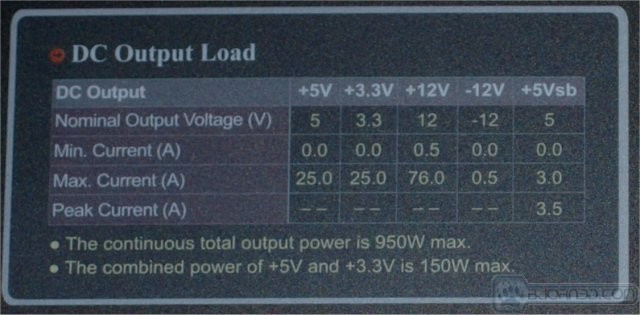 We took a snap of the Rail power output but that seemed like the easy way out so we built a table for it.
GlacialPower GP-AX950AA

+3.3V
+5V
+12V
-12V
+5VSB
25A
25A
76A
0.5A
3A
Max Power
150W
912W
6W
15W
950W
We like single Rail power supplies a lot and that will get the GP-AX950AA a little slack in the final scoring. We also like the 76A total load with 912W available to the Rail. We just looked at the OCZ 850W PSU recently and in comparison the -12v on this one is a little low. The OCZ rated at 100W less power had -12v at 9.6W and the +5VSB at 30W. Minus 12V is pretty legacy by now but the +5VSB is for devices that need to remain on during sleep and hibernate so that may be a little low for a 950W PSU. About 99% of end users will be fine with -12V and +5VSB like that so we understand the decision but if you charge devices while the computer is off it may be a concern. We often charge 3DVision glasses, MP3 players and other devices simultaneously and haven't run into a problem with it yet.
The Guts
Newly designed PSU we like to take the time to open them up and take a look at the guts. It takes a little more time and snapping shots of components so we can identify the components with enlarged images so we can read the writing. Once in a while it pays off.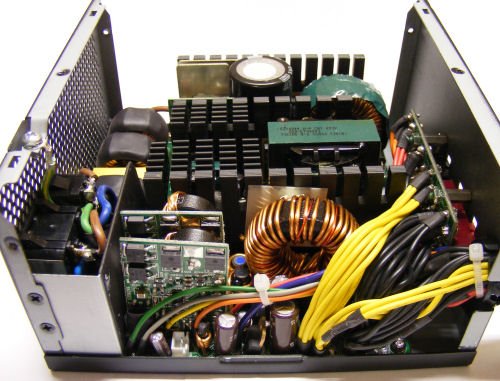 After getting the hood off we noticed that green bar surrounded by heat sinks. That is a ChannelWell Technologies transformer but the silk screen on the PCB is showing GlacialPower/ChannelWell so we would suspect that the design is by GlacialPower and implemented by Channelwell. Notice how the wires at the bottom right of the PSU are clustered. Normally those are bound in a wire tie and being packed that close with the cable sleeving stopping outside the chassis can result in a short in those wires. The sleeving helps prevent wire movement and reduces rubbing on the wires.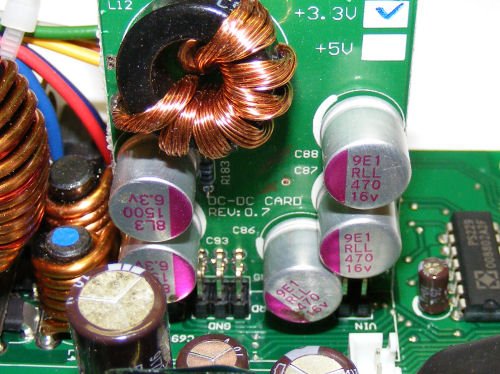 Here's a shot of the 3.3V VRM with EneSol Polymer capacitors and the other caps look to be Chemi-Con.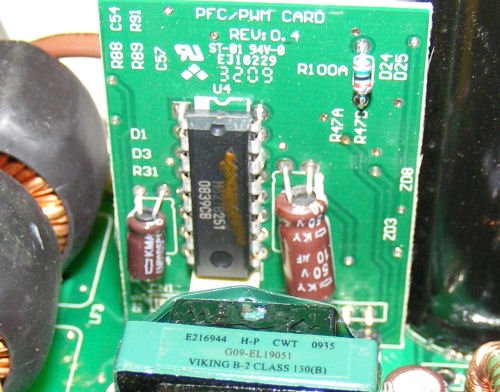 The Main power module is a CM6800X and notice the Channelwell Technologies transformer (Green Bar) the GP-AX950AA uses for main power.
Here's a peek at the back of the 5V Voltage regulation module, on here we see two ME90N03 MOSFETs and two ME70N03S's. The controller chip model number was obscured and cleaning it didn't help.
So we are seeing high quality capacitors, Channelwell Technologies transformer and pretty decent solder points. The solder could use a little more attention but Channelwell isn't know for the best soldering and as long as the voltage regulation is good we won't complain.
Methodology
We old school PSU with a high end volt meter and test them inside a chassis. In this case we used HexZilla with the i7 980x, an Asus P6T6 WS Revolution, two WD Raptors and a Kingston SSDNow V+, 3 or 4 140MM fans and two GTX-295's in SLI with a GTX-285 for PhysX (Used Molex to PCI-E power connector adapters for the third card and we don't recommend doing that). Pretty decent load but still maxed out just over 680W which is far in excess of what most end users actually use.
We could throw on a lot of power hungry components but realistically the average SLI/Crossfire system draws less than this so it's a little moot.
Once we had the rig up and running with the GlacialPower GP-AX950AA in it we ran Furmark to heat up the GPU's and read voltage directly from the connectors themselves. Room temperature was held at 22 – 23°C. We ran for 10 minutes then measured, ran another 10 minutes and measured, and finally at 30 minutes and measured. We also watched for peak voltage and minimum voltage and recorded those.
For light voltage testing we used a single GTX-285 with a GTX-275 for PhysX and Furmark heating it up. GPU usage was bouncing around 98 -99% so this represents worst case GPU usage for voltage testing.
We also spun up the HD's (the Raptors) with hard drive benches testing the entire drive and the HD tests lasted far longer than the 30 minutes we needed for voltage testing.
We fired up our new infrared thermometer and measured intake and exhaust temperatures and used a Kill A Watt for PFC (Power factor correction).
Results
GlacialPower GP-AX950AA load tests
Test Type
+3.3V
+5V
+12V
DC Watts/
AC Watts
Eff.
Intake/
Exhaust
Test
Low Wattage
4A
4A
28A
375W
89%
24°C/
27°C
3.32V
5.05V
12.08V
Test
High Wattage
8A
8A
54A
687W
88.3%
24°C/
43°C
3.25V
4.99V
12.06V
Lower Wattage shows the GP-AX950AA at 3.32V on the 3.3V and 5.05 on the %V and 12V is looking good at 12.08V on a 375W draw. Efficiency was running at 89% which is well over 80+ Silver standards (85% Minimum) and the intake temperature was reading 24°C with exhaust reading 27°C. The slight difference in intake and exhaust temperatures tell us the PSU is barely breaking a sweat.
We kicked it up to about 687W with two GTX-295's and a GTX-285 for PhysX and got 3.25V on the 3.3V. The +5V dropped to 4.99V and the +12V dropped to 12.06V with the efficiency running at 88.3%. The Intake remained at 24°C but the exhaust jumped to 43°C. With 3 GPU's chugging on the rig this is about as heavy a load as you are going to get. Since the PSU is designed for Dual GPU operation and not Triple GPU operation few end users will manage to drive it this hard.
Conclusion
There's a lot to like about the GlacialPower GP-AX950AA but it's a mixed bag. Voltage regulation is tight as can be, ChannelWell had a hand in it, Chemi-Con Caps, 140MM whisper quiet fan and a nice matte black finish that's durable. On the flip side MSRP runs $330 when you can hook a Corsair TX model for around $200 so hopefully we will see price drops before the GP-AX950AA goes to E-Tailors. The cable sleeving didn't extend inside the PSU chassis, the Sata cables have 8 potential connectors on them but only two Sata Cables and no Molex to Sata Adapters are included.
Most end users will never need more than 3 or 4 Sata connectors so we aren't holding the two cable 8 connector design against it (much), the price is going to cost it some points, and the cable sleeving a little knock for good measure. Frankly the GP-AX950AA also needs a better warranty at this price point. Two years for a power supply at this price is just to low and it needs to be 3 – 5 years and preferably 5 years.
When it comes down to it though what we are interested in is good stable voltage regulation and the GlacialPower GP-AX950AA has that and plenty of it. Other factors weigh in but the voltage control in a variety of configurations held up rock solid stable on the large single +12V rail. We would suspect that the large single +12V rail design with 76A is why GlacialPower wants a premium price. All the GP-AX950AA needs is a price drop to be competitive with existing single Rail PSU and it's good to go. Since it hasn't reached E-Tailors yet it's hard to say on the end price. MSRP tend to be higher than E-Tailor prices but MSRP is all we have to go on at this point.
Voltage regulation is good, the GP-AX950AA looks nice, runs quiet, has more than enough power for Dual GPU usage and more than enough for four single PCI-E power connector GPU's so we are happy with it. At this price point a little more detail could have been paid to the small things but the important things are spot on.
GlacialPower GP-AX950AA 80+ Silver 950W PSU
| | |
| --- | --- |
| Performance | 9.5 |
| Value | 6 |
| Quality | 8.5 |
| Features | 9 |
| Innovation | 9 |

We are using an addition to our scoring system to provide additional feedback beyond a flat score. Please note that the final score isn't an aggregate average of the rating system.

Pros
Cons

Tight Voltage Regulation

Large Single 12V Rail

80+ Silver Certification

Quiet Operation Even At Heavy Load

Looks Nice

Cable Sleeving stopped short of the Chassis

Price

2 Year Warranty

2 Sata Cables with no Molex to Sata adapters

 

.

 

 
Summary: The GlacialPower GP-AX950AA provides nice tight voltage regulation and provides plenty of power for Dual GPU usage (top end cards) but there were a few details that could have been better. Price at MSRP is a little high but it is a large single Rail Power Supply and traditionally those are expensive. In all we like the GP-AX950AA for its tight voltage regulation but if GlacialPower wants to break the 8 out of 10 barrier the small details need looked after. Short of the small details we could see the GP-AX950AA scoring a 9/9.5.