Gigabyte has another motherboard that supports SATA III, USB III, plus USB Power III on an X58 chipset. But thats not all they did, they also made this motherboard affordable.
Introduction
Since the introduction of SATA 3.0 (SATA 6GB/s) and USB 3.0 on the P55 based motherboards, it was only a matter of time when this newer type of technology was going to be brought upon the X58 chipset based motherboards. Gigabyte has always been one of the few manufacturers to start adopting some of the latest features and or capabilities on their motherboards. Not only does Gigabyte adopt these newer features on their current line up, they also put these features on the lower end motherboards as well. Instead of limiting new features to high end boards only, Gigabyte tends to spread the love across their entire line up of offerings.
We at Bjorn3D.com going to be looking at one of Gigabyte's motherboards that received SATA 3.0, USB 3.0, and Gigabyte's very own USB Power III(Gigabytes 333 Design). Gigabyte's X58A-UD3R motherboard is one of Gigabyte's most affordable X58A offerings, coming in at $209 USD. The one area that the P55 chipset is hindered, is the amount of PCI-E lanes it has. The P55 chipset supports only 16x PCI-E lanes. That means when running two cards capable of 16x PCI-E each, have to resort to running at 8x each due to the 16x total PCI-E lane bandwidth then the added SATA 3.0 and USB 3.0. There have been workarounds on some P55 based boards but the price comes in with a performance hit. What makes this capability so nice on an enthusiast class chipset, is there are no limitations. We can have our cake & ice cream, and eat it too.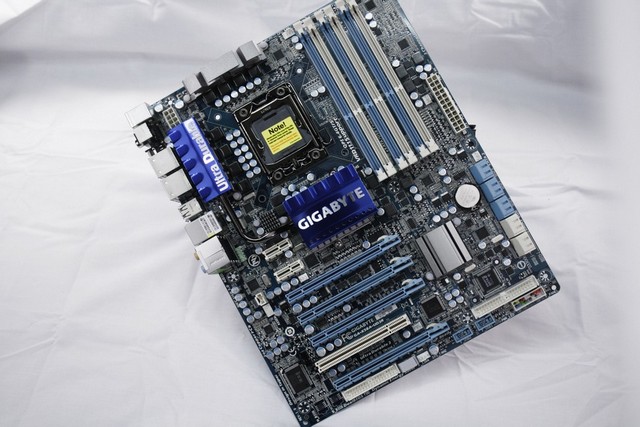 Just because this motherboard is affordable, doesn't mean its of low quality or low performance. The X58A-UD3R can really crank out high frequencies when it wants to. Since we were able to get our grubby little hands on Intel's latest i7 quad core LGA 1336 offering, the i7 930, we were anxious to fire up the Gigabyte X58A-UD3R and see what it was truly capable of.
Specifications
CPU

Support for an Intel® Core™ i7 series processor in the LGA1366 package
(Go to GIGABYTE's website for the latest CPU support list.)
L3 cache varies with CPU

QPI

4.8GT/s, 6.4GT/s

Chipset

North Bridge: Intel® X58 Express Chipset
South Bridge: Intel® ICH10R

Memory

6 x 1.5V DDR3 DIMM sockets supporting up to 24 GB of system memory(Note 1)
Dual/3 channel memory architecture
Support for DDR3 2200/1333/1066/800 MHz memory modules
Support for non-ECC memory modules
Support for Extreme Memory Profile (XMP) memory modules

(Go to GIGABYTE's website for the latest memory support list.)

Audio

Realtek ALC889 codec
High Definition Audio
2/4/5.1/7.1-channel
Support for Dolby® Home Theater
Support for S/PDIF In/Out
Support for CD In

LAN

1 x Realtek RTL8111D chip (10/100/1000 Mbit)

Expansion Slots

2 x PCI Express x16 slots, running at x16 (PCIEX16_1/PCIEX16_2) (Note 2)
2 x PCI Express x16 slot, running at x8 (PCIEX8_1/PCIEX8_2) (Note 3) (The PCIEX16_1, PCIEX16_2, PCIEX8_1 and PCIEX8_2 slots conform to PCI Express 2.0 standard.)
2 x PCI Express x1 slots
1 x PCI slot

Multi-Graphics Technology

Support for 2-Way/3-Way ATI CrossFireX™/NVIDIA SLI technology

Storage Interface
South Bridge:

6 x SATA 3Gb/s connectors (SATA2_0, SATA2_1, SATA2_2, SATA2_3, SATA2_4, SATA2_5) supporting up to 6 SATA 3Gb/s devices
Support for SATA RAID 0, RAID 1, RAID 5, and RAID 10

Marvell 9128 chip:

2 x SATA 6Gb/s connectors (GSATA3_6, GSATA3_7) supporting up to 2 SATA 6Gb/s devices
Support for SATA RAID 0, and RAID 1

GIGABYTE SATA2 chip:

1 x IDE connector supporting ATA-133/100/66/33 and up to 2 IDE devices
2 x SATA 3Gb/s connectors (GSATA2_8, GSATA2_9) supporting up to 2 SATA 3Gb/s devices
Support for SATA RAID 0, RAID 1, and JBOD

JMicron JMB362 chip:

2 x eSATA 3Gb/s connectors (eSATA/USB Combo) on the back panel sup- porting up to 2 SATA 3Gb/s devices
Support for SATA RAID 0, RAID 1, and JBOD

iTE IT8720 chip:

1 x floppy disk drive connector supporting up to 1 floppy disk drive

USB
Integrated in the South Bridge

Up to 10 USB 2.0/1.1 ports (6 on the back panel, including 2 eSATA/USB Combo, 4 via the USB brackets connected to the internal USB headers)

NEC chip:

Up to 2 USB 3.0/2.0 ports on the back panel

IEEE 1394

T.I. TSB43AB23 chip
Up to 3 IEEE 1394a ports (2 on the back panel, 1 via the IEEE 1394a bracket connected to the internal IEEE 1394a header)

Internal I/O Connectors

1 x 24-pin ATX main power connector Connectors
1 x 8-pin ATX 12V power connector
1 x floppy disk drive connector
1 x IDE connector
8 x SATA 3Gb/s connectors
2 x SATA 6Gb/s connectors
1 x CPU fan header
3 x system fan headers
1 x power fan header
1 x North Bridge fan header
1 x front panel header
1 x front panel audio header
1 x CD In connector
1 x S/PDIF In header
1 x S/PDIF Out header
2 x USB 2.0/1.1 headers
1 x IEEE 1394a header

Back Panel Connectors

1 x PS/2 keyboard port
1 x PS/2 mouse port
1 x coaxial S/PDIF Out connector
1 x optical S/PDIF Out connector
1 x clearing CMOS button
2 x IEEE 1394a ports
4 x USB 2.0/1.1 ports
2 x USB 3.0 ports
2 x eSATA/USB Combo connectors
1 x RJ-45 port
6 x audio jacks (Center/Subwoofer Speaker Out/Rear Speaker Out/ Side Speaker Out/Line In/Line Out/Microphone)

I/O Controller

iTE IT8720 chip

H/W Monitoring

System voltage detection
CPU/North Bridge temperature detection
CPU/System/Power fan speed detection
CPU overheating warning
CPU fan fail warning
CPU/System fan speed control (Note 4)

BIOS

2 x 16 Mbit flash
Use of licensed AWARD BIOS
Support for DualBIOS™
PnP 1.0a, DMI 2.0, SM BIOS 2.4, ACPI 1.0b

Unique Features

Support for @BIOS
Support for Q-Flash
Support for Xpress BIOS Rescue
Support for Download Center
Support for Xpress Install
Support for Xpress Recovery2
Support for EasyTune (Note 5)
Support for Dynamic Energy Saver™ 2
Support for Smart 6™
Support for Auto Green
Support for eXtreme Hard Drive
Support for Q-Share

Bundle Software

Norton Internet Security (OEM version)

Operating System

Support for Microsoft® Windows® 7/Vista/XP

Form Factor

ATX Form Factor; 30.5cm x 24.4cm

Note
(Note 1) Due to Windows Vista/XP 32-bit operating system limitation, when more than 4 GB of physical memory is installed, the actual memory size displayed will be less than 4 GB.
(Note 2) For optimum performance, if only one PCI Express graphics card is to be installed, be sure to install it in the PCIEX16_1 slot; if you are installing two PCI Express graphics cards, it is recommended that you install them in the PCIEX16_1 and PCIEX16_2 slots.
(Note 3) The PCIEX8_1 and PCIEX8_2 slots share bandwidth with the PCIEX16_1 and PCIEX16_2 slots espectively. When PCIEX8_1 is populated with an expansion card, the PCIEX16_1 slot will operate at up to x8 mode; when PCIEX8_2 is populated with an expansion card, the PC IEX16_2 slot will operate at up to x8 mode.
(Note 4) Whether the CPU/system fan speed control function is supported will depend on the CPU/ system cooler you install.
(Note 5) Available functions in EasyTune may differ by motherboard model.
Remark

Due to different Linux support condition provided by chipset vendors, please download Linux driver from chipset vendors' website or 3rd party website.
Due to most hardware/software vendors no longer offer support for Win9X/ME. If some vendors still has Win9X/ME drivers available, we will publish on website.
Features
 

Get Ready to Unleash the Power of 32nm 6 Core CPUs


GIGABYTE's entire line of X58-based motherboards are ready to support the new generation of Intel 32nm 6-core processors, delivering the very best platform for multitasking, multimedia and high performance gaming.
 
 

Introduction


Based on the Intel® X58 chipset, the GIGABYTE GA-X58A-UD3R delivers all the killer next generation features that gaming enthusiasts and power users have been waiting for including GIGABYTE's 333 Onboard Acceleration features with support for USB 3.0, Serial-ATA Revision 3.0 (6Gbps) and a 3x USB Power Boost, as well as multi-GPU support for NVIDIA 3-Way SLI™ and ATI CrossFireX™ and support for Intel's high performance processors offering a high level of future CPU headroom for users wanting to maintain cutting-edge levels of performance. With the memory controller integrated directly into the processor die, the GIGABYTE GA-X58A-UD3R also supports triple channel DDR3 memory for blazing fast memory performance.
 
 
Intel® Core™ i7 Processor and X58 Chipset support


The GA-X58A-UD3R was designed specifically to take advantage of the raw power of the next generation Intel® Core™ i7 processors and the Intel® X58 Express chipset, whose new evolution in computing architecture is able to deliver an amazing performance break through from past processor generations. Replacing the Front Side Bus is the new Quick Path Interconnect, or QPI, whose 25.6 GB/sec transfer rates (double the bandwidth of the 1600MHz FSB) eliminates the communication bottleneck between the processor and chipset.

 

USB 3.0 Support


The GIGABYTE X58A series motherboards support the latest generation SuperSpeed USB 3.0 technology made possible through an onboard NEC uPD720200 host controller. With superfast transfer rates of up to 5 Gbps, users are able to experience an almost a 10x improvement over USB 2.0. Additionally, backwards compatibility with USB 2.0 assures users of long term use of their legacy USB 2.0 devices. The onboard NEC SuperSpeed USB 3.0 technology also provides new power management features that include increased maximum bus power and device current draw to better accommodate power-hungry devices.

 

SATA 6 Gbps Support


Yet another onboard feature of GIGABYTE X58A motherboards are Marvell's new SE9128 chips for high-speed SATA Revision 3.0 compatibility, delivering superfast 6Gbps link speeds for twice the data transfer rates of SATA Revision 2.0 (3 Gbps). When used in RAID 0 (Stripe) mode, GIGABYTE X58A series motherboards offer even faster data transfer rates of up to 4x the speed of current SATA interfaces.

 

3x USB Power Boost


GIGABYTE X58A series motherboards feature a 3x USB power boost, delivering greater compatibility and extra power for USB devices. GIGABYTE's unique USB power design is also able to efficiently regulate output over the full voltage range, which greatly enhances USB device compatibility. In addition, dedicated lower resistance fuses ensure lower voltage drops, and provide more stable and plentiful power delivery.

 
 
Qualified for Windows® 7
The motherboard qualified for WHQL (Windows Hardware Quality Labs) certification of Windows 7 from Microsoft®, setting the standard for future Windows 7 certified motherboards… more
 

Dynamic Energy Saver™ 2


GIGABYTE Dynamic Energy Saver™ 2 incorporates a host of intelligent features that use a proprietary hardware and software design to considerably enhance PC system energy efficiency, Reduce power consumption and deliver optimized auto-phase-switching for the CPU, Memory, Chipset, VGA, HDD, and fans with a simple click of button.
 
 

Smart 6- A Smarter way for PC system Management


GIGABYTE Smart 6™ is designed with user-friendliness in mind, and offers a combination of 6 innovative software utilities that provide easier and smarter PC system management. Smart 6™ allows you to speed up system performance, reduce boot-up time, manage a secure platform and recover previous system settings easily with a click of the mouse button.

Smart QuickBoot
No more waiting for PC Boot up

Smart DualBIOS
Smart personal reminder
Smart QuickBoost
One-click Overclocking
Smart Recorder
Your PC's Watch Dog
Smart Recovery
Reverse time for you
Smart TimeLock
Time Controller for PC

 

AutoGreen- Greening your PC via Bluetooth cellphone


AutoGreen technology can automatically save power for you simply by your bluetooth cell phone when you are away from your computer.
Note: GIGABYTE motherboards do not include a Bluetooth® receiver; the addition of a 3rd party Bluetooth receiver is required.
 

XHD (eXtreme HardDrive)-Accelerating hard drive performance with ease


Accelerating system performance is made easy with the user friendly GIGABYTE eXtreme Hard Drive (X.H.D). GIGABYTE eXtreme Hard Drive (X.H.D) provides a quick and easy way to boost your hard drive performance simply by adding another hard drive.
 

Integrated Memory Controller


Intel® Core™ i7 Processors feature triple channel DDR3 support
Intel Core™ i7 processors feature the memory controller integrated directly into the processor die, rather than as part of the Northbridge as in previous generations, allowing for faster memory performance. Core™ i7 processors also provide additional memory support including.
 

QPI , QuickPath Interconnect


Replacing the role of FSB
Intel uses the QPI to connect internal components of Core™ i7 processors , and to connect the CPU itself to the Northbridge and banks of memory.

QPI delivers:
Up to 25.6GB/sec of bandwidth between Core™ i7 processors and the rest of the system,providing exactly double the bandwidth of 1600 Hz FSB

 

Intel Turbo Boost Technology


Dynamically reroutes power to improve performance For situations when all cores are not needed for a particular workload, Intel Turbo Boost Technology powers down the idle cores and dynamically reroutes the power to the active cores, boosting their performance without wasting power. This allows the active cores to achieve significant overclocks.
 

Multi-display support with 3 way CrossFireX and 3 way SLI™


Flexible graphics capabilities – Up to 3 VGA cards are supported for either 3 way CrossFireX™ or 3 way SLI™ action, delivering the ultimate in graphics performance for gaming enthusiasts who demand the highest frame rates without compromising on resolution.

 
 

Ultra Durable 3


GIGABYTE Ultra Durable 3 design, featuring 2 ounces of copper for both the Power and Ground layers which dramatically lowers system temperature by delivering a more efficient spreading of heat from critical areas of the motherboard such as the CPU power zone throughout the entire PCB. GIGABYTE's Ultra Durable 3 also lowers the PCB impedance by 50%, which helps to reduce electrical waste and further lowers component temperatures. A 2oz Copper layer design also provides improved signal quality and lower EMI (Electromagnetic Interference), providing better system stability and allowing for greater margins for overclocking… more

 

Benefits of 2 oz Copper PCB


• Cooler than traditional motherboards
• Enhanced durability
• Improved energy efficiency
• Greater margins for overclocking… more
 
 

2X Lower Impedance




In addition, doubling the amount of copper lowers the PCB impedance by 50%. Impedance is a measure of how much the circuit impedes the flow of current. The less the flow of current is impeded, the less amount of energy is wasted. For GIGABYTE Ultra Durable 3 motherboards, this means total PCB electrical waste is reduced by 50%, which also means less heat is generated. 2 ounces of copper also provides improved signal quality, providing better system stability and allowing for greater margins for overclocking.

 

50,000 Hours Japanese Solid Capacitors


GIGABYTE Ultra Durable motherboards are equipped with solid capacitors developed by leading Japanese manufacturers. With an average lifespan of 50,000 hours, these solid capacitors provide the stability, reliability and longevity essential to meet the power needs of high-end processors and other components running today's most demanding applications and games.

 

Quick and Effortless Overclocking with One Click


GIGABYTE Quick Boost provides 3 levels of CPU performance enhancement; a simple click on the desired level delivers quick and effortless overclocking for novice and experienced users alike.

 

EasyTune6


GIGABYTE has completely redesigned EasyTune6 from the ground up to make it easier than ever to manage and monitor your hardware resources as well as tweak your system settings in order to achieve maximum system performance. Whether you are an overclocking enthusiast, or a computer novice, EasyTune6 provides the tools you need to quickly and effortlessly fine tune your system.
 

DualBIOS™ – Patented Dual Hardware BIOS Protection


DualBIOS™ is a GIGABYTE patented technology that automatically recovers BIOS data when main BIOS has crashed or failed. Featuring 2 physical BIOS ROMs integrated onboard, GIGABYTE DualBIOS™ allows quick and seamless recovery from BIOS damage or failure due to viruses or improper BIOS updating.
 

Hardware OverVoltage Control IC – Enabling Extreme Overclocking


GIGABYTE Hardware Overvoltage Control ICs featuring more voltage control options than before for the CPU North Bridge and memory. The overvoltage controllers also provide hardware linear real-time voltage control, which means there is no delay compared to the GPIO controller in past implementations. In addition, GIGABYTE's Hardware Overvoltage Controller ICs also allow for much finer voltage control, allowing power users to adjust voltage in as little increments as 20mV for better overclocking performance.
 

OV-Alert LED


4 sets of OV-Alert LEDs indicate the overvoltage level of the CPU, Memory, North Bridge and South Bridge to prevent component damage.
 

Visible Overclocking Reminder


OC-Alert LED indicates the level of CPU overclock from low to high.
 

Visible Temperature Reminder


Two sets of Temperature Alert LEDs indicate the current temperature level of the CPU and North Bridge
 
 

Onboard Quick Switches


Onboard Power, Clear CMOS and Reset buttons allow for quick and easy tweaking for power users working in an in chassis environment.
 
Dolby Home Theater® – Enjoy a Rich Home Theater Surround Sound Experience
Dolby Home Theater places listeners in the middle of the action, giving their PCs a powerful set of tools to deliver a cinema-style experience in vivid surround sound.

Delivers vivid surround sound for music, movies, and games, using two to eight speakers or any set of headphones
Designed to automatically deliver the best possible listening experience

 

ErP Lot 6 support


The ErP (as known as Energy-Related Products Directive) is part of new European Union's environment regulations. ErP established is based on the concern of environmental issues regards electronic devices been gained popularity and how to improve energy efficiency for better and greener life. GIGABYTE presents standard motherboards to help you effectively improving system performance and saving more energy.
Packaging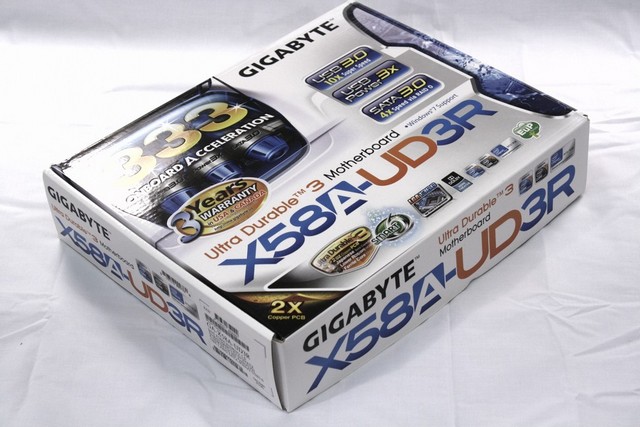 Gigabyte makes sure you know what you are getting when it comes to their products. This motherboard sports Gigabytes very own 2 OZ copper PCB, Ultra Durable 3 design, SATA 3.0, USB 3.0, and finally USB Power III.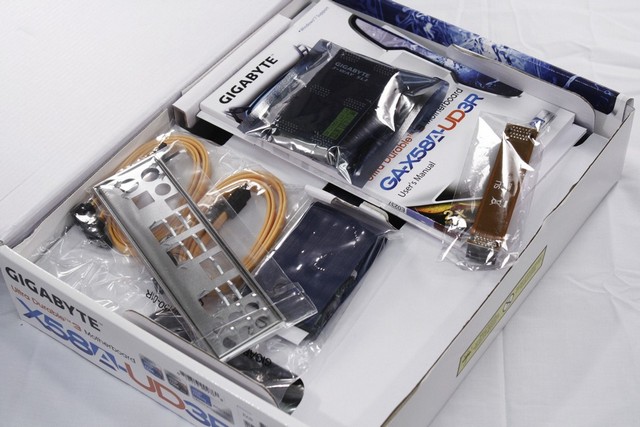 The X58A-UD3R motherboard is packed pretty much standard. There is not a lot of extras, but there is enough included with the basic fundamentals.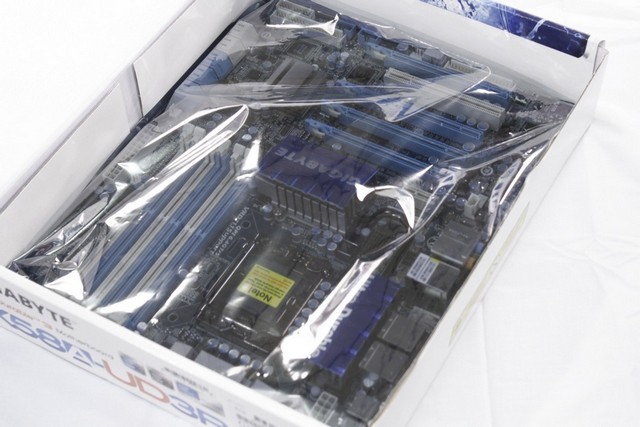 Removing all of the included extras to get a look at how Gigabyte packed the motherboard itself. Again, nothing spectacular, but enough to keep the motherboard from getting damaged during transportation.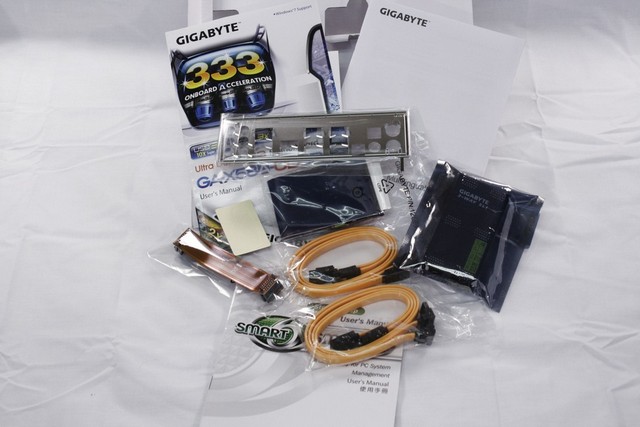 Here is what is included with the X58A-UD3R motherboard. Four SATA cables, A Tri SLI bridge connector, a sinle SLI bridge connector, an IDE ribbon, A rear I/O plate, instruction manual and a users manual, and finally a driver disc (Not shown as it was inside the instruction manual).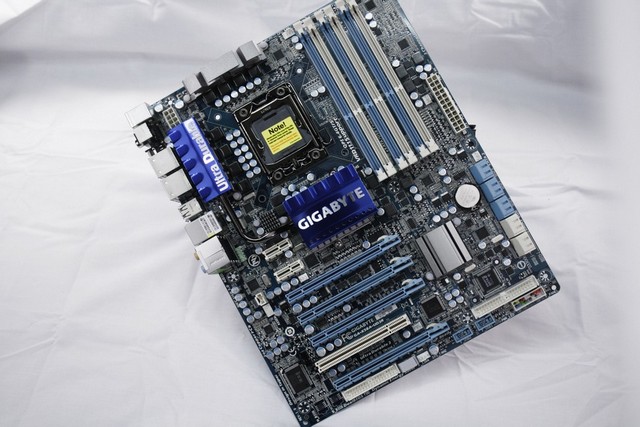 A money shot of the X58-UD3R motherboard before we head on over to the overview.
Overview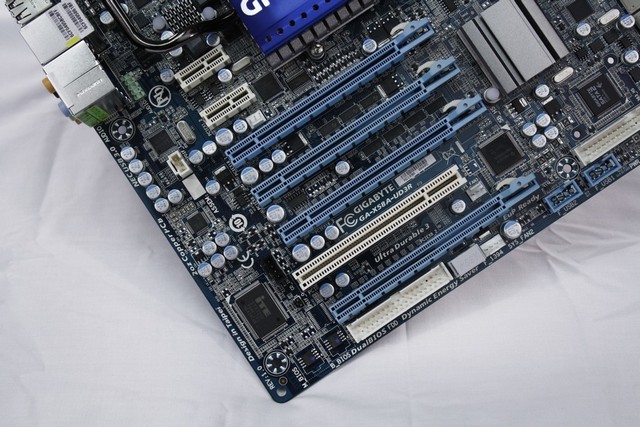 Starting off on where the PCI expansion ports reside and how they are laid out. It seems that Gigabyte has a fairly decent layout with this motherboard. Starting from the first expansion port, we have two 1x PCI-E ports, followed by three 16x PCI-E ports, a single PCI port, and a PCI-E port that runs at 8X. This motherboard does fully support Tri Fire and Tri SLI, just may have to be careful on the GPU heatsinks we use with this motherboard. Right below the last PCI-E port is where Gigabyte placed the Floppy expansion port. Moving to the front of the motherboard, Gigabyte placed an 1394 Firewire port, then finally we see fan header #1. The two BIOS chips that Gigabyte uses on all of their motherboards is located right behind the Floppy expansion port.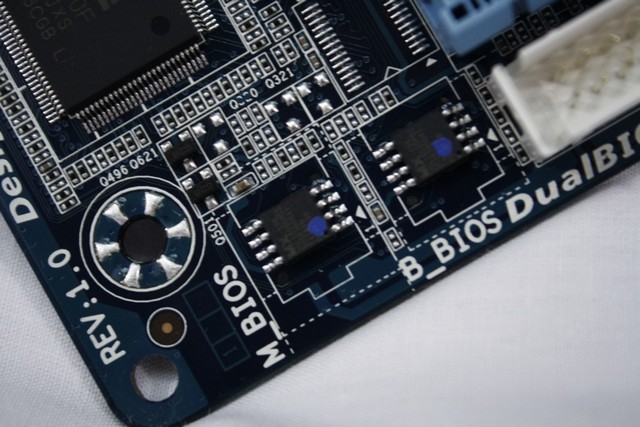 Gigabyte uses two BIOS chips on all of their motherboards, this is to ensure usability in case a failed BIOS flash occurs on the primary BIOS chip. Talk about awesome redundancy.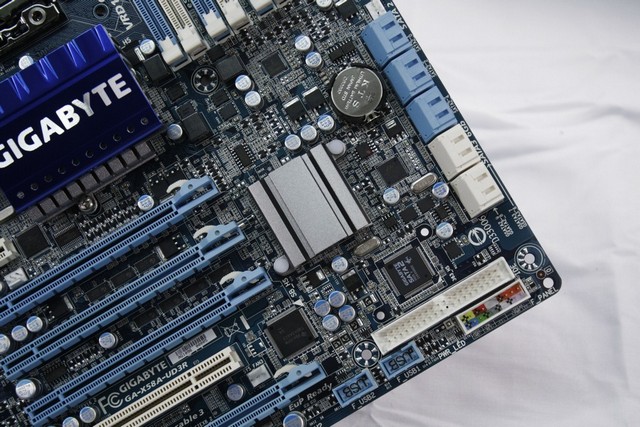 Making our way over to the ICH10R South Bridge. This is placed right behind the first three PCI-E ports. It is low enough not to hinder multiple video cards which is how it should be. Moving towards the corner of the motherboard, this is where the front I/O ports are located at. Right above the I/O ports is an IDE header. Right behind the front I/O ports are two front panel USB headers. SATA 3.0 ports are marked by the white 180° ports. then we have the six 180° native SATA 2.0 ports. Right above the SATA ports is fan header #2.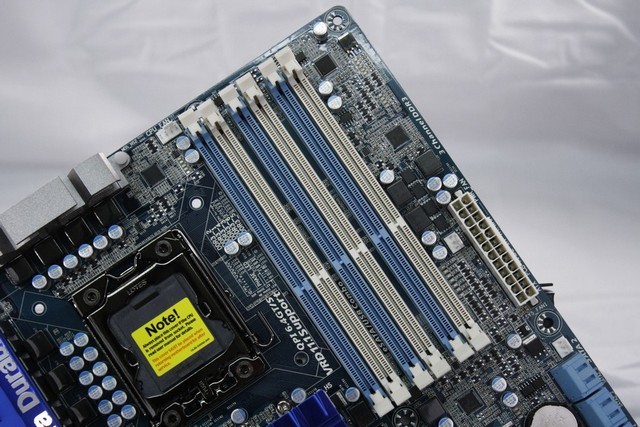 Time to check out the DIMMs. Like all 1366 socket motherboards, this one also supports triple channel memory. The primary DIMMs are the white ones. Nestled right above the first blue memory DIMM is fan header #3.
Warning LEDs that are included with the X58A-UD3R motherboard. I never seen the memory ones light up yet, but the CPU phase LEDs do stay on when the computer is powered on.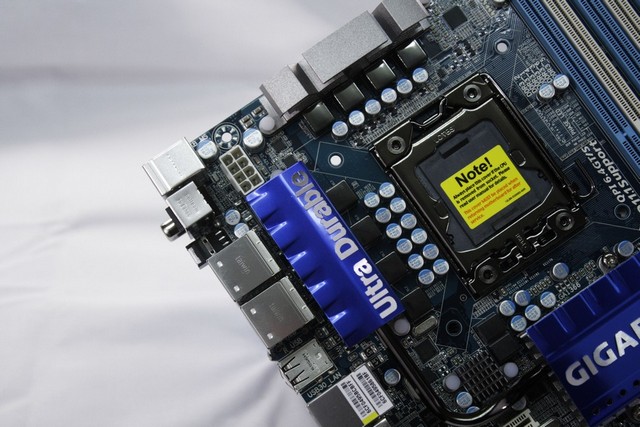 The only true thing we did not care for with this motherboard was the placement of the EPS CPU power plug. Gigabyte is still putting this plug in a rather tight spot. This X58A-UD3R uses an 8 phase CPU power distribution. This should be plenty of power for the weekend overclocker. Gigabyte also uses two power MOSFETs heatsinks to keep the MOSFETs cool during operation.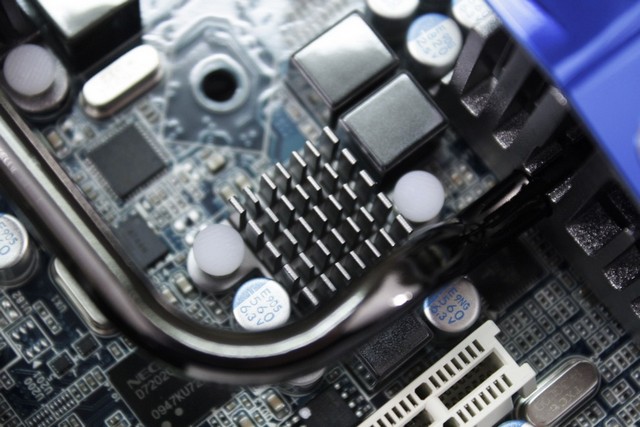 Another unique feature that we've seen with previous Gigabyte motherboards was their continuation to think outside the box. You can never have to much cooling on your components. This heatsink is for the IOH phase power MOSFETs. This chip did get rather warm on us with previous motherboards, so it is good to see Gigabyte include a heatsink to help keep things cool.
Like most Gigabyte boards, the first PCI-E port is blocked by the IOH heatsink, but this time Gigabyte places a second one right after the first PCI-E expansion port and it clears the IOH heatsink. We should have no issues being able to use three video cards and a Creative X-Fi sound card at the same time. Looking in between the second and third PCI-E expansion ports is fan header #4.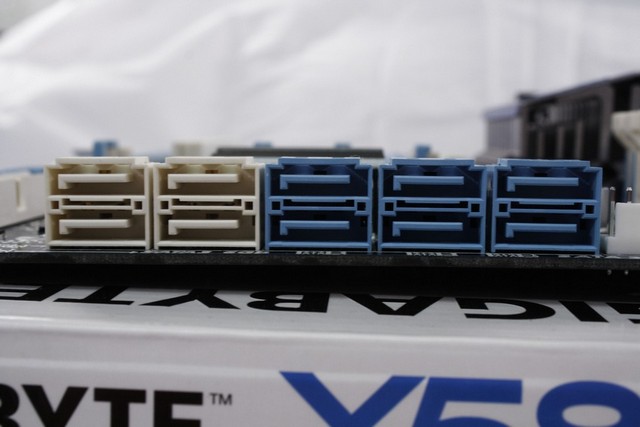 A quick look at the SATA ports before moving on. Again, these are low enough not to interfere with our video cards.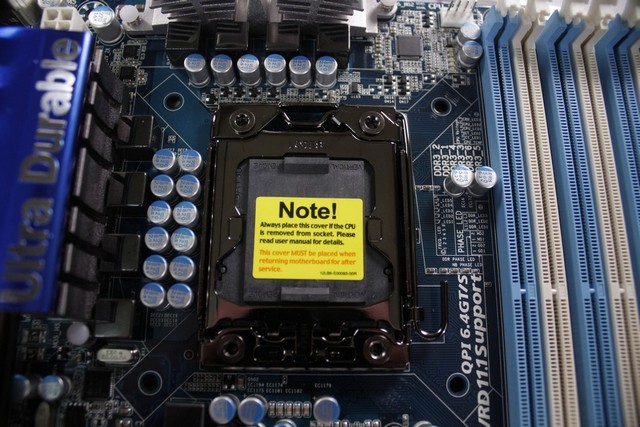 Now it is time to look over the CPU area. The CPU area is clear of large obstacles so using CPU coolers should not be an issue.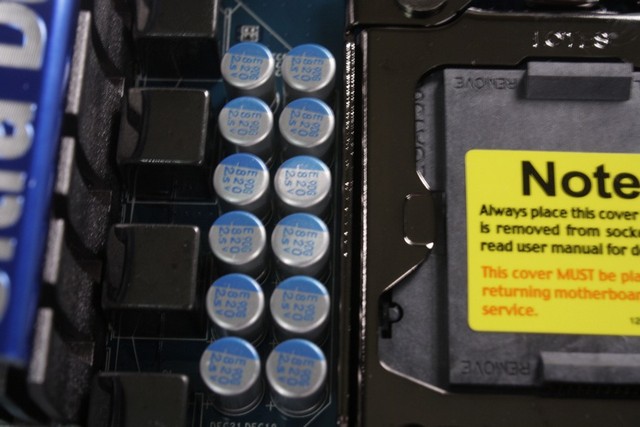 Since Koolance came out with their CPU 360 water block a lot of users were complaining about it not being able to fit Gigabyte based motherboards. This is the reason why it does not fit properly on their motherboards, the CPU capacitors are sitting right up next to the CPU's socket hold down bracket. But keep this in mind, Koolance is not the only one who has a problem with there block not fitting. We will get to this a bit later.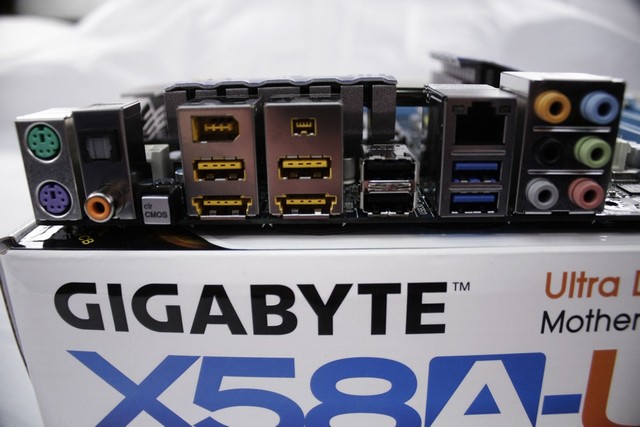 Now it is time to wrap up the overview portion of the X58A-UD3R motherboard. Gigabyte is one of the only manufacturers that are still including two PS/2 ports on their motherboards. Moving to our right, we have the Audio Opticle outputs from the on-board sound card, a single Clear CMOS button, a Firewire 1394/USB/E-SATA header. This header also contains a USB/eSATA as well. Moving to right again, there is another two USB headers, followed by the two USB/Ethernet headers and finally the 8 channel on-board audio outputs.
Extra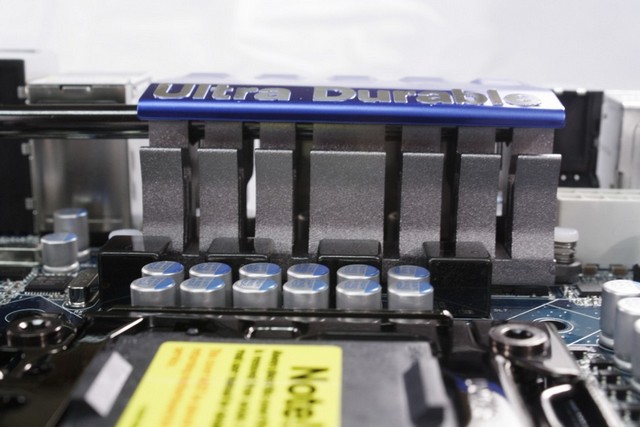 Some extra pictures for you to get a good look at Gigabyte's quality.
Installation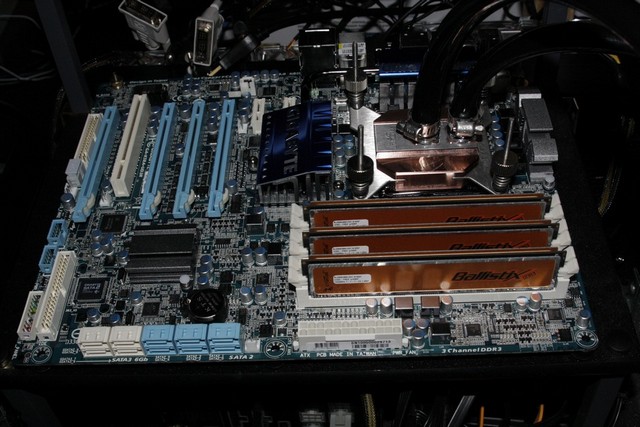 Here is a picture of me putting on the new Heatkiller CPU water block onto the brand spanking new Core i7 930 CPU.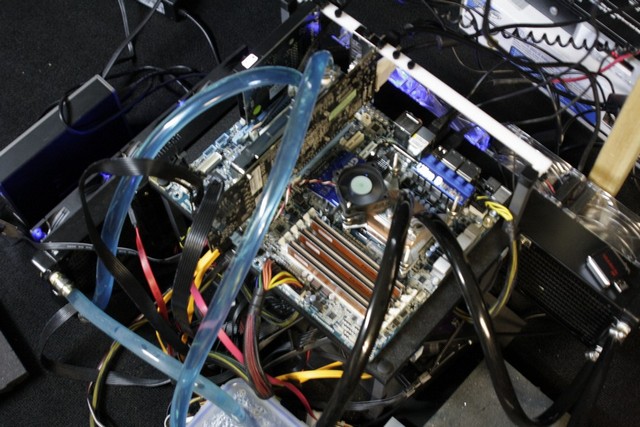 Here is what everything looks like installed on the Gigabyte X58A-UD3R motherboard.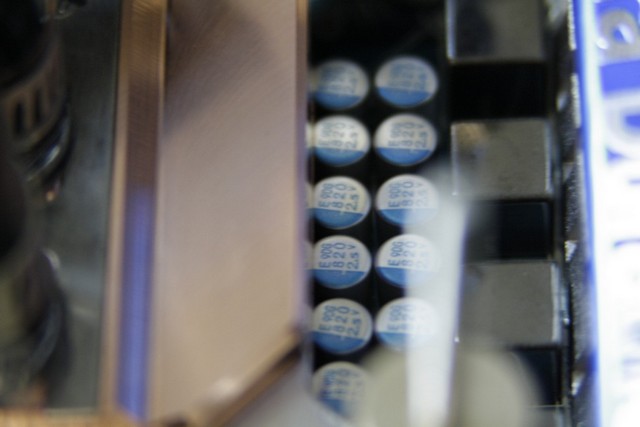 Remember when we said we'd get back to the capacitors that sit awfully close to the CPU socket hold down bracket? Well as I found out, that the Heatkiller also had a minor issue regarding them caps as well. If you look closely, you will see that they fit just underneath the CPU water block. The only reason this block fits is because we filed a small corner down so that it could properly fit it onto the CPU. Gigabyte should have at least another 1/8″ between the CPU socket hold down bracket to the capacitors. But then again, Heatkiller and Koolance could have made their water blocks slightly smaller too. So the road goes both ways, not just one.
BIOS PART 1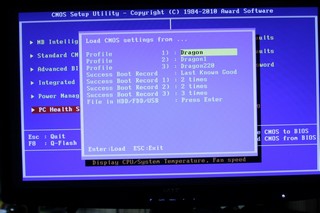 We like to include what is in all of the BIOS. We feel it gives users an idea of what they should expect. The BIOS is just as important as the hardware it is controlling. Gigabyte has been been using this style of BIOS for many years now. If you owned a previous Gigabyte motherboard, navigating through this BIOS should be relatively easy and familiar. The save profile (overclocked or personal setting profile page) is located when we hit the F11 and the F12 keys. F11 is for when you want to save your personal settings and F12 is for loading your personal BIOS settings. Now keep in mind, you have to rename each profile you are saving to. Just highlight the profile you wish to save to, then just type in a name and hit enter.
BIOS Part 2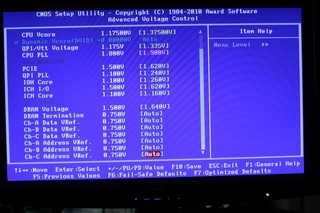 This is where the peddle hits the metal. This portion of the BIOS is where we can overclock the CPU, set memory timings, and do our all around motherboard tweaks to squeeze every last drop of performance we can. As you can already tell, we leave quite a few of these settings at auto, especially when it comes to the memory timings. We do play with the voltage settings though. If you are unfamiliar with the BIOS please ask for assistance at your favorite forum. Don't just start cranking numbers up and expect results. Gigabyte uses pretty much the same BIOS layout they have used for years and each of the primary tweaking portions of the BIOS have sub categories. Even the novice of overclockers know where everything is at.
Testing Methodology
Test Setup &Testing Methodology
CPU
Intel Core i7 930 D0
Motherboard
ASUS Rampage II  Extreme, Gigabyte X58A-UD3R
Case
Open Chassis
Memory
Crucial 1333MHz
Video Card's
Sapphire 5870
Hard Drives
2x Seagate 320Gig 2.5″ Momentus HDD's
CDRom Drive
Lite On Blue Ray
Power Supply
SilverStone 1200 Watt Zeus
CPU Speeds Used
2.8GHz, 4.18GHz
Operating System Used
Microsoft Windows 7
Video Card Cooler

Bistpower Cooled 5870 Swiftech Tri 120mm Radiator
CPU Cooler

HeatKiller CPU Quad 120mm XSPC Radiator
We run each of the following programs and/or benchmarks a total of three times to ensure results are consistent and that there were no erroneous readings. We will be putting the Gigabyte X58A-UD3R motherboard up against the Asus Rampage II Extreme. The comparison will be made at the default CPU speed of 2.8GHz. The Gigabyte X58A-UD3R motherboard will be the only one overclocked throughout testing. It is unfortunate since SATA 3.0 and USB 3.0 devices are few and far between. Currently we were unable to test this portion of the motherboard out. As soon as we get one of these types of devices, rest assured we will be using this motherboard to test those peripherals out.
Programs used for testing
SiSoft: Arithmetic, Multimedia, Memory Bandwidth, Memory Latency
Everest: Memory Read, Memory Write, Memory Copy, Memory Latency, CPU Queen, CPU Julia
wPrime: 32 Million Calculation, 1024 Million Calculation
POV Ray 1280 x 1024 Resolution: Animation Camera, Animation Ambient, Still Image Buscuit, Still Image Wood Box
Auto MKV: Converted an AVI movie file to a MKV movie file
Blender: Rendered a Squirrel
Excel: Measured the time it took to calculate a given set of numbers, Monte, and Number Crunching
Win RAR Compressed 5 TIF type images mesured time took to compress these files
3DMark Vantage: Default Performance Run
Darkest Of Days 1920 x 1080 No AA
Dirt 2: 1920 x 1080 No AA
Overclocking
Since the Core i7 930 CPU is brand new, it overclocked a bit differently from the Core i5 750 CPU we were getting used to. We did have some newer dividers (QPI and Memory) that we did not have previously, so this CPU liked to have a bit more QPI voltage to sustain a higher Base Clock (BCLK). At the same time this CPU did not need to use a lot of CPU core voltage to maintain a high frequency. The Gigabyte X58A-UD3R motherboard was a learning experience, at first we tried to use the standard QPI voltage of 1.25 and then up the CPU core voltage to 1.375v leaving the CPU multiplier at 21 to see how far this motherboard would go.
We were able to get to a 190 BCLK, not bad, but The Rampage II Extreme motherboard was able to do 215 BCLK easily. We ended up making a lot of different adjustments that pertain to the CPU itself, everything but the QPI voltages. The BCLK was not going to budge past 190 BCLK. Finally I gave in and decided to set the CPU multiplier to 19, left the core voltage at 1.375v, and upped the QPI voltage to 1.3v. Low and behold, the BCLK was maxing out at 215 BCLK. Looking really good now, we decided to up the QPI volts to 1.325 volts and this motherboard went right to a 220 BCLK. We felt this was enough of a BCLK to be at, next trick we wanted to do was set the CPU multiplier from a 19 to 20.
Unfortunately, this did not go over too well. No amount of CPU voltage or QPI voltage was going to allow us to boot at 4.4GHz. We made some other adjustments, tried several different CPU/BCLK combination of 20x, 21x, 210 BCLK, 205 BCLK, 215 BCLK, you name it, we tried it. This motherboard was not going to boot up with a CPU multiplier higher than 19 with a 200 BCLK. We figured a 4.18GHz was a good enough overclock, especially when the BCLK was at 220.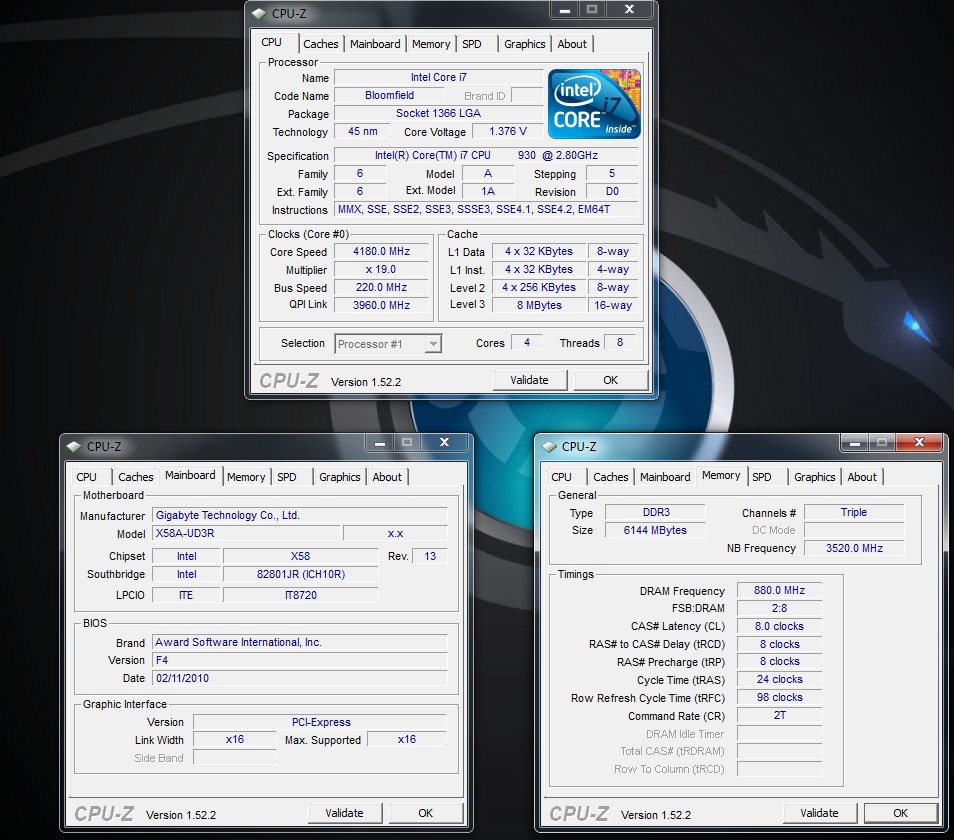 Overclocked settings used during testing.
Sisoft
"SiSoftware Sandra (the System Analyser, Diagnostic and Reporting Assistant) is an information & diagnostic utility. It should provide most of the information (including undocumented) you need to know about your hardware, software and other devices whether hardware or software. It works along the lines of other Windows utilities, however it tries to go beyond them and show you more of what's really going on. Giving the user the ability to draw comparisons at both a high and low-level. You can get information about the CPU, chipset, video adapter, ports, printers, sound card, memory, network, Windows internals, AGP, PCI, PCI-X, PCIe (PCI Express), database, USB, USB2, 1394/Firewire, etc."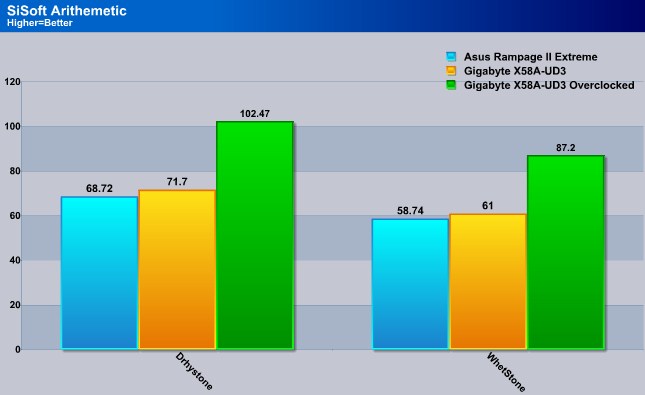 SiSoft is one of our personal favorite benchmarks to start off with. Right out of the gate the X58A-UD3R motherboard starts off with a good level of performance. Despite costing only $209 USD, the X58A-UD3R manages to pull ahead of the Rampage II Extreme.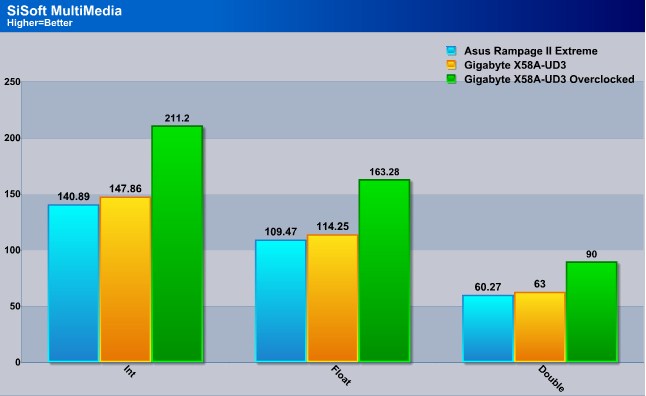 During the MultiMedia testing, the X58A-UD3R motherboard still shows us it is no slouch when it comes to it's all out raw performance.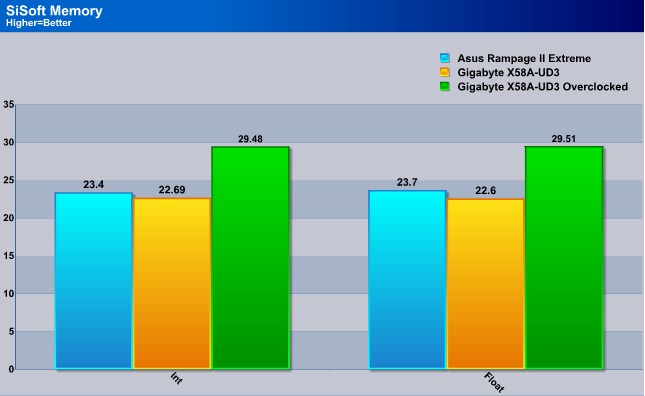 The memory bandwidth testing of SiSoft shows that both tested motherboards perform almost identical. A gigabit of bandwidth difference is truly not enough to declare a winner.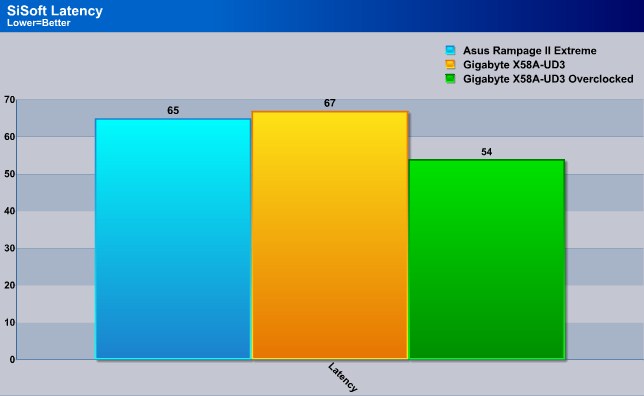 The X58A-UD3R motherboard manages to keep up with the Rampage II Extreme motherboard, being only separated by a mere 2ns of latency. Very close call.
EVEREST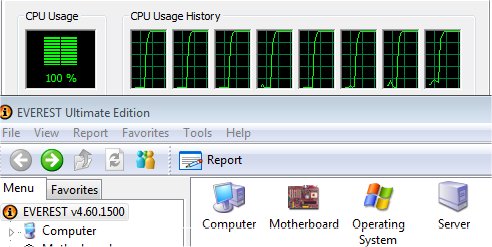 "EVEREST Ultimate Edition is an industry leading system diagnostics and benchmarking solution for enthusiasts PC users, based on the award-winning EVEREST Technology. During system optimizations and tweaking it provides essential system and overclock information, advanced hardware monitoring and diagnostics capabilities to check the effects of the applied settings. CPU, FPU and memory benchmarks are available to measure the actual system performance and compare it to previous states or other systems. Furthermore, complete software, operating system and security information makes EVEREST Ultimate Edition a comprehensive system diagnostics tool that offers a total of 100 pages of information about your PC."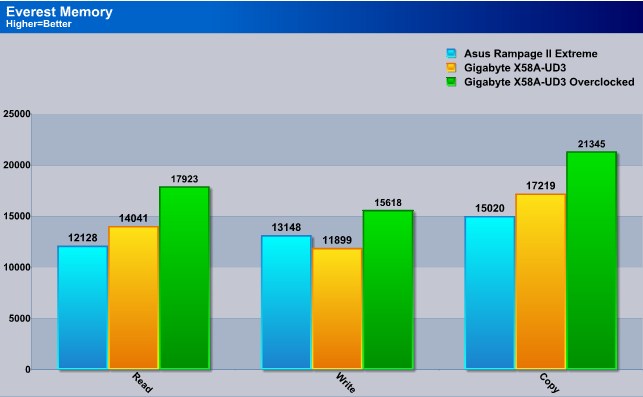 The only time the Rampage II Extreme motherboard was able to beat the X58A-UD3R motherboard was during the Write portion of testing in Everest. The X58A-UD3R shows it is a definite force to be reckoned with.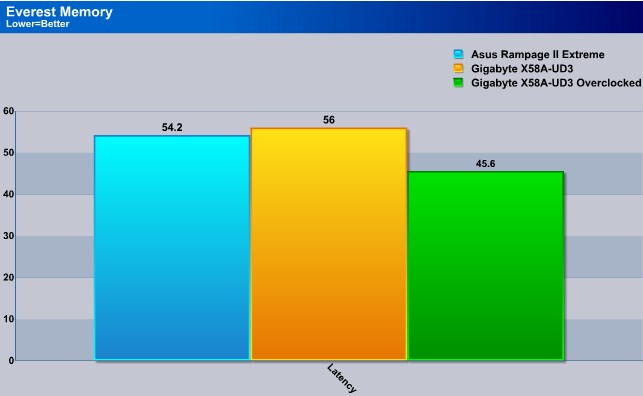 The Rampage II Extreme again shows it still handles the memory latency a little bit better then the X58A-UD3R.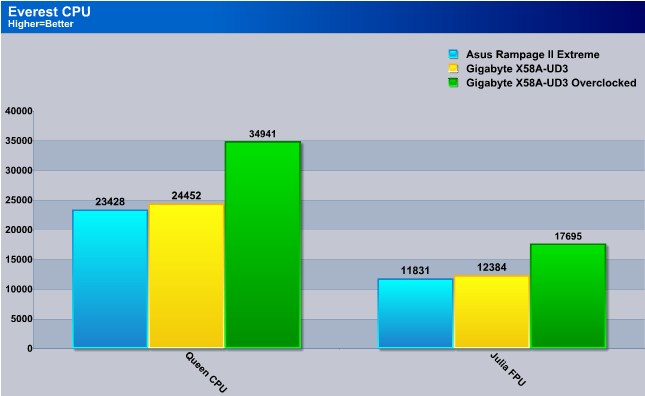 During the CPU testing portion of Everest, the scoring is too close to declare one better than the other. The X58A-UD3R is still proving itself to be a great performing motherboard despite its low cost of only $209 USD.
CIneBench RC11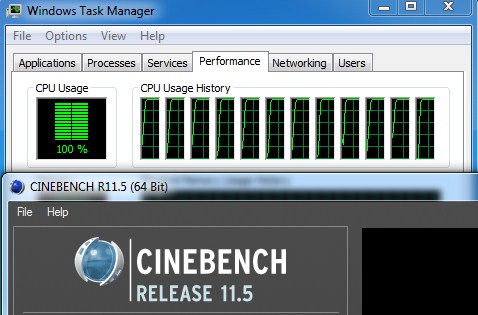 "CINEBENCH is a real-world test suite that assesses your computer's performance capabilities. MAXON CINEBENCH is based on MAXON's award-winning animation software, CINEMA 4D, which is used extensively by studios and production houses worldwide for 3D content creation. MAXON software has been used in blockbuster movies such as Spider-Man, Star Wars, The Chronicles of Narnia and many more. MAXON CINEBENCH runs several tests on your computer to measure the performance of the main processor and the graphics card under real world circumstances. The benchmark application makes use of up to 16 CPUs or CPU cores and is available for Windows (32-bit and 64-Bit) and Macintosh (PPC and Intel-based). The resulting values among different operating systems are 100% comparable and therefore very useful with regard to purchasing decision-making. It can also be used as a marketing tool for hardware vendors or simply to compare hardware among colleagues or friends."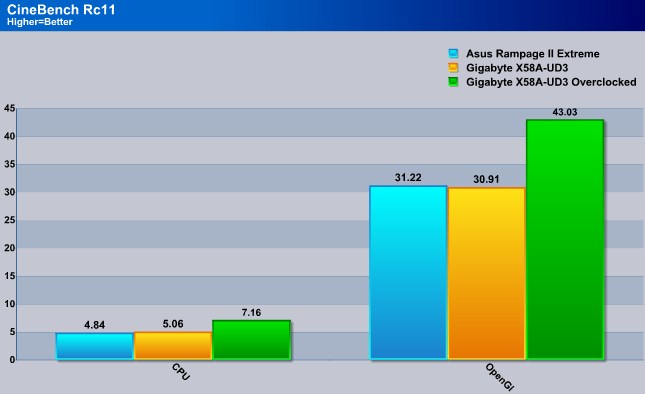 CineBench is another one of our personal favorite programs for testing out a computers overall performance. When we found out that there was a newer, more up to date CineBench, we had to use it. This benchmark is a good benchmark for quick runs and checking for stability when overclocking. There isn't much of a difference between the motherboards in CineBench which shows equal quality from both vendors.
wPrime
wPrime is a benchmarking application designed to use a highly multi-threaded approach to calculating the square-roots of large amounts of numbers (up to 32 billion)
wPrime is a great program that calculates PI to some ungodly figures. It also uses all available threads available to help calculate PI. The more threads you have access to, the faster wPrime calculates PI. As you can see, the X58A-UD3R motherboard starts to out perform the Asus Rampage II Extreme motherboard. In fact, this is the first time we've ever seen a 32 million run get below a 6.1 seconds and a 1024 million run go below 181 seconds.
POV Ray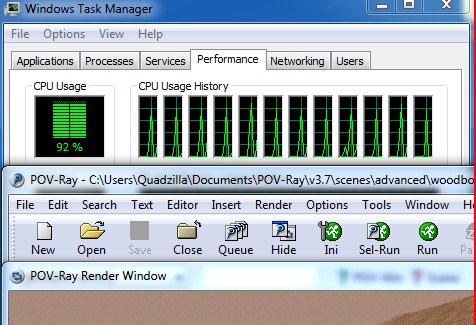 The Persistence of Vision Ray-Tracer was developed from DKBTrace 2.12 (written by David K. Buck and Aaron A. Collins) by a bunch of people (called the POV-Team) in their spare time. It is a high-quality, totally free tool for creating stunning three-dimensional graphics. It is available in official versions for Windows, Mac OS/Mac OS X and i86 Linux. The POV-Ray package includes detailed instructions on using the ray-tracer and creating scenes. Many stunning scenes are included with POV-Ray so you can start creating images immediately when you get the package. These scenes can be modified so you do not have to start from scratch. In addition to the pre-defined scenes, a large library of pre-defined shapes and materials is provided. You can include these shapes and materials in your own scenes by just including the library file name at the top of your scene file, and by using the shape or material name in your scene. Since this is free software feel free to download this version and try it out on your own.
Some of you might have seen version 3.6 of POV-Ray, the biggest difference between 3.6 and 3.7 Beta 25 is SMP (symmetric multiprocessing) support, which means that POVRay can take advantage of as many cores as your CPU has. On Single vs Dual CPU systems the speed almost doubles.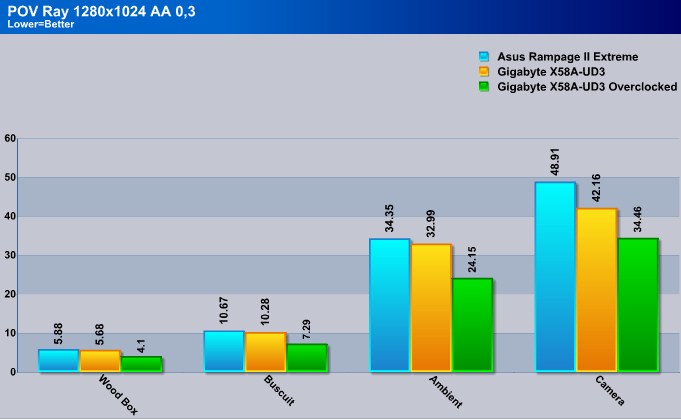 POV Ray is another one of our personal favorite benchmarking programs. During the normal single image renderings, both of the tested motherboards performed pretty close to one another. it is not until we start rendering and animation sequence, when the Gigabyte X58A-UD3R pulls out ahead.
Win RAR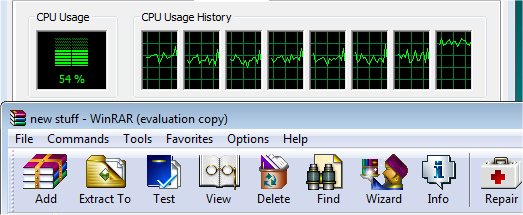 This module in WinRar generates random data, which contains specially introduced redundancy, increasing the load to both the processor and memory. Data is then passed through RAR compression and decompression algorithms, and the output of the decompression algorithm is compared to the source data. If any differences are found, WinRar then reports "Errors found – Yes" in the command window. WinRar displays a size of processed data and compression speed, current and resulting, in kilobytes per second.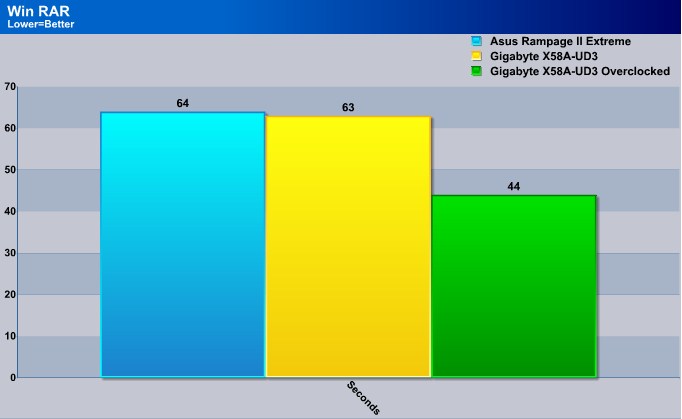 We all use Win RAR for compressing our files to be emailed, transferred through our favorite messenger programs, and compressing our files to gain a few extra megs of space on our hard drives. Again, there is not much of a difference between the Rampage II Extreme and the X58A-UD3R. Both motherboards managed to compress all five of the TIFF image files fairly quickly.
Excel
Microsoft Excel is the widely known and most used spreadsheet application for the manipulation and calculation for number crunching. With Excel you can analyze and share information on small scale or the largest scale you can imagine. We've seen spreadsheets in every day use that contain literally tens of thousands of numbers and hundreds of equations. Bjorn3D uses two tests in Excel to determine CPU and Motherboard performance.

This workload calculates the European Put and Call option valuation for Black-Scholes option pricing using Monte Carlo simulation. It simulates the calculations performed when a spreadsheet with input parameters is updated and must recalculate the option valuation. In this scenario we execute approximately 300,000 iterations of Monte Carlo simulation. In addition, the workload uses Excel look up functions to compare the put price from the model with the historical market price for 50,000 rows to understand the convergence. The input file is a 70.1 MB spreadsheet.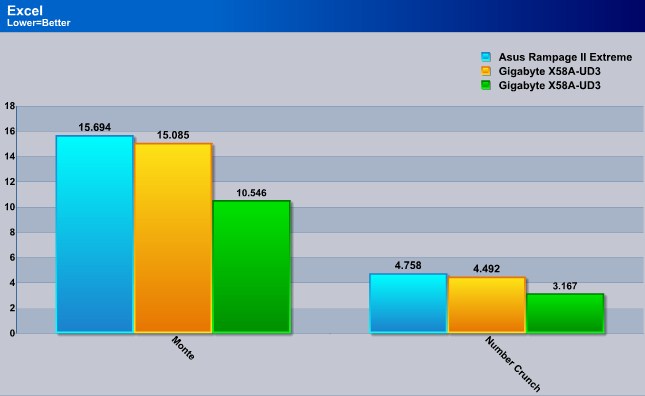 Excel is a popular number crunching, and chart maker that most people or companies use to calculate their expenditures with. Looking at these numbers, not much of a difference between both tested motherboards.
Auto MKV
AutoMKV is an application aiming for easy media conversion between various media formats using various third party codecs. With improved internet speed and enhanced computing power, more users are interested in encoding to different media formats for their various multimedia needs. With AutoMKV and x264 codec, a freeware H.264 encoder, users can easily create media files. For more information and to obtain AutoMKV 0.95c and AviSynth* 2.5.7, please visit (http://forum.doom9.org/showthread.php?t=134478). We create a media file using AutoMKV and x264 codec. The input file used in the document is a raw 416 MB 720×480 DV file and the output is a 253MB H.264 media file.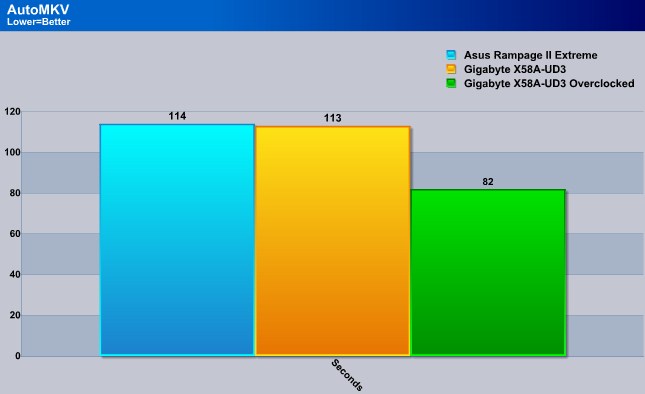 Auto MKV is another famous video conversion program that a lot of different people use for their home movies. This program likes to have a high CPU core frequency and lot of active threads available. While the Rampage II Extreme did manage to come in a second faster than the X58A-UD3R motherboard, it is not enough to say it is winner.
Blender
Blender is a free open source 3D content creation suite that is available for various operating systems. The application is popular among many independent animation studios and game makers. For more information, please visit http://www.blender.org/.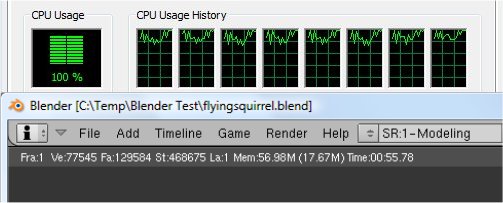 The workload consists of a ~6.9 MB character model of a flying squirrel. Due to time constraints we don't render the entire image which would be time consuming and rather pointless except to yield larger benchmark numbers. A portion of the image, the right arm is what we render, it's a large enough portion to show differences in CPU performance, yet small enough that we don't have to grind through a 45 minute Render waiting for a single result.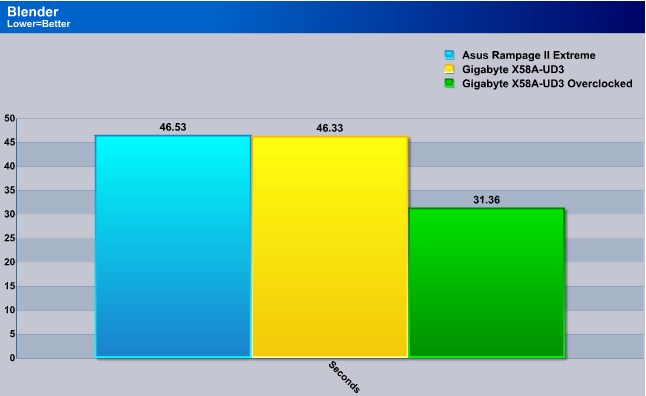 Blender is another rendering program that is free to use and also likes to have a lot of active threads available. For a $209 USD motherboard it manages to keep up with the much higher priced Rampage II Extreme.
3DMARK VANTAGE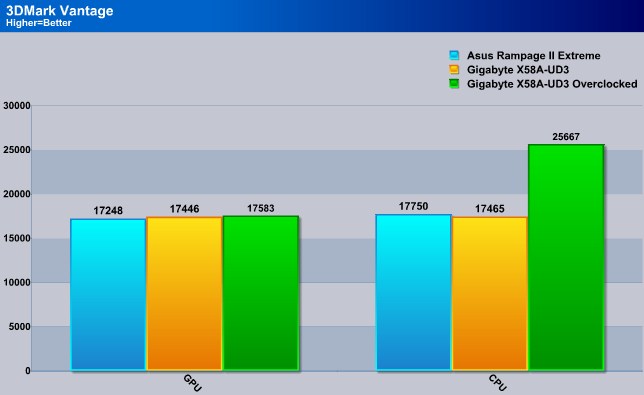 Now this is where the Rampage II Extreme shows it's supremacy, gaming. During the CPU portion of testing the Rampage II Extreme consistently stayed ahead of the X58A-UD3R.
Darkest Of Days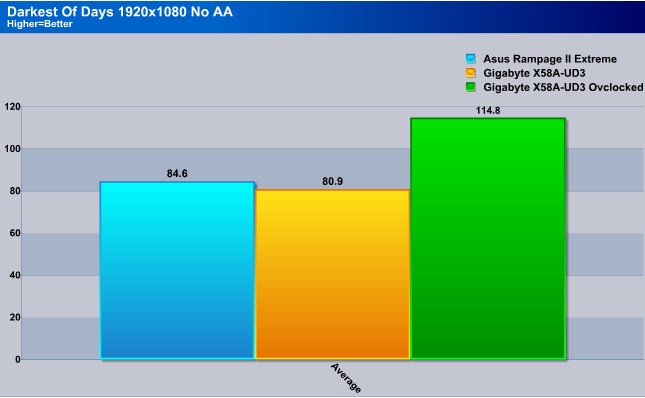 Darkest of Days is another CPU/Ageia PhysX heavy game. The Rampage II Extreme motherboard kept coming out on top when compared to the X58A-UD3R. Although, having 80 FPS average on the Gigabyte X58A-UD3R motherboard is still very much enjoyable.
DIRT 2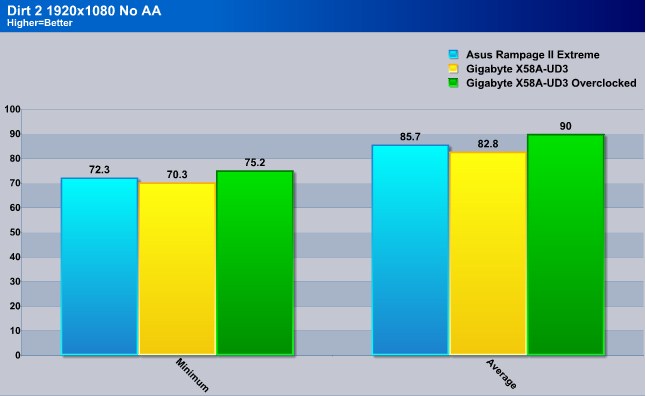 Just like the Darkest Of Days gaming session, Dirt 2 still prefers to have the Rampage II Extreme motherboard. A lot of people will say 2 FPS is not much of a difference, which is correct. During testing however, the Rampage II Extreme was consistently coming out ahead of the X58A-UD3R.
Conclusions
When we think of affordable motherboards we tend to think of motherboards that do not have the performance of their higher end, more expensive siblings. In some cases we would be correct, in the case of the Gigabyte X58A-UD3R motherboard we were totally wrong. This motherboard not only has SATA 3.0, USB 3.0, and USB Power III, this motherboard also overclocks and performs just as good as well as the higher cost motherboards. Lets not forget the upgrade ability of the LGA 1366 platform, we can move on to the newer hex-core as a drop in upgrade.
The overall layout of the motherboard we consider to be fairly decent this time around. Which is unusual from Gigabyte when it pertains to the upper PCI-E expansion ports. The only complaints we have with this motherboard is the placement of the EPS CPU power plug and how the X58A-UD3R does a continuous three time reboot every time it was turned off. Having a price point on or around the $209 USD mark makes this a sweet deal no matter how you look at it.
OUR VERDICT: Gigabyte X58A-UD3R
| | |
| --- | --- |
| Performance | 9 |
| Value | 9 |
| Quality | 9 |
| Features | 10 |
| Innovation | 9 |

We are using a new addition to our scoring system to provide additional feedback beyond a flat score. Please note that the final score isn't an aggregate average of the new rating system.

Pros
Cons

High quality

SATA 3.0, USB 3.0, USB Power III

Good layout Layout

Overclocks very well

EPS CPU power plug is still in an awkward spot

 

 
Summary: The Gigabyte X58A-UD3R motherboard is a affordable motherboard that has the performance that can keep up with the big boys.