A green-minded DVD drive that is capable of self destructing DVD's? We review ASUS's DRW-24B1ST optical drive to see if it has that James Bond 007 effect.
Introduction
Rewritable DVD drives are a basic necessity in almost every modern day computer. Either it be a typical laptop or desktop machine, its bound to have a DVD-RW drive. Picking an optical drive when building the next computer may be as simple as sorting by price and clicking "Add to Cart". The fact is, there is plenty to reconsider when buying an optical drive other than cost. Quality should be the main priority, no one wants to replace a DVD drive within a couple months due to failure. Features & software is another thing to consider and with most companies focusing on going "green", you should consider that as well.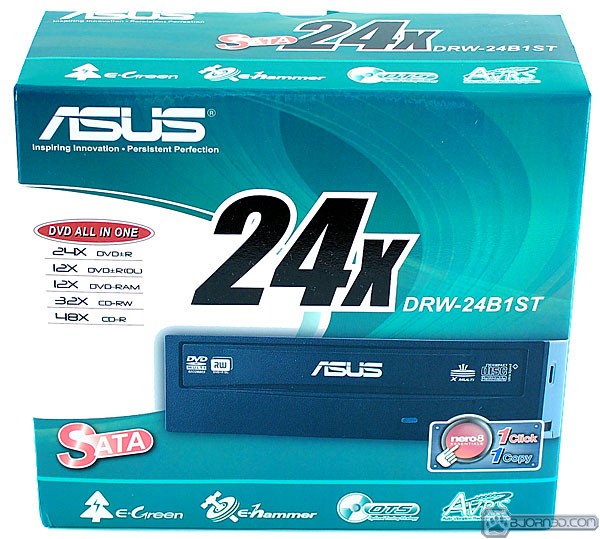 ASUS's DRW-24B1ST DVD-RW SATA drive focuses on all of those aspects and goes the extra mile by adding security. When buying an ASUS product, either it be a graphics card, sound card, monitor, or even an optical drive, you can be rest assured that you are getting a high quality product. Along with quality, ASUS provides plenty of features and software with the DRW-24B1ST to make it stand out. ASUS's E-Green software reduces O2 emissions by managing software activity, closing anything left open that isn't needed when using the optical drive. ASUS's E-Hammer software allows a DVD-R/W or a CD-R/W disc to be rendered completely useless by destroying any of the data on the disc. To complete the software bundle, ASUS also throws in Nero 8 Essentials.
Features
The ASUS DRW-24B1ST optical drive comes with a few features that make it stand apart from other similar drives. First is E-Green which is used to reduce the amount of energy used by the optical drive. Second is E-Hammer which is used for extreme security measures, ensuring data is indeed inaccessible. To complete the suite of software, ASUS throws in Nero 8 Essentials which has many useful applications for creating DVD's, audio discs, burning backups, and even creating photo discs.

---
E-Green Engine technology provides an E-Green Mode which activates when the drives are idle for 2 minutes. Once activated, drive applications are closed when not in use to help conserve energy – helping the environment by saving energy, and in turn decreasing CO2 emissions and reducing the depletion of trees. According to in-depth calculations: on average, the PATA and SATA versions of the drive will provide 77% and 27% power savings respectively over competing solutions.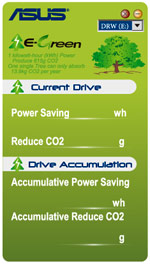 The ASUS E-Green Drive automatically optimizes your drive's power consumption. E-Green displays detailed information on power saved and CO2 reduced using the ASUS drive.

Shows you detailed information on power saved since installing and running E-Green.
Allows you to select the drive you want to check for its power consumption.
The tree's image gradually grows based on the drive's accumulative data.

---
E-Hammer allows you to permanently delete the data on writable disc (CD-R and DVD-R) formats. Once the data is deleted, it cannot be recovered or restored, and the optical drive will not be able to read the disc. This ensures data security, eliminates the hassle of scratching your old discs, and conforms with our commitment to environmental protection.


Optimal Tuning Strategy (OTS)
---
With Optimal Tuning Strategy (OTS), the drive will perform a test before really burning which generate the optimal burning strategy automatically for the best burning quality.

Auto Vibration Reducing System (AVRS)

---
AVRS reduces the change of unbalanced disc – lowering noise and enhancing readability and playability.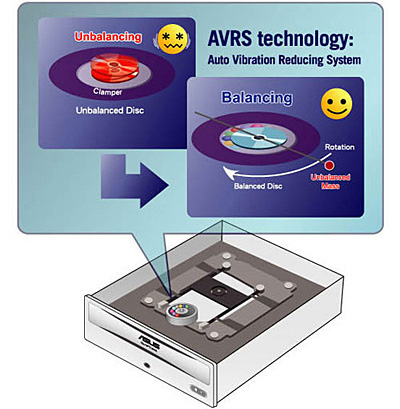 ---
Specifications
 
| | |
| --- | --- |
| Model Information |   |
| Type  | DVD Rewritable Burner |
| Model | DRW-24B1ST |
| Performance |   |
| DVD-ROM Access Time | 140 ms |
| CD-ROM Access Time | 150 ms |
| Write Speeds |   |
| DVD+R | 24x |
| DVD+RW | 8x |
| DVD-R | 24x |
| DVD-RW | 6x |
| CD-R | 48x |
| CD-RW | 32x |
| DVD+R Dual Layer | 12x |
| DVD-R Dual Layer | 12x |
| DVD-RAM | 12x |
| Read Speeds |   |
| DVD-ROM | 16x |
| CD-ROM | 48x |
| Physical Specifications |   |
| Form Factor | 5.25″ |
| Panel Color | Black |
| Configuration |   |
| Interface | SATA |
| Software Specifications |   |
| Operating Systems | Windows 2000, XP, NT, Vista Compatible |
| Warranty |   |
| Parts | 1 Year (Limited) |
| Labor | 1 Year (Limited) |
Aside from the ASUS specific software and features, the DRW-24B1ST optical drive is basically the same as any other modern day optical drive. Like we stated before, E-Green, E-Hammer, OTS, AVRS, and the included Nero 8 Essentials suite are what make this drive different from the standard drive.
Pictures & Impressions
Click Image For a Larger One

The DRW-24B1ST comes in your typical cardboard packaging. ASUS did spruce up the exterior of the box advertising all the great features that come with the optical drive. Specifications are listed all over the box so a potential buyer knows exactly what they are getting.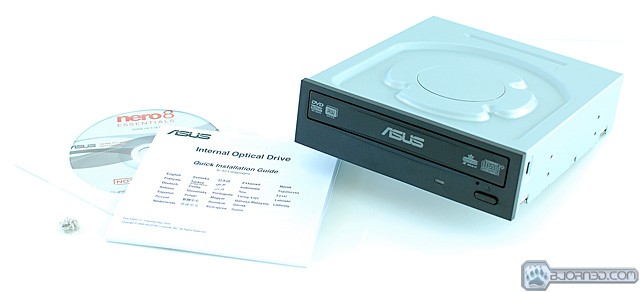 In typical ASUS fashion, the DRW-24B1ST comes with a manual, software disc, screws, and of course the drive itself.
Click Image For a Larger One

The drive itself looks like a typical DVD drive. No flashy casing, just the normal grey metal casing. The front of the drive is basic as well, listing the compatible options sporting a white text theme. The bottom of the drive has a sticker which lists the model information, very basic theme.
TESTING & METHODOLOGY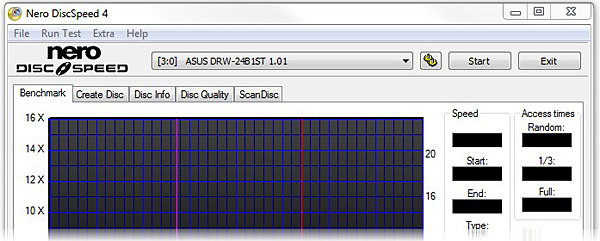 To properly test the optical drives in this review we used Nero's DiscSpeed v4.9.2.1. DiscSpeed comes with a built in benchmark suite that can test an optical drive's transfer rate, access time, processor usage, burst rate, spin up/down time and can even test the load and eject time. Nero's DiscSpeed application does everything needed to thoroughly test an optical drive and because it was provided with the DRW-24B1ST bundle, we felt it would be a great testing method.
The OS we use is Windows 7 Professional 64bit with all patches and updates applied. We use the latest drivers available for the motherboard and any devices attached to the computer. We don't disable a bunch of background tasks or particularly tweak the OS or system for bigger numbers. We do turn off drive indexing and daily defragging. We also turn off Prefetch and Superfetch. This is not an attempt to produce bigger benchmark numbers. Drive indexing and defragging can interfere with testing in that one test might occur without defragging going on and the next test defragging might be active, the same thing goes for drive indexing. We can't control when defragging and indexing occur precisely enough to guarantee that they won't interfere with testing, so we turn them off.
Prefetch tries to predict what you will load the next time you boot the machine. We disable it because we want to know how the program runs without any of the files being cached, otherwise each test run we'd have to clear pre-fetch to get accurate numbers. Lastly we disable Superfetch, Superfetch loads often used programs into memory and is one of the reasons people consider Vista to be such a memory hog. Vista fills the memory in an attempt to predict what you will load. Having one test run with files cached, and another test run with the files being un-cached would result in skewed numbers. Again since we can't control it we turn it off. Other than those 4 things which can potentially interfere with benchmarking, and do so out of our control, we leave everything else running.
Test Rig
"i5_alive"
Case Type
NZXT Tempest EVO
CPU
Intel i5 750 2.66GHz @ 4.0GHz (1.36v)
Motherboard
ASUS P7P55D Deluxe
RAM
CPU Cooler
Custom Water Setup
Hard Drive
Seagate Barracuda 320GB 7,200RPM SATA
Optical
ASUS DRW-24B1ST
Samsung SH-S203B
Samsung SH-S223F
GPU

XFX ATi 5770 1GB (Catalyst 10.2 Drivers) 

Case Fans
Two 120mm (Front and Rear) / Two 140mm (Top)
Testing PSU
Corsair 650W HX
Mouse

Microsoft Wheel Mouse Optical

Mouse Pad
Razer Sphex
Keyboard
Logitech Illuminated
Speakers
Creative 2.1
*** Any attempt copy this system configuration may lead to awesomeness.

To give the ASUS drive fair competitors, we put it up against two of Samsung's fast and very affordable SH series drives, the SH-S203B (DVD-R 20x) and SH-S223F (DVD-R 22x). Let's move on to the results.
DVD Results
To test the DVD capabilities of each drive we used the PC game DVD disc from Crysis. This DVD has a total size of 5.46GB and certainly has enough data to properly test the DVD functions of each drive. 
 Optical Drive

 ASUS DRW-24B1ST

 Samsung SH-S203B

 Samsung SH-S223F

 Transfer Rate Start
 2.62x
 3.41x

 5.09x

 Transfer Rate End
 5.42x
 7.05x

 10.52x

 Transfer Rate Avg
 4.20x
 5.47x
 

8.15x

 Seek Time – Random
 102 ms

 94 ms

98 ms 
 Seek Time – 1/3
 117 ms
 

104 ms

 110 ms
 Seek Time – Full

159 ms

 
163 ms 
166 ms 
 CPU Usage – 1x
4% 

3%

 
 7%
 Burst Rate
68,302 KB/s 
74,537 KB/s 

88,349 KB/s

 
 Spin Up Time
 

1.24 Sec

1.31 Sec 
 1.66 Sec
 Spin Down Time
 2.50 Sec

2.04 Sec

 
2.77 Sec 
 Load Time
14.21 Sec 
1.00 Sec 
 

0.99 Sec

 Eject Time
1.69 Sec 
1.60 Sec 
 

1.56 Sec
It's obvious that Samsung's SH-S223F was in love with the Crysis DVD. The Samsung SH-S223F DVD drive out classes ASUS DRW-24B1ST DVD drive by having double the amount of transfer rate. Another area that the SH-S223F DVD drive out performs the ASUS DRW-24B1ST DVD drive is load time, and eject time. Which makes me wonder if possibly EA ( Electronic Arts), and Crytek has a special deal with Samsung with their optical drives? There is not much we can say in the DRW-24B1ST's defense, it was simply out classed by the tested Samsung DVD drives.
 
CD Results
To test the CD capabilities of each drive we used a modern audio disc. The chosen CD was Silversun Pickups first album, Carnavas. 
 Optical Drive

 ASUS DRW-24B1ST

 Samsung SH-S203B

 Samsung SH-S223F

 Transfer Rate Start
 19.03x
 16.23x

 

10.39x
 Transfer Rate End
 41.47x
 35.44x

 

27.73x
 Transfer Rate Avg
 31.73x
 27.12x
 21.20x
 Seek Time – Random
 99 ms

 

87 ms
94 ms 
 Seek Time – 1/3
 117 ms
 102 ms
 104 ms
 Seek Time – Full
153 ms 
164 ms 
173 ms 
 CPU Usage – 1x
4% 
0% 
 2%
 Burst Rate
38,363 KB/s 
33,514 KB/s 
43,828 KB/s 
 Spin Up Time
 

1.56 Sec

1.76 Sec 
 2.04 Sec
 Spin Down Time
 4.89 Sec
2.75 Sec 
2.06 Sec 
 Load Time
10.59 Sec 
1.00 Sec 

 

0.99 Sec

 Eject Time
1.70 Sec 
1.61 Sec 
 1.57 Sec
During the CD testing the DRW-24B1ST DVD drive is where it started to show its strong points. During the transfer rae testing the DRW-24B1ST kept the lead by a significant margin. The one area that still hurts the ASUS DRW-24B1ST DVD drive is the high latency, and also having the longest spin up/down times out of all of the DVD drives tested.
On the plus side, it was very quiet. In comparison to the Samsung drives, ASUS's drive was basically silent. Maybe the OST works too well, possibly hindering performance in testing? This may be something to factor into the results, either or the older and slower Samsung drives definitely out performed the DRW-24B1ST. Conclusion time.
Conclusion
ASUS made this drive with the intention of saving energy and keeping the noise to a minimum. We weren't expecting shattering transfer rates and mind boggling burst rates, but we were expecting a little better performance. When factoring in the software bundle, E-Green and E-Hammer are certainly two features worth utilizing and Nero 8 Essentials is a nice bonus as well. At $29.24 USD shipped, the DRW-24B1ST is priced to sell. Although its not the fastest optical drive we've seen, its very quiet and has green features that make it interesting and worth while in a home theater PC. If you like quiet drives and happen to be a green-minded person as well, this might be the perfect drive for you. If you are a hardcore speed freak, definitely look else where.
 
OUR VERDICT: ASUS DRW-24B1ST Optical Drive
| | |
| --- | --- |
| Performance | 6.5 |
| Value | 8 |
| Quality | 8 |
| Features | 8 |
| Innovation | 8 |

We are using a new addition to our scoring system to provide additional feedback beyond a flat score. Please note that the final score isn't an aggregate average of the new rating system.

Pros
Cons

Comes with nice software features and bundle

Very Quiet

Performed slower than lower speed drives

 
Summary: The ASUS DRW-24B1ST is a very quiet drive that comes with a worthy software bundle. It's definitely not the fastest optical drive available, but considering how quiet and "green-minded" the DRW-24B1ST is, it might be the perfect drive for a home theater PC.