This is a review of the PC game Disney Alice in Wonderland. It is inspired by the Tim Burton film 'Alice in Wonderland'.
Introduction

Back on July 23, 2009 Disney Interactive Studios announced work on a video game adaptation of Tim Burton's film adaptation of the books "Alice's Adventures in Wonderland" and "Through the Looking-Glass" by Lewis Carroll.  We quote from that press release: 
"These games (DS/PC/Wii) fully capture the magnificent and whimsical world of Underland while experiencing key moments from the film," said Craig Relyea, senior vice president of global marketing, Disney Interactive Studios. "More than just a retelling of the movie, Alice in Wonderland introduces fans to an entirely new style of innovative gameplay designed to challenge the puzzle solving skills of older players while making the adventures accessible and enjoyable for the younger crowd. Innovative gameplay and distinct artistic styles on each platform gives players a range of unique and engaging experiences."
Alice in Wonderland allows players to guide, protect and aid Alice as she journeys through the world of Underland while unraveling the game's many twisted mysteries. Along the way, players call on a diverse and unique cast of characters such as the Mad Hatter and Cheshire Cat who each have unique abilities to help evade traps and solve challenging puzzles. The Mad Hatter can help Alice alter her perception of Underland and take advantage of optical illusions to open up places in the world the player alone would not have noticed. Meanwhile, the Cheshire Cat can use his ability to make himself and objects appear and disappear helping Alice through this strange world. Players must choose wisely when using each of the characters' powers and combine the abilities to solve more complex puzzles. 
Now, let's fast forward to the present. The following is a review of the PC version of Disney Alice in Wonderland..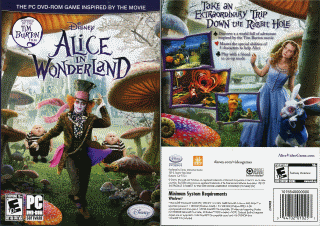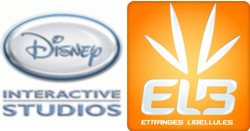 INFORMATION
Have you ever wondered what it would be like to fall down the rabbit hole? For the first time you can soon experience Alice's fantastical adventure inspired by the highly anticipated Disney Alice in Wonderland film from the mind of Tim Burton. This game promises to take you on a journey beyond the movie…and your wildest imagination.
Explore a visually stunning world filled with whimsical settings, Optical illusions, curiously challenging puzzles, and formidable adversaries
Play as the Mad Hatter, White Rabbit, Cheshire Cat, and other memorable characters from the film
Master unique abilities, such as altering perception, making objects invisible, and manipulating time
Develop new skills with an expandable combat system and Upgradeable moves
Guide Alice to help her fulfill an exciting destiny that culminates with the ultimate battle against the Jabberwocky

 

No integrated video chipsets need apply. I tried this game on a recently purchased laptop with integrated video and the game was runable, but not quite playable.
GAME CONTROLS
 The game uses the standard WASD keys for movement. These same keys are also used to direct an objects direction of motion (telekinetic) or as a way to manipulate time.
  

There are a few discrepancies in the manual and the in-game settings. The manual show the ESC button as being used to pause the game or open the menu system. In action the Return key performs that function. Also, while correct in the manual, the keys used for 'Change Character' and 'Power' are under the options menu reversed. See the image to the right  for the corrected keys in red.

 

Alice sometimes will wander, you use the space key to bring her back along side. That is, if she has an unobstructed path back to you.

 

The keys 'Special 1' and 'Special 2'  are used with some of the advanced moves that you may learn along your journey playing one of five characters.

 

 The only thing to note about the camera controls are that they are only momentary and will auto correct themselves back to the default view.

 

The map can be accessed via the Right Shift key, and dismissed again with the same key. The map is populated with just the basic information. Before your journey ends though, you might find it a little more helpful.
 

 

 
Click on the image below for a more detailed view of the in-game map.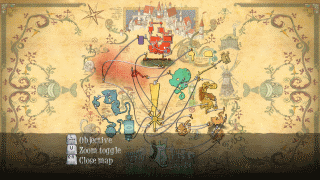 The game takes place, for the most part, from a third person perspective. You control one of five characters as you go from area to area on the map.
THE PLAYABLE CHARACTERS
As mentioned earlier, you have five different characters with which to play the game. They are as follows.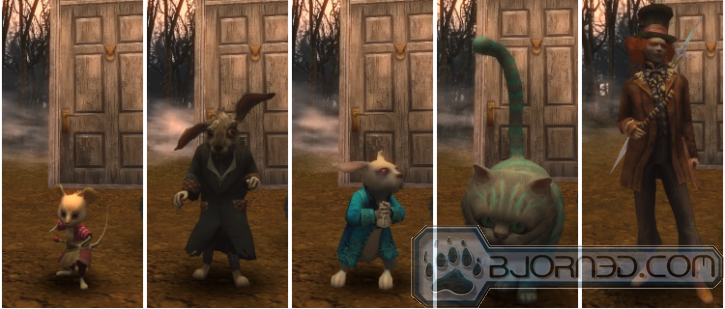 Mallymkun
The smallest of the group, she has Alice's back in a fight. Several times in the game, this was the go to character to fend off the Red Queen's Knights.
March Hare
This fella is nervous, possibly because he may have drank too much tea. He is good at attacking from a distance. That is, if you don't mind your fine china being tossed about. He also has the ability to move some objects with his mind.
McTwisp
As the White Rabbit, he finds and guides Alice from the start. Pressuring her to keep up as they want to be on 'time'. He has a thing for time you see. Very helpful in crowded situations for example.
Chessur
What can one add to a cat that can go invisible? Oh . . . he can make hidden objects visible, and visible object hidden.
Mad Hatter
Too much mercury in his past has made him a bit off center. However, he has Alice's best interest in mind. That is, when he is not grumbling about Chessur. It seems that they have a bit of history together. He has a different perspective on things and that is an advantage to finishing this game.
Overview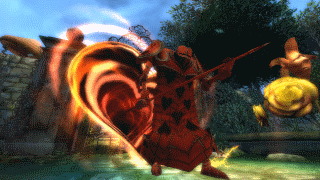 One of the Red Queens Knights
The game follows Alice and her escort (you) througout Underland. Your job as her escort is to assist her and defend her from The Red Queen's Knights and several Boss Mobs that have been thrown into the game for an extra challenge. At any time, you can change out the current escort for another character that you met from the start of the game. Many times you will need the abilities of several of the playable characters to finish a region or individual fight. You also collect "Impossible Ideas" by bashing various objects like stones, tufts of grass, and treasure chests. These "Impossible Ideas" are used to upgrade the abilities of your characters. To trade in the "Impossible Ideas" will require you to have previously uncovered a secret item (There are several). The secret item  might be hidden in an object that you smash to reveal it, in an area that may be difficult to reach or as part of a reward.

Treasure Chests
There are also two types of treasure chests, either releasing more "Impossible Ideas" or "Hearts"  that rejuvenate your player. Mind you, that when your character runs out of health, it is not the end of the game. You immediately continue from the same location. If you fail too often however, you will have to start that section again, beginning from the cut scene into to that area.
Note that there are spots where you can save your progress, by accessing a floating scroll that can store up to six saved locations.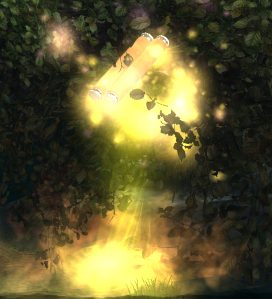 Scroll to save game progress
If you pay attention, most of the puzzles in the game are solvable without much frustration. So too are the Boss fights. There are many, many cut scenes in the game. You will find one anytime you finish a region as well as if you uncover something special. As you progress through the game, you will earn other bonuses that, in themselves, don't effect game play, such as  cut scene glimpses of background art for example. These bonuses are earned by completing things like opening all the chests, or bashing all of one type of object or another.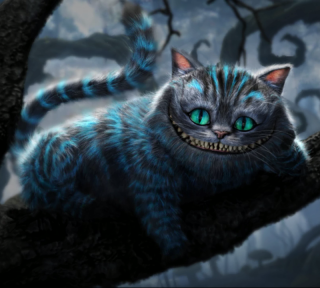 Chessur
The game takes about eight to ten hours to complete the main objective. If you want to earn all the available bonuses, you can probably tack on a few more hours of play to complete.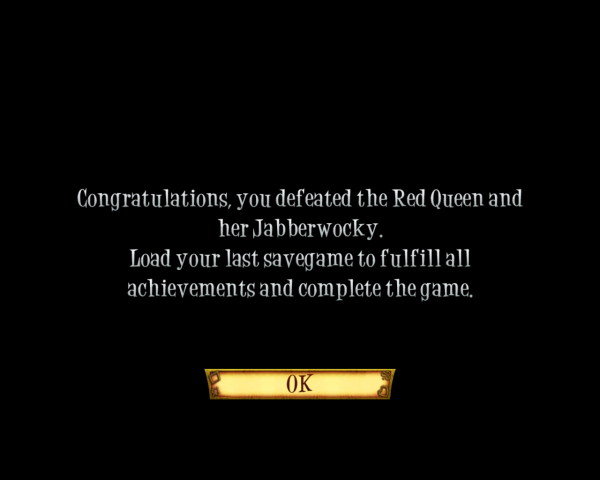 Miscellaneous Screen Captures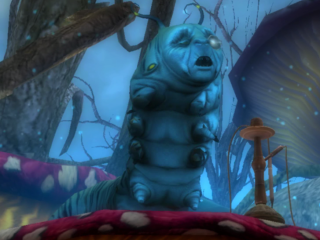 This is Absolim with his huka at his side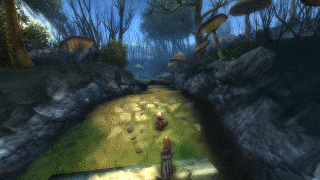 Alice wander down the path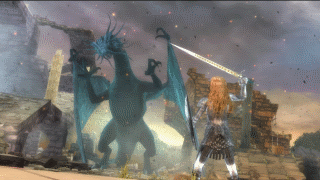 Alice greets the jabberwocky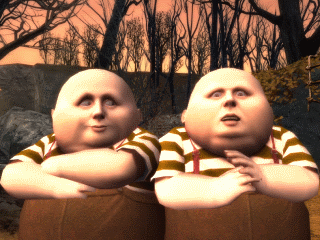 The Tweedles: Dee and Dum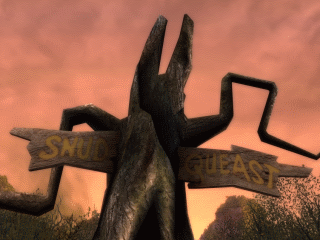 Directions, directions, Snud or Queast?
Mad Hatter's Lonely Tea Party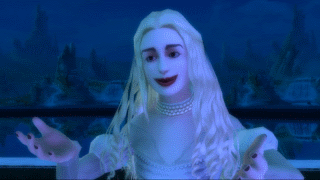 The White Queen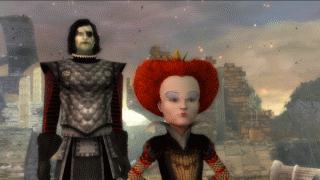 The Red Queen and The Knave of Hearts
Final Thoughts and Parting Shots
This game has an ESRB (Entertainment Software Rating Board) rating of E10+. This means it is rated for anyone the age of ten or older. If it wasn't for the fantasy violence, it probably would have rated an E for everyone. There are no blood effects or gory visuals to scare the younger crowd, but you will have to fight the Knights and Boss Mobs to complete the game. The puzzles are varied, and  enjoyable. Sometime you will have to reposition you character a few times to get it to target the correct item.
  As you gain skills, it would be advisable to view, or review, the cut scenes that are provided, to see what effects the skills do.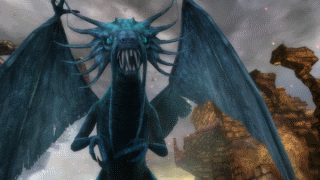 Once you have taken down your first Boss Mob, you will have a good clue as to how the other Boss Mobs will need to be finished off in their final moments.
On a scale of 0 – 10, where 0 is "Oh look, another coaster for my soda to sit on" and 10 is "That was the most fantastical, in depth and awe inspiring game I have played in recent memory", the game is around a 7.
Be advised that during one attempt in the Boss Mob fight with 'The Knave of Hearts', the knave managed to get seemingly stuck behind one of the gates at the stable, eventually the game nudged him out and the level was completeable.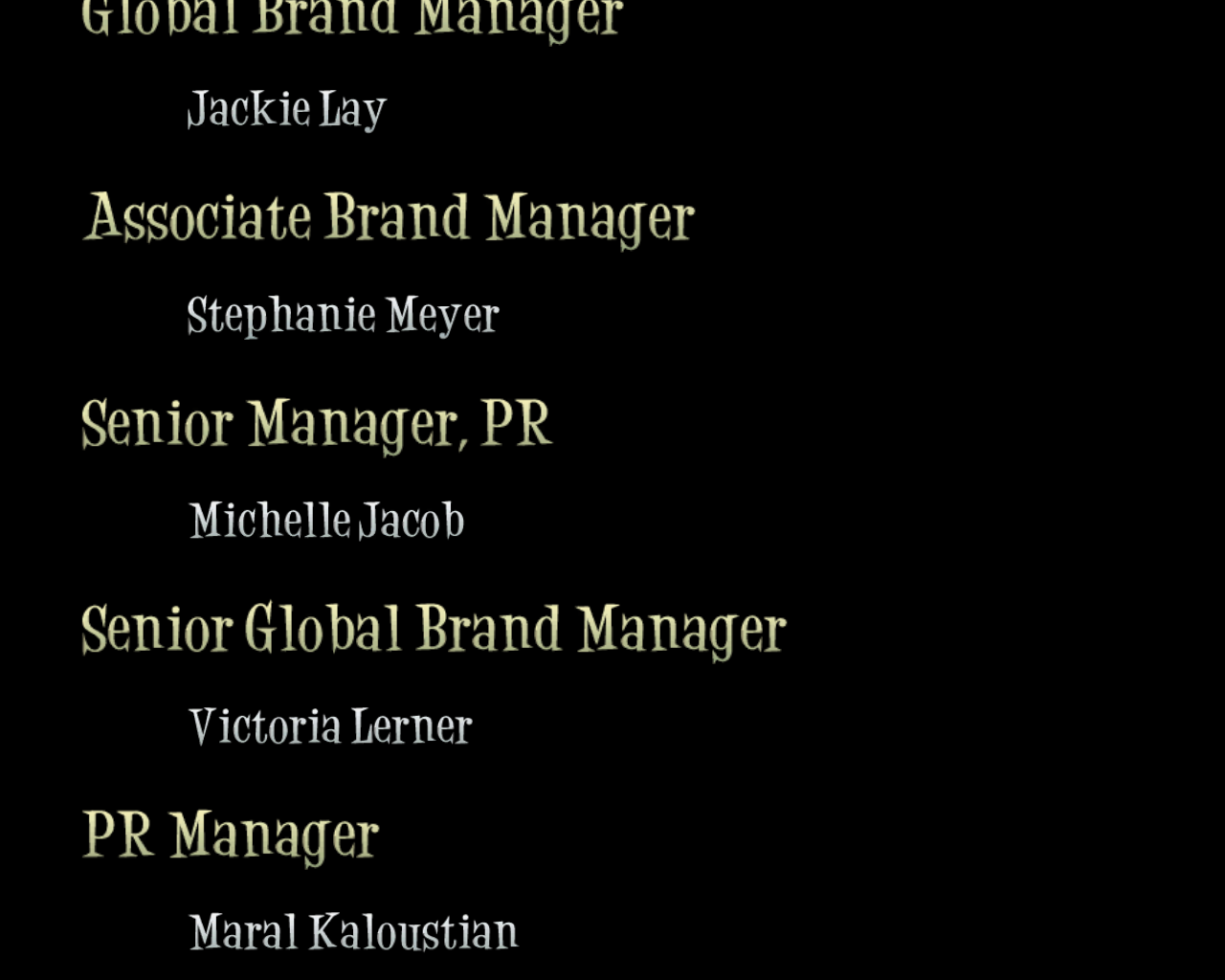 Random screenshot of game credits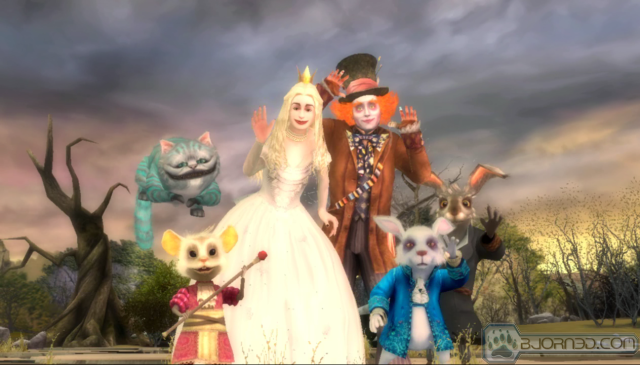 Farewell!