Kingston has come up with a card reader that handles both Micro SD and SD cards. Also offering a 8 Gig SD card.
INTRODUCTION
With all of these Flash drives, portable HDDs, CD/DVD burners, and lap tops, it easy to overlook a equally but just important storage device that most of our portable electronics use. These storage devices get used in Cell Phones, MP3 players, Digital cameras, to our camcorders.And in my opinion are one of the most verstile storage devices, they are a lot smaller, can be used in a lot of different devices (listed above), on average are normally cheaper then USB flash drives, also these small storage devices can also transfer our personal data from one computer to another with the use of an proper adapter.
If you guessed I am talking about SD cards, you are correct. SD cards are the preferred method of storage for most electronic devices. Granted their not as flashy, and overall pretty plain looking, these little devices are small enough to hide in our purses, pockets, & wallets. Card readers, well thats whole another story all together, these devices can be rather large and cumbersome. Today we going to look at a SD card with USB adapter from Kingston. The SD card can carry up to 8GB/s of storage, and a portable card reader that comes with the SD card, that can handle both SD and Micro SD cards with out an adapter, also this card reader is something we don't have to be ashamed of showing it off to our friends and family.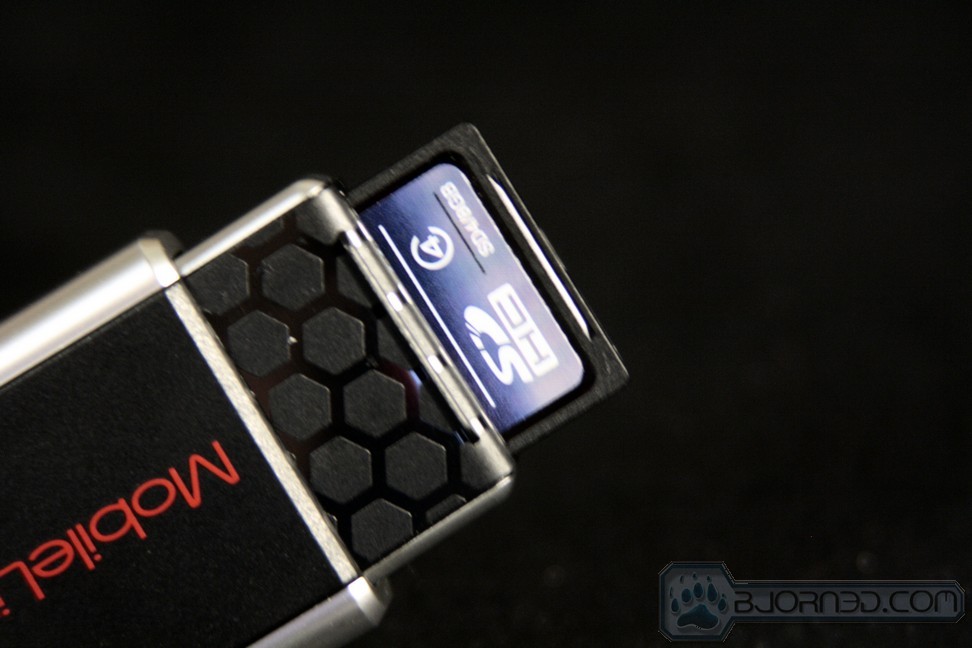 Lets give a look at the Mobile Lite G2 from Kingston.
Specifications
Compliant — with the Hi-Speed USB 2.0 specification, USB storage Class V1.0, SD 2.00, SDHC 4.1 standards, new MS PRO-HG DUO standard, Universal Serial Bus specification rev 2.0
Versatile — multi-functional USB card reader supports SD/SDHC, microSD/SDHC, MSPD***, MS Pro HG Duo*** and M2
Portable — easily fits in your pocket
Easy — plug and play into any USB 2.0 or 1.1 port
Guaranteed — two-year warranty on the MobileLiteG2 and Lifetime warranty on the SDHC cards.
MoblieLite G2 Operating Temperature: 32°F to 140°F (0°C to 60°C)
MoblieLite G2 Storage Temperature: -20°to 70°C/ -4° to 158° F
MobileLite G2 Weight: 18.90g
MobileLite G2 Dimensions: 2.45″ x 1.16″ x 0.646″ (62.15mm x 29.40mm x 16.40mm).
Packaging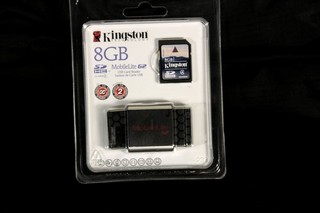 Kingston uses a pretty simple blister type packaging for the 8GB Mobile Lite G2 card reader with SD card.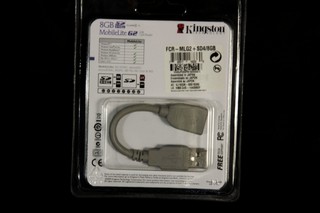 OS compatibility is listed on the back of the packaging, this SD crad reader will work on Windows 7, Vista, Windows XP, Mac OS, Linux. Kingston also includes a small USB extension (about 2″ long).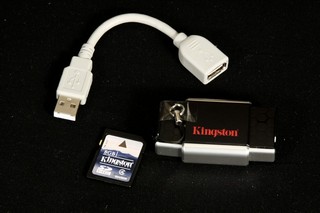 Everything outside of the blister packaging. There is a key chain keeper that comes with the card reader so we can hook this up to our purses and or key chains so we would not lose it. The overall size of the card reader is fairly small, I can place it in my hands and close my fist around it (I have fairly small hands).
Looking at the side of the card reader.
The card reader has a USB end cover that slides over, to keep foreign objects entering the USB end of the card reader.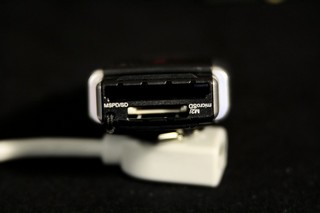 The other end of the Mobile Lite G2 card reader is where the SD cards or Micro SD cards get placed into the reader.
Pretty simple to do, just line up the SD card into the reader then slide fully into place.
Like the USB end of the reader, the SD card does the same thing. to remove the SD card just slide back the end cap too expose the SD card. It so easy even a Cave man can do it.
Testing Methods
SInce this is an USB device, there is no real need to list the computer it was tested on, as most computers will have roughly the same performance level. I did how ever did run each of the programs a total of 3 times to ensure accurate results. I can only compare the SD cards themselves, as I did not have another card reader to compare with, because the last card reader I had died, a most horrific death. And using a 1000 USD camera to use as a medium, for the testing programs, to test these SD cards was not going to happen (basically use it as a card reader). The two SD cards I comparing with are a 4 gig Kodak SD card, and the Kingston 8 Gig SD card.
Programs used for testing are:
PCMark Vantage HDD Testing Suite
HD Tune
ATTO 0.5, 128, 256 testing ranges
Crystal Disk
Results
PCMark Vantage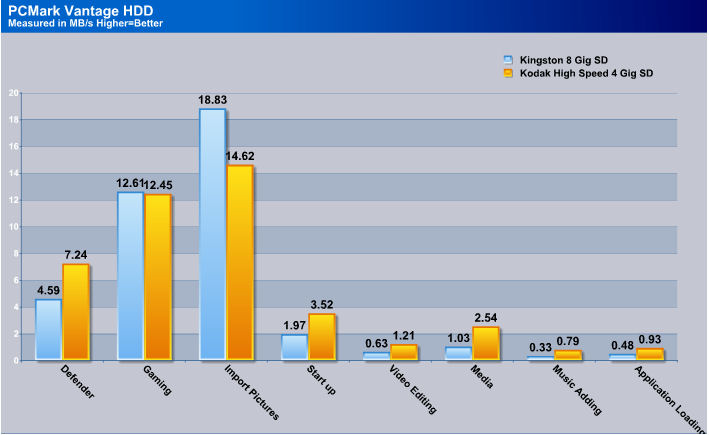 Starting off with PCMark Vantage, The only area the Kingston did well in was the Gaming portion and the Picture importing testing. Being that I use my SD cards in my camera, and occasionally use them to listen to MP3s on my Car stereo, the two areas I need to be concerned with is the Picture importing, and the Media portions of the testing. The Kingston would be vastly better for use in the Camera, Which makes sence as it is double the size giving me abilities of taking more pictures. Then graduate the Kodak SD card to music listening.
HDTune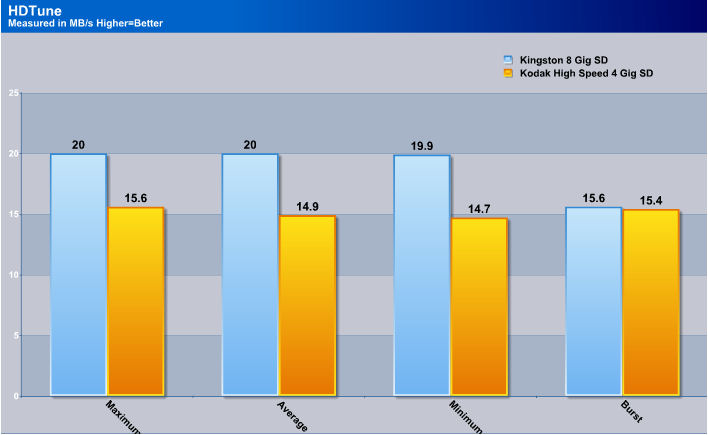 HDTune re-affirms that the Kingston 8 Gig SD card makes a perfect medium to use in my Canon EOS camera. As I can transfer the pictures to the computer, from the SD card a lot faster.
HDTune Access Time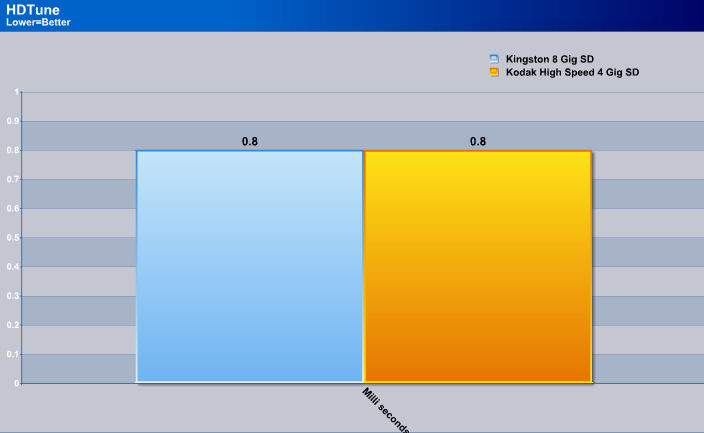 I was not expecting a difference in the access time.
ATTO
With ATTO testing, the performance of the SD cards are better at reading from, then writing to them. The Kinston SD card manages to out perform the Kodak SD card in most of tests but one, that was the 0.5 Read testing, in which this case it tied the Kodak SD card.
Crystal Disk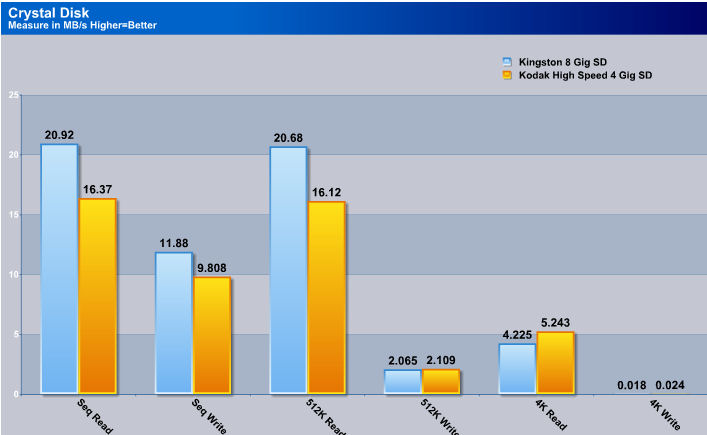 Cyrstal Disk paints us almost the same picture we seen with ATTO, during large file transfer the Kingston clearly is the performas the best. But when we start using a smaller file size (4K to 512K) the Kodak starts to out  perform the Kingston. I still would perfer the Kingston over the Kodak, because all my pictures from my camera are in the 9+ Megabyte range.
COnclusions
The Mobile Lite G2 w/8GB SD card is a great combination, for those who needs a good SD card with a large capacity SD card for any type of their digital needs. This combination is also good for those who are like myself, uses SD cards for transporting files from one computer to another, or has Micro SD cards in their other portable devices, the Mobile Lite G2 card reader will make a perfect addition.
Looking around the web, the Mobile Lite G2 with 8Gig SD card can be bought for on or around 35 USD. This to myself does seem a tad high in pricing, but again only a few E-Tailors have this product and these E-Tailor companies tend to have inflated prices.
OUR VERDICT: Kingston Mobile Lite G2 w/8Gig SD Card

| | |
| --- | --- |
| Performance | 8 |
| Value | ?? |
| Quality | 9 |
| Features | 8 |
| Innovation | 8 |

We are using a new addition to our scoring system to provide additional feedback beyond a flat score. Please note that the final score isn't an aggregate average of the new rating system.

Pro
Cons

2 types of SD cards can be used

Fast Read Transfer rates

Large Capacity

Limited E-Tailors Available

 

 
Summary: Kingston has provided us with a Stylish card reader that can use both SD and Micro SD cards, not to forget about the 8 Gig SD card that comes with this Card reader will make a perfect addition to all our Digital needs.