Quad-core CPU for under $100? AMD's recent release of the Athlon II X4 CPU's has brought a whole new meaning to value.
INTRODUCTION
Although they were released about a month ago, the new budget-conscious quad-core processors from AMD are still fresh in the minds of many enthusiasts. The Athlon II X4 620 and 630 have made huge waves recently due to the fact that it is now possible to obtain a quad-core CPU for under $100. Pair this processor up with an AM3 motherboard running a 785G chipset and set of DDR3 RAM, and you will have your hands on a value-minded, mainstream performing rig.
Clocking in at 2.6GHz, the Athlon II X4 620 being reviewed today is very similar to the K10 architecture of the Phenom and Phenom II, but it lacks the L3 cache that is found on the Phenoms. L1 cache clocks in at a respectable 512KB and 2MB are provided for L2 cache. These numbers are very close to processors up the ladder and the lack of L3 is one of the factors keeping the cost of this processor so low.
To take advantage of this new CPU, we called upon the Sapphire PURE 785G AM3 motherboard. This motherboard was built for the new Phenom II and Athlon II CPUs and features a built-in HD4200 GPU for integrated graphics duties.
Enough with the courting, let's put these two together and see what kind of damage we can do.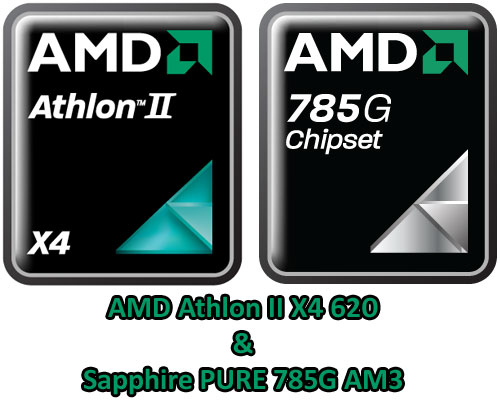 | | | | | | | | |
| --- | --- | --- | --- | --- | --- | --- | --- |
| CPU Name | Cores | Clock | L2/L3 Cache | HT Bus | Socket | TDP | Price |
| AMD Phenom II X4 965 BE | 4 | 3.4GHz | 2+6MB | 4000MHz | AM3 | 140W | $179 |
| AMD Phenom II X4 955 BE | 4 | 3.2GHz | 2+6MB | 4000MHz | AM3 | 125W | $165 |
| AMD Phenom II X4 945 | 4 | 3.0GHz | 2+6MB | 4000MHz | AM3 | 125W | $159 |
| AMD Phenom II X4 925 | 4 | 2.8GHz | 2+6MB | 4000MHz | AM3 | 95W | $139 |
| AMD Phenom II X4 910e | 4 | 2.6GHz | 2+6MB | 4000MHz | AM3 | 65W | $169 |
| AMD Phenom II X4 905e | 4 | 2.5GHz | 2+6MB | 4000MHz | AM3 | 65W | $175 |
| AMD Phenom II X4 810 | 4 | 2.6GHz | 2+4MB | 4000MHz | AM3 | 95W | $139 |
| AMD Phenom II X3 720BE | 3 | 2.8GHz | 1.5+6MB | 4000MHz | AM3 | 95W | $104 |
| AMD Phenom II X3 710 | 3 | 2.6GHz | 1.5+6MB | 4000MHz | AM3 | 95W | $99 |
| AMD Phenom II X3 705e | 3 | 2.5GHz | 1.5+6MB | 4000MHz | AM3 | 65W | $119 |
| AMD Phenom II X2 555 | 2 | 3.2GHz |  1+6MB | 4000MHz | AM3 | 80W | $99 |
| AMD Phenom II X2 550 | 2 | 3.1GHz | 1+6MB | 4000MHz | AM3 | 80W | $91 |
| AMD Athlon II X4 635 | 4 | 2.9GHz | 2MB | 4000MHz | AM3 | 95W | $120 |
| AMD Athlon II X4 630 | 4 | 2.8GHz | 2MB | 4000MHz | AM3 | 95W | $102 |
| AMD Athlon II X4 620 | 4 | 2.6GHz | 2MB | 4000MHz | AM3 | 95W | $99 |
| AMD Athlon II X3 440 | 3 | 3.0GHz | 1.5MB | 4000MHz | AM3 | 95W | $84 |
| AMD Athlon II X3 435 | 3 | 2.9GHz | 1.5MB | 4000MHz | AM3 | 95W | $75 |
| AMD Athlon II X3 425 | 3 | 2.7GHz | 1.5MB | 4000MHz | AM3 | 95W | $72 |
| AMD Athlon II X2 255 | 2 | 3.1GHz | 2MB | 4000MHz | AM3 | 65W | $75 |
| AMD Athlon II X2 250 | 2 | 3.0GHz | 2MB | 4000MHz | AM3 | 65W | $65 |
| AMD Athlon II X2 245 | 2 | 2.9GHz | 2MB | 4000MHz | AM3 | 65W | $61 |
| AMD Athlon II X2 240 | 2 | 2.8GHz | 2MB | 4000MHz | AM3 | 65W | $53 |
FEATURES
AMD Athlon II X4 620
True multi-core processing
45nm core
95W Thermal Design Power
AMD dedicated multi-cache
AMD Virtualization (AMD-V) technology
AMD PowerNow! 3.0 technology
Cool'n'Quiet technology
HyperTransport 3.0 technology
Simultaneous 32-bit and 64-bit computing
Sapphire PURE 785g AM3
AMD 785G chipset and AMD SB710 chipset
Supports DDR3 AMD Socket AM3 Series processors
Supports HyperTransport 3.0
Integrated ATI Radeon HD 4200 (Supports Microsoft DX 10.1)
Onboard DDR3 128MB sideport memory
Supports Dual Channel DDR3 1333/1066
Integrated Serial ATA2 3Gb/s with RAID function
Integrated ALC662 HD audio CODEC with 6-CH
Integrated Gigabit LAN
Supports 3D Audio technology
Onboard HDMI/DVI/VGA ports
Ready for Windows 7
Micro ATX Form Factor
DIP socket with removable flash BIOS EEPROM
SPECIFICATIONS
AMD Athlon II X4 620
| Specifications | AMD Athlon II X4 620 |
| --- | --- |
| Model Number & Core Frequency | X2 620 / 2.6GHz |
| OPN | ADX620WFK42GI |
| L1 Cache Sizes | 64K of L1 instruction and 64K of L1 data cache per core (512KB total L1 per processor) |
| L2 Cache Sizes | 512MB of L2 data cache per core (2MB total L2 per processor) |
| Memory Controller Type | Integrated 128-bit wide memory controller |
| Memory Controller Speed | 2.0GHz with Dual Dynamic Power Management |
| Types of Memory Supported | Support for unregistered DIMMs up to PC2-8500 (DDR2-1066MHz) -AND- PC3-10600 (DDR3-1333MHz) |
| HyperTransport 3.0 Specification | One 16-bit/16-bit link @ up to 4.0GHz full duplex (2.0GHz x2) |
| Total Processor-to-System Bandwidth | Up to 37.3GB/s bandwidth |
| Packaging | Socket AM3 938-pin organic micro pin grid array (micro-PGA) |
| Fab location | GLOBALFOUNDRIES Fab 1 Module 1 |
| Process Technology | 45-nanometer DSL SOI (silicon-on-insulator) technology |
| Approximate Die Size | 169 mm2 |
| Approximate Transistor count | ~ 300 million |
| Max Temp | 71 degrees Celsius |
| Nominal Voltage | .925-1.425V |
| Max TDP | 95 Watts |
One thing that really stood out to me during my testing of the Athlon II X4 620 was that the temperatures were so much lower than the maximum temperature of 71 degrees Celsius. As will be seen on a later page, the 620 never even reached half of that temperature while overclocked and under load.
Sapphire PURE 785G AM3
Specifications
Sapphire PURE 785G AM3
CPU
Supports AMD Socket AM3: AMD AM3 Series processors
Chipset
AMD 785G Chipset and AMD SB710 Chipset
Hyper Transport Bus

HT 3.0
Integrated Graphics Processor

ATI Radeon HD 4200 (Supports Microsoft DX 10.1)
Memory

2 x 240-pin DDR3 DIMM slots

Supports DDR3 1333/1066 non-ECC, un-buffered

8GB maximum

Expansion Slots
2 x 32-bit PCI slots

1 x PCI Express 2.0 x16 slot @ 16-lane

Storage

AMD SB710 Southbridge Chipset:

6 x Serial ATA2 3Gb/s connectors

Supports HDDs with RAID 0,1, JBOD functions

1 x Ultra DMA 133/100/66 IDE connector

Audio
Realtek ALC662 HD Audion CODEC with 6-channel
Ethernet LAN
Realtek RTL8111DL PCI Express Gigabit LAN
USB
8 x USB 2.0/1.1
Special Features
Advanced Power Design that supports the latest Socket AM3 CPUs

3D Audio technology with onboard button

Rear Panel I/O

4 x USB 2.0/1.1 ports

1 x PS/2 mouse port

1 x PS/2 keyboard port

1 x HDMI port, 1 x DVI port, 1 x VGA port

1 x RJ45 port

1 x SPDIF out port

1 x Audio I/O ports

Internal I/O

2 x USB 2.0/1.1 headers for 4 USB 2.0/1.1 ports

CPU/Chassis fan connectors

1 x 8-pin ATX 12V power connector

1 x 24-pin ATX power connector

1 x COM header

CD/AUX audio in

Front panel audio connector

1 x HDMI/SPDIF out header

BIOS

AMI DIP socket removable flash BIOS EEPROM
Form Factor

Micro ATX Form Factor (210mm x 245mm
Nothing much is really out of the ordinary for the PURE 785G AM3. The only thing listed that might be out of the ordinary for some builders are the three display output ports on-board. Most enthusiast builders are so used to using a dedicated graphics card that the sight of a DVI or HDMI port on a motherboard might come as a surprise. These included ports along with the integrated HD 4200 help make this Sapphire board a great fit for a HTPC build.
CLOSER LOOK
AMD Athlon II X4 620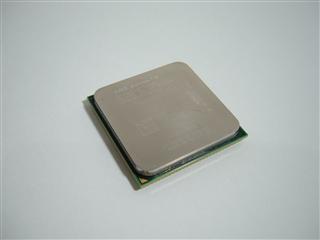 Click image for a larger version.
Other than being stamped with the standard information, the actual Athlon II processor is a pretty boring piece of hardware when it comes down to image appeal. The hefty heatspreader accounts for the very solid feel of the 620.
Sapphire PURE 785G AM3
Click images for a larger version.
The box for the Sapphire PURE 785G AM3 has a pretty basic design, with not too much emphasis on flashy graphics, but on features instead. The front of the box lists a few of the major features of the board like the CPU compatibility as well as the support for Direct X 10.1. On the back, more features are listed, as well as a few excellence awards from various media outlets.
Click images for a larger version.
All around, the board looks pretty decent. It would have been nice to see a few more solid capacitors, but that is definitely not a deal breaker. Passive cooling for all onboard components helps keep system noise down, and the heatsinks that are installed should do just fine keeping things cool.
Unfortunately, the onboard SATA ports become somewhat obstructed when a graphics card is installed. Side-facing SATA ports would have been a great solution to this problem. The I/O ports on the PURE 785G AM3 are for the most part your standard variety. Ofcourse the HDMI, VGA and DVI ports are present thanks to the onboard ATI Radeon HD 4200. With all of the USB devices that seem to be plugged into PCs these days, two or more additional USB ports at the rear would have been nice as well.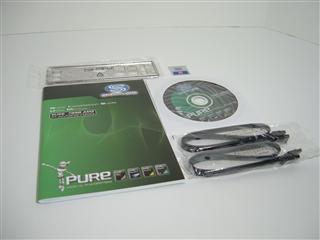 Click image for a larger version.
Rounding out the Sapphire package is an I/O shield, quick installation guide and user manual, case badge, driver and software CD and two SATA cables.
TEST Setup
Test Platform

Processor
AMD Athlon II X4 620
Motherboard
Sapphire PURE 785g AM3
Memory
Kingston HyperX DC DDR3 1600 4GB Kit
Hard Drive (internal)
250GB Western Digital SATA 3.0Gb/s 16mb cache
Video Card
On-Board ATI Radeon HD4200
Power Supply
Antec CP-850
Case
Antec Twelve Hundred
Operating System
Windows 7 Ultimate, build 7100
CPU-Z
While testing the 620, three settings were used. The first was with AMD's Cool'n'Quiet technology enabled. With this enabled, the CPU can automatically lower its speed when sitting idle, but then ramp right back up to full speed right away when under a load. The second setting was with Cool'n'Quiet disabled. This forces the CPU to run at its full advertised speed of 2.6GHz all the time. The final setting was when the processor was overclocked. Below you will find screen shots from CPU-Z to show the speeds at the first two settings.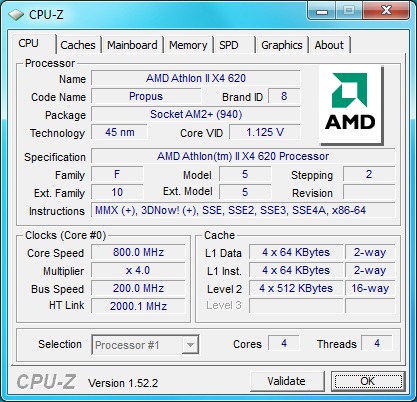 This first image shows that Cool'n'Quiet has lowered the frequency of the 620 to a measly 800MHz. Although this number seems low, it helps to keep power consumption and heat output to a minimum while the system is in an idle state. You can see that both the multiplier and the Core VID have been lowered to help achieve these results.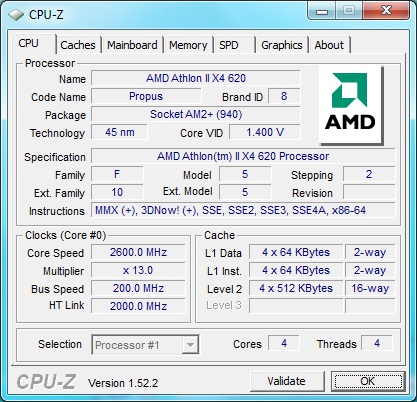 With Cool'n'Quiet disabled, the Athlon II X4 620 runs at the advertised speed of 2.6GHz. Core VID and the multiplier have both bumped back up to their normal levels as well.
OVERCLOCKING
Gaining a stable overclock from using the Athlon II and PURE 785G was much easier than I had expected. Without increasing the voltage being supplied to the processor, I was able to successfully hit 3.12GHz. This speed was reached by solely increasing the bus speed to 240MHz. With a locked multiplier of 13, this equals out to 3,120MHz or 3.12GHz. With a little more time, tweaking and maybe even some more voltage I'm sure a few more MHz could be squeezed out of this CPU. Just think, for right around $100, you end up with a 3+GHz, quad-core CPU. What a great value.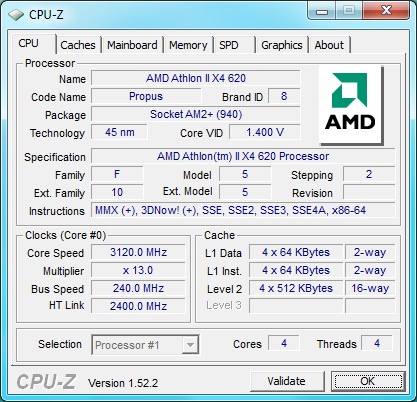 TEMPERATURES
Temperatures were taken using CPUID Hardware Monitor. Idle temperatures were taken 15 minutes after boot, and load temperatures were taken after 1 hour of running Prime95.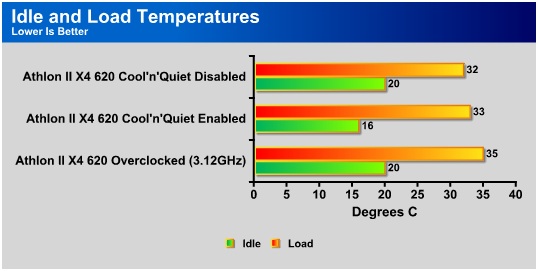 As you can see, at idle the Athlon II X4 620 is a downright cool running CPU. Even when overclocked and under a load, temperatures are very low. These numbers would surely be higher using the OEM heatsink and fan combo, but as our review unit was an OEM processor, only the Arctic Cooling Freezer 64 Pro was used.
EVEREST ULTIMATE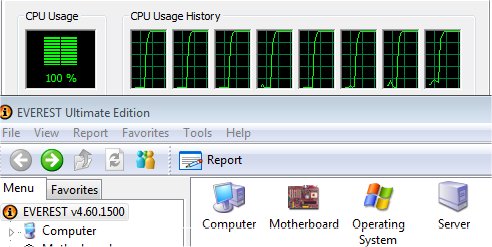 "EVEREST Ultimate Edition is an industry leading system diagnostics and benchmarking solution for enthusiasts PC users, based on the award-winning EVEREST Technology. During system optimizations and tweaking it provides essential system and overclock information, advanced hardware monitoring and diagnostics capabilities to check the effects of the applied settings. CPU, FPU and memory benchmarks are available to measure the actual system performance and compare it to previous states or other systems. Furthermore, complete software, operating system and security information makes EVEREST Ultimate Edition a comprehensive system diagnostics tool that offers a total of 100 pages of information about your PC."
CPU AES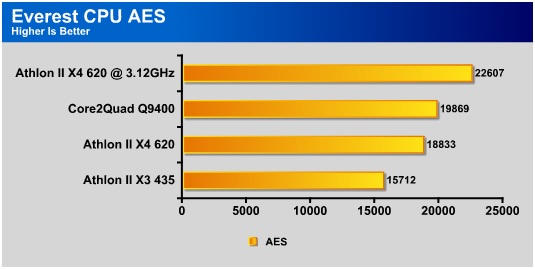 The two other processors that we put up against the Athlon II X4 620 were chosen for a few reasons. The Q9400 is also a quad-core processor running at 2.6GHz. The X3 435 was chosen due to its very similar architecture and its price point that is lower than that of the 620.
At right at about half the price of the Q9400, the X4 620 at stock speeds nearly matches its results. When overclocked however, it easily bests the Intel offering.
CPU Photoworxx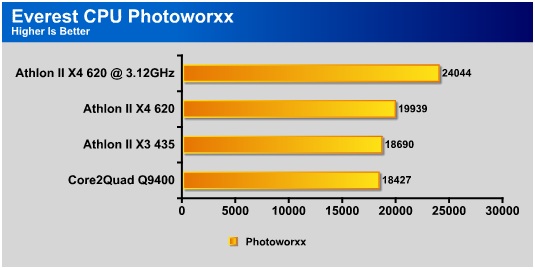 This test has both of the AMD processors surpassing the Intel Q9400, although the real gains are only noticed when overclocking comes into play with the 620.
CPU Queen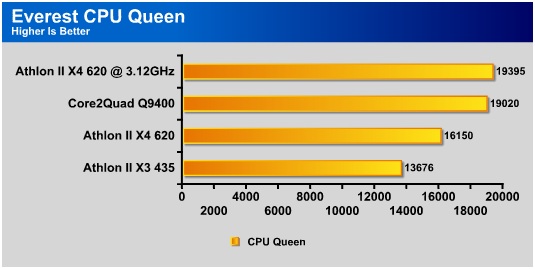 The difference here between the stock speed of the Athlon II X4 620 and Q9400 is much more noticeable, but once again, when overclocked the 620 really shows its value.
CPU Zlib
Nothing surprising here. The Athlon II X4 620 is head to head with the Intel offering, yet costs half as much. Pair that up with a board like the Sapphire PURE 785G AM3 and you have quite the combination.
Memory Copy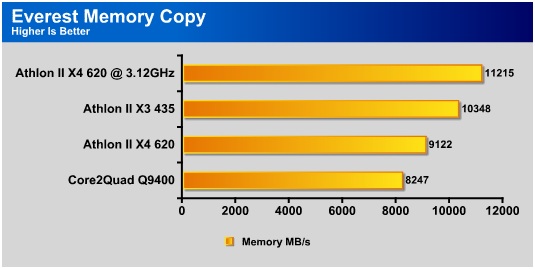 Here the stock 620 beats only the Q9400. It's a case of "second verse, same as the first" when it comes down to the leading performance from the overclocked Athlon II X4 620.
Memory Read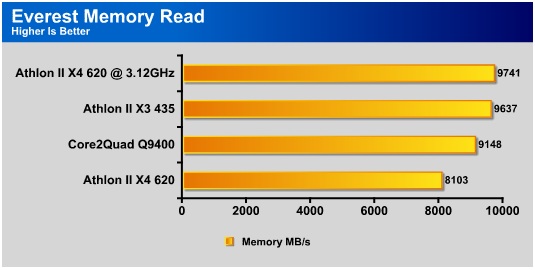 This time, the 620 comes in at the bottom of the chart, but only by a small margin. The numbers that the Athlon II X4 620 and Sapphire PURE 785G AM3 put up are nothing to scoff at, especially when they can be had for such a low price.
Memory Write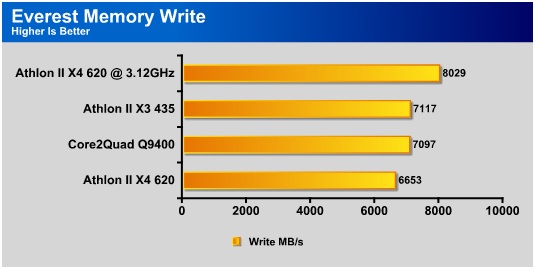 Again, although the X4 620 may be picking up the rear end of the charts, its performance is nothing to complain about.
Memory Latency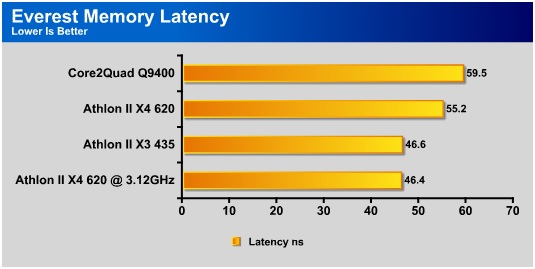 While the latency test depends quite a bit on the RAM installed, the results garnished from this test once again put the overclocked 620 in the number one spot. Is there a single benchmark in this review that the Athlon II X4 620 is not the winner of? Read on to find out.
CINEBENCH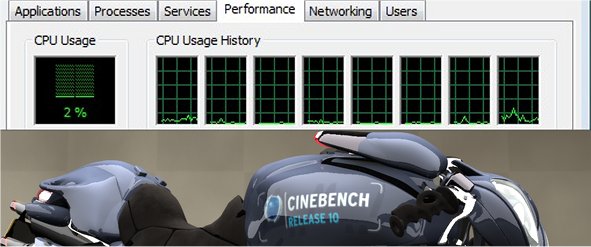 "CINEBENCH is a real-world test suite that assesses your computer's performance capabilities. MAXON CINEBENCH is based on MAXON's award-winning animation software, CINEMA 4D, which is used extensively by studios and production houses worldwide for 3D content creation. MAXON software has been used in blockbuster movies such as Spider-Man, Star Wars, The Chronicles of Narnia and many more. MAXON CINEBENCH runs several tests on your computer to measure the performance of the main processor and the graphics card under real world circumstances. The benchmark application makes use of up to 16 CPUs or CPU cores and is available for Windows (32-bit and 64-Bit) and Macintosh (PPC and Intel-based). The resulting values among different operating systems are 100% comparable and therefore very useful with regard to purchasing decision-making. It can also be used as a marketing tool for hardware vendors or simply to compare hardware among colleagues or friends."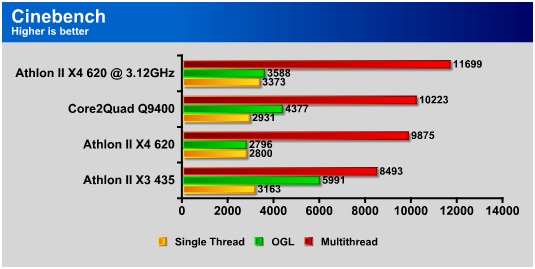 Since the Cinebench test takes advantage of multi-core processors, the single thread scores come in at about a third of the performance of the multithread scores. At stock speeds, the X4 620 keeps within close range of the Q9400, but again, when overclocked, it comes out on top.
WINRAR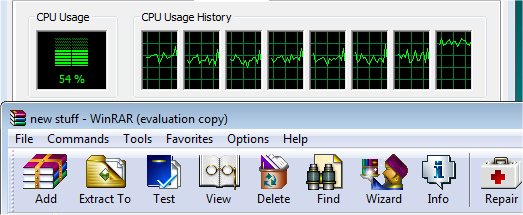 "This module in WinRar generates random data, which contains specially introduced redundancy, increasing the load to both the processor and memory. Data is then passed through RAR compression and decompression algorithms, and the output of the decompression algorithm is compared to the source data. If any differences are found, WinRar then reports "Errors found – Yes" in the command window. WinRar displays a size of processed data and compression speed, current and resulting, in kilobytes per second."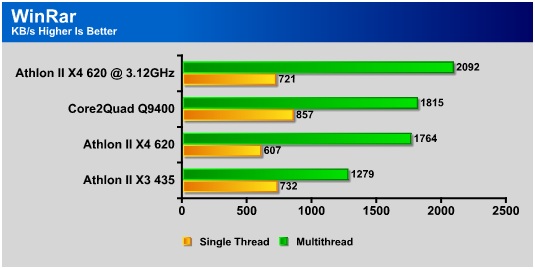 Just like the Cinebench test above, the results from single thread tests show that all of the processors score right around the same area. When multithreading is used, the spread becomes a bit more noticeable. Keeping with the trend, the 620 and Q9400 are neck and neck at stock speeds, with the overclocked 620 edging them both out.
POVRAY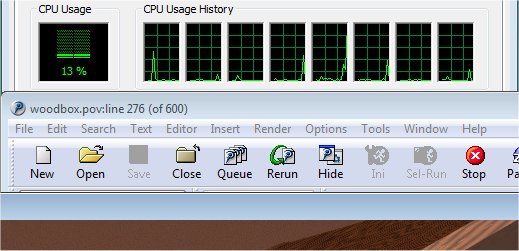 "The Persistence of Vision Ray-Tracer was developed from DKBTrace 2.12 (written by David K. Buck and Aaron A. Collins) by a bunch of people (called the POV-Team) in their spare time. It is a high-quality, totally free tool for creating stunning three-dimensional graphics. It is available in official versions for Windows, Mac OS/Mac OS X and i86 Linux. The POV-Ray package includes detailed instructions on using the ray-tracer and creating scenes. Many stunning scenes are included with POV-Ray so you can start creating images immediately when you get the package. These scenes can be modified so you do not have to start from scratch. In addition to the pre-defined scenes, a large library of pre-defined shapes and materials is provided. You can include these shapes and materials in your own scenes by just including the library file name at the top of your scene file, and by using the shape or material name in your scene. Since this is free software feel free to download this version and try it out on your own."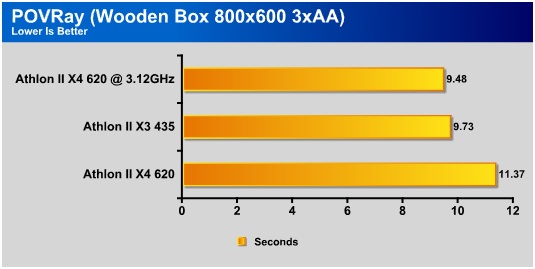 Results for the POVRay benchmark are only available for the AMD processors, but once again, the performance of the Athlon II X4 620 when overclocked is outstanding!
sisoft sandra

"SiSoftware Sandra (the System Analyser, Diagnostic and Reporting Assistant) is an information & diagnostic utility. It should provide most of the information (including undocumented) you need to know about your hardware, software and other devices whether hardware or software. It works along the lines of other Windows utilities, however it tries to go beyond them and show you more of what's really going on. Giving the user the ability to draw comparisons at both a high and low-level. You can get information about the CPU, chipset, video adapter, ports, printers, sound card, memory, network, Windows internals, AGP, PCI, PCI-X, PCIe (PCI Express), database, USB, USB2, 1394/Firewire, etc."
Processor Arithmetic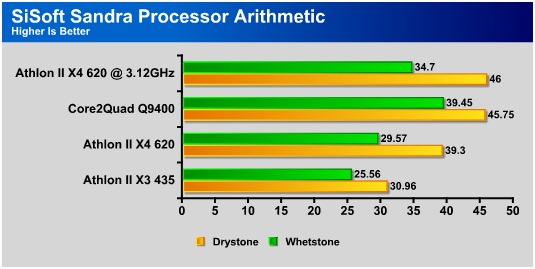 Just as we expected,t he Athlon II X4 620 comes in at the middle of the group, with the overclocked 620 just barely taking the lead in the Drystone tests. Whetstone performance was very simiar with the Q9400 taking the lead for once.
Processor Multimedia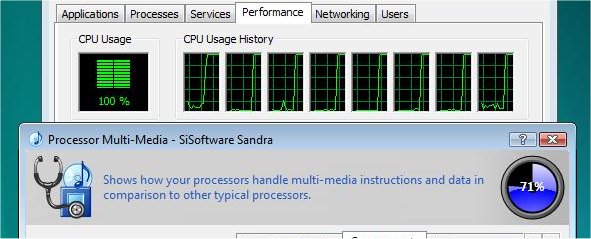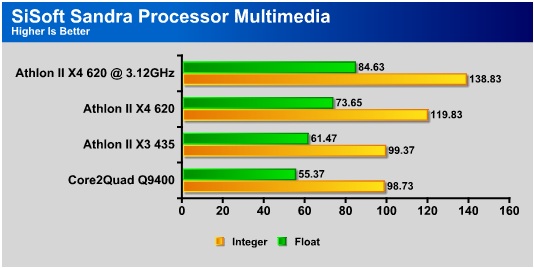 Not only did the Athlon II X4 620 come out on top, the results in both Integer and Float tests easily overcame the results of the other two processors. The more we see from the 620, the more attractive it becomes.
Buffered Memory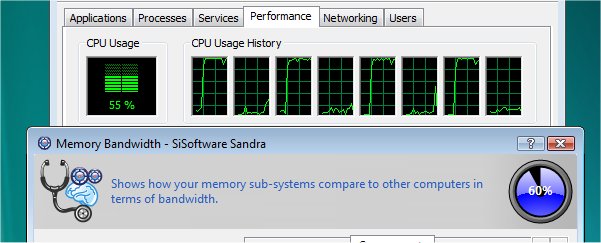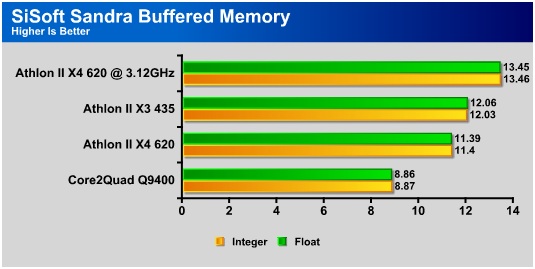 Buffered memory results again place the 620 in the middle of the pack. I know we sound like a broken record, but the AMD Athlon II X4 620 is a steal. If you are looking for a great performing budget processor, do not pass this up.
conclusion
Quadcore. $100. These two things pretty much sum up what the AMD Athlon II X4 620 is all about. Four cores of processing power for $100. Although the 620 is missing the L3 cache that its big brother the Phenom II comes with, the performance that you get right out of the box is amazing. Bump up the FSB and maybe even give a little more voltage to the CPU and the results are even better. AMD has stated that this processor was designed for the mainstream segment, but we have no doubts that this chip will can begin to hang with the big boys with the right combination of parts. Add to the fact that the X4 620 doesn't pump out ridiculous amounts of heat, even when overclocked, and you are well on your way to a budget build that won't leave you sweating.
The Sapphire PURE 785G AM3 that we paired up with the Athlon II X4 620 is a real treat. Pair these two up, add some RAM and a Blu-ray drive and toss them in a small HTPC case and you have a great performing setup. HDMI output works great when paired with an HDTV or HDMI accepting device, and 3D performance, while not top-notch, is acceptable. Another great thing about the PURE 785G AM3: it uses the 785G chipset which is Windows 7 ready. No need to worry about drivers not working. Our installation of Windows 7 was flawless and everything ran like a champ.
| | | | | | | | |
| --- | --- | --- | --- | --- | --- | --- | --- |
| CPU Name | Cores | Clock | L2/L3 Cache | HT Bus | Socket | TDP | Price |
| AMD Phenom II X4 965 BE | 4 | 3.4GHz | 2+6MB | 4000MHz | AM3 | 140W | $179 |
| AMD Phenom II X4 955 BE | 4 | 3.2GHz | 2+6MB | 4000MHz | AM3 | 125W | $165 |
| AMD Phenom II X4 945 | 4 | 3.0GHz | 2+6MB | 4000MHz | AM3 | 125W | $159 |
| AMD Phenom II X4 925 | 4 | 2.8GHz | 2+6MB | 4000MHz | AM3 | 95W | $139 |
| AMD Phenom II X4 910e | 4 | 2.6GHz | 2+6MB | 4000MHz | AM3 | 65W | $169 |
| AMD Phenom II X4 905e | 4 | 2.5GHz | 2+6MB | 4000MHz | AM3 | 65W | $175 |
| AMD Phenom II X4 810 | 4 | 2.6GHz | 2+4MB | 4000MHz | AM3 | 95W | $139 |
| AMD Phenom II X3 720BE | 3 | 2.8GHz | 1.5+6MB | 4000MHz | AM3 | 95W | $104 |
| AMD Phenom II X3 710 | 3 | 2.6GHz | 1.5+6MB | 4000MHz | AM3 | 95W | $99 |
| AMD Phenom II X3 705e | 3 | 2.5GHz | 1.5+6MB | 4000MHz | AM3 | 65W | $119 |
| AMD Phenom II X2 555 | 2 | 3.2GHz |  1+6MB | 4000MHz | AM3 | 80W | $99 |
| AMD Phenom II X2 550 | 2 | 3.1GHz | 1+6MB | 4000MHz | AM3 | 80W | $91 |
| AMD Athlon II X4 635 | 4 | 2.9GHz | 2MB | 4000MHz | AM3 | 95W | $120 |
| AMD Athlon II X4 630 | 4 | 2.8GHz | 2MB | 4000MHz | AM3 | 95W | $102 |
| AMD Athlon II X4 620 | 4 | 2.6GHz | 2MB | 4000MHz | AM3 | 95W | $99 |
| AMD Athlon II X3 440 | 3 | 3.0GHz | 1.5MB | 4000MHz | AM3 | 95W | $84 |
| AMD Athlon II X3 435 | 3 | 2.9GHz | 1.5MB | 4000MHz | AM3 | 95W | $75 |
| AMD Athlon II X3 425 | 3 | 2.7GHz | 1.5MB | 4000MHz | AM3 | 95W | $72 |
| AMD Athlon II X2 255 | 2 | 3.1GHz | 2MB | 4000MHz | AM3 | 65W | $75 |
| AMD Athlon II X2 250 | 2 | 3.0GHz | 2MB | 4000MHz | AM3 | 65W | $65 |
| AMD Athlon II X2 245 | 2 | 2.9GHz | 2MB | 4000MHz | AM3 | 65W | $61 |
| AMD Athlon II X2 240 | 2 | 2.8GHz | 2MB | 4000MHz | AM3 | 65W | $53 |