When you need to access multiple files, but don't have the space on your computer to do it, then you may need a NAS to house all of your files on your home/work network.
Introduction
Average file sizes increaseing at a huge rate, while your computers hard drive stays the same size. You may be someone who needs to store many files, or just a few large ones. What ever your application, a NAS system can not only free up space on your computer, but allow for more expansion options over your computer (especialy laptop). in the time it takes you to tear your whole laptop apart, or open your case and screw in a new HDD, you could have installed multiple hard drives in the N5500 NAS. Not only that, but you can accesses these hard drives from any computer on your network, so you can choose to work in the most comfortable in your office or house. Today we will try out one of the higher end NAS systems, the Thecus N5500.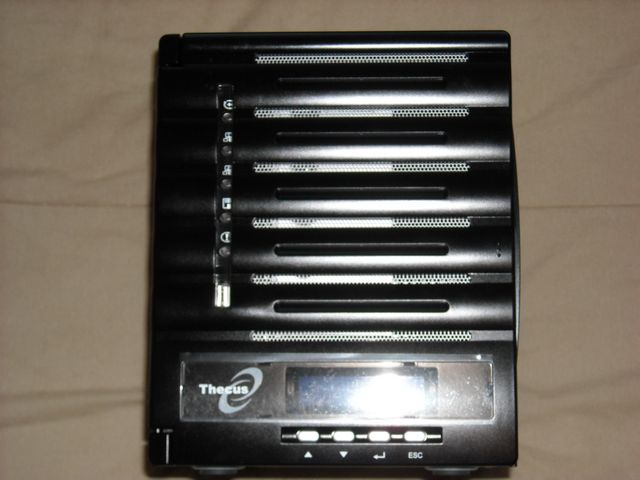 Features & Specifications
Feature/Specification
Product Name
SATA device

5 x SATA for internal, 1 x eSATA for external

System Memory

1024MB DDR2 SODIMM SDRAM

LAN Interface (PCI-e)

RJ-45×2 : 10/100/1000 BASE-TX Auto MDI/MDI-X WOL supported

USB Interface

USB 2.0 host port x5(Front x1, Back x4) (A Type)
USB 2.0 Target mode (B Type)

LCM Module

2*20

Power supply

200W Power Supply support 2TB and above HDDx5

Disk interface

SATA I/II x5 via backplane

Thermal/Fan control

Thermal sensor on processor temperature
Temperature controlled system FAN speed
System fan monitoring

Environment

Temperature : 5°C to 40°C
Humidity : 0 ~ 80 % R.H. (Non-condensing)
These stats are really good for a NAS system. The powersupply is big enough to even power 5 of the largest hard drives made currently, for possible storage space of 10 TB! Thats just a massive amount of space, even if you store extremely large files.
Unique Dual-DOM Design
In business environment, maintaining functional operation on storage device is critical. With the unique Dual-DOM design, an extra DOM is installed to ensure continuous and flawless operation on N5500. Users do not need to worry about down-time due to unexpected system failure.

Incredibly Easy To Use
The N5500 features Thecus' next-generation web-based interface featuring AJAX technology, making it the easiest-to-use Thecus NAS ever.

Three Units In One
Flexibility is the name of the game. The N5500 is the only storage device that can be configured as a NAS, DAS, or iSCSI unit, making it a perfect fit for just about any configuration.

Unrivaled Data Security
The N5500 secures your data like never before. It supports RAID 0, 1, 5, 6, 10 and JBOD and multiple RAID volumes. What's more, the snapshot feature offers version control for even greater peace of mind by enabling you to easily restore previous snapshots.

Flexible Storage Options
Aside from supporting iSCSI initiators, the N5500 is also stackable, allowing you to control multiple N5500 units from one master system for added flexibility. In addition to this, you can choose from a selection of file systems, including EXT3, XFS and ZFS, which enables the N5500 to adapt to virtually any type of network.

Total Network Performance and Reliability
Because accessing your data is as important as securing it, the N5500 comes with dual Gigabit Ethernet ports with 802.3ad link aggregation for excellent data throughput. You can even select load balancing or failover, depending on your network configuration, to ensure maximum uptime and data availability.
Not only does this unit function as a NAS, but it can also be a DAS (Direct-attatched storage) or a iSCSI unit. This allows for a wide range of uses for this unit. The unit also is very easy to use, so even someone with little computer experience can manage to set up this unit.
pictures & impressions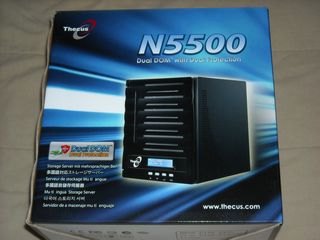 Thecus designed the box for the N5500 quite well. On the front we are presented with a nice picture of the unit itself, and to the left of that is a small advert for its Dual DOM protection. Lets open the box up and see whats inside.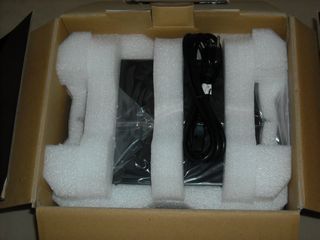 We can see here that Thecus did a good job packaging the unit. The thick styrofoam layer will easily protect the unit itself, even if the box is heavily damaged. Not only that, but if you look at the unit itself you see that it has a plastic bag over it, which will keep the unit from being scratched on transit to your house.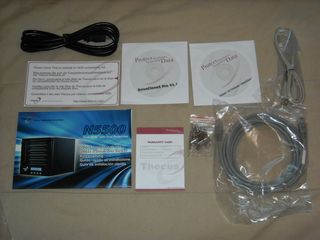 The N5500 comes with a pretty big variety of goodies to get you going. Of course the power cord, which is a must. They also include drivers to use the system, and backup software to keep your important data safe. There are screws to secure the drives, and a couple of keys so you can lock the drives to make sure they are not stolen. There is also a USB cable, and to my surprise a CAT5e cable. Since this is a more high end device I was expecting a CAT6 cable, but at least they throw you a free cable. Finally there is a manual and a warranty card in case the device breaks.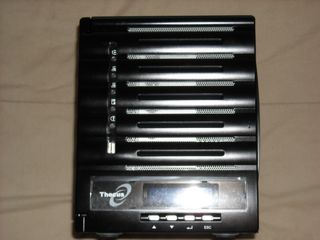 Here is a picture of the front of the unit. I think Thecus did a good job styling it. The cutout for the lights will help you diagnose any issues with the unit with a simple glance. There are also buttons on the front so you can look up different information on the units LCD screen.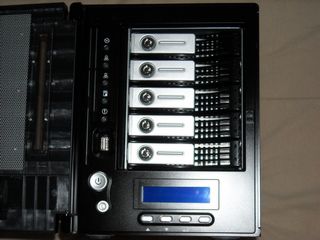 When we open up the unit we see all of the drive bay units starring back at us. As mentioned earlier, the unit supports up to 5 internal HDD's. You can also see the power and reset buttons in the bottom left hand corner.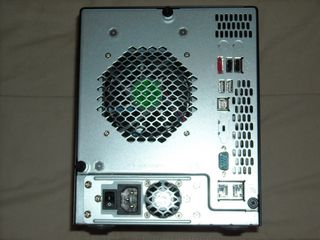 Here we have the back of the unit.The 120mm exhaust fan should be plenty enough to keep all of the HDD's cool, and large enough to have minimal noise even when blowing a lot of air. Near the bottom we have the 200 watt PSU, which supplies power to the entire unit. On the back we have 4 USB connections, with an extra one that is a USB b connector. There is also dual gigabit LAN, a serial port, and a eSATA port. Lets dig in and see whats behind this cover.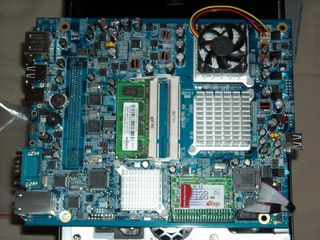 Here we have the brains of the unit. This is essential a small computer. The heat sink with the fan on it is the systems CPU (Intel Celeron M 1.86 GHz), under that is the NB heat sink. If you look to the left you can see the 1 GB of RAM. These are the same type of DIMM's that laptops take. There is another slot for RAM, however I don't know if the system would work with more RAM. It is worth noteing that they included a DDR2 800 MHz DIMM, showing that they did not cheap out when it comes to RAM.
methodology
To test the NAS, we booted it up with 3 drives inside. These where 2x Western Digital Caviar SE16 750 GB, and a Western Digital Caviar Blue 640 GB. The drives where run in RAID 1 and 5 to test performance. For single drive scores, I used one of the 750 GB drives. I also used the dual Gigabit LAN feature, so the network should not slow down the drives much if any at all. The LAN was connected through a router with Gigabit ports. Below is a table of the full system specifications.
Test Rig
Case Type
Ikonik Ra X10 Liquid
CPU
Intel i7 920 @ 3.8 Ghz
Motherboard
MSI X58M
Ram
(6x2GB) DDR3 @ 1600 9-9-9-24
CPU Cooler
D-Tek Fuzion
Hard Drives
Corsair P64
(2x) Western Digital 750 GB
Western Digital Caviar Blue 640 GB
Optical
LiteOn DVDR
GPU's Tested

Leadtek GTX275

Testing PSU
Corsair HX1000 Watt
AS Disk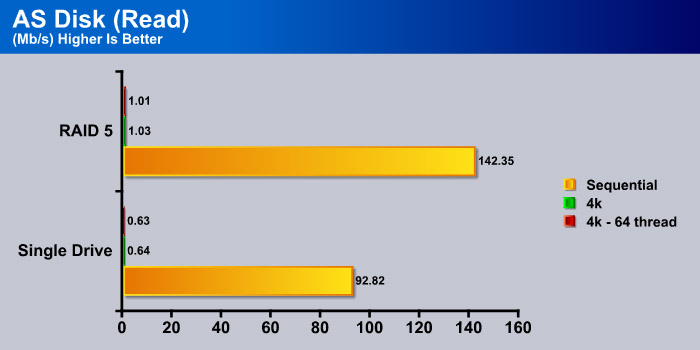 Right off the bat the NAS posts up some pretty good scores. When we move to RAID 5, the scores look even better!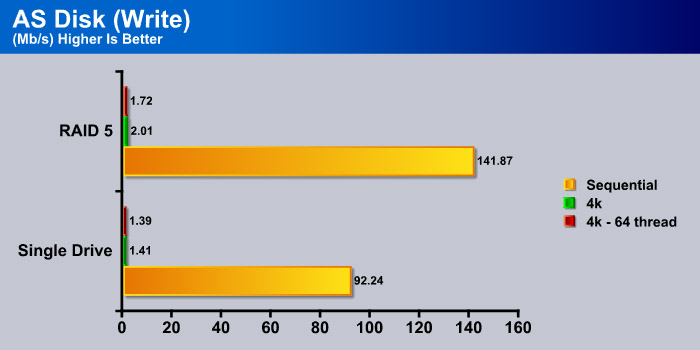 Again the NAS posts up some great results. With these speeds, you can be sure that your data will get to any computer on your network extremely fast, even if there are multiple people accessing it.
Intel NAS Toolkit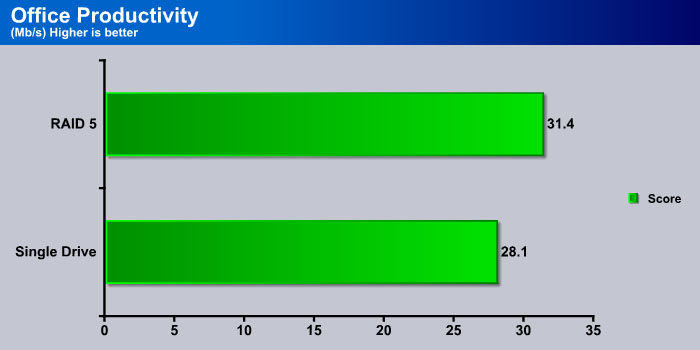 Up first in the Intel NAS Toolkit is the office productivity test. Since this drive is for business's, this is a great test to perform. As you can see, the RAID system scored higher.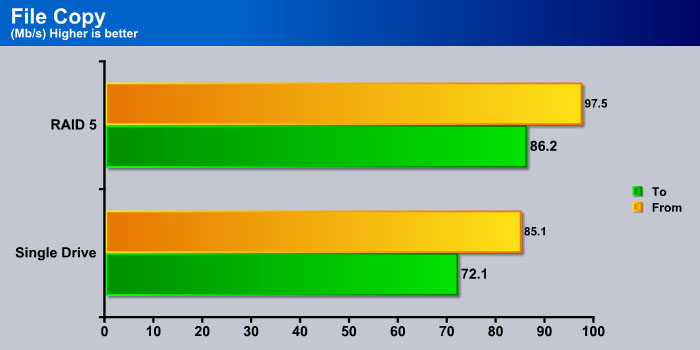 Most users will probably continuously copy files to the NAS, so these numbers can make a huge difference. The gap between RAID here is not as large as it was in previous tests, but it is obvious RAID provides more performance.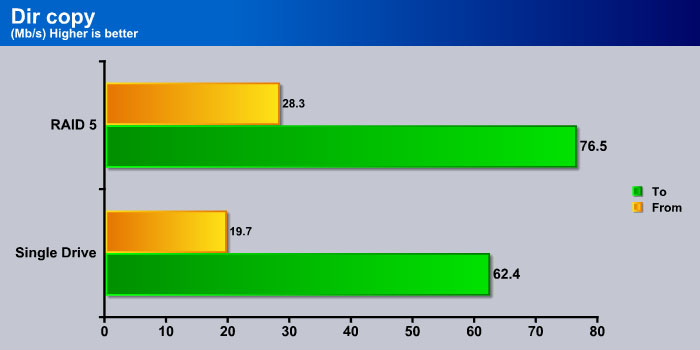 Again the RAID setup is faster. Whats worth noting is the increased speed. Some other NAS's without dual Gigabit LAN may have lower performance, and thus you may not notice a difference between RAID and a single drive. The dual LAN ports are definitely worth the increased price.
conclusion
The Thecus N5500 NAS is a great contender for your next business NAS purchase. Whether your a company with 20 employees, or a company with a hundred, you can be sure that this NAS will be a fast reliable unit. I could certainly say this is a nice NAS for personal use, but for its price tag of about $850 USD your just better off buying a more affordable NAS that holds a couple fewer drives. This unit is after all targeted twards smaller businesses. This unit fits in excellent in its class, delivering excellent performance.
The speeds that the unit was able to achieve are great for being over a network, and the benefits are just what some are looking for. You can easily hook this unit up to your office network, and let all of your employees save important documents to the unit. The ability to run RAID 0, 1, 5, and 10 is a great advantage, as it gives you the choice of speed or data safety. So if your production is directly related to how fast you can transfer files, then RAID 0 or 5 is a good choice. If you want to make sure that you do not loose any of your data, then a RAID 1 system is just what your looking for. In this way, the N5500 is an almost unbeatable NAS. The one thing I could not find was the length of Thecus's warranty. While they have everything online to get an RMA, it does not say how long the warranty is.
We are using this scale with our scoring system to provide additional feedback beyond a flat score. Please note that the final score isn't an aggregate average of the rating system.
Performance 9
Value 9
Quality 9
Warranty ?
Features 8
Innovation 8
Pros:
+  Great Performance
+  5 Drive Bays
+  Everything Included

Cons:
–  Huge Inefficient Software Program
The Thecus N5500 was not only a fast NAS, but has many safety features to keep your data safe. The only real downfall of the NAS is the program to manage it, which is why this receives a: 8 out of 10, and the Bjorn3D Seal of Approval.