With the introduction of the 5770, ATI has made a power efficient card that doesn't slack on performance. Today we have the Sapphire version of this card in Crossfire.
Introduction
It seems like a long time has passed since the release of the 2900 XT. This dark time for ATI will forever be known as their all time low. However ATI has slowly but surely been improving since that dark time. After the successful release of the 4xxx series it seemed like ATI could do no wrong, and so far that still remains true. The new 5xxx series has changed the way we look at graphics cards. Bringing with it not only the fastest single GPU to date, but the first card to support DX11. It is only fitting that ATI downgrade the 5850 and 5870 to make a more affordable card. They have done just that, and today we bring you the ATI 5770 from Sapphire. With support for DX11, and the ability to crossfire this card does not slack on the features of its bigger brothers. The card also features a 128 bit bus, and GDDR5, so you won't be robbed out of memory bandwidth. Overall this is looking like the perfect replacement for the 48xx series cards.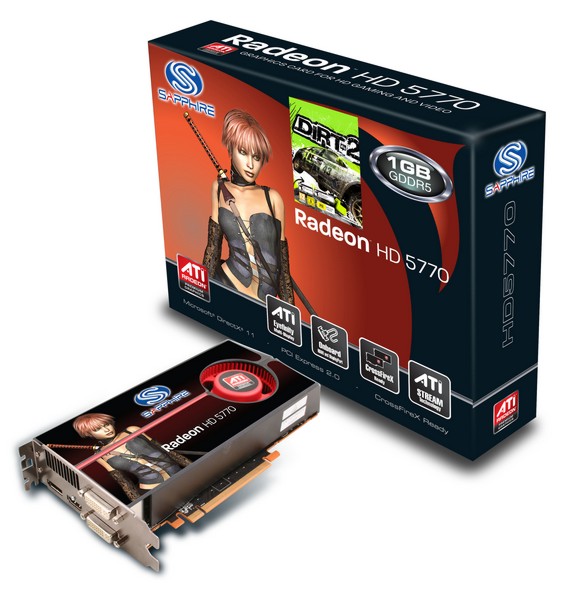 The HD 5700
Now, more people than ever can experience real innovation in DirectX® 11 gaming with ATI Radeon™ HD 5700 Series graphics processors. Loaded with advanced technology, these GPUs have the power and premium features you need for fully immersive gameplay. Expand your visual real estate across up to three displays and get lost in the action with revolutionary ATI Eyefinity Technology. Using ATI Stream technology, accelerate even the most demanding applications and do more than ever with your PC. The first GPUs in this class to offer full support for DirectX 11, these GPUs enable rich, realistic visuals and explosive HD gaming performance so you can dominate the competition.
Some of the key features include:
Microsoft DirectX 11 Support
With support for the latest DirectX from Microsoft you can be sure there won't be a game that comes out that includes eye candy that you can't turn on.
ATI Eyefinity Technology, support up to 3 displays
If you are in a business setting, or just want multiple monitors for home use, ATI is the way to go. With support for up to 3 displays, you can dedicate whole monitors for individual programs, and thus helping increase productivity.
ATI Stream technology
When a compatible program is combined with a ATI GPU, you can use your ATI GPU to speed up the program.
Microsoft Windows 7 Support
With native Windows 7 support, you can guarantee your ATI graphics card will not give you any head aches when you migrate to Windows 7.
40nm Process Technology
Not only does a die shrink lower power consumption, but it also allows the GPU to run cooler. This can lead to increased overclocking, as well as a longer life for the card.
2nd Generation TeraScale Engine
The successor to the original TeraScale Engine found in the 4xxx series is further improved to deliver you better frame rates, along with better AA and AF.
PCI Express 2.0 x16 bus interface
The 5770 is equipped with the latest standard in graphic interface, PCIE 2.0. This interface doubles the previous one bandwidth.
Advance 1GB/128-bit GDDR5 memory interface
With 1 GB of memory, you can be sure that the card will have plenty of RAM for higher resolution, also the 128-bit memory interface means you are getting more bandwidth than with a 64-bit bus.
HDMI 1.3 support with Deep Color and 7.1 High Bitrate Audio
For those who plan on using this card in a HTPC will be happy to note this feature. It will not only improve picture quality, but sound quality as well.
On chip HDCP Support
HDCP is a security measure found on devices such as DVD Players and TV's. This will ensure that a TV with HDCP will not have any issue working with this card.
On the next page I'll include more on DX11 and a couple of the other features, but first lets see a spec table comparing the 5770 to a couple other cards in its class.
| Feature/Specification | HD 5770 | HD 4770 | HD 4890 |
| --- | --- | --- | --- |
| # Of Shaders | 800 | 640 | 800 |
| Core Clock | 850 | 750 | 850 |
| Texture Units |  40 | 32 | 40 |
| Raster Operators |  16 | 16 | 16 |
| GFLOPS |  1360 | 960 | 1360 |
| Memory Interface (bit) | 128 | 128 | 256 |
| Memory Size | 1 GB | 512 MB/1 GB | 1/2 GB |
| Memory Type | GDDR 5 | GDDR 5 | GDDR 5 |
| Memory Clock (effective) | 4800 | 3600 | 3900 |
DirectX11, OpenGL and OpenCL
Bjorn3d as a site have been around since the beginning of the 3D video card era as we started as a fan site for the Rendition video cards. This means we remember the time when 3D-support was handled through proprietary API's like Rendition's RRedline and 3dfx's Glide. The problem with this was that you never could know which game supported your card and which game didn't. In the end OpenGL and DirectX evolved and took over as "open" API's, open in the sense that every card maker would write drivers to the OpenGL and DirectX API and then the game developers could write towards DirectX or OpenGL and know that their game would work on all the video cards regardless if it was a NVIDIA TNT video card or a S3 Savage video card.
DirectX
It has been quite obvious for the last year or so that AMD is quite keen on supporting the latest development in DirectX while NVIDIA has chosen to adopt a "wait and maybe do it later" attitude. Thus is it no surprise that AMD has chosen to fully support DirectX11 even before the API has been launched. As AMD already have been supporting some of the new features through DirectX 10.1, which is a sub-set to DirectX 11, since it was released for Vista in Service Pack 1 it most probably hasn't been such a huge job to get the GPU's to fully support DirectX 11.
So what is new in DirectX 11? Let us look at a few of the new features of DirectX 11: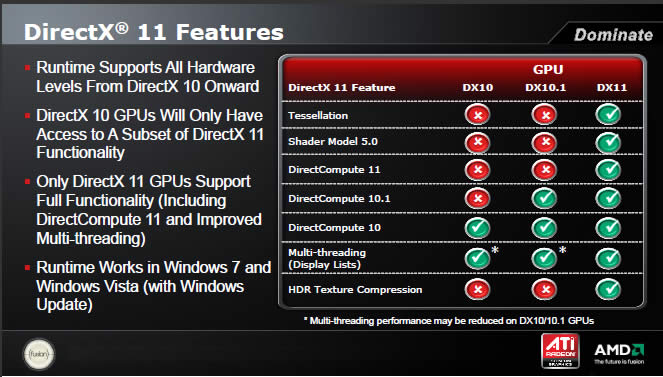 Tesselation
Hold on I hear you say. AMD has supported tessellation several years now. That is true. NVIDIA also has been talking about tessellation in some of their SDK's. The news is that Tesselation-support now is part of DirectX 11 meaning that developers no longer have to do any vendor-specific solutions which hopefully means we will see lots of tessellation used in future games.
Basically tessellation is a way of taking a relatively low-polygon mesh and then use subdivision on the surface to create a finer mesh. After the finer mesh has been created, a displacement map can then be applied to create a detailed surface.
The advantage with using Tesselation is that you can do a lot more detailed characters, more realistic clothing and more detailed terrains.
DirectCompute
As expected Microsoft has added DirectComputing to DirectX 11 which adds GPGPU-support into DirectX. It gives direct access to ATI Stream through the DirectX 11 API. This can be used for
Image Processing & Filtering
Order Independent Transparency (OIT)
Shadow Rendering
Physics
Artificial Intelligence
Ray-tracing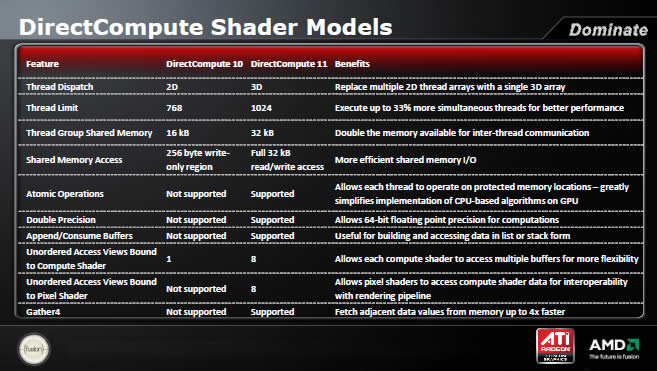 One interesting thing about DirectCompute is that it will also work on DX10 and DX10.1 hardware, although with reduce features. So even though NVIDIA lacks a DirectX 10.1 or DirectX 11 part they still can take some advantage of DirectCompute. Developers can start using Compute Shader 4.x kernels in their applications today, and add Compute Shader 5.x capabilities as the installed base of DirectX 11 GPUs becomes a significant portion of the market.
Other interesting new features are Shader Model 5, Multi threading and HDR Texture Compression. We'll just post a few slides for you to read as it feels unnecessary to just rewrite everything. And just to make it clear; these are new features of DirectX 11 so when NVIDIA have DirectX 11 supporting cards they of course also will be able to take advantage of all this.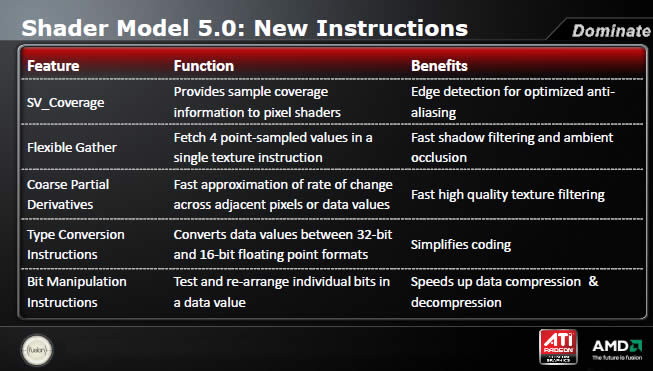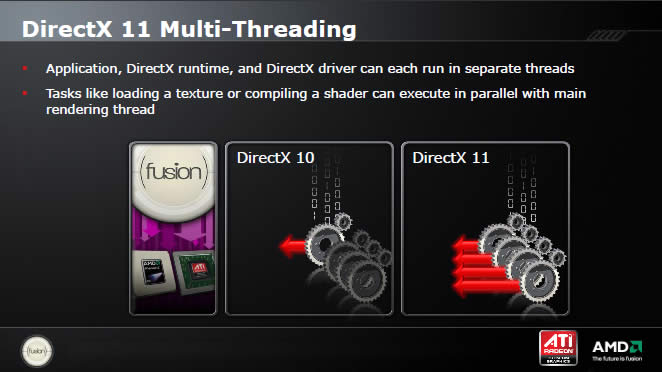 So when will we see the first games taking advantage of DirectX 11? There actually already exists a game with DX11-support: Battleforge. EA released a patch a few days ago that adds some DX11-support. AMD of course also had dug up some companies that came to the event talking about their upcoming games.
DICE were there showing off an experimental version of its Frostbite 2 engine where they were playing around with deferred rendering and were using DirectX 11 Compute Shader 5.0 to calculate light contributions in a test scene.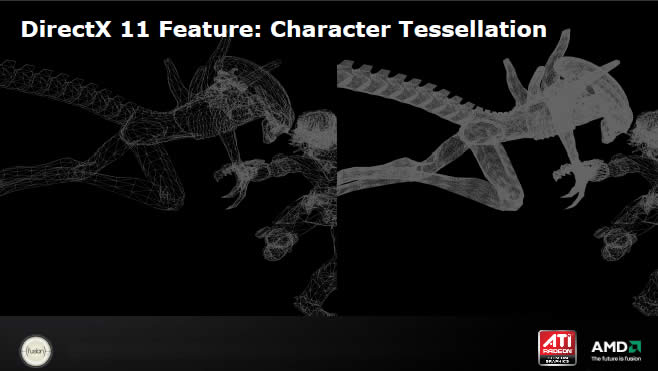 Rebellion were there talking about their upcoming (Q1 2010) game Aliens vs. Predator.
This game will use a lot of character tessellation to make the Aliens even more terrifying.
Codemasters showed off Dirt 2 for the PC which will have DirectX 11 support. The features used are:
HW Tessellation: DynamicWater Surface
HW Tessellation: Dynamic Cloth
HW Tessellation: Animated Crowd
DirectCompute11: Optimize Post Processing Effects
ShaderModel5.0: High Quality Shadow Filtering
ShaderModel5.0: Depth of Field
A demo of the game was present at the event and it looked absolutely stunning.
Other games that were mentioned were , S.T.A.L.K.E.R.:Call of Pripyat which is slated for a Q4 09 release, Lord of the Rings Online (Q1 2010) and Dungeon and Dragons Online: Eberron Unlimited
As expected it will be a while before we will see DirectX 11 games dominate but it does help that Microsoft has decided to release it not only for Windows 7 but also for Windows Vista. It would have been nice to see support also for Windows XP but Microsoft needs an incentive to get people to move to Windows 7. It would also help if NVIDIA came out with DirectX 11 supporting cards as soon as possible.
OpenGL
AMD did not say anything about OpenGL in their presentation but as far as we can tell the HD5xxx currently will support OpenGL3.1 in the drivers thus being a bit behind NVIDIA which already has support for OpenGL3.2.
OpenCL
OpenCL (Open Computing Language) is a framework for writing programs that execute across heterogeneous platforms consisting of CPUs, GPUs, and other processors. OpenCL includes a language (based on C99) for writing kernels (functions that execute on OpenCL devices), plus APIs that are used to define and then control the platforms. OpenCL provides parallel computing using task-based and data-based parallelism. OpenCL is analogous to the open industry standards OpenGL and OpenAL, for 3D graphics and computer audio, respectively. OpenCL extends the power of the GPU beyond graphics (GPGPU). OpenCL is managed by the non-profit technology consortium Khronos Group.: Source:Wikipedia
In short openCL is set to become for GPGPU what OpenGL is to 3D acceleration on the GPU. The neat thing with OpenCL is that it handles the GPU, the CPU and other processors. Up until now AMD has only supported OpenCL for the CPU but at the even AMD said they had submitted drivers to the Khronos Group that would add support for the GPU giving them support both for the CPU and GPU so the framework can put the work on the chip that handles it the best.
Right now the Havoc physics engine supports OpenCL and work has begun for an OpenCL version of the Open Source Physics engine Bullet Physics. This should mean that there is now a serious alternative to PhysX which will be supported by both AMD and NVIDIA.
Pictures & Impressions
Lets start this off with some pictures directly from Sapphire.
Sapphire has decided to go with two different boxes. The clear difference is the inclusion of a game, in this case Dirt 2. Both boxes have the same information on them along with the same woman.
I must say, the card looks pretty nice in the Sapphire pictures. I like the cooler design, which happens to be the same as its bigger brothers, just a bit shorter. The cooler is still a dual slot, so like the 4770 it should run quite cool. One thing that kind of baffles me is the cutout for the cooler. It is quite small. Here's to hoping it will let the card push enough hot air out of the cooler to ensure the card runs cool. Dual DVI with a HDMI port, and a DisplayPort is an interesting choice. It is always nice to see the deletion of the VGA port, as not many people anymore have a VGA monitor. Lets take a look at some more detailed pictures I have taken of the card.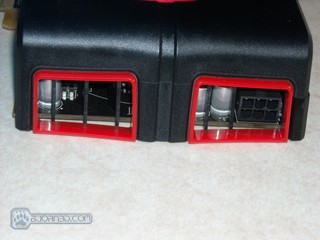 Here we have the back of the card. The first thing I think of when I see this is an edited image of the old Batmobile (criteria~1960) made to look like the cooler. The vents are functional, feeding some air to the cage fan. The single 6 pin PCIE connector certainly was a surprise to me. If it performs where it should, this card should have an excellent power envelope. Now that you have seen all of the card, lets take a look at how it performs.
Metholdology
To test this card, we did a fresh load of Vista 64 bit and applied all the patches and updates for the OS, then we updated all the motherboard drivers and made sure that we had the latest 9.11 Catalyst and 190.62 Forceware drivers. We didn't install any video drivers on the test rig at first, we just installed the basics and then cloned the hard drive using Acronis. That way when we switch from the ATI GPU to the Nvidia GPU we can have a fresh load with no old drivers hanging around to bugger up our benchmark numbers.
We ran each test 3 times and averaged the results, the average of those results are reported here. The one exception to the 3 run rule is Stalker, this test is just so long so all of the individual tests where averaged together. Below is a detailed list of the components used during testing.
Test Rig
Case
Cooler Master HAF 932
CPU
Intel i7 920 @ 3.7 Ghz
Motherboard
Intel DX58SO
Ram
(3x2GB) DDR3 @ 1482 8-8-8-20
CPU Cooler
D-Tek Fuzion
Hard Drives
Corsair P64
Western Digital 750 GB
Optical
LiteOn DVDR
GPU's Tested

HIS HD 4850 1 GB
Sapphire HD 4870
Sapphire HD 4890
VisionTek HD 4890
Leadtek GTX275
Sapphire HD 5770
Asus HD 5770

Testing PSU
Corsair HX1000 Watt
Synthetic Benchmarks & Games
Synthetic Benchmarks & Games
3DMark Vantage
3DMark 06
Stalker Clear Sky Stand Alone Benchmark
Crysis
World In Conflict
Company of Heroes
Far Cry 2
Overclocking

To overclock the Sapphire 5770 I used ATI Catalyst. I slowly increased the clocks by 10 MHz until the system became unstable, then I backed down the clocks a bit and tested for stability. I kept lowering the clocks until the system was rock solid. Below where my results.
Due to limited time constraints, the max OC was a bit hard to find. This is right on the edge, but you may be able to push the card a little further, but it would still probably fall short of the Asus card due to the lack of overvolting. Overall the results where not bad, but not as high of an overclocker as the 4890.
You can see here that with the overclock, the 5770 manages to pass the 4890, and almost matches a highly overclocked 4890. Not too bad of a result for free performance.
3DMARK06 V. 1.1.0

3DMark06 developed by Futuremark, is a synthetic benchmark used for universal testing of all graphics solutions. 3DMark06 features HDR rendering, complex HDR post processing, dynamic soft shadows for all objects, water shader with HDR refraction, HDR reflection, depth fog and Gerstner wave functions, realistic sky model with cloud blending, and approximately 5.4 million triangles and 8.8 million vertices; to name just a few. The measurement unit "3DMark" is intended to give a normalized mean for comparing different GPU/VPUs. It has been accepted as both a standard and a mandatory benchmark throughout the gaming world for measuring performance.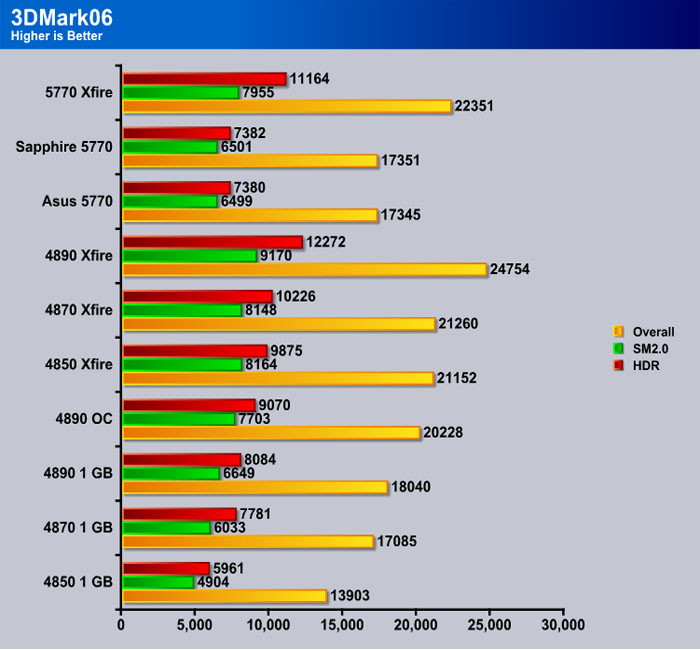 The 5770 really gets out to a great start here. The card was able to beat a single 4870. When we put both of the 5770's in Crossfire we see the performance once again is phenomenal with 5770 Xfire beating out 4870 Xfire.
3DMark Vantage

For complete information on 3DMark Vantage Please follow this Link:
www.futuremark.com/benchmarks/3dmarkvantage/features/
The newest video benchmark from the gang at Futuremark. This utility is still a synthetic benchmark, but one that more closely reflects real world gaming performance. While it is not a perfect replacement for actual game benchmarks, it has its uses. We tested our cards at the 'Performance' setting.
Currently, there is a lot of controversy surrounding NVIDIA's use of a PhysX driver for its 9800 GTX and GTX 200 series cards, thereby putting the ATI brand at a disadvantage. Whereby installing the PyhsX driver, 3DMark Vantage uses the GPU to perform PhysX calculations during a CPU test, and this is where things get a bit gray. If you look at the Driver Approval Policy for 3DMark Vantage it states; "Based on the specification and design of the CPU tests, GPU make, type or driver version may not have a significant effect on the results of either of the CPU tests as indicated in Section 7.3 of the 3DMark Vantage specification and white paper." Did NVIDIA cheat by having the GPU handle the PhysX calculations or are they perfectly within their right since they own Ageia and all their IP? I think this point will quickly become moot once Futuremark releases an update to the test.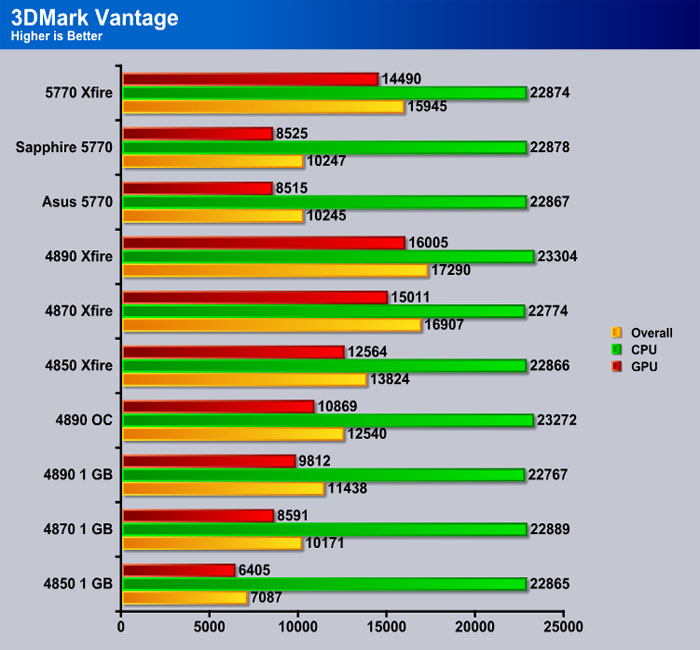 We see here that the 5770 looses by a little bit to the 4870, but it still had more performance than a single 4850. When the cards are put into Crossfire we see that they fall right in between Crossfire 4870's, and Crossfire 4850's.
S.T.A.L.K.E.R. Clear Sky

S.T.A.L.K.E.R. Clear Sky is the latest game from the Ukrainian developer, GSC Game World. The game is a prologue to the award winning S.T.A.L.K.E.R. Shadow of Chernoble, and expands on the idea of a thinking man's shooter. There are many ways you can accomplish your mission, but each requires a meticulous plan, and some thinking on your feet if that plan makes a turn for the worst. S.T.A.L.K.E.R. is a game that will challenge you with intelligent AI, and reward you for beating those challenges. Recently GSC Game World has made an automatic tester for the game, making it easier than ever to obtain an accurate benchmark of Clear Skie's performance.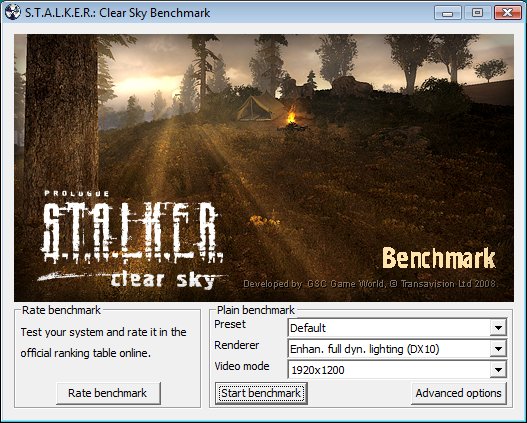 The Settings we use for benchmarking Stalker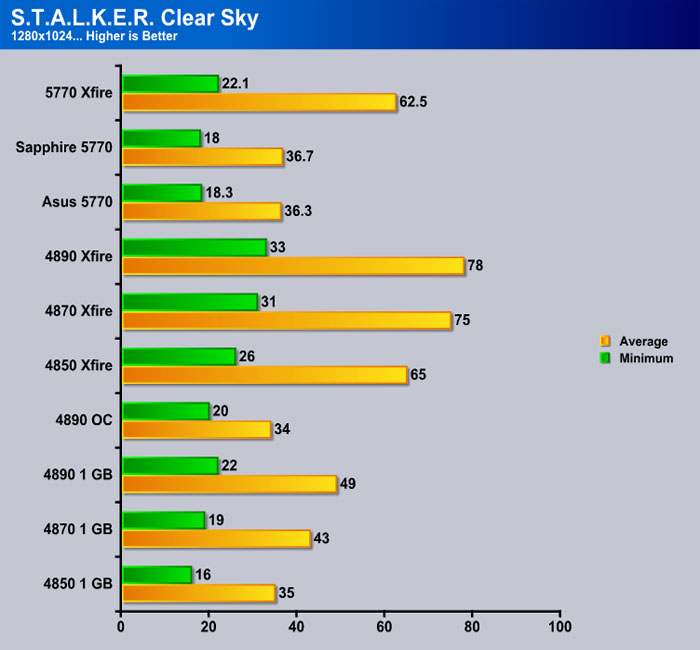 In the first game we see that the 5770's where just a bit short of matching the 4870. When the cards are put into Crossfire we see that they struggle against the 4850 Crossfire, and ultimately becomes the slowest Crossfire configuration in this test.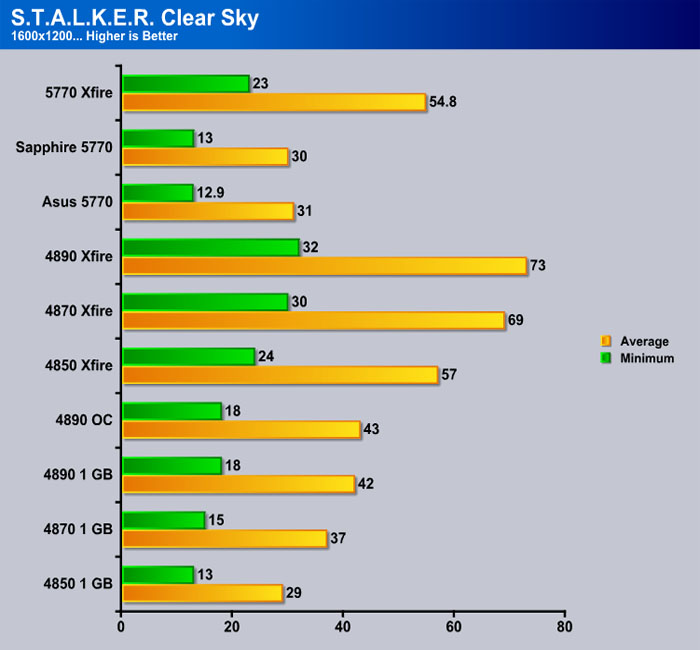 When the resolution is increased we see the 5770's loosing ground to the 4850. When the 5770's are Crossfired together we see that they once again fall short of the performance level of the Crossfire 4850's.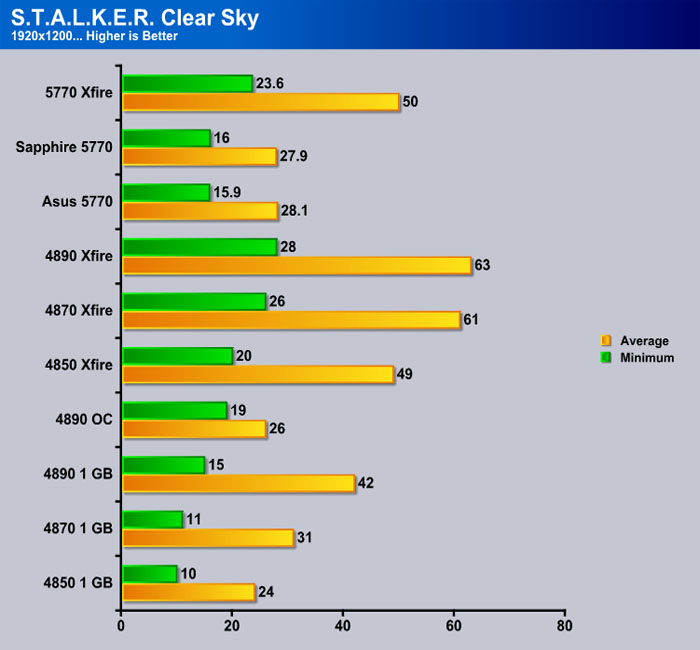 Finally we see the 5770's beating the 4850 in this test. You can see that when the cards are Crossfired together they even manage to beat 4850 Crossfire.
Crysis v. 1.21

Crysis is the most highly anticipated game to hit the market in the last several years. Crysis is based on the CryENGINE™ 2 developed by Crytek. The CryENGINE™ 2 offers real time editing, bump mapping, dynamic lights, network system, integrated physics system, shaders, shadows, and a dynamic music system, just to name a few of the state-of-the-art features that are incorporated into Crysis. As one might expect with this number of features, the game is extremely demanding of system resources, especially the GPU. We expect Crysis to be a primary gaming benchmark for many years to come.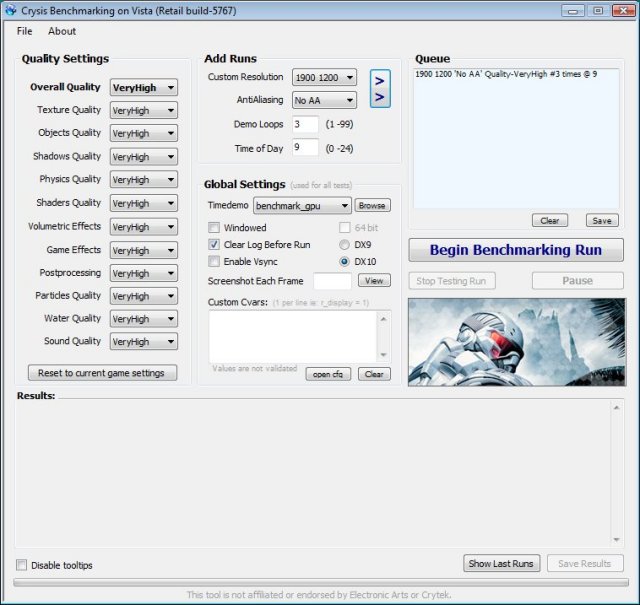 The Settings we use for benchmarking Crysis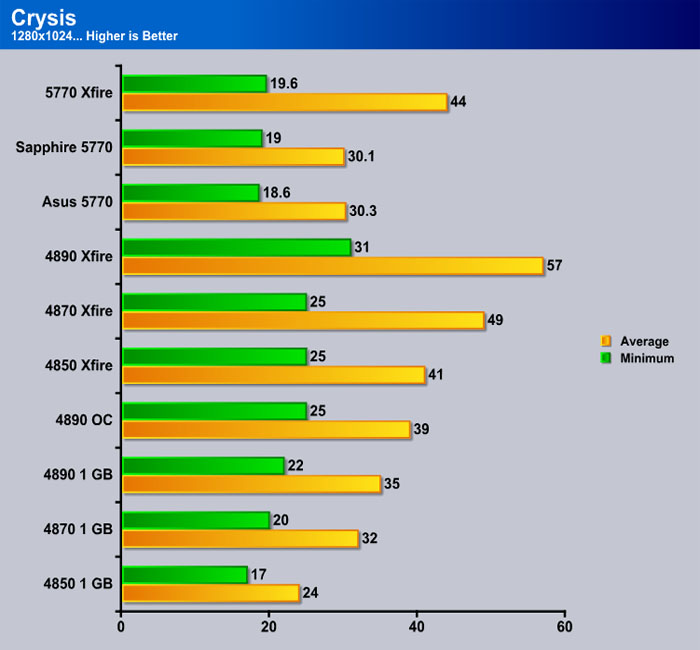 Right off the bat the 5770's get off to a great start. They both manage to beat a single 4850, and when put into Crossfire they come close to matching 4870's in Crossfire.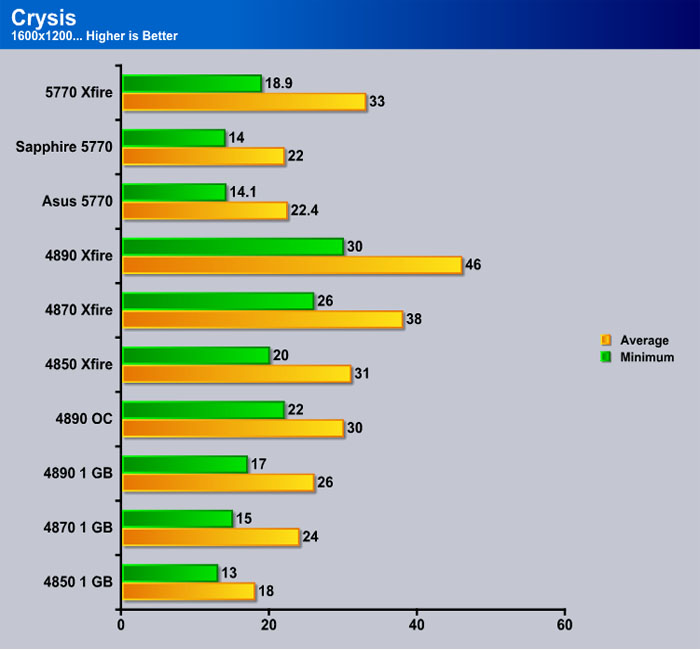 When the resolution is increased we see the 5770's staying in the same position they started at. When they are put into Crossfire we see that they once again are not quite as good as 4870's in Crossfire.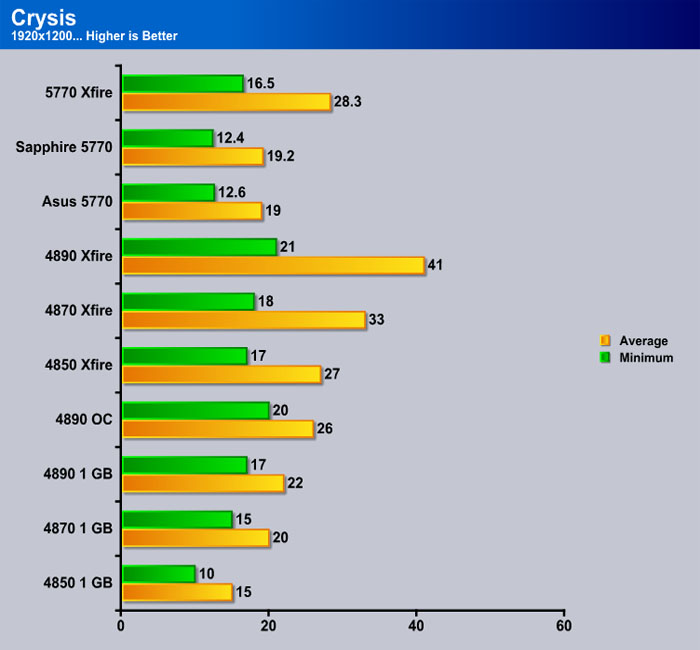 At this resolution we see the 5770's get closer to the 4870. Again the Crossfired 5770's don't have quite enough power to beat the 4870 Crossfire
World in Conflict

World in Conflict is a real-time tactical video game developed by the Swedish video game company Massive Entertainment, and published by Sierra Entertainment for Windows PC. The game was released in September of 2007. The game is set in 1989 during the social, political, and economic collapse of the Soviet Union. However, the title postulates an alternate history scenario where the Soviet Union pursued a course of war to remain in power. World in Conflict has superb graphics, is extremely GPU intensive, and has built-in benchmarks. Sounds like benchmark material to us!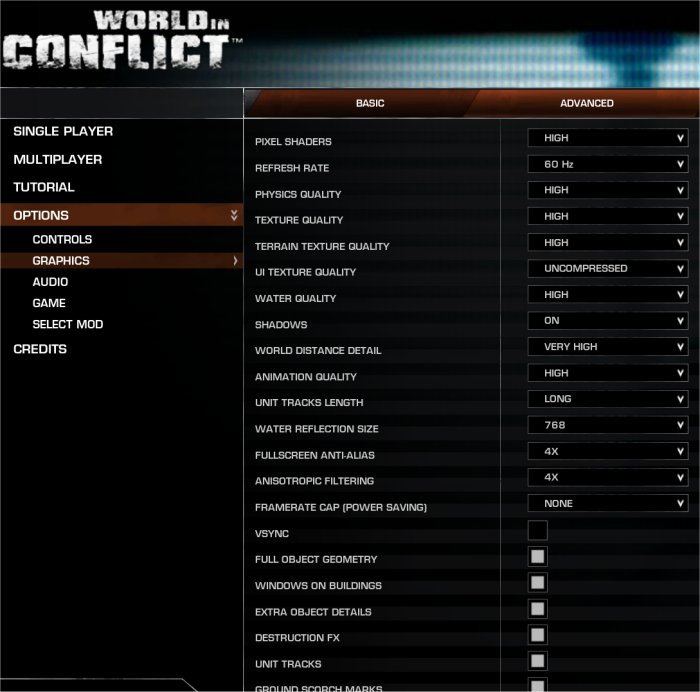 The Settings we use for benchmarking WiC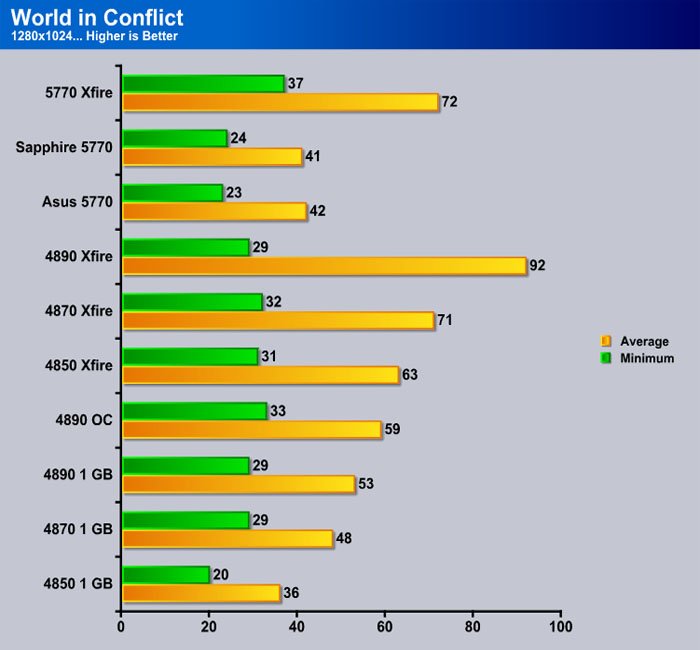 We see here that the 5770's fall in between the 4850 and 4870. However when the cards are Crossfired we see a huge performance boost. In fact, they almost had 100% scaling.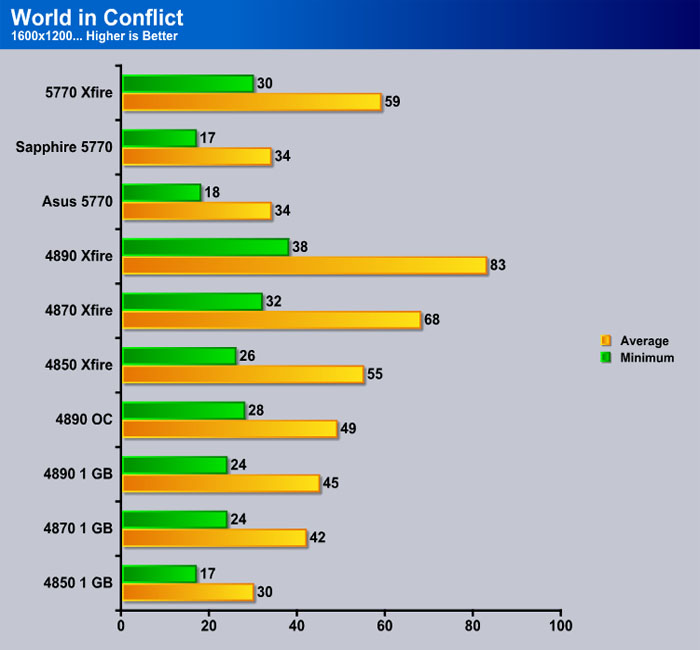 Just like before, the 5770's fell between the 4850 and 4870. This time the Crossfire did not have the performance, but still managed to have great scaling.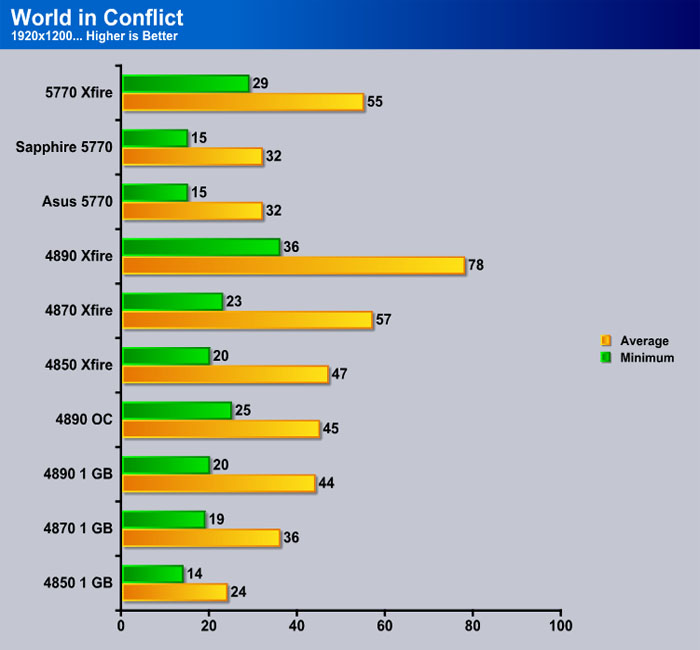 Again the 5770's fall right in between. The Crossfire fared better this time, almost beating out Crossfire 4870's.
Company of Heroes

Company of Heroes(COH) is a Real Time Strategy(RTS) game for the PC, announced on April, 2005. It is developed by the Canadian based company Relic Entertainment and published by THQ. COH is an excellent game that is incredibly demanding on system resources thus making it an excellent benchmark. Like F.E.A.R., the game contains an integrated performance test that can be run to determine your system's performance based on the graphical options you have chosen. Letting the games benchmark handle the chore takes the human factor out of the equation and ensures that each run of the test is exactly the same producing more reliable results.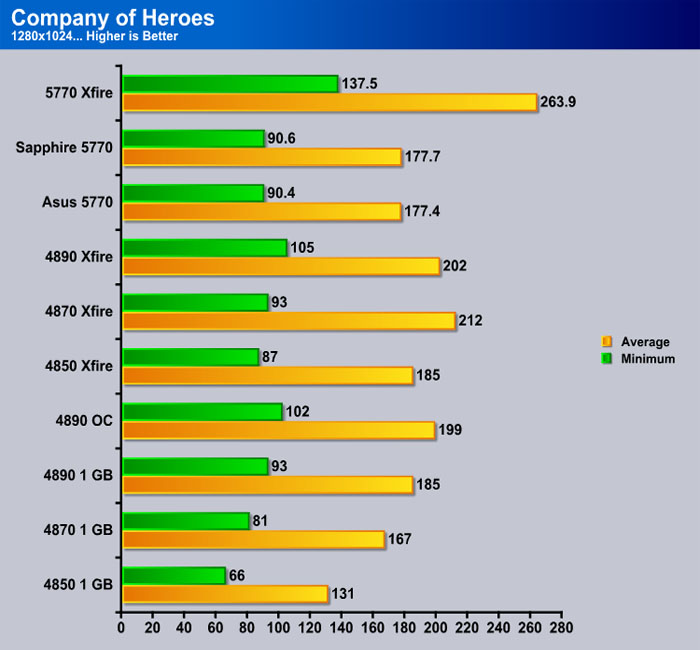 We see here that the 5770's had great performance, beating out the 4870. We see the best performance in the benchmark when the 5770's are put into Crossfire.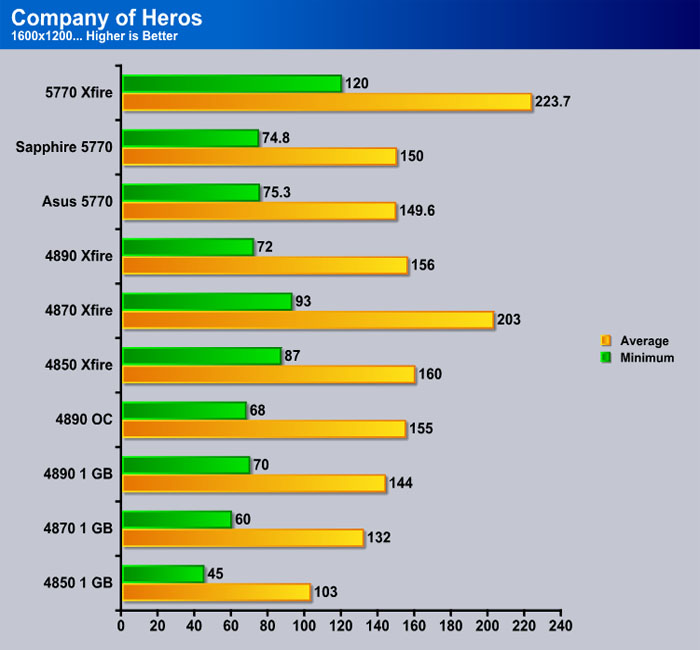 Again the 5770's beat out the 4870, and even manage to beat the 4890 this time around. They also have the highest Crossfire score.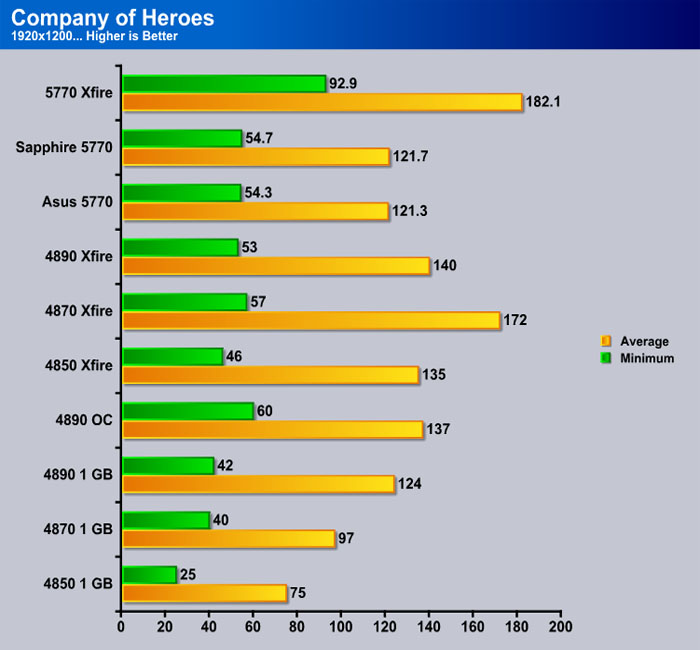 This time the 5770's weren't able to beat the single 4890, but they once again had the highest score when Crossfired together.
Far Cry 2

Far Cry 2, released in October 2008 by Ubisoft, was one of the most anticipated titles of the year. It's an engaging state-of-the-art First Person Shooter set in an un-named African country. Caught between two rival factions, you're sent to take out "The Jackal". Far Cry2 ships with a full featured benchmark utility and it is one of the most well designed, well thought out game benchmarks we've ever seen. One big difference between this benchmark and others is that it leaves the game's AI (Artificial Intelligence) running while the benchmark is being performed.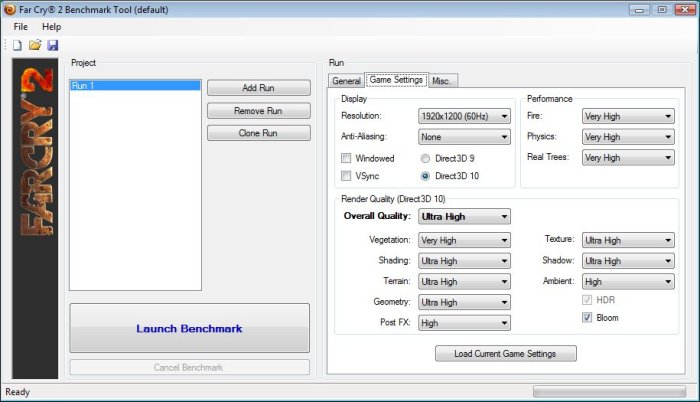 The Settings we use for benchmarking FarCry 2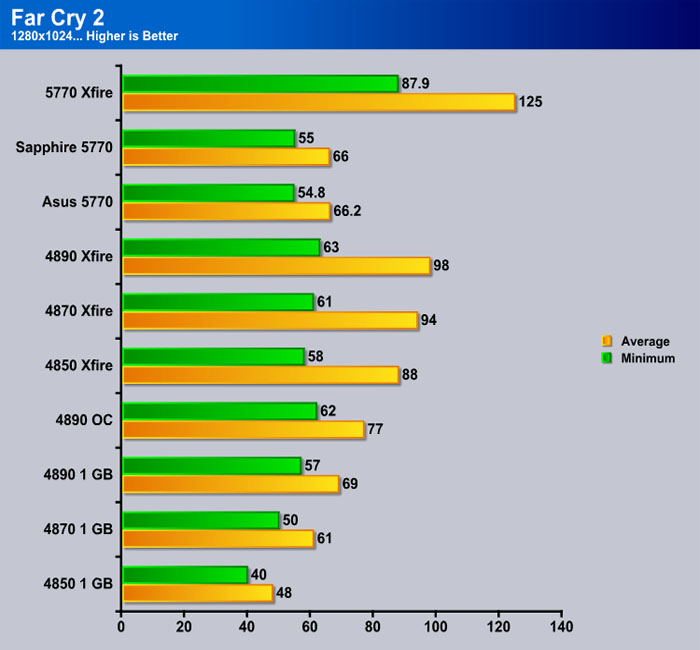 The 5770's got off to a great start here. They managed to beat the 4870, and almost matched the 4890. Just like in the last test, when they are Crossfired they score the highest.
We see here again the 5770's fall between the 4870 and 4890. As in the lower resolution, the 5770's together easily beat the 4890 Crossfire.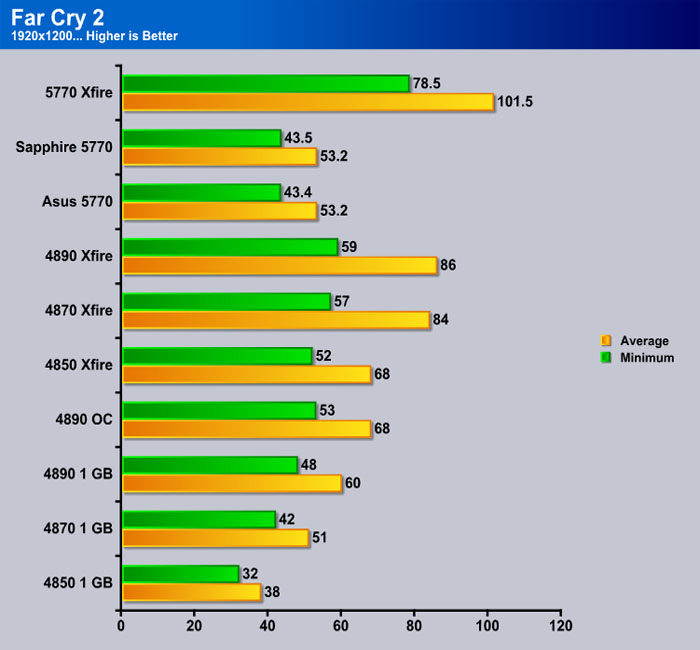 When we increase the resolution, we don't see any change. Even the Crossfire stays in the same spot.
Temperatures

The Sapphire 5770 certainly looked like it was going to run cool with its dual slot cooler. I let the fan run at 55% speed, which gave the sweet spot between noise and performance. Throughout testing the fan was easily heard hear over my case fans, but it was not loud enough to give me a head ache. To test the load temperature I loaded up Furmark 1.7, and let it run for 30 minutes. I then recorded the maximum temperature reached. To test the idle temperature I let the card sit with no programs running. Below is a table of the results.
Conclusion
The Sapphire 5770 is a great addition to Sapphires graphics card lineup. This card performs up around the 4870, but uses only a single 6 pin PCIE power connector. This not only means the card is more power efficient, but it also means the card has some power behind it. The dual slot cooler was an excellent choice by ATI, as the card had great temperatures. Even when the cards where put into Crossfire the cards ran under 80° C. This is a much better result than the old 4870's that ran well over 80° C when they came out.
Also worth noting is the Crossfire performance. The 5770 consistently scaled quite well, and in some cases even higher than 4890 Crossfire. This shows that ATI is constantly improving Crossfire technology to directly spearhead SLI. The Crossfire performance was top notch. The 5770 Crossfire beat out or came close to the 4870 Crossfire. This will put a 5770 Crossfire system right up there with a single 5870. Not too bad if we say so. Combine that with a price point of around $160USD, and you've got yourself a deal! Overall the Sapphire 5770 was an excellent card that had great performance, and scaled just as well.
We are using this scale with our scoring system to provide additional feedback beyond a flat score. Please note that the final score isn't an aggregate average of the rating system.
Performance 9
Value 9
Quality 9
Warranty 8
Features 9
Innovation 10
Pros:
+  Performance
+  Scaleing
+  Cooling Performance

Cons:
–  No Buy One Get One Free Deal
Overall the Sapphire 5770 was an excellent card that had great performance, and scaled just as well. This is why the card earns a 9 out of 10 and the Bjorn3D Golden Bear Award.