Prolimatech has come up with a CPU cooler that fits the socket 1156 socket CPUs, that is both stylish and has good performance.
Introduction
Overclocking the CPU increases the overall performance of our computers. As usual, there's always a side effect of overclocking, increased heat output generated by the CPU. The need to use a good CPU cooler is just as important as the CPU itself.
We at Bjorn3D are going to be looking at a CPU cooler from Prolima today. Prolima is one of the new kids on the block when it comes to CPU coolers. This company awed us with the performance of their Megahalem CPU cooler (review can be found HERE). This time around we going to look at a Mega Shadow CPU cooler from Prolima, this CPU cooler shares a lot of the same designs as the Megahalem CPU cooler. The only real difference between these two CPU coolers is the Mega Shadow is fully nickle plated to add that extra bling to our computer components.
This time around I am going to use this CPU cooler on a completely new CPU from Intel, the i5 750. It is so new in fact I have no idea what to expect from this CPU as far as temperatures or how far I can go with the frequencies. The only thing I do know is I am going to stay with a rather strict temperature limit of 60°C and see how things fair from there.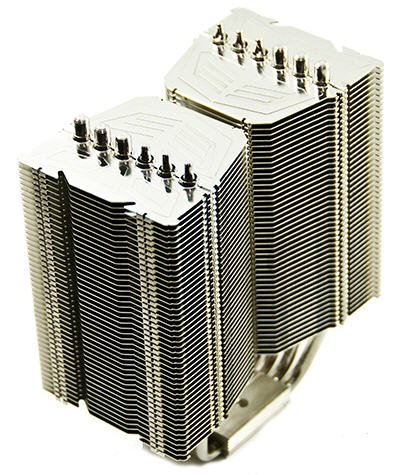 Specifications
Heatsink Dimensions: 130 x 74 x 158.7 mm (L x W x H)
Heatsink Weight: 790 g
Heatpipes: 6
Heatpipe Diameter: 6 mm
Fan Compatibility: 120 x 120 x 25 mm (120 x 120 x 38 mm with optional fan clips)
Recommended Fan Speed Range: 800~1200 RPM
Recommended Fan Noise Level: Below 26 dBA
Recommended Air Flow: 57 CFM
Direction of heatsink: Faces the rear exhaust system fan
Included Components
1 x Mega Shadow CPU Heatsink
1 x Socket 775, 1156 and 1366 Backplate
4 x Double Ended Studs
2 x Aluminum Strip Adapters
4 x Screw Nuts
1 x Aluminum Mounting Plate
2 x Spring-loaded Screws
2 sets of 120x25mm Fan Mounting Clips
1 x Thermal Compound
Packaging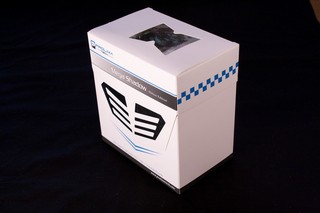 The packaging that Prolimatech used for the Mega Shadow, is both bright and eye catching. There are no images or anything listed on the packaging resembling a CPU cooler.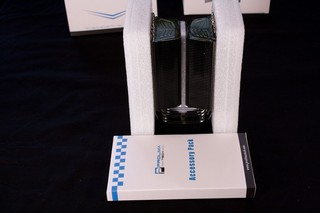 How Prolimatech packaged the Mega Shadow CPU cooler. Prolima went the extra mile to make sure this CPU cooler would not get harmed during transport by using foam end caps on the CPU cooler, and also by putting a small piece of foam in between the two CPU cooling towers. The box at the base of the CPU cooler is where all of the mounting hardware we will need to mount this onto our CPU's.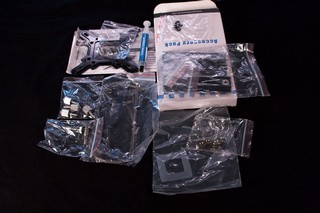 The contents of the accessory box laid out. This CPU cooler will only work on the Intel 775, 1156, 1366 socket CPU's. I do not see any AMD socket mounting hardware. Just WOW, there's an awful lot of mounting hardware for a CPU cooler, instead of listing all of the components I will present each mounting component during the Installation portion of this review.
OVERVIEW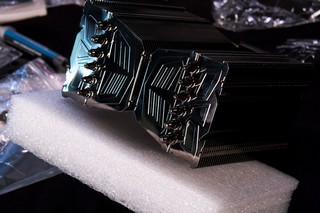 Lets start off on the top of the Mega Shadow CPU cooler. Warning, this CPU cooler will attract finger prints, so make sure you got a clean rag to polish this CPU cooler up after installing this on your computer. So far not much different from the Megahalem CPU cooler other then being seriously polished. Counting up the heat pipes we can see the Mega Shadow uses the same 6×6 design as the Megahalem.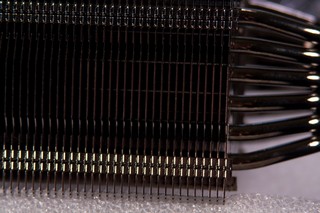 Looking at the fins of this CPU cooler, these are evenly spaced apart from each other. Also there are enough fins per square inch that should provide us with plenty of cooling.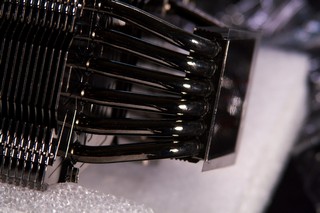 Looking at the heat pipes that converge on the CPU coolers base. These are the standard 6mm heatpipes that many other CPU coolers use.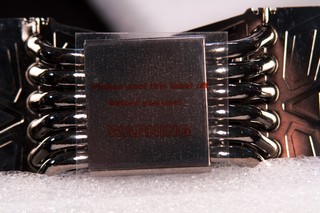 As always remove this sticker prior to using this CPU cooler on our CPUs, if you don't the results can be disastrous. The Mega Shadow uses 6 heat pipes giving us a 6×6 heat pipe design that runs through the fin array of the CPU cooler.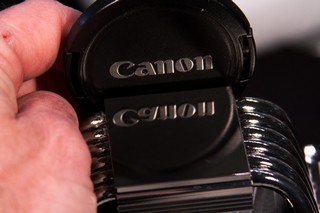 Removed the sticker to see how the base of the cooler is, and I found out it is highly polished. I could not find a blemish at all on the base.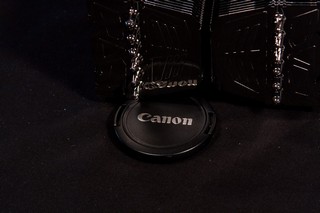 I had to see how shiny the top of this CPU cooler was. So I cleaned off my finger prints, and used my cameras lens cover to check things out. It to is highly polished.
Installation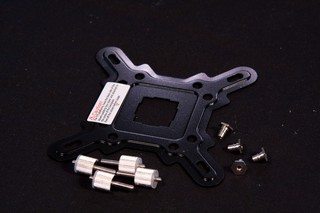 From the beginning I had an idea mounting that this CPU cooler was not going to be one of those quick, & fast installations. Starting off with what we will need to mount this CPU cooler onto our CPU. Prolimatech does include a retention plate that has three types of mounting holes to fit Intel socket 775, 1156, and 1366 CPU's. We will need the four nuts that will sit on the backside of the retention plate, and four stud screws to secure the retention plate to the motherboard and will also hold the CPU cooler onto the motherboard as well. I haven't even started mounting and I already need to use nine parts to mount this CPU cooler.
Before I go mounting the retention plate on This is how the nuts will sit inside of the retention plate. Since I am mounting this CPU cooler to a 1156 socket CPU, I will need to use the center holes in the retention plate. For socket 775 CPUs you will use the inner holes, for the socket 1366 CPU's you will use the outer holes.
Now it is time to mount the CPU coolers retention plate to the motherboard. Line up the holes of the motherboard to the correct retention plate holes. Insert the nuts into the backside of the retention plate. Then insert each stud screw into each nut on the CPU side of the motherboard, till all four are fully secured. You may want to do this one bolt at a time because you may not have enough hands and or fingers to hold these together.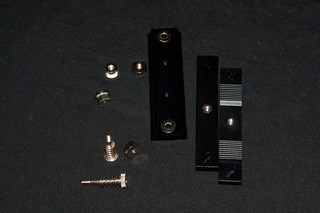 Next up is the brace hardware. Here we have two cross-braces, a single crossover CPU hold down brace, four more nuts, and two long screws with springs. Told ya' this was going to get interesting.
Now with the two cross braces with the three type of mounting holes use the corresponding holes for your CPU socket type. then use the four nuts to fully secure the braces down.
Oops, it helps if I put the CPU in, prior to installing the cross-braces. May make things a bit easier to install the CPU. LOL.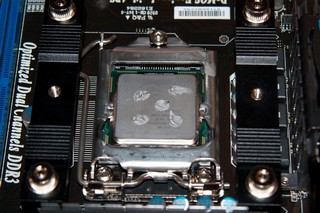 Time for a test fit. Not going to do a full install just yet just going to put the CPU cooler on the CPU and see how things mate up.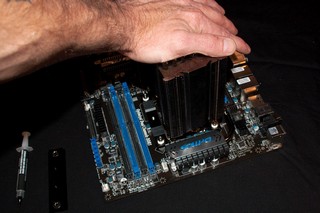 CPU cooler sitting on the CPU, then I placed my hand down over the CPU cooler with just the weight of my arm, counted to 30 then removed the CPU cooler.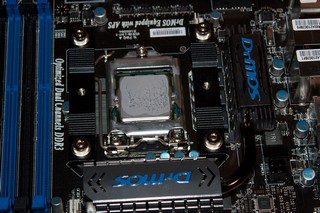 So far the dispersal pattern looks good.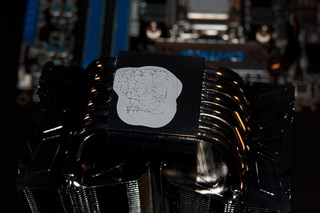 Dispersal pattern looks good, but I need to make sure I am on the CPU squarely. I was wondering why the CPU cooler felt like it was teetering, well now I know.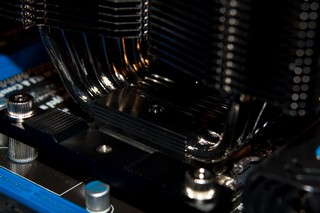 Time for a second test fit. This time I will do a full install and check to see how the CPU cooler fits onto the CPU. Inside on top of the base of the Mega Shadow CPU cooler are two holes.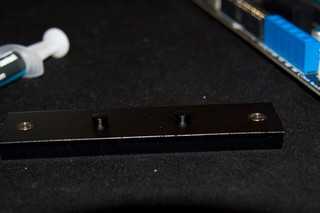 Those two holes line up with the two pins on the CPU hold down cross brace. This will make sure the CPU cooler gets centered properly.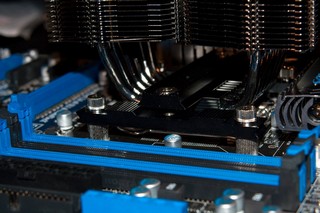 Time for the two spring loaded screws to fully secure the CPU cooler down. I ran into a small issue when doing this step, for some odd reason the second screw would not go into the hole right. I started to tell the screws, "That's your home, don't you want to go into your home…"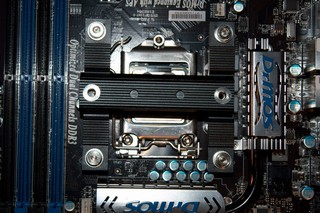 Just great, the cross braces were not exactly lining up properly from the get go. Time to fiddle with the cross braces till things get lined up. After fiddling with this for about 5 minutes I finally got the CPU cooler's cross braces aligned properly to the CPU cooler hold down cross brace. It was one of them days.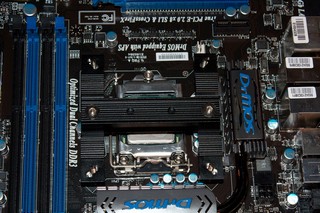 Yay, Houston we now have Alignment. Yes, it gets real fun when we reviewers start talking to ourselves.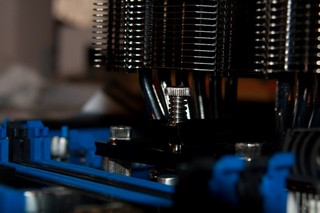 This is how the spring loaded screws get used. These will screw through the CPU coolers hold down cross brace into the crossbraces. Tighten these down fully.
Now since this was a test fit, I had to remove the CPU cooler from the CPU. OH just perfect, when I was unscrewing one of the spring loaded screws it was leaving bits and pieces of metal behind. Now considering this happens to just about everyone once in a while, I blew off the metal bits and dusted off the motherboard then blew it off again with air. I went ahead and re-installed the screws looking for little bits of metal, this time there was none, so I wont hold this set back against the CPU cooler, but always be wary when installing CPU coolers onto our computers because as Murphy's Law states, "If it can happen, it will happen, at the worst possible time"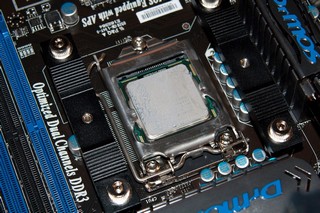 Well the dispersal pattern this time turned out perfect. Time to check out the CPU coolers base.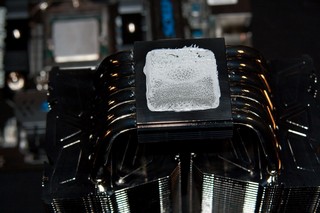 Perfect just like the CPU. Well it looks like my CPU has a low spot, I will have to rectify that issue. That guide can be found HERE.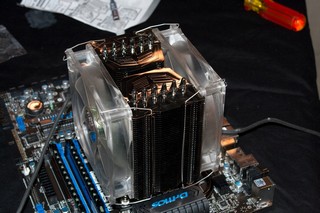 Found me two 80CFM fans, located the four wire clips that secure the fans onto the CPU cooler and install them after I installed the CPU cooler to the motherboard/CPU. The use of this CPU cooler may interfere with some motherboard components like the memory.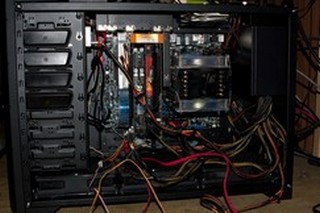 Since I installed this on a brand new CPU/motherboard/memory I needed to steal an image from the MSI P55-GD65 motherboard review. The review can be found HERE.
Testing Methodology
Minor Me
CPU
Intel Core i5 750
Motherboard
GIGABYTE P55-UD6
Case
SIlverStone Raven RV-02
Memory
GSkill RipJaw
Video Card's
XFX 4870X2, HIS 4870
Hard Drives
Patriot SSD 128 Gig, WesternDigital 160 Gig Backup drive.
CDRom Drive
Lite On Blue Ray
Power Supply
Seasonic 850W, Silver Stone 1200W
CPU Speeds Used
Maximum acheived per CPU cooler
Operating System Used
Microsoft Windows Vista 64
Video Card Cooler

Stock cooled
CPU Cooler

Mega Shadow, HYPER 212+.
For testing the Mega Shadow CPU cooler, I brought out the Hyper 212+ out of moth balls and will use this CPU cooler as a comparison. I will be using LinX 3 runs per cooler to make sure my results are consistent. I will also be using Realtemp 3.0 as the monitoring program, the hottest core temperature will be the only temperature recorded. The ambient temperature of the room (Dungeon) is 20°C. I will also place a 60°C +/- limitation on the CPU itself. This will determine a maximum CPU core speed achieved of both CPU coolers. Most CPU coolers will allow an overclock on a CPU, but what makes or breaks these CPU coolers is when a strict temperature limitation is on the playing field. By doing this, will better demonstrate the CPU coolers price to performance ratio.
Results
Time to see how this CPU cooler performance does on a Core i5 750 CPU.
Default Speed 2.66 GHz
| | | |
| --- | --- | --- |
|  Core i5 750 2.66GHz | Idle | Load |
| CoolerMaster Hyper 212+ | 30°C | 41°C |
| Prolima Mega Shadow | 26°C | 39°C |
During the Default speed of the CPU both CPU coolers do pretty well on handling the heat output of the CPU. The Prolima does fair better on temps with a 2°C lower temperature then the Hyper212+, and a 4°C difference while on Idle load. The Idle load speeds are not what we are concerned with.
Overclocked CPU (CPU cooler specific)
| | | |
| --- | --- | --- |
|  Core i5 750 @ 3.8 GHz | Idle | Load |
| CoolerMaster Hyper 212+ 3.6GHz | 32°C | 58°C |
| Prolima Mega Shadow 3.8GHz | 32°C | 60°C |
With the temperature limitation of 60°C on the playing field really shows what these CPU coolers are capable of. The Hyper 212+ manages to hold a 3.6°C overclock on the Core i5 750 CPU. The Mega Shadow gives us an extra 200MHz overclock before hitting the temperature limitation of 60°.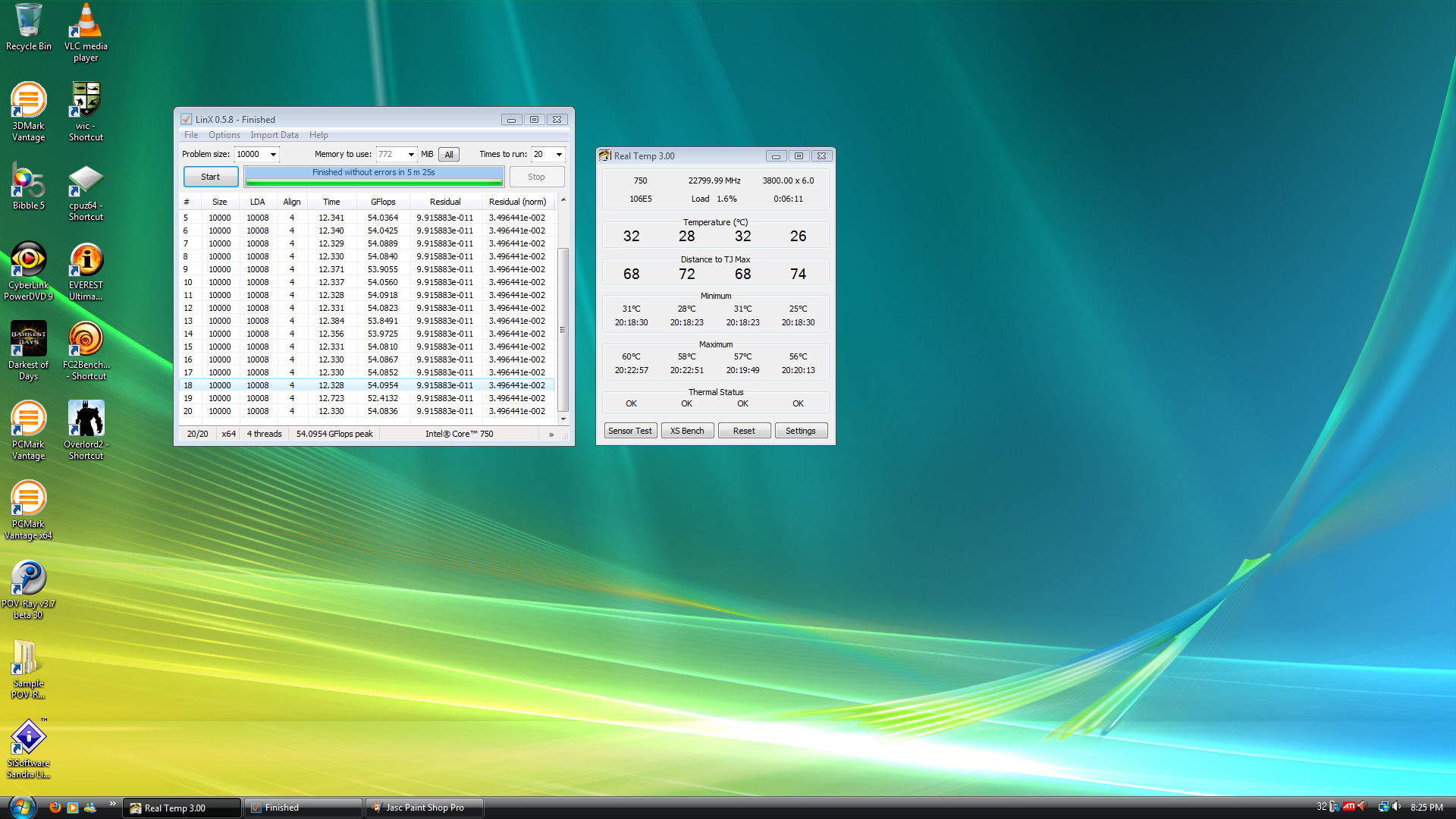 Screen shot of a LinX run while using the Prolima Mega Shadow.
COnclusion
Gaining an extra 200 MHz on a CPU is considered a good gain. The Mega Shadow clearly out performs the Hyper 212+ CPU cooler, but the Mega Shadow does this performance at a cost. A serious cost of 80USD vs the cost of the Hyper 212+ CPU cooler of 35USD. 200MHz gain is not worth the 50USD more for the cost of the Mega Shadow. Then take into consideration the cost of 80USD for the Mega Shadow for an extra 50 or so USD I can put together a far superior cooling solution that will not only beat any old air cooling on the market, but do it with style.
Another thing I have to take into consideration is the " Seriously Over Engineered" mounting system that Prolima has in play to mount this CPU cooler to our computers. By counting up all of the screws, nuts, bolts, and the CPU cooler, we are looking at Nineteen different components to mount a CPU cooler to our CPUs. The more parts you add the more chances that things will go wrong and or parts getting lost. Hence, Murphy's Law " What can go wrong, will go wrong, at the worst possible time."
OUR VERDICT: Prolimatech Mega Shadow
| | |
| --- | --- |
| Performance | 8 |
| Value | 5 |
| Quality | 9 |
| Features | 7 |
| Innovation | 8 |

We are using a new addition to our scoring system to provide additional feedback beyond a flat score. Please note that the final score isn't an aggregate average of the new rating system.

Pro
Cons

Good level of performance

Looks good

 

 

High Price

Seriously Over Engineered Mounting System.

 

 
Summary: Considering I did not know what to expect on overclockability and temperatures of the Core i5 750 CPU The Mega Shadow did perform quite well.