Feser is well known for having one of the best radiators out on the market today, they also happen to be the largest radiators on the planet. Well see how Feser stacks up with their Triebwrek fans.
Introduction
Since water cooling has become more popular amoung us computer users, we need fans that do more then just blow air. These fans need to pull air from the entire surface of facing of the fan (intake). Well we could allways use a radiator fan shroud to help compensate this, but it is just one more thing to purchase, one more thing to add to our radiators to ensure we get the maximum amount of cooling effiency out of our radiators. Another thing to point out, is whats the purpose of going to water cooling if our machines are just as loud as the aircooling we are tring to get rid of.
Feser is a well known manufacturer of some of the largest radiators on the planet, they also very well known for their quality and attention to detail towards their products. This review is not on their radiators, but their Triebwerk 120mm x 55mm fans. These fans are specifically designed to enhance our radiators cooling capabilities, by doming the top of the fan blades too making the fans sit back a bit farther from the far edge of the fan casing to act as a fan shroud, virtually eliminating dead spots that fans have.
The two fans we at Bjorn3D gonna look at are a low RPM fan and a mid range RPM fan, from Feser.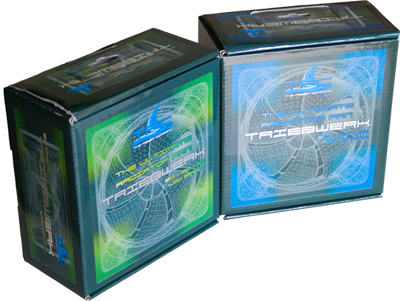 Specifications
| Feature/Specification | TFC Triebwerk 121 | TFC Triebwerk 122 |
| --- | --- | --- |
| Dimension | 120x120x55 mm | 120x120x55 mm |
| Weight | 190 Grams | 190 Grams |
| Rated Voltage | 12 ~ 13.2 Volts | 12 ~ 13.2 Volts |
| Start Voltage | 4.5 Volts | 4.5 Volts |
| Operating Voltage | 4.5 ~ 13.5 Volts | 4.5 ~ 13.5 Volts |
| Input Power | 1.56 Watts | 3.48 Watts |
| Input Current | 0.13 ~ 0.19 Amps | 0.29 ~ 0.51 Amps |
| RPM | 1200 +/- 10% | 1800 +/- 10% |
| Static Pressure | 1.62mm – H20 Max | 3.380 mm – H20 Max |
| Air Flow 1 | 104.7 m3/h Max | 150.2 m3/h Max |
| Air Flow 2 | 61.6 CFM Max | 88.4CFM Max |
| Acoustical Noise | 21 dB(A) | 30 dB(A) |
| MTBF | 100,000 hours | 80,000 hours |
| Operating Temperature | -10°C ~ +70°C | -10°C ~ +70°C |
| Storage temperature | -40°C ~ 70°C | -40°C ~ 70°C |
| Material | PC (Poly Carbonate) | PC (Poly Carbonate) |
| Bearing | Sleeve | Sleeve |
 The specifications reaffirms that these two fans are fairly quiet for the amount of CFM these fans produce. also haveing an excess long life span, these should be worry free for quite a few years.
Packaging
The presentation of the Triebwerk 120mm fans is eye catching. Feser made sure their packaging differs from other manufacturers fans. A quick thought, these boxes are rather huge in size, not so much in length & width, but in thickness.
Both boxes were packaged identically, so no real point in showing each individual fans packaging. Upon opening the boxes, we can tell that Feser went the extra mile in making sure these fanswould not get damaged during transport.
The money shot with both fans, Just looking at the two together you could not tell which one is the low flow fan, and which one is the mid flow fan. As we can see both of these fans come with the same exact thing, I will get a bit more detailed on what each components is.
One fan
One cross over patch cable
One four pin molex power connector
One three pin fan power cable
Two sets of four screws
Feser includes two different types of machine screws, one is a large diameter, the other is a small diameter. Not knowing metric screws to well I cannot give you the exact sizes. This should allow use to mount these fans a lot of different types of radiators, CPU coolers, and chassis.
This is the four pin molex power cable, also there is a fan header so we can monitor the RPMs of that fan.
Now it is time to look over the crossover cable, this is used to tie two of these fans together in series. To minimize the fan power cables into one.
A better image of the cross over power cables connector.
The three pin fan power connector. 
Overview
The Triebwerk fan compared to an normal sized 120mm fan. We thought the 120 x 120 x 38 mm fans were big, they have nothing against the Triebwerk.
Another quick comparison, the Triebwerk fans are indeed 120mm fans.
Looking at the center of the mid speed fan (blue). The fan center has a cone, this is to help allievate any dead spots while in a pull configuration.
Looking at the low speed fan, same design as the mid speed fan (blue).
A quick glance at the back end of the low speed fan (green).
Each of the Treibwerk fans use a metal grill backing, on which the motor of each fan is mounted on.
A quick glance at the mid speed fan (blue). other then the color of the backing cover, we would not be able to tell these two fans apart.
Installation
To hook these fans up to our power sources we choose the power adapter we are going to use then plug that power cable up to the fan. Each Triebwerk fan has two connectors coming from it. One of these connectors will be used to connect to a power source, while the other can be used to daisy chain these fans together.
Since I have two fans here, I felt to hook both of them up together. By giving us this ability we can clean up our chassis interiors by eliminating all them extra fan cables.
Now if you are daisy chaining these fans together, we only need to hook up one fan to a power source.
These fans hooked up on my 4870×2 radiator. Boy these fans are huge, the good thing is we can hook these up to any radiator, just need to be cautious of the amount of hieght we have in our chassis. The radiator shown here is a Swiftech MCR320-QP.
TESTING METHODOLOGY
Test Setup &Testing Methodology
CPU
Intel Core i7 920 C0
Motherboard
MSI X58 Platinum
Case
Case? what Case? Who uses a Case?
Memory
GSkill Trident 2k
Video Card's
XFX 4870X2, HIS 4870
Hard Drives
 2 x Seagate 320 Momentus Raid 0, 1 WD 160 gig
CDRom Drive
Lite On DVD burner Lite On Blue Ray
Power Supply
So Secret I have to Kill ya if i told ya
CPU Speeds Used
3800MHz
Operating System Used
Microsoft Windows Seven 7100 RC1
Type of Software Used During Testing
LinX, Real Temp 2.7
Video Card Cooler

Stock coolers
CPU Cooler

Koolance 340 CPU



To test these fans, I ended up reverting both of my video cards back to their stock aircoolers, and only use the CPU on water. The CPU speed I used was 3.8GHz, no other settings were change during testing. I will use three Rosewill 80CFM fans attached to my radiator, and then change out to the two Feser Triebwerk fans and use a Nanoxia 80 CFM along with these fans. The radiator that is being used for testing is a Swiftech MCR320. I will run each fan set for 24hours prior to testing, to allow the water to settle in properly before proceeding with testing. I ran Linx a total of three times, to make sure my results were consistant. For idle temperatures, I allowed the CPU to idle on the desktop in windows for 45 minutes. The ambient temperature of the room is 21°C.
Results
| | | |
| --- | --- | --- |
|  Core i7 920 @ 3.8 GHz | Idle | Load |
| 3 Rosewill 80CFM fans | 24°C | 54°C |
| Triebwerk 121/122 fans with 80CFM Nanoxia fan | 23°C | 53°C |
I was able to better my temperatures of my CPU by another 1°C. Who ever would have thought a simple thing as a fan can make a difference? Consider these fans are evenly matched to the Rosewill fans as far as CFM out put.
Screen Shot
COnclusions
The Triebwerk fans proved to be a high quality, high performance fan. The unique shape of these fans will provide us with great airflow with out giving us to much noise in return. The most noise I heard from these fans, was from the mid speed fan (blue) and it was more of a whooshing sound, not that whine we hear from fans that are if the 80+ CFM range. The low speed fan (green) was virtually quiet., I think I breath louder then this fan.
Having a price point on or around the 35 USD mark, is a fair price to pay for a high quality low noise fan. Considering their are 120mm fans in the 25 USD mark, that look, and act like every other 120mm fan. The only real con I can see, is the thickness of these fans may give some users limited options on where they can mount these fans on or too.
OUR VERDICT: TRIEBWERK 120mm FANS
| | |
| --- | --- |
| Performance | 8 |
| Value | 9 |
| Quality | 10 |
| Features | 9 |
| Innovation | 9.5 |

We are using a new addition to our scoring system to provide additional feedback beyond a flat score. Please note that the final score isn't an aggregate average of the new rating system.

Pro
Cons

The coned center will help alleviate any dead spots

Good low noise level

Can be daisy chained with other Triebwerk fans

Fits on most radiators and or chassis

The Thickness of the fans may give users limited mounting options

 
Summary: The Triebwerk fans are high performance fans specifically designed to enhance our water cooling needs. And guess what? These fans do exactly that.