OCZ has delivered the goods with their Vertex and Agility Solid State Drives. Lets take a look at how the Agility drive stacks up against the Vertex drive.
Introduction
The competition is heating up with Solid State Drives. Like many computer products it's hard to know what product will fit the bill. With Nand Flash technology and SLC (Single Level Cell) and MCL Multi Level Cell technology combined with a JMicron, Samsung, or Indilinx Barefoot Controller inside the drive how do you know where to go to get the performance you crave with the price you can afford.
Today we're going to take a look at the OCZ Vertex 60GB SSD and the OCZ Agility 128GB SSD. They both sport the highly touted Indilinx Barefoot Controller which, as we've seen, in previous reviews cures the stuttering in the 1st gen SSD's and provides blazing fast speeds. The OCZ Vertex is the Performance line of SSD's and the Agility is the Value (or mainstream) line of SSD's. Since both have the Indilinx controller and the OCZ name behind them they're sure to be smoking fast but where do you want to put your hard earned cash, top of the line Vertex, or Mainstream Agility. Since they both have the same controller and use Nand Flash MLC technology it's sure to be an interesting benchmarking session.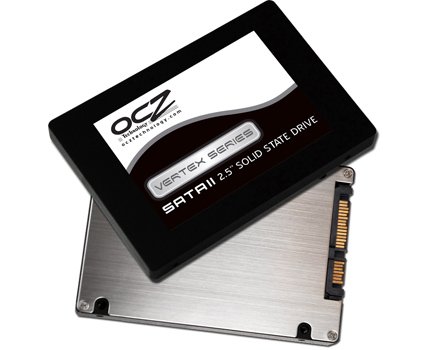 OCZ Vertex 60GB
The Verex Series line sports a distinctive black sticker and brushed Aluminum back plate, you can't tell me that just the beauty shot alone doesn't make your mouth water.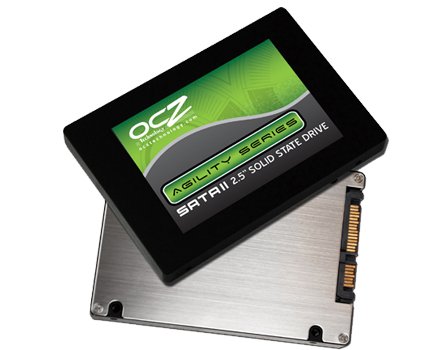 OCZ Agility 128GB
The Agility line has a sporty green sticker and the same brushed Aluminum back plate as the Vertex line. Remove the stickers and these two drives could be twins. What we're here to find out is if they twin in performance.
Specifications OCZ Vertex 60 GB
Available in 30GB (32), 60GB (64), 120GB (128), 250GB (256) capacities
64MB Onboard Cache
Seek Time: <.1ms
Slim 2.5″ Design
99.8 x 69.63 x 9.3mm
Lightweight 77g
Operating Temp: 0C ~ 70C
Storage Temp: -45C ~ +85C
Low Power Consumption: 2W in operation, .5W in stand by
Shock Resistant 1500G
RAID Support
MTBF 1.5 million hours
3 year warranty
Read: Up to 230 MB/s*
Write: Up to 135MB/s*
Sustained Write: Up to 70MB/s*
* applies to 30 and 60GB models the 120 and 250GB models run faster
Offering a blazing fast 230MB/s Read (Max) and Write speeds up to 135MB/s (Max sustained speed is 70MB/s Write) the Vertex 60GB SSD provides incredible speed and the reliability of SSD technology. The Average Time Before Failure on these beasts is 1.5 Million hours and with no moving parts to make noise or wear out your sure to get a good number of years of service out of the Vertex.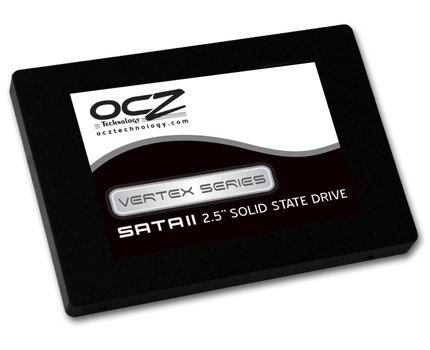 Specifications OCZ Agility 128GB
Available in 30GB (32), 60GB (64), 120GB (128) capacities
64MB Onboard Cache
Seek Time: <.1ms
Slim 2.5″ Design
99.8 x 69.63 x 9.3mm
Lightweight 77g
Operating Temp: 0C ~ 70C
Storage Temp: -45C ~ +85C
Low Power Consumption: 2W in operation, .5W in stand by
Shock Resistant 1500G
RAID Support
MTBF 1.5 million hours
3 year warranty
Read: Up to 230 MB/s*
Write: Up to 135MB/s*
Sustained Write: Up to 80MB/s*
* applies to the 60and 120GB models the 30GB model runs slower
Perfect for notebooks and desktop users that crave higher performance from their rigs SSD's offer a solution to what has been a major bottleneck in computing for years. We've tried Software and Hardware RAID solutions of up to 8 high speed Sas drives and still a single SSD rivals the performance of high end Hardware Raid and 10k RPM Sas drives. SSD's offer the lightning fast performance of high end RAID systems without the RAID failure rate so many have experienced. They also provide a lot of consistency in speed across the board which we've never seen from any RAID setup.
Now the more astute among you who don't just skim over the specs page before moving on to the pretty pictures will have noticed that the specs on the Performance Vertex are lower than the Specs on the Agility. OCZ has Vertex drives (Larger capacity) that offer faster specs. The Vertex 30 and 60GB use the specs we listed but the larger drives have higher specs. The Agility Mainstream drives have the same hierarchical setup, the Agility 128 is the top of line Mainstream drive (Actually OCZ has them listed as Mainstream/Performance but the price reflects Mainstream) and has faster specs than the 30 and 60GB.
A lot of you are scratching your head and thinking "Why is this guy ranting about that?" Well after a couple of decades in the computer field we have a highly technical term for a piece of equipment that's classed as Mainstream or Value that has specs that overlap performance specs. We call it the "Sweet Spot", for those of you that have trouble with the highly technical Sweet Spot, think Booyaa, bingo, the shizzle, of if you happen to be a little older, "The bees knees".
We, of course, realize that some people will insist on the absolute best performance no matter the cost but believe the majority of end users prefer to shop for good value when it comes to price performance. So we're showing you both the performance line and mainstream line so you can make a better decision.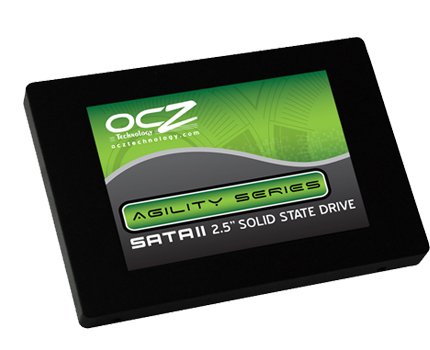 The OCZ Lineup of SSD's
Summit Series – MLC based (128Mb cache). Business professionals, enthusiasts and entry-level enterprise
Vertex EX series – SLC based (64Mb cache). High-end/Performance
Vertex Series – MLC based (64Mb cache). Performance users and enthusiast.
Apex Series – MLC based (no cache) with Internal RAID 0 – Mainstream and performance
Agility Series – MLC based (64Mb cache). Mainstream and performance
Core Series V2 – MLC based (no cache) with mini USB. Mainstream.
OCZ SSD SATA-II – SLC based (no cache). Entry level
Solid Series – MLC based (no cache). Value
Notice the Vertex line is listed as Performance and Enthusiast, and the Agility line is listed as Mainstream and Performance. We're looking at the overlap portion of the Vertex/Agility lineup today to see if that highly technical "Sweet Spot" where the performance might overlap really exists.
Vertex 60GB Pictures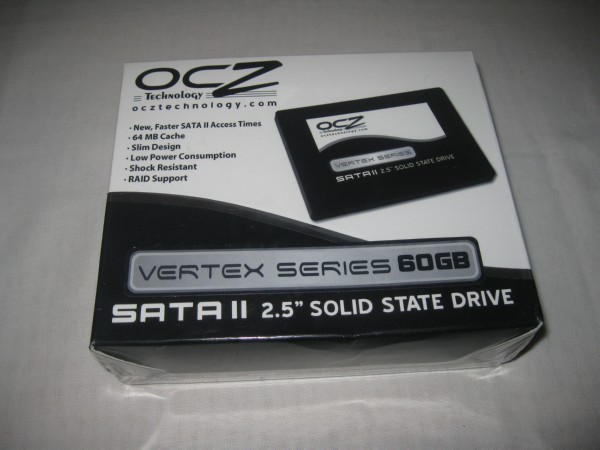 The Vertex 60GB drive we received came well packed in a fairly plain black and white box. It has plenty of information and specification to help inform the consumer about it's purchase.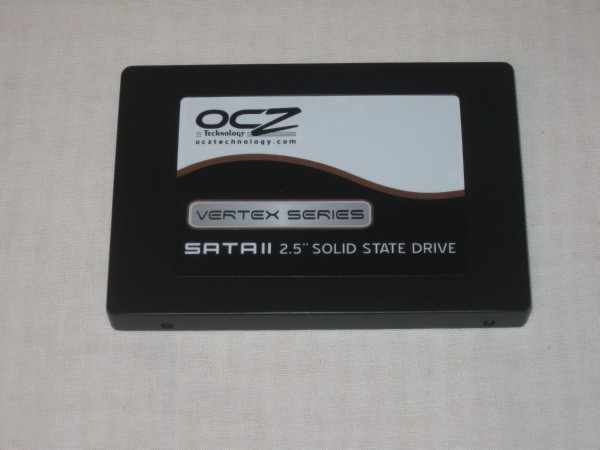 The OCZ Vertex like most drives is geared more for performance hidden inside the rig than flashy graphics.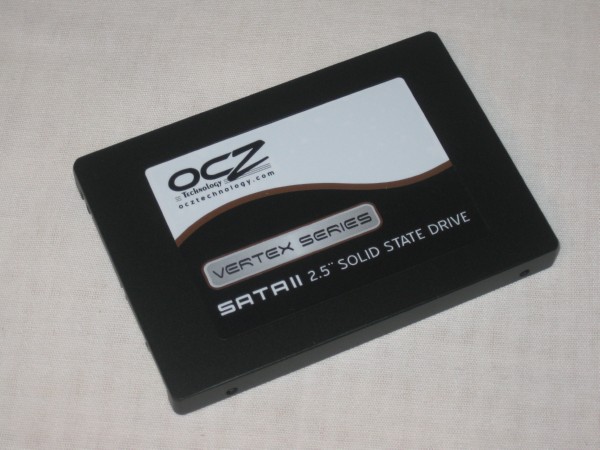 THe drive gives off a more business like look than insane computer enthusiast look but since most hard drives are hidden deep within systems we don't think that will be a show stopper.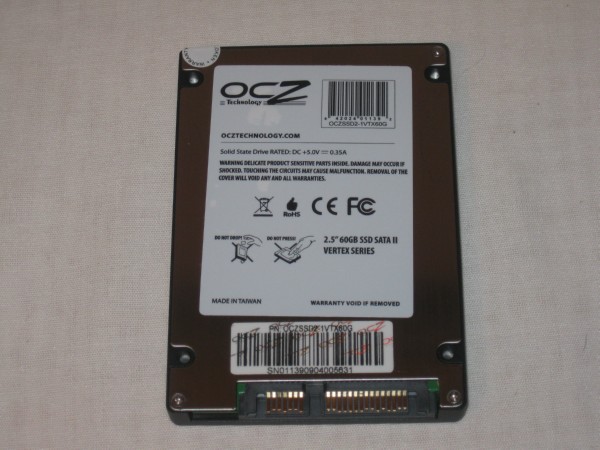 The back plate is a brushed aluminum and has the SSD's specifications. Each drive has a serial number on the holographic sticker and uses a standard Sata 1 or 2 interface.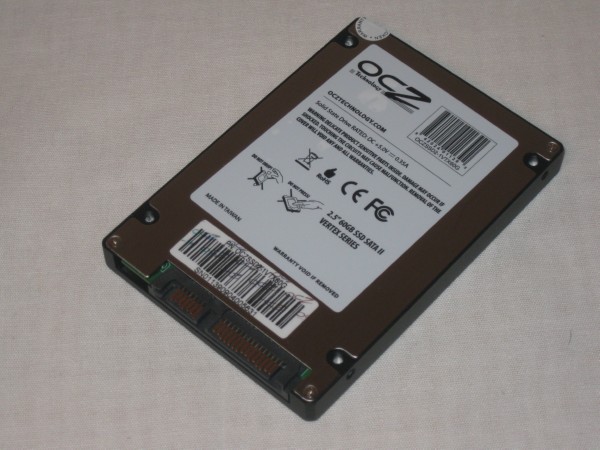 SInce the Vertex uses a standard Sata interface you won't have to worry about having any special hardware to hook up the SSD, most fairly modern computers have the correct interface.
OCZ Agility 120GB SSD Pictures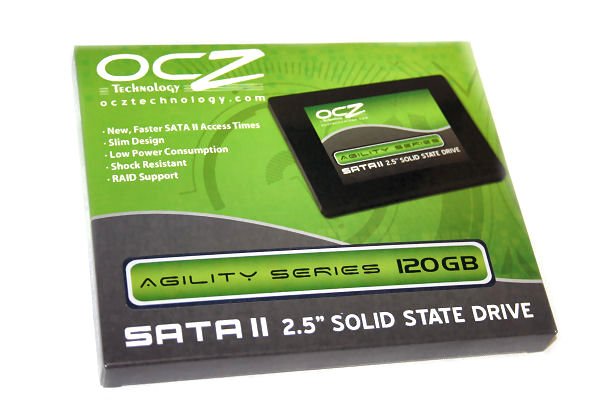 The Agility 128GB SSD came in a green and black box that had plenty of padding inside to protect the drive.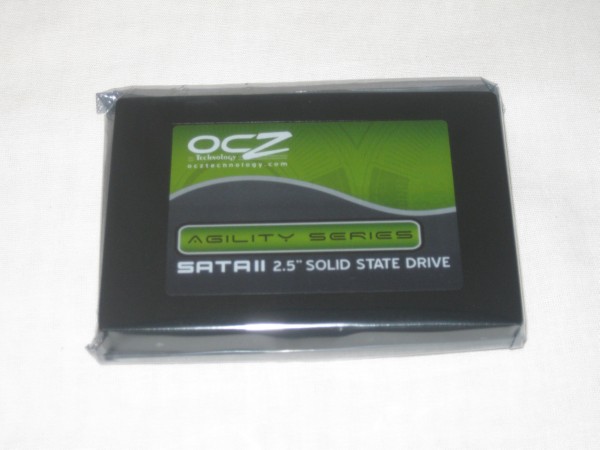 Inside the box the drive is protected by an anti-static bag and arrived in pristine condition.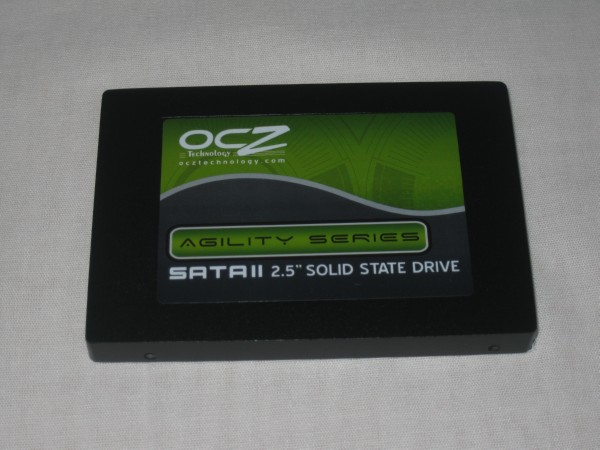 The Agility itself has a green sticker and once again no flashy graphics that might scare off serious business types looking to upgrade the office rigs.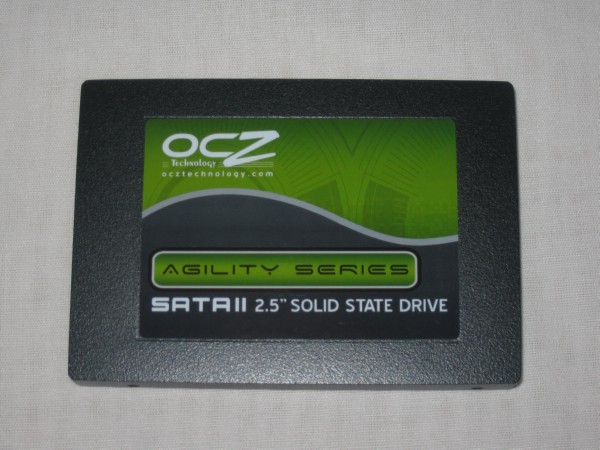 We still can't help but think the SSD's we;ve seen could use an optional gamers sticker with some flashy graphic of a creature being blown away by a majestic hero.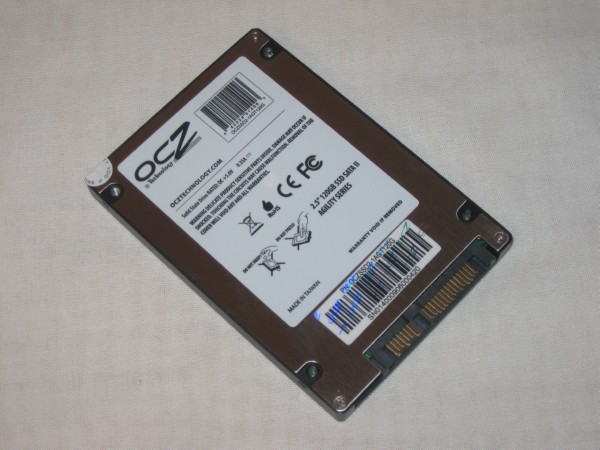 The back plate is brushed aluminum and has the same standard Sata interface we saw on the Vertex drive.
TESTING & METHODOLOGY
We took our OS clone drive, the same operating system load we use to test all of our drives, and cloned it to the Vertex and Agility drives. Yes, we have a copy of the exact Operating System load we used for testing all our hard drives. While a lot of sites claim to do a fresh load of Vista 64 for each review, we decided that it would be better to install and update the OS onto a hard drive, install all the latest drivers and patches, and make clone copies of it as needed. Even a fresh load has subtle differences. A clone is an exact copy of the original with the same files same and same nuances, and is just a more level playing field for the drive tests. For that matter, it's the same OS load we use for all our testing on QuadZilla. We just keep the drive we clone from updated as new updates become available, and we can have a fresh load exact copy in about 20 minutes using Acronis.
We ran our usual battery of tests on the drive, and used it as the primary boot drive during testing. All of the drives tested were used as the primary boot drive during testing. That's a more realistic test than strapping the drive in and testing it with a bare format or as a non-boot drive and it represents real life transfer rates, much like you can expect when you install and operate the drive in your own system. Each test was performed 3 times and the average of the 3 test run is reported here.
Test Rig
Test Rig
"Quadzilla"
Case Type
Top Deck Testing Station
CPU
Intel Core I7 965 Extreme (3.74 GHz 1.2975 Vcore)
Motherboard
Asus P6T6 (SLI and CrossFire on Demand)
Ram
Corsair Dominator (9-9-9-24 1.5v) 6GB Kit
CPU Cooler
Thermalright Ultra 120 RT (Dual 120mm Fans)
Hard Drives

OCZ Vertex 60GB
OCZ Agility 128GB
Seagate Barracuda LP 2TB
SuperTalent UltraDrive (FTM28GX25H) 128 GB
G.Skill Titan 256 GB SSD (FM-25S2S-256GBT1)
Patriot 128GB Warp SSD
Intel 80 GB SSD X25-M
G.Skill 64GB SSD (FM-25S25-64GB)
2 WD VelociRaptor's 300GB (In single and Raid0)
WD 160 GB SATA 2
Maxtor 160 GB SATA 2
WD & Maxtor in Raid 0

Optical
Sony DVD R/W
GPU
BFG GTX-260 MaxCore Drivers 185.85
Case Fans
120mm Fan cooling the mosfet CPU area
Docking Stations
None
Testing PSU
Thermaltake Toughpower 1200 Watt
Legacy
None
Mouse
Razer Lachesis
Keyboard
Razer Lycosa
Gaming Ear Buds

Razer Moray
Speakers
None
Any Attempt Copy This System Configuration May Lead to Bankruptcy
Test Suite
Benchmarks
ATTO
HDTach
Crystal DiskMark
HD Tune Pro
ATTO
Keep in mind that the Vertex 60GB is from the Enthusiast/Performance category and would lean more toward the Performance end. Then the Agility is from the Mainstream/Performance category and leans more to the performance end. If purchasing the Vertex or Agility series it pays to read the specifications closely. If you buy a Vertex 250 or 120GB drive they have higher specs and fall in the Enthusiast range, they also sport a higher price. If you buy a 30 or 60GB Agility they have lower specs than the 120GB Agility and fall closer to the Mainstream drives than performance. Yes it's a little confusing but if you remember that the higher capacity drives in the two series run faster it's not to bad.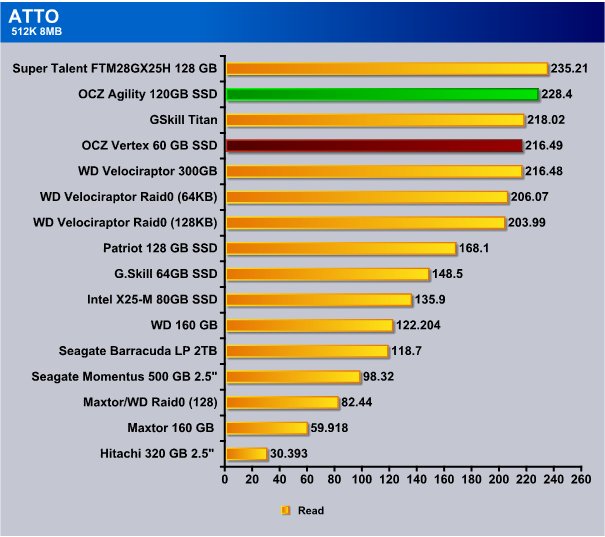 Coming out of the gate the Agility 120GB drive took a slight lead over the Vertex but we suspect it's going to be a back and forth fight between these two lightning fast drives. Coming in at speeds in excess of 200MB/s in the Atto 512K 8MB test both drives perform very well and we would have no complaints on performance.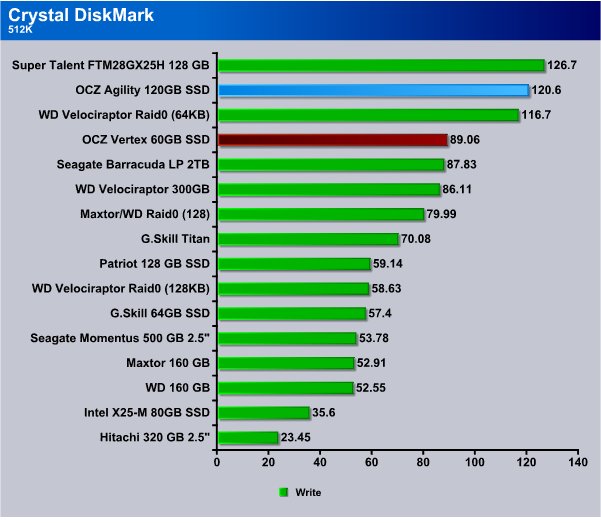 The Agility comes out on top in the ATTO 512K 8MB Write test by quite a margin, 30MB/s is a substantial lead over the Vertex drive. As we saw earlier the Agility actually has a higher specification for write speeds. Both drives have exceeded the listed specification for sustained write but the Agility really shines in this test.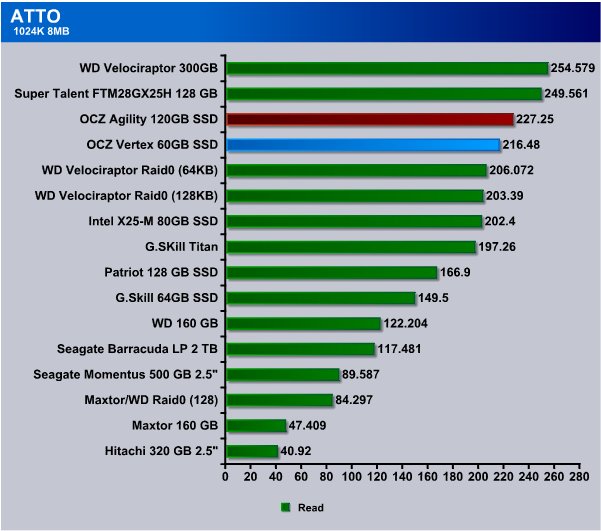 Performance of both drives was much closer in the ATTO 1024K 8MB read test, the Agility comes in about 11MB/s faster but both drives are still above 200MB/s. They come in the 2nd and 3rd in the SSD category only topped by the SuperTalent 128GB SSD which has the same Indilinx Barefoot controller as the Vertex and Agility.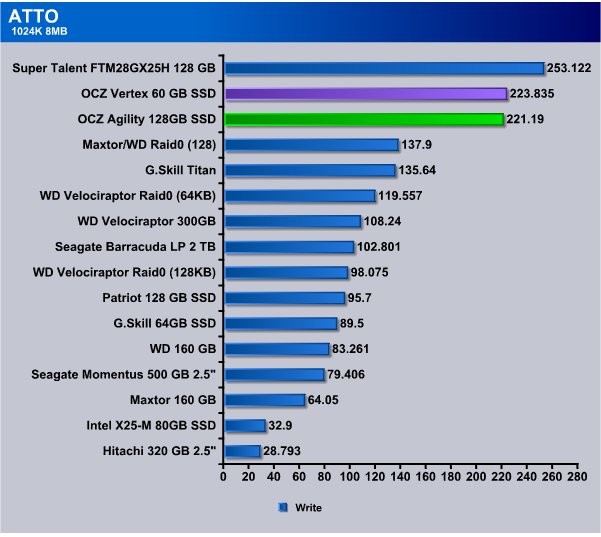 We got lightning fast writes off both the Agility and Vertex drives in the 1024K 8MB test in ATTO so we might be looking at a cache hit write in this one. You can also see the SuperTalent drive which not only has the same controller but the same amount of drive cache (64MB) also hit blazing speeds.
Crystal DiskMark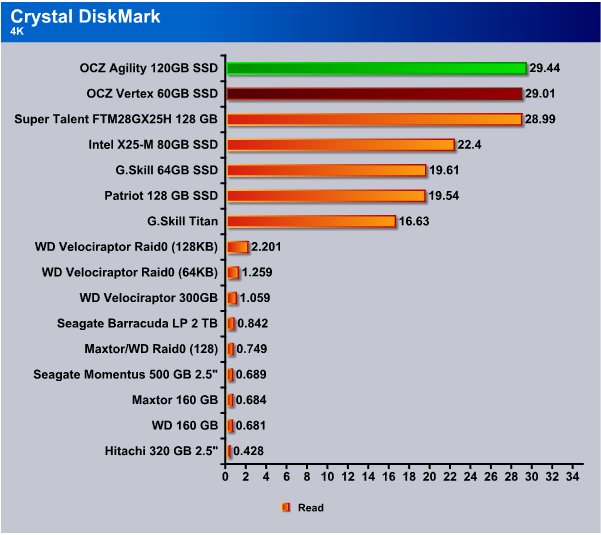 The 4K tests in Crystal DiskMark are frankly brutal on drives, the program reads or writes a long series of 4K files to or from the drive continuously. The constant process of accessing and reading and writing slows the drives down about as much as you will ever see. In the 4K Read test the Two OCZ drives top the chart with the Agility again taking a slight lead. Notice the traditional platter drives running from under .5MB/s to 2.2MB/s then look at the SSD's and they run from 16.6MB/s to a blazing 29.44MB/s and you can easily see that SSD technology is far superior in short writes than platter technology.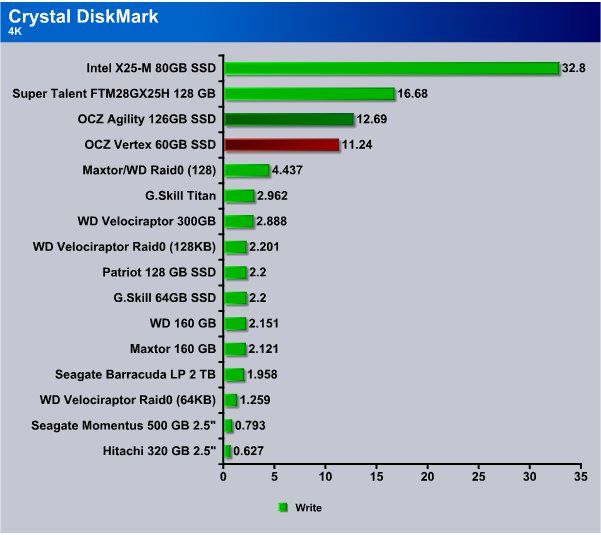 The 4K Write test sees the two OCZ drives slowing down a little but still outperforming the platter drives by by a serious margin. The Agility 120GB SSD took a 1.45MB/s lead over the Vertex in this test. Both would still be considered extremely fast by today's standards.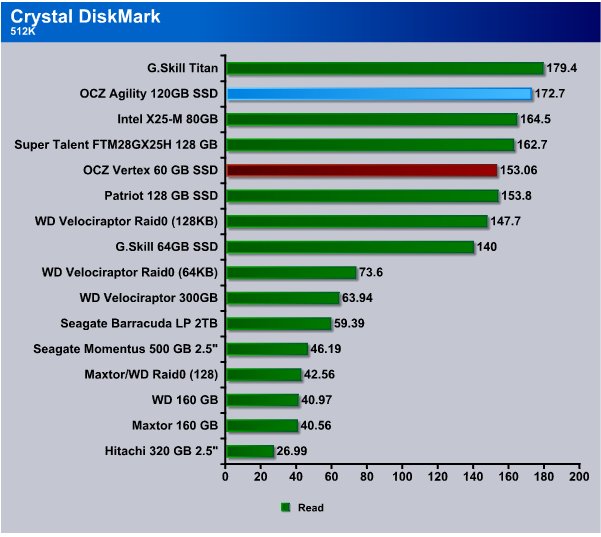 The Agility 120GB SSD took a pretty good lead over the Vertex in the 512K Read test, it out ran the Vertex by more than 19MB/s and the highly technical "Sweet Spot" is looking more real all the time.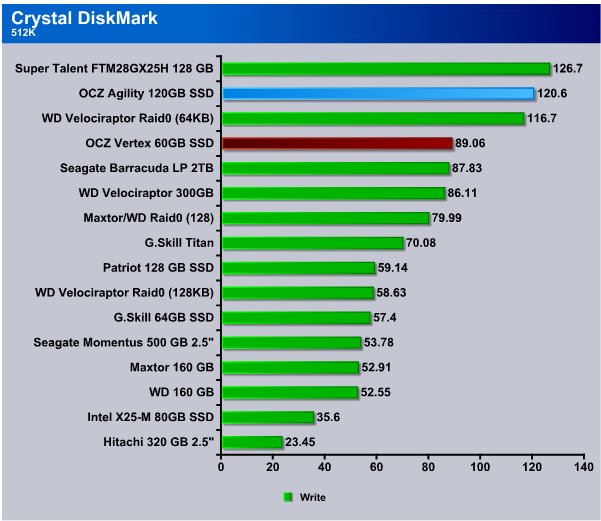 As we progress into testing it looks like the Agility has an advantage when it comes to Writes and goes well over 100MB/s while the Vertex 60GB model hovers around 90MB/s. Running at 90MB/s is still well above it's rated 70MB/s sustained write speed but credit where credit is due the Agility beats it by more than 30MB/s in this test.
The Crystal DiskMark Sequential tests is good for testing the sustained read and write capabilities of a drive. Write speeds are a little deceptive and writing from an external device like a USB drive or Optical drive the speed is limited by the external device not the hard drive. What we generally test is HD to HD writes to show the absolute best attainable speeds of the drives. Reads generally happen from the HD so this is a good indicator of how they perform with data already stored on the HD. The Agility comes in at 36MB/s faster than the Vertex and both are still above 200MB/s which by current standards is lightning fast.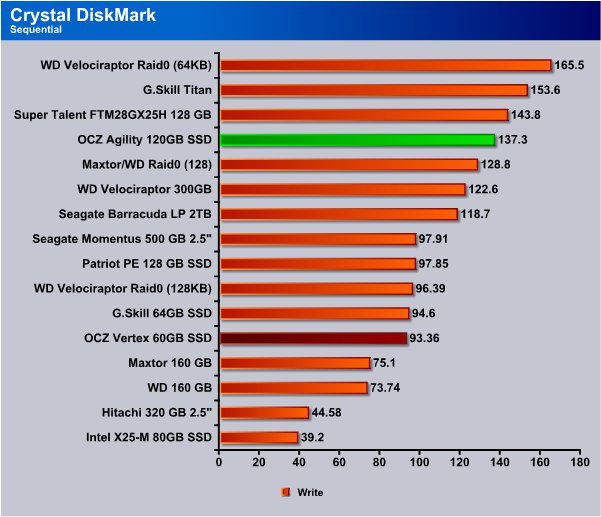 Sustained Write testing in Crystal DiskMark shows the Agility 120GB coming in well ahead of the Vertex 60GB and the Agility topped the Vertex by 44MB/s so the Agility is looking like it has superior write speeds. Keep in mind though the Vertex is still well above the rated specifications so it's no slouch.
HDTach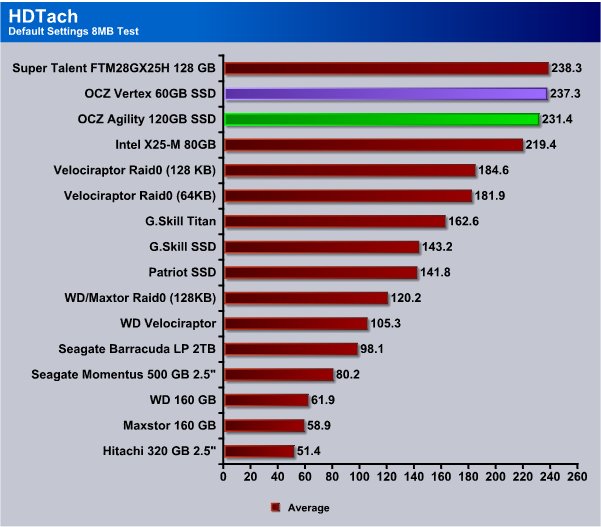 HDTach shows both the Vertex and Agility drives scoring well, 230MB/s isn't a speed you should complain about and in this case the Vertex managed to best the Agility.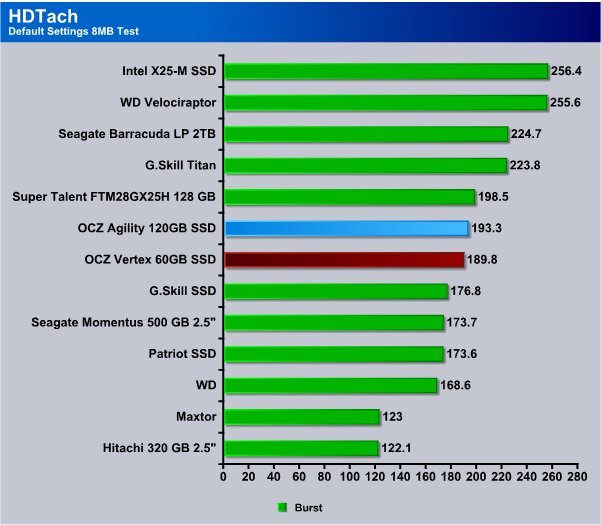 In the HDTach burst test most SSD's drop some speed, we would suspect that the 64MB cache on the drives isn't as fast as the Nand flash used for the storage space. We don't put much stock in burst speeds anyway, most of the time burst speeds are only the data in the drives cache and don't represent the capabilities of the drive for sustained use.
HD Tune Pro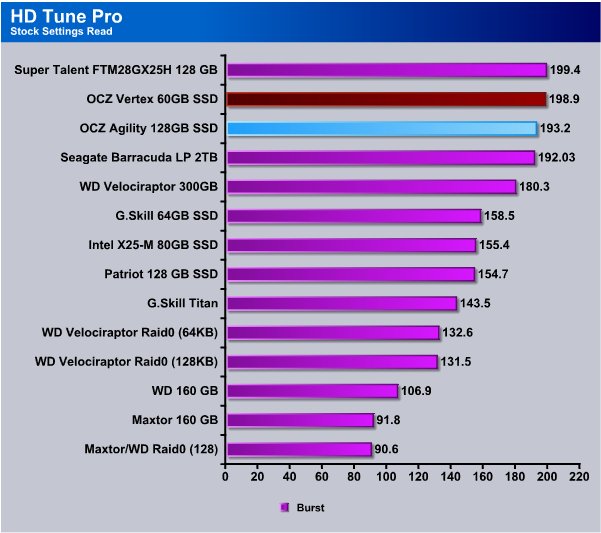 HDTune Pro burst test is a little kinder to the SSD's but like we mentioned we don't put much stock in momentary burst speeds that might help you for a fraction of a second before the cache reads new data.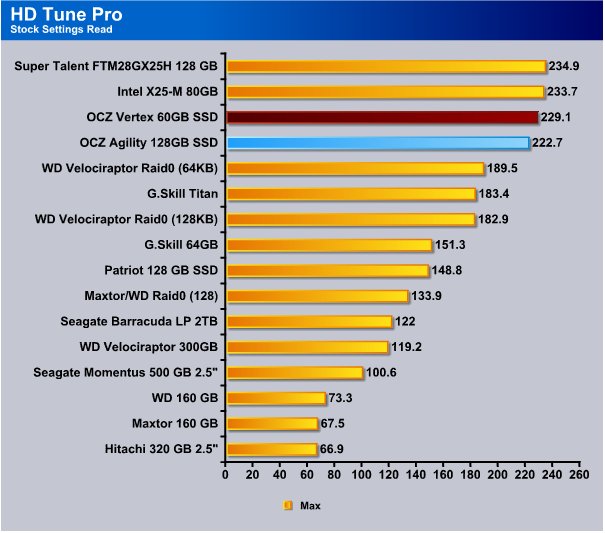 The Maximum speed test in HD Tune Pro shows both the Vertex and Agility way up there on the chart again. Notice the consistency of the drives. As you'll see on the next chart speed variance between maximum and minimum only spans about 30MB/s and that's what we like about SSD's, consistent performance across a range of performance conditions.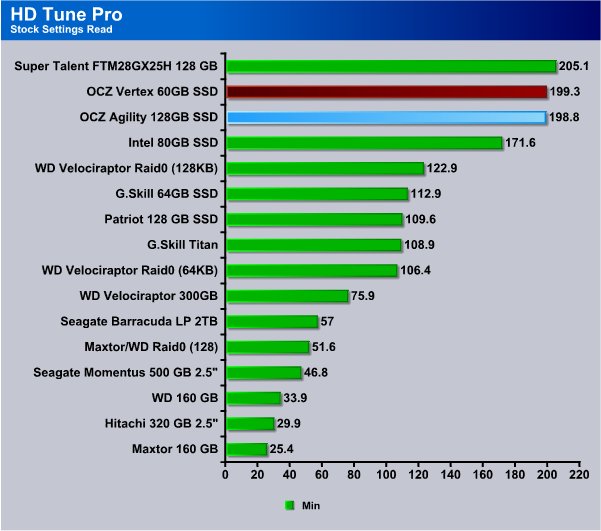 Minimum speeds on both drive were in the 199MB/s range and that's pretty fast for a minimum speed reading. SSD's don't suffer from slowing down at the end of a platter like traditional platter drives.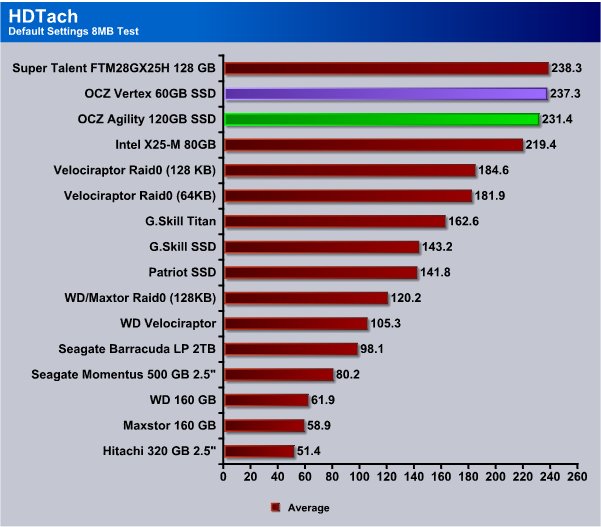 The average speed on a drive is a god indicator of real life performance, on the benchmarking programs we get to see how the drive operated from moment to moment, the max read and minimum read speeds happened for a fraction of a second and the rest of the time performance was level and steady. Both the Vertex and Agility hit 230MB/s average speed and that tops the VelociRaptor Raid 0 arrays we tested. Beating VelociRaptor RAID with single drive operation is pretty impressive.
CONCLUSION
Both the OCZ Vertex and Agility drives are lightning fast and we are impressed that they remain close to the top of the charts in testing. Both of the drives use the Indilinx Barefoot controller and we've seen that it's one of the fastest controllers out there. A fast controller combined with fast Nand Flash is a hard combination to beat.
We tested for drive stutter and lag and with the newer Indilinx controller we didn't see any evidence of lag or stutter in any of our testing. One of the areas we saw stutter in previous generations of JMicron controllers was during instant messaging which often required dual writes to write the text then writes it to a log. We instant messaged for hours using the drives and the annoying lag from older drives just didn't exist. That's a good indication that SSD technology is coming of age.
OCZ made a good choice in the Indilinx controller and did a fine job with both the Agility and Vertex drives. It's still going to be some time before SSD's mainstream and prices on them drop but the early promise SSD technology offers in increased speed and reliability and makes them a fundamental step in advancing computer technology to the next level.
Price wise the Vertex 60GB runs in the $200 range and the Agility 128GB runs in the $350 range. The Vertex 60GB is the performance portion of the Vertex lineup but they have larger more expensive Vertex drives that run faster. The Agility 128GB is the performance drive of the Agility lineup and offers great performance and costs a little less than comparable size Vertex Drives. The smaller capacity Agility drives have lower specifications so you need to read the specs carefully before selecting your drive.
Both drives are a good choice for those that demand top end performance or just want to revitalize an older machine without having to upgrade the whole computer.
OCZ Vertex 60GB
We are using a new addition to our scoring system to provide additional feedback beyond a flat score. Please note that the final score isn't an aggregate average of the new rating system.
Performance 8
Value 7
Quality 10
Warranty 9
Features 8
Innovation 8
Pros:
+  Good Performance
+  Low Power Consumption
+  Great Transfer Speeds
+  No Moving Parts
+  Reliability
+  OCZ Name And Quality Behind It
Cons:
–  Expensive Per GB Cost
The Vertex lineup is a little expensive but top end equipment is always more expensive so for the great performance and fast transfer speeds the OCZ Vertex 60Gb earns an: 8 out of 10 and the Bjorn3D Seal Of Approval!

OCZ Agility 128GB
We are using a new addition to our scoring system to provide additional feedback beyond a flat score. Please note that the final score isn't an aggregate average of the new rating system.
Performance 8
Value 8
Quality 10
Warranty 8
Features 8
Innovation 8
Pros:
+  Good Performance
+  Low Power Consumption
+  Slightly Lower Per GB Cost Than the Vertex Line
+  Performance Rivals Higher Classed Drives
+  Reliability
+  OCZ Name And Quality Behind It
Cons:
–  SSD Costs Are Still Higher Than Platter Drives
The OCZ Agility 128GB SSD rivaled the performance of the Vertex drive and provides a better Cost per GB ratio, with it's lightning fast speed and lower cost it deserves an: 8.5 out of 10 and the Bjorn3D Seal Of Approval!