Recently we were invited to a Gigabyte, Intel, Kingston Lynnfield demo meeting in California. We have seen nirvana and it was good. Join us in a sneak peek.
Gigabyte, Intel, Kingston Lynnfield Core i5/i7 Demo
We recently made a meeting in California for the Gigabyte, Intel, Kingston Lynnfield Core i5/i7 demo on Gigabyte boards with Kingston HyperX. We have to tell you we've seen Nirvana and it was good. Imagine a room full of some of the industries leading people and having hours on end to pick their brains. Sheer nerd Nirvana.
With all the brain picking and idea bouncing going on we still had time to see some boards, get a peek at i5/i7 demonstration, look at the Kingston HyperX lineup for i5/i7, and spent copious time attending our drool towels.
Lets start with a look at some of the power players in the field.
Click Image For a Larger One
The event was sponsored by Gigabyte and Angela Lan did the opening statement she's one of the primary public relations contacts for Gigabyte.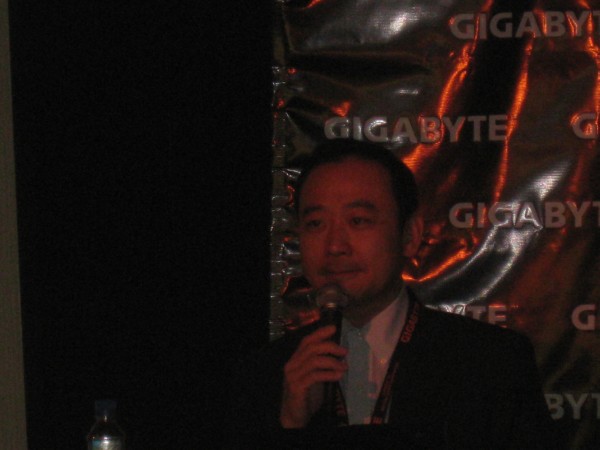 Click Image For a Larger One
Next up to bat was the Vice President of Gigabyte, Tony Liao.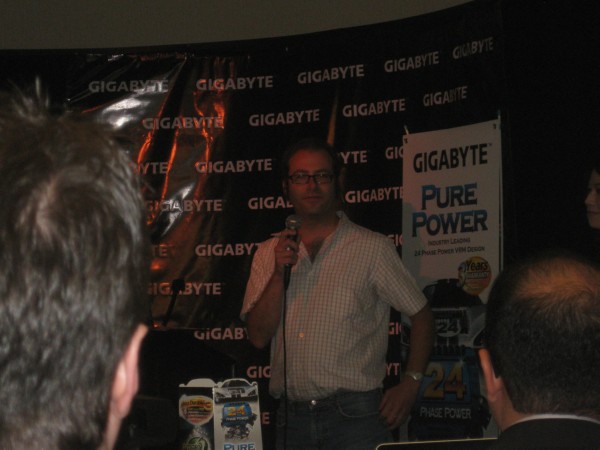 Click Image For a Larger One
We were really happy to meet with Dan Snyder from Intel and by a weird quirk of coincidence ended up riding from LAX to the meeting with the Intel guys. We can't release details but lets just say that was one interesting ride.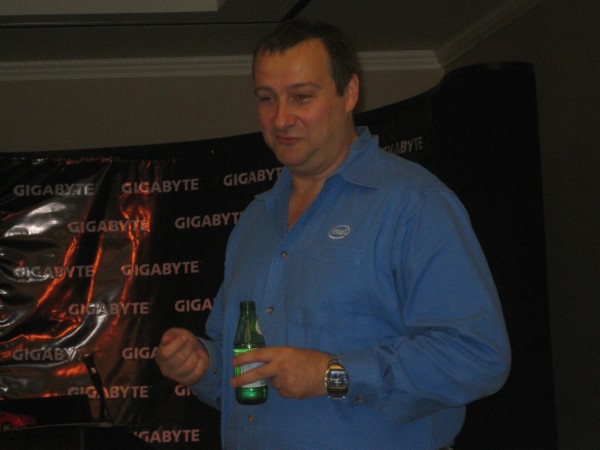 Click Image For a Larger One
Then we heard a few words from the Intel benchmarking Guru Francois Piednoel. Honestly this guy cuts his finger and Super Pi benchmarks drip out. When we spoke with Francois about the finer technical points of LGA 1156 i5/i7 he knew every answer immediately and could expand the question into areas we hadn't even suspected. We offered a first born child to spend a day with him in his benchmarking lab but ended up with a benchmark load disk instead.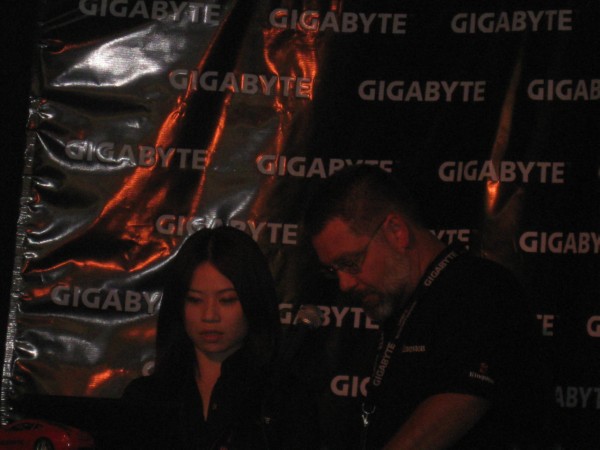 Click Image For a Larger One
Then Angela introduced one of our favorite brands of ram representative Mark Tekunoff, Kingstons' benchmarking/overclocking Guru. Again we can't really give details but lets say that we saw ram running on the north side of 2GHz. Just how far North, let's say Eskimo's would have been cold.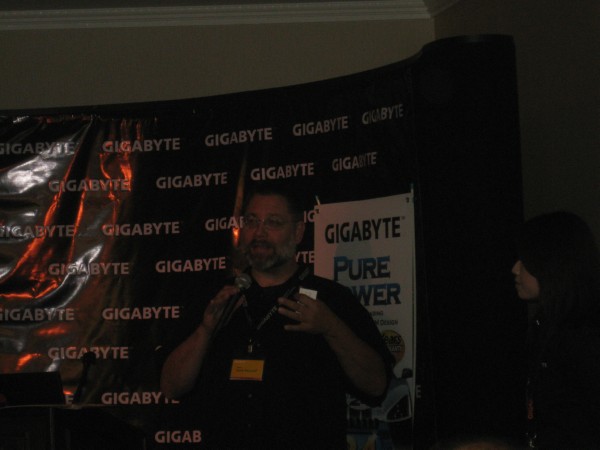 Click Image For a Larger One
When Mark actually got into his turn to impress us you could tell he really loves his job and frankly it shows. Did we mention that the man can throw down on some serious overclocking.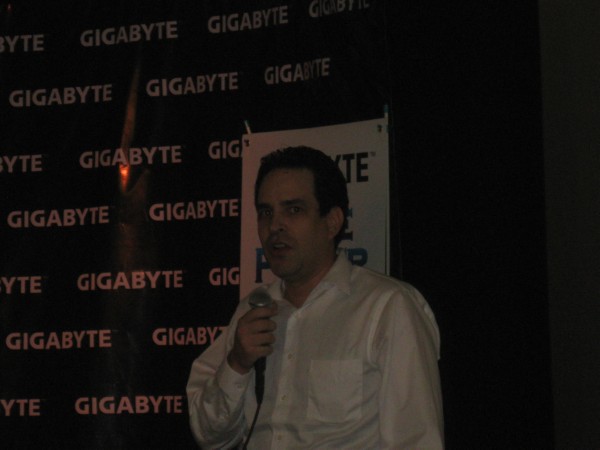 Click Image For a Larger One
The we have a quasi celebrity in the nerd world, Fugger made the scene with his phase change cooling system and we got to see some serious i5/i7 overclocking.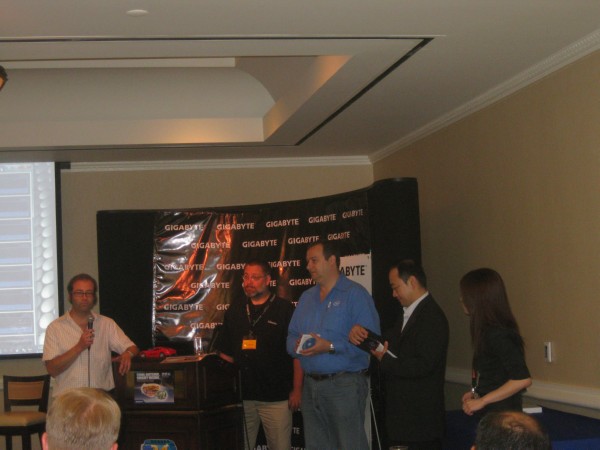 Click Image For a Larger One
Then here's the power group shot, left to right, Dan Snyder from Intel, Mark Tekunoff from Kingston, Francois Piednoel from Intel, Tony Liao VP of Gigabyte, and Angela Lan our Gigabyte parts angel.
Ready to see some serious GIgabyte P55 Lynnfield offerings?
Gigabyte P55 Boards
We can't release details about the Gigabyte P55 lineup but we can show you the boards and mention a few key features. Within the next month you'll be seeing a great selection of Gigabyte boards being reviewed.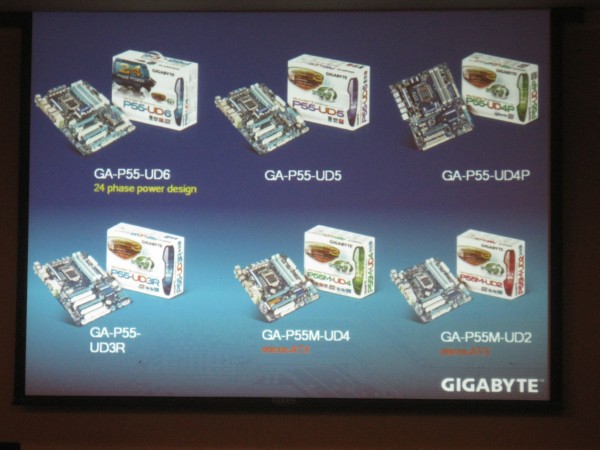 Click Image For a Larger One
Gigabyte has six boards in the pipes and all are ready for production level distribution. Notice the GA-P55-UD6 with 24 phase power. The GA-P55-UD6 is the flagship board and with true 24 phase power it's sure to be a great overclocker. We saw the UD6 in operation so we know what it's capable of and with the right cooling the CPU is going to be the limitation on clocking ability because it will drive the CPU as hard as it will go easily.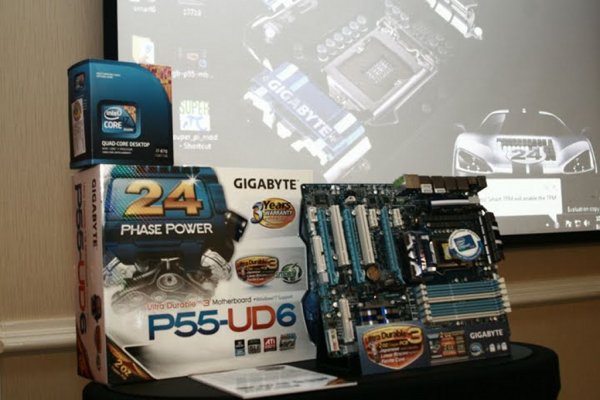 Click Image For a Larger One
The production board will have 24 physical VRM's and Ferrite chokes to provide so this isn't going to be 24 phase virtual, it's 24 phase physical. With 24 Phase power less power is regulated across more VRM's and chokes and will result in lower VRM and choke temperature. Combine that with Cool Stack 3 and the 2oz copper PCB and your looking at a cool running overclocking masterpiece. Not to worry we have been assured that two of the P55 lineup are setting in shipping at Gigabyte and should head this way on Monday. Included in that care package is the GA-P55-UD6 flagship board which we are going to pair up with some Kingston HyperX and one of the LGA 1156 i5/i7 CPU's we have on hand. We're betting 4GHz on air cooling and hoping for more.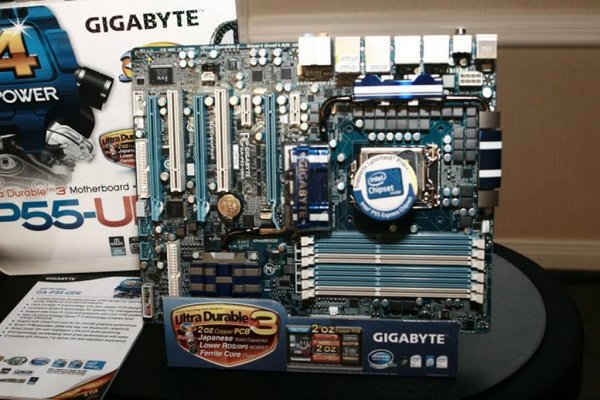 Click Image For a Larger One
For those wanting a better look at the flagship UD6 board here's a good beauty shot you can click on to enlarge. Notice the large cluster of Ferrite chokes in the CPU area, if you count those you'll find 24 Ferrite chokes serving 24 VRM's and true 24 phase power.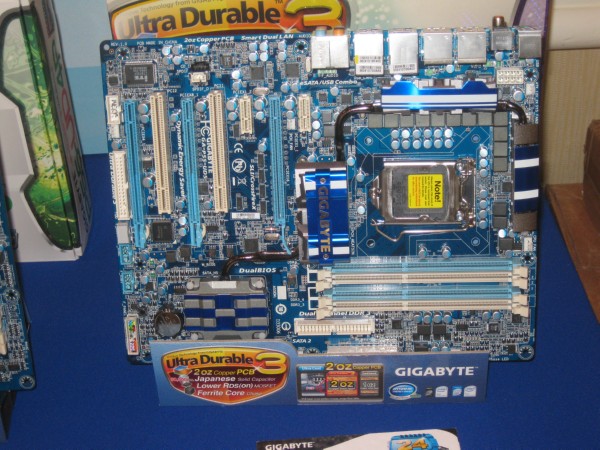 Click Image For a Larger One
Next in the lineup we got a glimpse of the GA-P55-UD5, generally the Gigabyte naming scheme will run GA-P55-UDX and the higher the number in the X position the board will be a higher level board with more overclocking potential or more features or both. Notice the race car inspired design of the heatsinks on the whole P55 lineup which we spotted on an earlier preview of one of the Giga boards. The race car inspired design has been carried through on all the P55 lineup so far.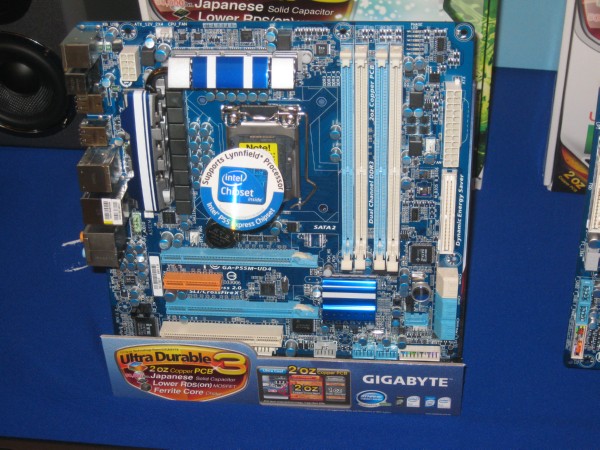 Click Image For a Larger One
Next in the lineup is the GA-P55M-UD4, notice the P55M portion of the name, Gigabyte is offering two initial Micro-ATX boards in the P55 lineup and the "M" designates this board as the Micro-ATM type.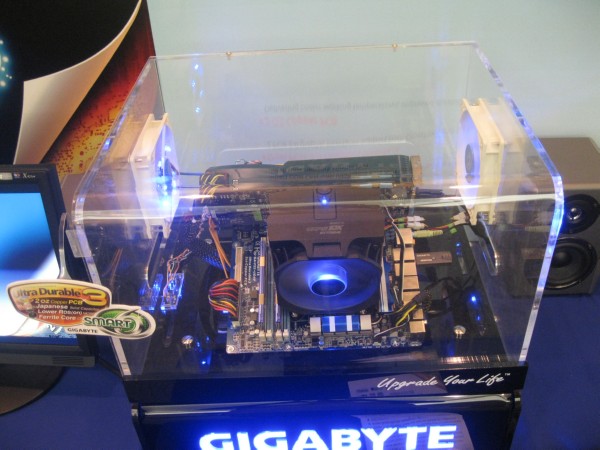 Click Image For a Larger One
Here's a shot of the GA-P55M-UD4 up and running, Gigabyte had all the available boards running in Plexiglas stations and these are full production, consumer release ready boards.
Click Image For a Larger One
Gigabyte is also offering an ATX GA-P55-UD4 so if your looking at the UD4 lineup you have your choice of Micro-ATX or ATX.
We've shown the 4 upper end boards that were on display at the Lynnfield meeting but if you leave now you'll miss some of the more interesting things we saw at the meeting so we recommend moving on to the odds and ends page.
Odds & Ends
At any good live demonstration you'll get a glimpse at new products, technologies on the fringe of cutting edge and cooling solutions you don't often get up close and personal with.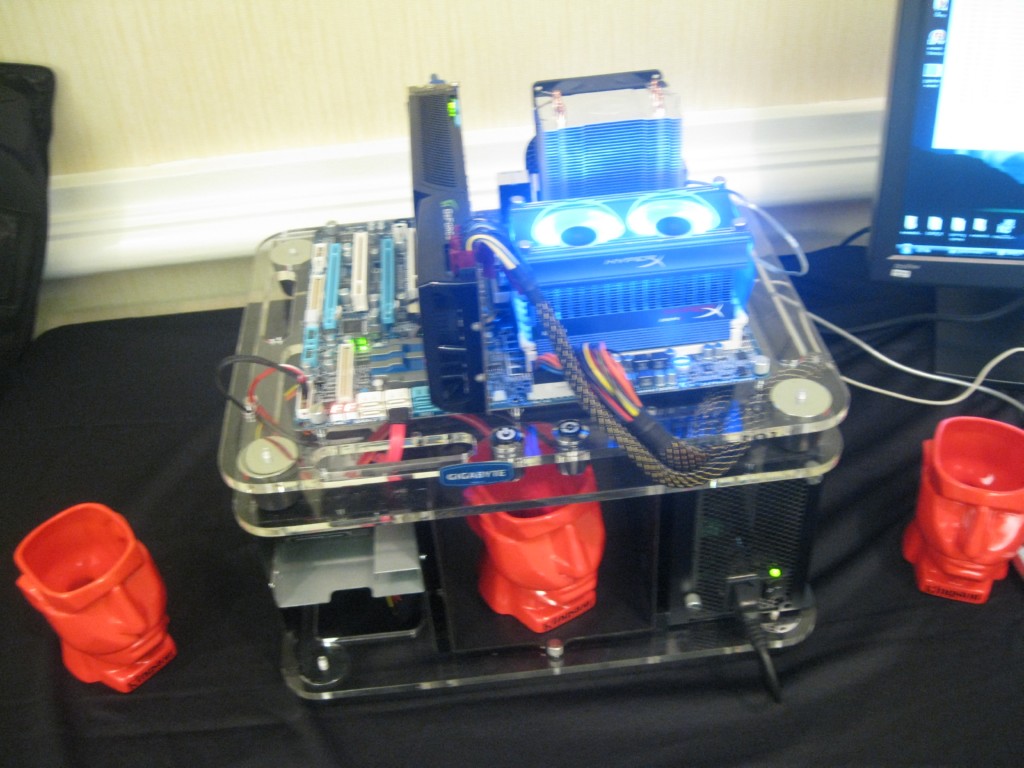 Click Image For a Larger One
Kingston and Gigabyte partnered up for the Lynnfield demo and you should take notice of that if you are planning on going into a LGA 1156 i5/i7 system. On this rig featuring the new Kingston ram cooling system setting on top a HyperX kit with the T1 heatspreader we saw some amazing ram speeds that were almost plug and play. The default ram speed was plug and play and it's so new and so fast we can't even tell you how fast. Let's just say it's the fastest ram out of the box to date and it has overclocking headroom. If you'd like to know how fast you'll have to wait until our kit gets here then we can tell you. Think about the highest speed commercially available which is generally accepted as 2Ghz then think higher. Then think higher and almost plug and play (One voltage bump to a chip so new we can't discuss it yet).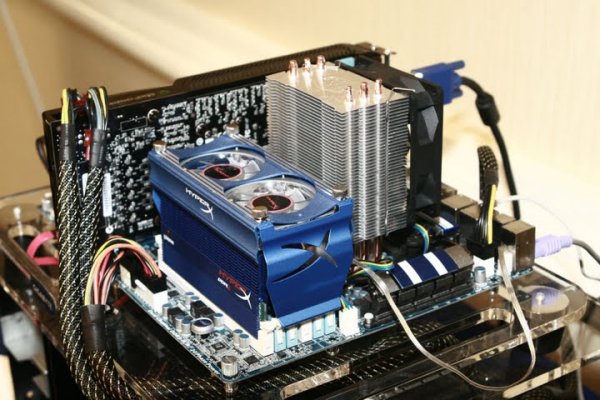 Here's a side view of the Kingston cooling system which should give you anywhere from 5 – 13 degrees of overclocking headroom on your ram kit. The fan arrangement also cools components on your board so for a sub $20 investment it's sure to be one of the highly recommended products and since it fits over the ram clips should be able to cool any kit. Since Gigabyte has partnered with Kingston and these boards run HyperX like a dream we can heartily recommend HyperX as the preferred brand for the Gigabyte P55 lineup.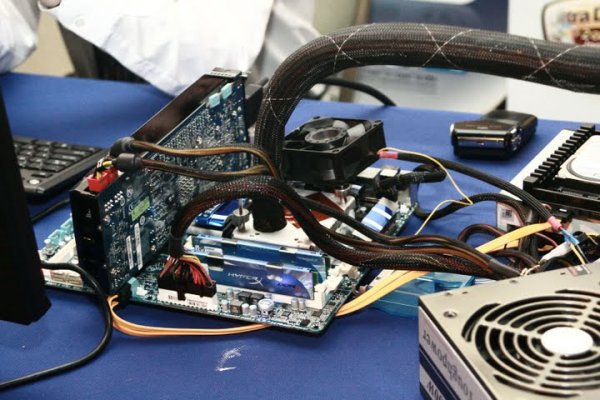 While we were there the Gigabyte 2008 Overclocking champion Fugger wandered in with his custom built phase change cooling system. We can't tell you how high an OC he got because we agreed  not to release any performance details pending the lifting of the Non-disclosure agreement. Lets just say eye popping overclocks on phase change cooling. In reality though the overclocks on air cooling on the Gigabyte P55 lineup with air cooling were amazing and we really wish we could tell you about them. We're excited and as soon as we finish the article we'll be firing up our Core i5/i7 CPU's and starting the review process on those. It takes quite a bit to get us excited so expect really good things.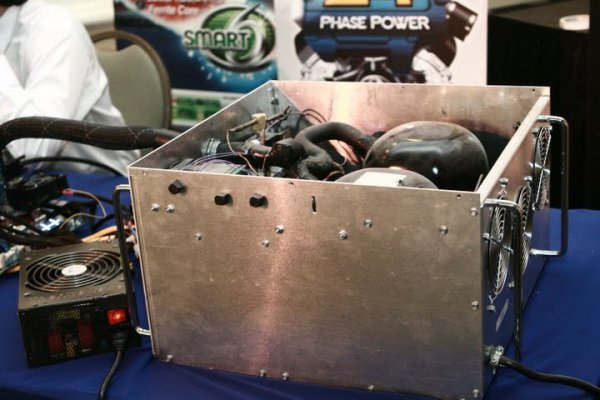 Here's a shot of the phase change cooling system with Fugger setting at the keyboard (to the left) guarding the keyboard with his life. Upon approaching the keyboard to run our fingers across a phase change cooled CPU we're pretty sure we heard groweling noised and a flash of bared teeth so we quickly backed away.
The Phase change unit was custom built and has 2 freon compressors serving to keep the Peltier thermo electric cooling block frosty. The Peltier has two sides, one removes heat from the CPU and the other dissipates the heat generated from cooling the CPU. The block itself is rather small and everything else here serves to keep the Peltier cool. As far as Peltier phase change cooling units goes this one os highly advanced and you can dial in the cooling to the Peltier with pulsed freon release and two compressors keeping it cool.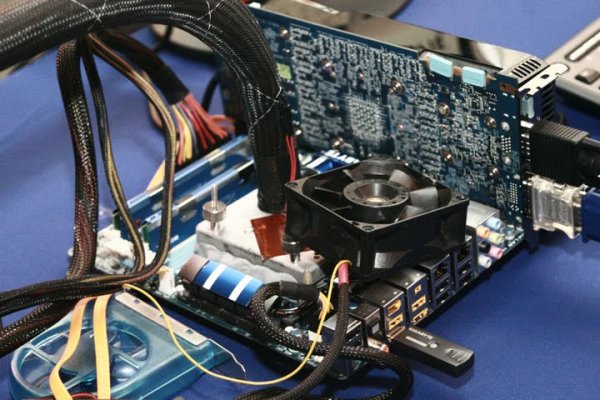 Notice that Gigabyte and Fugger are using a Turbo Boost drive so we might have to check back into Turbo boost and see if we get any performance increase from using turbo boost with the new i5/i7 CPU's and P55 Gigabyte lineup.
After the Demo
The meeting was a noon to night affair and of course it wasn't all business so we were forced to endure several scrumptious buffets and dinner at the end of the meeting. We endured so much good company and food that some of us were about to roll away from the buffet.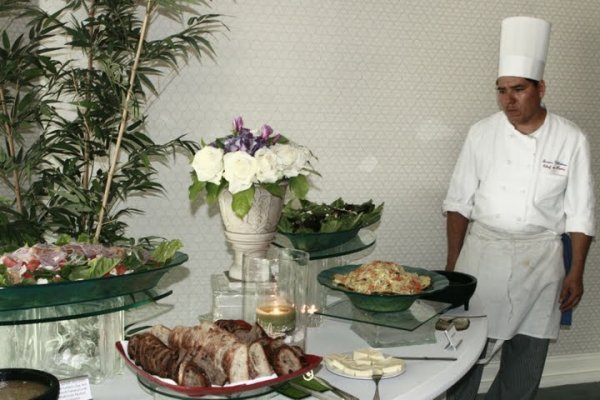 You often find that solid friendships and back door deals are brokered at the after event of any big demonstration. However in this case the focus was more on meeting new people and cementing relationships.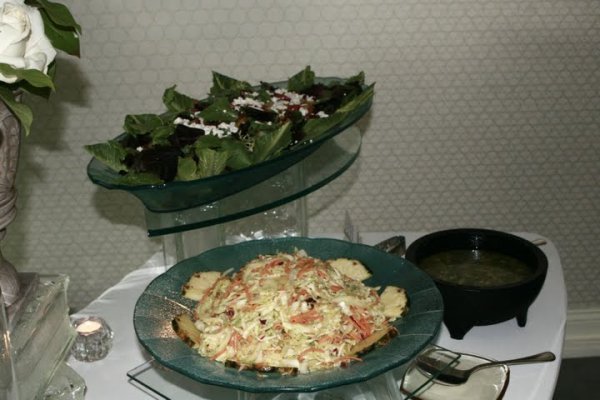 There are few more relaxing environments than when people get together and enjoy some realy good food and share a glass of wine.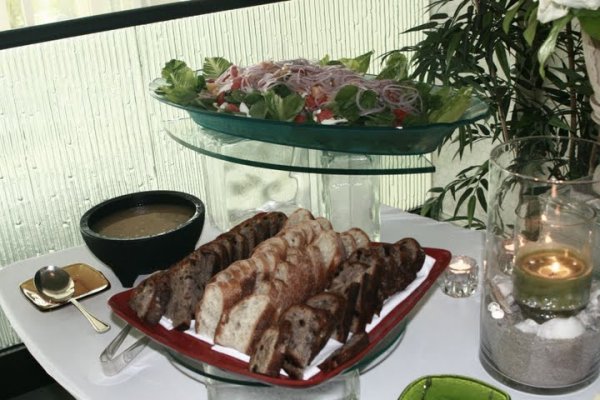 Every time we turned around, before the event, during breaks and after the event we found a bounty of food waiting in the alcoves.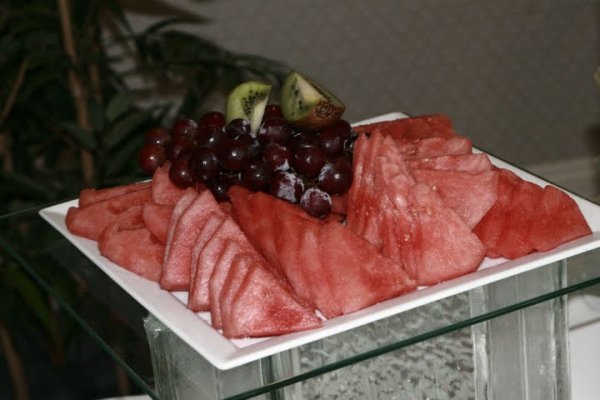 We would have to say that the fruits and veggies from the buffet were top notch and there's no place like California for the freshest fruits and veggies.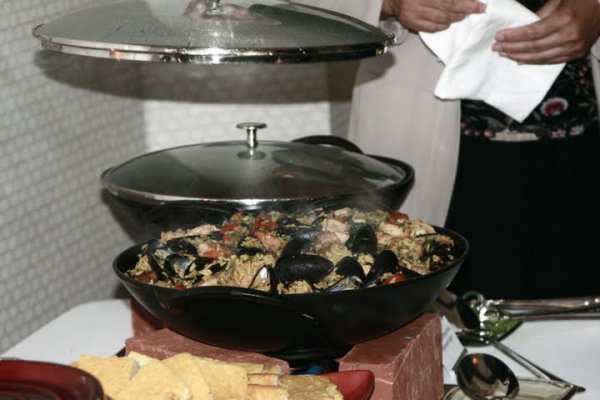 We were treated to some of the best food that we've had in quite a while, the things we have to endure in the name of hardware.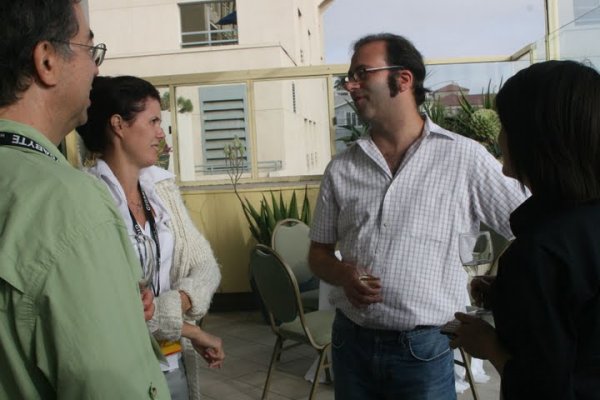 Once the meeting was over we shifted to an ocean side veranda and Gigabyte broke out the big guns. If there's anything more relaxing than sharing a meal it's sharing a glass of wine while overlooking the ocean.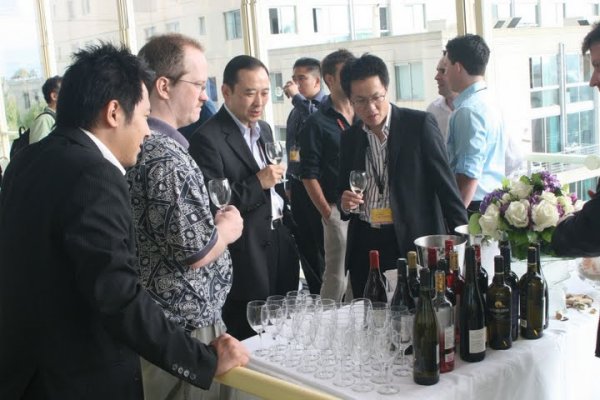 This was the wine tasting table but you can rest assured that there were at least two more cases of wine under the white table wrap. Not that we drank all of it but we tasted plenty before moving to the evening buffet.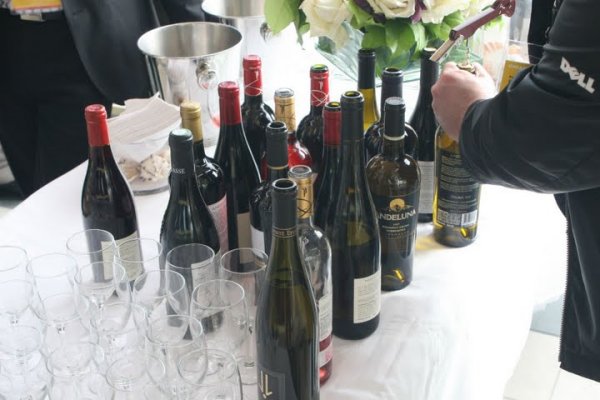 We were wondering if any of these bottles were overclockable but in under a half hour we weren't worried about that anymore.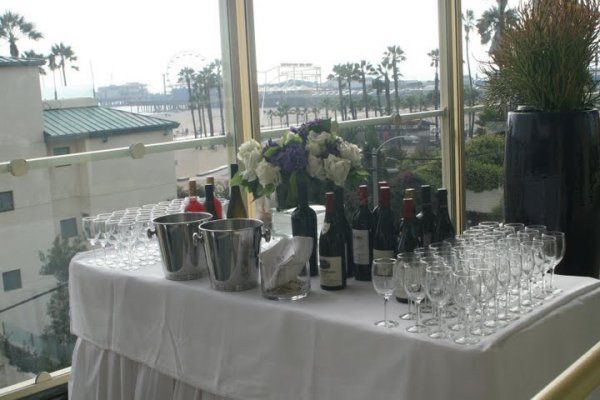 We had to endure balmy 70 degree shirt sleeve weather through the whole meeting and you know the weather is really horrible in California.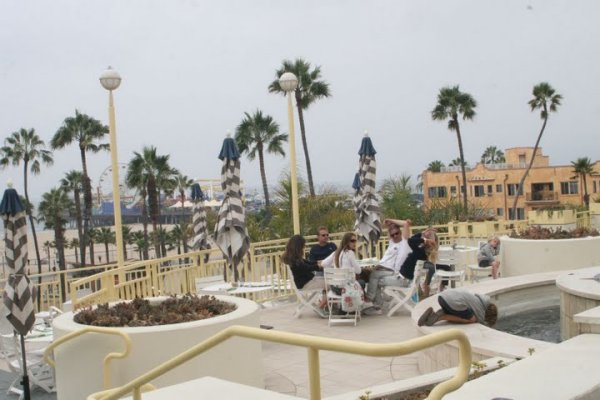 The meeting places tend to be horribly dark and dank torrid affairs that a human can barely withstand and as you can see this was no exception.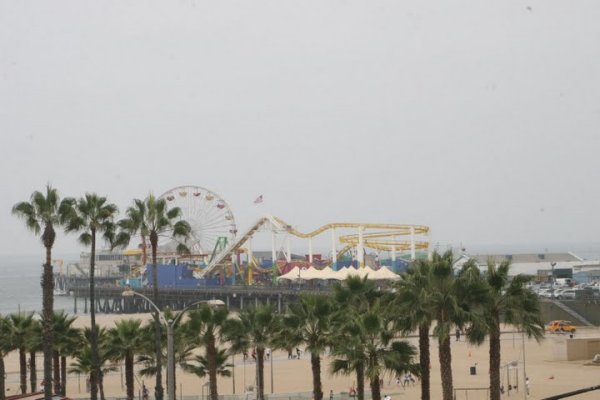 We kept meeting and greeting and it was all we could do to restrain ourselves from dashing across the beach and checking out the amusement park in the distance.
We would like to thank Gigabyte, Intel and Kingston for providing this early look demo of the Lynnfield LGA 1156 Core i5/i7 platform and the Gigabyte sneak peek of their P55 lineup. Lets not be negligent and leave out Kingston showing us their i5 lineup of low voltage high speed ram. We would like to shower you with details of all the hardware but we have to honor our word not to release details until the non disclosure agreement lifts.
To Gigabyte and Angela specifically, we don't think we can endure many more of these excruciating demonstrations so for future reference we are only available for the next 400 or so events. (Thanks Gigabyte we really enjoyed the demonstration and the good company).