The Seagate Barracuda LP 2TB drive is a "Green" based drive that offers a huge storage capacity, uses less voltage and still offers good performance..
INTRODUCTION
Computer components are becoming more targeted at specific needs than they have been in the past. We're seeing "Green" components that don't contain as many heavy metals that damage the environment as past products, as well as parts that sip at voltage but still provide nice levels of performance. Far to many times we've heard of high end parts being used for external hard drives limited by USB speeds, Copiers with ultra fast drives that just don't need them. Network storage that tends to run in the 30MB/s range running an expensive 3.5 inch 10,000 RPM drive because they thought it would make it faster.
It's just a fact that in some cases power consumption is more important than raw speed. Take an HTPC which often stays turned on 24 hours a day, they don't need an ultra fast 10k RPM drive, they just need a drive that can handle recording one show while playing back a HD show. Putting a high power consumption drive into one of those just doesn't make a lot of sense.
Hard Drive suppliers have recognized this and have alternative "Green Drives" available for those that want to have good performance, tons of storage, and keep utility costs down. To that end we're going to take a look at the Seagate Barracuda LP 2TB 5900 RPM drive that consumes only 3.88 Watts Idle and 6.88 Watts during drive operations. The idle power consumption on this "Green" drive is barely more than some LED power lights you see on common electrical appliances (Some LEDS operate at 3.3w). Lower power consumption, great performance, entry level pricing, there's a lot to like about he Seagate Barracuda LP 2 Terabyte drive.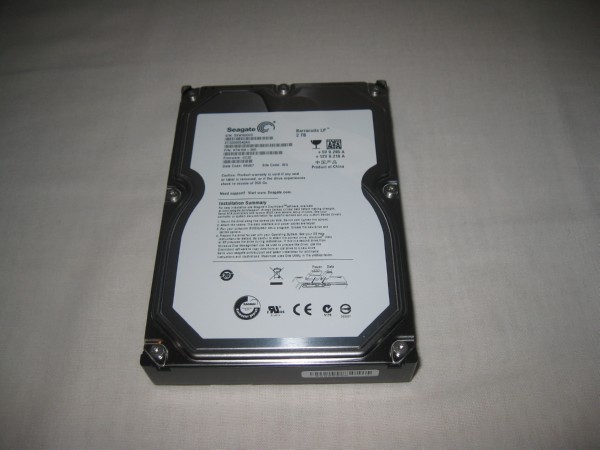 We bet your thinking low power "Green" drive it can't make me happy in the speed department. We think you'll be surprised how fast this drive really runs and with 2 Terabyte's of storage it won't be long before you realize the advantage of all that extra storage. Just how big is 2 Terabyte, on average full size DVD movies are 4GB, less if their in web format, so you shuld be able to fit approximately 400 full length DVD movies on this ginormous drive. Lets talk songs for the music addicts. The normal MP3 runs about 4MB so you can fit about 500,000 songs, seriously this is a lot of low power consumption storage space for a multitude of uses.
FEATURES
The Seagate Barracuda LP series of drives are best suited for USB, Firewire, Network Attached Storage, low power PC's, HTPC's, small office and home data storage appliances, mainstream PC's and any other computer application where power consumption is as much a concern as speed is. Green no longer means slow lagging storage, Green can now provide acceptable levels of performance and still keep the power consumption down.
Super-low power consumption reduces power costs over the life of the system up to 50% over those of standard desktop drives
Leading performance in the low power category
Cool drives provide long-lasting benefits to the PC or external drive, reducing some component and maintenance costs.
Delivers true greenness without a performance trade-off
Built to exacting Seagate green standards:
Complies with RoHS directive
Typically 70 percent or more of the materials used to build the drive can be recycled.
Designed, built and delivered using best-in-class, environmentally friendly processes
Engineered by the world leader in desktop hard drives with 13 generations of technology advances
Specifications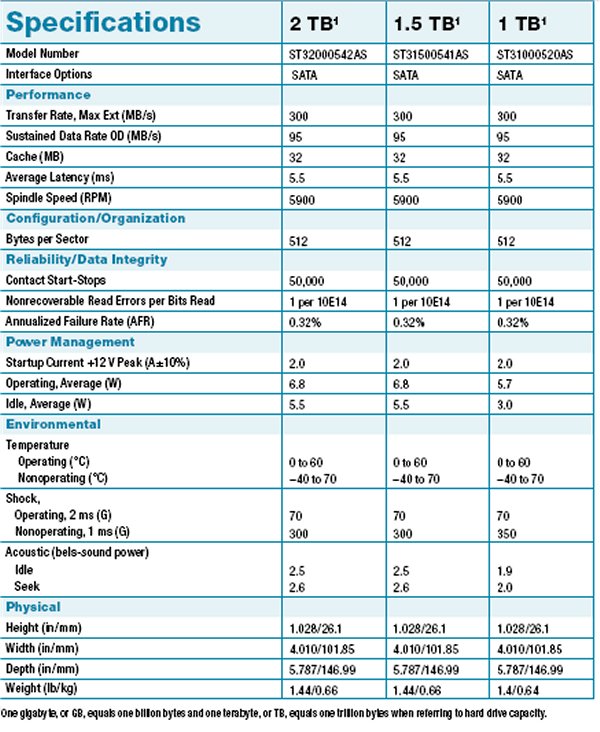 Utilizing a standard Sata 2 300MB/s interface most modern computers can accommodate the Seagate Barracuda LP series of drives without additional hardware being needed. The sustained data transfer rate is 95MB/s which is good for a standard Sata 2 drive and the Barracuda LP series drives feature a whopping 32MB of cache which will help the drives maintain acceptable transfer rates. The Spindle speed on the Barracuda LP is 5900 RPM while most "Green" drives operate at 5400 RPM and we suspect this higher spindle speed is one of the reasons that it's a little faster than most Green drives.
The first year failure rate on the Barracuda LP is 0.32% which translates to about 1 in 300 drives failing in the first year, no worries here though the Seagate Barracuda LP series drives is covered by the same rock solid warranty that Seagate has for all their drives.
Lastly this is a standard 3.5 inch form factor drive that should fit into any standard computer chassis and all 3.5 inch external storage enclosures. It's the most common current size for destop computers but check your manufacturer because some mini form factor computers have been using 2.5 inch form factor drives for a while. If that turns out to be the case we can easily recommend the Seagate Momentus which you can see in our review of the the 2.5 inch form factor Seagate Momentus 500GB drive.
PICTURES & IMPRESSIONS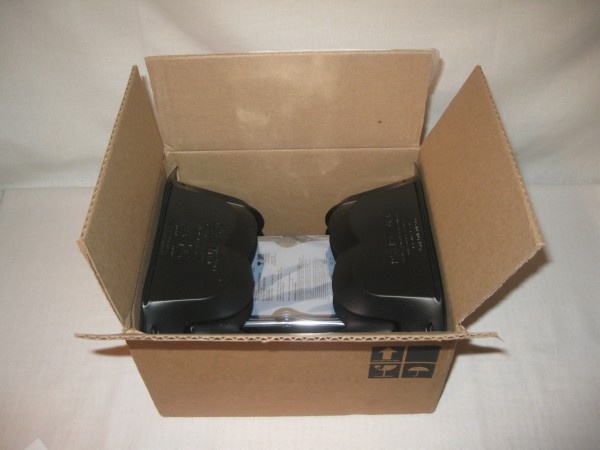 We usually recieve these review drives in OEM packaging, which means there's nothing but a bare drive, no cables no book just a drive in an anti-static bag. We're sure retail versions with a few amenities will be available but OEM drives tend to be a little less expensive and are a good option if you have a drive cable laying around.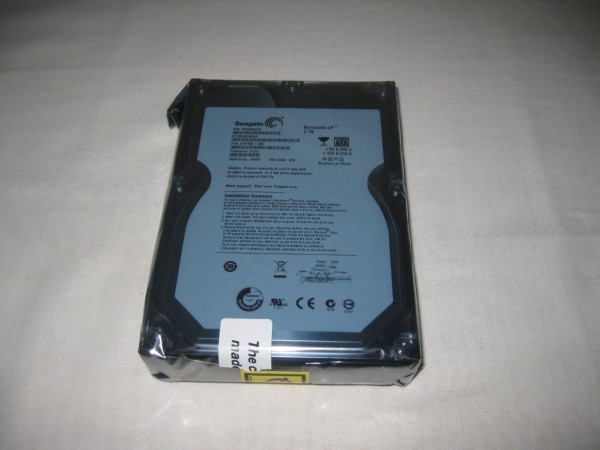 Shown here in the anti-static bag the Seagate Barracuda LP 2TB arrived in pristine condition and we'd like to mention that there's nothing like the smell of a new anti-static bag in the morning. Gets those computer Geek juices flowing.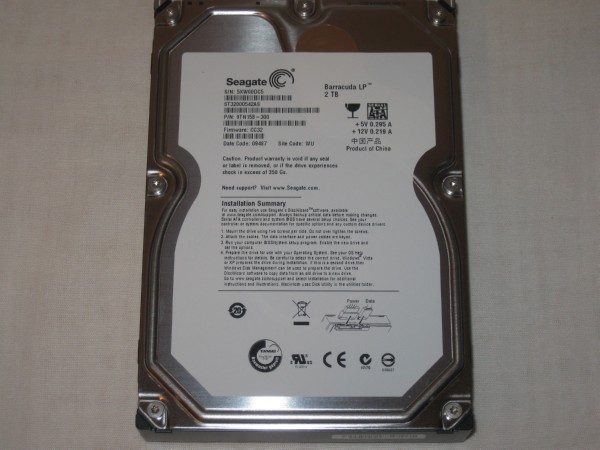 Seeing the 2TB on the label brings home the memories of our first internal hard drive which cost us $269 dollars and featured an MFM interface and 20 whopping megabytes of storage. It was a Seagate model, by today's standards slow as sin,and would hold about sixty 5 1/4 in floppies worth of information. Compared to this ginormous 2TB drive the old MFM 20MB hard drive might as well be a floppy disk.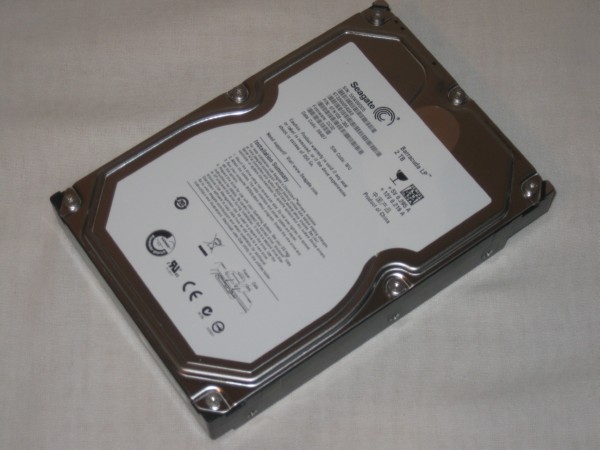 Standard 3.5 inch form factor and solid construction designed make the Barracuda LP compatible with most desktop chassis.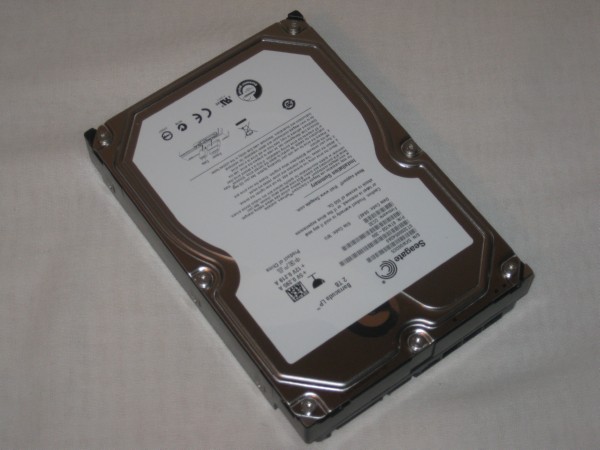 As you can see like most 3.5 inch drives their not much to look at but we wanted to make sure the more discriminating readers got an eye full of this large capacity drive.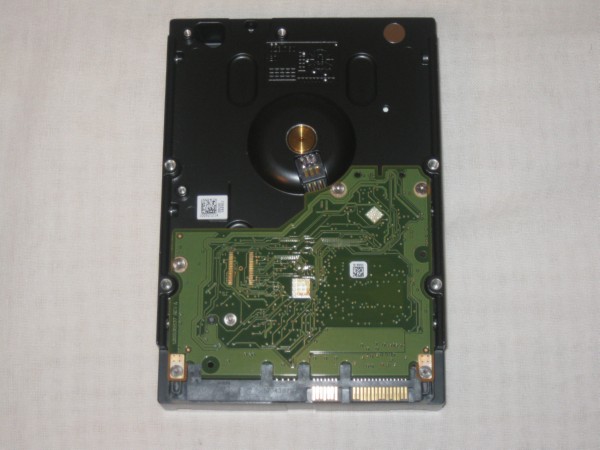 Even though the Barracuda LP uses a standard size PCB for it's circuit board we were a little amazed at how much of the PCB was filled with components and data lanes. We're sure that the economy of parts and smart layout of the PCB is part of the reason that the Barracuda LP merely sips at power. Notice the standard Sata interface we mentioned earlier.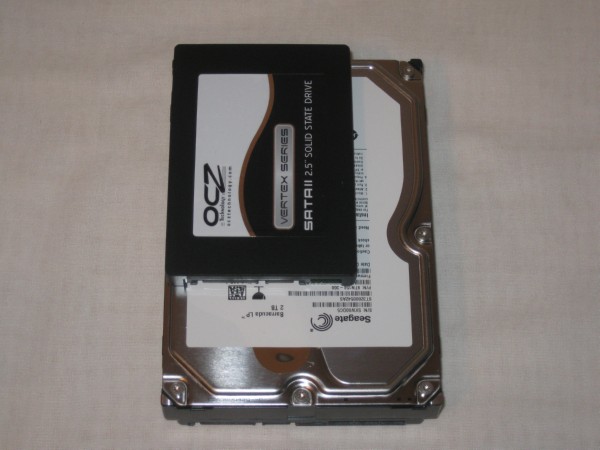 Pictured here with a 2.5 inch form factor SSD on top you can see the difference in form factor sizes. Please note that the Barracuda LP 2TB drive is not being compared to a SSD in terms of speed but the two drives are about the same price. The SSD pictured is 60GB where the Barracuda LP is 2 Terabyte. We've seen the Barracuda LP 2TB at our favorite E-tailor for $239 (free Shipping), and the Vortex 60GB SSD for as low as $202. Lets look at it from this perspective, 33 of the Vortex 60GB drives would get you close to the storage capacity of the Barracuda LP 2TB, but those 33 drives would set you back a mere $6666 and you'd still be a few GB short of the Barracuda LP's storage capacity. The SSD might be crowned king for single drive speed but for GB/Buck they'll make you a pauper.
TESTING & METHODOLOGY
We first cloned the same operating system load to the Seagate Barracuda 2TB drive that we've used for all our HD testing. Yes, we have a copy of the exact Operating System load we used for testing all our hard drives. While a lot of sites claim to do a fresh load of Vista 64 for each review, we decided that it would be better to install and update the OS onto a hard drive, install all the latest drivers and patches, and make clone copies of it as needed. Even a fresh load has subtle differences. A clone is an exact copy of the original with the same files same and same nuances, and is just a more level playing field for the drive tests. For that matter, it's the same OS load we use for all our testing on QuadZilla. We just keep the drive we clone from updated as new updates become available, and we can have a fresh load exact copy in about 20 minutes using Acronis.
We ran our usual battery of tests on the drive, and used it as the primary boot drive during testing. All of the drives tested were used as the primary boot drive during testing. That's a more realistic test than strapping the drive in and testing it with a bare format or as a non-boot drive and it represents real life transfer rates, much like you can expect when you install and operate the drive in your own system. Each test was performed 3 times and the average of the 3 test run is reported here.
Test Rig
Test Rig
"Quadzilla"
Case Type
Top Deck Testing Station
CPU
Intel Core I7 965 Extreme (3.74 GHz 1.2975 Vcore)
Motherboard
Asus P6T6 (SLI and CrossFire on Demand)
Ram
Corsair Dominator (9-9-9-24 1.5v) 6GB Kit
CPU Cooler
Thermalright Ultra 120 RT (Dual 120mm Fans)
Hard Drives

Seagate Barracuda LP 2TB
SuperTalent UltraDrive (FTM28GX25H) 128 GB
G.Skill Titan 256 GB SSD (FM-25S2S-256GBT1)
Patriot 128GB Warp SSD
Intel 80 GB SSD X25-M
G.Skill 64GB SSD (FM-25S25-64GB)
2 WD VelociRaptor's 300GB (In single and Raid0)
WD 160 GB SATA 2
Maxtor 160 GB SATA 2
WD & Maxtor in Raid 0

Optical
Sony DVD R/W
GPU
BFG GTX-260 MaxCore Drivers 185.85
Case Fans
120mm Fan cooling the mosfet CPU area
Docking Stations
None
Testing PSU
Thermaltake Toughpower 1200 Watt
Legacy
None
Mouse
Razer Lachesis
Keyboard
Razer Lycosa
Gaming Ear Buds

Razer Moray
Speakers
None
Any Attempt Copy This System Configuration May Lead to Bankruptcy
Test Suite
Benchmarks
ATTO
HDTach
Crystal DiskMark
HD Tune Pro
ATTO
First things first, we know we've mentioned the Seagate Barracuda LP 2TB drive is a green drive and the spindle speed is 5900RPM. The Barracuda LP is designed for low power operation in Mainstream Computers, Network Attached Storage, home and small office storage devices, it's not designed to run as fast as the Top Dog Drives. On our charts we have some of the fastest drives in existence and that will make things look a little lopsided, keep in mind this is a Green Drive and designed for a specific set of task while minimizing power consumption.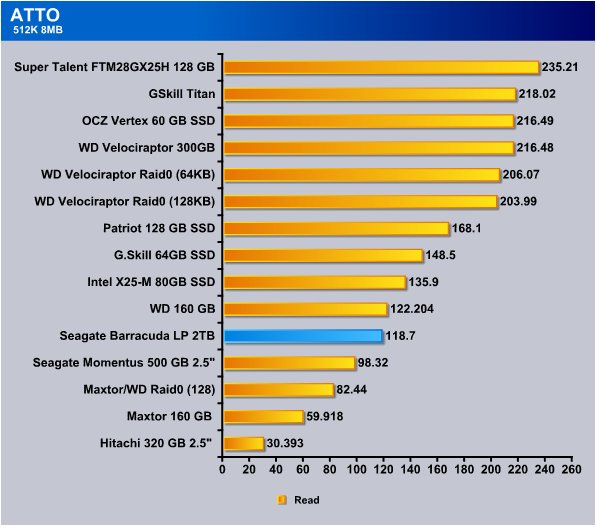 The Seagate Barracuda LP 2TB come in at 118.7 MB/s in the ATTO 512k 8MB test. The VelociRaptor 10k drives of course come in faster, they also cost 50% more and only have 300GB of drive space. At 118.7MB/s on a Green drive featuring low power consumption that's a pretty amazing speed. The lower spindle speed is partially offset by the platter density.
Here's an easy to understand primer on platter density. The platter in a given drive is where the information on your hard drive is magnetically stored. Platters in 3.5 inch drives all tend to be the same physical size. The number of platters in a drive can vary. The top and bottom of each platter is typically used so one platter has two storage surfaces. Now think about two platters both the same size, one has 160GB of storage and the other has 320GB of storage. The 160GB drive had 80GB on each platter surface, the 320GB drive has 160GB on each platter surface (assuming single platter drives in this case). The 160GB drive head has to travel twice as far to read the same amount of data as the 320GB drive head does. That's platter density. The amount of data stored in a measured area of the drive, as platter density increases so does drive efficiency. That's why we say the lower spindle speed of the drive is partially offset bt the platter density. It allows a lower RPM drive to compete with the 7200RPM drives we have charted.
That being said the 7200 RPM drives we have listed aren't state of the art drives so a modern Seagate Barracuda 7200RPM drive should perform better than the drives we have listed.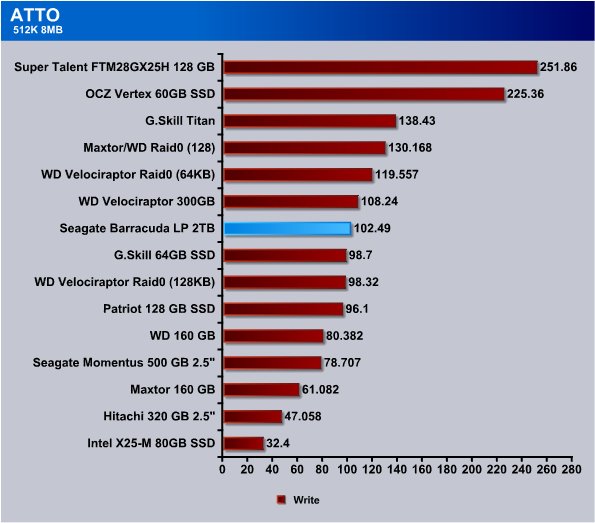 As you can see from the ATTO 512K 8MB test the Barracuda LP has a read speed of 102.49MB/s which is a pretty respectable speed for a platter drive. Even the VelociRaptor only beat it by under 6MB/s.
The 1024K 8MB test shows the Barracuda coming in at 117.481MB/s and for the job this drive is designed for that's a good speed. During normal operation in Quadzilla we didn't notice any lagging that would prevent us from using this drive in a mainstream computer, or any of the applications we listed. Most people would be happy with the speeds this drive turns out and thrilled at the ginormous storage capacity.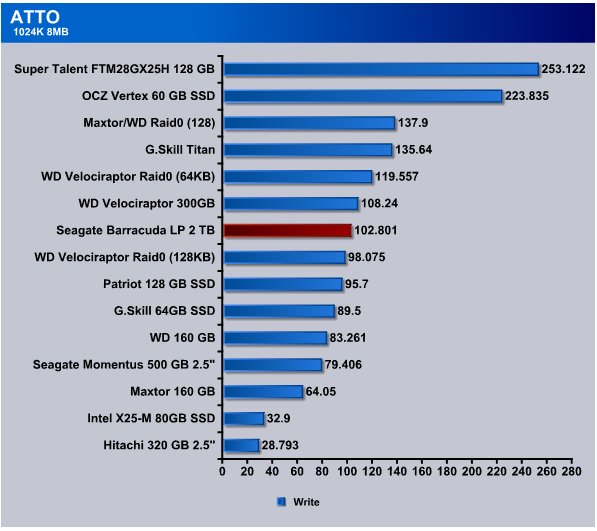 Then in the last test in ATTO we see the Barracuda LP coming in at 102.801MB/s and though on the chart it appears middle of the road it out performed a few of the SSD's we've reviewed and at this level of performance in ATTO we don't have anything to complain about.
Crystal DiskMark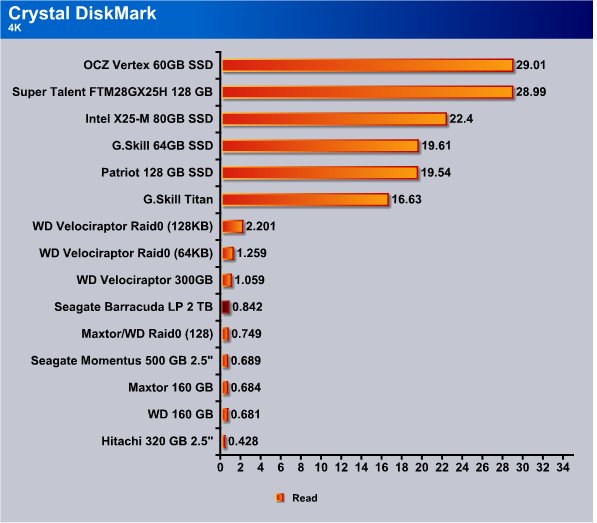 The 4K test in Crystal DiskMark is considered by many to be the most brutal of all hard drive tests. Crystal DiskMark reads (or Writes) 4K blocks over and over again. This repeated read of such small blocks results in low read and write values and that's pretty normal. The Seagate Barracuda LP 2TB drive comes in at 0.842 MB/s in this brutal test. That's a little deceptive because reads and writes of this size happen in a fraction of a blink of the eye. It's not like you read and write 4K blocks a lot, and when these size reads and writes happen they happen so fast that you won't even notice.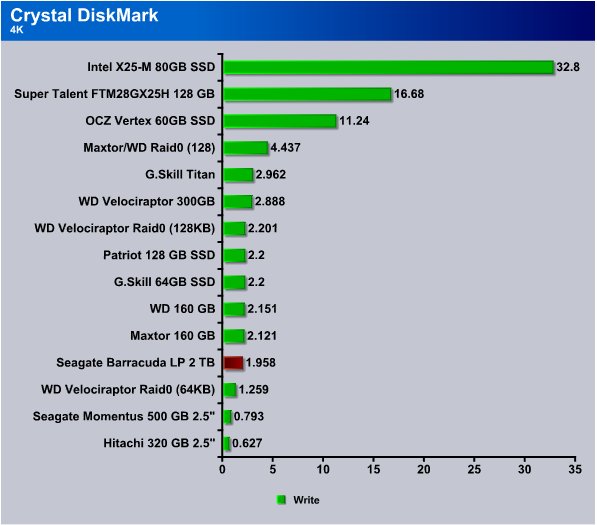 In the 4K Write test the Barracuda LP comes in at 1.958MB/s and as you can see some of the SSD's come in at 2.2MB/s so the Barracuda LP is holding it's own in the 4K test.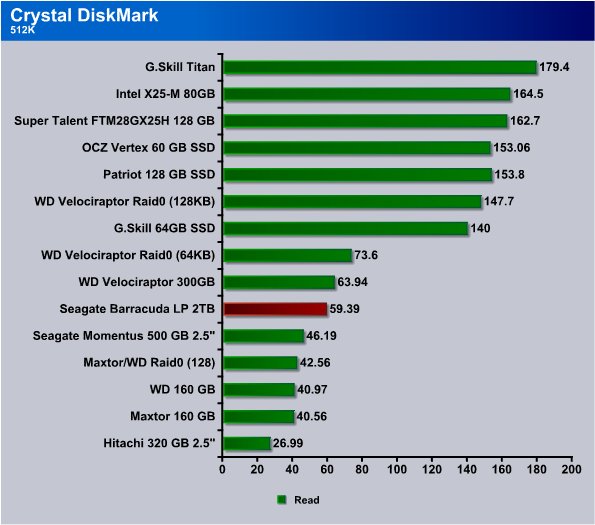 The 512K Read test shows the Barracuda LP hitting 59.39MB/s and compared to the ultra expensive high end drives above it in the charts that's a little slow. Keeping in mind this is a Green drive with a spindle speed of 5900 RPM designed for low power consumption and not raw speed that's a pretty good showing.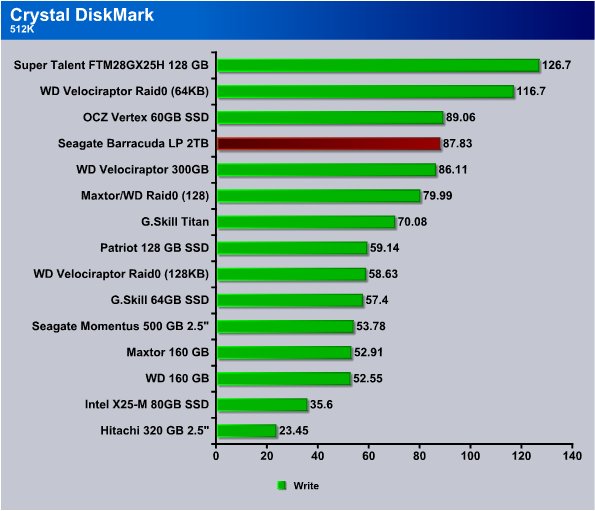 THe 512K Write test shows the Barracuda coming in at 87.83MB/s and sitting decently high in the charts. For a Green drive that's smoking fast.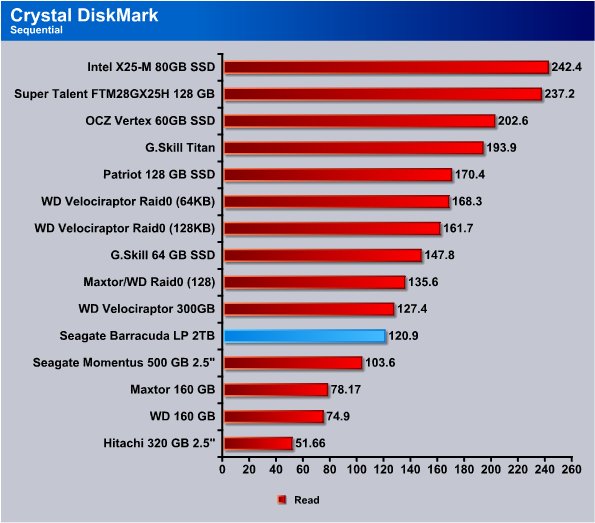 The sequential read test the Barracuda LP manages a respectable 120.9MB/s and as you can see the Velociraptor only bested it by 6.5MB/s so the Barracuda LP has done itself proud in the Sequential read test.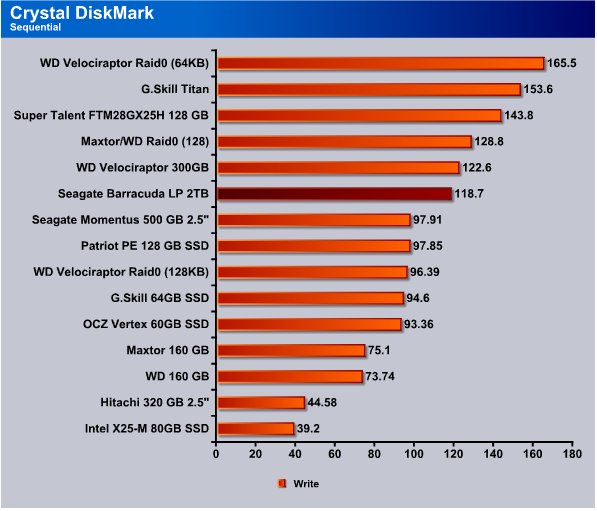 So far consistently we've seen the Barracuda LP 2TB drive high in the charts on the Write tests and that sets us to thinking that we may have found the perfect drive for a luxury HTPC build we've been contemplating (and scrounging parts for) for a long time now. The low power consumption and good performance of the Barracuda LP would make it a great choice for a monster HTPC build.
HDTach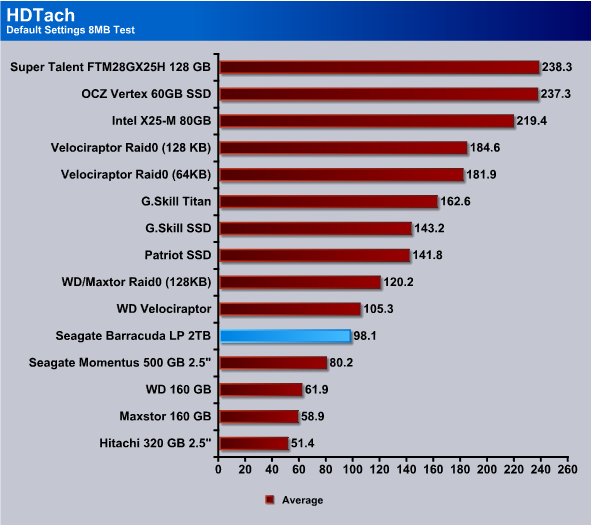 The HDTach Average speed shows the Barracuda LP at 98.1MB/s which is slightly higher than the advertised 95MB/s sustained transfer rate. It's hard to believe a 5900RPM low power consumption drive operates at this level of performance.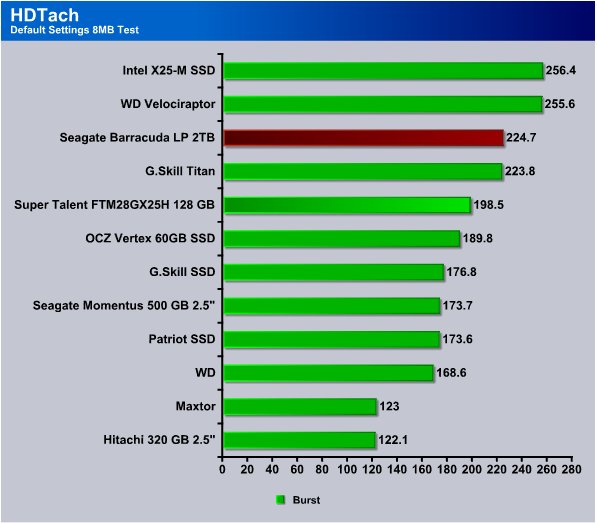 We report the burst rate on drives but typically this is the speed you get if everything is stored in the cache on the hard drive. Hitting 224.7MB/s the Barracuda is no slouch in this department but we're not sure how much milage you'll get from Cache only hits.
HD Tune Pro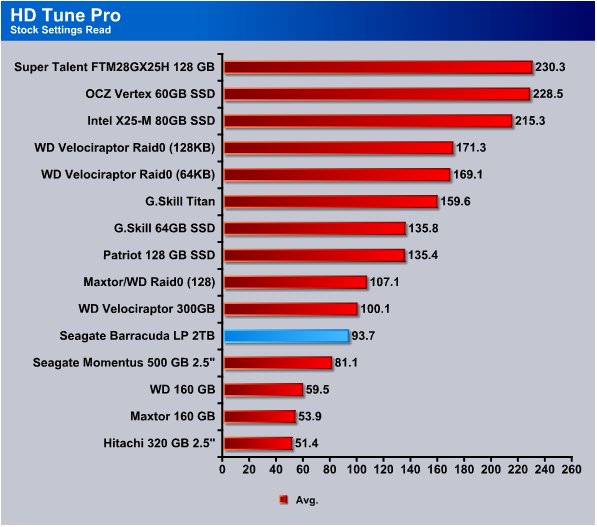 The HD Tune Pro Average test the Barracuda comes in at 93.7MB/s again right behind the Velociraptor and that's supurb for a Green Drive.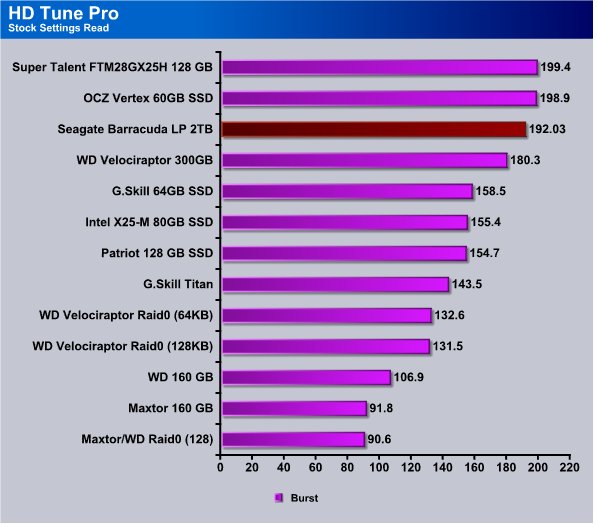 The burst test shows the Barracuda hitting 192.03MB/s no doubt the large 32MB cache on the drive has a lot to do with that blazing result.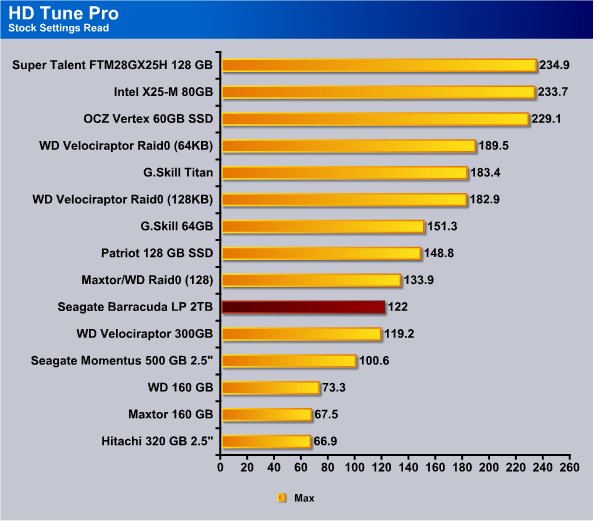 The Barracuda LP 2TB drive came in at 122MB/s in the Maximum speed test in HD Tune Pro. Again were not sure how much milage you'll get from the max speed test and we tend to rely more on average speds than max and min readings.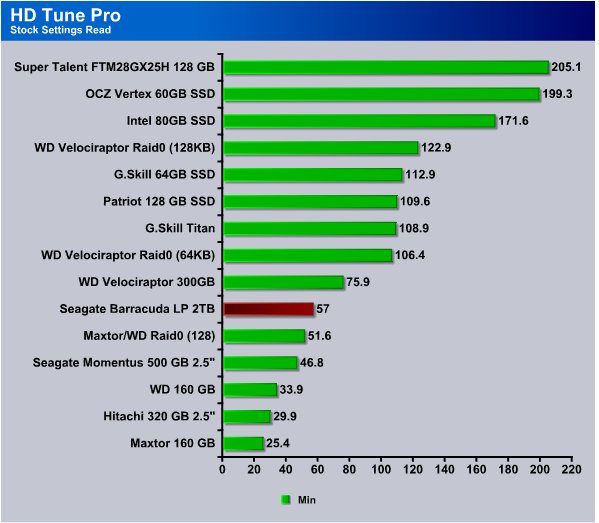 The Minimum speed test show the Barracuda LP at 57MB/s and this speed typically happens at the end of the platter and only momentarily. With 2TB of storage chances are you'll never hit the end of the platter and if you do for heavens sake delete something you packrat.
Conclusion
We've seen the Barracuda LP 2TB perform at levels that rival our charted 7200 RPM drives and for a drive that just sips at power it has exceeded our expectations for a Green Drive. Most Green Drives operate at 5200 RPM and the 5900 RPM on the Barracuda LP series give it a distinct advantage in transfer speeds.
It's not the fastest drive out there but it's not designed to be the fastest, it's designed for good performance with power saving features. The Seagate Barracuda LP 2TB drive excels at good performance and power savings so it fit's the market slot it's intended for.
If your looking for power savings, good performance, massive storage, and a product from a known and trusted vendor it would be hard to go wrong with the Seagate Barracuda LP 2TB or any of the Barracuda LP lineup.
We are using a new addition to our scoring system to provide additional feedback beyond a flat score. Please note that the final score isn't an aggregate average of the new rating system.
Performance 8
Value 8
Quality 10
Warranty 8
Features 8
Innovation 8
Pros:
+  Good Performance
+  Low Power Consumption
+  Low Per Gigabyte Cost
+  Low Power, 5900 RPM Will Operate Cooler
+  Massive Storage Capacity
+  Seagate Name And Quality Behind It
Cons:
–  Not Designed For Blazing Speed
Keeping in mind that the Seagate Barracuda LP 2TB was designed for low power consumption and exceeded our expectations for a green drive it deserves an: 8 out of 10 and the Bjorn3D Seal Of Approval!