One of the hotest running video cards on the market today is undoubtably the champion is the 4870X2 video card. Does Artic Cooling have what it takes to cool this video card?
INTRODUCTION
We all known Artic Cooling for years now, not just because they have some of the quietest GPU coolers on the planet, but for their uncanny ability to incorporate a stylish design with great cooling capacity. When anyone is looking for a GPU cooler to help cool their video cards Artic Cooling is always one of the first ones to get mentioned, by both entry level people and also those from the enthusiast crowd.
We also know the ATI's HD4870X2 to be powerful, and lets not forget its ability to run hot. When the 4870X2 video card came out the only true way on cooling this monster of a video card down, was by using a water block. While that does not bother most of us Enthusiast types of people, this limitation definitely put a big "NO WAY" to the entry/average user. The end result was most of the end users ended up either putting up with the extremely loud fan on the 4870X2 video card (by ramping it up to 50-100%) or just dealt with the extreme heat this card produced, therefore shortening the life of this video card drastically.
How does Artic Cooling and the 4870X2 tie into each other? Well, heres a simple answer, Artic Cooling finally listened to our pleas for an after market cooler for the4870X2 video card. So lets give a good look at the new Air cooler from Artic Cooling the Accelero XTREME 4870X2.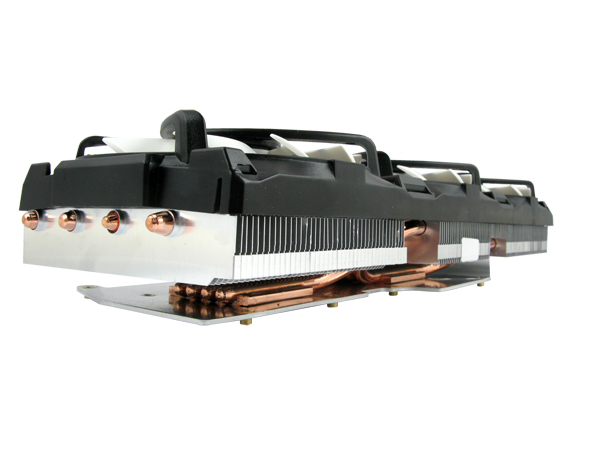 SPECIFICATIONS
Dimensions 295 L x 96 W x 54 H mm
Fan 92mm x 3 fans
Fan speed 1000 – 2000 RPM (controlled by PWM)
Air flow 81 CFM / 138m3/h
Max. Cooling Capacity 320 Watts
Bearing Fluid Dynamic Bearing
Weight 680g
Patents DE 20307981, US 710114
Just looking at the specifications and we get an idea on the size and the cooling capabilities of this GPU cooler. The getting/having an idea is totally different from actually seeing it in person. As you will soon find out this GPU cooler is large.
PACKAGING, & COMPARISON
I am going to combine both the packaging and the comparison under the same sub-title.
Just looking at the packaging the Accelero XTREME 4870X2 GPU cooler came in we can see that this cooler is huge. I have always liked how Artic Cooling presents the products, not to flashy, just short sweet and to the point. Let the product speak for its quality.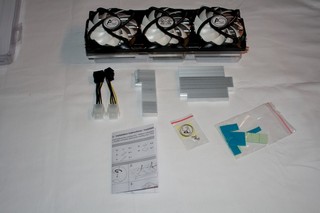 Lets open up the blister packaging that Artic Cooling uses and lay all of the contents out. Up top is the GPU cooler, Artic Cooling includes 2 extension cables. What's this? The extension cables appear to be both 6 pin PCI-E's. I will have to look at them later. We also get two large aluminum fin arrays that will cool the digital VRMS, and the memory. Destruction booklet (Opp's, my evil twin speaking out of turn again, I meant Instruction booklet), a small bag with two screws, an Artic Cooling sticker, and finally another little bag with some thermal pads. Pictures do not do this GPU cooler much justice. This GPU cooler is huge in both size, and in its quality, but more on that later.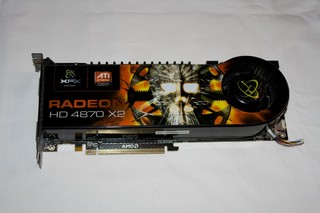 A XFX HD4870X2 is my test victim. Look at it, it sits there all peaceful and serene, not having a clue what its about to go through, Muhahaha. I don't allow the video cards BIOS to control my fan, I directly hook mine up to a fan controller. This way I know its running at the speed I want it at.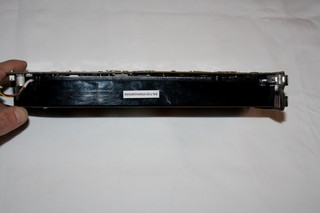 Well before I go on my torture session we need to look at ths side of the XFX 4870X2 video card. It is so plain looking. Boring, ok moving on before I fall asleep. zZzZzZzZ, too late.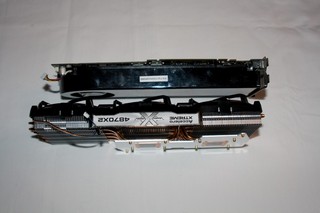 Now for some excitement. Looking at the 4870X2 video card and the Accelero XTREME 4870X2 GPU cooler, together. You just don't understand sizes until you compare them to something else. The Accelero XTREME 4870X2 is simply put HUGE, this GPU cooler uses an additional PCI expansion port so for those who that are using two 4870X2's, or using a TRI-Fire Crossfire, make sure you have  two PCI expansion ports available (not counting the PCI expasion the video card uses).
Another image of the Accelero XTREME 4870X2, compared to the XFX 4870X2 video card. It appears the Accelero XTREME 4870X2 is about the same width as a 4870X2.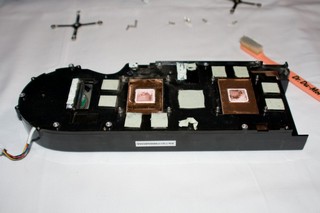 These next few images will be slightly confusing, I wanted to do a heat sink comparison side by side, so please bare with me. I will show you how to Install the Accelero XTREME 4870X2 on to the 4870X2 video card later in the review. Well the original GPU cooler is filthy, just absolutely Filthy.
Looking at the base's of each of the GPU coolers, we can already tell the Accelero XTREME 4870X2 is a superior cooler.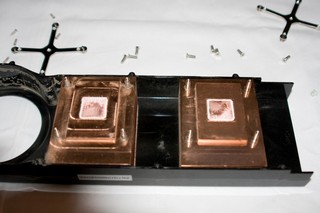 This is the reference cooler that ATI/XFX, and everyone else uses on the 4870X2. Every time I see one of these little coolers I start getting the twitches, even my evil twin cringes.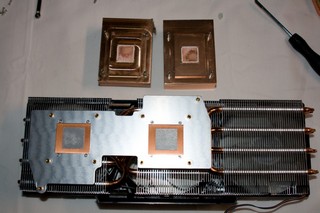 The Accelero XTREME 4870X2 dwarfs the stock/original coolers.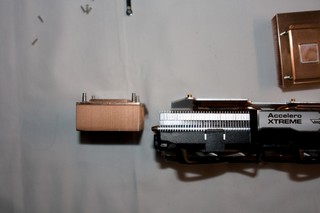 Oh look how cute the little stock/original cooler is. I would barely use these coolers as a paper weight let alone use em to cool a high dollar video card. Bad ATI, bad.
OVERVIEW
These next few images are in no particular order. This portion is to give you an idea of how the Accelero XTREME 4870X2 GPU cooler is put together, and also let you gaze upon the quality that Artic Cooling put into this GPU cooler.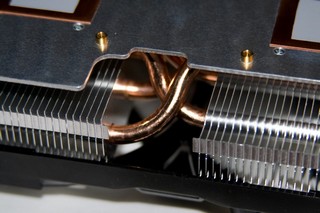 This is view gives us a good look at the heat pipes Artic Cooling used in the construction of the Accelero XTREME 4870X2 GPU cooler. Artic Cooling did not connect each core to each other, which means the GPU's will not share the extreme heat. There are 4 heat pipes that stretch the entire length of the video card in both directions.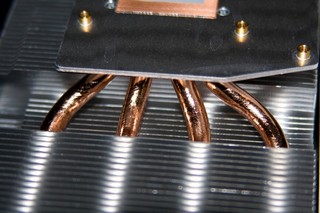 An up close shot of the heat pipes, showing there are four heat pipes per GPU core of the 4870X2.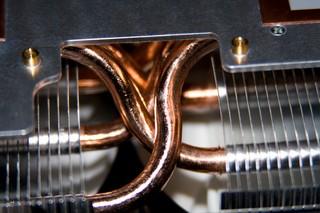 The other side where the heat pipes cross each other.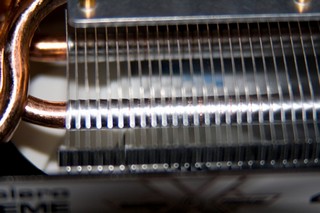 Artic Cooling uses aluminum fin array to disperse the heat from the heat pipes, also they made sure they were evenly spaced from one another.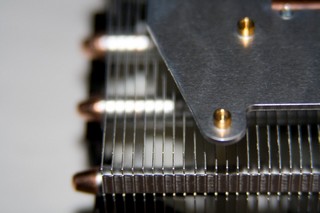 Same thing on the opposite side, a nice evenly spaced fin array.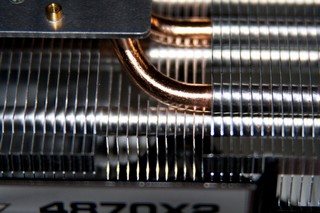 On the front side of the GPU cooler the heat pipes get stacked on top of each other.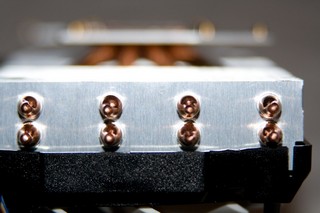 Looking at the front side of the Accelero XTREME 4870X2 GPU cooler.
The backside only has four heat pipes protruding.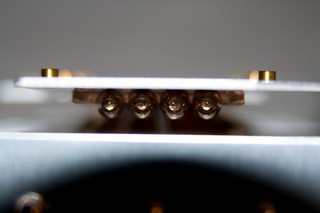 Looking at how artic cooling mounted the heat pipes to the GPU coolers base.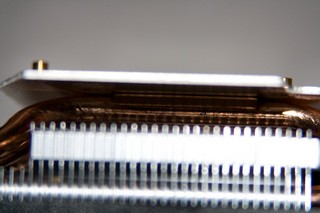 The second GPU core base, does not stop, it continues in both directions.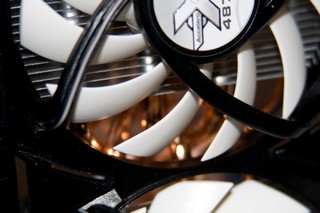 Looking through the blades of the center fan.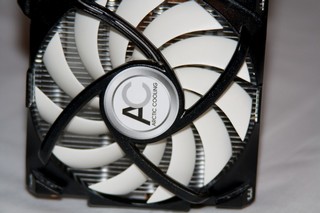 Looking at one of the fans that Artic Cooling used on the Accelero XTREME 4870X2, White is definetly different, Should brighten up even the drab looking computers internals.
Just getting another look at the side of the Accelero XTREME 4870X2 GPU cooler before installation.
INSTALLATION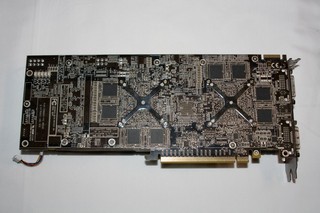 Before we mount on the Accelero XTREME 4870X2 we need to remove the original GPU cooler. See all of the screws on the back side of the 4870X2 video card? These have to be removed. Oh, I should mention I do not use the original back plate that ATI puts on the 4870X2 because it causes the heat to get trapped on the backside of the video card. Same screws in the same spots, either way you look at it.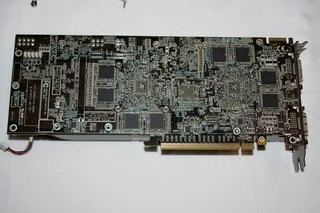 Screws removed.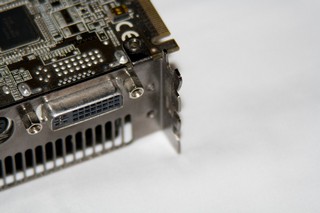 There are 2 more on the rear IO plate, these have to be removed as well.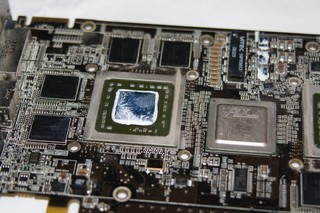 The original Cooler barely had contact with the GPU cores, also look at the dgital VRM pads that ATI used, they are dried out and shredded.
The rear digital VRM's, again the same dried out cracked thermal pads as the first two.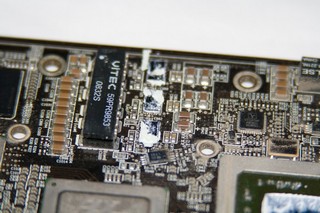 A better close up of the first set of digital VRM's. In case you wondering VRM stands for "Voltage Regulation Modual"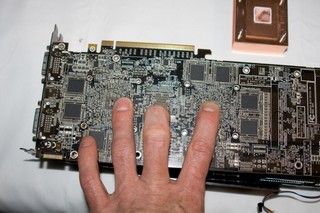 Since I removed the original GPU cooler, it is time for my test fittings. This does not portray the actual installation, all this does is give me insight on how the base of the GPU cooler will be hitting the GPU cores.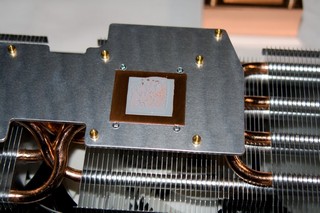 If you have not noticed Artic Cooling had pre placed thermal paste on the cooler. Bad idea Artic Cooling, I like to do several test fits, and this is just wasting that thermal paste.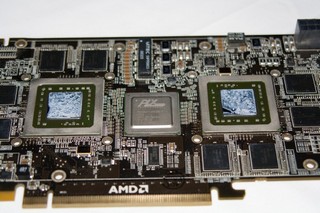 So far So good. Also you may wanna clean up your 4870X2 video card, this took me about 45 minutes to get it clean enough for testing.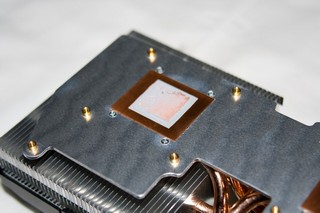 The other GPU core base of the cooler same pattern as the last one.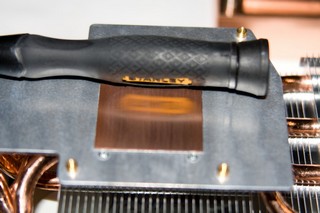 I wiped the old thermal paste off so i can see how the base of the Accelero XTREME 4870X2 is. It has a semi polish look and feel to it, Artic Cooling could have done better on making these a bit more polished.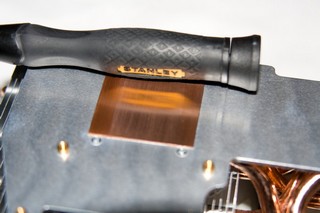 Same thing we have on the first GPU core.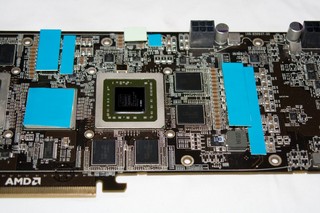 Artic cooling uses thermal pads for the digital VRM's, the memory, as well as for the power moduals on the 4870X2. These have two plastic sides that have to be removed prior to installing the Accelero XTREME 4870X2 GPU cooler, I found it easier to only remove one side the pads, then after I placed them where they needed to go I removed the other side.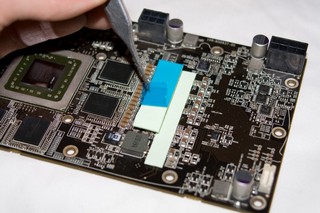 By doing it this way made my installation a whole lot easier. These pads are sticky.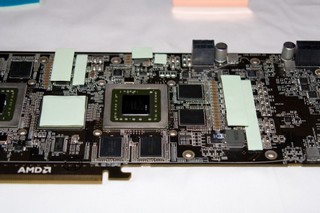 Now all of the placed thermal pads are prepped and ready to go.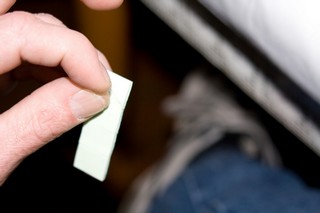 Whats this? I need to do the memory chips too? Oh well, in this picture I am showing you the removal of the clear plastic side of the thermal pads.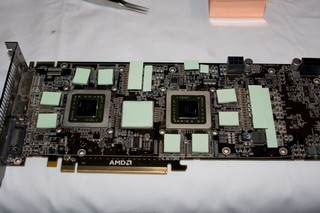 Now I am done, Hooray.
Just taking pictures of the thermal pads.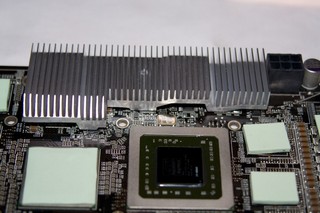 Installed one of the aluminum fins that has to be mounted prior to the actual heat sink.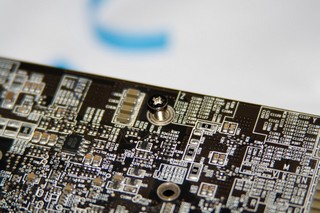 Because, I opted not use the back plate that ATI used (Artic Cooling says to re-use it), My screws would not fully seat properly.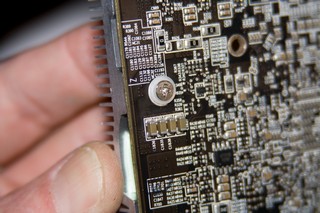 So I brought out one of my 1/16inch nylon washers to acomidate.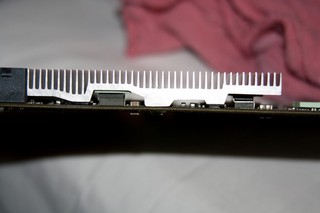 Oops, tightened things down too tight, you may wanna be careful on this heatsink, as you can see it will warp a video card.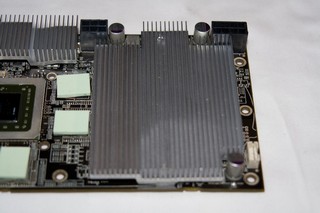 The second heat sink installation.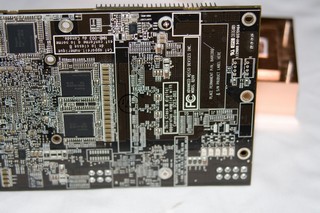 Again I had to use nylon washers to help tighten down this heat sink, my preference not Artic Cooling's, I opted not to use that heat trapping piece of junk back plate that ATI used.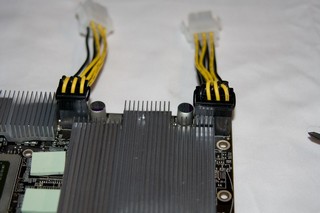 Before we put on the GPU cooler, we need to place the extensions, if you don't how will you power your card? These are needed with the use of the Accelero XTREME 4870X2.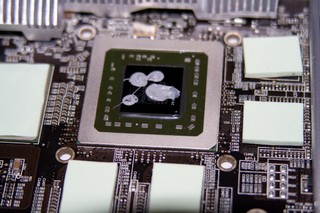 Alright, progression is being made. It is time for test fit number two.
Now I just used the weight of my two fingers to hold the Accelero XTREME 4870X2 and the 4870X2 video card together. So there is a margin of error.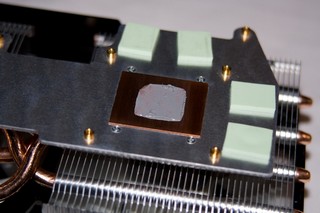 Back GPU core looks good.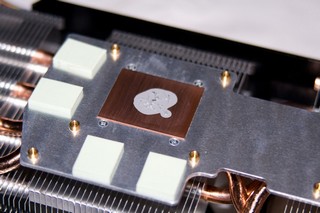 Front GPU core did not fair so well, here is my margin of error.
Always make sure you get the same pattern on the GPU cores as well.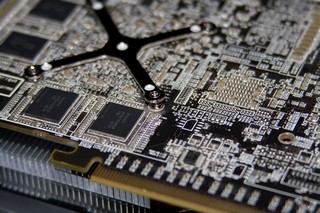 Final test fit, Now this where things go hairy per say. I kept running into a small issue with the original screws. They were not quite long enough to reach all four corners of the Accelero XTREME 4870X2.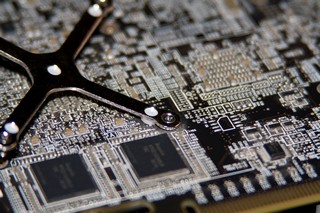 A better image showing you how far the screw goes down before contacting the Accelero XTREME 4870X2 GPU cooler.
What does not kill you, will only make you stronger. I modified the way the mounting screws hold onto the Accelero XTREME 4870X2 GPU cooler. I used a thin (40 thousandths) bronze washer with a red isolator washer, to gain that few extra threads I needed.
Looking at the depth of the core mounting holes, these screw have to reach.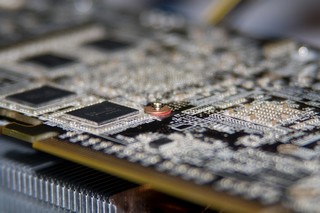 Now I have achieved proper hieght of the threads.
Final test fit came out perfect.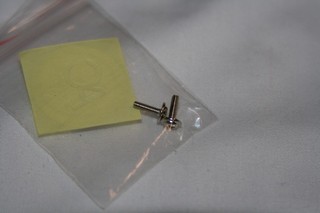 You will need to use these last two screws from Artic Cooling accessories bag.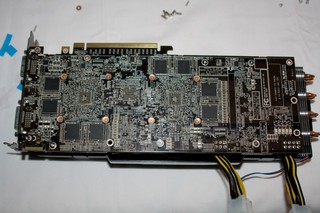 Final Installation and I am rip raring ready to go try this bad boy out.
No warpage to the 4870X2 video card.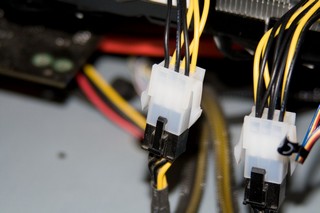 The extensions that Artic Cooling used, Both of these use a PCI-E 6 pin plug on the side the PSU connects too. The 4870X2 uses one 6 pin, and one 8 pin PCI-E. You can still run with two 6 pin PCI-E power plugs but it is recomended to use both a 6 and 8 pin PCI-E.
Oh wow, We reviewers are long winded types ain't we. We are finally done with this portion, with the use of this GPU cooler your 4870X2 video card will be another inch longer. Make sure you have the room in your Chassis to use this GPU cooler before making the purchase.
TESTING METHODOLOGY
Test Setup &Testing Methodology
CPU
Lapped Q6600
Motherboard
Abit IX38
Case
NZXT Whisper
Memory
Crucial Balistx
Video Card's
Sapphire HD4870X2
Hard Drives
 2x Western digital 160 (Raid 0), 1 Western Digital 500 Gig
CDRom Drive
Lite On Sata1 DVD Burner
Power Supply
Seventeam 850watt
Type Of Coolers Used
Zalman CNPS9900
CPU Speeds Used
3.6GHz
Operating System Used
Microsoft Windows Vista 64Bit
Type of Software Used During Testing
2 Hours Hawx
To thoroughly test the Artic Cooling Accelero XTREME 4870X2 GPU cooler load temperature, I ran several hours of Hawx. For idle temperatures I allowed the video card to idle for roughly 30 minutes. The hottest temperature the GPU reached was the temperature I recorded. My roommate does not like his video cards overclocked, so I was unable to get any overclocked temperatures. I did not allow the video card BIOS to control the fan on the HD4870X2, the reason for this was because anything less then a 50% on the fan this video card would reach above the 70°C temperature mark. This is my personal temperature limit I set, and try and keep my video cards below this point. The fans on the Accelero XTREME 4870X2 were also set to a 75% for a better comparison.
RESULTS
Idle
| | |
| --- | --- |
|  HD4870X2 Default | Idle |
| Stock Cooler Fan 75% | 37°C |
| Accelero XTREME 4870X2 75% | 30°C |
Looking at the idle temperatures of the 4870X2 video card, the stock cooler is more then capable of handling the heat output of this video card. Keep in mind the fan on the 4870X2 stock cooler is set at 75%, and it sounds like a jet engine. The Accelero XTREME 4870X2 GPU cooler was able to better the original cooler by 7°C. Even at a 75% spin rate on three fans, this cooler was barely audible. Lets see how things look once we start working the 4870X2 video card on full load.
Full Load
 HD4870X2 Default

Load
Stock Cooler Fan 75%

77°C
Accelero XTREME 4870X2 75%


53°C

 
If this was my 4870X2 video card I would have already freaked out once my temperatures reached 70°C. Since my roommate is not as anal as I am when it comes to temperatures it was ok to him, but having this temperature was at a cost of noise and lots of noise. The Accelero XTREME 4870X2 GPU cooler not only quietened down a loud computer component, it was able to keep the 4870X2 below 55°C on a full load. I don't know about you, but I call this exceptional.
Here is a screen shot of Riva Tuner monitoring during the game sequencing.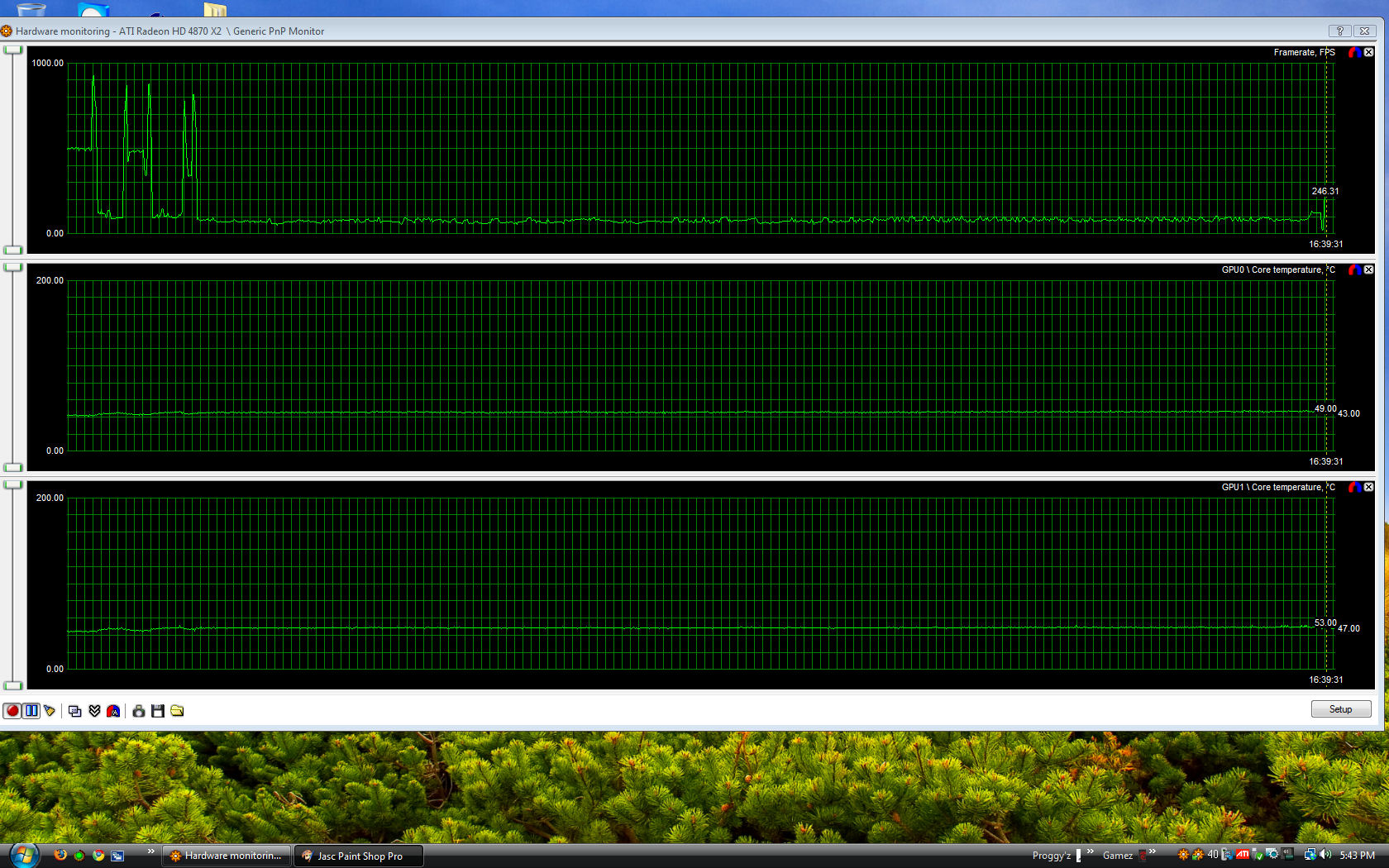 CONCLUSIONS
Cooling a HD4870X2 is no easy feat, Artic Cooling did an outstanding job by offering users the only aftermarket air cooler for this video card. When I think of GPU coolers I feel they should be both functional, cool well, look good, and be made of the highest quality. Artic Cooling products screams quality in everyone of these areas.
Artic Cooling could have also included the nylon washers for the other machine screws that hold this GPU cooler on, as some of us do not use the stock back full cover plate. The length of this cooler will be problematic in mid sized chassis. Most mid sized chassis will not be able to house the 4870×2 with this GPU cooler strapped to it without some form of modifications to the chassis.
Having a price point on or around the 60$ USD dollar mark, this is decent price considering it is the only alternative cooler for the 4870X2 video card that does not require us to move to water cooling.
Performance 9
Value 8
Quality 9.5
Warranty 9
Features 9
Innovation

9.5
Pros:
+Cools the Mighty 4870X2 with ease
+Easy installation, instructions were clear on what to do and when
+Looks awesome
+Quiet, shhh I could actually hear myself think when using this cooler.
Cons:
–Will be problematic in most mid sized chassis
–Will have issues when using this GPU cooler on motherboards with only 1 PCI expansion port seperating the PCI-E x16 ports.
Artic Cooling has reconized there is a minor issue requarding the cross brace screws of being a tad short from the original cooler that we re-use to mount the Accelero Xtreme 4870X2 GPU cooler. Artic Cooling is offering free replacement (longer) screws for those who may have shorter cross braces screws on there HD4870X2 video card. The web site can be found HERE, the link is located on the left hand side of the page.
Despite the minor screw issues I had, the temperature's I received, and the overall quality that Artic Cooling put into this awesome GPU cooler. The Accelero XTREME 4870X2 respectfully earned a:
9 out of 10 and the Bjorn3D.com Seal Of Approval.