USB Drive storage capacities have skyrocketed up to 128GB on select models. Kingston a leader in memory technology has fielded DataTraveler DT200 drives in 32/64/128GB Capacities.
INTRODUCTION
USB Flash storage has mainstreamed to the point that people going to school are required to have Flash drives to copy assignments and files to. Until recently flash storage has been limited in size and the smaller sized are quite inexpensive. What happens when you need to store tons on files whether it be Video, Music, Large Work Files, and the smaller USB flash drives just won't cut it. Until recently you could haul a laptop around with you, a portable hard drive, of a pocket full if smaller flash drives.
Here at Bjorn we have a pile of flash drives, sitting on a table, and are constantly having to shuffle through them to find the right file or driver. Sifting through 6 flash drives totaling 12GB to find that one file was getting old. Pulling out the portable HD and connecting it every time we needed files was getting old. We were extremely glad when Kingston contacted us about their DataTraveler DT200 line of USB flash drives. They come in 32GB, 64GB and 128GB capacities. The one we have to look at is the DataTraveler DT200/64GB. Kingston assures us that all of the DT200 series will perform at the same level so if you want the smaller or larger DataTraveler you can expect the same performance we got from this time saving little jewel.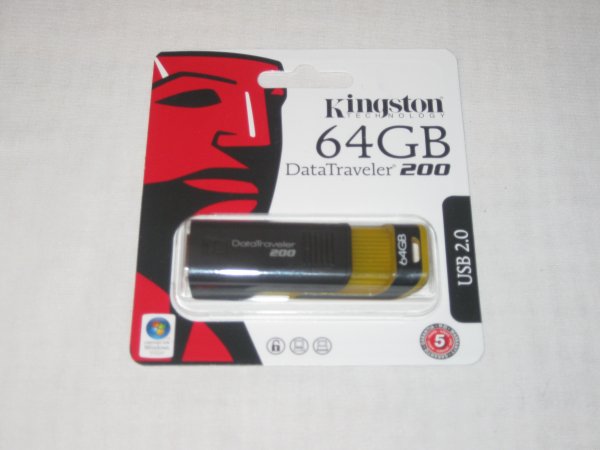 Featuring USB 2.0 compatibility (backward compatible with USB 1.1) and Password Traveler security software you can depend on machine to machine compatibility with the ease of an unsecure partition for easy access and a Privacy Zone that will keep sensitive files safe from prying eyes. The ginormous storage capacity allows for plenty of storage for all your mobile files and media.
Specifications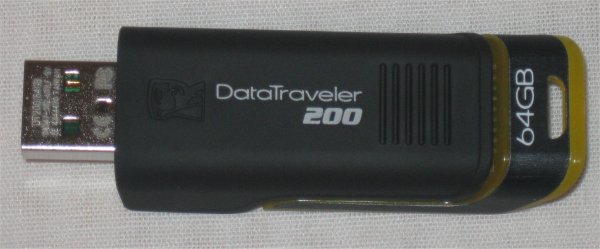 Capacities* — 32GB, 64GB, 128GB
Fast — Data transfer rates of up to 20MB/sec. read and 10MB/sec. write
Dimensions — 2.77″ x 0.49″ x 0.89″ (70.39mm x 12.52mm x 22.78mm)
Operating Temperature — 32°F to 140°F (0°C to 60°C)
Storage Temperatures — -4°F to 185°F (-20°C to 85°C)
Simple — Just plug into a USB port
Practical — Durable, capless design
Guaranteed — Five-year warranty
Safeguarded — Includes Password Traveler security software for Windows
Enhanced — for Windows ReadyBoost™ on Vista-based systems
Backed by a 5 year warranty and featuring storage capacities of 32, 64 and 128GB the Kingston DataTraveler is ideal for anyone that wants, or needs to store a large amount of files. The extra ease of having data stored in an unsecured partition and a Privacy Zone that protects sensitive data make this perfect for business types that need to protect some data but also want easy access to other files. Imagine the convenience of carrying a thousand songs, two or three movies for the road, all your business data and a smattering of pen programs and still having storage space to spare. Then imagine carrying that in your pocket on your key chain, and having the Secure Zone protecting your valuable files. That's what the Kingston DataTraveler offers and with it's 5 year warranty it's not just a USB drive, it's an investment in long term data storage and protection.
Pictures & Impressions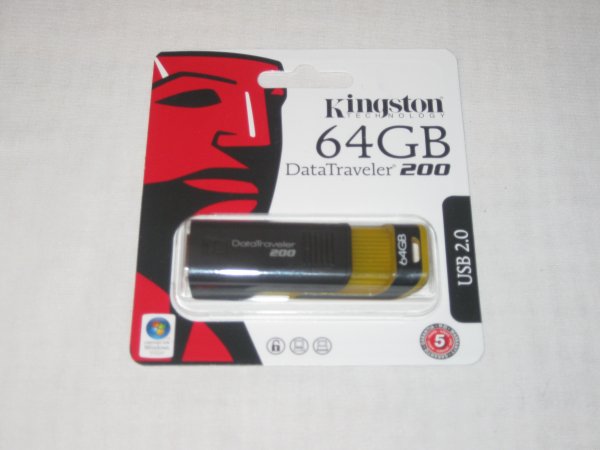 Packaged on a simple hang card the DataTraveler DT200/64GB it just doesn't seem like such a small device can hold 64GB of data. Of course this comes from people that saw 5 1/4 inch full height hard drives filling two drive bays and storing a whopping 10MB and costing more than triple what this finger sized 64GB USB drive costs. Having been in the computer field since they hit the first desk gives us a somewhat unique perspective of how far the technology has actually advanced.

Closed the DataTraveler maintains a stylish professional look and short of the lettering you might wonder if it's a miniature LED light. The cap less design combined with the industry leading 5 year warranty is really impressive.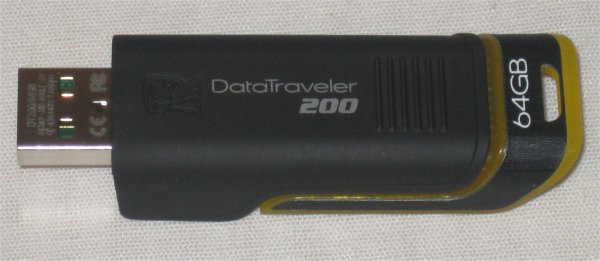 With the DataTraveler DT200/64GB open it's easy to see it's a USB drive and we are grateful for the trend of capless design drives. Nothing will dampen a benchmarking session like dropping a cap into a rig that's running.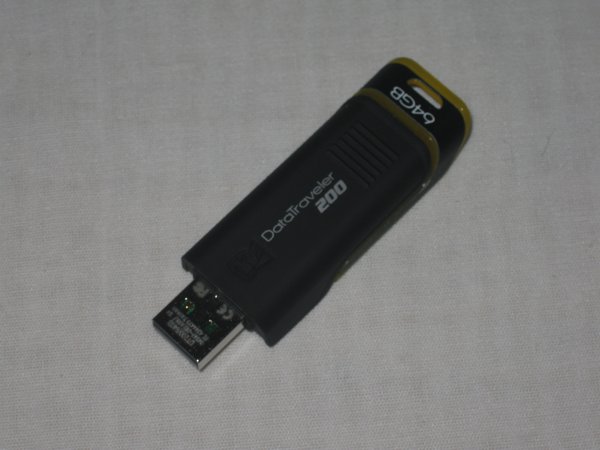 This angled shot of the DataTraveler shows it's professional look and style, the small opening at the back of the drive is ideal for hanging the DataTraveler from your keyring.

The back of the drive has the stylized Kingstom name and the collar that slides over the body of the drive to open it.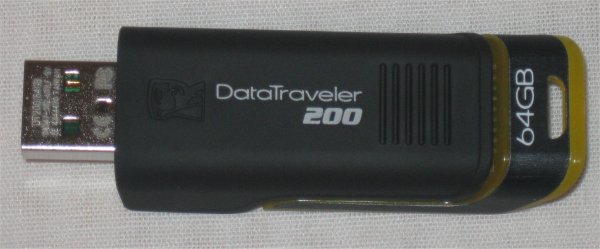 Opening the drive you just grasp the body of the drive and push the end forward. It takes a small but solid amount of pressure to open the drive so it should remain closed in your briefcase or pocket.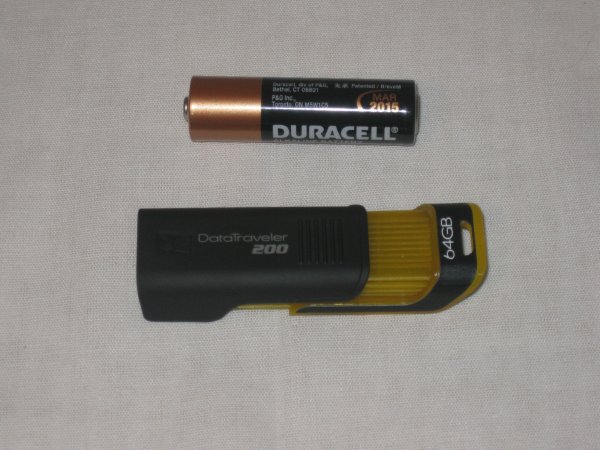 To give you a little scale on the DataTraveler DT200/64GB we put an AA size battery next to it. Amazing that 64GB of storage fits in that small a package.
PASSWORD TRAVELER SOFTWARE
The Password Traveler Software is a simple easy to use set of software that will partition part or all of the DataTraveler DT200 drive into a Secure Zone that will keep your data safe from prying eyes.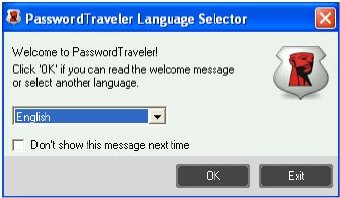 After you click on the executable file found on the DataTraveler DT200 series drive you'll be greated with the select your language screen.

Once you get past the Language selection screen you see the Password Traveler Welcome screen.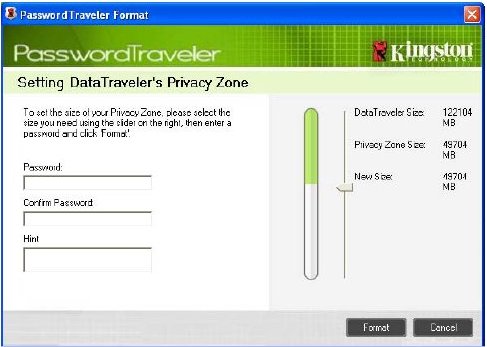 The next screen is the Password Traveler Format Screen, you enter your password here, a password hint and define the size of the Privacy Zone.

The Warning screen lets you know that creating the Privacy Zone will erase all data on the DataTraveler drive so if you have existing files copy them yo your hard drive and start the process again.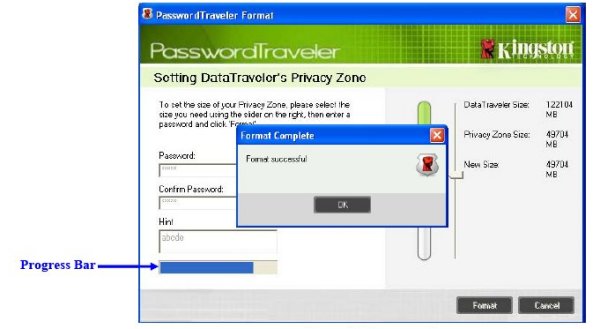 Once you've completed the previous screen and clicked OK you'll get a progres bar and when the format and creation of the privacy zone is complete you'll get a Format Sucesful window.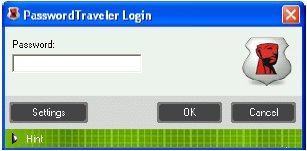 When you click on the Privacy Zone to get to it you'll get a password screen.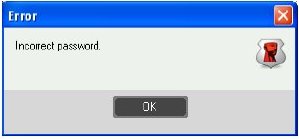 Enter the wrong password and you get this error message.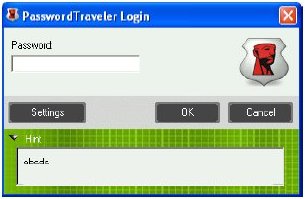 Forget your password and you can use the hint you entered earlier.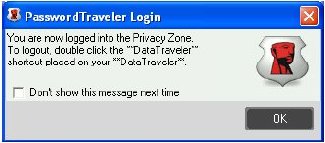 Enter the correct password and you get the Password Traveler login screen.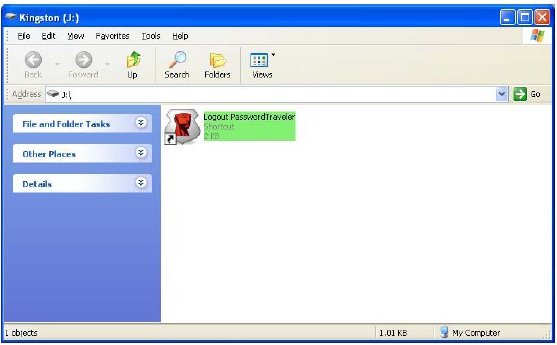 Save and close all your files you've accessed on the DataTraveler and open windows explorer and click on the DataTraveler drive letter and you'll see this Logout Icon. Click on it to logout of the Privacy Zone and you get the following screen.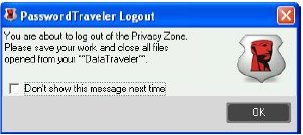 This is the logout reminder screen where it tells you to make sure all the files are closed.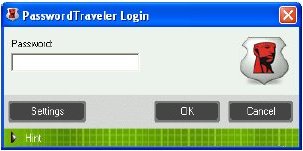 If you want to customize the settings on the Password Traveler Software just log back into the Privacy Zone.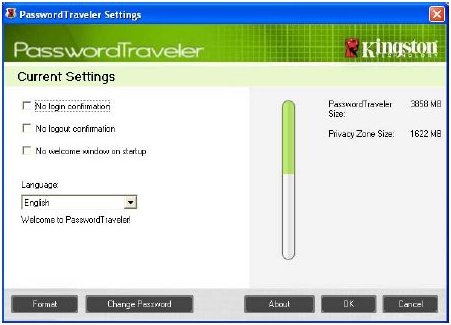 Select the options you want, format the drive, or change your password.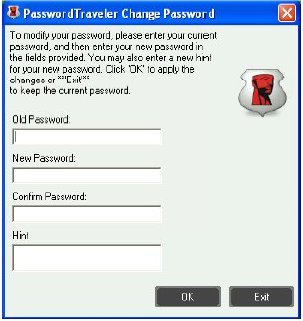 If you choose to Change the password you get a pretty standard change password screen where you have to confirm the old password and double enter the new password and a new hint if you like.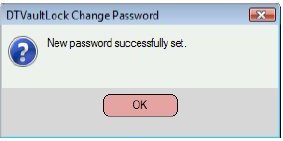 Once you've reset the password you get a confirmation screen.
The Password Traveler software is simple to use but provides all the functionality you need to secure your data or make changes to the structure of your drive. The option to keep the files intact while making changes to the size of the Privacy Zone would have been handy, but copying the files to a local hard drive resizing the Privacy partition (or eliminating it) is the only option here. So if your dealing with sensitive files make sure you use a Wipe Utility and not just delete the sensitive files. A lot of you already know that files aren't really deleted on computers, the OS just puts a "?" on the front of the filename and hides it from you so it's still there and you can see it in the recycle bin. When you empty the recycle bin the files still on the local hard drive but marked for overwriting and can be retrieved using file recovery software. Make sure you WIPE sensitive data, deleting it and walking off may leave you open to data theft.
TESTING METHOD
We really don't feel the need to go into great depth on the Test Rig on this one, any modern computer with a USB 2.0 interface will produce similar results. In our case we used an ultra High end Core i7 965 sitting on a Asus P6T6 motherboard. Almost any desktop with a USB 2.0 interface would have done just as well.
We used HDTach, Crystal Diskmark and Sisoft Sandra Removable storage benchmarks on the DataTraveler DT200/64GB. We also used it on a day to day basis and copied a very large 4.18GB file to the drive and timed it. We repeated all the tests 3 times and quickly realized that they ran so close together that there was no real difference in any of the tests worth noting. Instead of posting charts for the results we picked the median test result and are posting a screen shot of that.
HDTach
The Burst rate on the Kingston DataTraveler ran at 32.8MB/s which is considerably higher than the specs we pulled from the Kingston webby that say 20MB/s. The Average read rate runs 31.2MB/s and is a little faster than most of the USB drives we've tested. We did notice that the DataTraveler had a lot steadier transfer rate than most of the cheaper drives we've seen indicating high quality Nand flash components were used.
Crystal DiskMark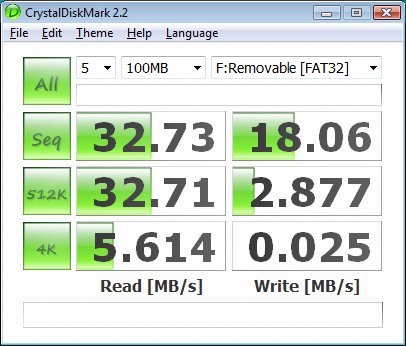 In Crystal DiskMark we see the Sequential read coming in at 32.73MB/s and the Sequential Write exceeding the 10MB/s advertised on the Kingston specifications. The 512K test shows no substancial drop in read speed but the Write speed slows down which is normal for most Nand Flash based products. When you get to the 4K test in Crystal DiskMark, which is considered by many to be the most brutal test in any HD suite, the speeds slow way down. We don't see that as a disadvantage, files that small your not going to be writing thousands of files one after another and single file reads and writes happen in less than a blink of the eye.
Sisoft Sandra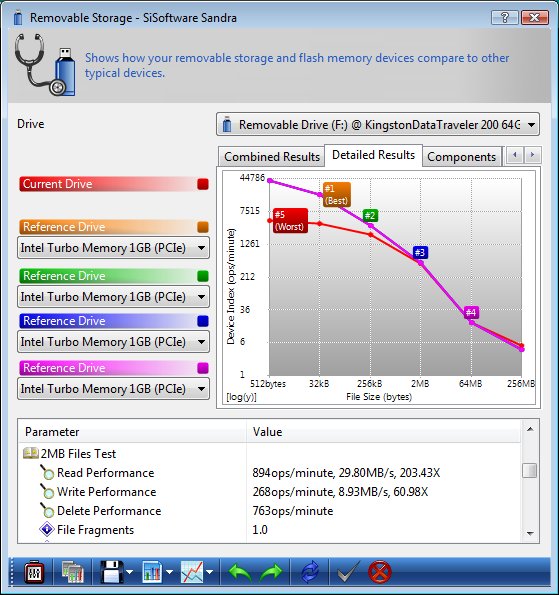 We chose to look at the 2MB portion of the Sandra Removable Storage test because that's where file transfers seemed to level out and give steady readings. We already know that transferring small files degrades speed and that's normal. Most of us tend to transfer larger files and those transfer at 29.8MB/s and we saw as high as 32MB/s which is a pretty good speed for a USB drive to transfer at.
Everyday Usage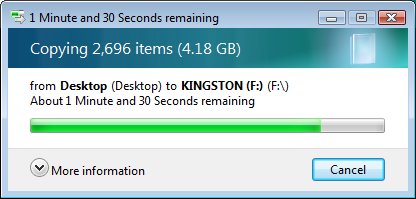 We happened to have a Benchmark folder that had gotten so large our flash drives would no longer accommodate it on a single drive. We copied the benchmark file folder to the Kingston DataTraveler 3 times and averaged the copy time which came in at 4 minutes 38 seconds from the hard Drive to the USB drive. Considering the sheer number of files in the benchmark folder (2,694 files) that's a pretty good transfer rate.
CONCLUSION
The Kingston DataTraveler DT200/64GB and the Password Traveler software included on it exceeded our expectations for a Nand Flash based USB drive. The 64GB of space on the drive we received took the place of a stack of Flash drives we had to sort through routinely. The massive storage capacity, ease of use and Privacy Zone make it the perfect choice for our data storage needs.
The professional look and solid feel of the DataTraveler combined with it's industry leading 5 year Warranty make it a sound investment in portable storage. We've seen the Data Traveler at E-Tailers for as little as $143 (USD)and considering we're used to paying $20 for 4 GB of flash storage locally (reputable brands) the $143 price tag of the 64GB DataTraveler isn't bad. At 16 times the storage of a 4 GB drive that runs $20 locally we'd have to spend $320 for the same amount of storage and the locally purchased USB drives don't have the Password Traveler Software to keep our sensitive data protected. For business data and non-disclosure agreement products on review sites the Kingston DataTraveler DT200/64GB is the perfect choice. For home use it can pull double duty and carry all your sensitive files and media. School use you can protect those term papers and assignments and still have plenty of Music and media files stored.
We really like the ease of use having both an unsecure partition and a Privacy Zone and appreciate the easy to use easy to understand Password Traveler software included with the DataTraveler. The drive and included software will be easy for seasoned users and beginners alike.
We are using an addition to our scoring system to provide additional feedback beyond a flat score. Please note that the final score isn't an aggregate average of the new rating system.
Performance 8
Value 8
Quality 9
Warranty 10
Features 8
Innovation 7
Pros:
+  Professional Look
+  As Fast As Any USB Drive We've Seen
+  Durable
+  Privacy Zone
+  Ginormous 64GB Of Storage Space
Cons:
– Must Format The Drive To Change The Privacy Zone Size
– Like All USB Drives They're Easy To Lose
The Kingston DataTraveler DT200/64GB exceeded our expectations for a Nand Flash Based USB Drive, it's massive storage, professional look, 5 year Warranty, and ease of use earns the DataTraveler DT200/64GB a:
Final Score: 8.5 out of 10 and the Bjorn3D Seal of Approval.