WHen it comes to the best of the best in thermal paste GELID Solutions is so far the best I have used to date. Look inside and find out why.
INTRODUCTION
Back in March of 2009, I reviewed some of GELID Solutions thermal paste called GC1. During my testing phase I was amazed at the performance of this thermal paste. I was notified by GELID Solutions that they were making newer, & better thermal paste that rivals even there GC1. At first hearing this, I was a bit skeptical of this, GELID Solutions offered me to review some of this "Better" thermal paste. Well, of coarse I was more then happy to check out this new and improved thermal paste.
I was not expecting much difference in my CPU temperatures, because even I came to realize that the only way for my CPU temperatures are going to go down any lower then they are, is by drastically changing my water cooling set up to something a bit more aggressive. Like adding frozen Carbon Dioxide (better known as "Dicing") to my water, or purchasing a Phase Change unit, to figuring out how to put my reservoir inside of a freezer. Of coarse these steps are just a tad bit too drastic of a measure for my self to gain a few extra MHz on my CPU.
The two new thermal pastes that GELID Solutions sent me were their Extreme, and the GC2 thermal pastes. Do these thermal pastes have what it takes to compete with good already proven thermal pastes out on the market? Like Noctua, OCZ Freeze, Artic Silver, Cooler Master, or even remotely keep up with their tried and trued GC1 thermal paste. Lets step inside and see how these two new thermal pastes stacked up.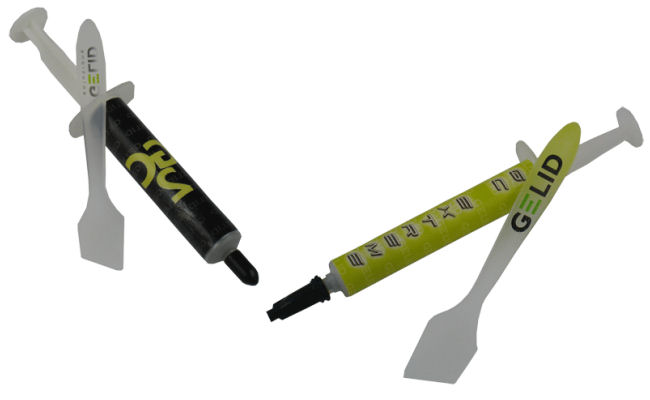 SPECIFICATIONS
 GC2
Optimal Heat Conductivity
Low Thermal Resistance
Non-Electrical Conductive
Non-Corrosive
No Bleeding
Non-Curing
7g Net Content
  Xtreme
Ultimate Heat Conductivity
Non-Electrical Conductive
Non-Corrosive & Non-Curing
No Bleeding & User Friendly
GELID Applicator
Net Content of 3.5g
PACKAGING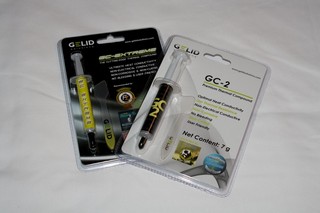 GELID Solutions does a pretty good job on presenting their thermal paste. They also used a blister type packaging we see with most thermal pastes. The GC2 thermal paste comes in a larger tube, then the GC1 and the Xtreme thermal paste. This should give us plenty of thermal paste for all of our computer components for quite awhile.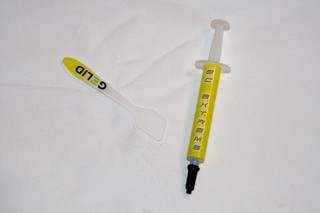 The Xtreme thermal paste with a plastic applicator.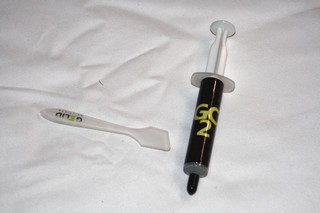 The GC2 thermal paste with a plastic applicator as well.
SMEAR TESTING
Once again this is not an official test, just gives me an idea on the consistency of the thermal pastes.
The Xtreme & the GC2 thermal pastes side by side. with a small dot in front of each one. With this side by side comparison, we can see these two thermal pastes have the same color of paste, and the GC2 indeed is larger then the Xtreme thermal paste.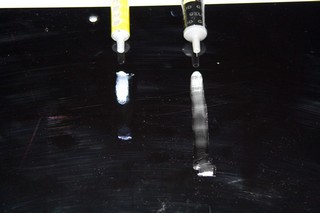 Looking at the results of this little test, the GC2 has a bit better consistency to it. The Xtreme gives us a strange result.
TESTING METHODOLOGY
No real need to get into great detail of the testing methods, you can see them
in my Thermal Paste Round Up. The only reason why the newer GELID thermal Pastes were not included I received these tubes of thermal pastes shortly after I typed up the Round Up. I should also mention the GELID GC1, is end of life, and has been replaced by these two newer thermal pastes by GELID.
Test Setup &Testing Methodology
CPU
Lapped Core i7 920 @ 3.8 GHz
Motherboard
MSI X58 Platinum
Case
Cooler Master Cosmos
Memory
GSkill Trident 2000MHz
Video Card's
HIS 4870, XFX 4870X2
Hard Drives
 2 x Seagate 2.5″ HDD's Raid-0, 1 160 gig WD HDD Backup.
CDRom Drive
Lite On Sata1 DVD Burner/ Lite On Blue ray
Power Supply
SilverStone 1200 watt PSU
CPU Speeds Used
200 x 19
Operating System Used
Microsoft Windows Seven 7100
Type of Software Used During Testing
Linx x 4 runs per thermal paste
Video Card Cooler

300 GPH Pump Koolance 487, 487×2 water blocks, Loop 2
CPU Cooler

300 GPH Pump Koolance 340 CPU water block, Loop 1
Radiators
Loop 1, Swiftech 320 Radiator: Loop 2 Danger Den 240 GTX , Danger Den

Any attempt to copy these system specifications will result in assimilation by your computer


Assimilation COMPLETE !!!!!
I will run LinX a total of 4 times to verify my temperatures, 1 is a quick burn in to make sure my thermal paste was used correctly. The other 3 runs of LinX were used for actual recording which i ran 20 loops per run. The hottest core reached was the temperature I recorded. I will only include 1 Screen shot of the best temperature achieved out of the 2 thermal pastes tested. The other 2 thermal pastes are just here for a comparison.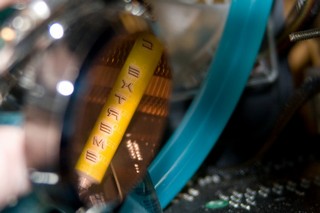 these next few images are to re-affirm that my CPU IHS is still polished, and the CPU cooler is still polished. This is the CPU water block base. As we can see it is still very well polished. The higher polish we have on our CPU coolers base the better temps we will get.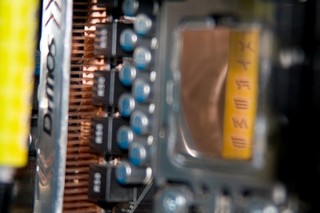 The CPU IHS face, again this is still fairly polished. Same rules apply here as the CPU cooler, the flatter and more polished we get this the better our temperatures will be.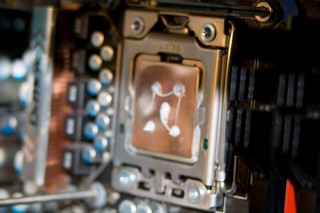 Application of the thermal pastes, this how I applied both GC2 and the Xtreme thermal pastes on my CPU.
Thermal paste dispersion, I use this pattern on putting my thermal paste onto my CPU, because it gives me the best results for what I need. Your specific needs may/or may not be the same way on applying thermal paste. Try different ways and use what is best for your computer.
RESULTS
Idle Load
Starting off on the idle temperatures, we can see that the GC2, and the Xtreme thermal pastes do very well on keeping my temperatures down. The GELID Solutions Xtreme thermal paste did do better by dropping 1°C lower then the GC2, and 2°C lower then the GC1. A lot of you probably wondering 1/2°C is not a whole lot of a difference. Well in actuality is not, but I have came to a point where trying to drop a single degree on my CPU is a lot of work. So your results will very from my own in actual temperature's. Now lets move onto the full load temperatures.
Full Load
Now warming up the CPU on a full load while at a 3.8GHz speed. The GC2 and the GC1 both tie one another in all out temperatures. The GELID Xtreme thermal Paste dropped my temperatures by another 2°C giving me a total of 54°C on a full load. Now I thought this was strange myself, so I did what everyone else would have done, re-applied thermal paste, and re-ran LinX to verify temperatures. I kept getting the same result of 54°C. I don't know about you, but this is definitely making progress.
Screen Shot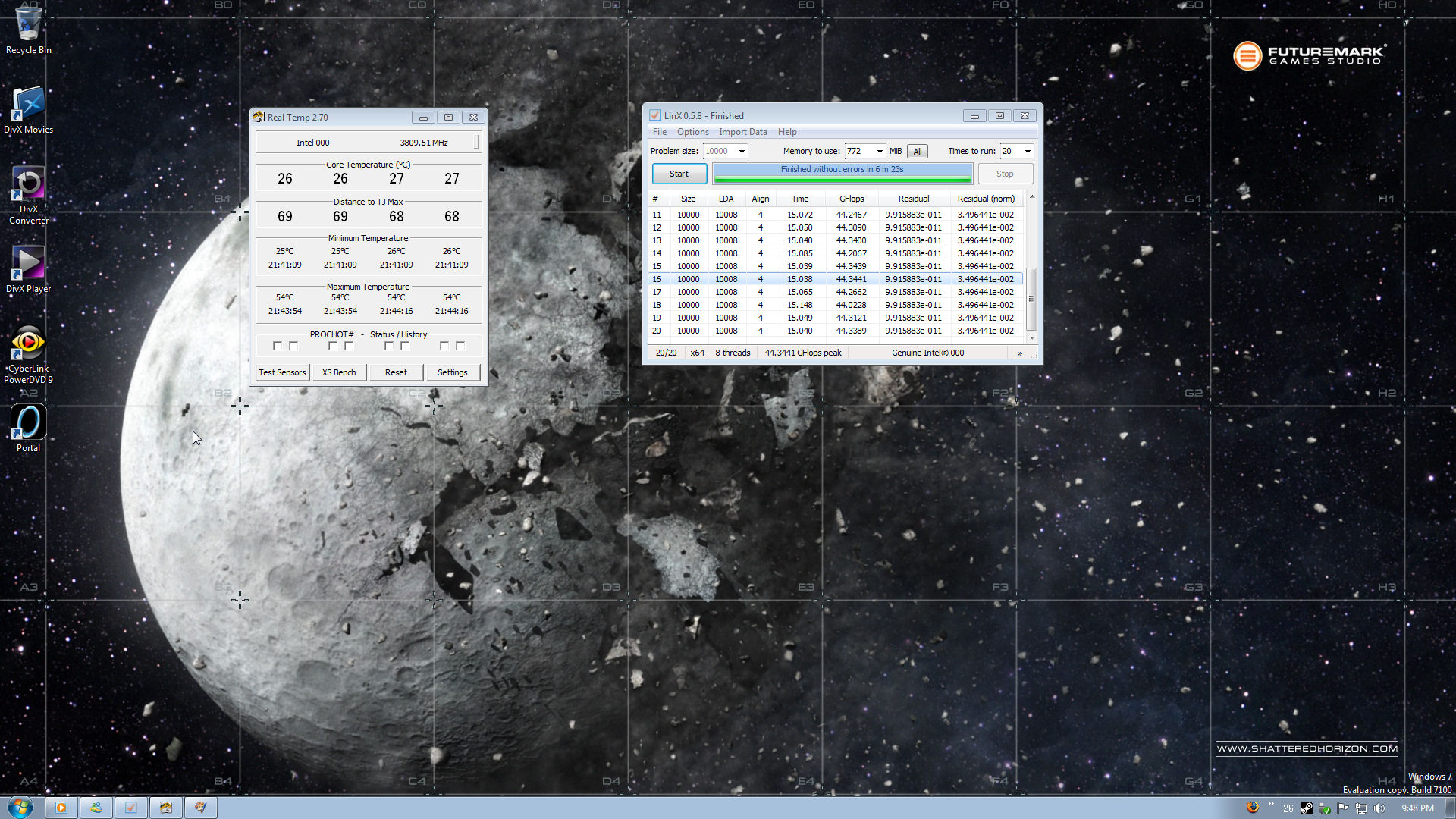 This is a screen shot of the Xtreme thermal paste run. As we can see this thermal paste does absolutely wonderful on helping transferring the heat of the CPU to the CPU water block.
CONCLUSIONS
I was hoping to have a Thermal Paste Round Up Part Duex, things did not quite work out that way. Gelid definitely has proven themselves to be one of the top manufacturers when dealing with thermal paste. Not only were they able to match there existing, already proven thermal paste the GC1, GELID Solutions was able to make their thermal paste perform even better.
The only place I was able to find a pricing for there GC2, and Xtreme thermal paste is currently at GELID's website. They have the GC2 with a MSRP of $7 USD, and coming in a large amount of 7 grams makes this thermal paste one of the cheapest, better performing thermal pastes out on the market today.
Once again the only place currently I was able to get a pricing on GELID Solutions Xtreme thermal paste was from their website, this thermal paste has a MSRP of only $9 USD. This thermal paste is no slouch, the harder, and the more I ran the Xtreme thermal paste the better it performed. If yo looking for a no holds barred, all out temperature control then you need to look no farther then GELID Solutions Xtreme Thermal paste.
Performance 10
Value 9.5
Quality 10
Warranty 9
Features 9
Innovation 10
Pros:
+Easy application of thermal pastes
+No curring time necessery
+Great temperature control
Cons:
–None I can think of
 Because of the amount you get, also with a good temperature of 56°C GELID Solutions GC2 Earns a: 9.5 out of 10, and the Bjorn3D Golden Bear Award

The Xtreme thermal paste was the best thermal paste I have tested to date, so this thermal paste rightfully earns: 10 out of 10, and the Bjorn3D Golden Bear Award