Eagle Tech has brought out a set of speakers that sound both good and looks good. And are perfect for those who need just a set of stereo speakers with a bit of kick or for those who need to compliment their 5.1 speakers for true 7.1.
INTRODUCTION
If you are like me, then having an awsome sound system on our computers is an absolute need. We have gone way beyond the, any old speakers will do for us. Not since our movies, music, and our games are taking advantage of 5.1 or even 7.1 surround sound. Any one can have loud music, gaming, or movie playing, but is it clear? Does it distort while the volume is at its absolute loudest? We need speakers that are crystal clear, that can re-produce accurate tones through out the full spectrum of sounds we are dealing with.
Eagle Tech has brought to us a couple sets of speakers, now these speakers are not 5.1/7.1 surround sound but only a 2.1 speakers. 2.1 speakers only have a sub and a right and left channel. Do not let the 2.1 discourage you from the use of these speakers. What I have found out, that these speakers are flexable enough for those of us who need that extra 2 channels to complete our 7.1 surround sound expereince., or for those who need that crystal clear sound from normal stereo.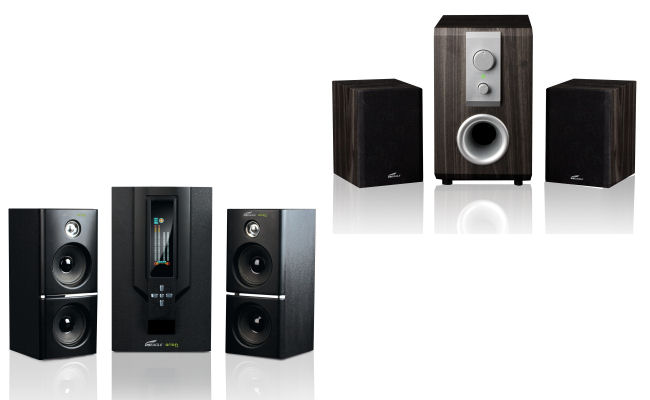 Bjorn3d and myself is proud to bring you not just 1, but 2 different sets of Arion speakers from Eagle Tech.
SPECIFICATIONS
I am going to group these two speakers up as one review. I tested both sets of speakers individually in a 7.1 enviroment with a set of Logitech 5.1 530's, also in stereo mode.
| Feature/Specification | Arion ET-AR504LR-BK | Arion ET-AR502-BK |
| --- | --- | --- |
| Total RMS Power | 35 Watts | 15 Watts |
| Satellites | 10 Watts RMS x 2 | 5 Watts RMS x 2 |
| Subwoofer | 15 Watts RMS x 2 | 5 Watts RMS x 2 |
| Total Peak Power | 70 Watts | 30 Watts |
| Frequency Response | 20Hz to 20kHz | 40Hz to 20kHz |
| Satellites Driver | Dual 3-inch midrange and 1-inch tweeter with solid wood enclosure | 3-inch high output drivers with solid wood enclosure |
| Subwoofer Driver | 5.25"-inch driver with solid wood enclosure | 4-inch drivers with solid wood enclosure |
| Satellites Dimensions | 4.33" x 9.65" x 4.77 | 3.86" x 5.52" x 3.94" |
| Subwoofer Dimensions | 6.7" x 11.03" x 10.25 | N/A |
PACKAGING
Arion ET-AR504LR-BK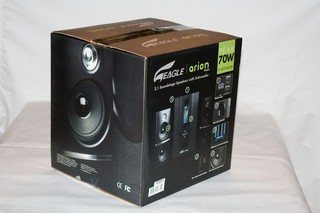 Looking at the box these speakers came in, we can already tell these speakers are fairly large. Eagle Tech did an outstanding job on giving us plenty information about the Arion ET-AR504LR-BK speakers.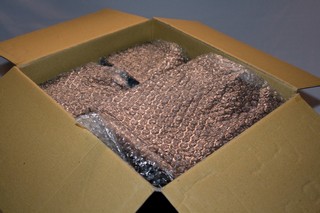 A quick shot of how Eagle Tech packed the speakers. Eagle Tech used bubble wrap to help protect the speakers from getting damaged during shipping.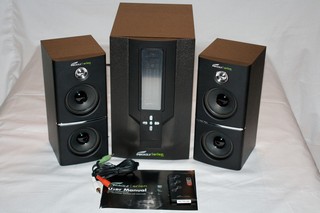 What you get with these speakers. Two satellite speakers, One sub-woofer, Instruction manual, One 1/8″ head phone jack to RCA adapter cable, finallly One remote.
Arion ET-AR502-BK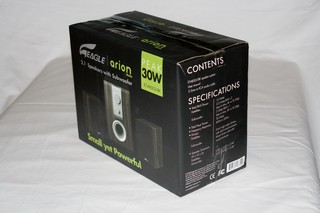 Once again, Eagle Tech does a good job on presenting their speakers.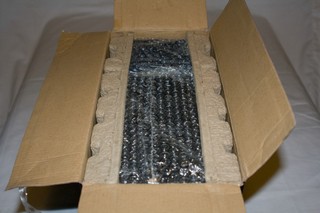 Like the Arion ET-AR504LR-BK Speakers Eagle used a form fitting cardboard inserts while wrapping the speakers themselves in bubble wrap.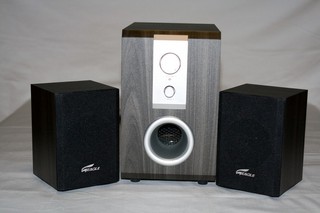 These speakers are the smaller set. Pretty simple, Two Satellite speakers, with one sub woofer, not shown is the one 1/8″ head phone jack to RCA cable adapter.
OVERVIEW
Arion ET-AR504LR-BK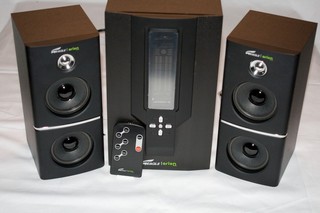 Lets start off on the big set of speakers first.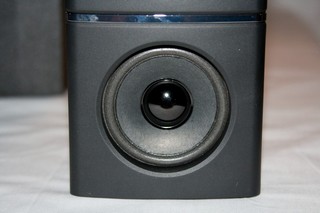 On the satellite speakers the Arion ET-AR504LR-BK use a paper cone with a glossy center, with a foam surround. Each of the satellite speakers of this set uses two types of these speakers, with a small 1″ tweeter. This is the bottom speaker.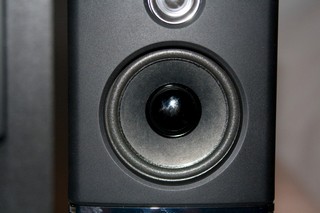 The upper speaker is of the same type as the bottom speaker.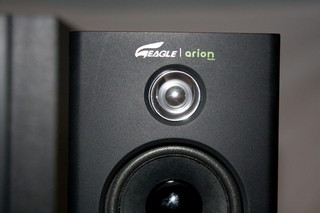 At first I was not sure if this was even a speaker, but after putting my ear up to it, and afterwards having this ringing sound of a high pitch noise, reinterates that this is indeed a tweeter.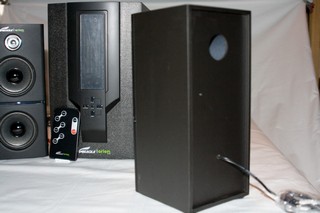 Looking at the back side of the satellite speakers. Now I did a sound test prior to hooking these up to my computer, basically I tapped on the side of the casing to see what it was made of. I found out these are made of wood, not just any ole wood but of particle board, which in my experinces on building car speaker boxes this type of wood makes the best sounding acoustics.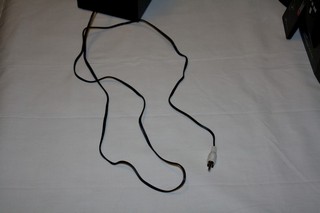 The cable Eagle Tech used on each satellite, uses a RCA plug that gets connected to the bass/amplifier box. It is not that long and Eagle Tech should have made this a tad longer by 12-24″.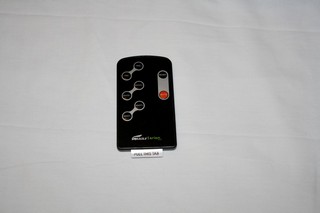 The remote, we can control the treble level, bass level, the volume and mute these speakers. I ended up using this remotly only for my adjustments.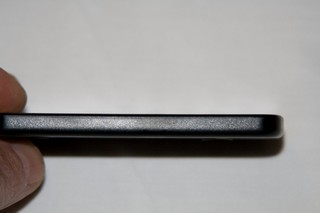 The remote is fairly thin.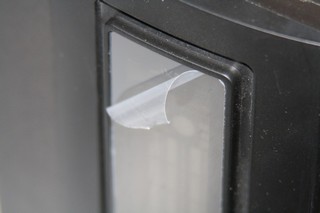 Now time to look over the Bass/Amplifier box. Eagle Tech used a plastic cover of the front of the display to this part from getting scratched up.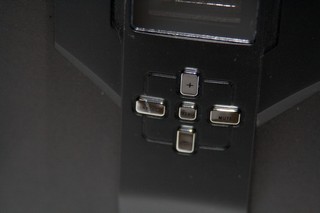 The Bas/Amplifier box, has the same abilites as the remote does. This is a bit more clumsy though.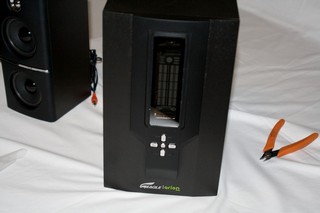 Quick Front picture of the Bass/Amplifier box. I am now looking for the sub woofer.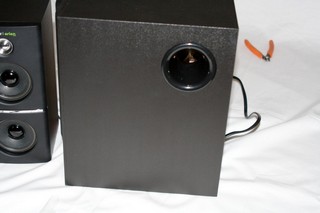 I see a port hole, for the sub.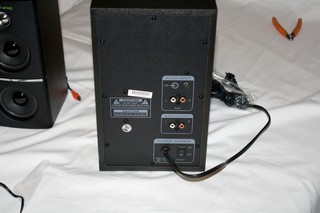 Thats where we hook up our computer with the included adapter, and the speakers. Also turn on the unit, and where the power cable is located. No sub woofer yet.
Closer image's of the back side.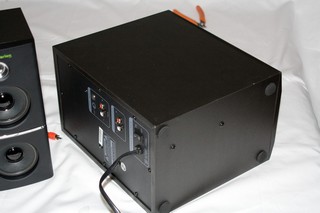 Looking at the back side and the last side of the Bass/Amplifier box. No sub-woofer, that I can see. I know what Eagle Tech did, the minute I did not see the sub woofer. It is in there, but this enclosure is what we call a Band-pass sub woofer enclosure. This type of enclosure for us car stereo junkies gives us the best SPL for our system. I liked how Eagle Tech used this type of box. Good thinking.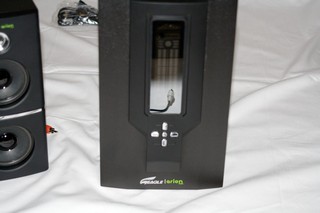 Looking at the front again. (I was board)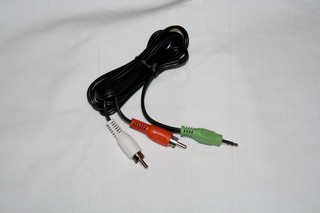 The RCA/1/8″ phono jack adapter. Again this was not very long in length, Eagle should have also made this cable longer as well.
Arion ET-AR502-BK
Time for the smaller set of speakers by Eagle Tech.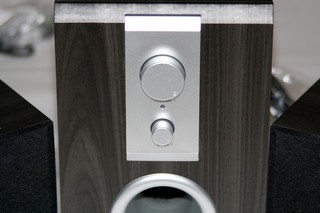 These set speakers were a tad bit more simplier in adjustments. Eagle Tech put the volume, and the bass nob right on the Sub/Amplifier box itself.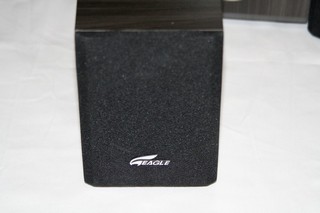 Looking at the satellite speakers, Eagle Tech used a foam, to hide the speakers themselves. I could not get this foam off without ruining it. So I left it be. These speakers are also made of a particle board wood costruction. Eagle Tech did chose the right type of material to house these speakers.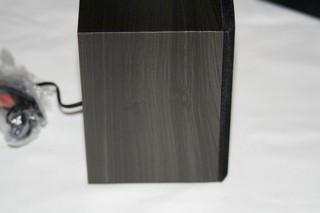 The entire set of speakers we have a wood grain laminate look to them. If anything these should look great by a HTPC computer.
Just flipping the satellite speaker over to show you how Eagle Tech built these speakers.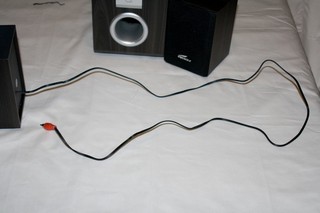 These speakers use the same RCA plug the Arion ET-AR502-BK satellite speakers, once again these are fairly short.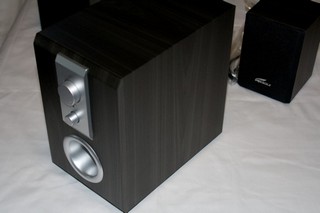 Looking at a 3/4 view of the Sub/Amplifier box, no speaker yet.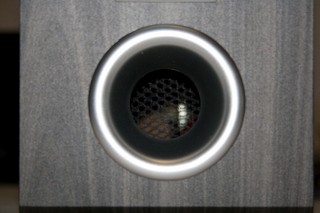 Looking through the bass tube for the sub woofer. Eagle Tech put a cloth like mesh inside of this port tube to keep fingers and unwanted critters from entering the box.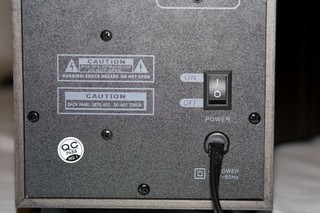 Looking at the back side of the Sub/Amplifier box. this is where we hook up our computer, and the speakers. The power button is located here, with the power cord.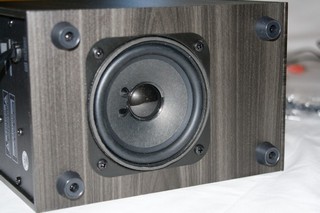 There's the sub woofer. Oh look it is a cute little thing. The standard paper cone with a plastic center cone. the sub is located on the botom of the box.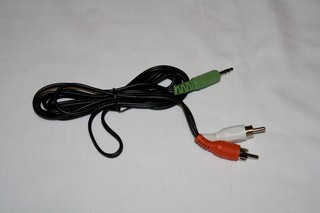 The included 1/8″/RCA adapter. again not very long.
Installation
Installing speakers has not changed at all, no real need to do a step by step.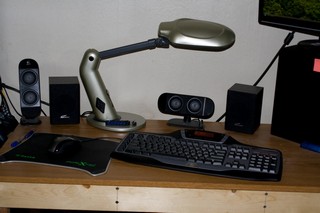 What the Arion ET-AR502-BK looks like all hooked up and rip raring to go. Again these were tested as both stereo (front) and also in a 7.1 enviroment (front again). The Logictech speakers are slightly taller then these speakers.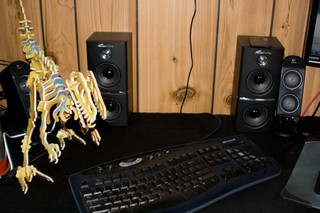 The Arion ET-AR502-BK speakers were a tad taller then the Logitech 530's. 
WHAT I CAN'T HEAR YOU
You gonna have to speak louder, I can see your lips moving, but nothings coming out. Speak up louder, What? Hold on a sec, click, click, click, click, click, ok what were you saying, man you did not have to yell I am only two feet from ya.
These speakers were some of the best 2.1 sets I have dealt with in a very long time. The last set I had that sounded great were a set from Labtek back in 1999, it seems that most companies went for the how much money you want to spend for a set of good speakers. Even then, most of the 2.1 offerings just did not have the sharp clarity of highs, mids, and lows coming from them, these speakers usually had an echo effect to them because of the plastic enclosure they used. The Arion sets of speakers I reviewed here performed flawlessly, I am having a hard time on depicting what sounded better then the other. I will say this for these speakers they did add them tones I was missing from my Logictech 530's added a more crispier, sharper tones I need and also was looking for. In stereo mode these speakers again did not disapoint me one bit. The only issue I kept running into was the lentgh of the cables that Eagle Tech used. I put my sub boxes below my desk and point the sub itself towars a corner of the wall for best accustics. I was unable to do this the right way because of the shortened cables.
Looking at Newegg on these speakers, the Arion ET-AR504LR-BK go for 50 USD and the Arion ET-AR502-BK goes for 30 USD, which puts these great speakers in a perfect catagory for those wanting crystal clear sounds, for a stereo enviroment, or for those with a 7.1 capabilities wanting/needing that extra two channels on their allready exsting 5.1 surround system to complete it for an awsome 7.1 sound system. Why hear it when you can "FEEL" it enjoyment.
Performance 9.5
Value 9.5
Quality 9.5
Warranty 9.5
Features 9.5
Innovation 9.5
Pros:
+Clarity of tones
+Ease of use
+Everything included
+Solid wood design box
Cons:
–Cables a tad short
During my listening to Pirates of Caribbean sound tracks I truly enjoyed the tones these speakers produced. These speakers has earned, not only a rightful place on my computer desk Blaring, but also a:
9.5 And the Golden Bear Award for the Arion ET-AR504LR-BK

Finally the Arion ET-AR502-BK speakers respectfully earns a
9.0 And the Golden Bear Award