If your looking for a cheap DDR2 kit but want future proofing then you should look at Patriot's 8GB DDR2 kit we have today.
Introduction
I think we can all clearly remember the days of Battlefield 2 when to truly get top performance out of your machine you needed 2GB of ram in your system. Unfortunately that is not the case today and Patriot realizes this. With operating systems like Windows Vista and games like Grand Theft Auto 4 you really need some extreme ram to keep up with your high gaming demands. Today Patriot sends us an 8GB set of DDR2 800 to put through the paces. We will see how it compares to a lower amount of ram that runs faster.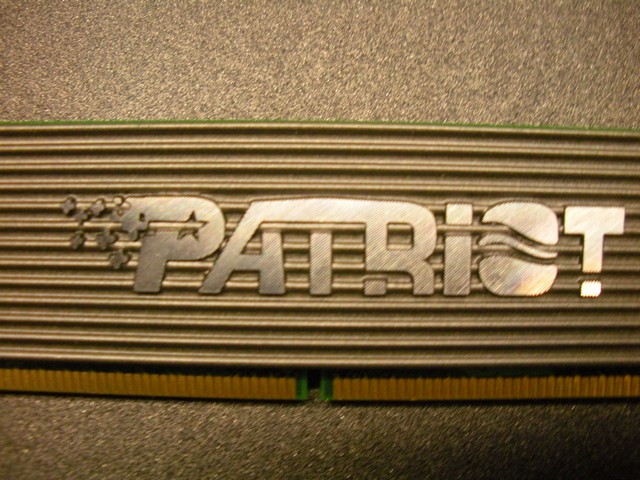 About Patriot
Company Profile
Established in 1985, Patriot Memory builds a full range of memory module and flash memory products, offering a perfect blend of quality and value. Patriot products include Extreme Performance (EP), Signature Lines (SL) and Flash Memory solutions (FM)
Product Design
We understand the value of designing and responding quickly and intelligently to the rapid changes inherent in the memory module industry. This commitment to R&D enables us to deliver the best quality memory modules powered by the latest innovative technology.
QA/QC Testing
Patriot Memory ensures that every module meets or exceeds industry standards. The manufacturing process begins with high-quality components and ends with rigorous functional testing to ensure each module's reliability and compatibility.
Patriot Memory modules are approved by leading motherboard and system manufacturers such Intel, Tyan, Supermicro and Iwill.
Specifications
Extreme Performance PC2-6400 (800MHz)
Low Latency (4-4-4-12)
Patriot Aluminum Bladed® Heat Shield Technology to improve module module stability
100% Tested and Verified
Lifetime Warranty
RoHS Compliant
Must be used in a 64-Bit O/S Environment
Picture time!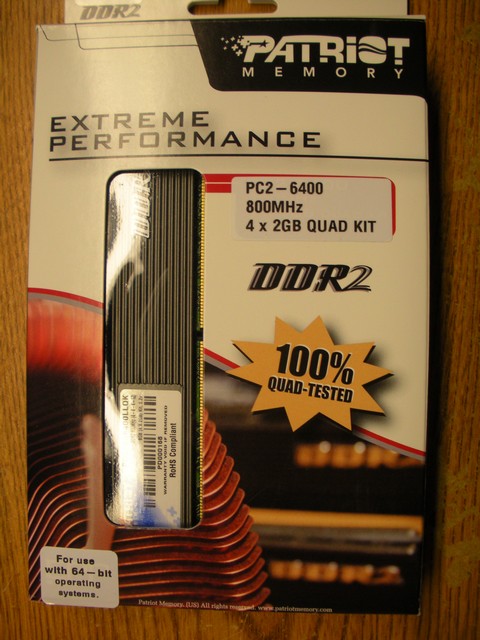 The Patriot RAM comes in a straight forward box that shows what the product is and includes stickers to make sure you abolutely know what your buying. It even has a cut out so you can see the RAM itself inside the packaging. They even make a note that this RAM requires a 64bit operating system to use the full amount of RAM.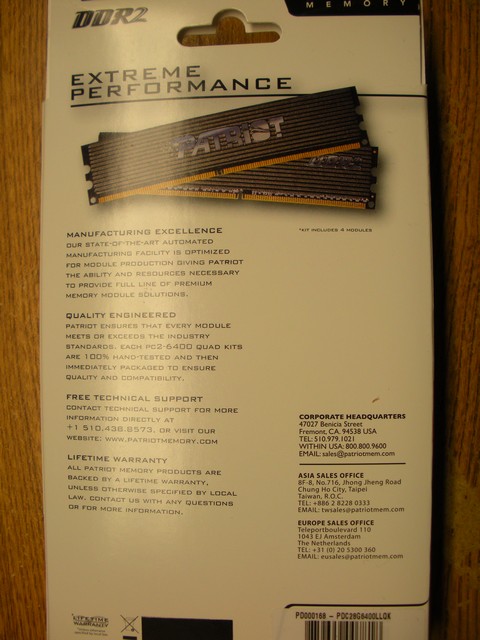 The back of the box has more information about the RAM and the company but no specifications. We like to see some detailed specifications on the box so that the customer can be fully informed of the product they are purchasing. Full details can be found on Patriot's website though.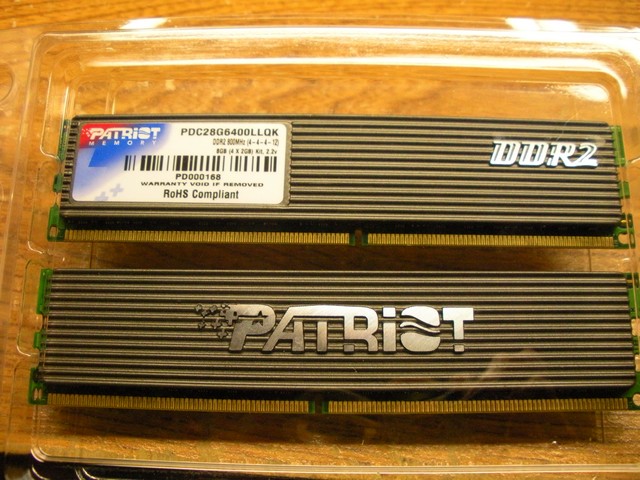 Here we have one of the two plastic packages that contains the RAM. This seems to be the common way of packing RAM and it is very cheap and effective. Your RAM is completely protected from those nasty delivery guys so you can sit at home and not have to worry about recieving damaged RAM in the mail.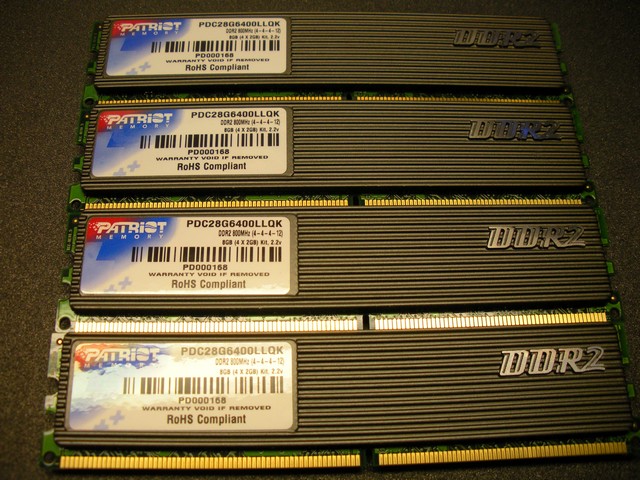 Here is a shot of all four sticks of the RAM. As you can see Patriot uses simple small heatspreaders so this RAM can fit under your massive air cooler or in smaller HTPC cases. I find this most welcome considering I use a TRUE 120 and I've had some problems in the past with RAM slots and big air coolers.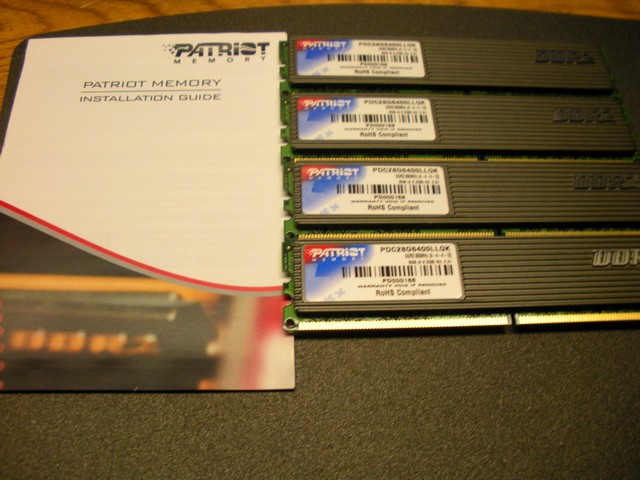 Finally a bundle shot. This is everything you will recieve in your little RAM box. Simply, RAM and an instruction manual.
Testing Methodology
 To test the Patriot Extreme Performance 8GB DDR2 800Mhz set we did a fresh load of Vista Ultimate 64 Bit edition on the test rig. We ran our usual Suite of memory testing software, each test was run three times and the average of the tests reported here. We also ran the memory for about 10 days in every day use, gaming, surfing the web and writing reviews to get a feel for the kit. Many reviewers don't feel it a needed step to live with the RAM kit and give it some burn in time prior to testing, but it's a good idea to let the kit run and get some burn in time as well as get a feel for the kit prior to testing.
Test Setup
Test Rig
"Univac"
CPU
AMD Phenom II X4 940BE @ 3.7GHz
Motherboard
Asus M4N72-E 750a
RAM

2x2gig G.Skill DDR2 1100Mhz

4x2gig Patriot DDR2 800Mhz

2x2gig OCZ DDR2 800Mhz

CPU Cooler
TRUE Black 120 & 2 Noctua Fans 1300RPM
Hard Drives

G.SKill 64GB SSD (System)

Western Digital 160gig Scorpio Black SATAII (enclosure)

GPU's

GTX 280's SLI

PSU
Thermaltake Toughpower 1000 Watt Modular
OS

Windows Vista Ultimate X64 SP1

This is my sweet little POS =)
CPU-Z & Overclocking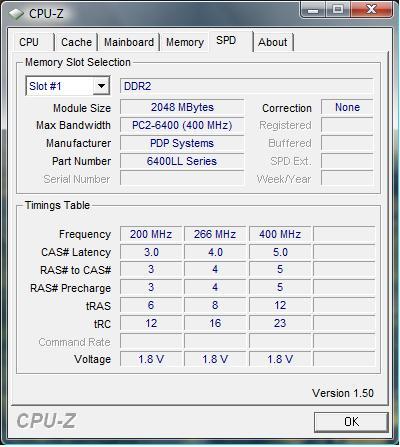 Instantly we see a problem here with CPU-Z detecting the timings for 800Mhz operation wrong. That's ok though because with a little BIOS tweaking I was able to get 4-4-4-12 like it was supposed to be without a problem. Windows booted up and I was able to do all testing like normal.
Overclocking
Here at Bjorn3D we like to take all of our hardware to the limit. Even if we have the latest and greatest we just can't have enough FPS to frag our friends when we're not doing reviews for these fine manufacturers.
Right off the bat I took this Patriot RAM to 1066Mhz. Using stock voltages and timings of 5-5-5-15 I was able to do all testing and hours of gameplay on Grand Theft Auto 4. I continued to increase clock speeds to 1100Mhz but I could not get a stable boot past 1066Mhz. That is ok though because 800 to 1066 is nothing to whine over.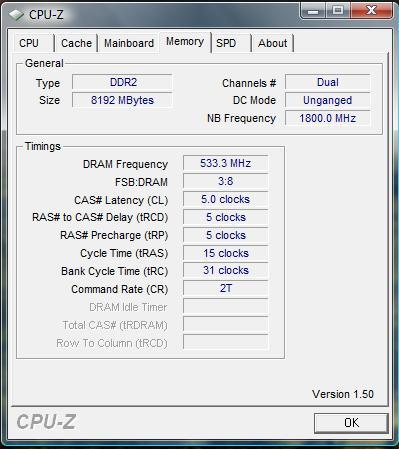 At these overclocked speeds the Patriot RAM was able to keep up with my faster G.Skill RAM and with the extra 4GB I was able to play Grand Theft Auto 4 without having to use a pagefile on a seperate drive.
Which brings me to RAM size discussion. Some people might think it to be overkill to have 8gig of RAM but with my experience I think it is the near future of being the norm. When using an SSD for maximum performance you are required to turn off pagefiling and other various things in Windows. Doing this means keeping everything in RAM. I noticed playing Grand Theft Auto 4 that with only 4GB of RAM I was kicked out to Windows because my RAM filled up. While having the Patriot 8GB set installed I did not have this problem. That is definately a plus.
Testing Suite
Synthetic Benchmarks
Everest Ultimate 5.0
SiSoft SANDRA Pro 2009
WinRAR 3.71 Corp
SuperPI
Crysis 1.21
EVEREST ULTIMATE
"EVEREST Ultimate Edition is an industry leading system diagnostics and benchmarking solution for enthusiasts PC users, based on the award-winning EVEREST Technology. During system optimizations and tweaking it provides essential system and overclock information, advanced hardware monitoring and diagnostics capabilities to check the effects of the applied settings. CPU, FPU and memory benchmarks are available to measure the actual system performance and compare it to previous states or other systems. Furthermore, complete software, operating system and security information makes EVEREST Ultimate Edition a comprehensive system diagnostics tool that offers a total of 100 pages of information about your PC"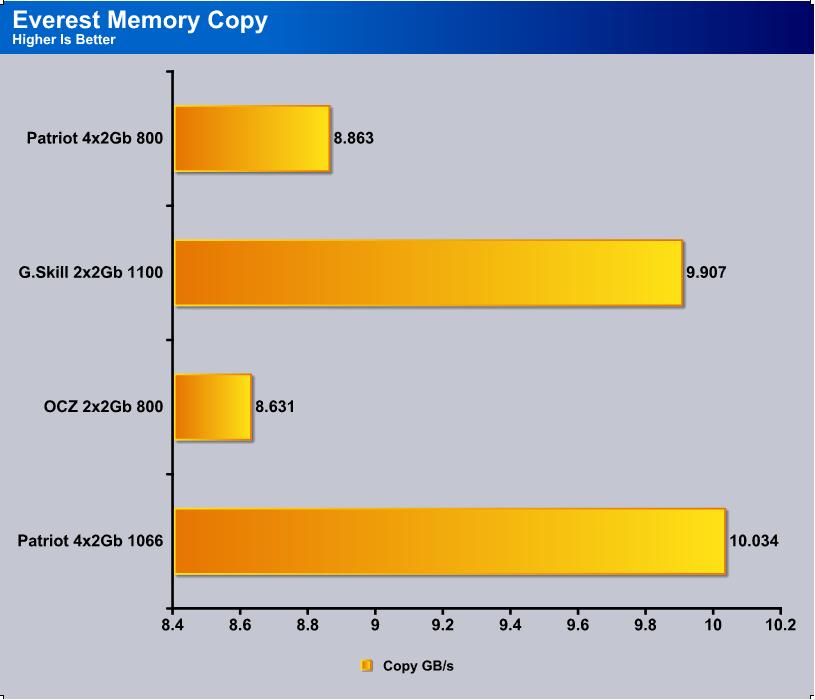 I think it is safe to say that faster should always be better when dealing with synthetic benchmarks. Even though that is not always the case this test shows that having increased speed and increased capacity the Patriot RAM takes the lead.
Yet again speed is where it's at here. The overclocked Patriot is keeping up with the G.Skill and if I could have squeezed a little more to gain 1100 I'm pretty sure we would see a close tie.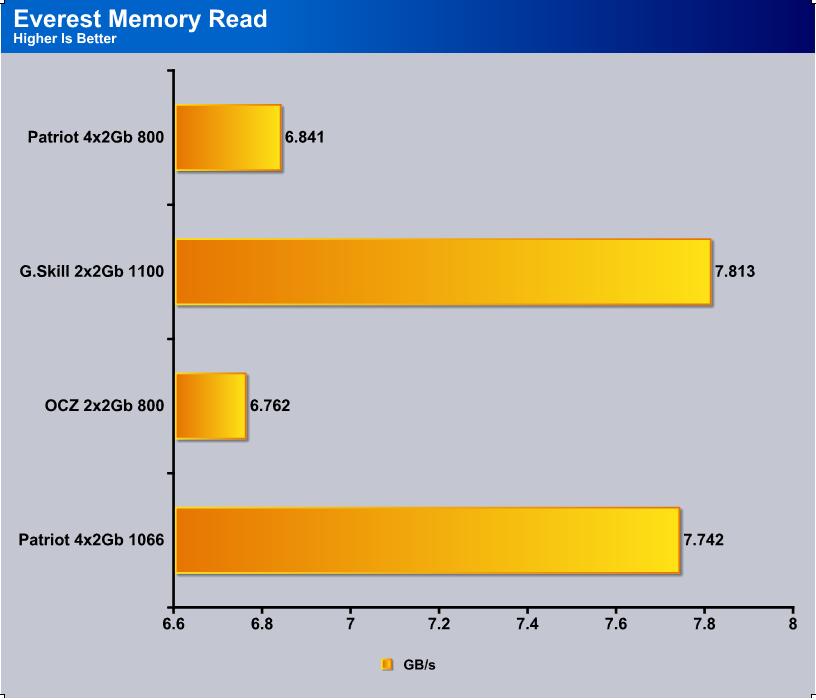 Still our faster RAM is in the lead. At stock the Patriot RAM is not looking to swell but when overclocked they compete with todays faster DDR2 sets. With an extra 4GB of space we like to see that.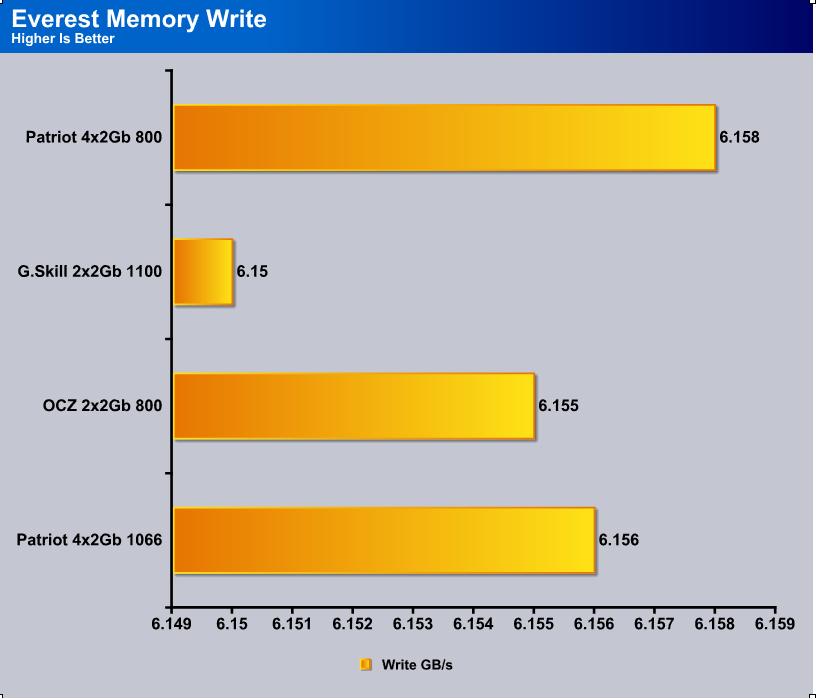 This happens to be an odd test. You would figure that RAM would be able to write faster at higher speeds but it seems to be the opposite in each test of Write. So in this case our Patriot RAM at 800Mhz is our leader at writing.
SISOFT
"SiSoftware Sandra (the System ANalyser, Diagnostic and Reporting Assistant) is an information & diagnostic utility. It should provide most of the information (including undocumented) you need to know about your hardware, software and other devices whether hardware or software. It works along the lines of other Windows utilities, however it tries to go beyond them and show you more of what's really going on. Giving the user the ability to draw comparisons at both a high and low-level. You can get information about the CPU, chipset, video adapter, ports, printers, sound card, memory, network, Windows internals, AGP, PCI, PCI-X, PCIe (PCI Express), database, USB, USB2, 1394/Firewire, etc."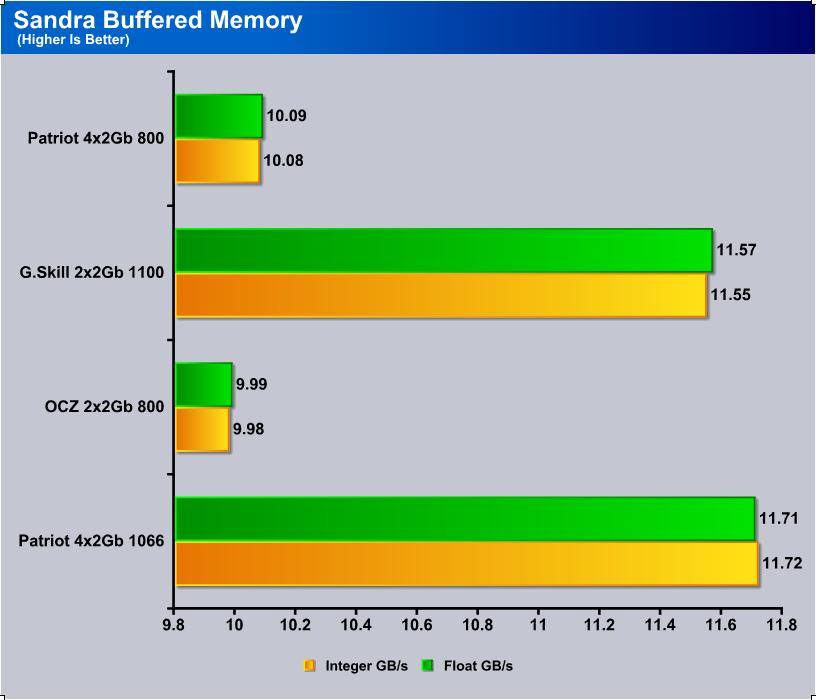 In Sandra the Patriot kit dominated the tests. At stock clocks they beat out the OCZ 800Mhz kit and overclocked they even flew past our faster G.Skill kit. I think it is simply easy to say that for an 800Mhz kit this RAM is pretty impressive.
WinRar v. 3.71
This module in WinRar generates random data, which contains specially introduced redundancy, increasing the load to both the processor and memory. Data is the passed through RAR compression and decompression algorithms, and the output of the decompression algorithm is compared to the source data. If any differences are found, WinRAR then reports "Errors found – Yes" in the command window. WinRAR displays a size of processed data and compression speed, current and resulting, in kilobytes per second.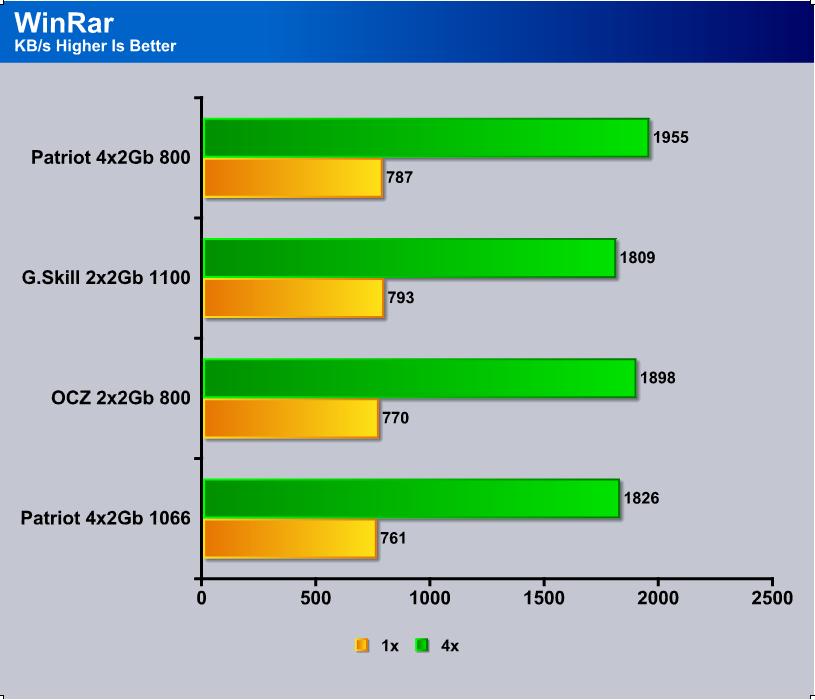 When I did the WinRAR test it left me scratching my head a bit. It appears that our slower kits gained a bit of an edge. I compared the same RAM on a different setup and gained similar results. Either way though, our Patriot kit takes the lead.
SuperPi
SuperPi is the "Gold Standard" for many when it comes to judging system performance. We ran 1 and 2 MB calculations, again running each test three times and reporting the average of the results.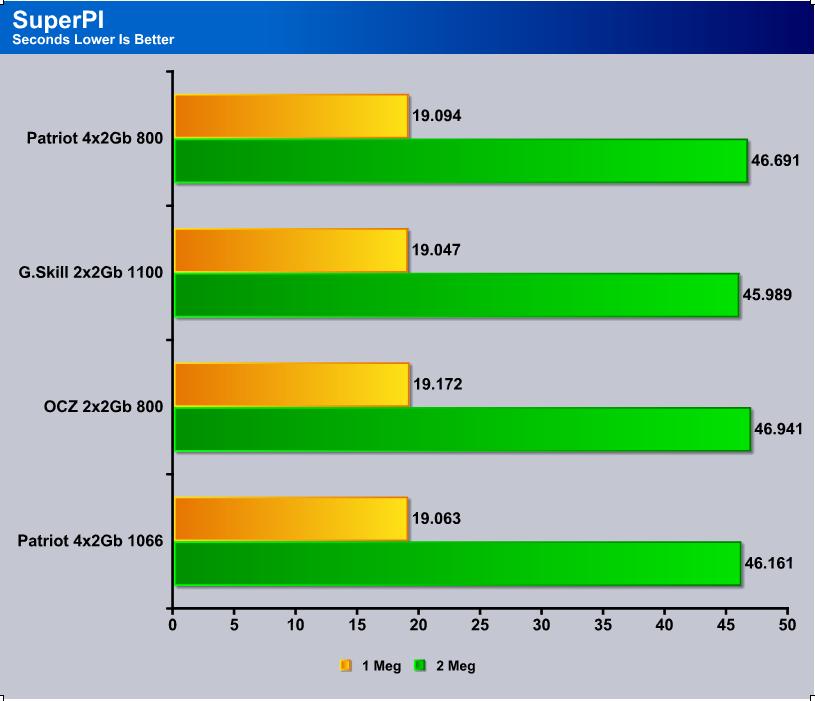 There is no denying that in SuperPI speed is where it is at with alot of tweaking. With every little thing you can do it will change the value of your score by even a hundredth of a second. Even at stock our Patriot kit is keeping up with the faster G.Skill. I believe this is because of tighter timings. Like I was saying before with alot of tweaking you can get many many different results. If we had hours upon hours to sit and tweak till our hearts content I'm sure we can come up with even better results. For a weeks worth of playing with this RAM I would say that keeping up with the faster set is decent.
Crysis v. 1.2

Crysis is the most highly anticipated game to hit the market in the last several years. Crysis is based on the CryENGINE™ 2 developed by Crytek. The CryENGINE™ 2 offers real time editing, bump mapping, dynamic lights, network system, integrated physics system, shaders, shadows, and a dynamic music system, just to name a few of the state-of-the-art features that are incorporated into Crysis. As one might expect with this number of features, the game is extremely demanding of system resources, especially the GPU. We expect Crysis to be a primary gaming benchmark for many years to come.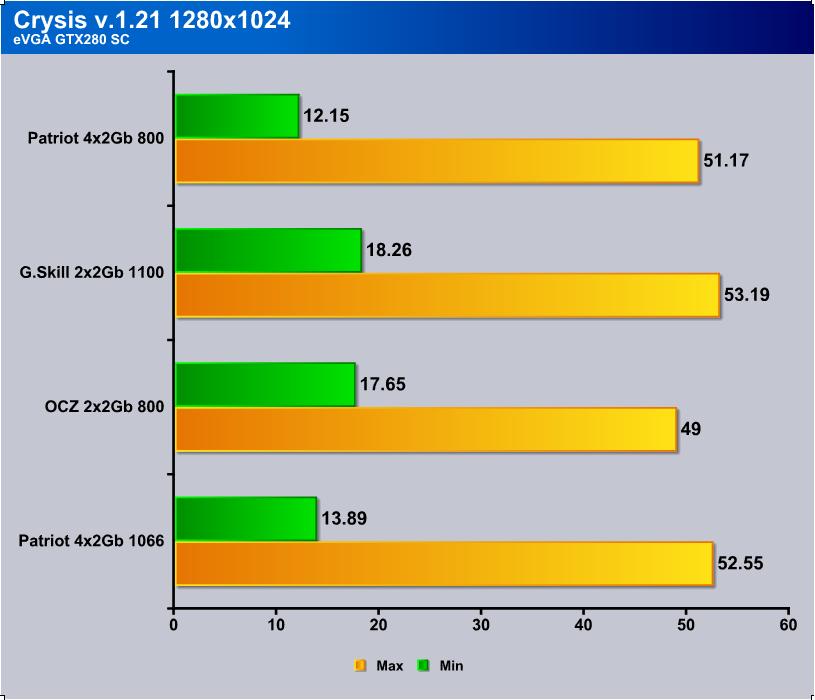 What more can you say, it's Crysis. I think I can speak for everyone that it will be a technological breakthrough when reasonably priced hardware can play this game at max settings. Anyways on the results the latter seems to be the norm. Our faster kit peaks our performance and our overclocked Patriot follows close behind. Dosen't seem that more RAM has any effect on gaming right now besides playing Grand Theft Auto 4 without a pagefile. Then again that game is more of a RAM hog then Vista. Lets hop on over to the conclusion and make this a wrap.
Conclusion
 Well here we are at the end and for once I don't think I have a complaint. Patriot seems to alwways push out some fantastic RAM. With the results at hand overclocked or left stock this kit seems to hold its own ground in its own way. Currently the Patriot Extreme Performance 4x2GB set is priced under $100 right at $97.99. This puts this set cheaper than if you where to buy 2 4GB sets and combine them. For the performance and overclockability I think this is a decent price considering what you are getting. I've noticed most kits are over $100 and offer 5-5-5-15 timings while the Patriot kit is under $100 and offer 4-4-4-12 timings. Price to performance ratio is also on the money. Even though DDR2 is being outdated by DDR3 on an AMD rig it is the the best bang for your buck. Also with having 8GB of ram you are future-proofing yourself for bigger and better games.
Another fact at hand is this kit can be combined with any type of massive air cooler which as I explained earlier can be a big problem when getting into higher grade RAM with big heatspreaders. For people looking for a cheap, fast, overclockable, big DDR2 kit I would suggest this Patriot kit to them.
We are trying out a new addition to our scoring system to provide additional feedback beyond a flat score. Please note that the final score isn't an aggregate average of the new rating system.
Performance 9
Value 10
Quality 10
Warranty 10
Features 10
Innovation 9
Pros:
+  Great Performance
+  Low Profile For Giant Air Coolers
+  Reasonable Priced Kit
+  Overclockable
+  Very Stable
+  Runs At Rated Timings
+  Large Capacity For Future Proofing
Cons:
–  Required Bios Tweaking For Stock Settings
The Patriot Extreme Performance 4x2GB DDR2 800Mhz kit performed flawlessly and overclocked like a charm for great performance. Coupled with great pricing this kit recieves a Final Score: 9.5 out of 10 and the Bjorn3D Golden Bear Award.