GSkill's ability to maintain high frequencies, reliability, and the performance of their memory is what come to expect from this company. So lets look at their new memory line up the Trident.
INTRODUCTION
When DDR3 memory was first introduced a couple of years ago, to overclock this type of memory was fairly simple. Just increase the voltage loosen up the timings and start increasing the FSB. Now since the Core i7 CPU's were introduced back in november, we can no longer start adding an insane amount of volts to our memory to overclock them. Having a limitation on the amount of memory voltages we can apply, a voltage limitation of 1.65 volts. Well, unless you want to take a chance on bricking a perfectly good CPU. Having this limitation of voltage to the memory has left the memory world up in arms, how do they come up with memory that performs well with good timing's all the while not go above the 1.65 voltage limiation.
So with this being said, GSkill brings forth a newer memory type, the Trident 2000MHz. Now 2000MHz memory is not unheard of, but it is definetly a rare sight, especially for us Core i7'ers. Lets get down to buisness to see what these sticks of memory can do.
About GSKill
"G. SKILL", established in 1989 by enthusiasts, is a leading memory Module Manufacturer based in Taipei, Taiwan.
With traditional strengths, we have built excellent reputation by meeting market demand and fostering business competitiveness both locally and internationally with our dedications to:

Competitive prices
On-Time Delivery
Assured Quality
Customer-Oriented Services
Various Products
Mission Statement
We are here to provide superior memory products and satisfactory services in order to keep pace with our customers' growing needs, and help our customers in adding value to their products. And we pledge we will continue to do so and enable both sides to obtain significant competitive advantages in the market segments.
Management
Investing in human resource is just one of the reasons why

G. SKILL

is able to provide such high level of efficient and cost effective services.

G. SKILL is managed as a family, provides a dynamic, challenging and harmonious working environment for all employees. With the open-minded management, each individual¡¯s potential talent can be fully developed.

With this clear goal of providing satisfactory services for customers, our R&D department is constantly developing the fastest and best performing products; our marketing and sales departments ensure all the information needed is available and presented in an clear and understandable format.

Quality Assurance At G. SKILL, top priority is the quality standard. All of its products are put through a series of rigorous tests and strict quality control procedures. In addition to commissioning qualified IC testing houses to test its products, all products are hand test 100% twice, in factory and office, to ensure the highest product yield and quality.
G. SKILL strives for the highest and dvanced quality from the initial design, through manufacturing solder-paste printing, and surface mounting, to on-line visual inspection, system compatibility testing, packaging and finally to shipping.

Innovation G. SKILL is able to quickly respond to the changing market conditions and fullfill customers' needs by fully utilizing flexible operation process.
G. SKILL provides the widest breadth of product available in the memory industry and will continue to develop products on the cutting edge of technology.
Our highly skilled team of research, development, technical and sales / service professionals make G. SKILL the choice for businesses who recognize the importance of placing customers' need first.
SPECIFICATIONS
SPECIFCATIONS
Main Board
Intel
System
Desktop
System Type
DDR3
M/B Chipset
Intel X58
CAS_Latency
9-9-9-24
Speed
DDR3-2000 (PC3 16000)
Test_Voltage
1.65 Volts
Registered/Unbuffered
Unbuffered
Error_Checking
Non-ECC
Type
240-pin DIMM
Warranty
Lifetime
F3-16000CL9T-6GBTD Qualified Motherboards List *G.Skill guarantees 3 Dimms triple channel operation would reach announced specification.
ASUS P6T Deluxe V2
ASUS Rampage II Extreme
MSI X58 Pro
MSI Eclipse SLI
DFI LANPARTY UT X58 T3eH8
DFI LANPARTY DK X58-T3eH6
PACKAGAING
Starting off on the packaging of the memory, GSkill uses a blister type package to house these memory sticks. A bit different from what we are used to from GSkill, they normally use colorful boxes for their packaging. By using less cardboard, uses less trees.
flipping the packaging over to the backside. Gskill gives us a quick intro about the Trident memory. Also lists the memories speed, timings, and voltages.
A close up shot of the rated timings or 9-9-9-24, speed of 2000MHz, and rated test voltage of 1.65.
The memory out of the blister packaging. We can see GSkill used a rather unique design on the heat spreader. what catches my eyes first is the bright red logo and name of these memory sticks. GSkill should have used a black PCB for the memory itself, would have made them look even better and more uniformed.
Flipped the memory over on to thier backside. This is where Gskill put the rating sticker on these. Also notcie the heat spreader is not perfectly smooth in texture? In fact these sticks had a somewhat a rough texturing. nothing bad, just different. Different is good.
Yep, that matches the same sticker that was on the packaging.
Close up veiws of the heat spreader itself. the heat spreader is in two pieces, and the heat spreader has a fin array running the length of the memory sticks themselves 
INSTALLATION
As far as installation goes memory has not changed. Here are the Trident memory modules installed on a P6T6 WS revolution motherboard. (first test board).
Different angle on the memory sticks. notice how you dont see that rating sticker? This to me is a good thing because I personally dont like seeing an ugly white sticker on my memory.
TESTING METHODOLOGY
Test Setup &Testing Methodology
CPU
Lapped Core i7 920
Motherboard
ASUS Rampage II GENE
Case
Coolermaster Cosmos
Memory
Corsair Dominators, Gskill Trident 2000MHz
Video Card's
ASUS Rampage II GENE
Hard Drives
 2 x Seagate 2.5″ HDD's Raid-0, 1 160 gig WD HDD Backup.
CDRom Drive
Lite On Sata1 DVD Burner
Power Supply
SilverStone 1200 watt PSU
Type Of Coolers Used
DD MC-TDX, Danger Den 295GTX
CPU Speeds Used
4180MHz 220 x 19
Operating System Used
Microsoft Windows Vista 64
Type of Software Used During Testing
Everest, Sisoft, wPrime, Super PI,  PCMark Vantage
Any Attempt on copying this system specifications will result in assimulation by your computer

For testing purposes I ran each benchmarking program a minimum of 3 times making sure of consistancy with scores and that stability was present. I did a complete reinstall of Vista 64 Ultimate. The only memory I will be using for a comparison is the Corsair Dominators 1600Mhz with a default CPU speed of 2.66GHz.
Normally I include an overclocking bit. But this time I will not be able to do that, reason for this was because my two motherboards I treid were incapable of handling such high frequencies with the memory. I tested these sticks first on an Asus P6T6 WS Revolution, tried the XMP profiler these memory sticks had, and this motherboard set the FSB to 250 and kept my CPU multiplier to 21. Giving me a grand total of 5.5GHz on the CPU and 2000MHz on the memory ( see BIOS screen shot). Well last I knew I could not go above a 210 FSB, my CPU has a frequency limitaion of 4-4.2GHz because of my heat limitation (I like to stay with in 60°C on my CPU).
I then switched out to my Asus Rampage II GENE (known overclocking board, and my mini monster). Turned out after setting the XMP profiler in the BIOS this motherboard too, set the FSB to 250 and a CPU multiplier of 20. Giving me a 5 GHz CPU core speed and a 2000MHz on the memory. Long story short this was not looking good at all. This motherboard had a FSB limitation of 215. After fiddling with the CPU's multiplier, FSB, voltages, and anything else I could think of. I finally was able to get the Rampage II GENE to top out at a 220 FSB maxed out. FOund out I was hitting my QPI link frequency limitation of 4000Mhz real fast, and having no QPI dividers meant no farther overclocking on the FSB portion. Ending my adventure real quick.
I was able to get these sticks of memory to a grand total of 1760MHz out of 2000MHz, and I was able to bring the timings from 9-9-9-24 1t to 8-8-8-20 1t timings.
To make this perfectly clear, both of these motherboards I used, were the limiting factor on these memory sticks, and NOT THE MEMORY ITSELF. I did not have the proper divders to run these at their rated speed or even had the capability of running my motherboards at a high FSB to counter act the non memory dividers. (nothing irritates me more then spending 400 dollars on a motherboard and not have these simple dividers, Asus P6T6 WS Revolution I am refering too)
So heres a screen shot of the memory running at 1760MHz, and also the CPU @ 4180MHz as well. I did run the CPU at this speed through out testing as well. Figured since my review gone to hell, might as well crank things up a bit. Also wanted to see how far things could go before they caught on fire…. Muhahaha…….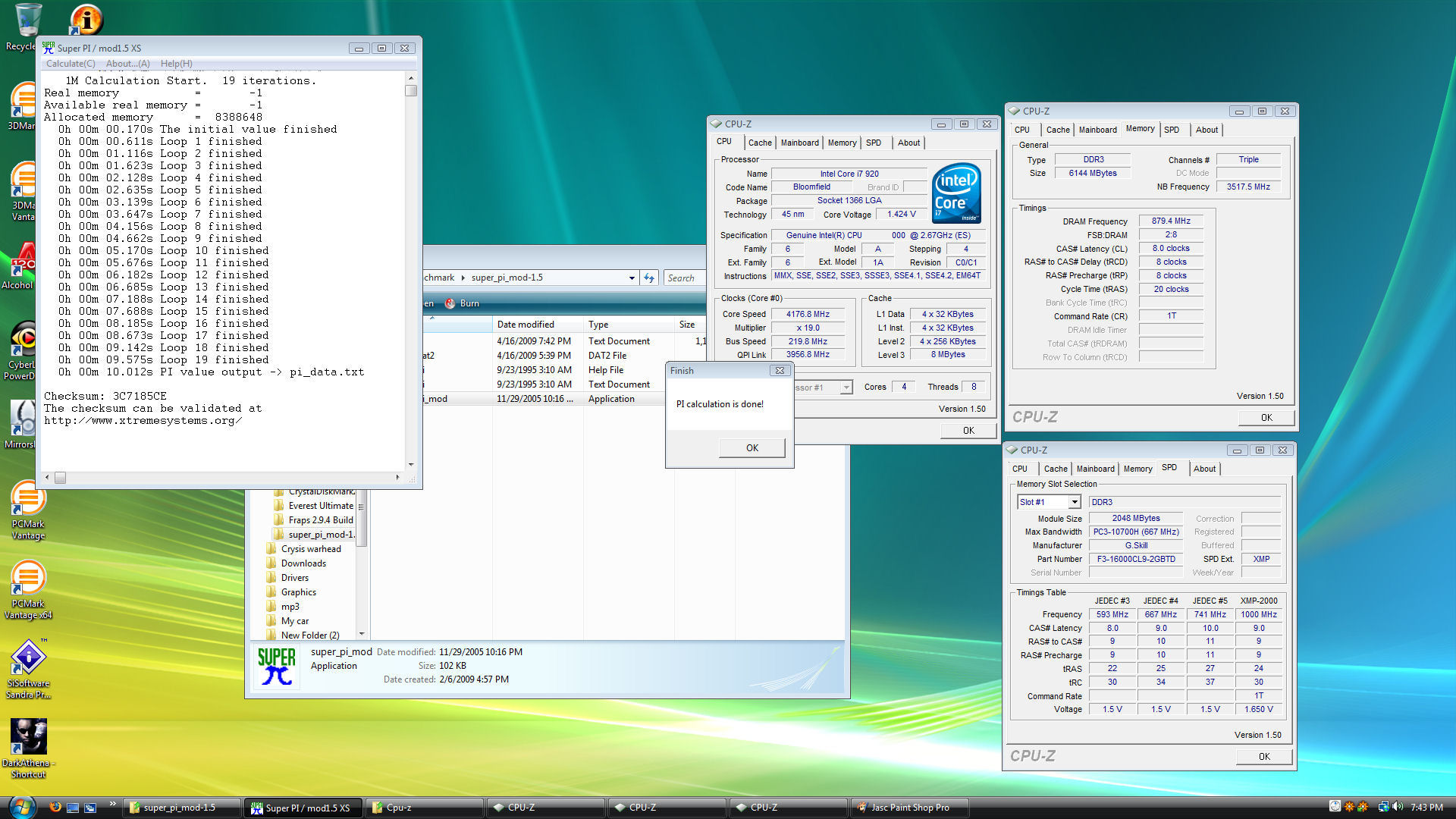 Notice the QPI link speed is really close to 4000MHz, (3956MHz Actual). This was the wall I hit real fast. My best Super Pi run yet.
BIOS SCREEN SHOT
Asus P6T6 WS Revolution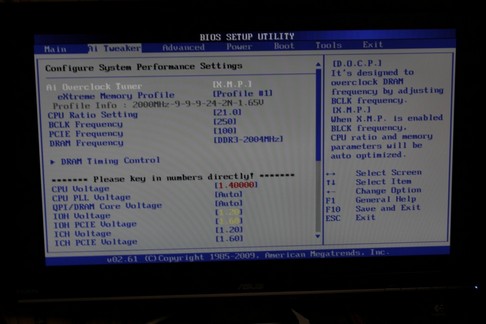 EVEREST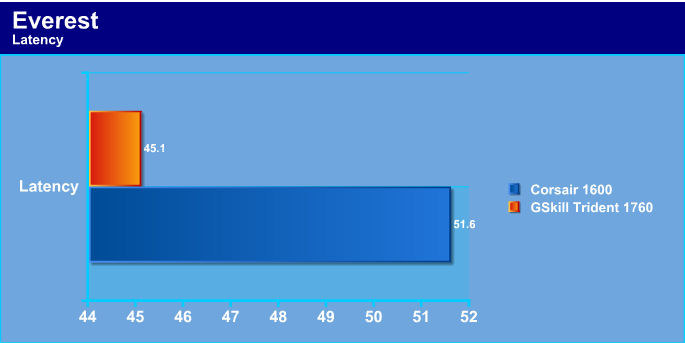 Lerts start off on Everest's memory latency testing. As we can see the GSkill Tridents take a commanding lead over the Corsair. Having a seriously clocked CPU help matters out a bit.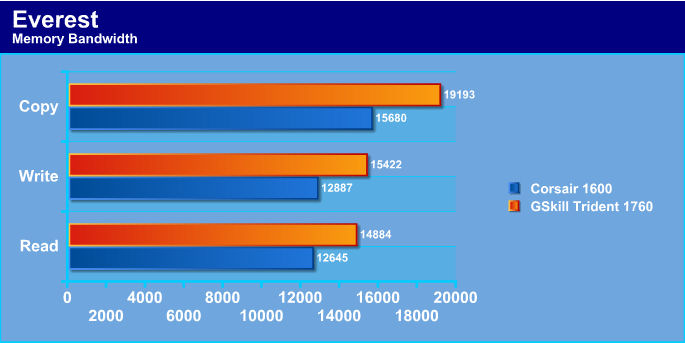 Moving on to the memory bandwidth testing, once again the crippled GSkill memory still manages to pull out ahead of the compition. Yes the GSkill Trident were crippled from 2000MHz (actual) to a mere 1760 MHz because of the motherboard not fully supporting these sticks.
SUPER PI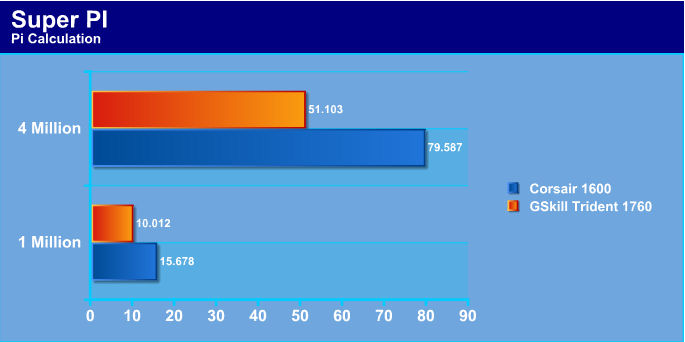 As with any PI calculating program having the highest CPU/memory speed comes out ahead.
SISOFT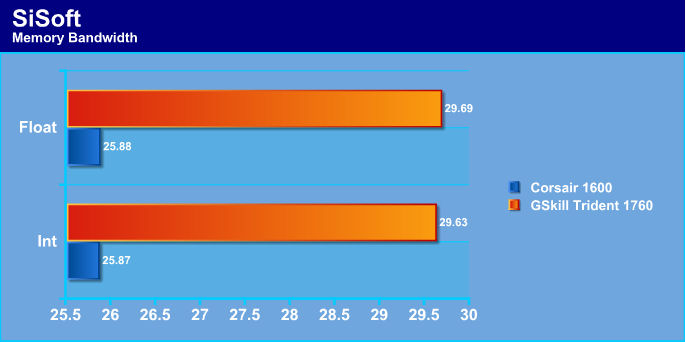 The memory having the highest overall frequencies wins. So close to getting 30GBs on memory bandwidth, but yet so far away… Its enough to drive someone MAD, I tell ya…….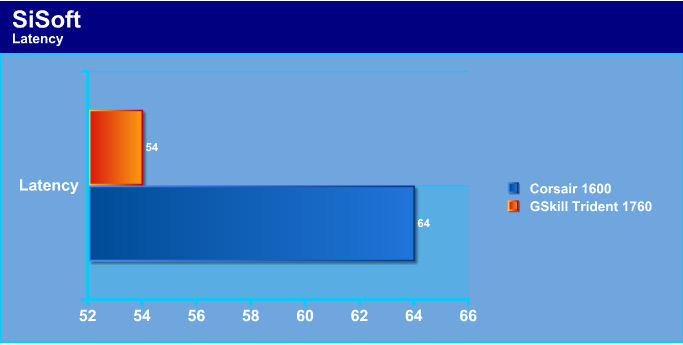 Same story as Everest, the memory having the highest frequency wins.
WPRIME
When using the short 32 million claculation is where timings and CPU core speed makes a big difference. But when calculating 1024 million, memory bandwidth and CPU core speed is where it makes the difference.
PC MARK VANTAGE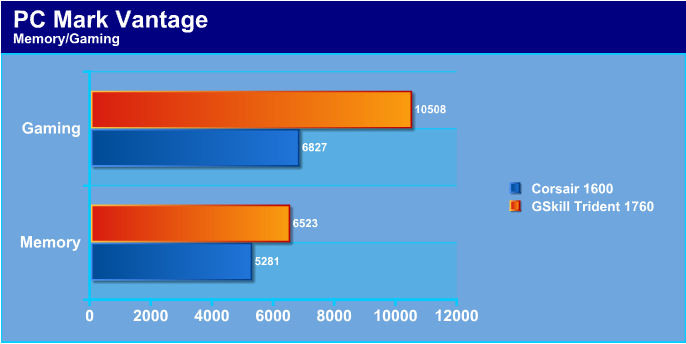 The more I continue testing the more I can't help thinking the odds are stacked against the Corsair Dominators. Oh, wait, they were…. Sorry, but I had to make up for the memory speed with something.
CONCLUSIONS
Even though I was unble to bring the speed of this memory up to its actual default state of 2000MHz, this memory performed exceptionally well. GSkill, is one of those companies that most of us know for reliablity, stability, and also being able to overclock like mad. I been able to get the FSB of my computer to 215 with ease while using other memory sticks, but they allways seemed to be lacking something. When I put the Trident memory sticks in my computer I quickly found out whats been lacking, shear unadultrated speed and performance.
I did a quick Google search on to see exactly how much these memory sticks went for, I was amazed at the cost. Only going for a mere 160 USD puts these memory sticks at a price range for those who wanting to upgrade thier computers to the Core i7 CPU cheap and effective.
Performance 9.5
Value 9
Quality 9
Warranty 9
Features 9.5
Innovation

8
Pros:
+Great performance
+Good looks
+Low price
Cons:
–None I can think of
Final Score: 9.0 out of 10 and the Bjorn3D Golden Bear Award.