The Asus EAH4770 is a mainstream video card that has enough power for everyday computing and runs video games respectably for a GPU in the Sub $100 (USD) price range.
INTRODUCTION
Being a hardware review site we tend to look at high end expensive products as the Holy Grail of computer components. Sometimes we forget that a very large portion of the market is Mainstream consumers that aren't looking for top performance and tend to aim for the Price/Performance products. Lately we've seen some very capable components hit the market at very reasonable prices. Not only reasonable prices but sporting some technology that we wouldn't expect in a Mainstream product, at least not yet. The new technology tends to hit the high end market first. The Asus EAH4770 (RV740) sports a 40nm core and a price that rings in the $100 (USD) range. The range a lot of Mainstream and light gamers shoot for when it comes to purchasing a Video Card.
A GPU in the $100 price range isn't expected to pack high dollar punch, but it is nice to find one that packs a good price performance ratio. Your probably not going to run high end games at maximum settings, but you will be able to run most games at an acceptable level with a few compromises in game settings. Cards like the Asus EAH4770 are mainstream GPU's that give you the basic performance you need for productivity, and pack enough punch to let you game in the price range that won't break the bank.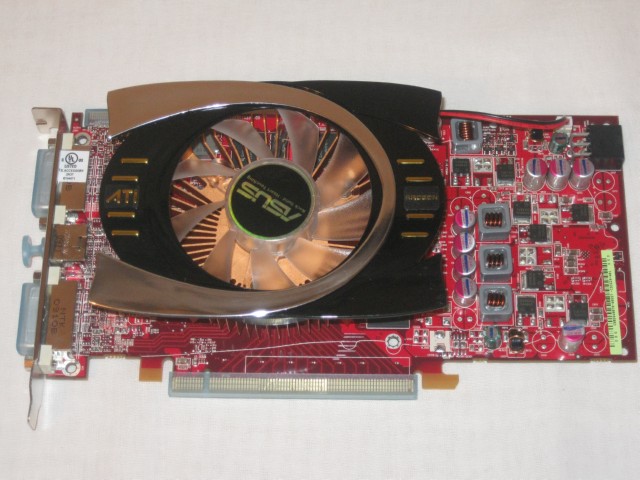 About ASUS
ASUS, a technology-oriented company blessed with one of the world's top R&D teams, is well known for high-quality and innovative technology. As a leading company in the new digital era, ASUS offers a complete product portfolio to compete in the new millennium.
In 2007, one in three desktop PCs sold was powered by an ASUS motherboard; and the company's 2007 revenues reached US$6.9 billion.
ASUS products' top quality stems from product development. It's like learning Chinese Kung-Fu; one must begin with cultivating the "Chi" and inner strength. Besides innovating cutting-edge features, ASUS engineers also pay special attention to EMI (electromagnetic interference), thermal, acoustics and details that usually go unnoticed to achieve complete customer satisfaction. ASUS notebooks are the first TCO'99-certified notebooks worldwide.
The requirements for this honor include radiation emission control, energy (battery consumption), ecology (environment friendly) and ergonomics. To succeed in this ultra-competitive industry, great products need to be complimented by speed-to-market, cost and service. That's why all 8,000 over employees of ASUS strive for the "ASUS Way of Total Quality Management" to offer the best quality without compromising cost and time-to-market while providing maximum value to all customers through world-class services.
With unyielding commitment to innovation and quality, ASUS won 2,568 awards in 2007, meaning on average, the company received over 7 awards every day last year. BusinessWeek has ranked ASUS amongst its InfoTech 100 for the 10th straight year. ASUS has also achieved the number one title on the annual league table of Taiwan Top 10 Global Brands with a brand value of 11.96 billion US dollars.
Features
Redefine HD Gaming
The ATI Radeon HD 4700 Series graphics cards boast up to 3 times the performance of the previous generation of GPUs and deliver a cinematic gaming experience. These graphics cards possess the same engine architecture as the award-winning ATI RadeonTM HD 4700 Series and can propel you deep into your game play with fast frame rates and high resolutions. Enhanced anti-aliasing (4X AA) and anisotropic filtering creates striking graphics with unparalleled realism so you can jack up the settings on the most demanding next-generation games. Play today while preparing for tomorrow with Microsoft DirectX® 10.1 and scalable ATI CrossFireXTM technology in dual mode.
Break-through Efficiency
Save time and energy with the ATI RadeonTM HD 4700 Series graphics cards which provide optimal performance, break-through efficiency and stability. These graphics cards are a great option for business users who engage in video conferencing or use creative applications that require fast frame rates and exceptional visual quality. With platform-independent intelligent power management, the ATI RadeonTM HD 4600 Series graphics cards deliver the power needed to blaze through even the most intense applications while intuitively conserving energy at idle or when demand is low. Expand your visual workspace with multi- monitor support for advanced multi- tasking to help you get more done in less time.
Go Beyond HD Video
Add an ATI Radeon HD 4700 Series graphics card to your PC and watch the latest Blu-ray and HD movies play with incredible fidelity1 – upscale to nearly twice the display resolution of HD content.2 Take full advantage of Blu-ray functionality with dual-stream, picture in picture (PIP) capabilities. Sophisticated new features within ATI AvivoTMHD technology give you the freedom and flexibility to edit videos and convert them to H.2.64 and MPEG-2 formats. Support for the latest audio visual interconnects ensures you can take advantage of the latest display technology.
HDMI Video and Audio
A system with an ATI RadeonTM HD 4700 Series graphics card can help enhance the HD entertainment experience by providing a seamless connection to an HDTV or home theater system. With built-in 7.1 surround sound audio (AC3 / DTS ), the new GPUs and graphics cards support single cable connection directly to a compatible HDTV, projector or receiver. This single cable carries both the HD video and 8 channel audio for a clean, high definition connection. Some graphics cards will be equipped with an HDMI connector, while others will output the HDMI signal using a special ATI Radeon DVI-I to HDMI adapter. These options give consumers more options and flexibility when connecting their PCs to monitors or home theaters for maximum enjoyment of HD content. The new GPU also supports xvYCC color which can display a wider range of color when connected to capable HDTVs.
Microsoft® DirectX® 10.1 support
ATI RadeonTM HD 4700 series GPUs offer full support for the new DirectX® 10 and DirectX® 10.1 API (Application Program Interface) from Microsoft; ready to meet the demanding needs of new, next generation games. DirectX 10 is the first totally new DirectX in the last 4 years and brings important graphics innovations that can be used by game developers for the next generation of games. DirectX 10 introduces crisp, never-beforeseen detail-rich images, visual effects and game dynamics capable of accurately simulating the real world. No matter which ATI RadeonTM HD 4700 Series GPU you choose, you can be assured that games will look as good as the developer intended!
ATI CrossFireXTM Technology
New ATI CrossFireXTM multi-GPU technology takes your gaming experience to the next level with more scalability, performance and compatibility. The technology combines the awe-inspiring capabilities of multiple ATI RadeonTM graphics cards and an ATI CrossFireX ready motherboard to meet the hard-core demands of your alternate reality. New ATI RadeonTM HD graphics cards are designed with an internal ATI CrossFireXTM Bridge Interconnect system to simplify installation. Experience stunning visual realism in today's demanding 3D games with uncompromising image quality, especially on HD displays.
Microsoft® Windows Vista®
ATI RadeonTM HD 4700 series graphics cards provide support for the Microsoft® Windows Vista® operating system and take advantage of the Windows AeroTM graphical interface. You will be amazed by the dazzling 3D visual effects and have peace of mind that the ATI CatalystTM software and drivers are designed and thoroughly tested to ensure full compatibility and stability to help keep you up and running. All these new technologies and features make the ATI Radeon HD 4700 series of GPUs the ideal solution for ultimate HD gaming and HD video entertainment with the Windows Vista OS.
Specifications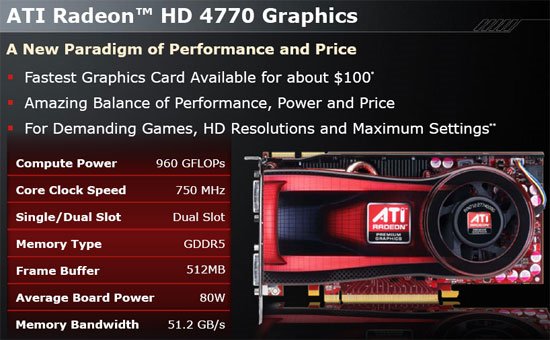 Running state of the art GDDR5 and a 512MB Frame buffer with a native (refrence) core speed of 750 MHz and an average power consumption of 80w the Asus EAH4770 isn't going to break the bank when you purchase it or run up your electric bills.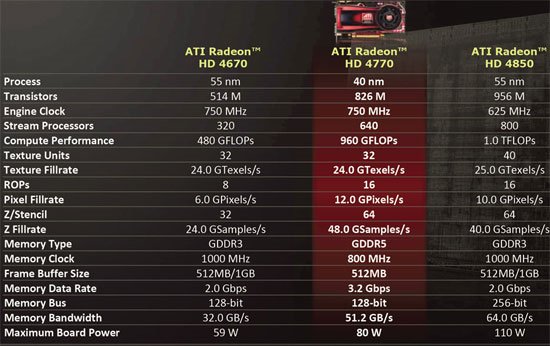 The first of ATI's 40nm GPU's it features 826 Million transistors, 640 stream processors, 32 texture units, 16 ROPs, and runs a 128 bit memory interface. Pretty impressive stats for a $100 (USD) price range card. We suspect the 128 bit memory interface might hold the card back a little but that's the normal memory interface for cards in this class and price range.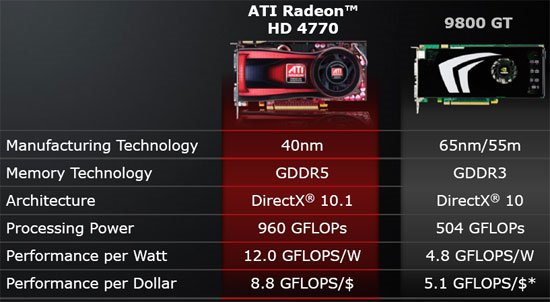 Side by side with a last generation 9800GT you get a glimpse of how far GPU technology has advanced in a very short time. People often overlook generational advances because each generation of GPU's tend to advance performance by 10-15% GPU to GPU, but look at the last generation of GPU's compared to todays generation and the Price/Performance ratio of todays GPU's is much higher than the last generation.
PICTURES & IMPRESSIONS
Click Image For a Larger One
One of the many things we like about Asus is that they are always packaged securely and we don't have to worry about receiving a GPU in a bubble wrapped bag slipping and sliding around inside a box. The box contains plenty of information and specifications to help inform the potential consumer about it's purchase.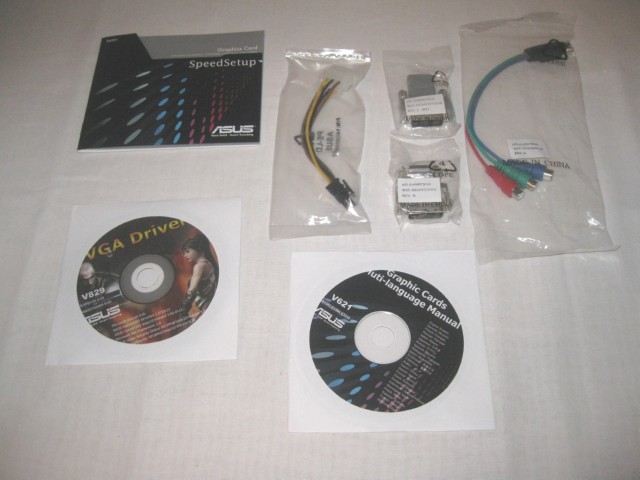 In the box with the Asus EAH4770 you'll find:
1 – Driver Disk
1 – Multi-Language Manual Disk
1 – DVI to HDMI adapter
1 – DVI to VGA adapter
1 – 2 molex to PCI-E 6 pin adapter
1 – S-Video to Analog Adapter
1 – Speed Setup Guide
Click Image For a Larger One
The Asus EAH4770 takes up two PCI-E slots because of the excellent cooling on the GPU but only uses one Expansion slot opening. It doesn't sport a full card cowling but they've manages to squeeze in a little flair on the EAH4770.
Click Image For a Larger One
Like most of the Asus cards we've seen of late the EAH4770 has protective plastic covers on all it's connectors which is a feature we've found lacking on other vendors cards. We're liking the sporty look and well designed copper heatsink that cools the 40nm core. We find ourselves wondering if a set of low profile memory heatsinks would give us a little more overclocking headroom but the open fan design on the EAH4770 is pushing plenty of air across the sinks so we're not sure that it needs additional sinks.
Click Image For a Larger One
When we get a sporty looking card people always want to see it from every angle so we like to throw in some thumbnails of the card shot from the four primary angles.
Click Image For a Larger One
The Asus EAH4770 has two DVI-D and an S-Video out, HDMI is available by adapter and a card of this price is prime for a high end HTPC setup so the HDMI adapter is appreciated. The back of the card is fairly unremarkable but it's easy to see that aftermarket cooling the card will be a snap. With the temperatures we saw on the card we really don't see the need for aftermarket cooling but we're sure someone out there will be looking to Crossfire 3 of these with aftermarket cooling. Figure that your out about $300 for the cards themselves, it would be interesting to see how 3 of these in crossfire compare to a single $300 dollar card.
TESTING & METHODOLOGY
To test the Asus EAH4770 we fired up our EVGA 790 with the Intel E8400 running slightly overclocked to 3.2 GHz, yes it's a puny overclock but the data gathered here is being used in a cross platform review of SLI and Crossfire and the other CPU runs at 3.2 GHz stock so by overclocking the E8400 to 3.2 GHz and testing the EAH4770 at that speed we can get a clock for clock comparison of the CPU's and not have to re-bench the cards.
We did a fresh load of Vista 64 bit and applied all the patches and updates for the OS, then we updated all the motherboard drivers and made sure that we had the latest 9.3 Cat and 185.85 Forceware drivers. We didn't install any video drivers on the test rig at first, we just installed the basics and then cloned the hard drive using Acronis. That way when we switch from the ATI GPU to the Nvidia GPU we can have a fresh load with no old drivers hanging around to bugger up our benchmark numbers.
We ran each test 3 times and averaged the results, the average of those results are reported here. The one exception to the 3 run rule is Stalker, Stalker runs a total of 5 tests in a single pass and frankly takes so long to run that we only tested it at 1920×1200. Sometimes a benchmark is just to long for it's own good.
Rather than try and list every GPU in the stack we just benched the Asus EAH4770 and Evga GTS-250 on the Evga 790i platform, we have tons of GPU results but most are on the i7 platform. In our cross platform review with the LGA 775 and Core i7 you'll see side by side comparisons but in this review all testing was done on the 790i.
Test Rig
Test Rig
 
Case Type
Top Deck Testing Station
CPU
Intel E8400 @ 3.2 GHz
Motherboard
EVGA 790i
Ram
Kingston DDR3 1600 9-9-9-27
CPU Cooler
True 120 W/2 53CFM 120mm fans
Hard Drives
Velocity Raptor 320 GB
Optical
LG HDDVD/DVDR
GPU Tested
Asus EAH4770
EVGA GTS-250
Testing PSU
Thermaltake Toughpower 1000 Watt
Synthetic Benchmarks & Games
Synthetic Benchmarks & Games
3DMark Vantage
Far Cry 2
HAWX
Stalker Clear Sky Stand Alone Benchmark
Call Of Duty 4 Modern Warfare
Warhammer 40k Dawn Of War
Crysis
Crysis Warhead
World In Conflict
World in Conflict Demo

World in Conflict is a real-time tactical video game developed by the Swedish video game company Massive Entertainment, and published by Sierra Entertainment for Windows PC. The game was released in September of 2007. The game is set in 1989 during the social, political, and economic collapse of the Soviet Union. However, the title postulates an alternate history scenario where the Soviet Union pursued a course of war to remain in power. World in Conflict has superb graphics, is extremely GPU intensive, and has built-in benchmarks. Sounds like benchmark material to us!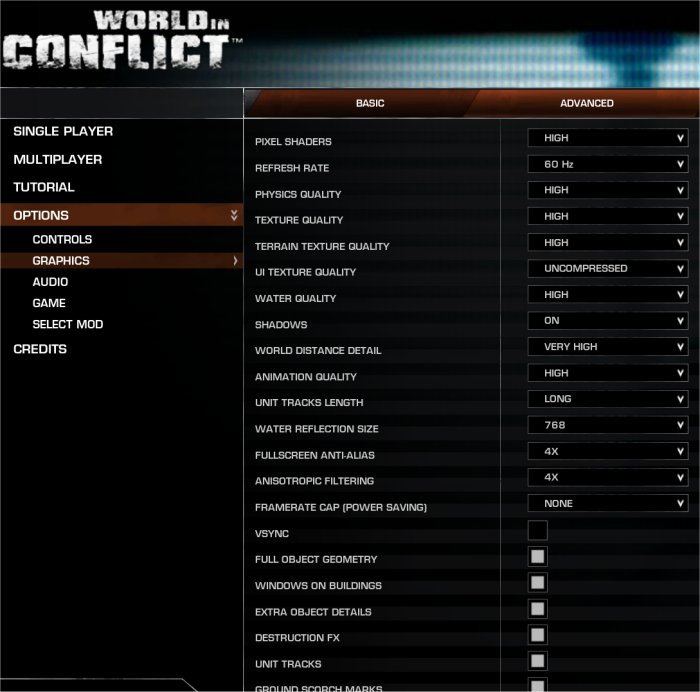 The Settings we use for benchmarking WiC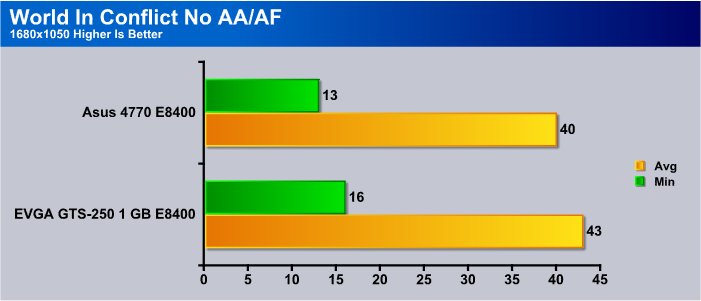 Lets clear up something right out of the gate. The Asus EAH4770 is a Mainstream card and the GTS-250 is a performance card, The GTS-250 is a 1 GB card and the Asus EAH4770 is a 512MB card. They're in a slightly different class. However the 4770 series costs about $100 and the GTS-250 can be snagger before MIR for around $130 so they're not to far apart in price.
We also test at seriously high graphics settings. Settings intended for enthusiast cards. We'll remind you of that when applicable.
Starting out in WiC at 1680×1050 with no AA/AF we see the Asus EAH4770 running about 3 FPS behind the GTS-250 but when we move to more demanding games that like more frame buffer memory that might change.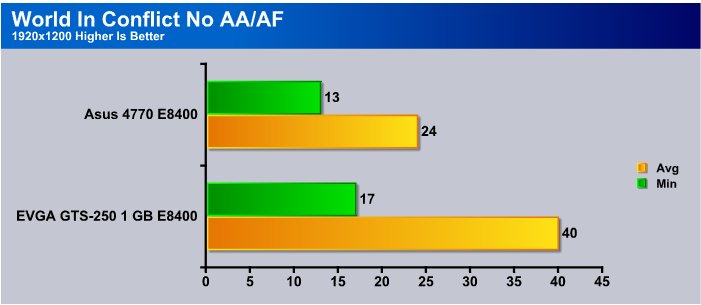 Moving up to 1920×1200 we see that the additional frame buffer memory on the GTS-250 lets it step away fron the 4770 in average FPS. Given the uber high settings we use both cards do pretty well for the $100-130 range.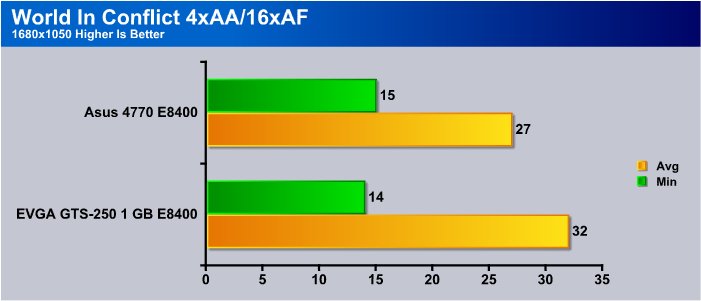 Turning on AA/AF the GTS-250 loses a FPS or two on the minimum FPS but the 4770 picked up 2 FPS. Both cards dropped FPS in the Average FPS department. Keep in mind the phrase "Insane graphics settings", we posted the settings we use so you will understand how high we set them.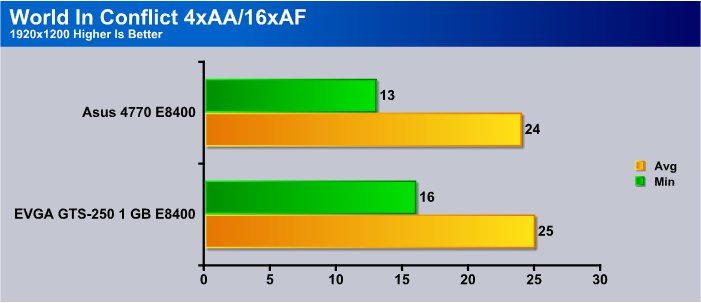 At the highest setting and resolution we tested it becomes obvious that a few adjustments need to be made in the graphics settings to play WiC but we assure you when we scaled the settings down some both cards played the game at more than acceptable levels.
S.T.A.L.K.E.R. Clear Sky

S.T.A.L.K.E.R. Clear Sky is the latest game from the Ukrainian developer, GSC Game World. The game is a prologue to the award winning S.T.A.L.K.E.R. Shadow of Chernoble, and expands on the idea of a thinking man's shooter. There are many ways you can accomplish your mission, but each requires a meticulous plan, and some thinking on your feet if that plan makes a turn for the worst. S.T.A.L.K.E.R. is a game that will challenge you with intelligent AI, and reward you for beating those challenges. Recently GSC Game World has made an automatic tester for the game, making it easier than ever to obtain an accurate benchmark of Clear Skie's performance.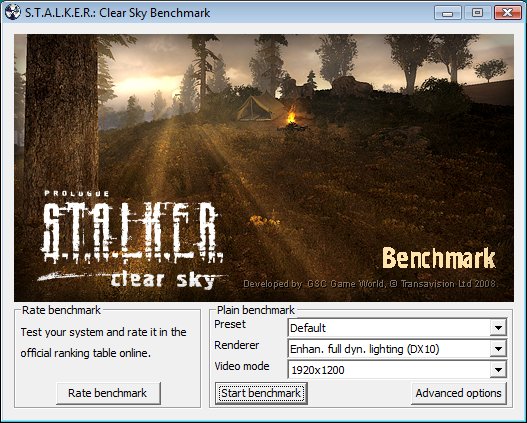 The Settings we use for benchmarking Stalker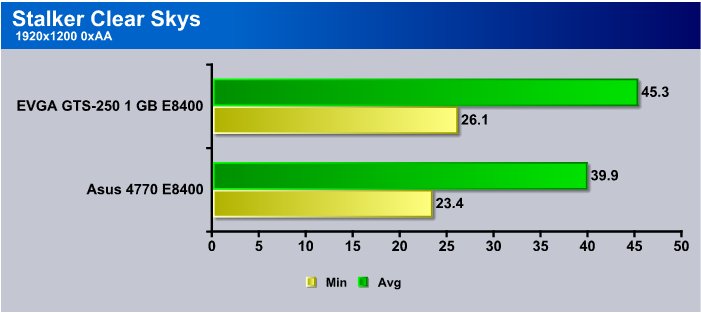 We only tested Stalker at 1920×1200 because the benchmark is so long, we did it in DX10 and used a single pass at the benchmark which runs 4 seperate bench runs then we average all 4 tests and report the average of the 4 runs here.
Both cards drop below 30 FPS minimum but you can tell playing the game that both cards run good without AA at this resolution.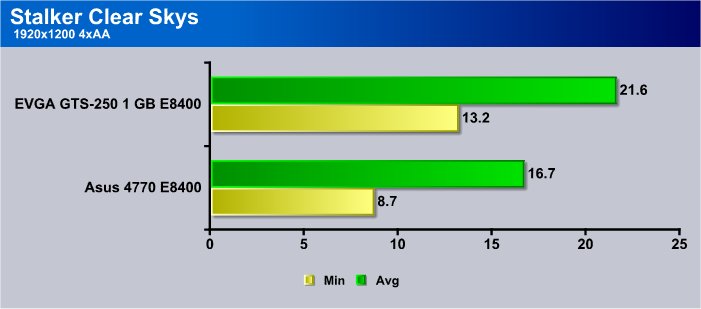 Crank on the AA/AF at 1920×1200 and both cards are struggling. Keep in mind this is a high end game setting running against two mainstream cards. Lower the settings a little and they run the game great.
Crysis v. 1.21

Crysis is the most highly anticipated game to hit the market in the last several years. Crysis is based on the CryENGINE™ 2 developed by Crytek. The CryENGINE™ 2 offers real time editing, bump mapping, dynamic lights, network system, integrated physics system, shaders, shadows, and a dynamic music system, just to name a few of the state-of-the-art features that are incorporated into Crysis. As one might expect with this number of features, the game is extremely demanding of system resources, especially the GPU. We expect Crysis to be a primary gaming benchmark for many years to come.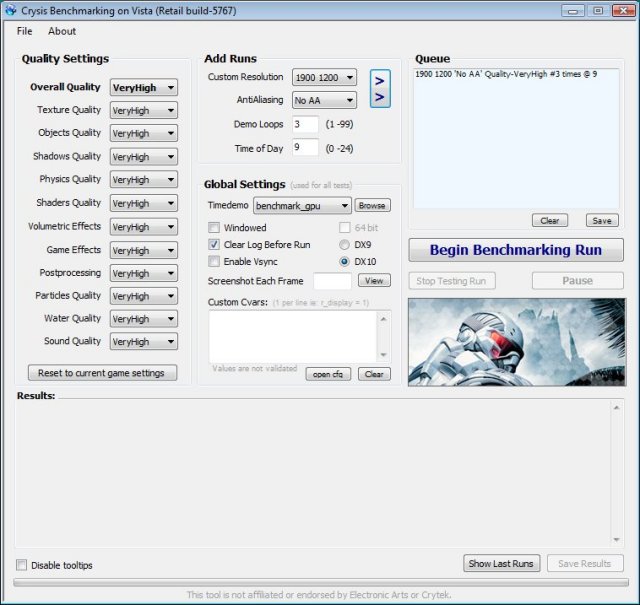 The Settings we use for benchmarking Crysis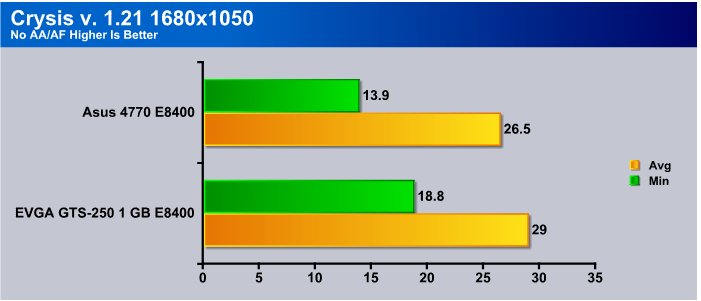 Starting out in Crysis keep in mind we use Uber high settings. We are looking at using game settings designed for Mainstream offerings but then you can't compare Mainstream with Enthusiast GPU's because of the different settings.
Most cards Enthusiast or Mainstream struggle with Crysis and the Asus EAH4770 isn't an exception. Running with no AA/AF at 1680×1050 at very high graphical settings the cards we tested both struggled. We tried dropping back to the Mainstream setting on the benchmark tool and both cards did pretty well on this GPU crushing game.
We've seen it before and both the GTS-250 and 4770 do better on minimum FPS at higher resolutions. Both of the cards picked up a few FPS at the higher resolution probably caused by less CPU bottleneck and more GPU dependant. On the flip side of the coin in Average FPS both cards dropped a few frames.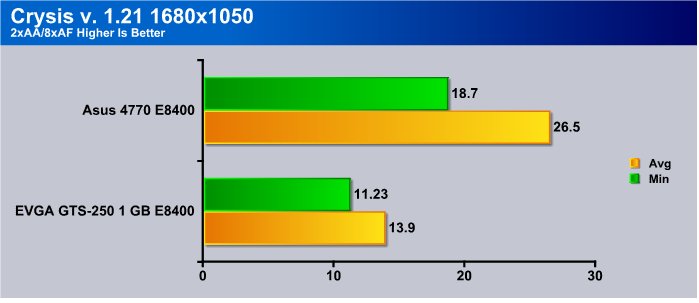 We got a fairly surprising result when we cranked on the AA/AF, the Asus EAH4770 barely slowed down, the GTS-250 just about puked on the AA/AF settings.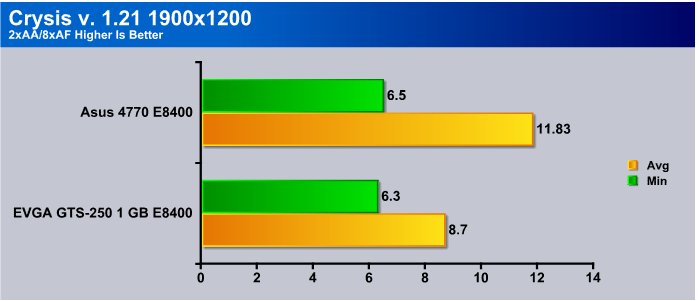 At 1920×1200 we don't really expect the Mainstream offerings to do well, it was almost painful to watch the benchmark at this point. What we found amazing is that a strictly Mainstream card, the 4770 out performed the GTS-250 which is classed as a Performance card. You should be able to run Crysis at 1680×1050 with some pretty good graphics and that says a lot for a sub $100 dollar GPU. We ran Crysis for about a half hour at Mainstream settings and the Asus EAH4770 didn't have any problems, and even in battle intensive scenes did well.
CRYSIS WARHEAD

Crysis Warhead is the much anticipated sequel of Crysis, featuring an updated CryENGINE™ 2 with better optimization. It was one of the most anticipated titles of 2008.

The Settings we use for benchmarking Warhead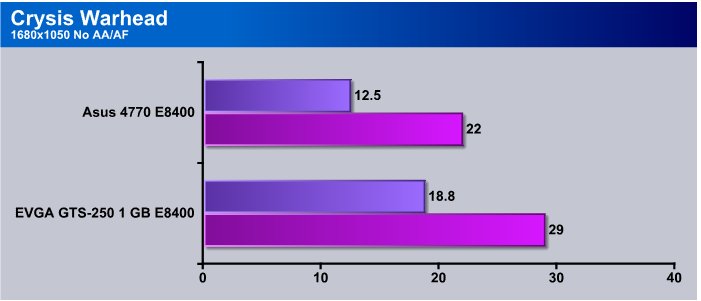 Even with the "Improved" Cryengine 2 the cards struggled with Warhead at 1680×1050 at these insane settings. Again we were forced to drop out of benching and actually play the game (you know we hate that so we force ourselves to do it on every card with every game), playing the game we were fine up to the Gamer setting and we nitoced minor lag at the Gamer setting.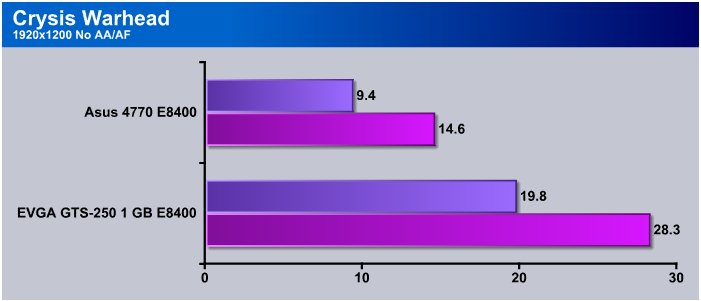 We see a little reversal at 1920×1200 and the 512MB frame buffer on the 4770 is telling on it by showing a drastic drop in FPS, the larger frame buffer of the GTS-250 1GB helped it pick up a Frame or two moving to the higher resolution.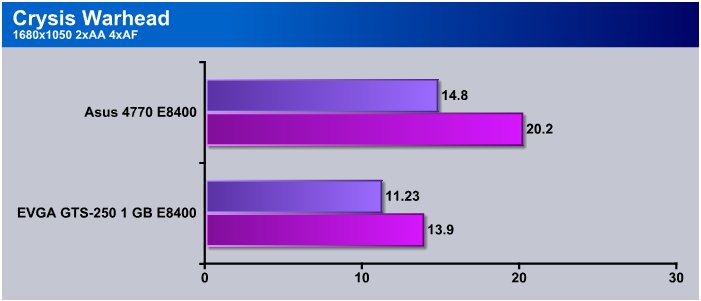 When we cranked the AA/AF on at 1680×1050 the Asus 477o took the lead but as we've seen moving to 1920×1200 the extra Frame buffer on the GTS-250 should give it the advantage.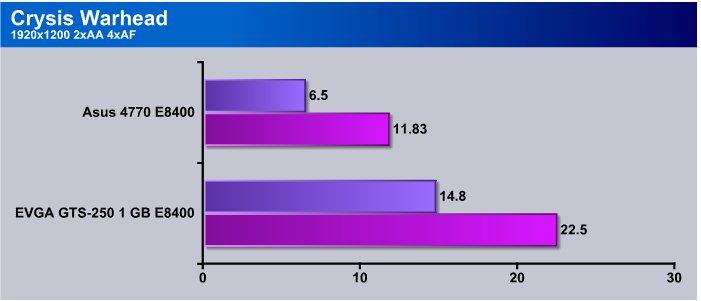 Even moving to 1920×1200 where Crysis is a lot more GPU bound than CPU bound the didn't help the 4770 much but you can't expect a Mainstream card to give top notch performance at these insane settings. We cranked down the eye candy and noticed a little lag here and there during battle intensive scenes but not enough to make us stop using the card.
Far Cry 2

Far Cry 2, released in October 2008 by Ubisoft, was one of the most anticipated titles of the year. It's an engaging state-of-the-art First Person Shooter set in an un-named African country. Caught between two rival factions, you're sent to take out "The Jackal". Far Cry2 ships with a full featured benchmark utility and it is one of the most well designed, well thought out game benchmarks we've ever seen. One big difference between this benchmark and others is that it leaves the game's AI (Artificial Intelligence) running while the benchmark is being performed.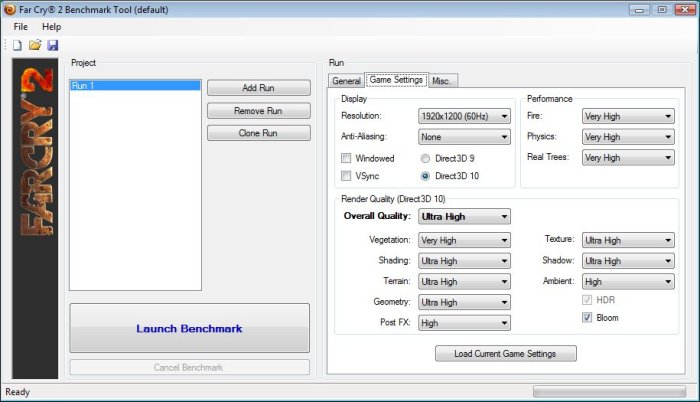 The Settings we use for benchmarking FarCry 2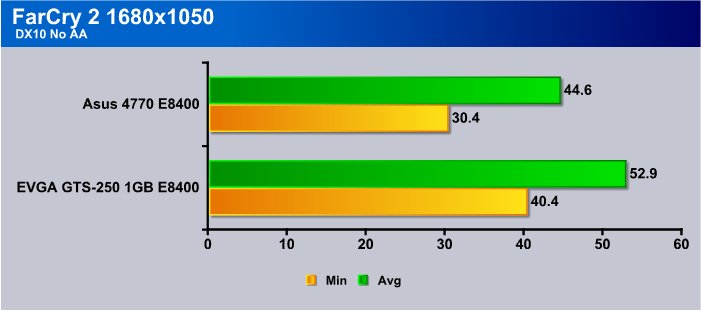 FarCry 2 is a fairly demanding game when run in DX10 so we were pleased when both cards ran it at entirely acceptable levels even at these insane eye candy settings. The GTS-250 did a little better but we're not convinced yet that spending the extra cash for the 250 is justified given the performance of the 4770.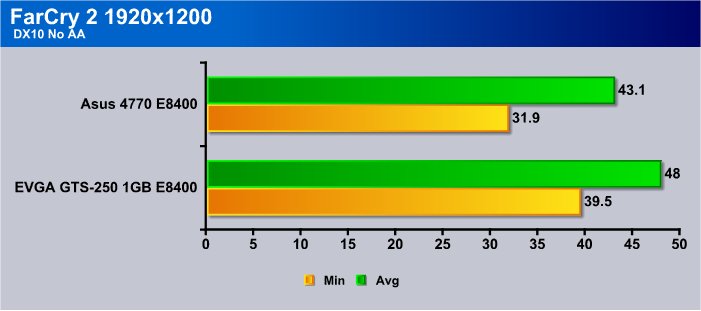 Moving to 1920×1200 the Asus EAH4770 is still holding it's own at pretty high settings. You have to keep in mind that anything beyond 30 FPS is just icing on the cake because at 30 FPS graphics look rock solid to the eye.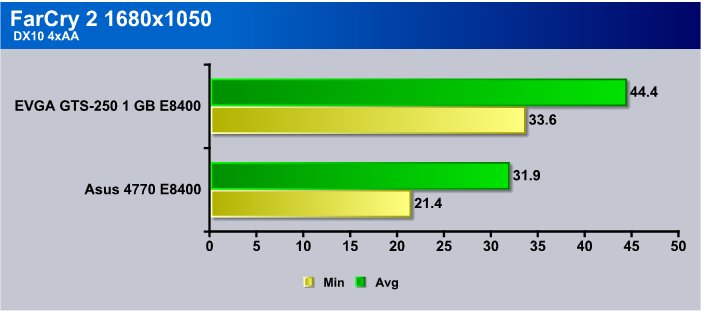 Cranking on the AA/AF we see a drop in performance (as expected) with the 4770. Still for a $100 dollar price range card we have no complaints here.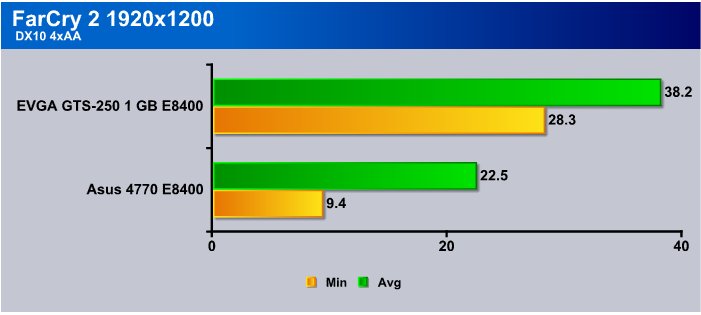 At the highest settings we tested the additional frame buffer on the GTS-250 1GB is really helping it stay at playable levels. The Asus 4770 was struggling at this level of settings but you don't expect a Mainstream card to run top notch at the highest settings.
Dawn of War: Warhammer 40,000

Developed by award winning Relic Entertainment, Dawn of War II ushers in a new chapter in the acclaimed Real-Time Strategy series – taking players to the brutal frontlines of war to lead an elite strike force on a mission to save the galaxy.
It is the 41st Millennium in Sub-Sector Aurelia – a cluster of worlds on the edge of the Galaxy – and a battle of epic proportions is about to begin. Ancient races will clash across the planets that dot this section of space, battling for the greatest of stakes – not only the claim to the land and its bounty – but the fate of each race.
With a focus on fast-action RTS game play, Dawn of War II brings to life the science fiction universe of Warhammer 40,000 like never before. Experience the intimate brutality of battle as you play through the epic campaign. Clash with enemies on battlefields ablaze with visceral hand-to-hand and ranged combat. Lead and develop your squads into the most battle hardened elite strike force in the Galaxy.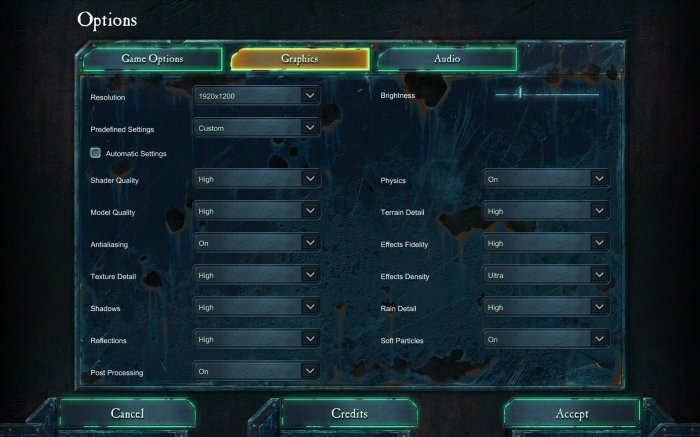 The Settings we use for benchmarking Warhammer
In Dawn of War 2 Warhammer 40k the Asus EAH4770 does very well even at the highest eye candy settings. (Without AA/AF) The GTS-250 has a few FPS on the 4770 but both are above the magical 30 FPS that keep things rock solid to the eye.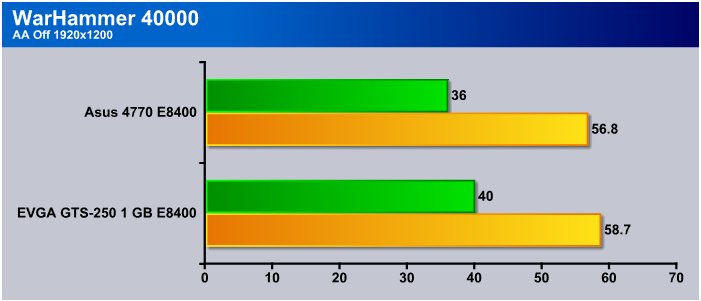 Even running 1920×1200 the Asus EAH4770 is churning out very acceptable FPS. Warhammer isn't a very demanding game but the graphics are really well done and even zooming down to the battlefield level (Mouse wheeling down to the charector level in game) the FPS didn't drop while we were playing the game. Zooming in from the elevated view we normally use increases the graphic details in the game.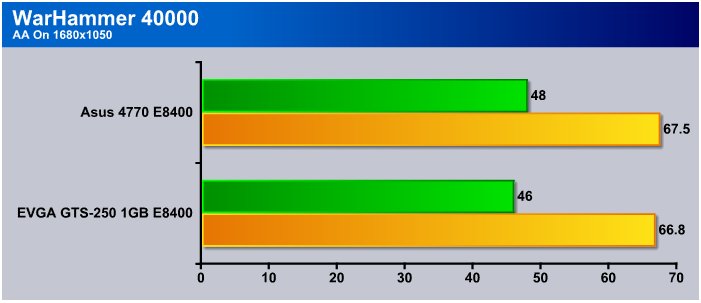 Turning on AA/AF but dropping to 1680×1050 shows us that even mainstream cards can perform well in highly optimised games. We were running a dual core E8400 at 3.2 Ghz as noted in the charts. We had to put the CPU next to the video card name so when we spin up the crossplatform SLI/Crossifre article we're working on you will know which CPU we used for the tests. Seeing the cards run on a dual core LGA 775 against a Core i7 965 Extreme Quad should be enlightning.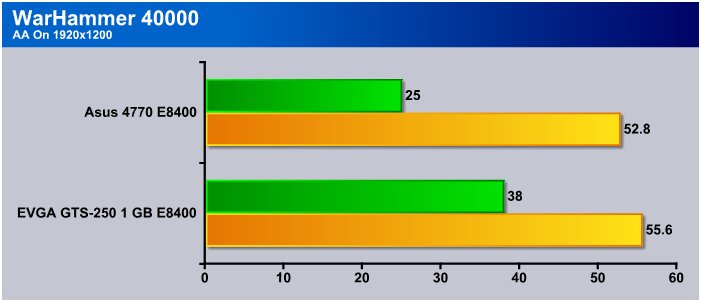 With AA/AF on we finally see the Asus EAH4770 drop below 30 FPS but it must have been a very momentary drop because we couldn't detect it by eye. It gets a little tedious watching each benchmark as it runs but the extra investment in time lets us give better information on performance.
HawX

The story begins in the year 2012. As the era of the nation–state draws quickly to a close, the rules of warfare evolve even more rapidly. More and more nations become increasingly dependent on private military companies (PMCs), elite mercenaries with a lax view of the law. The Reykjavik Accords further legitimize their existence by authorizing their right to serve in every aspect of military operations. While the benefits of such PMCs are apparent, growing concerns surrounding giving them too much power begin to mount.
Tom Clancy's HAWX is the first air combat game set in the world–renowned Tom Clancy's video game universe. Cutting–edge technology, devastating firepower, and intense dogfights bestow this new title a deserving place in the prestigious Tom Clancy franchise. Soon, flying at Mach 3 becomes a right, not a privilege.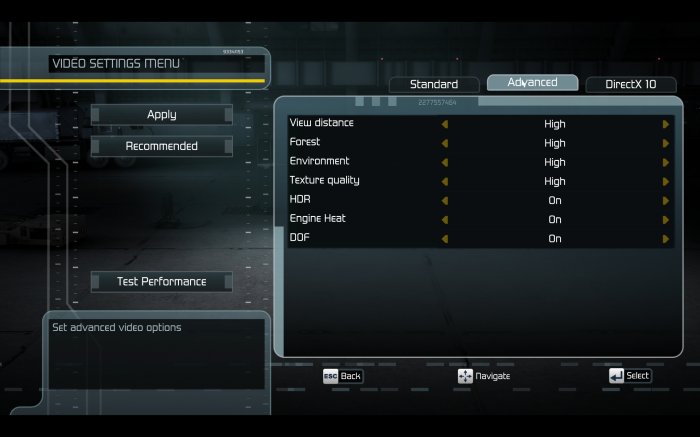 The Settings we use for benchmarking HawX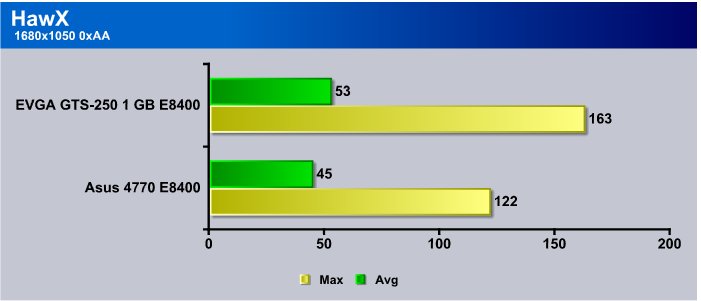 The built in benchmark in this visually stunning game measure things a little differently than most game benches. It measures Maximum and Average FPS and ignores minimum FPS. Often Minimum FPS are nothing more than a very short duration drop in FPS and hardly even noticeable to the human eye. We tend to put more weight on average FPS but keep an eye on the benches for noticeable choppiness or micro-stutters in the games. HawX at this level was not only visually stunning but the graphics were smooth as silk.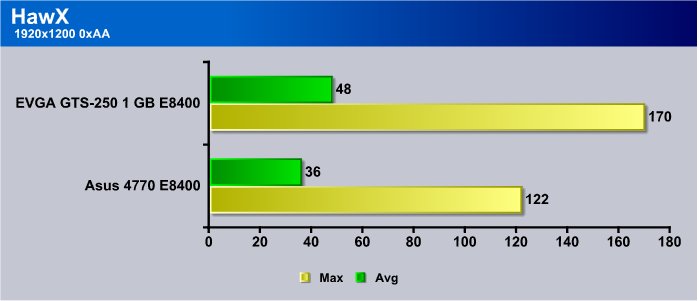 When we get to the more GPU demanding 1920×1200 setting the Asus EAH 4770 was still turning entirely playable FPS and the graphics were amazing.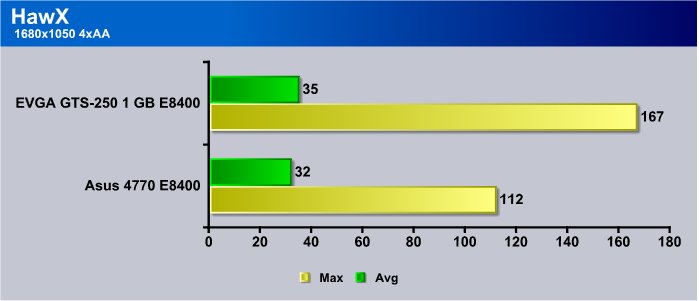 Even turning on AA/AF didn't drop the Asus EAH4770 below 30 FPS and the Mainstream card is really shining in the last couple of games tested.
Even cranking setting up as high as we test which is somewhat insane levels both cards did very well in HawX. Kudos to the game developers for a job well done, and a hearty salute to the 4770 designers.
CoD4

Call of Duty 4: Modern Warfare, the new action thriller from the award-winning team at Infinity Ward, the creators of the Call of Duty series, delivers the most intense and cinematic action experience ever.
Armed with an arsenal of advanced and powerful modern-day firepower, players are transported to treacherous hotspots around the globe to take on a rogue enemy group threatening the world. As both a U.S. Marine and British S.A.S. soldier fighting through an unfolding story full of twists and turns, players use sophisticated technology, superior firepower, and coordinated land and air strikes on a battlefield where speed, accuracy, and communication are essential to victory.
The epic title also delivers an added depth of multiplayer action providing online fans an all-new community of persistence, addictive, and customizable gameplay.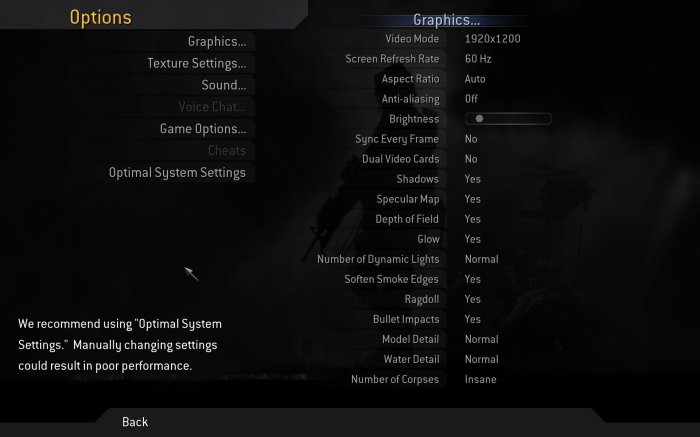 The Settings we use for benchmarking CoD4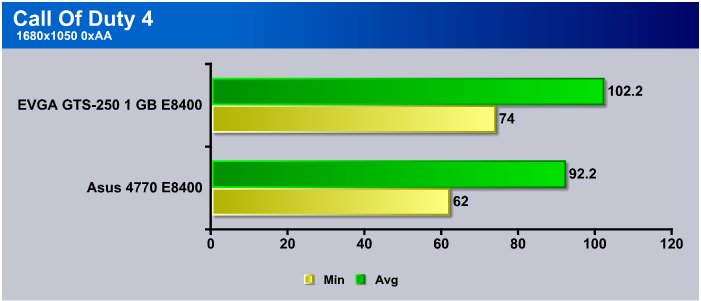 In Call of Duty 4 at 1680×1050 the Asus EAH4770 churned out 62 FPS Minimum and 92.2 FPS Average which is great for smooth gameplay. we ran a Fraps bench on it from the time you hit the first mission on the deck of the ship until the chopper takes out the enemies on the bridge of the ship following the same gaming pattern each time. Results were consistent and between runs we only got 1 – 2 FPS differences.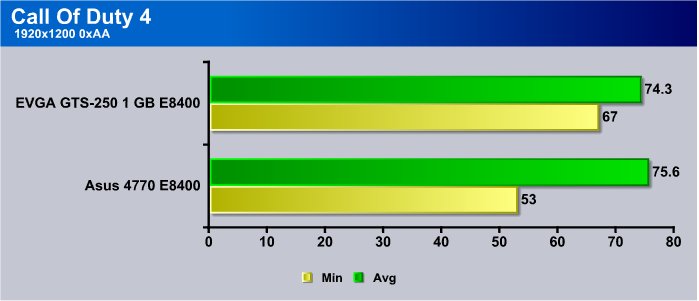 When we went to 1920×1200 the Asus EAH4770 barely slowed down any at all and was still kicking FPS at an amazing 53 FPS you can't ask for much more than that from a card in this price range.
In CoD4 the GTS-250 has been running ahead of the Asus EAH4770 and a lot of people see these reviews as a competition between cards when in reality it's not. Other cards are used for comparison numbers and to show the performance of cards compared to other cards, as long as the card stays above 30 FPS graphics look rock solid. It doesn't matter if you hit 130 FPS the other hundred are just bragging rights. Looking at it from that angle both the cards perform acceptably in this test.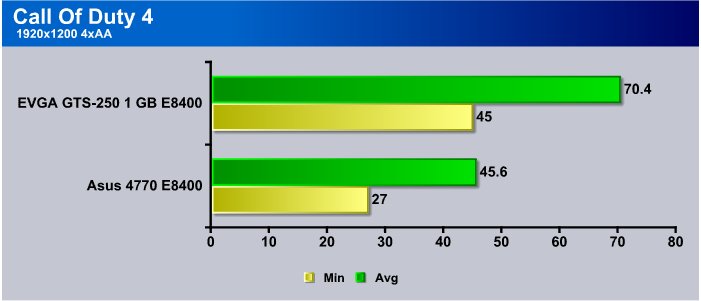 Now when we get to the 1920×1200 test the smaller 512 MB frame buffer lets the 4770 drop just below 30, again you have to consider the insane test setting we use and how long the FPS dropped below 30 FPS. If it's just a fraction of a second the human eye won't even pick it up. We didn't see any noticeable micro-stutters of graphics slowdowns so it must have been a very slight drop then back to playable FPS.
3DMark Vantage

For complete information on 3DMark Vantage Please follow this Link:
www.futuremark.com/benchmarks/3dmarkvantage/features/
The newest video benchmark from the gang at Futuremark. This utility is still a synthetic benchmark, but one that more closely reflects real world gaming performance. While it is not a perfect replacement for actual game benchmarks, it has its uses. We tested our cards at the 'Performance' setting.
Currently, there is a lot of controversy surrounding NVIDIA's use of a PhysX driver for its 9800 GTX and GTX 200 series cards, thereby putting the ATI brand at a disadvantage. Whereby installing the PyhsX driver, 3DMark Vantage uses the GPU to perform PhysX calculations during a CPU test, and this is where things get a bit gray. If you look at the Driver Approval Policy for 3DMark Vantage it states; "Based on the specification and design of the CPU tests, GPU make, type or driver version may not have a significant effect on the results of either of the CPU tests as indicated in Section 7.3 of the 3DMark Vantage specification and white paper." Did NVIDIA cheat by having the GPU handle the PhysX calculations or are they perfectly within their right since they own Ageia and all their IP? I think this point will quickly become moot once Futuremark releases an update to the test.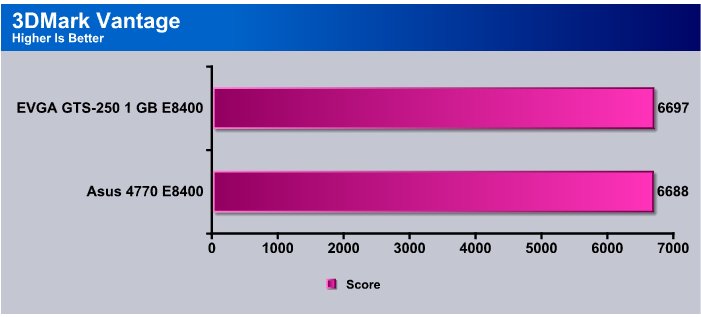 Now here's where it gets wierd, in 3DMark Vantage we tested both cards on the same test rig, both using a fresh load of the OS and Games from a good Clone, and the GTS-250 scores 9 points higher than the Asus EAH4770. No PhysX was used, the same CPU, same OS load, just different cards and drivers. So how good of a measure of a cards power is Vantage given the differences we saw in the 8 real life games we tested? We'll leave you with that though to ponder and move on to the next section of the review.
TEMPERATURES

To get our temperature reading, we ran FurMark looping for 10 minutes to get the load temperature. To get the idle temp we let the machine idle at the desktop for 30 minutes with no background tasks that would drive the temperature up. Please note that this is on an open test station, so your chassis and cooling will affect the temps your seeing.
GPU Temperatures
Idle
Load
40°C
66° C
We left the fan on the Asus EAH4770 on auto and we saw really reasonable temperatures from the Asus EAH4770 we have nothing to complain about with it's thermal envelope.
POWER CONSUMPTION

To get our power consumption numbers we plugged in out Kill A Watt power measurement device and took the Idle reading at the desktop during our temperature readings. We left it at the desktop for about 15 minutes and took the idle reading. Then, during the 30 minute loop of 3DMark Vantage we watched for the peak power consumption, then recorded the highest usage.
GPU Power Consumption
GPU
Idle
Load
Asus EAH4770
131 Watts
205 Watts
BFG GTX-275 OC
216 Watts
369 Watts
Nvidia GTX-275 Reference
217 Watts
367 Watts
Asus HD 4890 Voltage Tweak Edition
241 Watts
359 Watts
EVGA GTS-250 1 GB Superclocked
192 Watts
283 Watts
XFX GTX-285 XXX
215 Watts
369 Watts
BFG GTX-295
238 Watts
450 Watts
Asus GTX-295
240 Watts
451 Watts
EVGA GTX-280
217 Watts
345 Watts
EVGA GTX-280 SLI
239 Watts
515 Watts
Sapphire Toxic HD 4850
183 Watts
275 Watts
Sapphire HD 4870
207 Watts
298 Watts
Palit HD 4870×2
267 Watts
447 Watts
Total System Power Consumption
We tested the Asus EAH4770 on the EVGA 790i platform and the rest of the results here are from an i7 platform so we won't be comparing them directly. With an idle wattage of 131v and a load voltage of 205v the EAH4770 isn't going to break the bank when the electric bill shows up.
OVERCLOCKING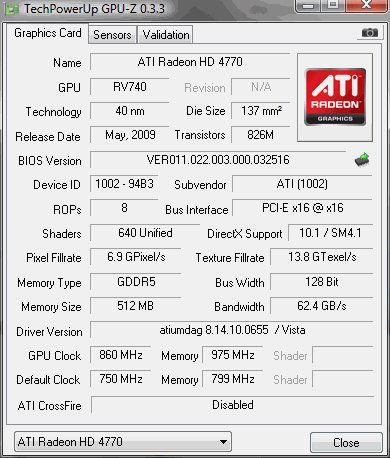 Stock clocks on the 4770 are 750 Core and 800 memory, GPU-Z was reporting 799 but it's never really done well with cutting edge new cards. We got a pretty decent OC to 860 core and 975 memory. Is that as high as the card would go? No we managed to get a few more MHz out of it entirely stable but as we've preached time and again: "Just because it's the maximum stable OC doesn't mean that it's a good idea to run the card at that." This is the highest we considered running the card 24/7.
CONCLUSION
Keeping in mind that we have to draw conclusions based on more than just GPU power and have to consider price range balanced with performance, because as we all know speed is a function of cost, the Asus EAH4770 exceeded our expectations for a GPU designed to fall in the sub $100 (USD) price range. All of the games we tested ran nicely on the Asus EAH4770 one we made allowances for it being a mainstream card. The uber high test setting we use for benching don't do justice to mainstream cards but were forced to look at a couple of things when benching. Is it better to have two sets of standards for GPU's and test at two entirely different levels, or test all cards at one setting and make allowances for GPU class. It's still something we're struggling with.
Give the price range the Asus EAH4770 falls in it exceeded our expectations and proved itself fairly game capable, for a mainstream card that's saying a lot.
It runs well in productivity applications, has more than enough power for an HTPC, and games at reasonable levels, that's a lot of punch for a card in this price range.
We are using a new addition to our scoring system to provide additional feedback beyond a flat score. Please note that the final score isn't an aggregate average of the new rating system.
Performance 7.5
Value 9
Quality 10
Warranty 8
Features 9
Innovation 8
Pros:
+  Runs Cool Enough
+  Crossfire capable
+  Price
+  Looks Nice
+  Lower Power Consumption
+  Good Rice/Performance ratio
Cons:
–  Won't run all games at highest settings
–  HDMI is through an adapter
The Asus EAH4770 exceeded our expectation for a card that weighs in at the $100 price range so it scores a: 7.5 out of 10 and the Bjorn3D.com Seal Of Approval.