The Titan G4T Magic Pad is a laptop cooler that is capable of expanding up to 17 inches yet accommodate a 14 inch Laptop all in the same compact lightweight cooler.
INTRODUCTION
Laptops can heat up pretty quickly when sitting on your lap. They can quickly become uncomfortable from the heat generated from the various subsystems, graphics chips and processor chugging away during extended usage. The discomfort of a warm laptop isn't the only concern, as we all know when it comes to computers, laptops especially, heat kills. Extended periods of usage on your lap can result in higher temperatures than the vendors specified thermal envelope for the laptop. The higher temperatures are due to the close contact and limited airflow in certain situations. We've long known the benefits of keeping laptops cool and around the lab we have a 4 1/2 year old Athlon 64 3200 HP machine that's never been down a day in it's life and we attribute that to god care and the cooling pad it's been used on since day one.
Laptop cooling pads have evolved since we used the Athlon in every day useage and now we're starting to see multi-fan extendable pads that feature up to 4 fans and can accommodate a 14 inch laptop all the way up to our new Toshiba Satellite 17 inch laptop. Since we're big believers in laptop cooling and keeping our laps cool we were delighted when Titan approached us about reviewing their Titan G4T Magic Pad laptop cooler. We're hoping for another 4 1/2 years of good service from the new Toshiba Satellite that we use for writing reviews on a day to day basis and have high expectations for the Titan G4T Magic pad facilitating that long life.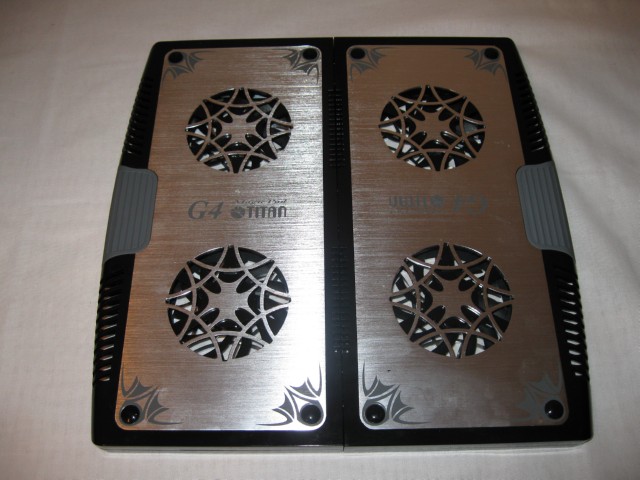 About Titan
"TITAN COMPUTER CO., LTD. was established in Taiwan by a group of progressive and experienced engineers in their respective fields. Since our establishment with over 16 years of manufacturing experience with high quality cooling devices for various kinds of PCs, we have successfully gained worldwide recognition for our innovative designs.

TITAN is headquartered in Taiwan and has its own two factories, total approximate 20,000 square meters. Both are located in Guang Dong- China, China. There are around 1200 employees, which provide combined efforts a production capacity of output 1.2 million units per month. TITAN is also leading manufacturer of various thermal products such as: CPU Coolers, VGA Coolers, H.D.D coolers, System Blowers, D.C fans, Heatsinks in comprehensive solution of cooling systems in different applications of PC systems."
Features
Extendable notebook cooling pad
Contracted in compact size, easy to carry
Suitable for most 12" ~ 17" notebooks
Built-in 4 silent fans
Stylish design, high cooling performance
Nice aluminum surface on the front side and back side
Two available airflow directions, intake or exhaust

A mode is where the Titan G4T pulls the hot air away from the laptop and exhausts it out the bottom of the laptop cooler. We found that the B Mode is better for our use.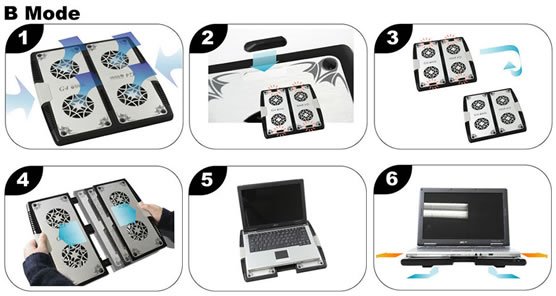 The B Mode pushes cool air onto the bottom of the laptop and and the heat exhausts between the laptop and the laptop pad. That way the heat buildup doesn't end up in your lap which was our secondary objective. Our primary objective is keeping the Toshiba Satellite cool during operation. Keeping the laptop cool and keeping your lap cool at the same time is even better.
Specifications
| | |
| --- | --- |
| Outline Dimension | 280~390 x 280 x 20 mm |
| Fan Dimension | 70 x 70 x 10 mm (4PCS) |
| Rated Voltage | 5V DC |
| Power Current | 0.6A |
| Power Consumption | 3W |
| Rated Speed | 2000 ± 10%RPM |
| Airflow | 61 CFM |
| Static Pressure | 0.04inchH2O |
| Noise Level | < 26.2 dBA |
| No. of Pole | 4 Pole |
| Bearing Type | Z-AXIS bearing |
| Life Time | 60,000 Hours |
| Weight | 800 |
The Titan G4T is designed to run off a regular USB port which all modern laptops have now and it's 4 70 mm fans spinning at 2000 RPM are sure to provide a measure of relief from heat buildup. Airflow is a fantastic 63 CFM and it's pretty quiet at 26.2 dBA. It's sturdy plastic and aluminum design weighs in at just over a pound and is pretty easy on the eye.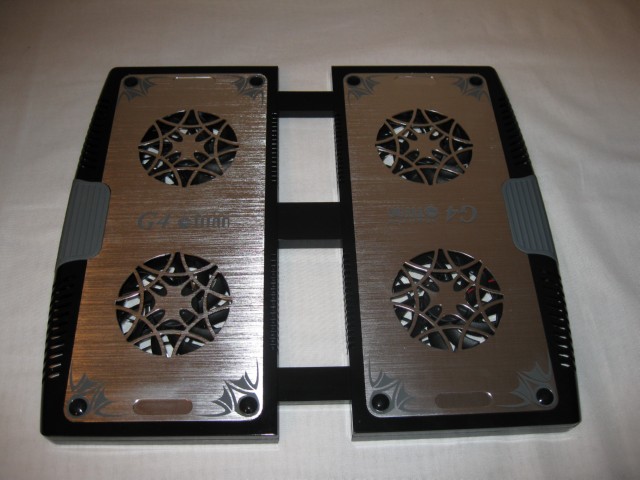 Looking more like a futuristic hover board from a Sci-Fi movie (Back to the Future) than a laptop cooler it's brushes aluminum surface adds confidence that the laptop isn't going to apply so much pressure to the surface that you get excess fan noise from the surface being weighted down and affecting the fans ability to operate. We've seen this on some lesser plastic coolers designed more for profit than actually doing the job of cooling your laptop.
Average MTBF on the fans is a reasonable 60,000 hours and the pad draws 5v DC at 3W so if your on the go you might want to watch power consumption as the cooler does run off the battery of your laptop unless your operating with the AC adaptor plugged in.
PICTURES & IMPRESSIONS
Click Image For a Larger One
The Titan G4T comes in a plastic clamshell and the clamshell and the G4T Magic Pad itself provide enough protection that you can rest assured that as long as it's packed appropriately it will arrive safely. We're not kidding about the sturdiness of the Titan G4T it's not one of those flimsy wanna be laptop coolers you so often see in the $20 price range. From the minute you see the packaging, which contains plenty of information and specification, you know that this is a quality laptop cooler and it makes you feel good about it's purchase.
Along with the Titan G4T you also get a set of rubber feet if you intend to use the Titan G4T on a desk and a retractable power cord which is a nice touch for those on the go. The back of the package has some information about the proper operation of the laptop cooler but it's pretty self explanatory so we dove right in without consulting the instructions.
Click Image For a Larger One
When collapsed the Titan G4T is suitable for a 14 inch laptop and expands to take care of up to a 17 inch laptop which makes it a good choice for any of the laptops we've seen. One size fits all and looks good doing it.
To test the Titan G4T Magic pad we fired up the Toshiba Satellite which is running a T5800 Intel Core 2 Duo mobile processor and Intel 4 series graphics adapter. We pulled the specs of the laptop right off the control panel for those of you that like your information pictorially.

Pretty standard laptop with an energy efficient Core 2 Duo Mobile processor. In the month we've had the laptop we've used it in normal day to day operation which for us is up to 10-12 hours a day with the laptop operating, usually directly on the lap so heat and comfort is an issue. To test the tempreture of the laptop during normal operation we went about our normal day to day operation and let the laptop run continiously on the lap for 4 hours then measured the temperature of the laptop as soon as we removed it from our lap, which by that time was getting a little toasty.
We then repeated the 4 hour marathon test with the Titan G4T Magic pad under the laptop and tested the temperature with an infra red thermal thermometer as soon as we removed it from the abused lap. This is a little more realistic test than firing up a program for a few minutes while the laptop sets on a desk or bench table. Setting on a table with a benchmark like 3DMark06 looping won't give you same heat buildup as a human lap will. Adding that 98.6 degree lap temperature provides a real life measurable method of determining the effectiveness of the Titan G4T Magic Pad.
Before we even get to the table with the test results we can tel you that the lap in question likes the Titan G4T Magic Pad and outside and lab testing or thermal measurements it's a worthwhile investment. Our collective laps thank you Titan.
Results
Titan G4T Magic Pad Testing Results
Laptop W/Out Titan G4T
107F/41.7C
Lap W/Out Titan G4T
106F/41.1C
Laptop With Titan G4T
93F/33.9C
Lap With Titan G4T
97F/36.1C
You can see that before using the Titan G4T the laptop and lap were getting a little toasty and hitting the 106-107° F range. After using the Laptop with the Titan G4T Magic Pad we saw a 14° F decrease in the laptops temperature right where it gets the hottest, the bottom. The much abused lap was running just 0.2° F above 98.6° F normal body temperature after a grueling 4 hour marathon of lap computing. Much more comfortable for the lap and much better for longevity on the laptop.
CONCLUSION
The Titan G4T did a good job in cooling the new Toshiba Satellite we use on a day to day basis writing reviews. We saw an amazing 14° F decrease in laptop temperature and the lap it was on was very grateful for the relief. The 4 70 mm fans spinning at 2000 RPM and pretty quiet and don't disturb us while composing the reviews. The extra airflow kept the laptop nice and cool and the Titan G4T Magic Pad even manages to look good.
Sturdy, keeps the lap and laptop cool and looks good doing it you can't ask for much more than that.
We are trying out a new addition to our scoring system to provide additional feedback beyond a flat score. Please note that the final score isn't an aggregate average of the new rating system.
Performance 9
Value 9
Quality 10
Warranty 9
Features 9
Innovation 8
Pros:
+  14 Degree temperature drop on the laptop
+  Kept us comfortable during a 4 hour laptop session
+  Sturdy
+  One size fits all (14 – 17 inch laptops)
+  Lower Power Consumption
+  Stylish
Cons:
–  Power cord could be a little more substantial
–  Variable speed would have been nice
The Titan G4T Magic Pad kept the Toshiba Satellite and the lap it was on nice and cool keeping a well used lap comfortable and providing good cooling to help extend the life of a valuable laptop so it scores a: 8 out of 10 and the Bjorn3D.com Seal Of Approval.