The TherMax II CPU cooler made by Spire looks like a modified version of the TRUE, let's see how well it performs against its look alike.
INTRODUCTION
A CPU is at the heart of every computer, laptops and desktops alike, and although the solutions may be different, everyone of those CPU's has some sort of cooling device on it. Laptop coolers are small and quiet, and although there are some desktop coolers that are like this, most of them tend to be a bit bigger and noisier. As you enter the enthusiast and gamer cooling markets, the solutions perform better, tend to be bigger and louder, and most often look cool.
Spire has shown up with the TherMax II CPU cooler that is compatible with every mainstream socket out on the market today. The Spire cooler looks unique, but at the same time somewhat reminds of the TRUE. No matter what it looks like, the most important thing is that it does it job well, and that job is to keep the CPU cool.
 
About Spire 
Spire-Powered by Innovation: Founded in 1991, Spire is a leading premier brand for computer thermal solutions, power supplies and enclosures. In order to meet the requirements and demands of the global market, we have established our production facilities and corporate office in ShenZhen, China. Our overseas branches are located in USA, The Netherlands, U.K, Germany, France, Taiwan, Japan and Brazil. All locations are strategically located to better work with the customers we serve.
At Spire we continually strive for success and quality products. To improve and develop a wide range of computer products, we have invested heavily in our quality manufacturing process and Research & Development. Our objective is to provide top quality products for national distributors as well as for ODM and OEM clients. Our focus is to build on the current success of the Spire brand so that our brand is recognized world wide as a provider of top quality computing solutions. We will continue to work to maintain the satisfaction of our customers and share the knowledge of our experts – Spire 'Powered by Innovation'.
Features & Specifications

* Four 8mm all copper u shaped heat-pipes
* All new Direct-Touch heat-pipe technology
* UV-reactant 120mm BlueStar fan design
* Amazingly silent at just 29.0 dBA
* 55 stamped Aluminum Micro-Fin's
* Supports the latest Intel & AMD micro-processors
Product Includes :
* Multilanguage Owners Manual * EZ Installation clip * PCI Fan-speed control unit * Stars-420 Thermal compound
| | | |
| --- | --- | --- |
| |   Product Specification | |
Socket 775 / AM2 / 1366 Cooling kit
Dimensions

| | |
| --- | --- |
| Heat sink :        | 125×77×155 mm (l × w × h) |
| 12VDC Fan : | 120×120×25 mm |

Bearing
Sleeve bearing
Rated speed
2200 RPM +/-10%
Rated power
4.2 W
Noise level
34 dBA
Air flow
93.3CFM at 2,200 RPM
Current
0.35 A
Life hours
Sleeve: 30.000
Features
Four 8mm all copper u shaped heat-pipes,All new Direct-Touch heat-pipe technology,UV-reactant 120mm BlueStar fan design,Amazingly silent at just 29.0 dBA,55 stamped Aluminum Micro-Fin's,Supports the latest Intel & AMD micro-processors
Connector
2510/3p
Application

| | |
| --- | --- |
| Intel  :   | Core 2 Duo ~ 3 GHz (775 Dual-core) |
| Intel :   | Core 2 Extreme ~ 3.2 GHz (775 Dual-core) |
|   | Core 2 Quad ~ 2.66 GHz (775 Quad-core) |
|   | Core i7 ~ 3.2 GHz 1366 |
|   | LGA775 ~ 3.73 GHz (Prescott) |
|   | Pentium D ~ 3.4 GHz (775 Dual-Core) |
|   | Pentium EE ~ 3.73 GHz (775 Dual-Core) |
| AMD :   | Athlon 64 X2 ~ 9500 GHz (AM2) |
|   | Athlon X2 ~ 9500 GHz (AM2) |
|   | Phenom X4 ~ 9600 GHz (AM2/AM3) |
Pictures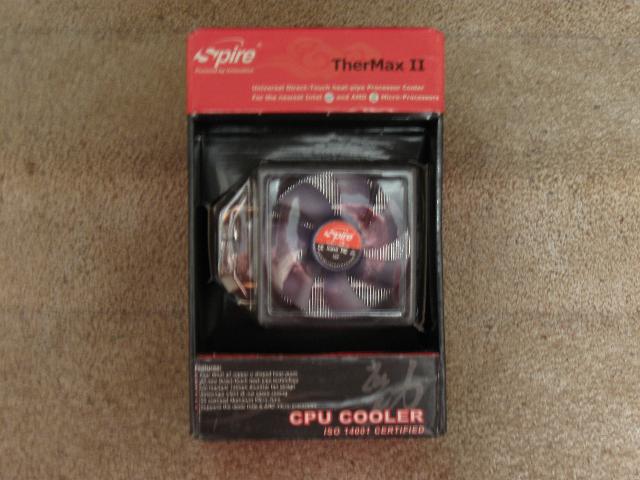 Here we have the front view of the TherMax II's box.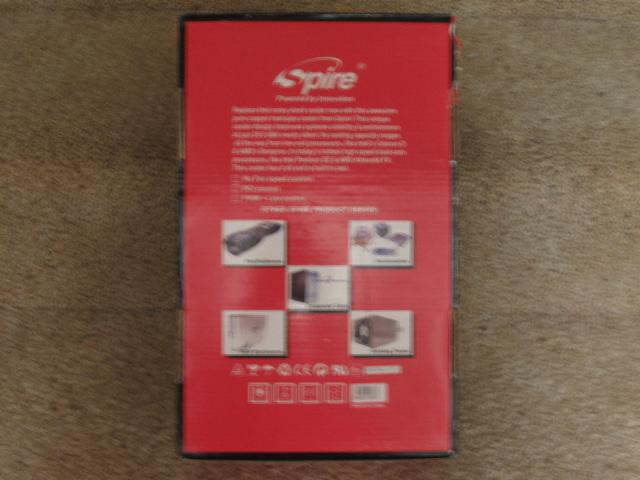 This is the back of the box. At the top it lists some features of the product, and below has some pitures illustrating them.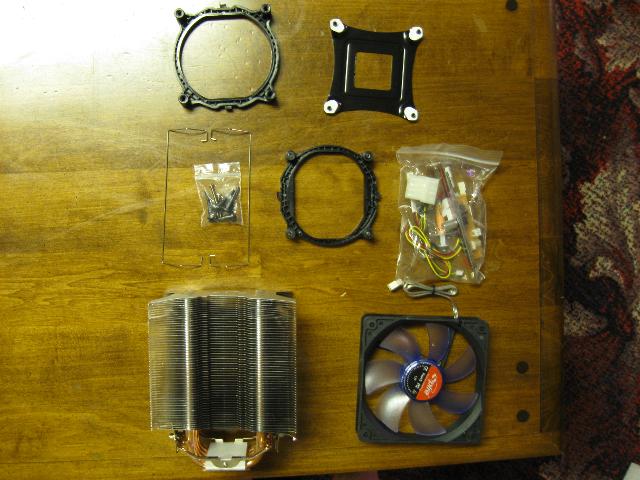 Here we have everything that came included in the box. Starting at the top left, we have a mounting bracket, another mounting bracket, below that is a little ziplock bag including some thermal paste, fan controller, and fan power adapaters. To the left of the bag is the last mounting bracket, 2 fan clips, the cooler itself, and lastly the fan. Something that somehow escaped the camera in this shot was the instruction manual, which was very informative and right to the point.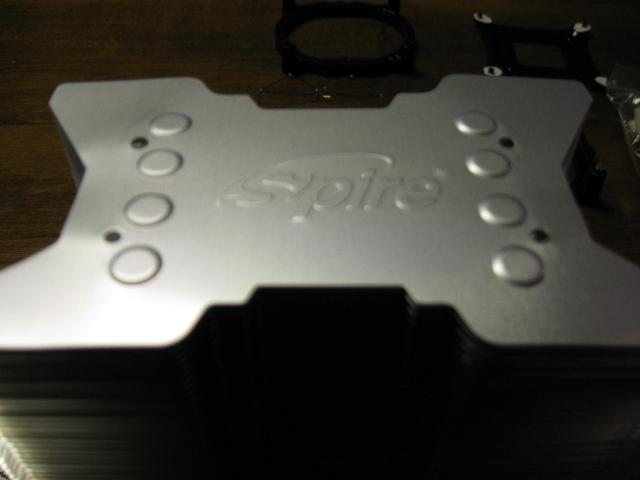 When pull this out of the packaging, I couldn't help but notice that it felt somewhat flimsy. I also notice that some of the fins were bent, but not terribly bad. This won't matter to me as long as it performs well, and we'll be testing that out later on. This is the top of the cooler.
Here we have a view through the coolers fins, thats my 20 year old tv in the back!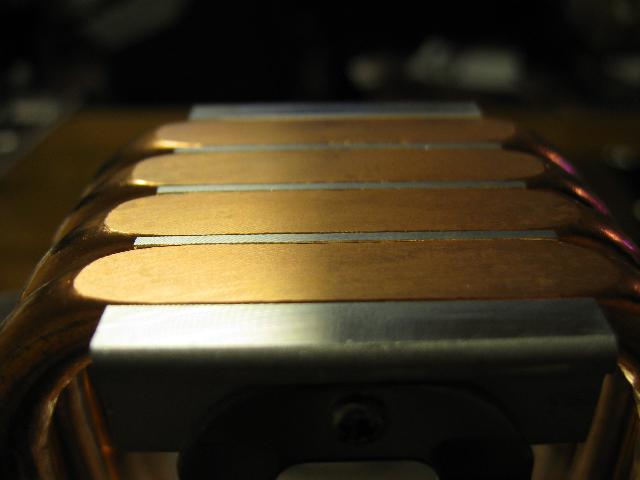 As you can see, Spire took the time to level out the surface that sits on the CPU. When I ran my finger over it, I had to look at it to see when I was moving from the copper to non copper surface because it was so smooth.
Installation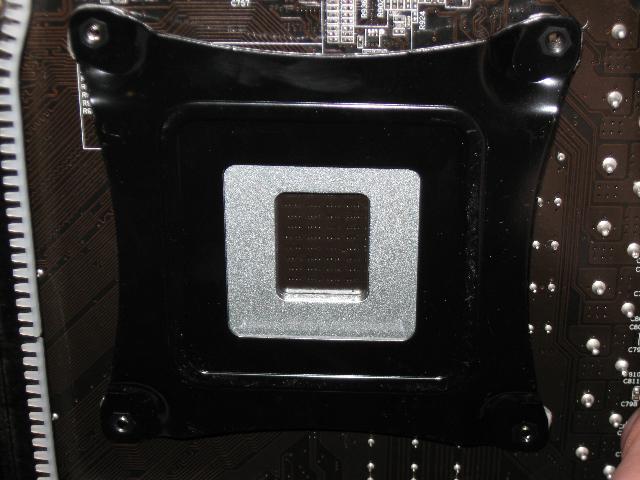 The LGA1366 mounting plate on the back of my motherboard. This was very easy to install.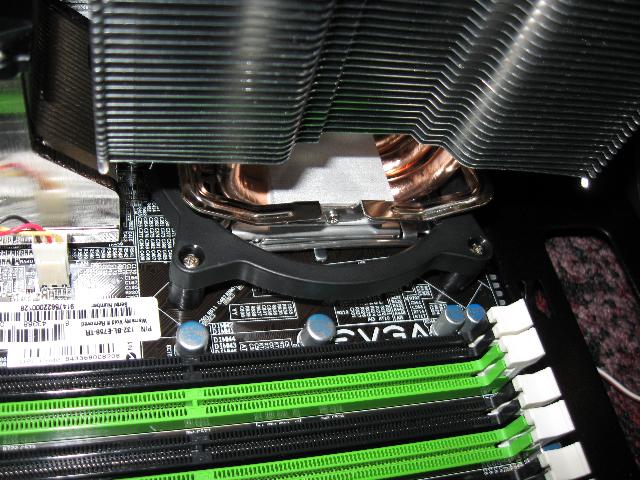 The mounting device on the top side of the motherboard was interesting, but very effective. The two metal arms slip over the outward standing clips on the black part to hold the cooler in place. This made for a very simple install that took no more than 5 minutes.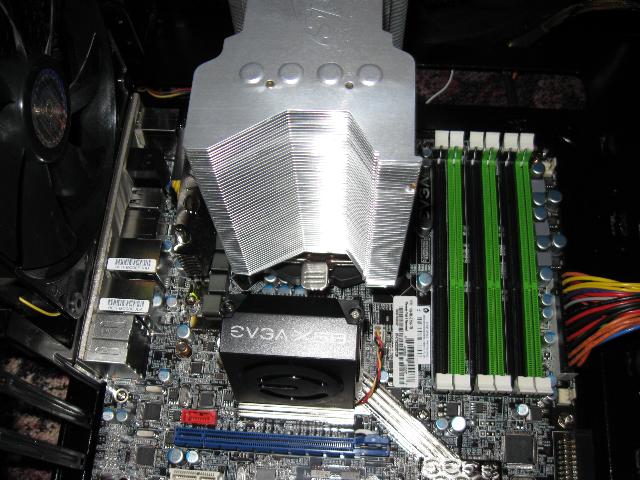 In this picture you can see how much room I've got between the north bridge cooling on my EVGA x58 motherboard and the Spire cooler. There was enough room that it didn't hassle me when installing the cooler due to the shape of it. At the very base of the cooler, you should notice the clip that is used to hold the TherMax II in place. On the other side, there's another just like it.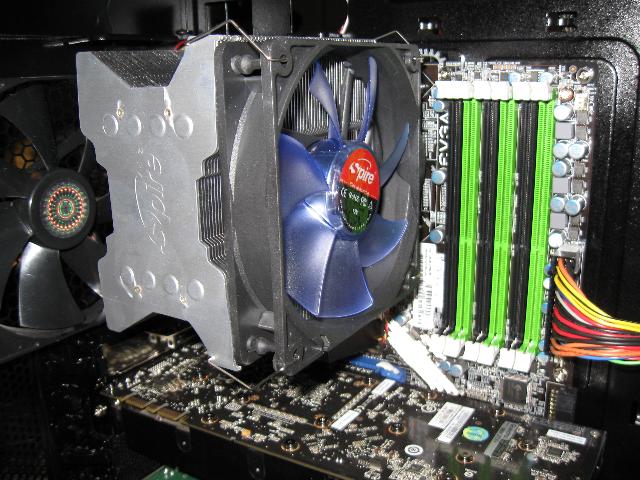 The Spire TherMax II, and it's included 120mm fan are both installed. The fan is held up by 2 clips, usually I hate the hassle these things have to offer, but these were an exception and worked perfectly the first time. The fan sticks out away from the cooler, but does not get in the way of my RAM slots, which is always nice!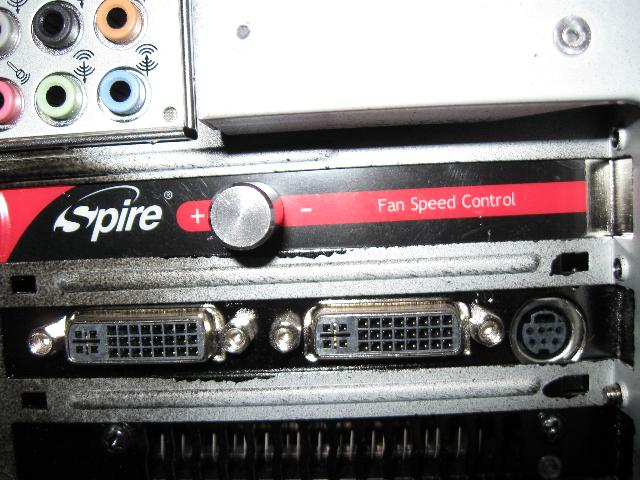 And finally, the Fan Speed Controller. Nothing new, but it works well, and doesn't get in the way of anything.
Let's move on and see how well this thing actually performs!
Testing Methodology
Prime 95, Orthos and Intel Burn were the 3 tests used for gather load temperatues, I took the highest results and made an average of the three and recorded that as the LOAD temperature during testing. IDLE temperatures were recorded 15 minutes after bootup with no applications running. Below are the specs of the system used for gathering temperatures during testing.
Test System

CPU
Core i7 920
Motherboard
EVGA x58
Case
Cooler Master HAF 932
Memory
6GB OCZ Platinum 1600
Video Card
Leadtek 9800GTX
Hard Drives
640GB Western Digital
CDRom Drive
Lite On Sata DVD Burner
Power Supply
In Win Commander 1200W
Type Of Coolers Used
Cooler Master V10, TRUE w/2 fans, Spire TherMax II
CPU Speeds Used
3.3 GHz
Operating System Used
Microsoft Windows Vista

64

bit

Home Premium
Test Results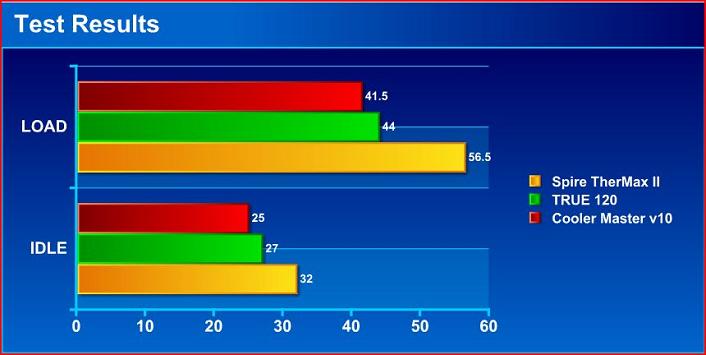 At IDLE, the Spire TherMax II was only 5c above the TRUE, and 7c warmer than the v10. However, LOAD is a completely different story. 12.5c warmer than the TRUE and 14c warmer than the v10. That's quite a big difference.
Conclusions
The Spire Thermax II CPU cooler is a very respectable heatsink, and the price point that it's at is phenominal. Roughly half the cost of the TRUE, and although temperatures were 12.5c higher at load for the Spire, for some people, that's perfectly okay. The fan is nice and quite, even on full speed, and is practicly unnoticed. I can see this cooler be a very viable option for people who have a strict budget, people looking to save some money, and then of course those price/performance mongers who won't get anything unless the price/performance ratio is just right. The Spire may not be the best air cooler on the market, but it certainly pack a wallop, and the price is unbelievable!
Performance 7.5
Value 9
Quality 9
Warranty 10
Features 8
Innovation 10
Pros:
+ Quiet
+ Easy to install
+ $36 Price tag
+ Expansion slot fan controller
Cons:
– Available in the U.S. starting in March
– Performance lacks, but price/performance rocks
– Poor build quality



Final score of 8.0 out of 10 and receives the Bjorn3D Seal of Approval.