Asus, as usual, is one of the first companies to field a viable enthusiast AM3 board for the new generation Phenom II AM3 CPU's. We're lucky enough to have one to look at today.
INTRODUCTION
Asus has always been in the fast lane when it comes to releasing new technology and this time they're one of the first to field a viable AM3 board that budget minded enthusiasts can afford. The Asus M4A78T-E is targeted toward the new AM3 Phenom II lineup of CPU's and takes DDR3. We were excited to see the new generation board becoming available and when Asus offered one of the M4A78T-E boards up to the benchmarking alter we were quick to accept.
What we're most interested in is the overclocking ability and how far the board can drive the CPU. We expect much the same results with DDR3 that Intel chips had when part of the 775 platform moved to DDR3. Some people will love it while others will hold on to their DDR2 until the cows come home.
No matter if you're in the DDR2 or DDR3 camp AMD, has you covered with AM2+ and AM3 CPU's on one of the most flexible platforms we've ever seen. If you want to use the Asus M4A78T-E you'll have to use DDR3, and we can easily recommend the AM3+ platform for it's longevity. New products will be coming out for the AM3 platform. AM2+ got a reprieve but soon it'll be getting stale. So, sit back and relax and leave the testing to Bjorn3D.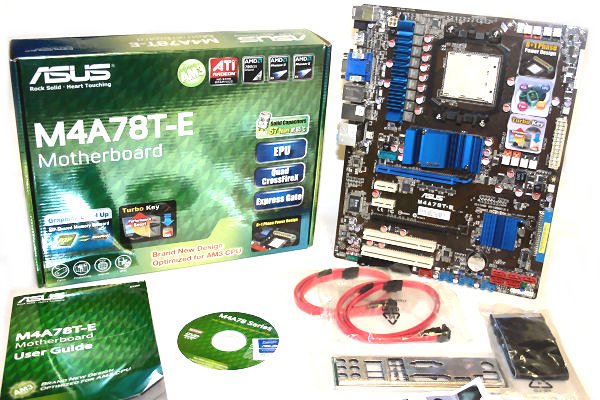 About Asus
ASUS, a technology-oriented company blessed with one of the world's top R&D teams, is well known for high-quality and innovative technology. As a leading company in the new digital era, ASUS offers a complete product portfolio to compete in the new millennium.
In 2007, one in three desktop PCs sold was powered by an ASUS motherboard; and the company's 2007 revenues reached US$6.9 billion.
ASUS products' top quality stems from product development. It's like learning Chinese Kung-Fu; one must begin with cultivating the "Chi" and inner strength. Besides innovating cutting-edge features, ASUS engineers also pay special attention to EMI (electromagnetic interference), thermal, acoustics and details that usually go unnoticed to achieve complete customer satisfaction. ASUS notebooks are the first TCO'99-certified notebooks worldwide.
The requirements for this honor include radiation emission control, energy (battery consumption), ecology (environment friendly) and ergonomics. To succeed in this ultra-competitive industry, great products need to be complimented by speed-to-market, cost and service. That's why all 8,000 over employees of ASUS strive for the "ASUS Way of Total Quality Management" to offer the best quality without compromising cost and time-to-market while providing maximum value to all customers through world-class services.
With unyielding commitment to innovation and quality, ASUS won 2,568 awards in 2007, meaning on average, the company received over 7 awards every day last year. BusinessWeek has ranked ASUS amongst its InfoTech 100 for the 10th straight year; and the company is ranked as No.1 in quality products and services by the Wall Street Journal. ASUS has also achieved the number one title on the annual league table of Taiwan Top 10 Global Brands with a brand value of 11.96 billion US dollars.
SPECIFICATIONS
Asus M4A78T-E

CPU

AMD Socket AM2+ / AM2 Phenom X3/Phenom X4/Athlon /Athlon X2/Sempron Processors
Compatible with Phenom™ II/Athlon™ X4/Athlon™ X3/ Athlon™ X2(AM3 CPU)
Support 45nm CPU

Chipset

AMD 790GX/SB750

System Bus

Up to 5200 MT/s HyperTransport™ 3.0 interface for AM3/AM2+ CPU
2000 / 1600 MT/s for AM2 CPU

Memory

4 x DIMM, Max. 16 GB, DDR3 1333/1066/800 ECC,Non-ECC,Un-buffered Memory
Dual Channel memory architecture
*Due to OS limitation, when installing total memory of 4GB capacity or more, Windows® 32-bit operation system may only recognize less than 3GB. Hence, a total installed memory of less than 3GB is recommended.
**Refer to www.asus.com or this user manual for the Memory QVL(Qualified Vendors Lidts)

Expansion Slots

2 x PCIe 2.0 x16 (Single x16 with VGA Switch Card or Dual x8)*. Support ATI CrossFireX™ technology
2 x PCIe x1
2 x PCI 2.2

VGA

Integrated ATI Radeon™ HD 3300 GPU.
Max. shared memory: 512 MB
SidePort Memory – onboard 64MB DDR2 800 memory
Supports HDMI™ Technology with max. resolution up to 1920 x 1200 (1080P)
Supports Dual-link DVI with max. resolution up to 2560×1600 @60Hz
Supports D-Sub with max. resolution up to 2560×1440 @ 75Hz
Hybrid CrossFireX™ Support
Dual independent displays support with HDMI/DVI and D-Sub
Supports Microsoft® DirectX 10, OpenGL 2.0, Shader Model 4.0
Hardware Decode Acceleration for H.264,VC-1, and MPEG-2

Storage

SB750 Chipset
1 xUltraDMA 133/100/66 for up to 2 PATA devices
5 xSATA 3 Gb/s ports Support RAID 0,1,5,10

LAN

Atheros L1E Gigabit LAN controller featuring AI NET 2

Audio

VIA VT1708S 8 -Channel High Definition Audio CODEC
– Supports Jack-Detection, Multi-Streaming, and Front Panel Jack-Retasking
– Optical S/PDIF Out ports at back I/O
– ASUS Noise Filtering

IEEE 1394

VIA VT6315N controller supports 2 x 1394a ports

USB

12 USB 2.0 ports (6 ports at mid-board, 6 ports at back panel)

ASUS AI Lifestyle Features

ASUS Power Solutions:
– 8+1 Phase Power Design
– ASUS Anti-Surge Protection
ASUS Green Design:
– ASUS EPU
– ASUS AI Nap
Express Gate
ASUS Quiet Thermal Solution:
– ASUS Fanless Design:Feather heatsink solution
– ASUS Q-Fan2
ASUS EZ DIY:
– ASUS Q-Connector
– ASUS CrashFree BIOS 3
– ASUS O.C. Profile
– ASUS EZ Flash 2

Overclocking Features

Intelligent overclocking tools
– AI Overclocking (intelligent CPU frequency tuner)
– TurboV
– Turbo Key
SFS (Stepless Frequency Selection)
– FSB tuning from 200MHz up to 600MHz 1MHz increment
– PCI Express frequency tuning from 100MHz 150MHz at 1MHz
Overclocking Protection
– ASUS C.P.R.(CPU Parameter Recall)

Special Features

100% All High-quality Conductive Polymer Capacitors!(VRM 5000hrs lifespan @105°C, 500,000hrs @65°C)
ASUS MyLogo 2
AMD OverDrive Support*
* Advanced cooling system is required when advanced overclock functions of AMD OverDrive are enabled.

Back Panel I/O Ports

1 x DVI
1 x D-Sub
1 x HDMI
1 x External SATA
1 x S/PDIF Out (Optical)
1 x IEEE 1394a
1 x RJ45 port
6 x USB 2.0/1.1
8 Channel Audio I/O
1 x PS/2 Keyboard (Purple)

Internal I/O Connectors

3 x USB connectors (6 ports)
1 x Floppy disk drive connector
1 x IDE connector
5 x SATA connectors
1 x IEEE 1394a connector
1 x CPU Fan connector
2 x Chassis Fan connector
1 x Power Fan connector
1 x S/PDIF Out connector
CD audio in
Front panel audio connector
COM connector
Chassis Intrusion connector
System Panel (Q-Connector)
24-pin ATX Power connector
4-pin ATX 12V Power connector

BIOS

8 Mb Flash ROM
AMI BIOS, PnP, DMI2.0, WfM2.0, SM BIOS 2.3, ACPI 2.0a, ASUS EZ Flash 2

Accessories

1 x UltraDMA 133/100/66 cable
2 x SATA cable
4 VGA Switch Card
1 x I/O Shield
1 x User's manual
2 in 1 Q-connector (USB, System panel; Retail version only)

Support CD

Drivers
ASUS PC Probe II
Express Gate
ASUS AI Suite
Anti-virus software (OEM version)
ASUS Update
AMD OverDrive Utility (AOD)

Form Factor

ATX Form Factor
12 inch x 9.6 inch 30.5 cm x 24.5 cm )
FEATURES
Best AMD Phenom™ overclocking

Personalize your PC experience more than ever before with advanced clock calibration, the newest overclocking feature of AMD OverDrive™ that allows you to push the limits of your Phenom™ processor.1 With state-of-the art tuning options including temperature controls, system monitoring and stability testing;AMD OverDrive™ is designed to give you real-time control of your PC. Take advantage of a full suite of RAID options including RAID 5 for superior performance and data protection with AMD RAIDXpert®. Get all the control you crave.

 

  

Scalable performance for all your needs

Get the best out-of-box gaming experience with the world's fastest motherboard GPU with built-in ATI Radeon™ HD 3300. Or benefit from the performance boost that only ATI Hybrid Graphics2 enables when you add an applicable ATI Radeon™ graphics card with the AMD 790GX chipset. Transform your game play with ATI CrossFireX™ powering two ATI Radeon™ graphics cards for fast, incredibly realistic gaming. It's scalable gaming action like never before.

 

  

Play the latest games without compromise

The AMD 790GX Chipset , with the world's fastest motherboard GPU – ATI Radeon™ HD 3300 Graphics – redefines the 3D gaming experience. Enable ATI CrossFireX™ to enhance your gaming performance when playing the latest DirectX®10 games. Take advantage of AMD's innovative performance cache for fast action when you need it most. Paired with the latest Phenom™ processors, the AMD 790GX chipset is a phenomenal gaming rig at an incredible price.

 

HD up-scaled beyond 1080p

The AMD 790GX chipset allows you to immerse yourself in a full HD cinematic experience3 at home while enabling a quiet entertainment PC. Enjoy more vibrant colours and lifelike picture quality up-scaled beyond 1080p with ATI Avivo™ HD4. Watch the latest Blu-Ray® movies on your PC5 and easily connect it to your big screen TV. The AMD 790GX Chipset offers you a superior HD experiences that runs efficiently and at a price that won't break your budget.

 

 

Innovative energy efficient technologies The AMD 790GX Chipset powers an exceptionally energy efficient PC without compromising performance. New innovations in dynamic power management provide performance when you need it and power savings when using everyday applications. Build the ultimate in energy efficient PCs when you combine the AMD 790GX Chipset with the latest AMD Phenom™ processors.
Proven ATI Radeon™ Graphics Powering
DirectX® 10

Powered by ATI Radeon™ Graphics, DirectX®10 introduces neverbefore-seen detail-rich images and dynamic interactivity for playing the latest DirectX® 10 games
HyperTransport™  3.0 Technology
HyperTransport™ 3.0 more than doubles your CPU communications bandwidth to graphics as compared to HT1
PCI Express® Generation 2.0
Double your graphics bandwidth over earlier PCI Express for improved performance
Backwards Compatibility
Ensures flexibility to build platforms with previous generation CPUs as well as the latest AMD Phenom™ processors
Performance Cache
Performance and power improvements with AMD's unique side port technology

ATI Hybrid Graphics1

Improve your system performance by enabling the ability for both discrete graphics and integrated graphics to render simultaneously
ATI CrossFireX™ Technology
Upgrade to even greater 3D performance quickly and easily with plug-and-play ATI CrossFireX™ technology when you use two discrete ATI Radeon™ Graphics cards
ATI Avivo™ HD2

ATI Avivo™ HD is the advanced image and video processing and display technology found in ATI Radeon™ graphics that enables:

brilliant colors, sharp images and smooth playback of Blu-ray™ and HD DVD content
performance that rivals high end HD DVD and Blu-ray™ players on difficult 1080i content
built-in HDMI and DVI with HDCP

Low Power Design
Designed for power-efficient computing to help lower energy costs
AMD Cool'nQuiet™ 2.0
Benefit from power saving features that help reduce power consumption at idle or during low usage
Enhanced Digital Display Integration
Supports Display Port interface for the latest displays. Includes a TDMS interfacen that enables dual-link DVI or HDMI 1.2 as well as HDCP 1.1
ATI SurroundView™
SurroundView™ feature allows support for up to four independent monitors for systems equipped with an additional Radeon™ discrete graphics card

ATI PowerPlay™

Flexible power saving technologies that ensure optimal power efficiency to help reduce your electricity costs
SB750 Southbridge
Support for up to 12 USB 2.0 connections and 6 SATA 2.0 devices, including eSATA devices. Also includes support for RAID 0, 1, 5 and 10

AMD OverDrive with Advanced Clock Calibration*

Shift your system performance into next gear with Advanced Clock Calibration that allows you to get the highest overclocking out of your AMD Phenom™ CPUs. AMD OverDrive™ also enables control of the AMD 790GX to easily configure system settings in Microsoft Windows® in real-time

AMD RAIDXpert™

Easily configure your RAID setup from remote locations to personalize your media for extra performance or enhanced reliability. Additional RAID 5 support with SB750
PICTURES & IMPRESSIONS
Click Image For a Larger One
The packaging is pretty standard for an Asus board. There's plenty of protection for the board and enough specifications to help inform you about the board's purchase. For most people reading this review though, we give plenty of information and specifications if you don't skip over the Features & Specifications page.
Click Image For a Larger One
The bundle on this board is pretty minimal but so is the price, so we don't have a problem with that. Inflating the bundle would just inflate the price and, in our case, most of that is in a large box with hundreds of other cables and doodads. For most people, the bundle contains enough to get them up and running, but not make them dance in the street out of sheer joy. If you're looking for a more upscale bundle, Asus is sure to offer an upscale variant of the board with an upscale price to match.
1 x UltraDMA 133/100/66 cable
2 x SATA cable
4 VGA Switch Card
1 x I/O Shield
1 x User's manual
2 in 1 Q-connector (USB, System panel; Retail version only)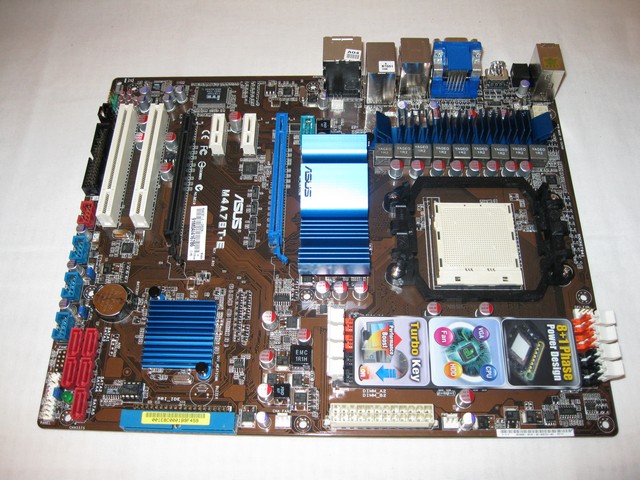 Getting a first look at the board you can tell that Asus has been listening to people about layout preferences. The SATA ports on this one have been moved over to the left hand edge and even with two Dual Slot GPU's mounted you can still access them.  You can tell that this is a mainstream board because noticeably missing are the onboard, power, reset, and Clear CMOS buttons. The board was well behaved enough that during two weeks of testing. We only had to clear CMOS once or twice during overclocking sessions when we got a little too wild. The one complaint we have about the layout is the positioning of the reset CMOS block of pins. Notice, all the way to the left hand side, above the battery, there's a small blue pin. It's hard to get to with the proximity to the USB headers so we were forced to turn to a small set of needle nose pliers. You could do it by had at the risk of dropping and searching for the pin, but a jumper with an extended top would have been a nice inexpensive touch.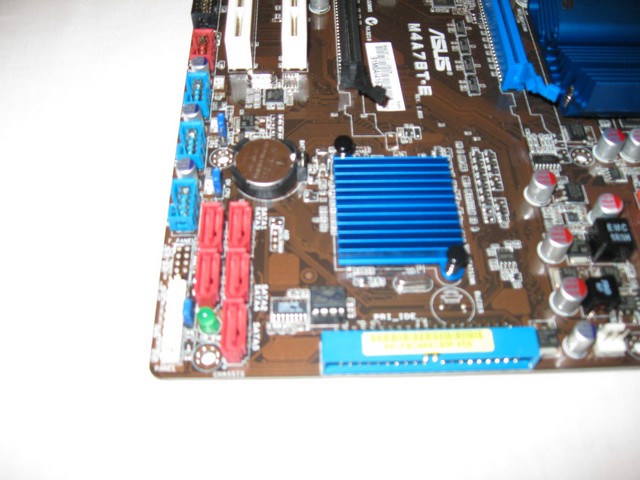 We were initially worried about the Southbridge cooling on the board and the heatsink looks a little puny to us, but we had no problems during operation, so that's relegated to our personal taste category. We physically touched the heatsink after a couple of hours of highly overclocked benching and it remained cool to the touch, so that's probably all the cooling you need on this one. We were, however, hoping for one of those large roller coaster looking heatpipe arrangements that form a large loop and take up half the space on the board, making it hard to work in the chassis (oops, wrong company).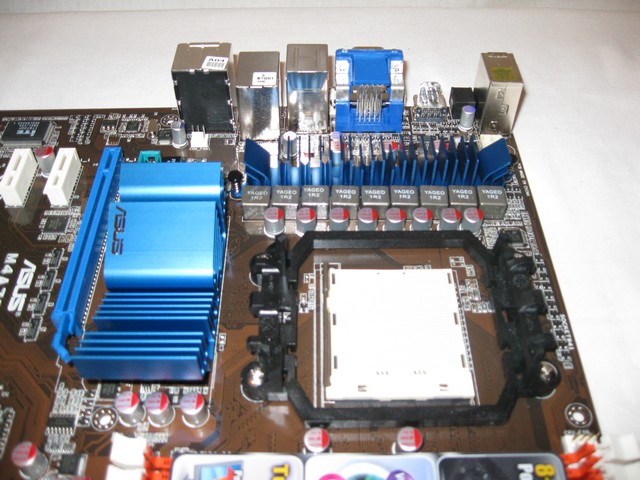 The CPU area is a nice clean layout but it's a little close to the RAM banks for our tastes. We installed a large tower heatsink with two fans because we're going to drive this puppy to the brink of extinction. The cecond fan obscured the first RAM bank which the manual listed as needing to be populated first for the best overclocking results. We didn't seem to have a problem populating the last two banks, as you'll see a little later on. Notice the solid capacitors and ferrite chokes. This might not be a high end board but we're betting it's a bargain overclocking champion from the looks of it.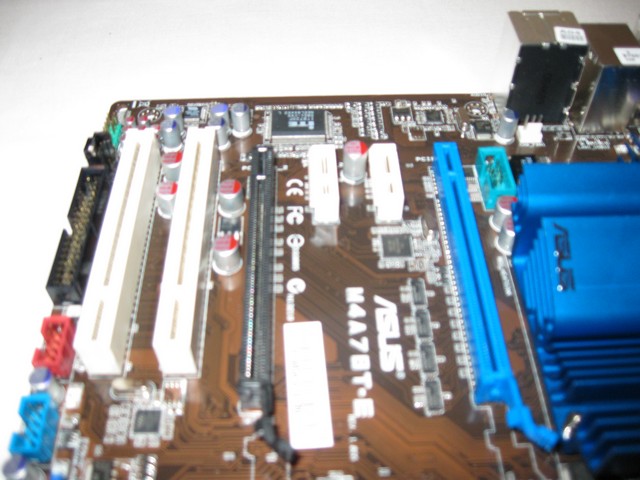 For PCI-E slots we normally like to see one PCI-E 1x above the first PCI-E 16x slot in case someone wants to get crazy and run Dual GPU's and a sound card. Experimenting with our X-FI sound card showed us that there is indeed room for it in the second PCI-E 1x slot, but we generally like it above the GPU. Another personal preference issue. It's nothing to take away from the board itself, but if you're using a 4870X2 in your rig, the heat from the GPU might build up in the Northbridge heatsink and that would be a problem. A little space might help.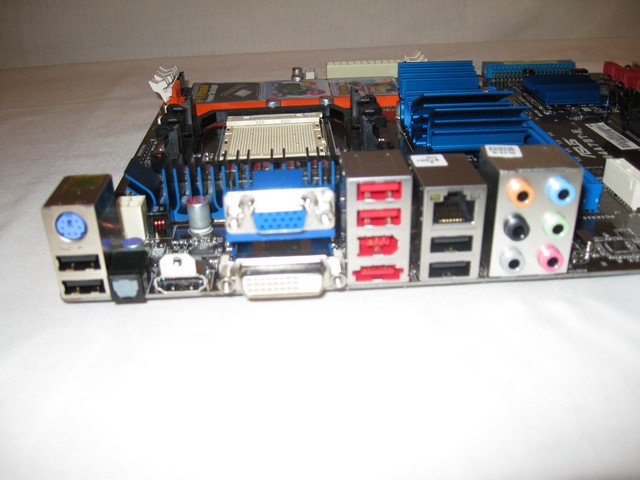 On the back panel connectors on the Asus M4A78T-E you get:
1 x D-Sub
1 x HDMI
1 x External SATA
1 x S/PDIF Out (Optical)
1 x IEEE 1394a
1 x RJ45 port
6 x USB 2.0/1.1
8 Channel Audio I/O
1 x PS/2 Keyboard (Purple)
The built-n ATI 3300 graphics chip we wouldn't recommend for gaming, but it will get you going until you can afford a GPU and makes for a good backup should you smoke your GPU in some happy little overclocking experiment.
So how does this puppy look installed in a chassis? We don't know. We ran it in an empty motherboard box with an antistatic bag because Scott is too cheap to buy us a testing station (Not really. We have the board in a nice new on the market Thermaltake ElementS chassis, but we wanted to see if Scott, the site owner, was awake.).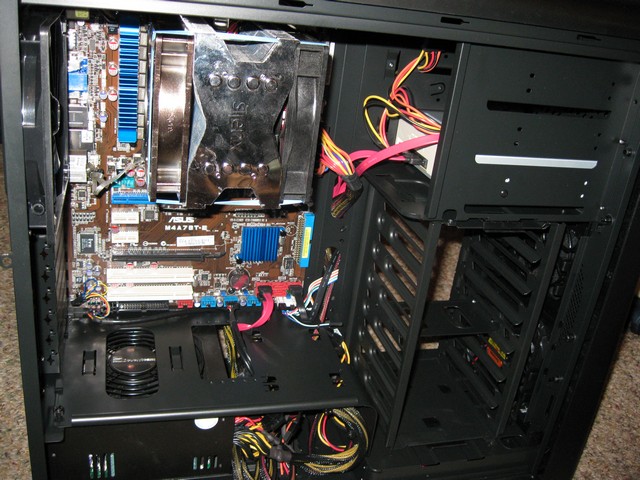 Looks pretty good in the ElementS Chassis, which you'll be seeing reviewed with this very board pretty quickly. We're going to toss some random pictures in a thumbnail gallery for those of you that can't get enough of pictures.
Click Image For a Larger One
TESTING & METHODOLOGY
To test the Asus M4A78T-E we did a fresh load of Vista 64 bit and updated the Operating System and drivers with all the latest versions and patches. Then we loaded the testing software and ran the machine for a few days to confirm everything was installed correctly and gave the machine a little burn in time. Once we had some burn in time under our belt we cloned the Hard Drive using Acronis in case we were to have any happy little overclocking accidents that might corrupt the OS. Once we had our clone safely tucked away we could get down to the lengthy business of benchmarking and testing the M4A78T-E.
Once again, we'd like to remind you that we have used the same hardware connected to the motherboard that we've been using on all our motherboards in this series of reviews. We use the same HD, same CPU Cooler, and keep the hardware except the Motherboard, RAM, and CPU the same as much as possible. It makes for better benchmarking if you keep the hardware as close to the same across the spectrum of tests.
Hardware Common To All The Test Rigs
Thermaltake Tough Power 1200 Watt
Intel 80 GB SSD
Palit 4870×2
Razer Lycosa
Razer Lachesis
Top Deck Testing Station Chassis
Thermalright Ultra 120 w/2 83CFm Yate Loon Fans
LG DVD/RW
So you can pretty much see that the only platform differences are going to be Motherboard, CPU, and RAM. In a cross platform test, that's about as good as you can get.
Platform Specific Hardware
Phenom 2 X3 920 BE CPU Equipment
Asus M4A78T-E
Mushkin DDR3 1600 MHz 4 GB kit
Phenom 2 X4 810 and X3 720 BE CPU Equipment
Asus M3A78-T
Crucial Ballistix DDR2 1066 4 GB Kit
For more information on the Asus M3A78-T you can visit the Asus Website Here
Intel Core I7 965 Equipment
Asus P6T Deluxe
Kingston HyperX Triple Channel DDR3 2 GHz
For more information on the Asus P6T Deluxe you can see our review Here
For more information on the Core i7 965 you can see our review Here 
Intel Q6600 Equipment
EVGA 790I
Crucial Ballistix DDR3 1333 4 GB Kit
For more information on the EVGA 790I you can see our review Here
Intel E8400 Equipment
Gigabyte EP45-Extreme
Crucial Ballistix DDR2 1066 4 GB Kit
For more information on the Gigabyte EP45-Extreme you can read our review Here

 
Test Suite
Synthetic Benchmarks
3DMark Vantage v. 1.01
3DMark06 v. 1.1.0
SiSoft SANDRA XII Professional SP2
Everest Ultimate Edition v. 4.50.1330
SuperPi Mod 1.5XS
Cinebench R10 64 bit
WinRar v. 3.71
Cinebench
"CINEBENCH is a real-world test suite that assesses your computer's performance capabilities. MAXON CINEBENCH is based on MAXON's award-winning animation software, CINEMA 4D, which is used extensively by studios and production houses worldwide for 3D content creation. MAXON software has been used in blockbuster movies such as Spider-Man, Star Wars, The Chronicles of Narnia and many more. MAXON CINEBENCH runs several tests on your computer to measure the performance of the main processor and the graphics card under real world circumstances. The benchmark application makes use of up to 16 CPUs or CPU cores and is available for Windows (32-bit and 64-Bit) and Macintosh (PPC and Intel-based). The resulting values among different operating systems are 100% comparable and therefore very useful with regard to purchasing decision-making. It can also be used as a marketing tool for hardware vendors or simply to compare hardware among colleagues or friends."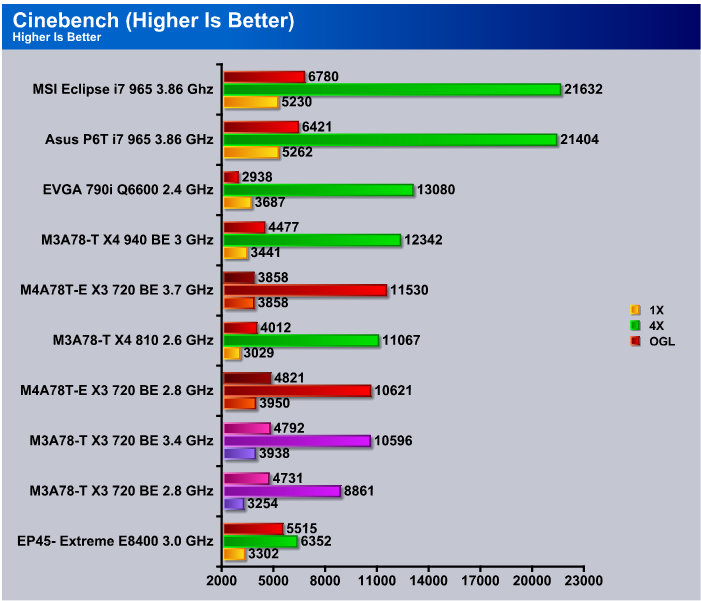 In our first test we can see that the Asus M4A78T-E offers some performance advantage over the M3A78-T variant of the 790 chipset. Same CPU, same hardware attached to it as the M4A78T-E has. The only change is the Motherboard and RAM. Any differences we see is due to those factors alone. In other words, it has to be the motherboard and RAM making the difference.
WinRar v. 3.71
This module in WinRar generates random data, which contains specially introduced redundancy, increasing the load to both the processor and memory. Data is then passed through RAR compression and decompression algorithms, and the output of the decompression algorithm is compared to the source data. If any differences are found, WinRar then reports "Errors found – Yes" in the command window. WinRar displays a size of processed data and compression speed, current and resulting, in kilobytes per second.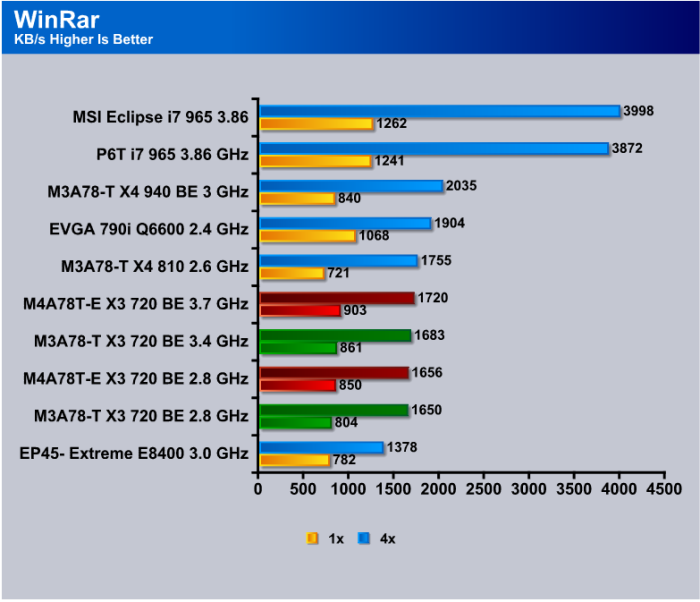 Again, in WinRar, we're seeing a little bit of a performance gain with the new AM3 platform, but not as much as we'd hoped for. Still, any gain is a good gain, but we're beginning to suspect that like the 775 Intel platform DDR3 isn't going to make much difference on the AM3 platform. We're going to have to explore the platform beyond this initial board before we can lend any credence to that statement.
HD TACH
HD TACH performs sequential read and write tests on removable media and fixed disks. HD Tach is also capable of performing the sequential read and write tests on the entire disk instead of the small number of zones in the quick and long test. We opted to use the Short 8 (MB) and Long 32(MB) tests in the sequential read mode only, as sequential writes are covered by other benchmarks.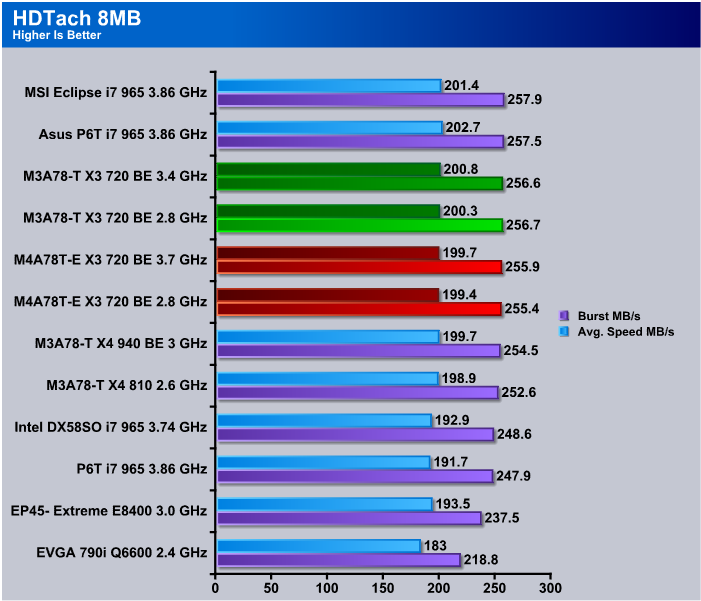 Since we used the Intel 80GB SSD on all the platforms we tested for this one you can see that they pretty much have drive controller technology down pat. Differences between the Intel Core I7 platform and AM3 platform are so small as to be negligible. Our feelings aren't hurt by the blazing speed of the new SSD technology.
Sisoft Sandra 2009 SP1
"SiSoftware Sandra (the System ANalyser, Diagnostic and Reporting Assistant) is an information & diagnostic utility. It should provide most of the information (including undocumented) you need to know about your hardware, software and other devices whether hardware or software. It works along the lines of other Windows utilities, however it tries to go beyond them and show you more of what's really going on. Giving the user the ability to draw comparisons at both a high and low-level. You can get information about the CPU, chipset, video adapter, ports, printers, sound card, memory, network, Windows internals, AGP, PCI, PCI-X, PCIe (PCI Express), database, USB, USB2, 1394/Firewire, etc."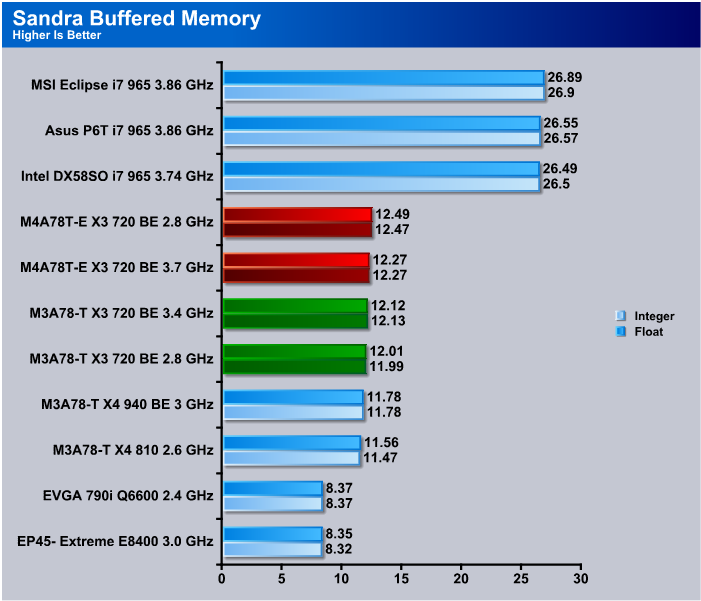 You can see that with a straight multiplier OC the difference between DDR2 on the AM2+ and DDR3 on the AM3 platform are almost non-existent.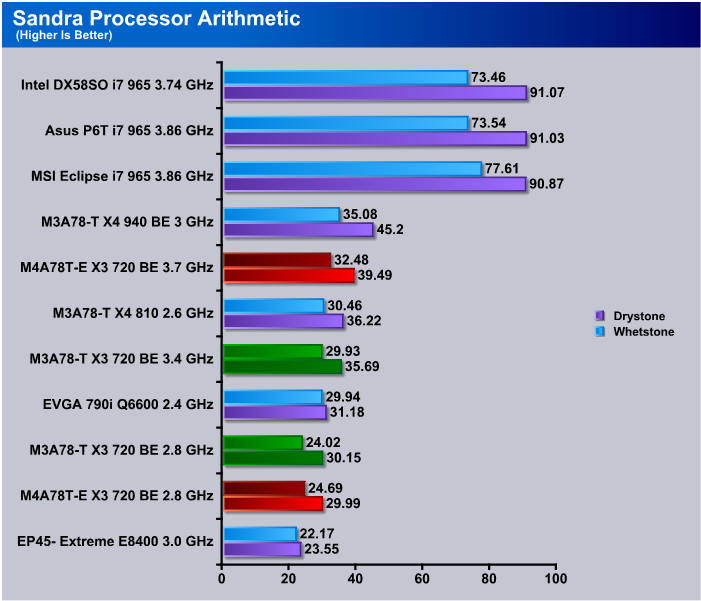 At Stock speed in the Processor Arithmetic test we're not seeming much difference between the two platforms. We managed a higher OC on the AM3 platform so we expect the OC score to be higher. Since the initial review of the 940 AM2+ we've gone back and achieved 3.7 on the 940 with the AM2+ board. Still the M4A78T-E overclocked easier.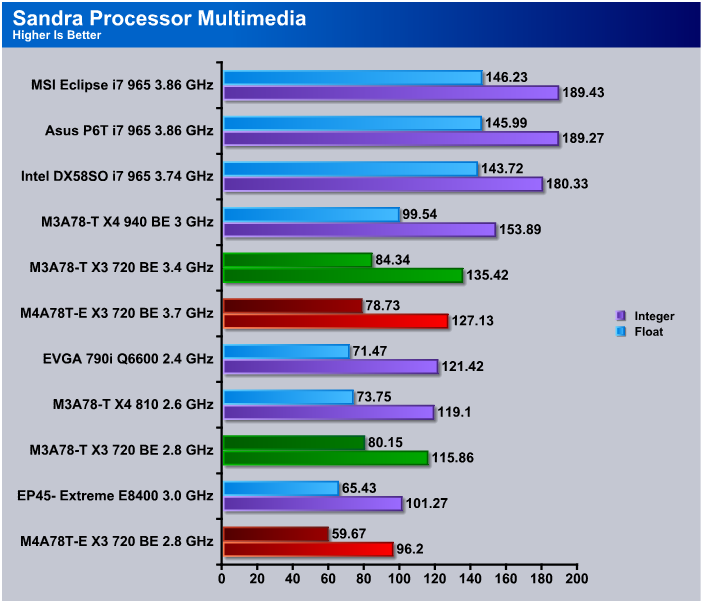 We'd have to say the AM3 platform needs a BIOS update in this test. With it being such a new platform you can expect some bugs and we suspect it's just such a bug putting the AM3 platform behind the AM2+ platform in this test.
EVEREST ULTIMATE
"EVEREST Ultimate Edition is an industry leading system diagnostics and benchmarking solution for enthusiasts PC users, based on the award-winning EVEREST Technology. During system optimizations and tweaking it provides essential system and overclock information, advanced hardware monitoring and diagnostics capabilities to check the effects of the applied settings. CPU, FPU and memory benchmarks are available to measure the actual system performance and compare it to previous states or other systems. Furthermore, complete software, operating system and security information makes EVEREST Ultimate Edition a comprehensive system diagnostics tool that offers a total of 100 pages of information about your PC."
CPU AES
This integer benchmark measures CPU performance using AES (a.k.a. Rijndael) data encryption. It utilizes Vincent Rijmen, Antoon Bosselaers and Paulo Barreto's public domain C code in ECB mode.
CPU AES test uses only the basic x86 instructions, the test consumes 48 MB memory, and it is Hyper Threading, multi-processor (SMP) and multi-core (CMP) aware.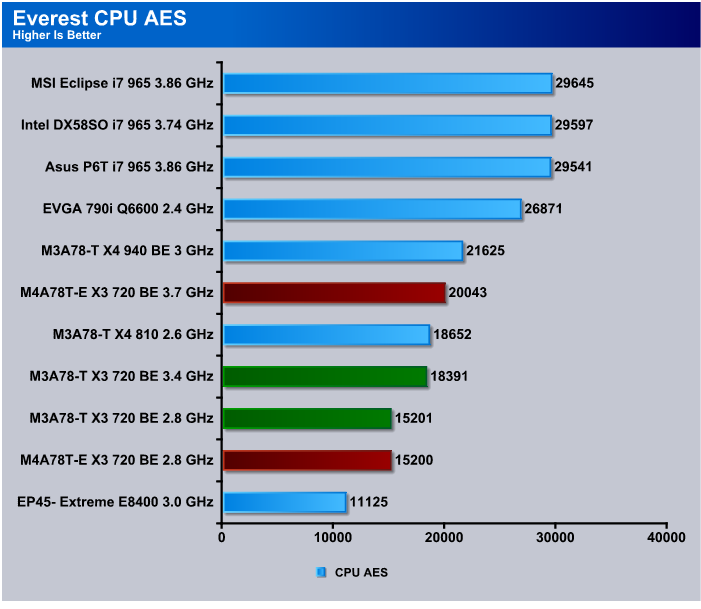 Everest gives us a chance to expand what we know about the motherboard and AM3 platform itself. Like we mentioned earlier, it's still a little early for us to make solid conclusions about the platform. New motherboard, immature BIOS, and no previous experience with AM3 all contribute to our hesitation to wide sweeping statements about the platform move from AM2+ to AM3. We can tell you that, as of early testing, you're not going to be hurt by using an AM2+ board with an AM3 CPU. If you're already on an AM2+ board. that's the logical and most economic upgrade path.
At stock speed in Everest CPU AES both motherboards perform equally well. The one point difference between the two isn't even enough to sneeze, at the moment, let alone show us any difference in performance between the M3A78T and M4A78T-E. We do see a performance difference with the higher overclock we achieved on the M4A78T-E. Again, if we had more time to spend with the M3A78-T we could probably achieve the same overclocking, since we have more experience with the AM2+ platform now. We suspect that with equal overclocks, both motherboards would perform similarly.
CPU PhotoWorxx
This integer benchmark performs different common tasks used during digital photo processing.
It performs the following tasks on a very large RGB image:
• Fill
• Flip
• Rotate90R (rotate 90 degrees CW)
• Rotate90L (rotate 90 degrees CCW)
• Random (fill the image with random colored pixels)
• RGB2BW (color to black & white conversion)
• Difference
• Crop
This benchmark stresses the integer arithmetic and multiplication execution units of the CPU and also the memory subsystem.
CPU PhotoWorxx test uses only the basic x86 instructions, and it is Hyper Threading, multi-processor (SMP) and multi-core (CMP) aware.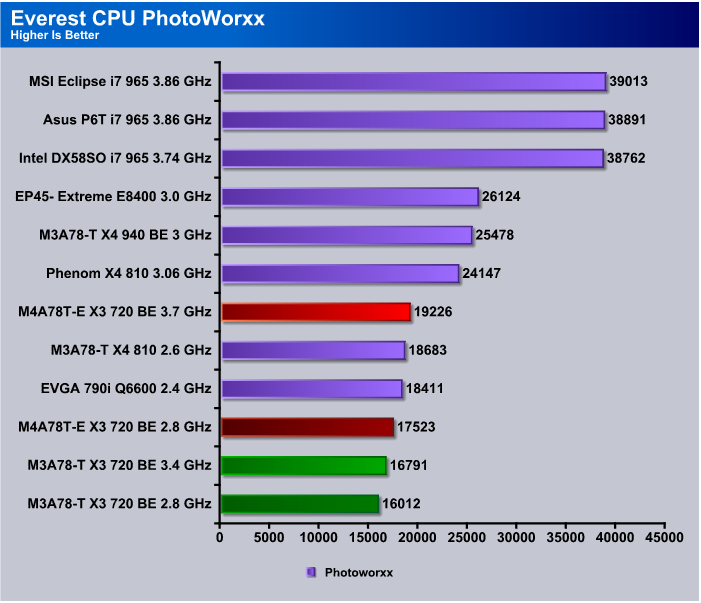 We do see a performance increase on the new AM3 M4A78T-E in PhotoWorxx. Even at the lower CPU speed of 2.8 GHz it tops the 3.4 GHz overclock on the M3A78T.  That is pretty impressive. The overclock on the M4A78T-E gives us a 3222 point increase over the stock speed on the M3A78T and a good increase over the overclock speed on the M3A78T.
CPU Queen
This simple integer benchmark focuses on the branch prediction capabilities and the misprediction penalties of the CPU. It finds the solutions for the classic "Queens problem" on a 10 by 10 sized chessboard.
CPU Queen test uses integer MMX, SSE2 and SSSE3 optimizations. It consumes less than 1 MB system memory and it is Hyper Threading, multi-processor (SMP) and multi-core (CMP) aware.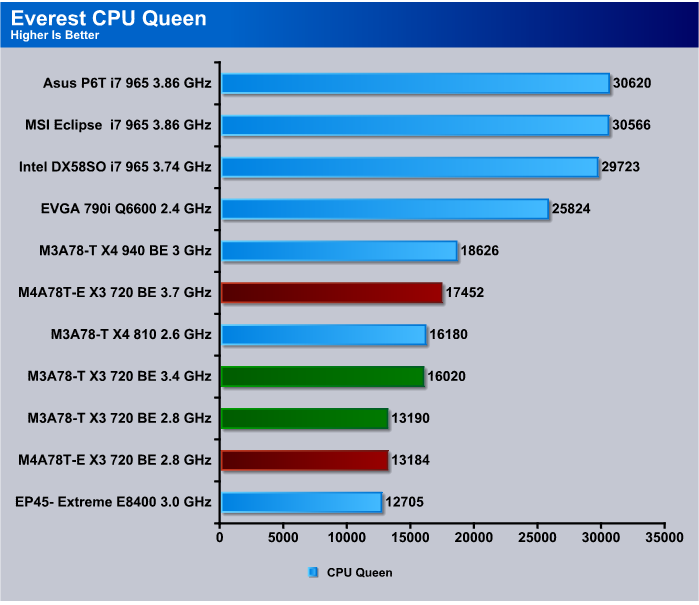 In CPU Queen we see stock speed testing coming in very close together. The more we see, the more we're convinced that the upgrade path on the AM2+ to AM3, starting with an AM3 CPU on an AM2+ board, then later migrating to AM3 and DDR3 makes more sense. You get very little penalty for starting out with just a new AM3 CPU, then when prices level out on the AM3 board, make the move to a new board.
CPU ZLib
This integer benchmark measures combined CPU and memory subsystem performance through the public ZLib compression library Version 1.2.3 (http://www.zlib.net).
CPU ZLib test uses only the basic x86 instructions, and it is Hyper Threading, multi-processor (SMP) and multi-core (CMP) aware.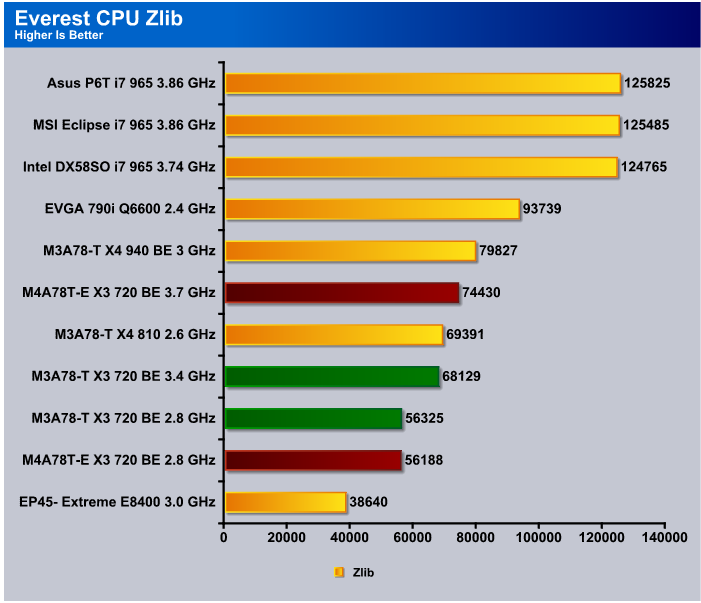 Once again CPU ZLIB we see both the direct comparison boards performing similarly at stock speeds. Having all the same equipment on both setups with the exception of motherboard and RAM really gives us a unique opportunity to compare not only the boards, but AM2+ to AM3 on as level a playing field as we are likely to ever see.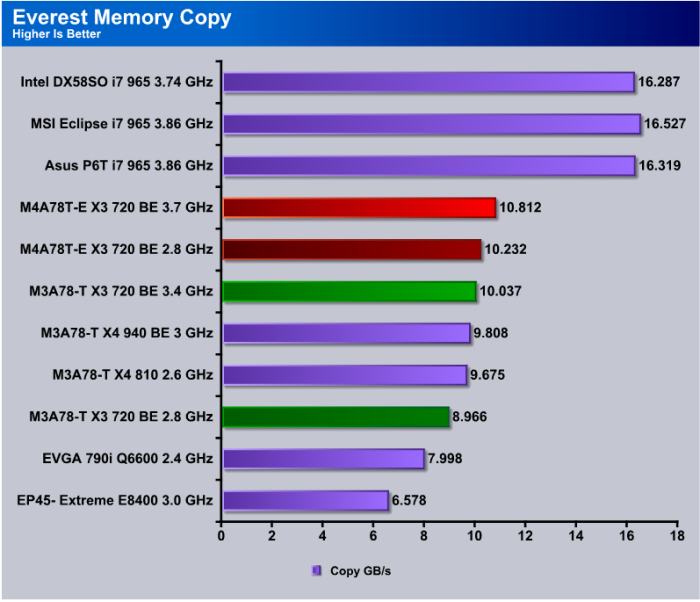 Moving into the memory testing in Everest, which is really the biggest difference between Am2+ and AM3, we do see some gains from the move from DDR2 to DDR3. We tend to like DDR3 because we see it as having better longevity on the platform, but as far as performance gains it appears to be muck like it was on the 775 Intel platform. Gains in performance are negligible, but since the price of Dual channel DDR3 has reached a reasonable level, it's not as much of an issue now as it was then.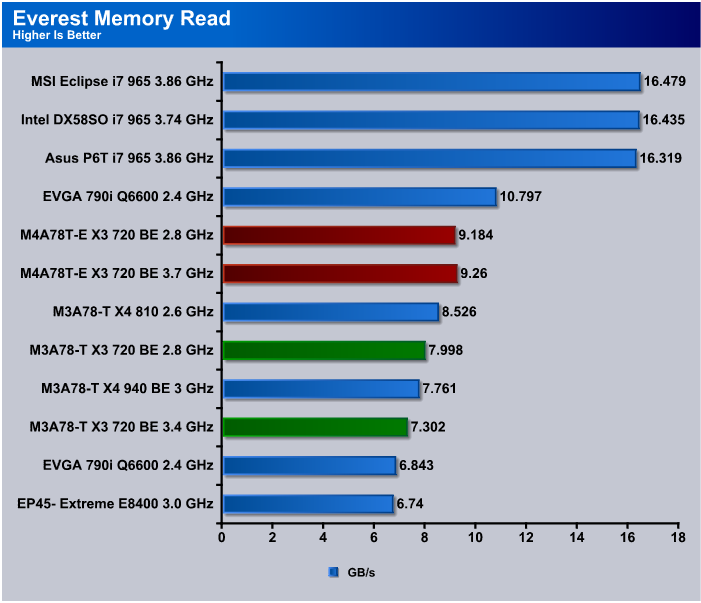 When it came to the memory read test in Everest we did see a significant advantage with the AM3 board and DDR3. The question that will undoubtedly haunt us and you, is it worth moving to DDR3 right now for such small gains? We think that it is because whatever the evolution of the platform is in coming months/years, it's not going to revert back to DDR2. DDR3 is one of those unstoppable forces we see in computing. If you continue to upgrade your platform as it ages, eventually you will pass through or skip DDR3. Since DDR3 is relatively new on the market, if you plan on skipping it you might have a lengthy wait.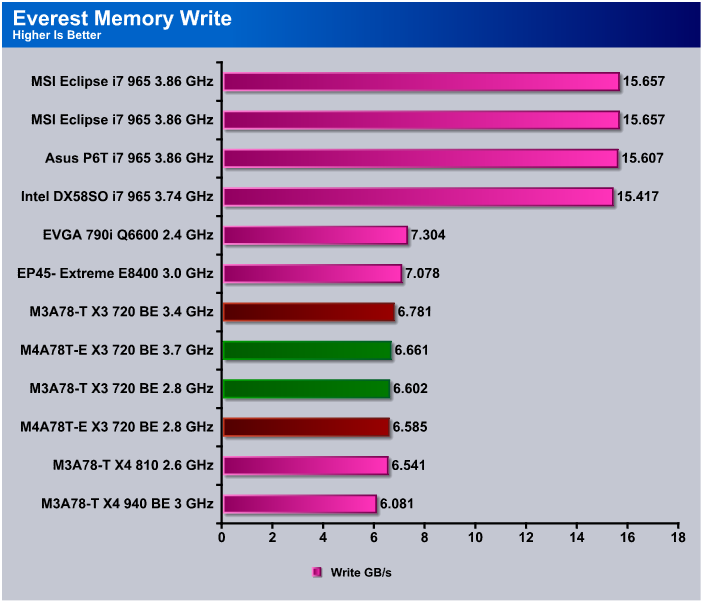 When we get to the memory Write test we see that both boards AM3 and AM2+ perform similarly despite the difference in RAM technologies. While we were hoping for some real improvement in the memory area with the AM3 platform, so far, we just aren't seeing it.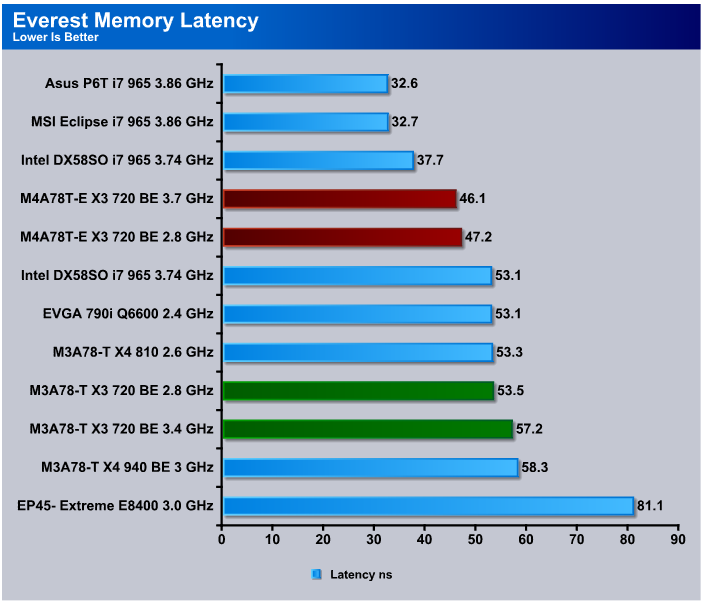 With the Latency test we see the faster DDR3 on the AM3 platform has a lower latency. How much difference that's going to make form AM2+ to AM3? We can't really say. The end user experience driving both boards was almost identical with the exception of overclocking and overclcoking the M4A78T-E was easier. That might be because we had more experience with the platform.
CPU-Z
CPU-Z is still working on updating for the AM3 platform and with all the changes to the Intel and AMD platforms they're probably scrambling to keep up. We've come to depend on CPU-Z and will continue to use it in our reviews and merely point out where the discrepancies exist.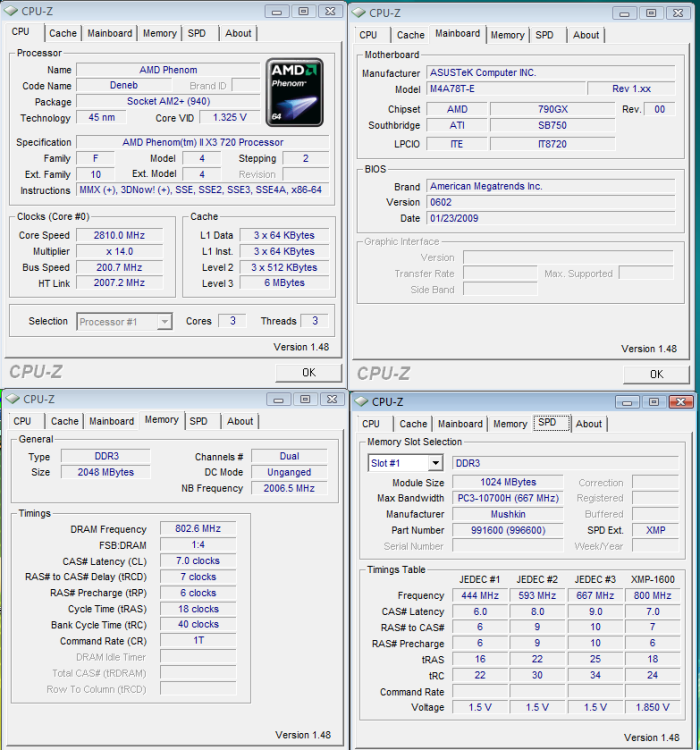 CPU-Z is reporting the Phenom X3 720 AM3 CPU as AM2+ and since the X3 720 is backwards compatible with the AM2+ platform it might take CPU-Z a while to figure that problem out. Shown here, the CPU is running at stock speed and voltage. AMD has informed us that for air cooling testing safe ranges are between stock voltage and 1.55v. With better cooling you can push volts a little for testing. We don't recommend going above 1.55v and overclocking will void your warranty. If you overclock, do so at your own risk. AMD and Bjorn3D assume no responsibility for any "Bone Head Stunts" you might pull.
CPU-Z reads the M4A78T-E board spot on and picked up the Mushkin DDR3 kit we used for testing. We did have to set the Mushkin kit manually, but other than setting RAM and timings manually, the board made it easy to run what had been a difficult kit to run previously. Truthfully, the kit has been in its hang card since we reviewed it because of the difficulty we had with it. On the Asus M4A78T-E it ran like a champion, and after setting the voltage and timings manually, it was plug and play. When we first booted the board and kit it was plug and play at 1333. We want every ounce of performance, so as soon as we saw it default to 1333, we went back in and set it to run at 1600MHz and we were off and running.
All in all, the M4A78T-E was an Overclocker friendly and easy motherboard to use. We had more experience on the Phenom II platform, so that might be a contributing factor, but it was an easy board to OC the X3 720 Black Edition on. We hit speeds of 3.8 GHz stable with minimal effort. However, we're going to represent our top speed as 3.7 GHz because 3.8 GHz required overvolting the CPU and we won't advocate that.
Overclocking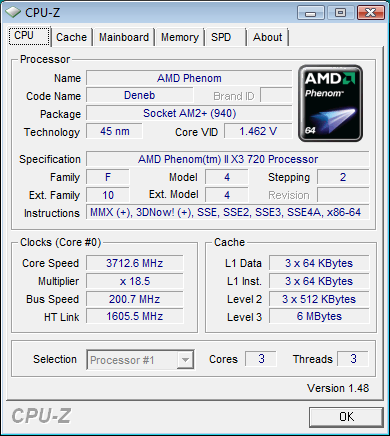 Now, here's another small issue with this version of CPU-Z and the AM3 platform. The volts on the CPU are reading 1.462v. In the BIOS we had voltage set to 1.562 and that's a full .1v deviation from what the actual voltage is. When we hit 3.7 GHz stable we were just a hair over the 1.55v air cooled testing safety level AMD told us about. We'd reached the point of diminishing returns and 3.8 GHz required 1.6v. To go any higher on air cooling, in our opinion, is foolish and potentially damaging and could end up destroying the CPU. We were at 1.6v and 3.8 GHz for about 4 minutes and did some short stability testing and backed off to 3.7 GHz. That should tell you something. We were entirely comfortable at 3.7 GHz and 1.562v for full and lengthy testing, but we weren't comfortable at 1.6v and backed away from it quickly. We're not even sure we would recommend running at 3.7GHz and 1.562v on a 24/7 basis. If you chose to do that, do it at your own risk. We like a nice stout OC but we also like a nice longevity on our CPU's. For day to day operation we run the X3 720 BE at 3.5 GHz and the 1.4v range. We believe that to be a nice sustainable OC that won't damage the CPU for long term use. Not that we are advocating that you do it. If you do it, you're on your own. We're not responsible.
Highest FSB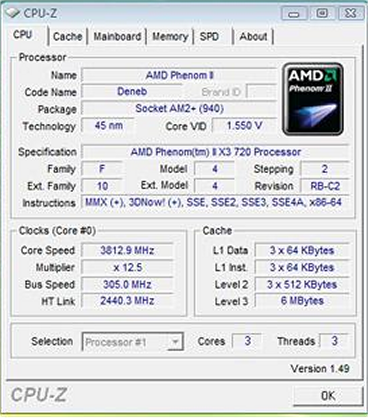 We went ahead and snapped a screenie of the Max FSB after we installed a newer version of CPU-Z. Believe it or not, there's already an even never version of CPU-Z in the short time between snapping the shot and posting. That should tell you how fast the CPU-Z developers are scrambling. Doing some serious tweaking, about a half a days tweaking, we hit 305 FSB for those of you that prefer a FSB overclock. There may be more to get on the FSB, but in the limited time we had, that's as far as we could get it to go.
GPU-Z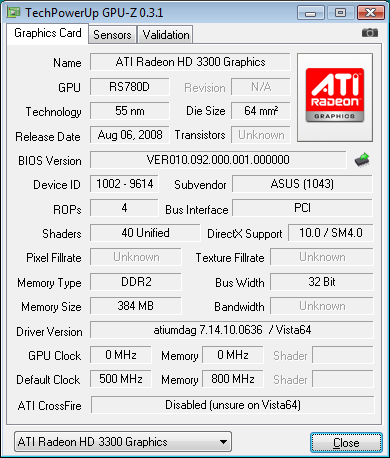 The Asus M4A78T-E has onboard integrated graphics in the form of a Radeon HD 3300. We ran the usual tests on the graphics chip and we can tell you if you need to start on a budget it will get you up and running and would function well for Internet and School type activities. If you plan on using the rig for gaming, a GPU is a must. The onboard graphics would be handy if you happen to get unlucky and tank your GPU. It's not a powerhouse, but it will get you up and running and we had no problem with it during testing. When we slammed in the Palit 4870×2, the Asus M4a78T-E performed on a level commensurate with any board we've used it on. All the five dollar words aside, with the 4870×2, the Asus M4A78T-E kicked some serious butt. With the Radeon 3300, a ladder wouldn't even get it high enough to kick you in the shins. It works, but for gaming on the 3300, if you're into Solitaire you're good to go, beyond that, buy a GPU. On a budget? We'd say ATI 4850. Want a little more power? A 4870. Want to kick some butt? The 4870×2 comes to mind. If you're into Nvidia cards, they run well on the M4A78T-E, but we like it when it's run as the Dragon platform with an AMD Motherboard, CPU, and GPU.
CONCLUSION
All in all, we enjoyed the Asus M4A78T-E. We also enjoyed the M3A78T. Both were very capable motherboards. We went back to the M3A78T and were able to get the M3A78T to clock the Phenom II X3 720 to 3.7 GHz, but were unable to get it stable at 3.8 GHz like the M4A78T-E. Apparently, we were right about more experience on the platform being beneficial to our overclocking skills.
The Asus M4A78T-E MSRP (Manufacturers Suggested Retail Price) is projected to be $139.99 (USD), which is a pretty affordable price for a motherboard that will push the X3 720 BE as hard as it's capable of going. The projected price tells you this isn't what would be termed a top of the line board. Noticeably absent was a fleshed out bundle, onboard Power, Reset, and Clear CMOS button. That's not much of an issue for the average user. They are handy for reviewing and for people that tweak a lot.
On the flip side of the coin, overclocking was really easy, the board was very stable even overclocked, and the layout on the board was well done and we had no issues with it. DDR3 performance was a little disappointing, but that's not the fault of the board itself, that's the nature of Dual Channel DDR3.
We like the Asus M4A78T-E board and the value it represents in a current economic climate that is far from ideal. It represents the move from AM2+ to AM3 and does it in a cost friendly manner, yet manages to overclock with the big boys. Many times, we get far too caught up in the bells and whistles on a motherboard, most of which never get used. The M4A78T-E has enough bells and whistles to make the vast majority of end users happy, and enough overclocking punch to drive the Phenom II series as hard as they'll go. Price performance wise, it's an extremely good value.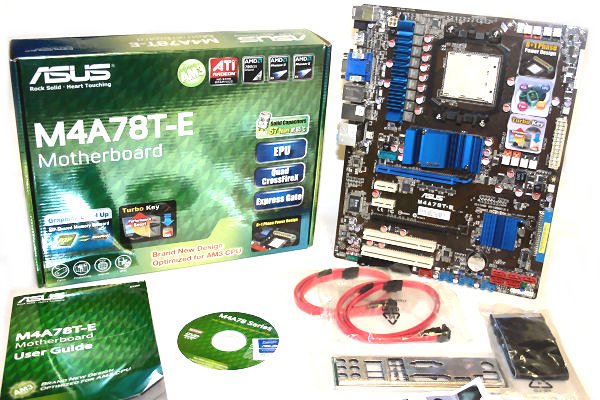 We are trying out a new addition to our scoring system to provide additional feedback beyond a flat score. Please note that the final score isn't an aggregate average of the new rating system.
Performance 10
Value 10
Quality 10
Warranty 9
Features 8
Innovation 9

Pros:
+  Great Overclocking Ability
+  Stable Even Overclocked
+  Price
+  Performance Above It Price Point
+  Onboard GPU for Backup
+  Good Board Layout
Cons:
–  No Bundle or Onboard Switches (Power, Reset, Clear CMOS)
–  Price
The Price/Performance punch we got from the Asus M4A78T-E and it's ability to drive the Phenom II series as hard as they will go earns it an 8.5 out of 10 and the Bjorn3D Seal Of Approval.