The Kingston HyperX T1 1866 (KHX14900B3T1K3/6GX) features Kingston's new T1 heatspreader and blazing speeds like we've never seen from a kit of 1866 Tri Channel Ram.
INTRODUCTION
We've been noticing a fluctuation on the playing field of memory and Kingston has been scoring the touchdowns right and left with their HyperX lineup. We've been keeping a close eye on the different triple channel kits available for Core i7 machines and the bandwidth has been amazing. Kingston's line of HyperX and the new Kingston T1 heatspreader have been right there at the forefront of triple channel memory technology. Providing blazing speed and massive bandwidth, and looking good doing it, the Kingston HyperX T1 1866 we have to look at today just performs better than an 1866 MHz kit of triple channel should. Easily outdistancing kits rated to run at the same speed or faster it awed and amazed us.
Kick back and relax but if you've got any loose papers laying around put a paperweight on them because this kit will blow you away.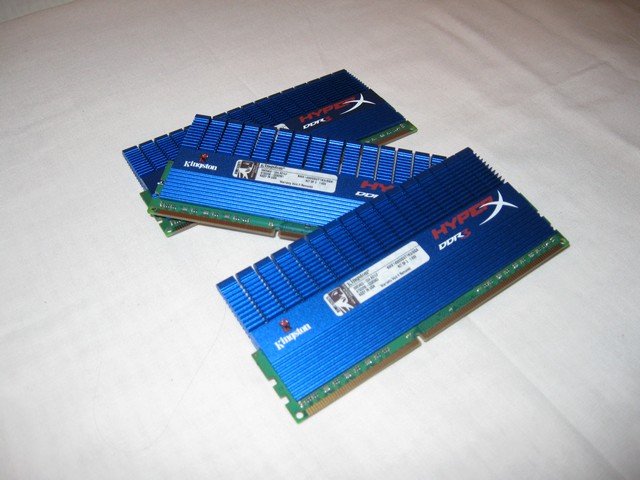 About Kingston
Kingston Technology Company, Inc. is the world's independent memory leader.

Founded in 1987 with a single product offering, Kingston® now offers more than 2,000 memory products that support nearly every device that uses memory, from computers, servers and printers to MP3 players, digital cameras and cell phones. In 2007, the company's sales exceeded $4.5 billion.

With global headquarters in Fountain Valley, California, Kingston employs more than 4,500 people worldwide. Regarded as one of the "Best Companies to Work for in America" by Fortune magazine, Kingston's tenets of respect, loyalty, flexibility and integrity create an exemplary corporate culture. Kingston believes that investing in its people is essential, and each employee is a vital part of Kingston's success.

Kingston serves an international network of distributors, resellers, retailers and OEM customers on six continents. The company also provides contract manufacturing and supply chain management services for semiconductor manufacturers and system OEMs.

At the Forefront of Memory: The History of Kingston

Kingston Technology grew out of a severe shortage of surface-mount memory chips in the high-tech marketplace in the 1980s. John Tu and David Sun were determined to find a solution. They put their engineering expertise to work and designed a new Single In-Line Memory Module (SIMM) that used readily available, older technology through-hole components. A new industry standard was born — and, on October 17, 1987, so was Kingston Technology.
SPECIFICATIONS
Kit Size – 6 GB (3x2GB)
Cas latency – 9-9-9-27 1T @ 1866 MHz
Voltage – 1.65v
Type – Non-ECC
Heat Spreader – Yes: T1 Tall
Warranty – Lifetime
Unbuffered – Yes
Type – DDR3 Triple Channel 240 Pin
CPU-Z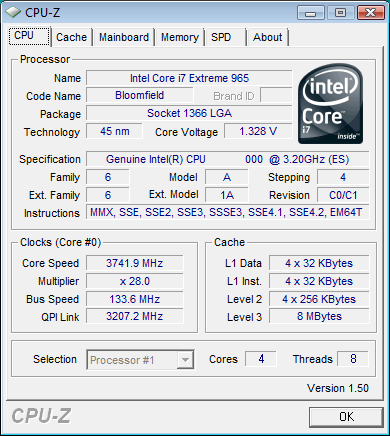 As you can see we're using the same Core I7 965 Extreme CPU we've used for all our recent memory reviews to keep the playing field level.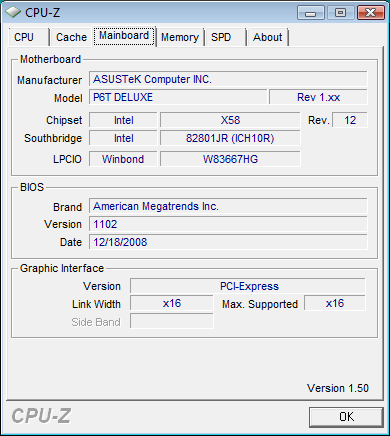 We're still using the Asus P6T Deluxe motherboard as all the other Core i7 memory reviews nothings changed there.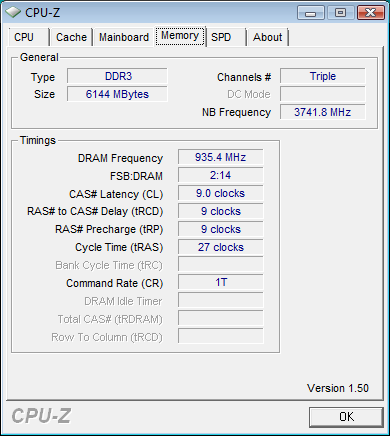 On the Asus P6T Deluxe the Kingston HyperX T1 1866 was plug and play, popped the ram in told BIOS to run it at the XMP default and it fired right up and ran and ran and ran. You gotta love a kit that plugs and plays out of the box. Previous generations of DDR3 we've spent days tuning ram to run correctly. This generation is much easier for the end user to setup and run.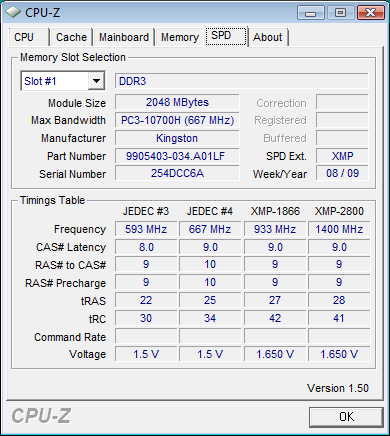 This version of CPU-Z (1.50) is much better at picking up the memory speed and timings on Tri channel memory. This kit is rated to run at 1866 at 9-9-9-27 and we had no problems running it at 1T. Notice the profile on the far right, we'd like to see a kit of 2800 MHz ram but we think the Kingston engineers are just having a little fun with us.
PICTURES & IMPRESSIONS
Click Image For a Larger One
We finally get to see what Kingston's retail packaging looks like for it's triple channel lineup. We'd have to say we like it, it's a little more substantial than your normal hang card and provided good protection for the kit on it's journey here. It's got the usual sticker on the front identifying the kit.

We got a shot of the sticker on the ram for those of you that like that sort of thing. We generally like the sticker to have the rated timings but these kits have been so plug and play dependable that it's not really an issue anymore.
Click Image For a Larger One
The new T1 heatspreader on the Kingston HyperX lineup is a nice looking heatspreader and it works as well as any design we've seen. Even at our highest OC on this kit in extended testing it remained cool to the touch the entire time.
Click Image For a Larger One
We're really amazed at the new heatspreaders on the Kingston HyperX T1 1866 kit. We've seen kits of the older type heatspreader and it does the job but this new T1 heatspreader is much more efficient.
Click Image For a Larger One
No matter the angle we shot the pictures from, the HyperX just looks good. The construction on the heatspreader is solid enough you don't have to shudder when you push it into the ram slot, it'll easily withstand the pressure.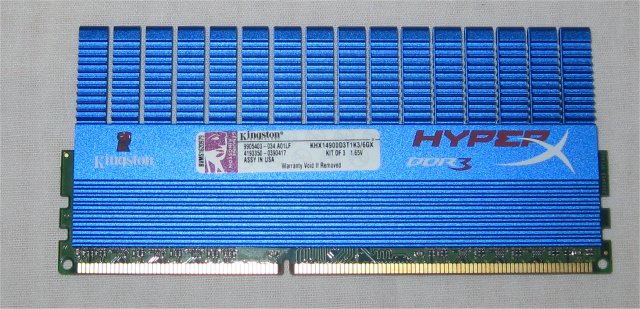 We'll leave the pictures and impressions page with a beauty shot of a single Kingston HyperX T1 1866 MHz stick. Might want to get a tissue we know your drooling.
TESTING & METHODOLOGY
To test the 6GB Kit of Kingston HyperX 1866 MHz RAM we did a fresh load of Vista 64, updated all the machines drivers, applied all the Vista patches, and disabled any background tasks not required for the machine to run correctly. Then we cloned the hard drive using Acronis in case we should have any doubt as to driver or OS corruption from overclocking. We ran our normal suite of tests against the RAM. Each test was run three times and the average of the three runs reported here.
We also ran the RAM for about a week to get a little break in time and a general feel for the RAM itself. During that week we tried every SPD setting listed by Everest, played games, surfed the internet, and coded reviews. Normal every day activities for us. Benchmarks are fine but we also need to run the RAM outside benches to help round out how we report on it. And let's face it, benches are fine and good and we rely on them a lot, but real life usage and a feel for equipment is just as important as benchmarks.
Test Rig
Test Suite
Synthetic Benchmarks & Games
SANDRA XII Professional
Everest Ultimate Edition v.4.50.1330
SuperPi Mod 1.5XS
WinRar v.3.71 Compression Benchmark
SiSoft Sandra 2009 SP1
"SiSoftware Sandra (the System ANalyser, Diagnostic and Reporting Assistant) is an information & diagnostic utility. It should provide most of the information (including undocumented) you need to know about your hardware, software and other devices whether hardware or software. It works along the lines of other Windows utilities, however it tries to go beyond them and show you more of what's really going on. Giving the user the ability to draw comparisons at both a high and low-level. You can get information about the CPU, chipset, video adapter, ports, printers, sound card, memory, network, Windows internals, AGP, PCI, PCI-X, PCIe (PCI Express), database, USB, USB2, 1394/Firewire, etc."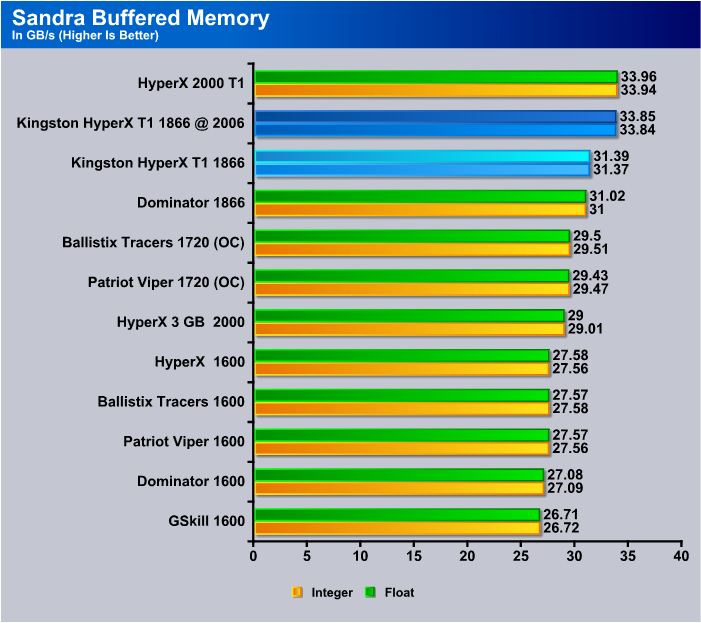 We spilled the beans just a little bit in the introduction. This Kit of Kingston HyperX T1 DDR3 1866 at stock speeds churned out a more than respectable 31.39 GB's bandwidth then when we kicked a nice OC to 2006 MHz on it it came in at 33.85 GB/s. Price of a 1866 kit and it runs at 2 GHz speeds. Pretty amazing bandwidth and kit.
WinRar v. 3.71
This module in WinRar generates random data, which contains specially introduced redundancy, increasing the load to both the processor and memory. Data is the passed through RAR compression and decompression algorithms, and the output of the decompression algorithm is compared to the source data. If any differences are found, WinRAR then reports "Errors found – Yes" in the command window. WinRAR displays a size of processed data and compression speed, current and resulting, in kilobytes per second.
In the WinRar single threaded test you'll notice the top 3 kits in the race are all Kingston HyperX and the HyperX T1 1866 kit was only beaten by another kit of HyperX T1 2 GHz. This is one seriously fast kit of ram.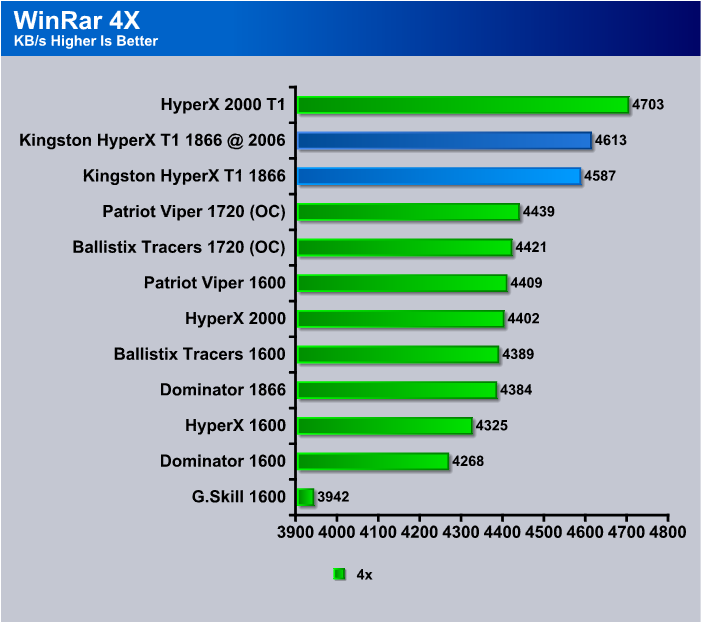 When we got to the multi-threaded portion of WinRar things just got better and the HyperX T1 1866 kit churned out 4587 KB/s at stock speed and an amazing 4613 GB/s when OCed to 2006.
SuperPi
SuperPi is the "Gold Standard" for many when it comes to judging system performance. We ran 1 and 2 MB calculations, again running each test three times and reporting the average of the results.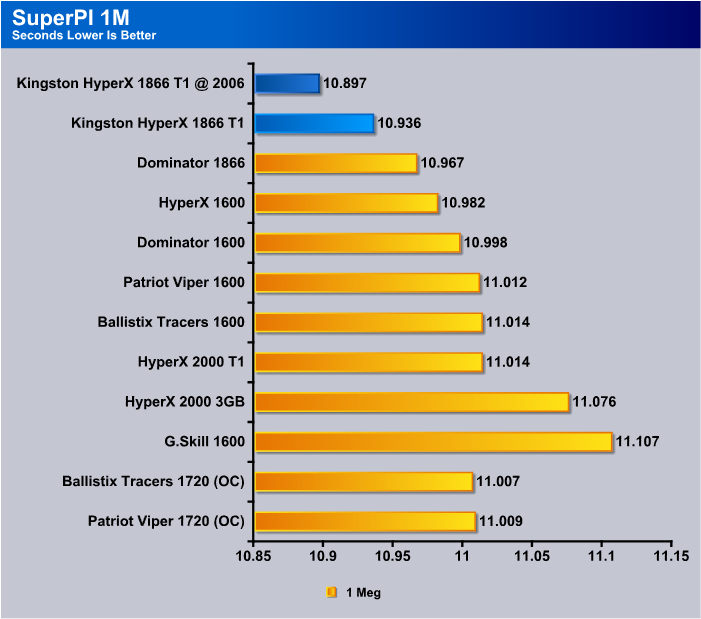 In SuperPi the 1 MB test the HyperX T1 1866 kit topped the charts at stock and OCed speeds coming in ahead of other faster rated kits. We went back and ran the test a few additional times but the results remained constant.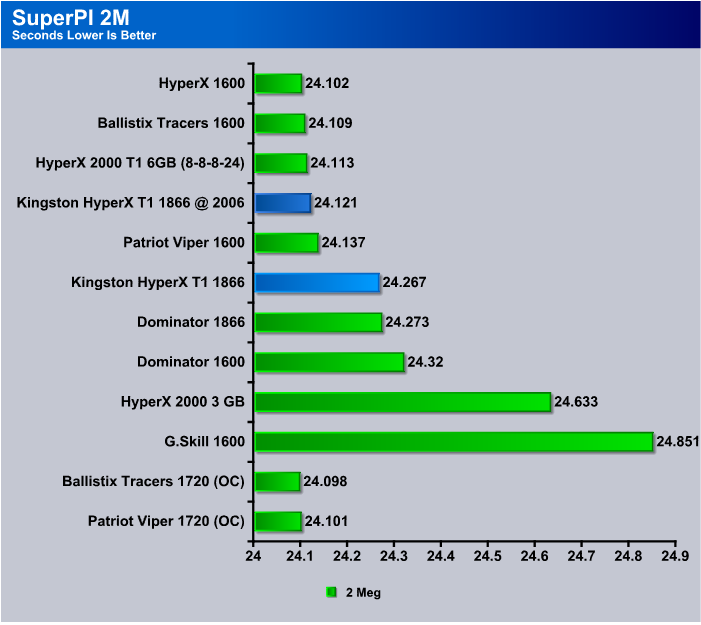 When we hit the 2 MB test in SuperPi the Kingston Hyperx 1866 kit dropped a little in the rankings but is still running at blazing fast speeds that no one should have complaints with.
EVEREST ULTIMATE
"EVEREST Ultimate Edition is an industry leading system diagnostics and benchmarking solution for enthusiasts PC users, based on the award-winning EVEREST Technology. During system optimizations and tweaking it provides essential system and overclock information, advanced hardware monitoring and diagnostics capabilities to check the effects of the applied settings. CPU, FPU and memory benchmarks are available to measure the actual system performance and compare it to previous states or other systems. Furthermore, complete software, operating system and security information makes EVEREST Ultimate Edition a comprehensive system diagnostics tool that offers a total of 100 pages of information about your PC."
The way we have the results formatted in Everest is in GB's.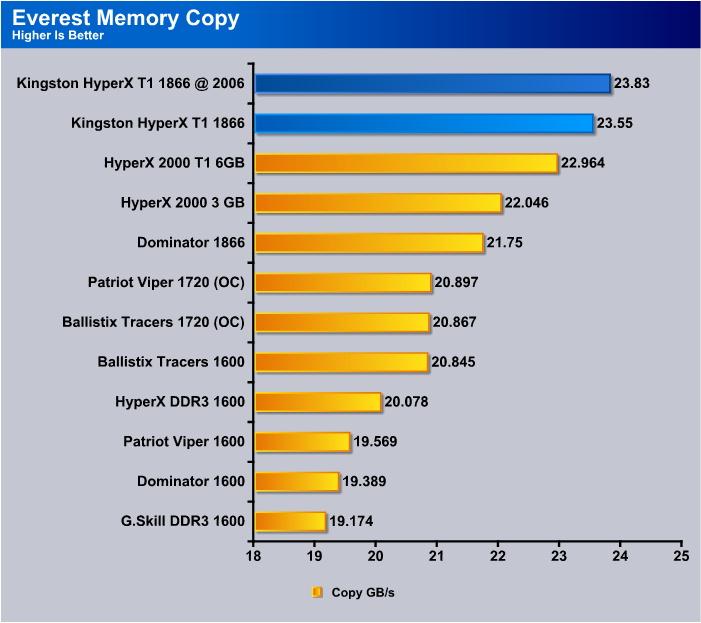 Again we see the Kingston HyperX T1 1866 kit tops the chart in Everest Memory Copy surpassing even faster clocked kits. Notice it's two closest competitors are both HyperX kits. This is one of the reasons we mentioned Kingston is changing the playing field when it comes to memory. A lot of the testing we've done shows them dominating the competition.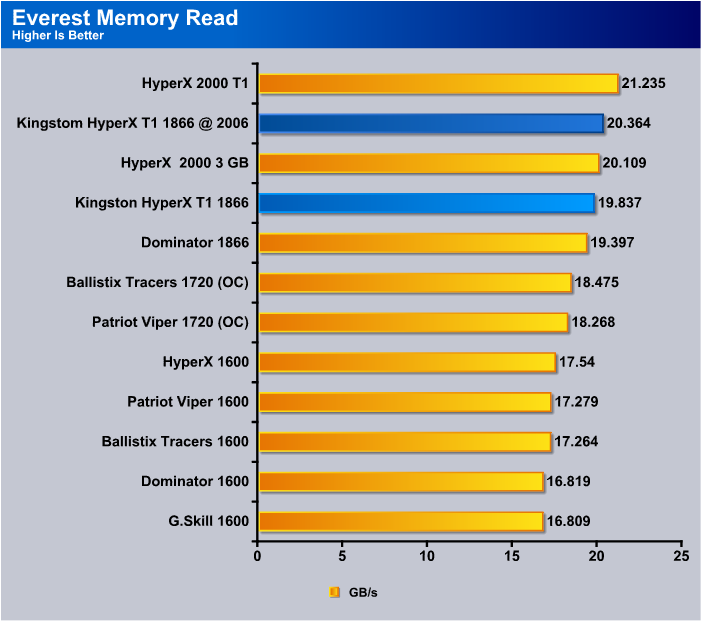 In Everest's memory read test we see the HyperX 1866 kit running a blazing 19.837 GB/s at stock speed and 20.364 GB/s at it's overclocked speed. Once again we see it was only beaten by it's big brother the HyperX T1 2 GHz kit. Seems like Kingston is determined to keep the speed crown in the family.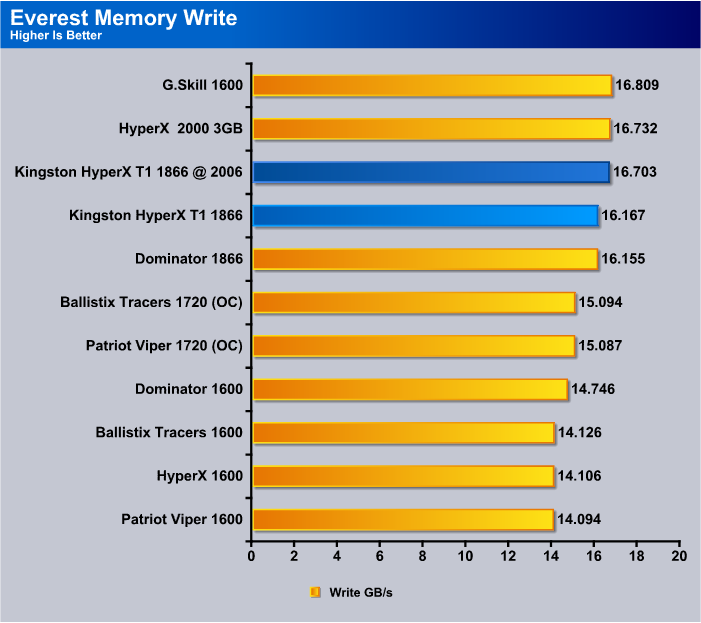 The Memory write test sees the Kingston HyperX T1 kit dropping a place or two but the differences in speed are negligible and 3 of the top 4 slots are occupied by Kingston ram.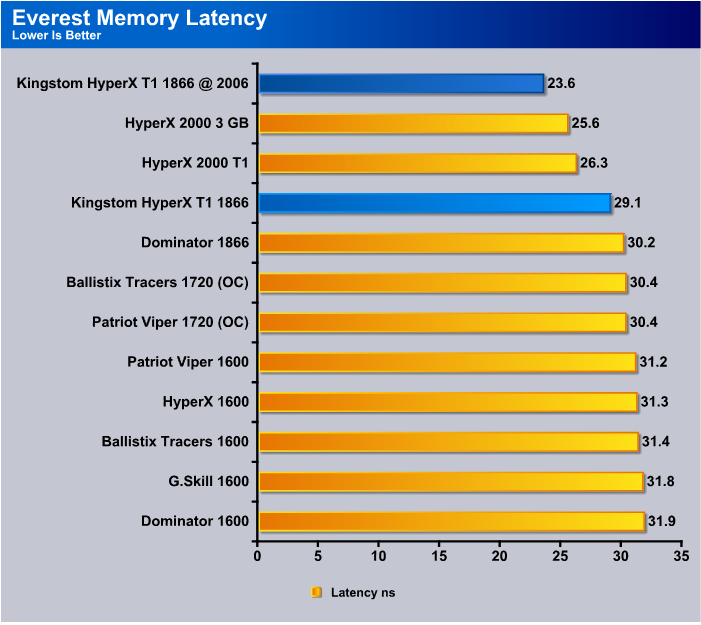 Here's an amazing result, when we kicked the speed up on the Kingston T1 1866 kit the Latency dropped to a really fantastic 23.6 ns, at it's stock speed of 1866 it came in at 29.1 ns and even at stock that latency is nothing to sneeze at.
CONCLUSION
We've seen some really amazing kits since Core i7 made the scene some months back. The Kingston HyperX T1 1866 MHz kits is one of the most amazing kits we've ever seen. It overclocks nicely for a Tri Channel kit.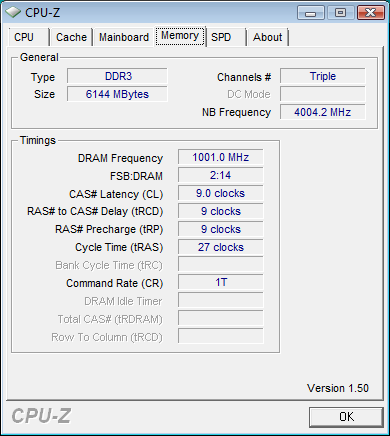 CPU-Z was reporting 2002 MHz but BIOS was reporting 2006 MHz so we're very pleased with the overclocking capabilities of the kit. We managed this OC with no core voltage increase on the kit, we did kick up the QPI voltage from 1.6v to 1.6125v but other than that no voltage increase was required.
The install was plug and play on the Asus P6T Deluxe Palm OC editon we tested with, speeds were blazing fast coming in ahead of faster rated kits in many cases. There's little to complain about on this kit, nice overclocking, looks great, Kingstons name and reputation to stand behind it. We had to whine about something so we chose to whine about the rated timings not being on the sticker. That and as with most tall kits of ram some CPU heatsinks might interfere with them.
Those things are normal for any tall ram kit, what's not normal is the blazing speed and overclockability we got with this kit. We felt compelled to check with Kingston to see if they'd done anything new with the kits and we were informed that no they hadn't done anything new so maybe part of it is just more experience with tri channel ram. We really think it's just an exceptional manufacturing process with high quality components.
We are trying out a new addition to our scoring system to provide additional feedback beyond a flat score. Please note that the final score isn't an aggregate average of the new rating system.
Performance 10
Value 8
Quality 10
Warranty 10
Features 10 (XMP On The Kit Is Excellent)
Innovation 10
Pros:
+  Great Performance
+  Looks Nice
+  Ran Really Cool
+  Above Normal Performance For An 1866 MHz kit
+  Very Stable
+  Plug And Play
+  System Was Snappier
Cons:
–  Might Not Fit Under Some CPU Coolers
The Kingston DDR3 1866 MHz 6GB (3 x 2GB) Triple Channel Kit is the one of the most amazing kits we've had the pleasure of testing, Kingston has earned our respect time and again and clearly dominates the competition.
Final Score: 9.5 out of 10 and the Bjorn3D Golden Bear Award.