Nvidia is introducing the GTS-250 GPU which is G92b core GPU featuring a 55nm core shrink of the G92 series GPU's. Two models are available the GTS-250 512 and the GTS-250 1 GB.
INTRODUCTION
Nvidia recently unveiled its new GTX-2xx lineup of enthusiast GPU's which are an Enthusiast class GPU. They were met with great enthusiasm and performed better than any previous generation of GPU's we've seen from Nvidia. Since then we've seen the 65nm cores shrink to 55nm and voltage consumption went down with that shrink. We've been wondering about Nvidia's Performance class GPU lineup in the GTX series and we met with Nvidia recently to go over the performance class lineup.
To that end we have an EVGA GTS-250 1 GB Superclocked edition to take a look at today. The GTS-250 1 GB edition is a G92 core with a twist, it's a 55nm shrink of the G92 core and has been rechristened the G92b. There are currently two models of the GTS-250 available, the GTS-250 512 MB which is nothing more than a 9800GTX+ rebranded and the GTS-250 1 GB which has a faster memory speed and a total of 1 GB of memory.
Let's deal with that right up front. Nvidia and EVGA and the other Nvidia partners we spoke with were very up front about the GTS-250 512 MB being simply a rebranded 9800GTX+. They are not trying to hide anything or trying to fool anyone with this rebranding. They aren't trying to prevent the GTS-250 512 MB from being run in SLI with existing 9800GTX+. In our meeting with Nvidia they made it clear the 512 MB model will run in SLI with the 9800GTX+. The rebranding is designed to fit in with the current naming scheme of GTX (Enthusiast class) and GTS (Performance Class) so that the consumer can walk into the store and know that the higher the number assigned to the GPU the faster it is, thereby preventing the less informed consumer from looking at a 9800GTX+ and thinking that 9800 is a bigger number than say 280 so 9800 must be better.
In the same breath they informed us that there would also be a second GTS-250 model but it would be a GTS-250 1 GB model which is what we are going to look at today. Unfortunately, the GTS-250 1 GB model will not SLI with an existing 9800GTX+ or GTS-250 512 because it has more memory and the memory is clocked higher than the 512 model. Unlike the previous 9800GTX+, the GTS-250 (both models) only have one 6 pin PCI-E power connector because they require less power. Another difference is that the GTS-250 series have shrunk from 10 1/2 inches to 9 inches, so that should give people with existing smaller cases a break.
The GTS-250 512 comes in at $129.99, so it's actually cheaper than some 9800GTX+ we've seen, and the GTS-250 1 GB edition comes in at $149.99, which is the same price we've seen the 9800GTX+ land at. Same price, more frame buffer memory. That's not a bad thing. Newer games will run with a 512 MB frame buffer but some are memory starved at 512 MB, causing a drop in frame rates. The GTS-250 1 GB edition is designed for newer games and let's them take advantage of the 1 GB of memory it features.
Let's dispense with the here it is and here's what it is portion of the review and take a look at the EVGA GTS-250 Superclocked.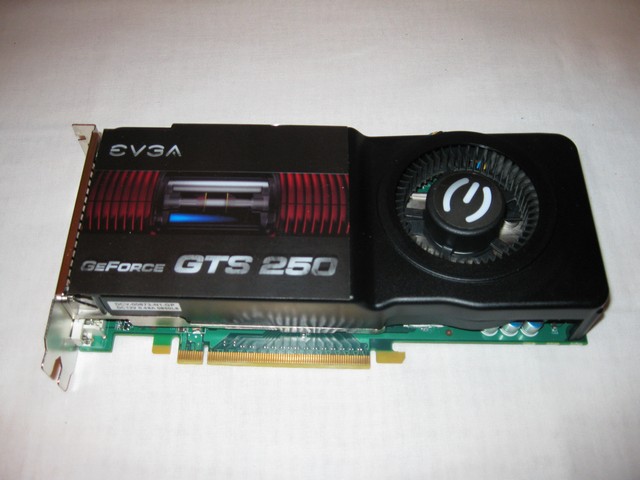 About EVGA
Warranty & Support:
In the US, EVGA offers a 10 year warranty (equivalent to lifetime). You can find full details of the warranty program on the EVGA home page, although it's important to remember that the 10 year warranty only applies if you register the card within thirty days of purchase. But this is pretty much standard practice amongst the board partners that offer extra extended warranties. In addition, EVGA also has a lively message board where you can ask EVGA representatives about anything you'd like to know before or after purchasing an EVGA product.
One thing that sets EVGA above other NVIDIA partners is its support program. When you purchase an EVGA video card, the company gives you the chance to step up to something better (should Nvidia release a new line of graphics cards) in the first 90 days after the initial purchase. In order to qualify for this, you must purchase your EVGA video card from an authorized reseller – purchasing a card from eBay or another auction site does not qualify you for the Step-Up program.
Providing you meet EVGA's very reasonable terms and conditions, you will get the full amount you paid knocked off the cost of the card you're upgrading to. Obviously, you can't keep stepping up to something faster – EVGA allows you to complete one Step-Up on each video card purchase; the Step-Up doesn't count as a purchase.
SPECIFICATIONS
GPU

9800 GTX+


EVGA GTS-250 1 GB


HD 4850

GPU Frequency

740 MHz

770 MHz

750 Mhz

Memory Frequency

1100 MHz

1123 Mhz

993 Mhz

Memory Bus Width

256-bit

256-bit

256-bit

Memory Type

GDDR3

GDDR3

GDDR3

# of Stream Processors

120

120

640

Texture Units

32

32

32

ROPS

16

16

8

Bandwidth (GB/sec)


70.4

71.9

32

Process

55nm

55nm

55nm
FEATURES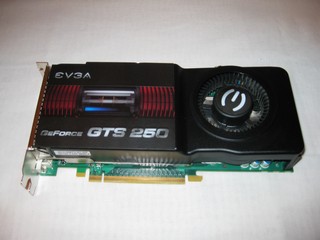 PCI Express 2.0 GPU
Provides Support for
Next Generation PC Platforms

GPU/Memory Clock at
 

770/1123

MHz!!
HDCP capable

1024 MB 256-bit

memory interface for smooth, realistic gaming experiences at Ultra-High Resolutions /AA/AF gaming
Support Dual Dual-Link DVI with awe-inspiring

2560×1600

resolution
The Ultimate Blu-ray and HD DVD Movie Experience on a Gaming PC
Smoothly playback H.264, MPEG-2, VC-1 and WMV video–including WMV HD
Industry leading 3-way NVIDIA SLI technology offers amazing performance
NVIDIA PhysX™ READY
PCI Express 2.0 Support

Designed to run perfectly with the new PCI Express 2.0 bus architecture, offering a future-proofing bridge to tomorrow's most bandwidth-hungry games and 3D applications by maximizing the 5 GT/s PCI Express 2.0 bandwidth (twice that of first generation PCI Express). PCI Express 2.0 products are fully backwards compatible with existing PCI Express motherboards for the broadest support.

2nd Generation NVIDIA® unified architecture

Second Generation architecture delivers 50% more gaming performance over the first generation through enhanced processing cores.
GigaThread™ Technology

Massively multi-threaded architecture supports thousands of independent, simultaneous threads, providing extreme processing efficiency in advanced, next generation shader programs.
NVIDIA PhysX™ -Ready

Enable a totally new class of physical gaming interaction for a more dynamic and realistic experience with Geforce.
High-Speed GDDR3 Memory on Board

Enhanced memory speed and capacity ensures more flowing video quality in latest gaming environment especially in large scale textures processing.
Dual Dual-Link DVI

Support hardwares with awe-inspiring

2560-by-1600

resolution, such as the 30-inch HD LCD Display, with massive load of pixels, requires a graphics cards with dual-link DVI connectivity.

Dual 400MHz RAMDACs

Blazing-fast RAMDACs support dual QXGA displayswith ultra-high, ergonomic refresh rates up to 2048×1536@85Hz.

  Triple NVIDIA SLI technology

Support hardwares with awe-inspiring

2560-by-1600

Offers amazing performance scaling by implementing AFR (Alternate Frame Rendering) under Windows Vista with solid, state-of-the-art drivers.

Click to Enlarge

Microsoft® DirectX® 10 Shader Model 4.0 Support

DirectX 10 GPU with full Shader Model 4.0 support delivers unparalleled levels of graphics realism and film-quality effects.

OpenGL® 2.1 Optimizations and Support

Full OpenGL support, including OpenGL 2.1 .
Integrated HDTV encoder

Provide world-class TV-out functionality up to 1080P resolution.
NVIDIA® Lumenex™ Engine

Support hardwares with awe-inspiring

2560-by-1600

Delivers stunning image quality and floating point accuracy at ultra-fast frame rates.

16x Anti-aliasing: Lightning fast, high-quality anti-aliasing at up to 16x sample rates obliterates jagged edges.
128-bit floating point High Dynamic-Range (HDR): Twice the precision of prior generations for incredibly realistic lighting effects

Dual-stream Hardware Acceleration

Provides ultra-smooth playback of H.264, VC-1, WMV and MPEG-2 HD and Bul-ray movies.

High dynamic-range (HDR) Rendering Support

The ultimate lighting effects bring environments to life.

NVIDIA® PureVideo ™ HD technology

Delivers graphics performance when you need it and low-power operation when you don't. HybridPower technology lets you switch from your graphics card to your motherboard GeForce GPU when running less graphically-intensive applications for a silent, low power PC experience.

HybridPower Technology support

Delivers graphics performance when you need it and low-power operation when you don't. HybridPower technology lets you switch from your graphics card to your motherboard GeForce GPU when running less graphically-intensive applications for a silent, low power PC experience.
HDCP Capable

Allows playback of HD DVD, Blu-ray Disc, and other protected content at full HD resolutions with integrated High-bandwidth Digital Content Protection (HDCP) support. (Requires other compatible components that are also HDCP capable.)
PICTURES & IMPRESSIONS
Click Image For a Larger One
The EVGA GTS-250 1 GB Superclocked Edition comes in an attractive black box that has plenty of information and specifications on it to help inform the consumer about it's purchase.
Click Image For a Larger One
There are a few cosmetic differences between the previous models we've seen and this one. Previous models in the GTX-2xx class had full cowlings and this cowling is open at the top and bottom. We'd have to say that it probably provides better cooling but we really prefer the full cowling approach as it provides more protection for the internal components. We really don't like the exposed fan wire seen in the bottom right hand picture which could easily become snagged or be pulled loose while fumbling around inside the chassis. In the bottom left hand shot you can see how closely the capacitors are to the exposed edge of the GPU. Nvidia was going for a smaller footprint on the GTS-250 but it seems to us that the smaller footprint has exposed quite a few of the components to possible damage.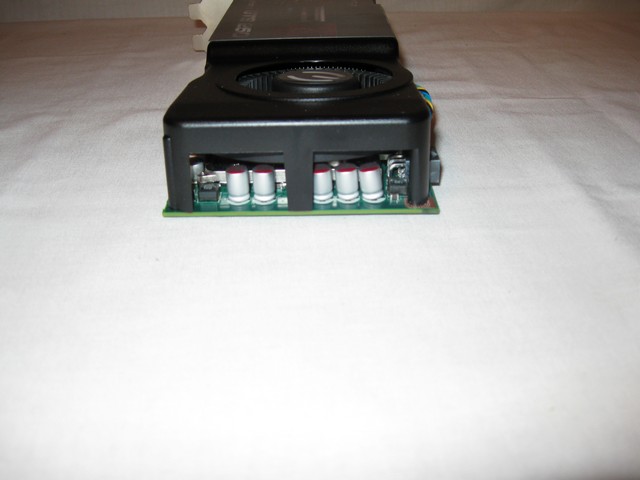 There's a full sized shot that better shows how close the components are to exposed areas of the GPU. Given the proximity of the GPU to the drive bays and Drive connectors on most motherboards you'll want to be careful when working around the end of the EVGA GTS-250.
In this shot you can see the single PCI-E 6-pin power connector you'll need to drive the GTS-250 and the exposed fan wire we mentioned earlier.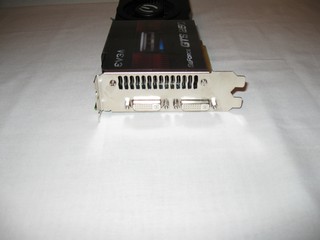 Click Image For a Larger One
Standard dual slot cooler and two DVI-D connectors on the EVGA GTX-250 1 GB Edition. The same dual slot design we've become accustomed to since the 8800GTX hit the market.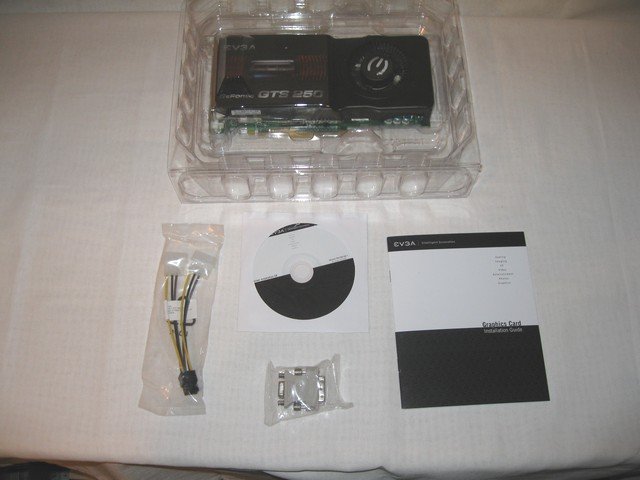 Being a Performance and not Enthusiast based GPU the EVGA GTS-250 1 GB edition comes with a small bundle. Noticeably missing is a DVI to HDMI adapter and full game title. You do get a DVI to VGA adapter, two Molex to 6-pin PCI-E power connector, driver disk, and manual. The GTS-250 is also one of the very few GPU's we've seen shipped in a plastic clamshell. Ours arrived in pristine condition but it leaves us wondering if they are more susceptible to damage than other types of packaging.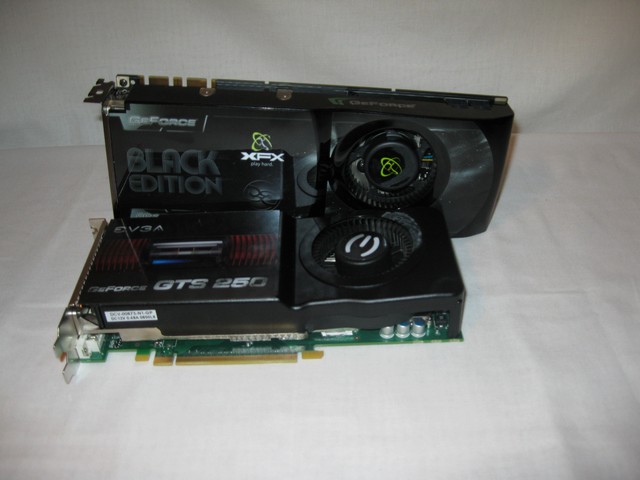 Pictured here beside it's next of kin the 9800GTX+ (10 1/2 inches) you can see the 9 inch form factor of the EVGA GTX-250 1 GB edition and if you've been worried about space in the chassis this might be a good option for you.
TESTING & METHODOLOGY
To test the EVGA GTS-250 1 GB Superclocked we did a fresh load of Vista 64. We loaded all the latest drivers for the Asus P6T Deluxe motherboard, downloaded the latest drivers for the GPU, and applied all patches and updates to the OS. Once we had everything updated and the latest drivers installed, we got down to installing our test suite.
Once we had everything up to snuff, we loaded our testing suite, applied all the patches to the games, and checked for updates on 3DMark06 because it was crashing on load. We found that some update we'd done had knocked out the OpenAl portion of 3Dmark06's install. We downloaded the OpenAl standalone installer and ran that, which fixed our crash in Vista 64 (Ultimate). Then, we went ahead and installed 3DMark Vantage, stoked up a pot of coffee and we were ready to run. We ran each test at least three times and report the average of the three test runs here. Some runs were made more than three times (the coffee didn't get done quickly enough), then we cloned the drive using Acronis to protect ourselves from any little overclocking accidents that might happen. Testing was done at the default clock speed of the GPU's tested unless otherwise noted.
Test Rig
Test Rig
"Quadzilla"
Case Type
Top Deck Testing Station
CPU
Intel Core I7 965 Extreme (3.74 GHz 1.2975 Vcore)
Motherboard
Asus P6T Deluxe (SLI and CrossFire on Demand)
Ram
Corsair Dominator DDR3 1866 (9-9-9-24 1.65v) 6 GB Kit
CPU Cooler
Thermalright Ultra 120 RT (Dual 120mm Fans)
Hard Drives
Patriot 128 GB SSD
Optical
Sony DVD R/W
GPU Tested
PNY GTX-285 Performance Edition
EVGA GTS-250 1 GB Superclocked
XFX GTX-285 XXX
BFG GTX-295
Asus GTX-295
EVGA GTX-280 (2)
XFX 9800 GTX+ Black Edition
BFG GTX-260 MaxCore
Leadtek GTX-260
Drivers for Nvidia GPU's 182.06
Palit HD Radeon 4870X2
Sapphire HD Radeon 4870 512MB
Diamond HD Radeon 4879 1 GB
Sapphire HD Radeon 4850 Toxic
Drivers for ATI GPU's 8.12
Case Fans
120mm Fan cooling the mosfet CPU area
Docking Stations
Thermaltake VION
Testing PSU
Thermaltake Toughpower 1200 Watt
Legacy
Floppy
Mouse
Razer Lachesis
Keyboard
Razer Lycosa
Gaming Ear Buds

Razer Moray
Speakers
Logitech Dolby 5.1
Any Attempt Copy This System Configuration May Lead to Bankruptcy
Synthetic Benchmarks & Games
Synthetic Benchmarks & Games
3DMark06 v. 1.10
3DMark Vantage
Company of Heroes v. 1.71
Crysis v. 1.2
World in Conflict Demo
FarCry 2
Crysis Warhead
Stalker Clear Sky Stand Alone Benchmark
3DMARK06 V. 1.1.0

3DMark06 developed by Futuremark, is a synthetic benchmark used for universal testing of all graphics solutions. 3DMark06 features HDR rendering, complex HDR post processing, dynamic soft shadows for all objects, water shader with HDR refraction, HDR reflection, depth fog and Gerstner wave functions, realistic sky model with cloud blending, and approximately 5.4 million triangles and 8.8 million vertices; to name just a few. The measurement unit "3DMark" is intended to give a normalized mean for comparing different GPU/VPUs. It has been accepted as both a standard and a mandatory benchmark throughout the gaming world for measuring performance.
You can tell by the EVGA GTS-250 1 GB Superclocked's position in the charts that it's a performance GPU and not an enthusiast GPU. Almost everything we have charted is an Enthusiast GPU with the exception of the 9800GTX+ and ATI 4850. You can see that performance in 3DMark06 is very close to the 9800GTX+, which is to be expected since that's an XFX 9800GTX+ XXX edition and has slightly higher clock speeds than the GTS-250 Superclocked. Since the pricing on the 9800GTX+ is so close to the GTS-250 and the GTS-250 has 1 GB of frame buffer memory, if you're in that price range it would be hard not to recommend the GTS-250 over the 9800GTX+ variants out there.
3DMark Vantage

For complete information on 3DMark Vantage Please follow this Link:
www.futuremark.com/benchmarks/3dmarkvantage/features/
The newest video benchmark from the gang at Futuremark. This utility is still a synthetic benchmark, but one that more closely reflects real world gaming performance. While it is not a perfect replacement for actual game benchmarks, it has its uses. We tested our cards at the 'Performance' setting.
Currently, there is a lot of controversy surrounding NVIDIA's use of a PhysX driver for its 9800 GTX and GTX 200 series cards, thereby putting the ATI brand at a disadvantage. Whereby installing the PhysX driver, 3DMark Vantage uses the GPU to perform PhysX calculations during a CPU test, and this is where things get a bit gray. If you look at the Driver Approval Policy for 3DMark Vantage it states; "Based on the specification and design of the CPU tests, GPU make, type or driver version may not have a significant effect on the results of either of the CPU tests as indicated in Section 7.3 of the 3DMark Vantage specification and white paper." Did NVIDIA cheat by having the GPU handle the PhysX calculations or are they perfectly within their right since they own Ageia and all their IP? I think this point will quickly become moot once Futuremark releases an update to the test.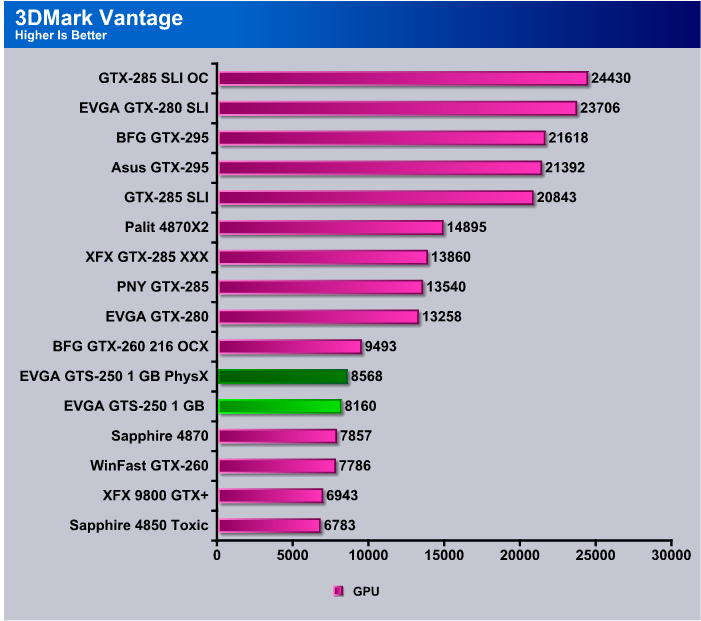 The EVGA GTS-250 1 GB Superclocked comes in at 8160 Vantage points without PhysX enabled and 8568 with PhysX enabled. Again. not really ranking with the enthusiast class GPU's but by the same token, not priced like the enthusiast class GPU's. Far too many people will interpret a chart like this to mean that the GTS-250 is lacking in performance and that simply isn't the case. It performs right at its price point just like it should. You really shouldn't compare Enthusiast class and Performance class GPU's without making note of the price differences. The only two GPU's listed that are at the same price point (or close to the same price point) are the 4850 and 9800GTX+, and those are really the only two GPU's charted that could be considered in direct comparison at the price point positioning of the GTS-250.
Company Of Heroes v. 1.71

Company of Heroes(COH) is a Real Time Strategy(RTS) game for the PC, announced on April, 2005. It is developed by the Canadian based company Relic Entertainment and published by THQ. COH is an excellent game that is incredibly demanding on system resources thus making it an excellent benchmark. Like F.E.A.R., the game contains an integrated performance test that can be run to determine your system's performance based on the graphical options you have chosen. It uses the same multi-staged performance ratings as does the F.E.A.R. test. Letting the games benchmark handle the chore takes the human factor out of the equation and ensures that each run of the test is exactly the same producing more reliable results.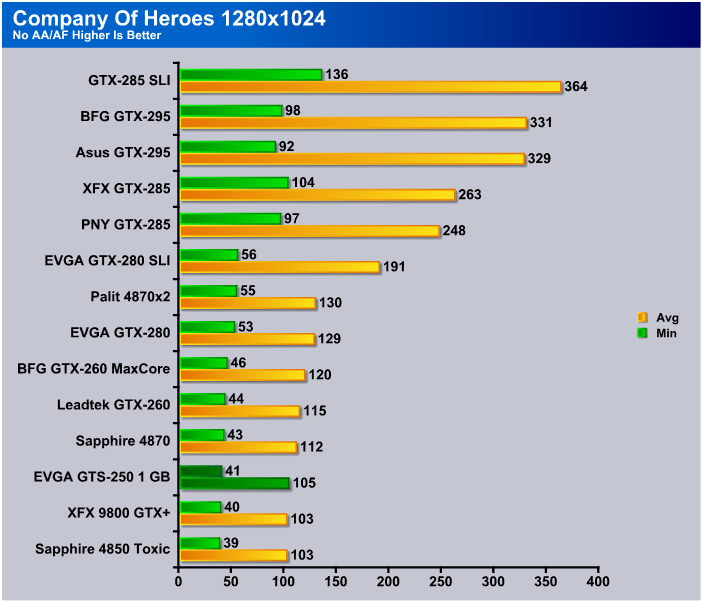 We predict that what your going to see consistently is the EVGA GTS-250 Superclocked comes in above the 4850 and 9800GTX+, which by price and performance is exactly where it should be. Keep in mind that for testing purposes we have all the eye candy cranked to the max in every game. The only setting that's not enabled here is AA/AF. By ratcheting the eye candy down a notch or two you can improve performance drastically. At this resolution, you'd be fine with every thing cranked up.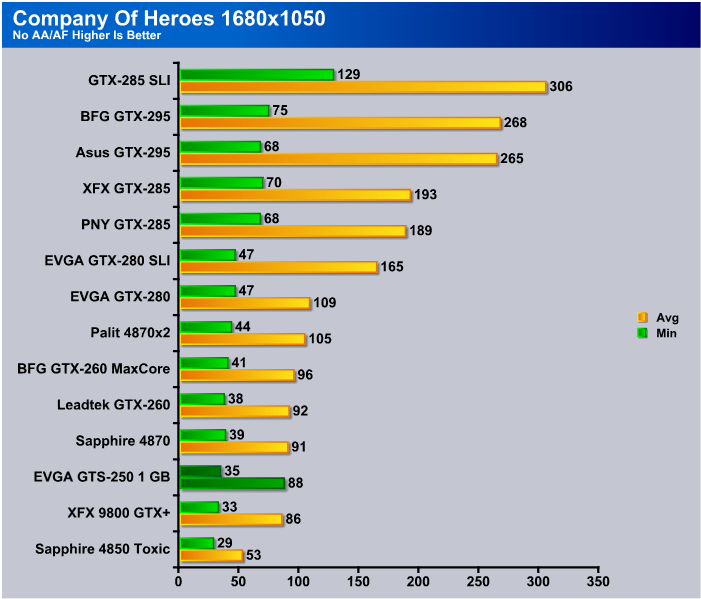 At 1680×1050 we're still seeing the price point positioning holding steady and slightly better performance than its closest relative, the 9800GTX+. The ATI 4850 is already starting to dip below 30 FPS which goes to show you that Company of Heroes is still a good measure of GPU power even though it's a little long in the tooth.
At this resolution were seeing borderline playability on the  EVGA GTS-250. It's still at the magical 30 FPS required for rock solid graphics performance with all the eye candy turned on (except AA/AF).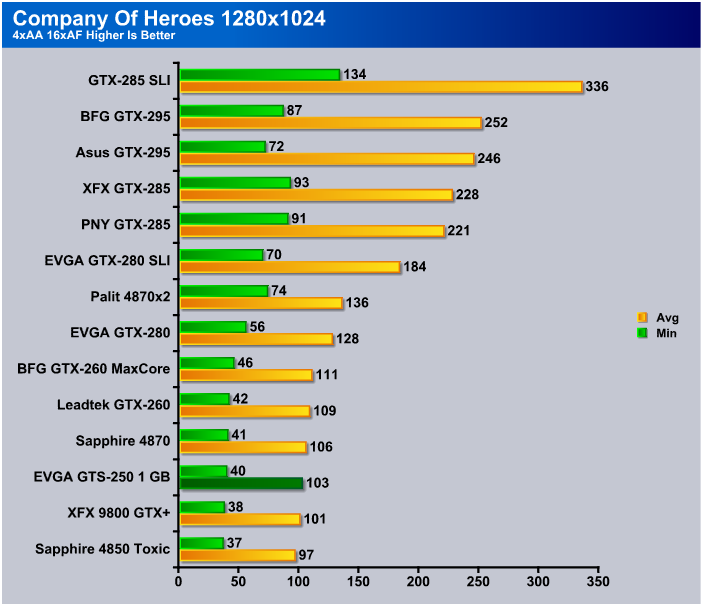 Moving into the realms of AA/AF at 1280×1024 we're getting good FPS from the EVGA GTS-250 and you'd have no problems playing at this resolution and eye candy settings.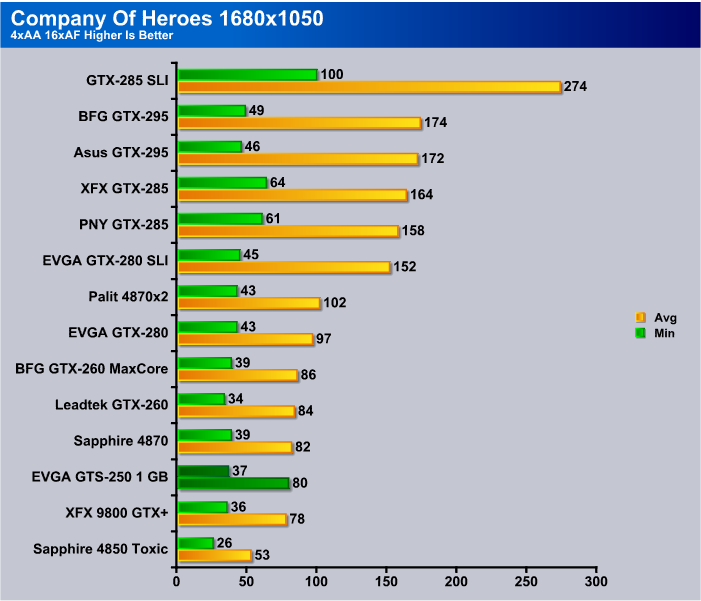 We're still good to go at 1680×1050 with AA/AF turned on and the positioning price point wise is close to some of the Enthusiast class GPU's that reside on the lower rungs of the Enthusiast class ladder.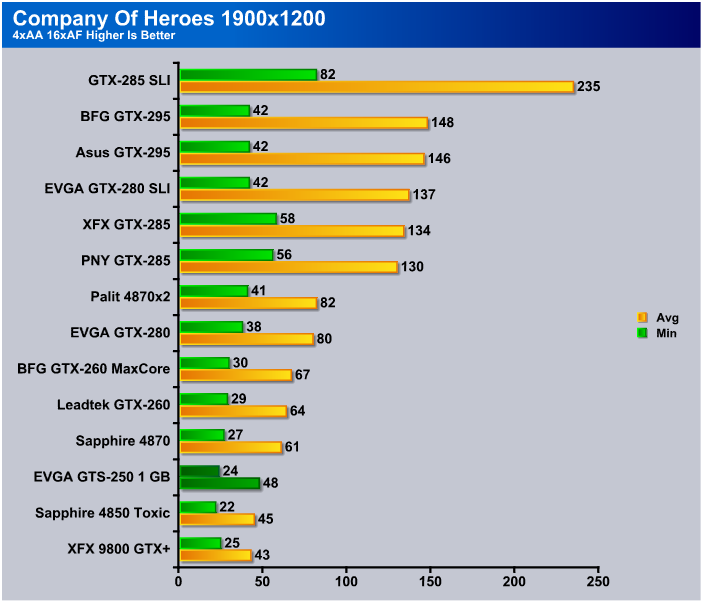 At 1920×1200 we finally dipped below 30 FPS on the GTS-250 Superclocked which is a little deceptive. We went back and turned shadows off on Company of Heroes and we were well into the playable 30 FPS region. Often changing one setting like Sun Rays or Shadows, which you'll hardly notice in game play, makes all the difference in the world.
World in Conflict Demo

World in Conflict is a real-time tactical video game developed by the Swedish video game company Massive Entertainment, and published by Sierra Entertainment for Windows PC. The game was released in September of 2007. The game is set in 1989 during the social, political, and economic collapse of the Soviet Union. However, the title postulates an alternate history scenario where the Soviet Union pursued a course of war to remain in power. World in Conflict has superb graphics, is extremely GPU intensive, and has built-in benchmarks. Sounds like benchmark material to us!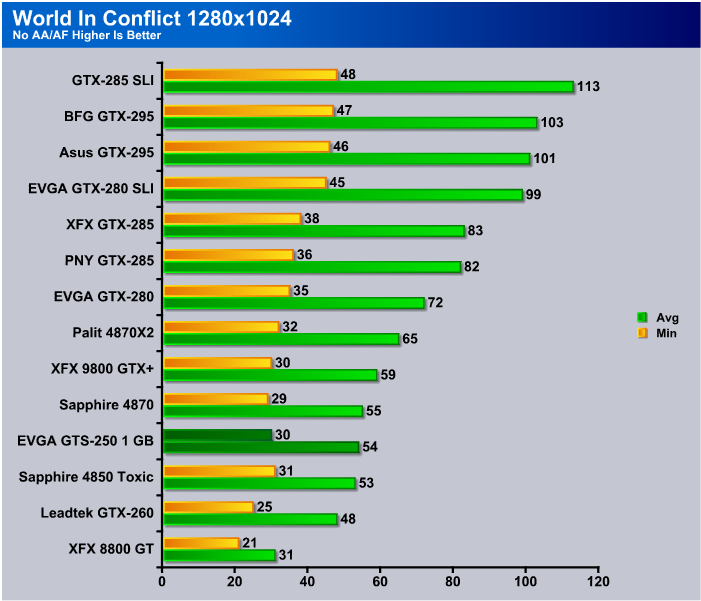 World in Conflict in our testing at 1280×1024 is more CPU bound than GPU bound, but even at this level we're still seeing playable FPS and they should go up at 1680×1050. Then, if the pattern holds true back down again at 1920×1200.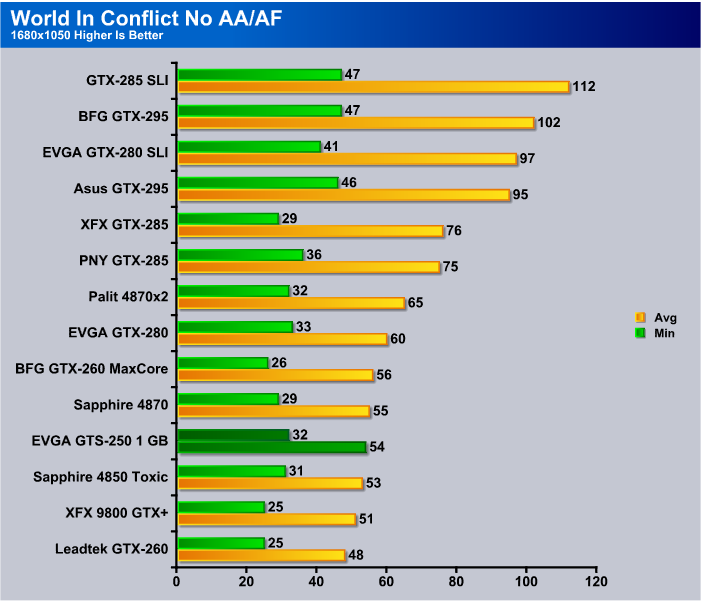 Just as we suspected, we gain a few FPS at this slightly higher resolution. The Benchmark ran smooth and we don't foresee any problems playing at this resolution with everything maxed except AA/AF.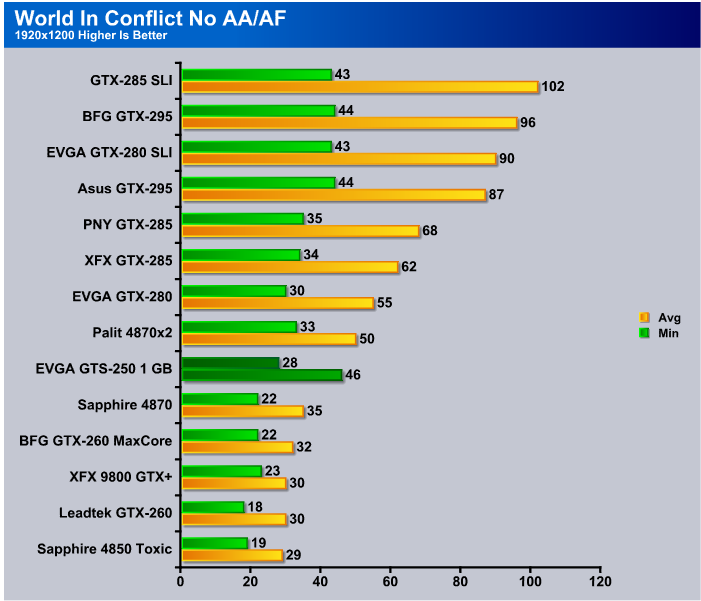 You can see the GTS-250 dipped below 30 FPS at 1920×1200 but we didn't notice any detectable lagging or stutters and it's in good company. Even the GTX-260 216 and 4870 dipped below 30 FPS, so the EVGA GTS-250 really has nothing to be ashamed of here.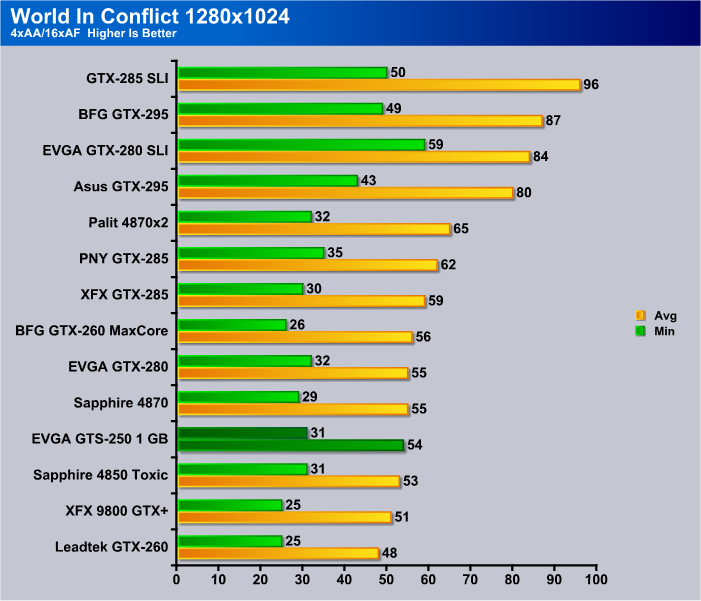 Being a native DX10 game, World in Conflict is tough on GPU's and out of the gate at 1280×1024 some of the GPU's drop below 30 FPS at the lowest resolution we tested. The EVGA GTS-250 is still in the playable range.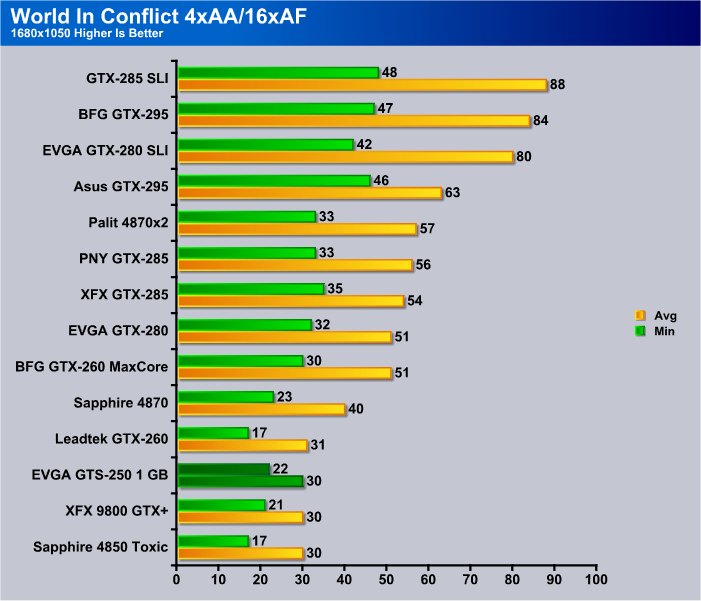 When we hit 1680×1050 with 4xAA/16xAF the EVGA GTS-250 Superclocked drops below 30 FPS but with all the eye candy cranked up you can expect most performance GPU's to drop below 30 FPS. Again, with performance GPU's you can adjust quality settings minimally and be in the playable frame rate region with minimal eye candy sacrifices. When you hit mainstream and low end GPU's you have to sacrifice quality for performance, but with Enthusiast and Performance class you get good quality graphics with little or no eye candy sacrifices.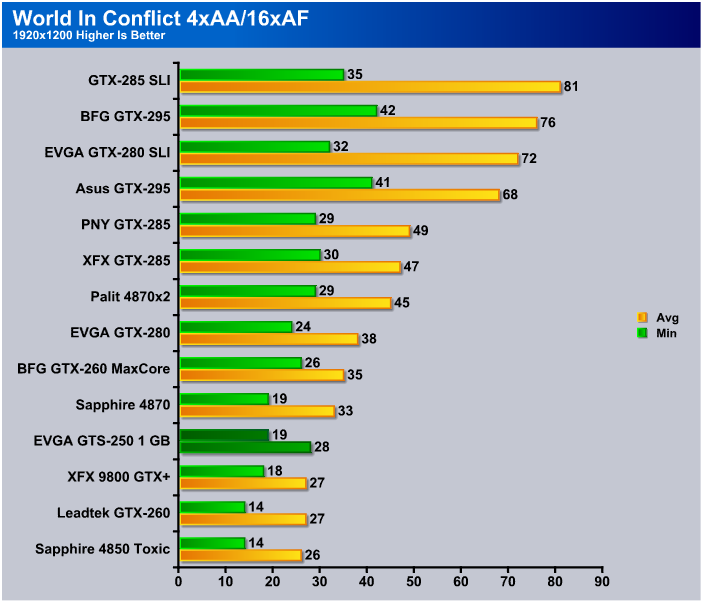 Running at 1920×1200 with the EVGA GTS-250 1GB Superclocked things got a little choppy. We noticed some slow down on graphics but when we went back and adjusted a few setting it smoothed right out. You can play at this resolution but you have to give up some eye candy.
Crysis v. 1.2

Crysis is the most highly anticipated game to hit the market in the last several years. Crysis is based on the CryENGINE™ 2 developed by Crytek. The CryENGINE™ 2 offers real time editing, bump mapping, dynamic lights, network system, integrated physics system, shaders, shadows, and a dynamic music system, just to name a few of the state-of-the-art features that are incorporated into Crysis. As one might expect with this number of features, the game is extremely demanding of system resources, especially the GPU. We expect Crysis to be a primary gaming benchmark for many years to come.
Lets just start this section by saying that we don't, and you shouldn't expect to be able to play Crysis or Crysis Warhead with a performance class GPU without giving up some eye candy. Most enthusiast class GPU's will fold in Crysis.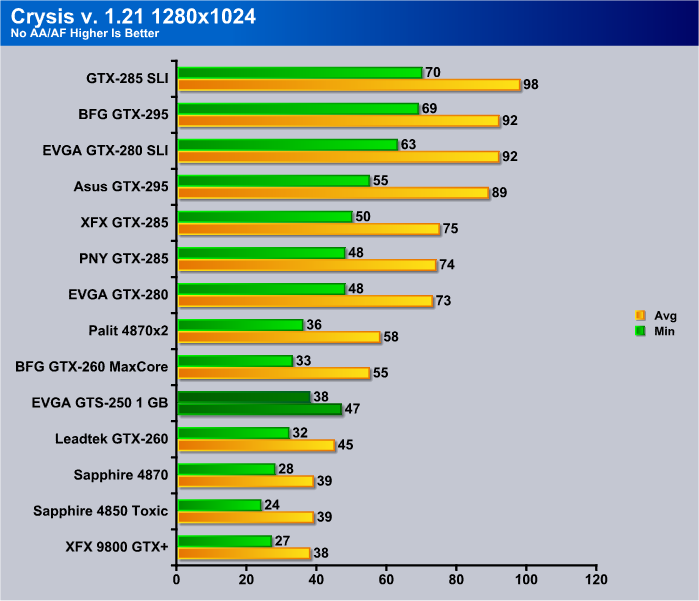 At 1280×1024 you would be fine in Crysis with no AA/AF running the EVGA GTS-250 Superclocked. Graphics were smooth and the benchmark was as fluid as you could want.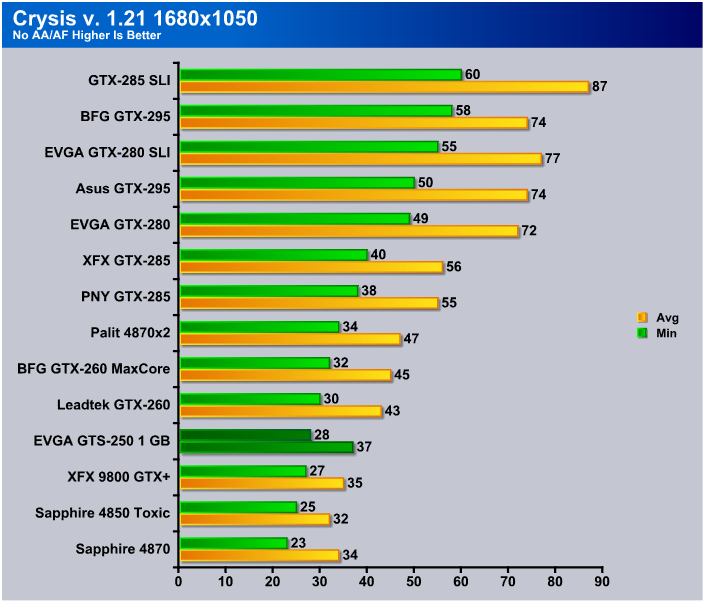 When we hit 1680×1050 the EVGA GTS-250 Superclocked dipped below 30 FPS but we didn't notice any stutters in the benchmark. Keep in mind, this is at insane levels of eye candy and every thing is cranked up to high in the benchmark. One or two tweaks and you're well into playable levels.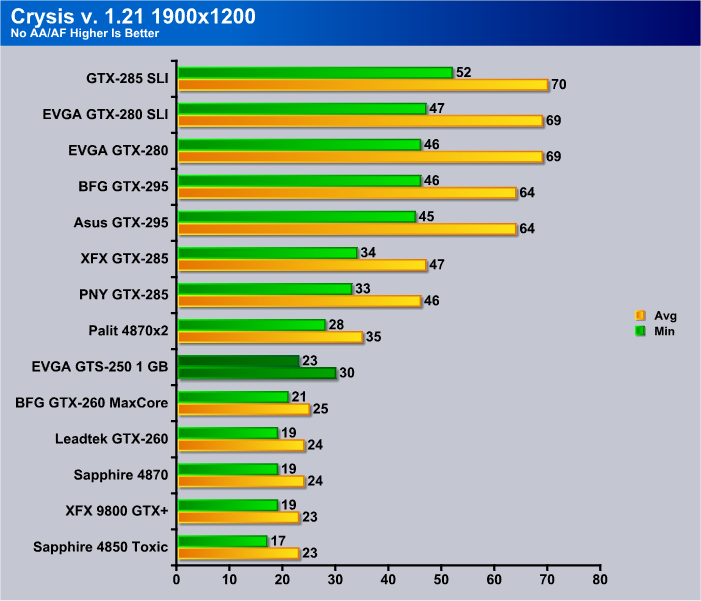 Minimum FPS dropped to 23 FPS at 1920×1200 with all the eye candy set to high in Crysis. Make a few adjustments to quality and you can easily get playable frame rates. For a GPU that costs under $150 (USD) the GTS-250 is holding its own.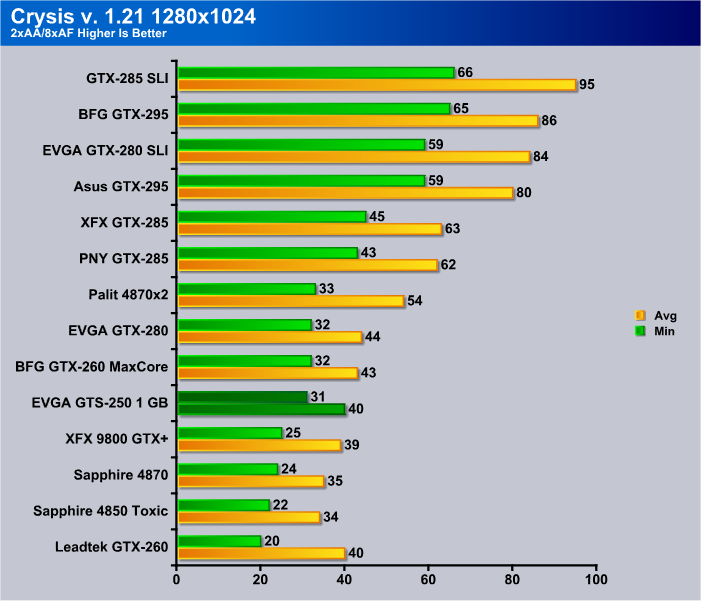 When we turn the AA/AF on at 1280×1024 the EVGA GTS-250 Superclocked provides entirely playable frame rates. We expect that at higher resolutions you'd have to make some eye candy compromises, but not at this level.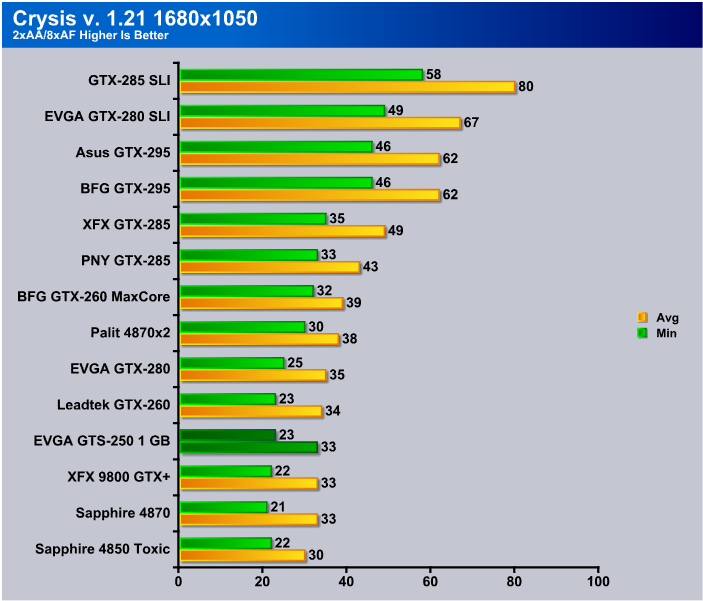 With frame rates running at minimum 23 FPS it's probably time for some of those compromises we just mentioned. The EVGA GTS-250 Superclocked is in good company here and even the mighty GTX-280 drops below 30 FPS. What can we say, it's Crysis.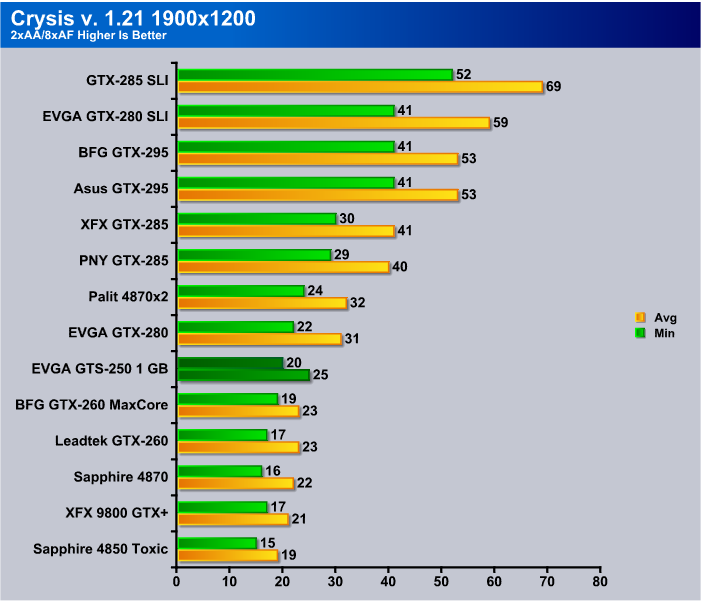 Graphics at 1900×1200 were a little choppy running the GTS-250 Superclocked. That's to be expected at the insane levels we test at. We did a lot of going back and checking things at different settings in the review of the EVGA GTS-250 Superclocked and we can tell you we came across no game that wasn't playable with a few tweaks and some eye candy muffled a little. If you're looking for a no compromises on eye candy situation you can expect to pay a lot more than the GTS-250 will set you back. From the looks of the charting, for a no compromises on eye candy GPU, you're looking in the $300 (USD) range.
CRYSIS WARHEAD

Crysis Warhead is the much anticipated sequel of Crysis, featuring an updated CryENGINE™ 2 with better optimization. It was one of the most anticipated titles of 2008.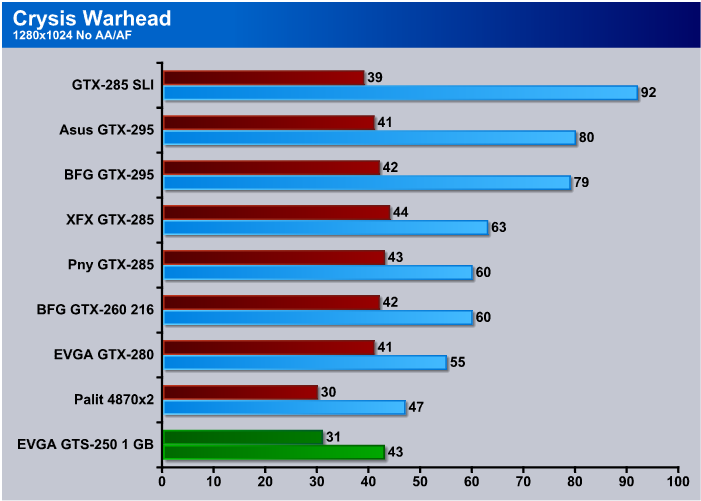 Up until this point in Warhead we've only charted Enthusiast class GPU's, but we thought we'd give the EVGA GTS-250 a shot at it and go in and tweak after the fact to see if we could get playable frame rates with acceptable graphics. At 1280×1024 we're on the threshold of playable already.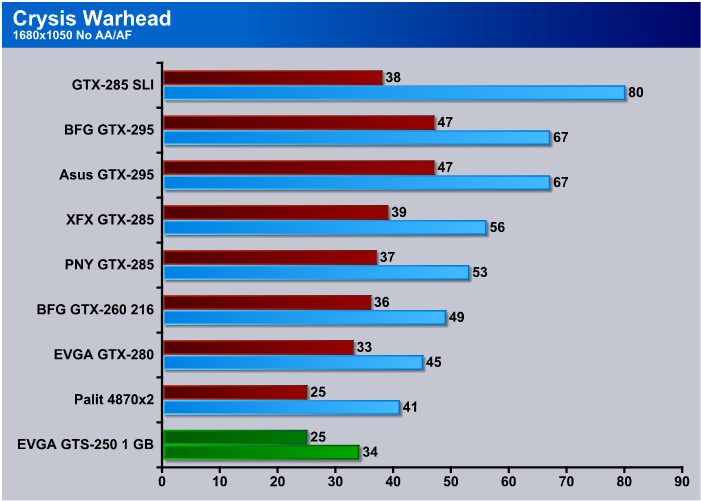 At 1680×1050 we're below playable frame rates but with some tweaking outside normal benching we were easily into playable frame rates. We're really not a big fan of ultra high quality trees anyway.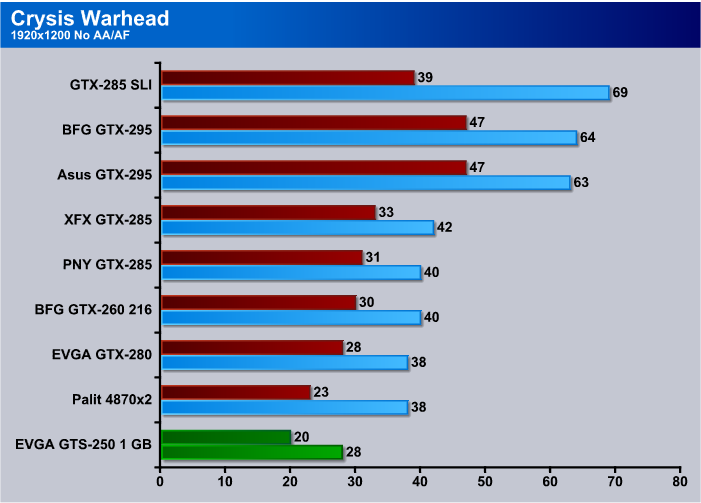 Just like we expected at 1920×1200, the benchmark was a little choppy with the EVGA GTS-250 Superclocked, but again once we made a few adjustments outside benching this resolution was entirely playable.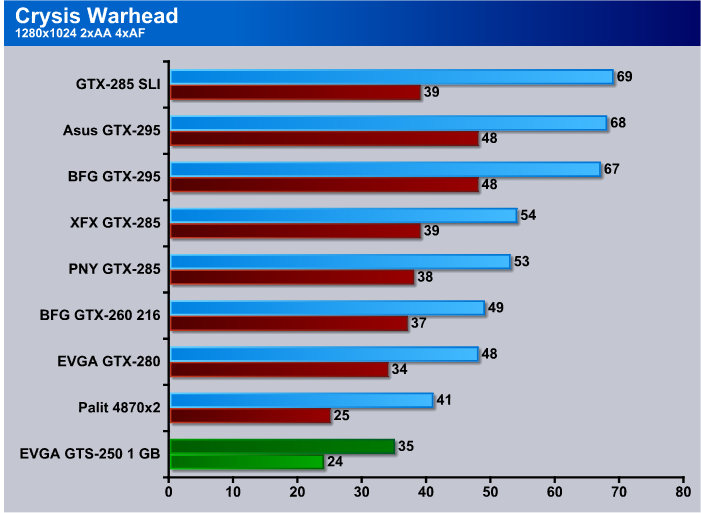 Turn on AA/AF in Crysis Warhead and GPU's start to openly weep. Keeping AA/AF turned on and making some after bench tweaks we got good frame rates.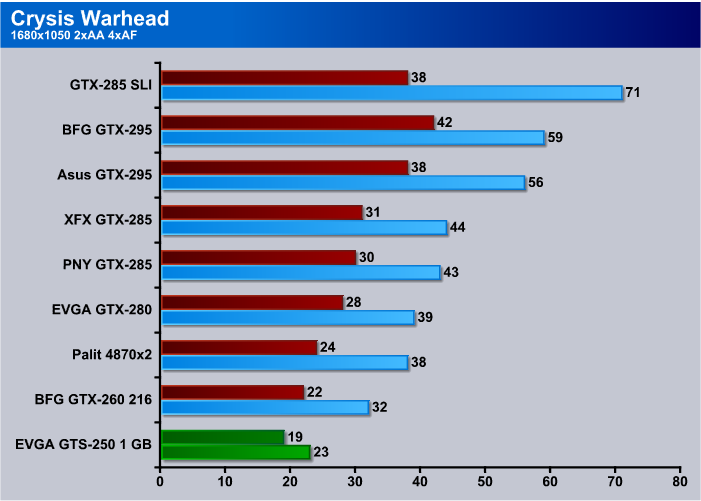 Same story at 1680×1050, insane eye candy and low frame rates. Go in and play at reasonable eye candy levels and you're good to go. Playable frame rates at this resolution with no compromises look like they will cost you in the $250 dollar range.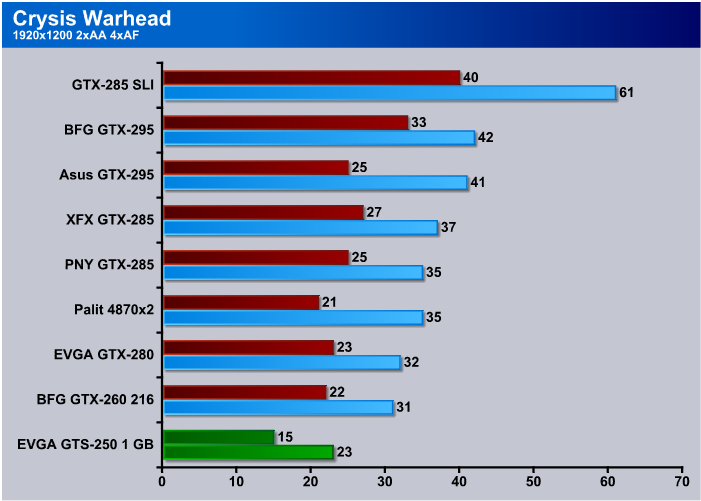 Here's why we don't put much stock in insane level eye candy testing in Crysis or Warhead. For playable frame rates with insane eye candy you need to spend $500 or more. Take an EVGA GTS-250 Superclocked and spend $150 and turn the eye candy down to an enjoyable game play levels and you get good frame rates. We hit playable frame rates around the medium eye candy level.
Far Cry 2

Far Cry 2, released in October 2008 by Ubisoft, was one of the most anticipated titles of the year. It's an engaging state-of-the-art First Person Shooter set in an un-named African country. Caught between two rival factions, you're sent to take out "The Jackal". Far Cry2 ships with a full featured benchmark utility and it is one of the most well designed, well thought out game benchmarks we've ever seen. One big difference between this benchmark and others is that it leaves the game's AI (Artificial Intelligence) running while the benchmark is being performed.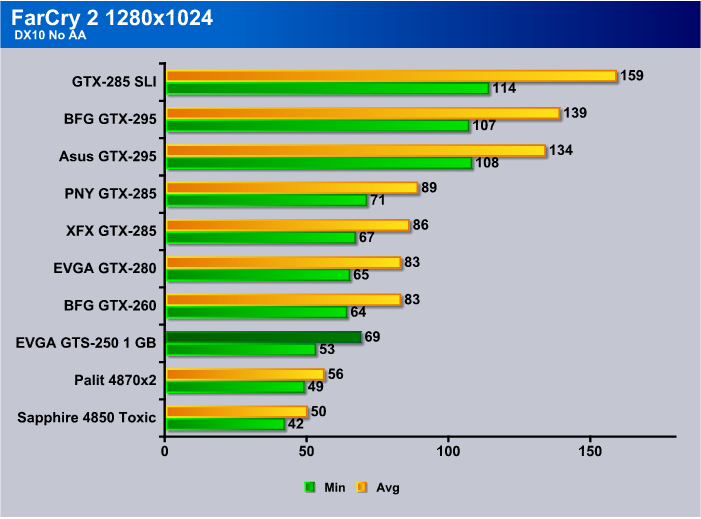 Far Cry 2 at 1280×1024 sees the EVGA GTS-250 Superclocked way up into the playable frame rate area. At this level all the GPU's we tested are entirely playable at high eye candy levels.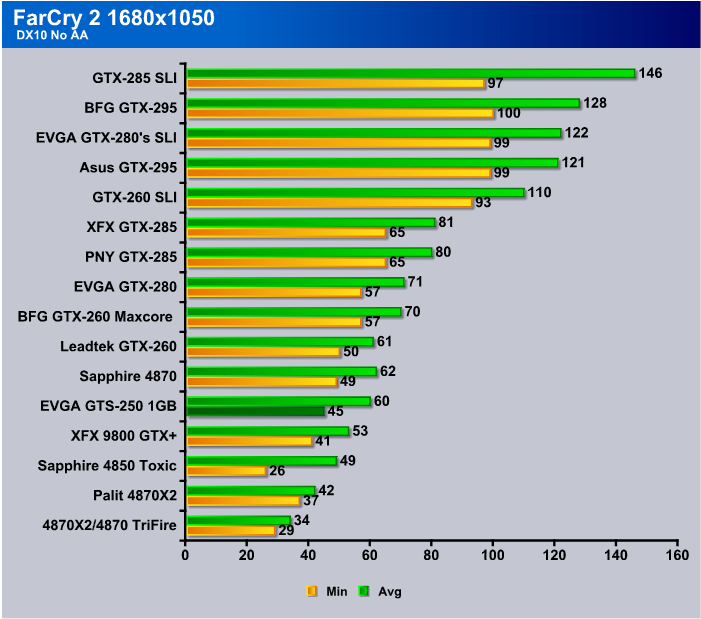 At 1680×1050 we're good to go with the EVGA GTS-250 Superclocked. We'd expect no problems playing at this resolution.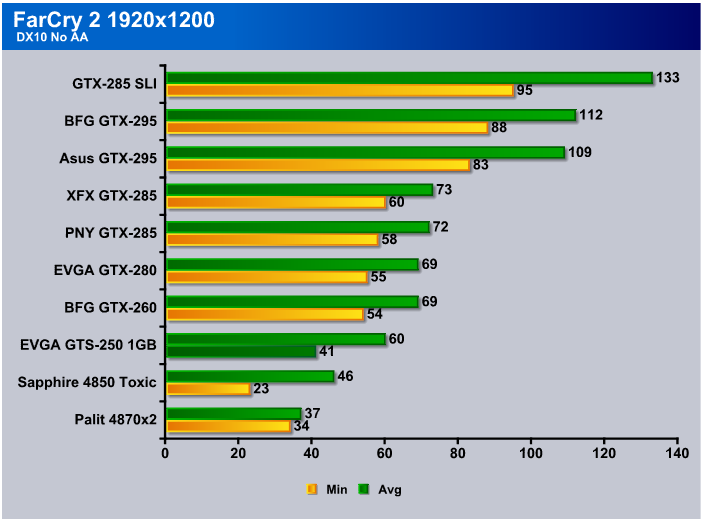 Even at the highest resolution we tested 1920×1200 with all the eye candy cranked except AA/AF you still get great FPS. This single game being DirectX 10 and churning FPS like this just goes to show you how well a game properly done can be optimized and should cause most game developers to hide their faces in shame. With more effort all games could be optimized to this level and not being that way in real life is nothing more than uncaring game developers that need to get their heads out of the sand (bet you thought we were going into an anatomical tirade there).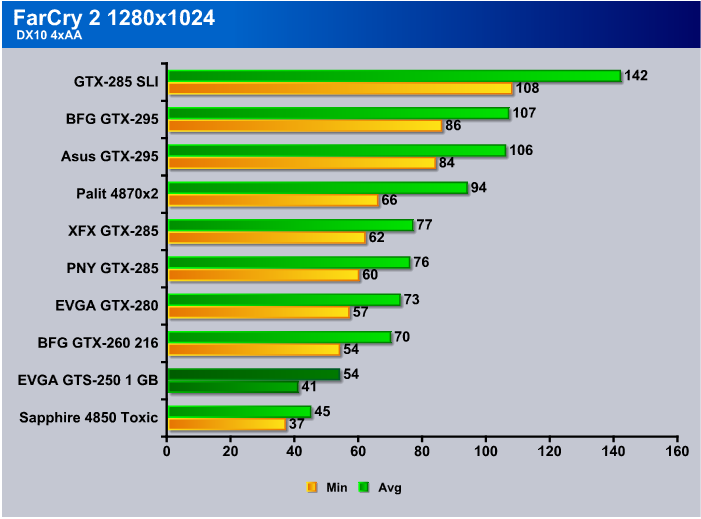 Coming into the Maximum eye candy arena at 1280×1024 we're getting really nice frame rates in one of the most well optimized games we've ever seen done in DirectX 10.
The medium resolution we tested 1680×1050 the frame rates on the EVGA GTS-250 Superclocked were starting to get low but graphics were as smooth as chocolate that's been on the dashboard on a hot day.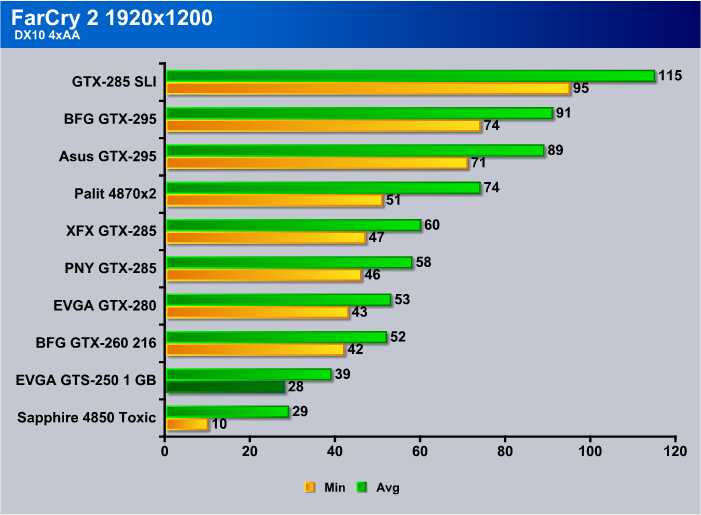 FPS did drop below 30 FPS at 1920×1200 with all the eye candy cranked. We didn't notice any stutters or degradation of FPS so it must have been just momentary. We'd say turn AA down to 2X and you'd be good to go in this epic title.
Stalker Clear Sky
There's a new stand alone benchmark out for the new title Stalker Clear Sky and even though we had a tight deadline with the EVGA GTS-250 Superclocked we wanted to get some Stalker action in. We didn't have time to run the whole stack against Stalker so we settled for just running the EVGA GTS-250 Superclocked against it and posted the screenies of the results. Expect to see more of it in our testing regiment in the near future (if we can come to a common ground on how to test and report the results).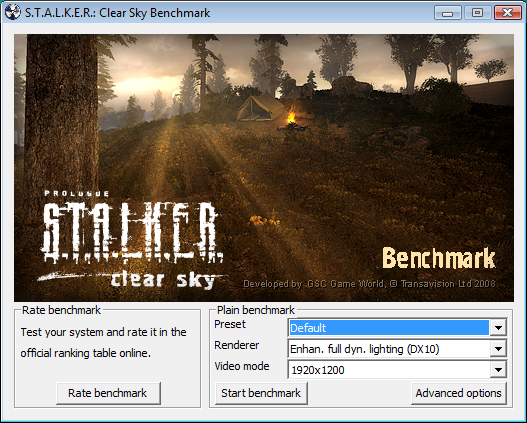 Here's a screenie of how the benchmark looks when it's first loaded. We used the default settings shown here without enabling AA/AF in the sub-menu. You'll see why we didn't feel the need to test with AA/AF just yet in a few moments. We do have to say that if the graphics in the Benchmark are any indication of the in game graphics this one will rival the beauty of Crysis and if game play is decent it's going to be a must have title.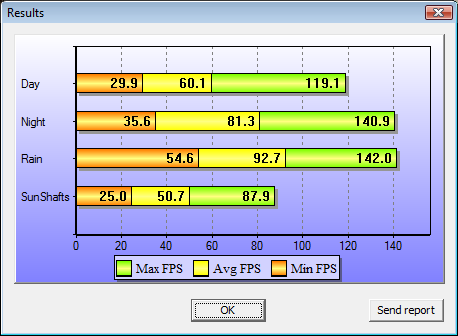 The results shown here are at 1280×1024 and already we're below 30 FPS in a couple of categories. Stalker is very probably going to be an epic benchmark as well as one heck of a fun game.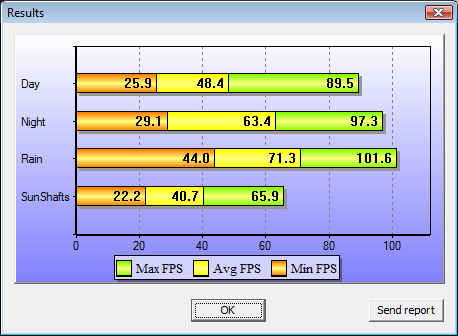 Moving to 1680×1050 we can venture a guess that Stalker is more GPU dependent than CPU dependent. We'd also hazard a guess that for maximum eye candy fans your going to be in the enthusiast class GPU range we mentioned earlier.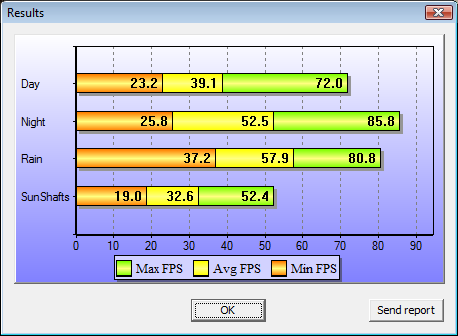 When we hit 1920×1200 we became sure there was a long day ahead of us benching the stack against this beautiful benchmark. We really can't comment much on the performance of the GTS-250 because we have no basis for comparison, but it was fun seeing a new stand alone bench that's actually worth exploring.
TEMPERATURES

To get our temperature reading, we ran 3DMark Vantage looping for 30 minutes to get the load temperature. To get the idle temp we let the machine idle at the desktop for 30 minutes with no background tasks that would drive the temperature up. Please note that this is on an open test station, so your chassis and cooling will affect the temps your seeing.
GPU Temperatures
Idle
Load
34°C
66° C
We were quite happy with the temperatures on the EVGA GTS-250. It came in at 34°C Idle and 66°C Load. Temperatures like that mean that you're not going to need an aftermarket cooler which would increase the cost.
POWER CONSUMPTION

To get our power consumption numbers we plugged in out Kill A Watt power measurement device and took the Idle reading at the desktop during our temperature readings. We left it at the desktop for about 15 minutes and took the idle reading. Then, during the 30 minute loop of 3DMark Vantage we watched for the peak power consumption, then recorded the highest usage.
GPU Power Consumption
GPU
Idle
Load
EVGA GTS-250 1 GB Superclocked
192 Watts
283 Watts
XFX GTX-285 XXX
215 Watts
322 Watts
BFG GTX-295
238 Watts
450 Watts
Asus GTX-295
240 Watts
451 Watts
EVGA GTX-280
217 Watts
345 Watts
EVGA GTX-280 SLI
239 Watts
515 Watts
Sapphire Toxic HD 4850
183 Watts
275 Watts
Sapphire HD 4870
207 Watts
298 Watts
Palit HD 4870×2
267 Watts
447 Watts
Total System Power Consumption
Power consumption on the EVGA GTS-250 is pretty reasonable. It comes in close to the ATI 4850. Compared to the GTX-295 and 4870×2 the EVGA GTS-250 sips at power.
OVERCLOCKING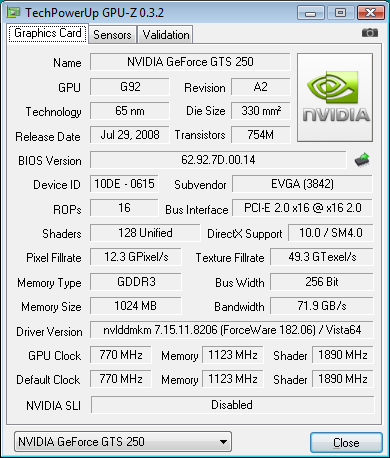 We checked the EVGA GTS-250 against GPU-Z and after a flurry of e-mails and phone calls, like so many other utilities scurrying to keep up with changes in hardware, GPU-Z is reporting some things incorrectly. GPU-Z shows a G92 core. We checked. The EVGA GTS-250 sports a G92b core. It also reports a 65nm core. We checked. It's really a 55nm core. We checked with EVGA and Nvidia and they both report a G92b core and 55nm Design, so the hybrid nature of the GTS-250 1 GB must be throwing CPU-Z. We see that the memory is at 1 GB just like it should be and that the EVGA GTS-250 Superclocked has its core set to a blistering 770 MHz from the factory and the memory to 1123 MHz. We're not expecting much of a core OC on this one. It's wound pretty tight from the factory.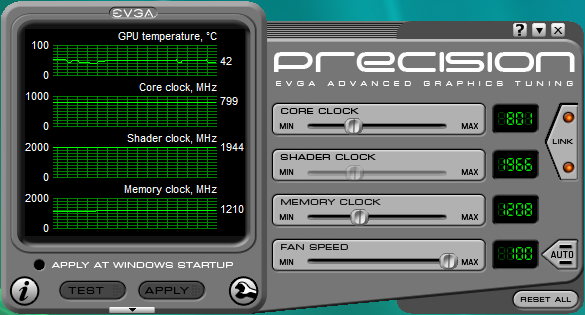 We did manage to squeeze out a 31 MHz OC on the core and an 85 MHz OC on the memory, which should yield a little more punch. We don't know that we'd recommend running the core any higher than 770 MHz for a 24/7 operation. It's wound pretty tight as it is. The advantage of it being factory set to 770 MHz is that it's covered by warranty. Purchasing a lower clocked model and overclocking it yourself will void the warranty.
Exciting Odds and Ends
Windows 7
There are a few things we have that we'd like to cover that we don't have a set place in review to cover. We mentioned earlier that we'd been meeting with Nvidia on a semi regular basis covering different topics.
We have it on good authority that Windows 7 the core operating system will also for the first time take advantage of Parallel computing. Windows 7 will be able to offload part of it's tasks to the GPU. That's a really exciting development and we expect to see more of the computing load shifted to the GPU as Windows evolves. Given the inherent power of GPU computing, as anyone that has done Folding At Home on a GPU knows, this opens up whole new vistas of computing possibilities. Who knows we may see the day when the GPU does the bulk of computing and the CPU just initiates the process. That's of course made possible by close cooperation of Nvidia and Microsoft and may be an early indication of widespread acceptance of Parallel computing and CUDA.
The easiest way (and most coherent way we've had a hard few days coding and benching the GTS-250) to get you the information is to clip it from the press release PDF file and give it to you unmolested.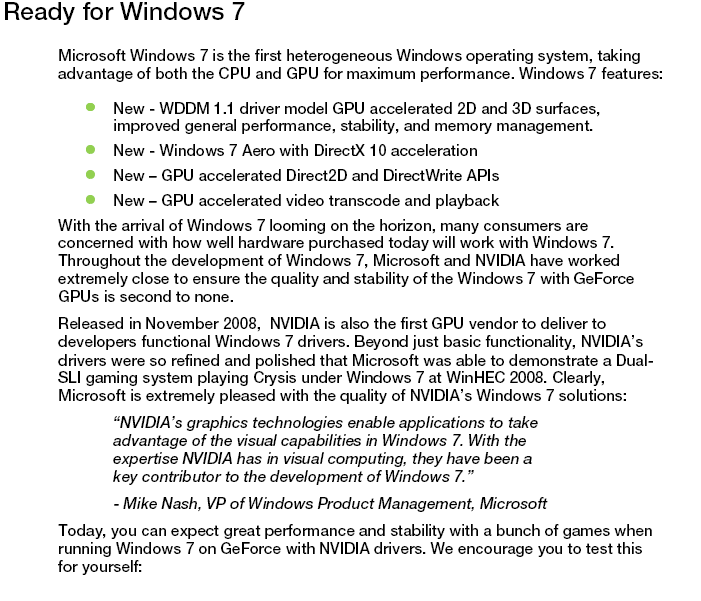 That's right Nvidia and Microsoft are already working together and have delivered functional drivers for Nvidia GPU's running under Windows 7 and they will be publicly available early in March.
CUDA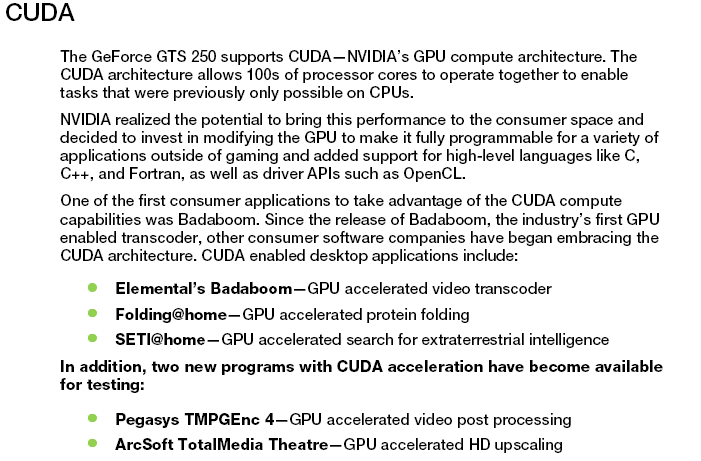 Two new CUDA applications are available for testing.
3D Vision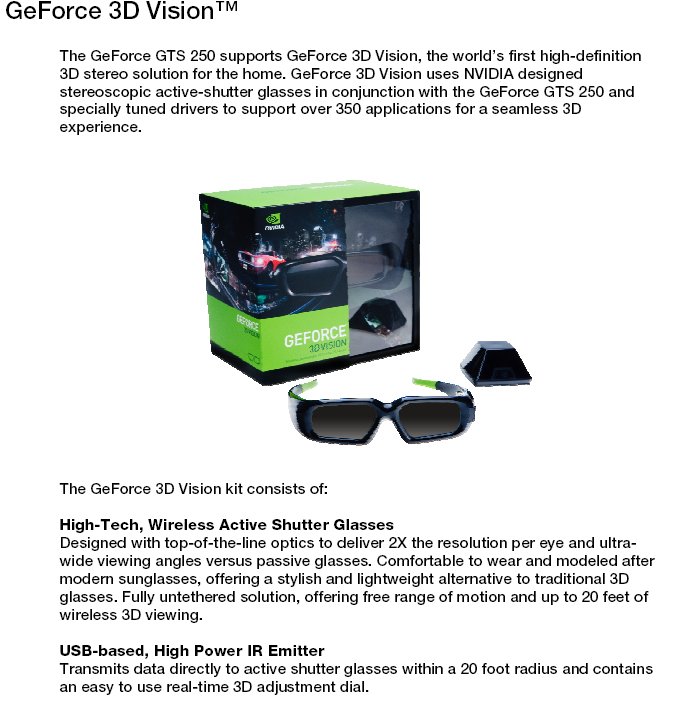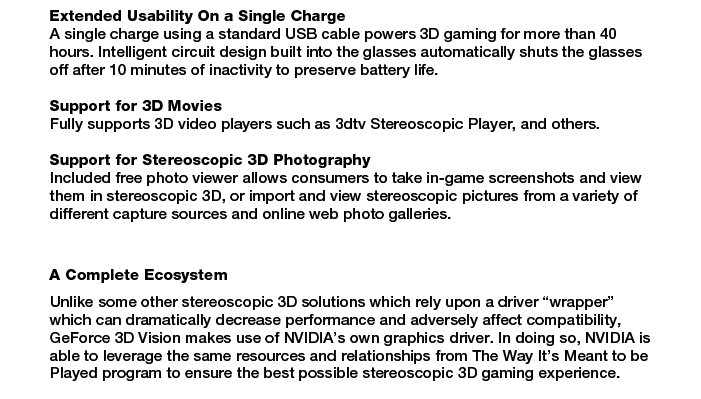 PhysX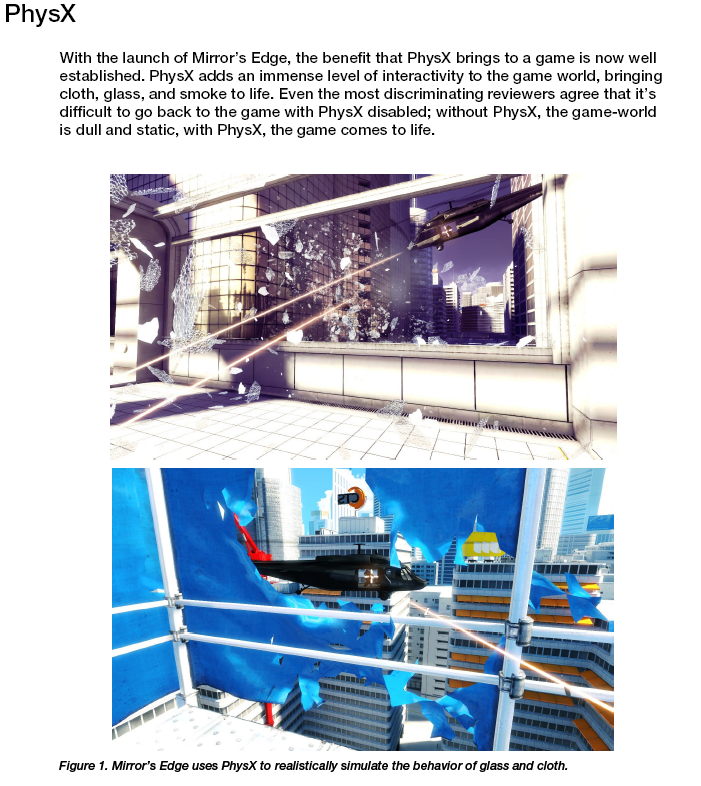 Reference GTS-250 Specifications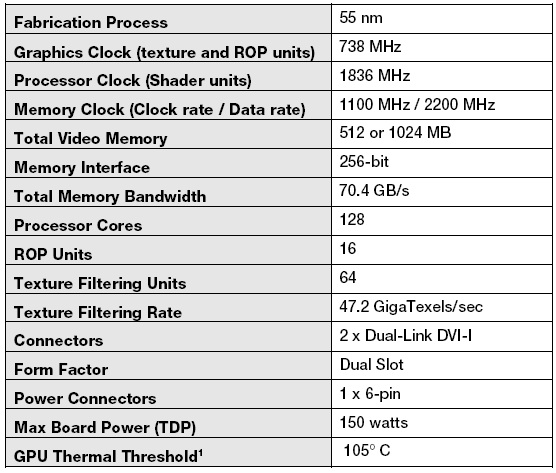 Since we had an overclocked GTS-250 to look at we thought you might like to see the reference specifications of a normal GTS-250. We apologize for the quick and dirty method of passing this information on to you but we had a very short lead time to review the EVGA GTS-250 and get the information to you in any format. We chose to spend the bulk of the time in benchmarking and coding the review. Beginning to end we had a total of 6 days to get the information presented in a palatable format. After three or four 16 hours days benching, charting, and coding the review, this is the best we can do before we go pass out.
CONCLUSION
The EVGA GTS-250 1 GB Superclocked doesn't bristle with new shiny technology but relies on the proven G92 core variant, the G92b core. It fills a much needed price point at a time when the cost of equipment is more important than ever. The additional 512 MB of memory on the EVGA GTS-250 1 GB edition will give you an advantage in games that like a large amount of frame buffer.
It's not designed to knock the fastest GPU in the pile off the throne. It's aimed at the upper mainstream crowd. It does fill that slot rather well but we find ourselves wondering why Nvidia didn't do something of this nature with the GTX-260 reference design. The GTX-260 was pulled from production in favor of the GTX-260 216 and it sports the GT200 core which is the same core as the rest of the GTX lineup. Since the GTS-250 512 is a rebranded 9800GTX+ it seems to make more sense to us to rebrand the GTX-260 to the GTS-250 or GTS-255 and stay with the GT200 core. Done properly it would have avoided the whole rebranding/rehashing controversy even if the performance of the GTX-260 reference design and 9800GTX+ are similar. Maybe the cost of the GT200 core prevents it from filling the $149.99 price point. That, we can't say.
All on all, the EVGA GTS-250 Superclocked fits its price point and delivers the performance fitting its price. It exceeds the performance of other GPU's out there at this price point but it doesn't bring much new to the table.
We are trying out a new addition to our scoring system to provide additional feedback beyond a flat score. Please note that the final score isn't an aggregate average of the new rating system.
Performance 7
Value 8
Quality 8
Warranty 8
Features 10
Innovation 7
Pros:
+  Runs Cool Enough
+  Able to Run Triple SLI
+  Out-performs Other GPU's At The Same Price Point
+  Offers A Shorter Alternative For Those With Smaller Chassis
+  Lower Power Consumption
+  Lifetime (10 Year) Warranty
Cons:
–  We're Not Real Fond of the New Cowling and Its Exposed Fan Fire
–  G92 Core Variant
The EVGA GTS-250 1 GB Superclocked  provides a good balance of price and power for the value conscious consumer. From a price/performance standpoint it has more bang for the buck than any other GPU out there at its $149.99 price point so it scores a: 7.5 out of 10 and the Bjorn3D.com Seal Of Approval.