Antec has come up with a new PSU for us at Bjorn3D to test out. We will be looking at their True Power New 750 watt series. Let's see what it is made of.
INTRODUCTION
It's a grim reality that not everyone needs the biggest, baddest, meanest, power supply out on the market to power our computers. What we do need is one that can power our computers safely, effortlessly, while at the same time providing our machines with clean dependable power.
Antec has been around the computer industry for as long as I can remember, especially with there chassis designs. With their power supply products though, they are a little less aggressive. Here at Bjorn3d we going to test one of their True Power 750 watt PSU's. Does it have enough to power a stripped down version of my machine? Let's find out, shall we?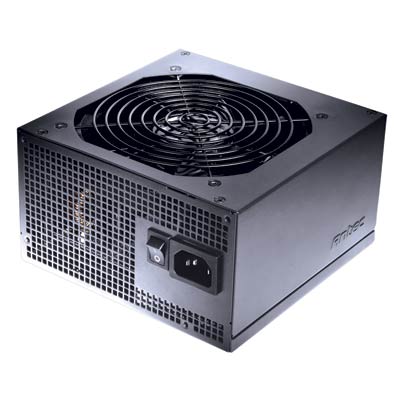 About Antec
Antec, Inc. is the global leader in high-performance computer components and accessories for the gaming, PC upgrade and Do-It-Yourself markets. Founded in 1986, Antec is recognized as a pioneer in the industry and has maintained its position as a worldwide market leader and international provider of quiet, efficient and innovative products. Antec has also achieved great success in the distribution channel, meeting the demands of quality-conscious system builders, VARs and integrators.
Antec's offering of enclosures includes a wide range of cases, such as its advanced Performance One Series, economical New Solution Series and VERIS family of media components designed for the home theater PC market. Antec's products also include front line power supplies, such as its premium Signature Series, powerful TruePower Quattro Series and EarthWatts, one of the most environmentally friendly power supplies available. PC gamers are an increasingly significant consumer of performance components, and many Antec products are designed for the gaming demographic, like the premier gamer enclosure: the Nine Hundred. Antec also offers a line of computer accessories comprising many original products, including its patented LED fans and notebook cooling solutions.
Antec is headquartered in Fremont, California, with additional offices in Rotterdam, The Netherlands, as well as in the UK, Germany, France, Spain, Italy, China and Taiwan. The company's products are sold in more than 40 countries throughout the world. Please visit www.antec.com for more information.
As part of its commitment to the gaming industry, Antec is a member of the non-profit organization PC Gaming Alliance, with Senior Vice President Scott Richards sitting on the board of directors.
SPECIFICATIONS
Certifications
Features
80PLUS® Bronze Certified saves energy and lowers your electric bill
DC to DC voltage regulator modules for greater system stability
120mm PWM fan runs up to 50% quieter than standard fans
Blue internal LED illumination for TP-750 Blue
Advanced Hybrid Cable Management improves airflow and reduces clutter
Double layer PCB optimizes cooling efficiency and allows for heavy duty components
Universal Input and Active Power Factor Correction
Supports dual GPUs and dual/quad core CPUs
4 +12V output circuits provide stable power
ATX12V v2.3 and EPS12V v2.91
1 x 6 pin and 1 x 8 (6+2) pin PCI-E graphics card connectors for TP-550
2 x 6 pin and 2 x 8 (6+2) pin PCI-E graphics card connectors for TP-650, TP-750 and TP-750 Blue
Industrial grade protection
Safety approval: UL, CUL, CE, CB, FCC Class B, TUV, CCC, C-tick, BSMI
Weight: 2.3 kg; 5 lbs
Dimensions:
– 3.4″ (H) x 5.9″ (W) x 5.9″ (D)
– 86mm (H) x 150mm (W) x 150mm (D)
PACKAGING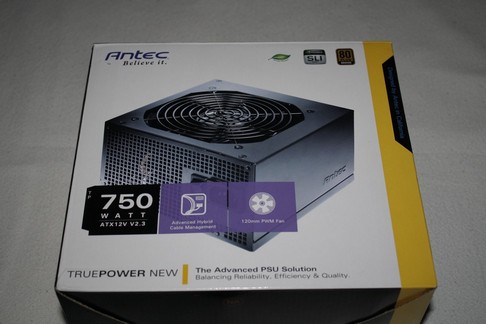 Starting off on the front of the box that this PSU comes in, Antec makes sure you know any special features this PSU has. Like Hybrid power, SLI certification, 80+ bronze certification, and that this PSU is being cooled by a 120mm PWM (Pulse Width Modulation) fan. Also, please note this PSU is actually from their TruePower New line (designated by the New bit).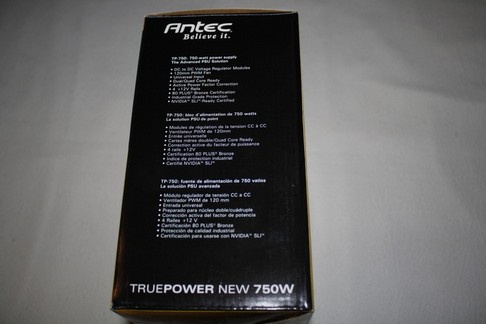 The basic specifications of this PSU.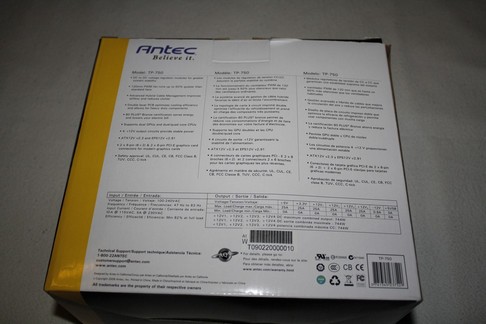 On the backside of the box Antec lists a general specifications of the PSU and also gives you a wattage chart of all of the rails.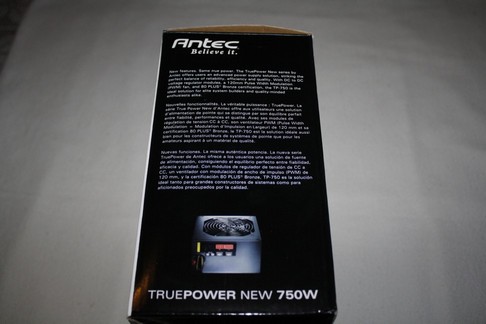 A quick introduction of the True Power New PSU's.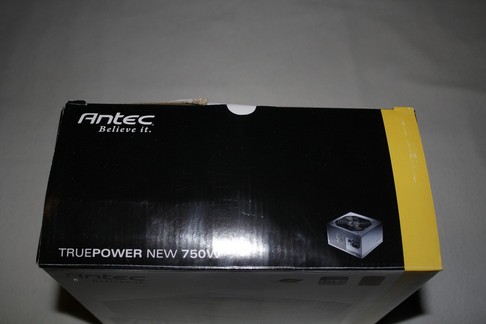 The top of the box. This box was slightly bloated.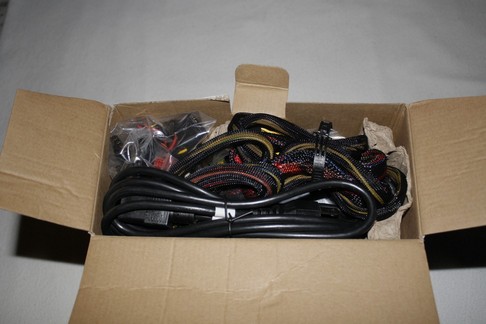 Wow, now that's a lot of wires crammed up in this little box.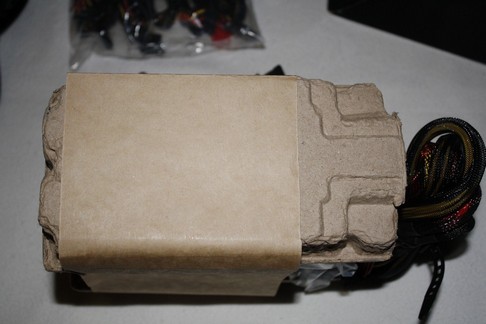 After digging through the cables I was greeted by the PSU. So I removed it from the box. The PSU was protected with two cardboard inserts and a brown paper was wrapped around the cardboard inserts and the PSU itself (not exactly the best packaging, but it served its purpose).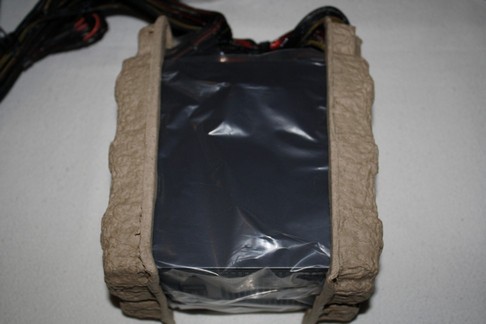 To top it off Antec used a plastic bag to cover the PSU.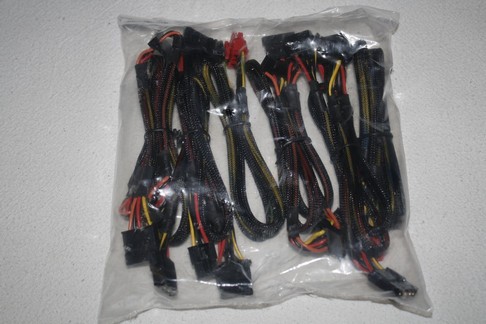 This PSU is of a semi modular design, so it makes only sense to include the extra cables we can use on the modular plugs.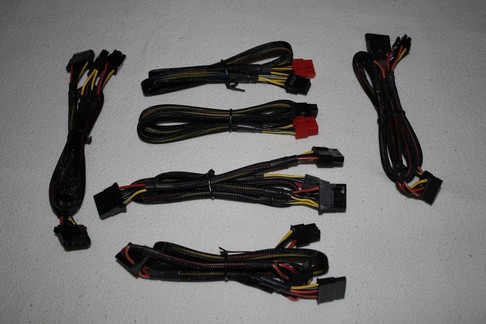 The contents of the modular cable bag: 2 x 4-pin Molex connectors with 3 plugs per cable, 2 x 6-pin PCI-E power cables, and finally 2 x SATA cables with 3 x plugs per cables. Now, wow, that's a lotta plugs for a PSU. Thank goodness for the modular design, because that be a pain to hide all of that.
Since the Packaging is done with, let's take a look at the PSU itself, the cables, and finally, the installation.
OVERVIEW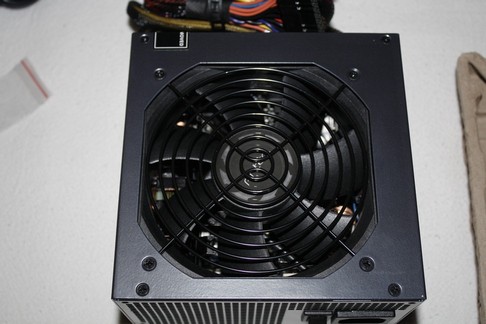 Let's start off on the top of the PSU, shall we? Yep, it does have a 120mm fan to help keep this PSU cool. See the sticker towards the top left hand corner of the PSU? That is a security sticker, do not remove it or you will void your warranty.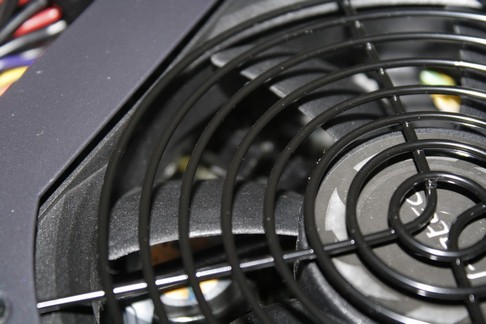 Stupid camera, sometimes even the good ones have a mind of their own. What I was trying to show you was the heat sinks that Antec used in this cooler through the blades of the fan.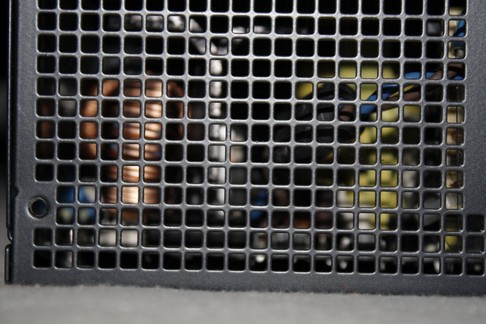 Well again, the camera does what it wants to (next time I use manual focus and not auto focus). But this time I was able to get a better shot of the heat sink of the PSU. They are rather thin looking. Hmm.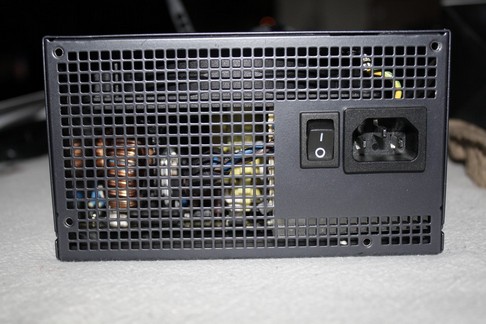 Looking at the back of the PSU.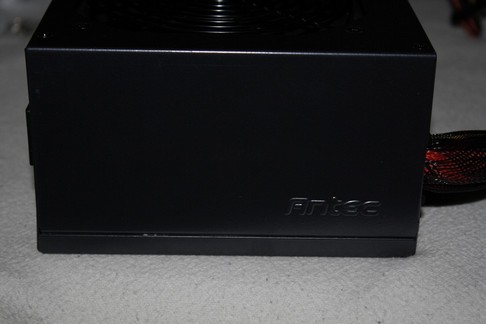 Plain looking side. Has the Antec name written towards the bottom right hand corner of the PSU.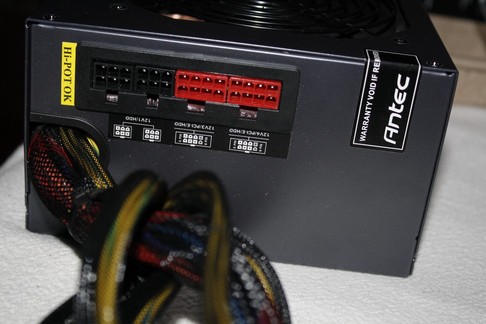 The front side of the PSU. Here we see that this PSU is a part modular and part hardwired PSU (or semi modular). But let's look at these plugs here. The bag of extra cables had six extra cables (2 Molex cables, 2 PCI-E 6-pin cables, and 2 SATA cables) and I only see 4 extra plugs. Oh, I understand now, the red plugs are shared with the HDD's cables (either SATA or Molex cables). So, if you need a bunch of SATA and Molexes and a couple of PCI-E cables, then this PSU can accommodate that. Or visa versa, if needing four PCI-E cables and no extra HDD cables, you can go that route. Personally, Antec should have included all of the modular plugs here.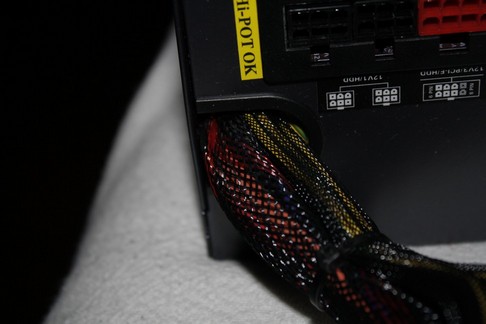 The hardwired power cables are sleeved through the PSU's housing and the cut out on the housing is protected to keep the cables from getting cut. Good show Antec.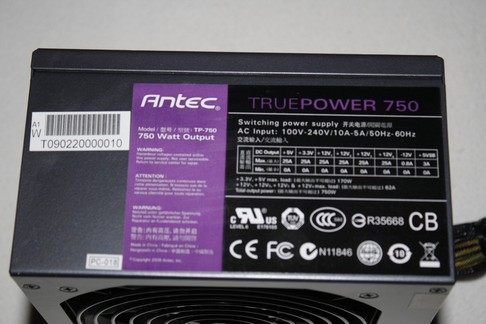 Finally, the last side of the PSU. Yep, the one with the wattage rating. Grr, I forgot to turn on manual focusing.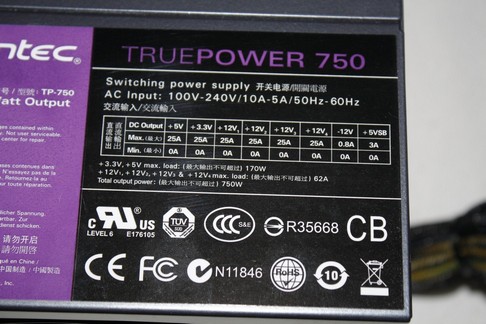 Take that camera! I win this time, Sucka. Ok, back to reality, A better shot of the Amperage rating of the PSU. If anything, we reviewers are funny to watch when we fight with ourselves, because either way you look at it, we always lose, or is it we always win? Okies, I confused now.
CABLES
Time to give a closer look at the cables.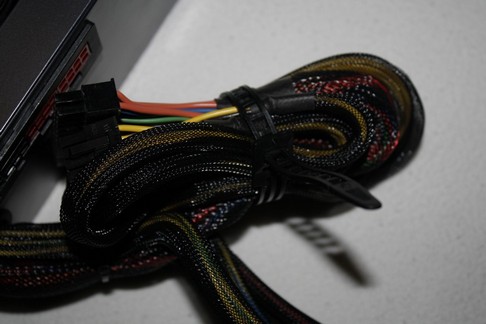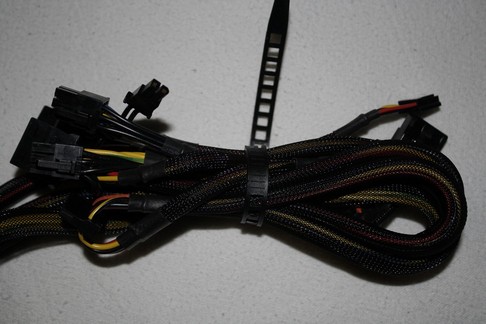 Antec, bundled up the hard mounted cables (non modular) nice and tight.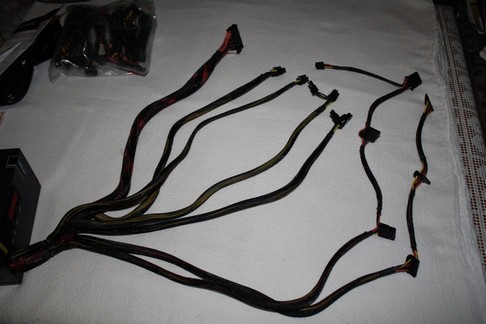 The cables should be long enough to accommodate large chassis. I will get more in depth on each of the cables themselves.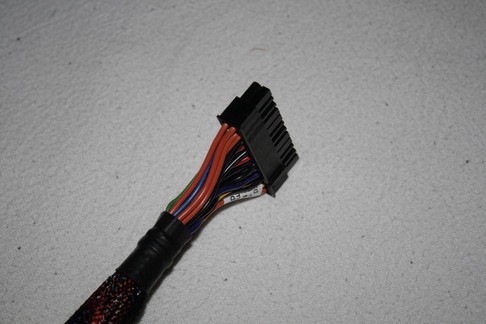 The 24-pin main power cable (non-modular). The sleeving does not go all of the way to the end of the plug, but sometimes fully sleeved cables can be rather tough to bend.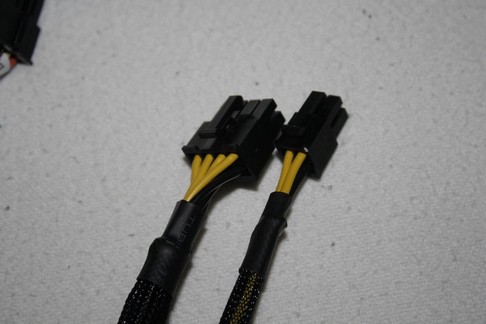 The EPS CPU power cable & the 4-pin CPU power cable (non-modular). These were two separate cables and not on one cable.
The 6+2 PCI-E cables (non-modular). If you look closely to the plug itself, you will notice something new here. What could that be? Well this is the first PSU I have seen use a gold type plating on the connectors themselves.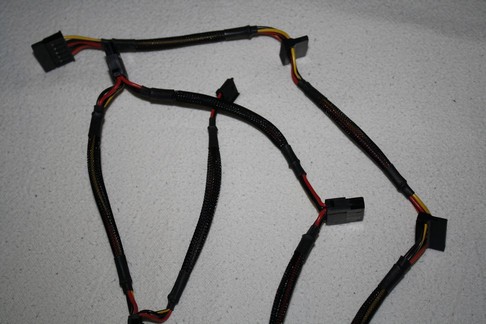 Antec, hardwired both the SATA cables (3x SATA plugs), and the 4-pin Molexes (3 x Molex + 1 floppy connector).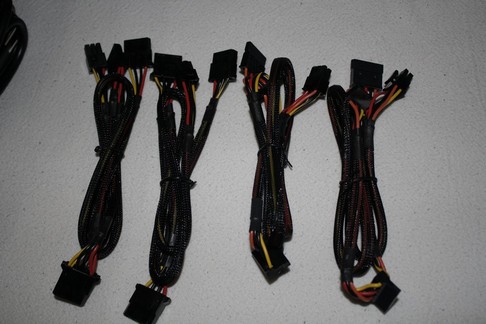 Just a quick look at the extra 2 x SATA cables and the extra 4-pin Molexes (modular).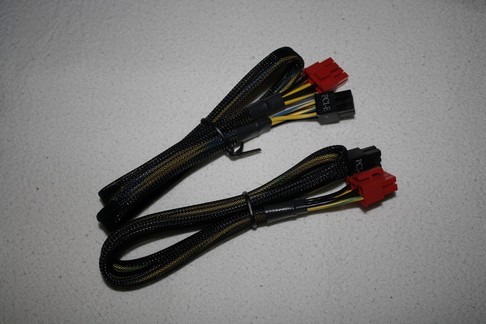 These are the extra PCI-E power cables (modular). Both of these are 6-pin styles. Also, look! These cables these have a red end on these to make sure you hook the red end of the cable to the PSU and not your video cards. That may be bad juju if you do.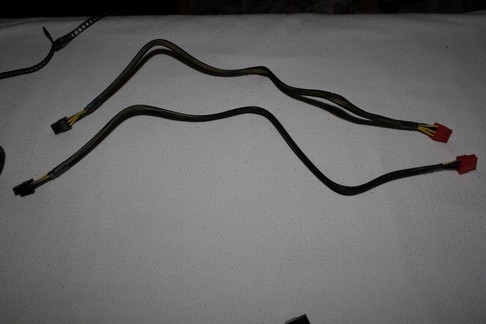 Checking the length of the PCI-E cables.
Now, since we are done with the Cables and the Overview, let's get on with the installation. I know, I know, make the bad man stop with all of these pictures.
INSTALLATION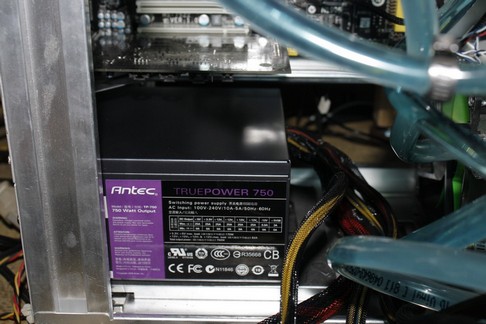 Installation has begun. This PSU looks so tiny in my ATCS 840 chassis.
I did not need to hook up the extra cables, so I left them off.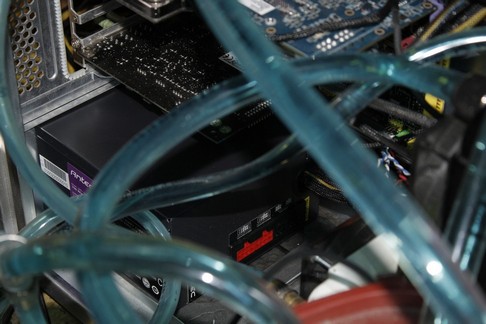 This is a little better shot of the front side of the PSU. Boy, either my cable management has improved or this PSU makes cable management easier. I think the PSU made things a tad easier, personally. Now, if I can only get them hoses squared away, I'd be in like Flynn.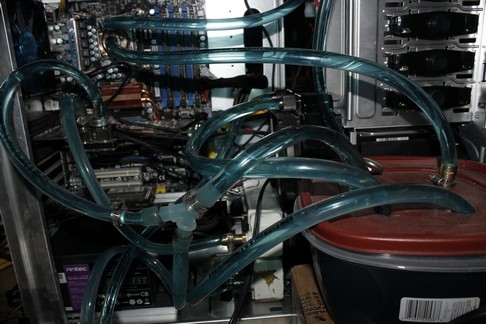 Final look of the installation of the PSU. Not bad at all. I took out the 4870×2 video card for testing as I wasn't sure this PSU could handle this card and a 4870 and a seriously overclocked Intel Core i7 920. Plus, I didn't want to test the limits of this PSU that far.
TESTING METHODOLOGY
Test Setup &Testing Methodology
CPU
Lapped Core i7 920 @ 3.990GHz
Motherboard
MSI X58 Platinum, GigaByte EX58-UD4P
Case
Coolermaster ATCS 840
Memory
Corsair DDR3 1600
Video Card's
HIS 4870
Hard Drives
 3 x 160 Gig Sata2 Western Digital, 2 in raid 0, 1 back up
CDRom Drive
Lite On Sata1 DVD Burner
Power Supply
Coolermaster U.C.P. 900watt 80+ Silver
Type Of Coolers Used
DD MC-TDX , VID-487 Koolance
CPU Speeds Used
3990Mhz, 210 x 19
Operating System Used
Microsoft Windows 7 BETA 7048
Type of Software Used During Testing
Orthos, Crystal Disk, Win RAR, 3DMark Vantage
As I mentioned earlier, I removed the 4870×2 from the testing platform. I did, however, leave a seriously clocked Core i7 920 at 3990 MHz with an overclocked water cooled HIS 4870 with 845 core by 1050 memory speed. I used Orthos for the CPU measuring power lines (EPS+Main 24 pin power cable). Crystal Disc was used to measure the power (SATA+Main 24 pin power cables – I always revert back to the Main 24-pin power cable). For the Video card testing I used 3DMark Vantage and measured the voltage at the plug, I used both sets of PCI-E power cables. (PCI-E 6+2 x 2, PCI-E 6-pin x 2 + the Main 24-pin power cable). I did not have anything that uses a 4-pin Molex cable, so I loaded them up with fans (perfect use for Molexes). On the Main 24-pin power cable I measured the 3.3v, 5v, and the 12 volt lines. I ran each testing three times to make sure my readings were consistent. I used a Multi meter to make all of my measurements at the plug of each cable. I did not use software to monitor voltages as software normally lies. Also, I did not use a Kill-A-Watt meter as the Kill-A-Watt meter just meters how much power I am pulling from the wall and not the output of the PSU's rails. I am putting this against my SilverStone OP850 watter Single rail PSU. This is just for a comparison anyways.
TESTING
True Power New 750 watts
Silver Stone 850 watts
OutPut Power
Idle
Load
OutPut Power
Idle
Load
24-pin Main 12 volt
12.08
12.09
24-pin Main 12 volt
12.14
12.15
24-pin Main 5 volt
5.19
5.18
24-pin Main 5 volt
5.06
5.06
24-pin Main 3 volt
3.42
3.42
24-pin Main 3 volt
3.38
3.36
EPS CPU 12 volt
12.13
12.11
EPS CPU 12 volt
12.16
12.13
PCI-E 6-pin 1 12 volt
12.12
12.11
PCI-E 6pin 1 12 volt
12.13
12.11
PCI-E 6-pin 2 12 volt
12.13
12.12
PCI-E 6-pin 2 12 volt (same cable)
12.13
12.11
PCI-E 6-pin 3 12 volt
12.11
12.12
PCI-E 8-pin 1 12 volt
12.16
12.13
PCI-E 6-pin 4 12 volt
12.12
12.11
PCI-E 8-pin 2 12 volt
12.15
12.13
Molex 12 volt
12.12
12.12
Molex 12 volt
12.15
12.14
Molex 5 volt
5.2
5.2
Molex 5 volt
5.05
5.05
SATA 12 volt
12.11
12.12
SATA 12 volt
12.15
12.13
SATA 5 volt
5.17
5.12
SATA 5 volt
5.07
5.06
SATA 3.3 volt
3.44
3.44
SATA 3.3 volt
3.4
3.4
Hmmm, for such a small PSU it sure does handle loads quiet well. With only a fluctuation of 0.01 up or down, it makes this a stable runner. I guess plugging nine 80CFM 120 mm fans wasn't enough to bring down the Molex testing. Next time I'll have to find me a few dozen 92mm Tornado fans and some ear plugs. I might be able to work them a bit more. The voltage of the PSU was a tad higher than actual needed output (3.3v was 3.44v, 5v was 5.2v, and 12v was pushing 12.13 volts), but it's not even enough to be concerned with, as most PSU's mellow out in time and the voltages settle down a bit. Overall, it's a solid little PSU.
CONCLUSIONS
It shows that Antec is moving in the right direction with their power supplies. This is the first PSU that I have seen that uses gold plated connectors on the power cable plugs. Not sleeving the cables fully can go either way. I, myself, like them not fully sleeved because of the main reason the wires would be rather stiff around the power plug (having a space of about 1 inch from the plug). By doing a semi modular design helps out on cable management. The extra cables are actually a blessing, by allowing the user a multitude of combinations he/she may need for their computer.
Where Antec could do better with this PSU is the heat sink that helps cool the power MOSFETs. It needs to be a better design and bigger as this would ensure longevity of the unit and would help provide stable voltage. They could also use all solid capacitors instead of mixing solid capacitors with electrolytic capacitors. 
Overall, this Antec 750 True Power New power supply performed quiet well. My voltages barely fluctuated  0.02 volts, at most, throughout testing. Having a price point on around $150 USD puts this in the upper range as far as pricing goes, but the wattage output is in the mid range, and in my opinion, is what hurts the overall scoring of this PSU.
Performance 8.5
Value 6
Quality 9
Warranty 9
Features 9
Innovation 8
Pros:
+ Stable voltages
+ Semi modular design
+ Sleeved cables
+ Extra power cables
+ Gold plated connectors
Cons:
– Somewhat small interior heatsink
– Mixed matched electrolytic capacitors with solid capacitors
– Have as many connectors on the PSU as you do cables
Final score of 8.0 out of 10 and receives the Bjorn3D Seal of Approval.