Other than the slightly average mounting system, the XSPC Delta V3 is a first class product that comes highly recommended and it won't disappoint.
Introduction
Over the past few years, computers have become more and more powerful that it's becoming a major problem to keep them running cool using conventional air cooling, and when you toss a computer enthusiast into the mix, it's almost impossible to keep these new processors running happy and cool.
So enter the world of water cooling. Once it belonged to only a select few of the most brave and daring of computer enthusiasts who risked life, limb, and their most cherished possessions to keep their beloved CPU a few degrees cooler the rest of the world, by building by hand and modifying whatever they could find to run a cooling system inside their rigs that cooled beyond a conventional enthusiasts dreams, using what is feared by all, enthusiasts and electronic components alike, "WATER".
What we are going to be looking at today is the new Delta V3 CPU water block from a fairly new company to the USA enthusiast community, XSPC. These guys have been around for several years over in Europe and have been doing fairly well and have been improving their products every year. I'm really excited to give their new block a try and see just how well it stands up to the performance of my current favorite water block from Swiftech.
So, without any further rambling from me, let's get on with it.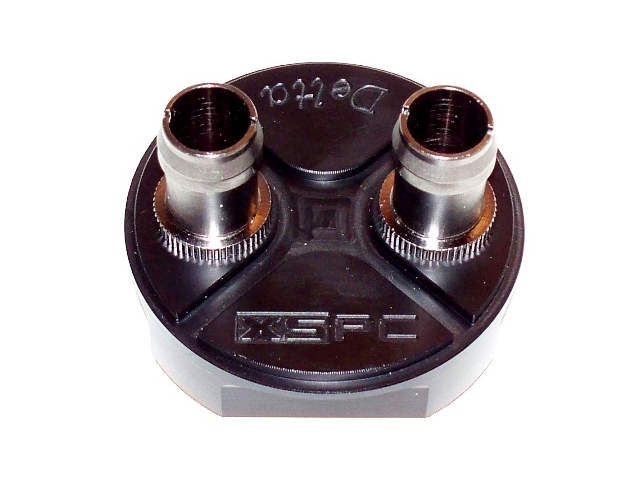 About XSPC
XSPC is a UK based company founded in 2003 and incorporated in 2005. Our main business is the design and manufacturer of PC watercooling components. Our aim is to provide the market with the highest performance liquid cooling components at affordable prices.
We released our first product the R120 radiator in 2004, the following year we released our X2O CPU Waterblock, Pump and Watercooling kit. Since then we have released many award winning products covering all components of watercooling systems, most recently our Razor full cover GPU waterblocks.
All our products are designed for the PC enthusiast market where they are used by gamers and PC modders. Over the past year our products have been proved very popular with boutique PC manufactures and in specialist areas like recording studio PC's.
We are constantly revising our products to improve performance and in 2009 we will be releasing many new exciting products.
FEATURES & SPECIFICATIONS 
XSPC Delta V3 CPU Acetal i7
The ultimate low pressure drop / high performance CPU waterblock.
– Designed for Quad and Dual Core CPU's
– High Performance Copper Base
   With Over 1600 Copper Pins
– Pins Precision cut to 0.4×0.4×4.2mm
– 26mm Stepped Base
– CNC Cut Acetal Top
– G1/4″ Threads
– Universal Mounting Plate and i7/775 Mounting Plate
– Supports Sockets A/462, 478, 604/603, 701,
754/939/940, AM2, LGA775 and 1366
Supplied with mounting hardware and thermal paste.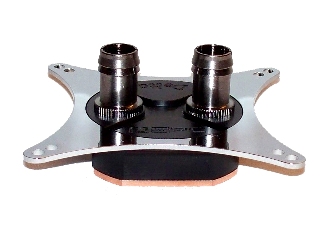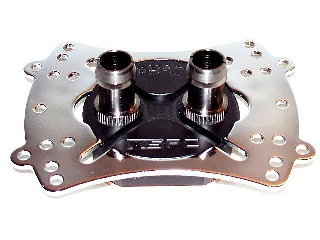 PICTURES & IMPRESSIONS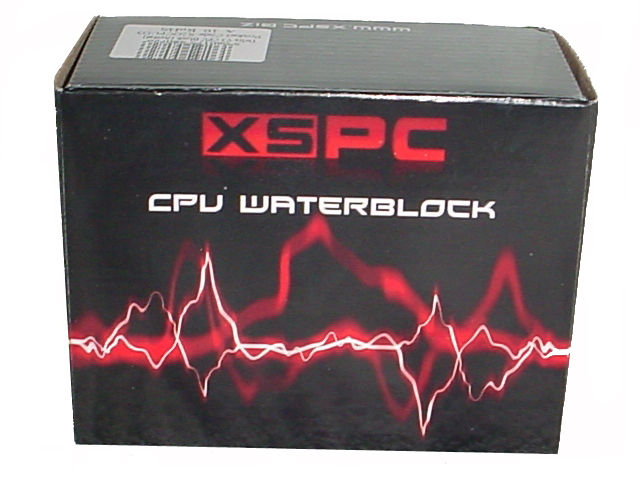 The XSPC Delta V3 comes well packaged in a cardboard box with foam inserts protecting the water block and its mounting hardware that keeps them from damaging each other as well as being damaged from your friendly UPS or Fed-Ex delivery guy.
Outside of the short product description and package contents listing, there isn't much else on the box except for XSPC's graphic design work.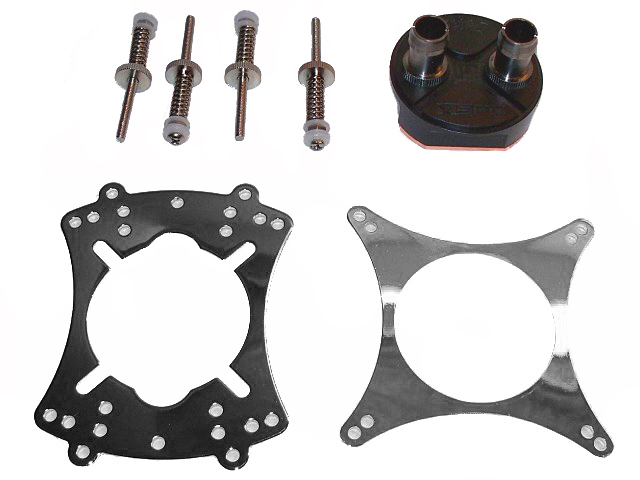 Inside the box you'll find everything you need to install the block with the exception of hose barbs. XSPC doesn't supply any. So be sure you order what you need at the same time you order the block. And that's my main gripe about the block or company, in general. In my opinion, every company should include a set for barbs for the 3/8" and ½" tubing standard. But that's just me, I guess.
I should also note that the second mounting plate (multi platform) is not included. When you order the block, you'll need to order the type you need. That's either the multi platform (no LGA1366) or the LGA1366/LGA775.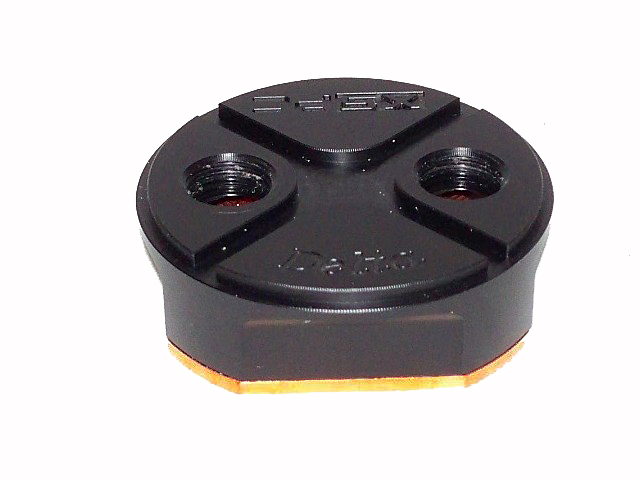 The block itself starts off as a round design on the top portion where the mounting plate sits and then as you move down the block it turns into a square with rounded corners.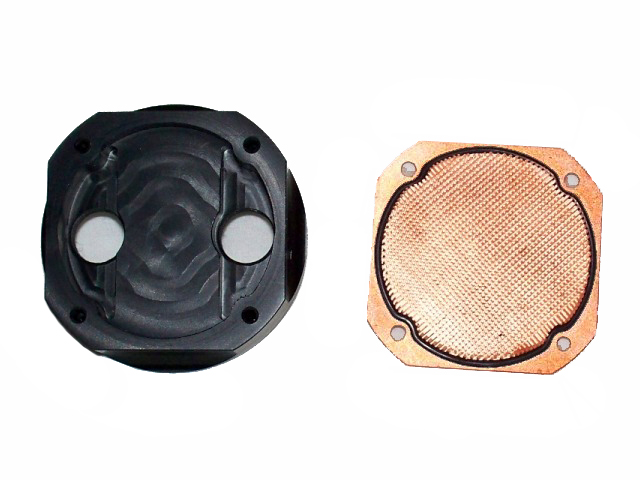 I have found the Delta V3 to be manufactured to very high standards. The top of the block is machined out of Acetal and I couldn't find any flaws on the top, either internally or externally, and the base plate is also made to the same high quality production standards. With the base having over 600 tiny pins, I couldn't find a single bent or broken pin, which says a ton for XSPC's quality control.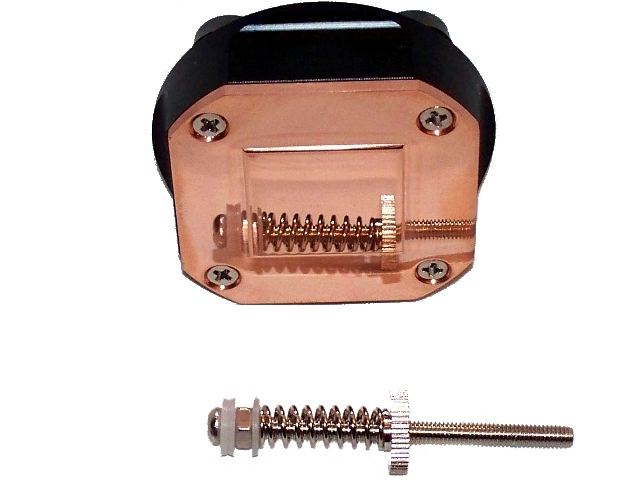 The contact portion of the base is a little different in design than most CPU water blocks on the market, XSPC has used a raised step design that most people will recognize from GPU water blocks. The raised portion is only 26mm square (slightly more than 1"), which is smaller than the IHS (intergraded heat sink) of most all of today's current CPU's. But I did do some checking and the Delta V3 stepped contact portion of the base is more than large enough to fully cover the CPU's die package under the HIS.
I almost forgot to mention that the base comes extremely well finished and I found it to be flat using my machinist steel rule test.
TESTING & METHODOLOGY
All temperatures were taken using RealTemp v2.90 RC12 and HW Monitor v1.12. Idle temps were taken after the system sat idle in Windows for 30 minutes. Load temps were taken after running Prime95 v25.7 for 30 minutes. Room temps were maintained as close as possible to 22°C throughout the testing. The CPU core and waterblocks were cleaned and a fresh coat of thermal paste (Arctic Silver Céramique) was applied between each test water block and each was burned in for 24 hours before testing started. Each waterblock was removed and reinstalled three times to ensure that there wasn't an error in mounting that resulted in incorrect temps. The temps from these tests are only a sample of what these cooling solutions can do on my computer system. Your results will vary as the temps are reported from the system CPU and no two report exactly the same. But the CPU reading will show if one block performs better than the other on the same system given voltages and overclock settings are kept the same. The reported temps will have an error of 0.5 degrees C as the reporting software either rounds the temp to the nearest whole number.
Testing was done at the following settings; System default (2.66 GHz) and a overclock of 160 x 20 (3.2 GHz) at 1.275v and 190 x 20 (3.8 GHz) at 1.375v. These different setting should show how each water blocks performance scales to the different heat loads.
Test Rig
"Monster Rig"
Case Type
Mountain Mods U2 UFO
CPU
Intel Core i7 920 @ 3.6 @ 1.30v
Mother Board
ASUS P6T (SLI and CrossFire on Demand)
Ram
G.Skill Pi Black DDR3-1600 3 x 2 gig

CPU Cooler

GPU Cooler

Test Water Block – XSPC Delta V3


Watercooling
Pump – Swiftech MCP655 / Swiftech MCP350
Radiator  – Thermalchill PA120.3 / Swiftech MCR120
Reservoir – Dual 5.25″ bay rez / Swiftech Micro  res
Water Block – Swiftech Apogee GTZ / Koolance VID-487
Appropriate 1/2 / 3/8 inch hoses and fittings
Thermaltake 2000rpm 80CFM Fan @ 7v

Hard Drives
Seagate 250 Gig SATA 2, WD 80 Gig SATA2
Optical
Lite-On DVD R/W SATA
GPU
Sapphire Toxic HD4870
Case Fans
8 x 120mm fans total
Testing PSU
SilverStone Strider SST-ST70F
Mouse
Logitech
Keyboard
Saitek
Just an every day little rig.
Test Software

RealTemp v3.0
HW Monitor v1.13
Prime95 v25.7
RESULTS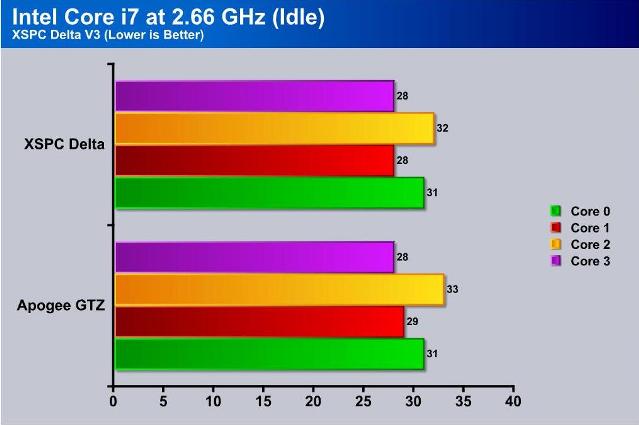 Starting at default CPU settings, the idle temperatures on 3 of the 4 core are 1 degree cooler on with the new XSPC Delta V3 than the Swiftech Apogee GTZ. Granted, idle temperatures aren't what make or break a cooling system, it's the load temperatures that really count, so let's see how they both fair when we load them up.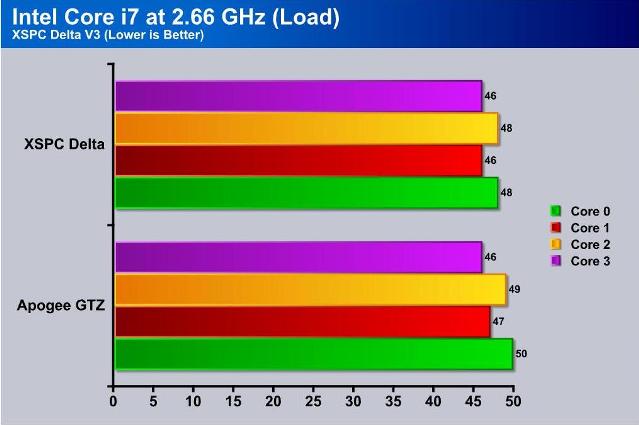 Here again we see the same result as we saw at system idle. Two of the 4 cores ran 1 degree cooler and one core ran 2 degrees cooler with the XSPC Delta block. If I had to guess, this may have something to do with the pre-bowed base on the GTZ waterblock and that its not making as good as contact with my CPU, because I tried every way possible to remount the GTZ and was coming up with basically the same results.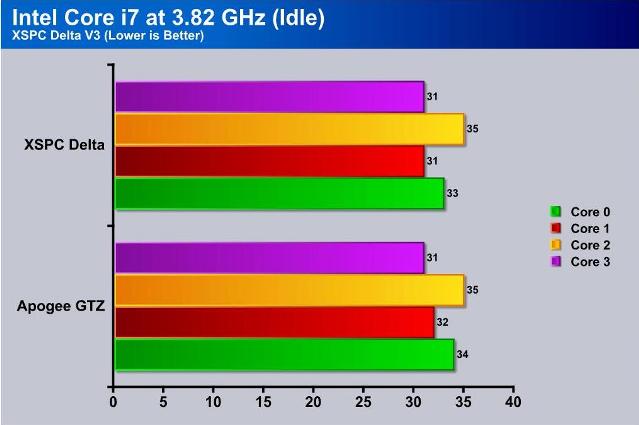 Again with the CPU overclocked to 3.82 GHz at system idle, we came up with the exact same results as we did with the CPU running at default settings. The same 3 cores are running 1 degree hotter with the GTZ that what we're getting out of the Delta V3.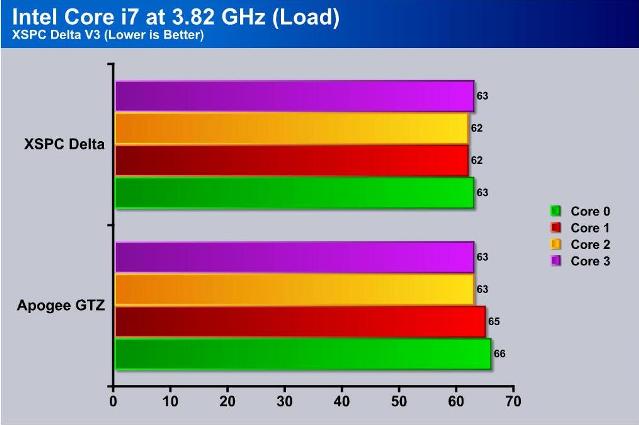 These results pretty much confirm my opinion that the pre-bow on GTZ is preventing it from making full (equal pressure) contact with the core. It also shows that the stepped base on the XSPC is making better contact over the CPU die area and isn't bothered as much by the IHS uneven surface that we all have come to hate lately.
CONCLUSION
All in all, I'm extremely pleased with the performance of the XSPC Delta V3, as it matches and even beats the performance of some of today's top, and more expensive, waterblocks. As I stated earlier, the build quality is first rate so I can't complain about anything there, but there is always good and bad with everything, or so it seems. The Core i7 mounting plate, or its, better to say, the mounting system in general, has me wanting to design something new on my own. The biggest problem I found with the Corei7 plate is that after you get the thing mounted and start tightening the thumb screws down, the mounting plate its self starts bending under the pressure of the compression springs before they are compressed enough to keep the block from turning on the CPU IHS. So you really have to be careful about how much pressure you apply. A simple solution to the problem would be to make a stiffer mount plate, and with the addition of a back plate would also be an added plus, so you could tighten down the block without worrying about bending anything. That's where Swiftech has all the water cooling companies beat. They have the absolute best CPU mounting system out there bar none. It would also make mounting the block much easier if XSPC found a way to mount the adapter plate to the water block. As it is now, the plate simply sits on top the block in a small notch and everything can slip and move around on you, messing up your nicely applied thermal paste, while you're trying to get the springs, washers, and thumb screws started. There's just has to be a better way of putting them together.
OK, I'm done complaining about the mounting system. And like I first said, I still really like the XSPC Delta V3. It performed flawlessly and it has a nice look to it. In my opinion, and even if you have to purchase your own barbs (supply some barbs please), it's still a better deal that the other big boys that live within the same performance class.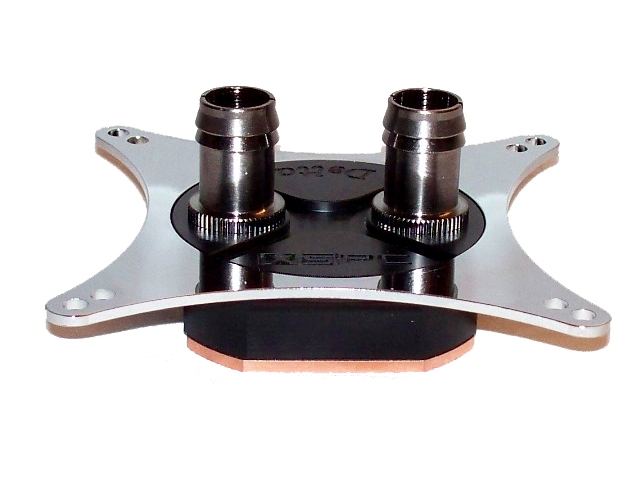 We are trying out a new addition to our scoring system to provide additional feedback beyond a flat score. Please note that the final score isn't an aggregate average of the new rating system.
Performance 9.5
Value 9
Quality 9
Warranty 9
Features 8.5
Innovation 9  
Pros:
+  Great performance.
+  Outstanding build quality (water block).
+  Great performance for your money. (buying barbs adds to price)
+  Looks good.
+  Overall good compatibility with different platforms.

Cons:
– LGA1366/LGA775 mounting bracket is too flexible (bends under pressure).
– No barbs included with block (raises purchase price).
– High startup costs (water cooling always is)

Other than the slightly average mounting system, the XSPC Delta V3 is a first class product that comes highly recommended and it won't disappoint.
Final Score of 8.5 out of 10 (Extremely Good) and the Seal of Approval.