The HIS iSilence 4670 Is both powerful and silent. Do not let the size of this video card fool ya either.
INTRODUCTION
Since the introduction of the 4850/4870 video cards and we as consumers were absolutely amazed by the shear power those cards possess, so naturally we wanted to have those cards in our machines. So when ATI released the mainstream 4000 series cards most of us overlooked these types as inferior.
Now a days video cards are pretty much follow a reference design, nothing that stands out from one to another manufacturer when it comes to actual card itself. But where manufacturers differ on their video cards is the type of cooling they use on their particular video cards. HIS has always been one of the fore runners on using an aftermarket type of GPU cooler's for their video cards. We at Bjorn3d going to look at such a video card that uses an aftermarket GPU cooler, and for its price range should provide the much needed horsepower we need to play today's most demanding games. We going to be looking at a HIS iSilence ICEQ 4+ 4670 1 gig video card.
So lets take a peek at this little power house and see how it performed..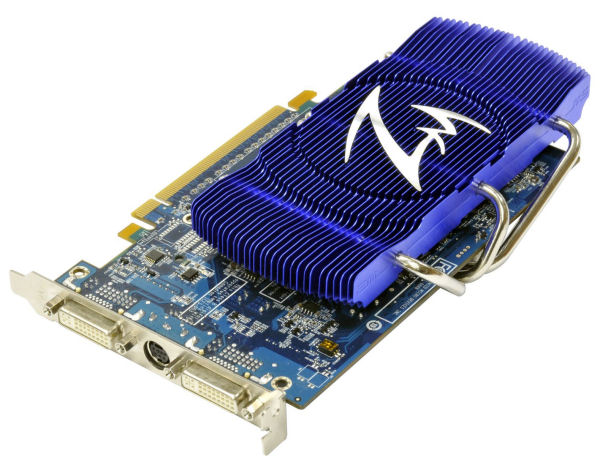 About HIS
HIS – Hightech Information System Limited is an internationally acclaimed graphics cards company. Time and time again, HIS were compared and tested by hundreds of worldly renowned critics. The results are phenomena, HIS have proven to offer far superior, cooler, quieter, and faster graphic cards than any other leading rivals. Up to the fourth quarter of 2008, HIS has won over 700 awards with ATI graphic solution from major media worldwide. HIS is being recognized by providing performance leading and award-wining products.
HIS was established in 1987 with the mission to produce the highest quality PC products in the industry. Besides strong devotion to excellent products and services, HIS has been conducting business with the aim to "Glorifying God". Honesty and integrity are the two key principals of how HIS are conducted. Ethical business practice has been an everyday commitment to our clients, vendors, and investors.
Headquartered in Hong Kong, and with sales offices and distribution networks in Europe, Middle East, North and South America, Asia Pacific Regions; our worldwide customers benefits from efficient and localized services. ISO Certified, HIS's manufacturing facility in China is managed by a team of professionals with expertise in quality control and production planning. Working with world-class clients, HIS has been consistently meeting high quality standards and fulfilled volume order in short lead-time.
HIS is proud to be ATI's Authorized 1st Tier AIB Partner, Certified Partner and Launching Partner. Long term and favorable relationship with ATI, enable HIS to work closely with ATI to promote the HIS ATI Graphics Board; and to strive for best value on the marketing and sales of HIS ATI Product Line.
In Sept 2003, HIS incorporated the state-of-the art Supreme Cooling Technology in the award winning HIS 9800Pro IceQ, which caught the attention of worldwide media. Since then, HIS IceQ, IceQ 2, IceQ 3, IceQ 4 & the latest IceQ 4+ series has been the limelight in the market for its outstanding performance and features over the other rivals.
Today, HIS continues its avid commitment to quality product and service.
HIS is certain to be Your Choice of Graphics Board Supplier
.
SPECIFICATIONS
Specifications
Model Name
HIS HD 4670 iSilence 4 (Full HD 1080p) HDMI 1GB (128bit) DDR3 Dual DL-DVI & TV (HDCP) PCIe (RoHS)
Chipset
Radeon HD 4600 PCIe Series
ASIC
RadeonTM HD 4600 GPU
Pixel Pipelines
320 stream processing units* (Unified)
Vertex Engines
320 stream processing units* (Unified)
Manu. Process (Micron)
55nm
Transistor
12ms at 25℃
514 million
3 KG
Memory Size (MB)
1024
Memory Type
DDR3
RAMDAC (MHz)
400
Engine CLK (MHz)
750
Memory CLK (MHz)
1746
Memory Interface (bit)
128
Power Supply Requirement
400 Watt or greater power supply (550 Watt for ATI CrossFireX™ technology in dual mode) is recommended
Max. Resolution
1920×1200 (single-link DVI) or 2560×1600 (dual-link DVI)
Bus Interface
PCI Express x16 (PCI Express 2.0)
Features
Redefine HD Gaming
The ATI Radeon HD 4600 Series graphics cards boast up to 3 times the performance of the previous generation1 of GPUs and deliver a cinematic gaming experience. These graphics cards possess the same engine architecture as the award-winning ATI RadeonTM HD 4800 Series and can propel you deep into your game play with fast frame rates and high resolutions. Enhanced anti-aliasing (4X AA) and anisotropic filtering creates striking graphics with unparalleled realism so you can jack up the settings on the most demanding next-generation games. Play today while preparing for tomorrow with Microsoft DirectX® 10.1 and scalable ATI CrossFireXTM technology in dual mode.
Break-through Efficiency
Save time and energy with the ATI RadeonTM HD 4600 Series graphics cards which provide optimal performance, break-through efficiency and stability. These graphics cards are a great option for business users who engage in video conferencing or use creative applications that require fast frame rates and exceptional visual quality. With platform-independent intelligent power management, the ATI RadeonTM HD 4600 Series graphics cards deliver the power needed to blaze through even the most intense applications while intuitively conserving energy at idle or when demand is low. Expand your visual workspace with multi- monitor support for advanced multi- tasking to help you get more done in less time.
Go Beyond HD Video
Add an ATI Radeon HD 4600 Series graphics card to your PC and watch the latest Blu-ray and HD movies play with incredible fidelity1 – upscale to nearly twice the display resolution of HD content.2 Take full advantage of Blu-ray functionality with dual-stream, picture in picture (PIP) capabilities. Sophisticated new features within ATI AvivoTMHD technology give you the freedom and flexibility to edit videos and convert them to H.2.64 and MPEG-2 formats. Support for the latest audio visual interconnects ensures you can take advantage of the latest display technology.
HDMI Video and Audio
A system with an ATI RadeonTM HD 4600 Series graphics card can help enhance the HD entertainment experience by providing a seamless connection to an HDTV or home theater system. With built-in 7.1 surround sound audio (AC3 / DTS ), the new GPUs and graphics cards support single cable connection directly to a compatible HDTV, projector or receiver. This single cable carries both the HD video and 8 channel audio for a clean, high definition connection. Some graphics cards will be equipped with an HDMI connector, while others will output the HDMI signal using a special ATI Radeon DVI-I to HDMI adapter. These options give consumers more options and flexibility when connecting their PCs to monitors or home theaters for maximum enjoyment of HD content. The new GPU also supports xvYCC color which can display a wider range of color when connected to capable HDTVs.
Microsoft® DirectX® 10.1 support
ATI RadeonTM HD 4600 series GPUs offer full support for the new DirectX® 10 and DirectX® 10.1 API (Application Program Interface) from Microsoft; ready to meet the demanding needs of new, next generation games. DirectX 10 is the first totally new DirectX in the last 4 years and brings important graphics innovations that can be used by game developers for the next generation of games. DirectX 10 introduces crisp, never-beforeseen detail-rich images, visual effects and game dynamics capable of accurately simulating the real world. No matter which ATI RadeonTM HD 4600 Series GPU you choose, you can be assured that games will look as good as the developer intended!
ATI CrossFireXTM Technology
New ATI CrossFireXTM multi-GPU technology takes your gaming experience to the next level with more scalability, performance and compatibility. The technology combines the awe-inspiring capabilities of multiple ATI RadeonTM graphics cards and an ATI CrossFireX ready motherboard to meet the hard-core demands of your alternate reality. New ATI RadeonTM HD graphics cards are designed with an internal ATI CrossFireXTM Bridge Interconnect system to simplify installation. Experience stunning visual realism in today's demanding 3D games with uncompromising image quality, especially on HD displays.
Microsoft® Windows Vista®
ATI RadeonTM HD 4600 series graphics cards provide support for the Microsoft® Windows Vista® operating system and take advantage of the Windows AeroTM graphical interface. You will be amazed by the dazzling 3D visual effects and have peace of mind that the ATI CatalystTM software and drivers are designed and thoroughly tested to ensure full compatibility and stability to help keep you up and running. All these new technologies and features make the ATI Radeon HD 4600 series of GPUs the ideal solution for ultimate HD gaming and HD video entertainment with the Windows Vista OS.
PACKAGING
As we can see HIS made sure we knew what was inside of this box, and what was cooling this video card. This video card is 4670 with 1 gig of DDR3 memory, that is being cooled by Zalmans VNF100 GPU cooler, or what HIS so aptly named it, iSilence 4 Cooler.
Here's how the contents of this box is packed and how the video card was packaged. HIS made sure this video card was packed well, by using a split plastic encasing, and then putting that into a card board box. With the video card in the center of the packaging, and to the bottom portion of the packaging HIS gives us a DVI-D-SUB adapter, and HIS included a DVI-HDMI adapter, the normal driver disc, installation guide, a HIS sticker, and finally a guide on how to select your regions tv type (PAL, or NTSC). What we don't see is the ATI crossfire ribbon, that we will need if you plan on using 2 of these video cards in a computer……
| | | |
| --- | --- | --- |
|   | |   |
| | | |
| --- | --- | --- |
| |   | |
Now we start our over view on the video card it self, ohh GOODY. These few pictures are just a quick overview of the video card it self and how HIS put the heat sink on. The 4670 is a pretty short card, there shouldn't be any problems fitting this into a tight chassis. The heat sink uses 3 heat pipes that come from the core of the video card to the fin array on the back side of the video card. We can also see that Zalman used there signature blue color on the fins of the heat sink, with there logo on the top portion.
| | | | | |
| --- | --- | --- | --- | --- |
| |   | | | |
Looking at the side of the HIS 4670 iSilence video card. The GPU cooler uses 3 heat pipes that start from the GPU core and then wraps around to the back side of the video card to an array of fins. This has both bad and goods to it, the good, this will allow users to use the adjacent expansion PCI(E) ports on the motherboard with out interference, the bad the fins may get into the way of those who use large CPU coolers or NB coolers.
| | | | | |
| --- | --- | --- | --- | --- |
|   | |   | | |
Looking from the back of the video card. as we notice Zalman made sure these fins were evenly spaced.
Looking at the heat pipes on the GPU core side. Notice these heat pipes have a slight bend away from the PCB of the video card. Well look more closly, we will see theres still a fan header here.
Looking at the heat pipes from the side of the video card. See the fan header.
The GPU core part of the GPU cooler. Zalman also made the actual base of this cooler with fins as well. Also we see that there is a cover that displays HIS name on it.
INSTALLATION
This card looks ity bity installed on my motherboard, this video card gets dwarfed by my 4870×2 video card thats right below it. Now we are ready to start running this little video card. But before I continue lets point out a couple of things first. Notice how the fins of the GPU cooler comes close to contacting both my memory and the IOH heat sink on the motherboard. Also with this video card i am no longer able to use my upper PCI-E 1x port.
Just a close up view of the heat sink and video card installed in my motherboard and chassis.
TESTING METHODOLOGY
Test Setup &Testing Methodology
CPU
Core i7 920
Motherboard
MSI X58 Platinum
Case
Coolermaster ATCS 840
Memory
Corsair DDR3 1600
Video Card's
Sapphire 4870×2, HIS 4670
Hard Drives
 3 x 160 Gig Sata2 Western Digital, 2 in raid 0, 1 back up
Cdrom Drive
Lite On Sata1 Dvd Burner
Power Supply
Coolermaster U.C.P. 900watt 80+ Silver
Type Of Coolers Used
DD MC-TDX , Koolance VID-487X2 (Dual Loop)
CPU Speeds Used
3780Mhz, 210 x 18
Operating System Used
Microsoft Windows Vista 64 bit Ultimate
Type of Software Used During Testing
3DMark06, 3DMark Vantage, Far Cry 2, Mirrors Edge, Crysis Warhead, Fear 2 Demo
During testing I ran each benchmarking or game a total of three times to ensure my results were consistant. The drivers I used were ATI Catalyst 8.12 drivers. No fan was used on the video card during testing, the airflow I used was what I normally use on a day to day basis. for both 3DMark benchmarking programs I used the default settings and 1280 x 1024 resolution. I did not record the overall scoring or the CPU scoring all I recorded was the GPU score of these benchmarking programs. For my game testing I will list What the resolutions were and settings I used in the game itself. The tempature of my room was roughly 19°C, I did record my tempatures that were reached during default speeds full load and idle, also when I overclocked the video card Full load and Idle. I used RivaTuner to mesure my tempatures and also overclock this video card.  I decided to only used what each game or benchmarks highest Direct X version was. Your results will very on a case to case basis and may not mimic my results.
I did not have another video card to compare this up against in the same class range as the 4670. I did not feel it be fair to pit this little card against my 4870 and 4870×2. So I will only be listing the 4670 default clock speeds of 750 GPU and 1742 memory speed, and overclocked speed of 822 GPU and 1790 memory speeds.
Far Cry 2:
In game benchmark Ranch Short.
Resolutions used were 1280 x 1024, and 1024 x 768.
Game settings I used were:
DX 10.1, Very high graphic settings, and 4x AA, HDR and Bloom enabled.
Crysis Warhead:
HOC benchmark was used to perform this benchmark.
Resolution used was 1024 x 768
Game settings I used was:
High, No AA or AF
Mirrors Edge:
Fraps was used to record the frame rates with the built in time demo.
Resolutions used were 1280 x 1024, and 1024 x 768
Game settings I used were:
Highest, 8XQ AA, no PhysiX.
Fear 2 Demo:
Fraps again was used to record the frame rates. I started when my character got up near the helicopter, and continued till I reached an open waiting room.
Resolutions used was 1280 x 1024
Game settings used:
Maximum, 4xAA, 4xAF
3DMARK06

3DMark06 developed by Futuremark, is a synthetic benchmark used for universal testing of all graphics solutions. 3DMark06 features HDR rendering, complex HDR post processing, dynamic soft shadows for all objects, water shader with HDR refraction, HDR reflection, depth fog and Gerstner wave functions, realistic sky model with cloud blending, and approximately 5.4 million triangles and 8.8 million vertices; to name just a few. The measurement unit "3DMark" is intended to give a normalized mean for comparing different GPU/VPUs. It has been accepted as both a standard and a mandatory benchmark throughout the gaming world for measuring performance.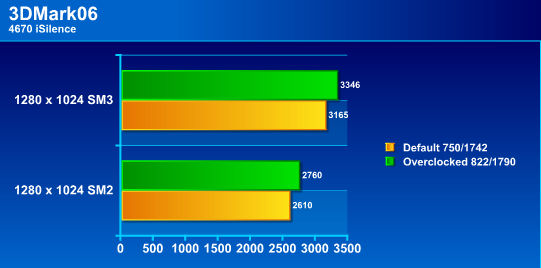 With 3DMark06 testing the 4670 doesn't do to badly. Once we overclocked the video card we see a nice little performance boost. 
3DMARK VANTAGE

For complete information on 3DMark Vantage Please follow this Link:
www.futuremark.com/benchmarks/3dmarkvantage/features/
The newest video benchmark from the gang at Futuremark. This utility is still a synthetic benchmark, but one that more closely reflects real world gaming performance. While it is not a perfect replacement for actual game benchmarks, it has its uses. We tested our cards at the 'Performance' setting.
Currently, there is a lot of controversy surrounding NVIDIA's use of a PhysX driver for its 9800 GTX and GTX 200 series cards, thereby putting the ATI brand at a disadvantage. Whereby installing the PyhsX driver, 3DMark Vantage uses the GPU to perform PhysX calculations during a CPU test, and this is where things get a bit gray. If you look at the Driver Approval Policy for 3DMark Vantage it states; "Based on the specification and design of the CPU tests, GPU make, type or driver version may not have a significant effect on the results of either of the CPU tests as indicated in Section 7.3 of the 3DMark Vantage specification and white paper." Did NVIDIA cheat by having the GPU handle the PhysX calculations or are they perfectly within their right since they own Ageia and all their IP? I think this point will quickly become moot once Futuremark releases an update to the test.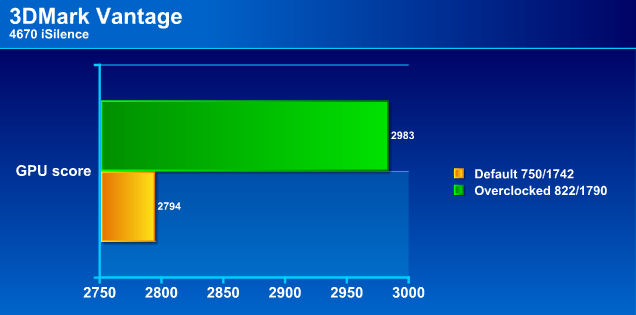 With 3DMark Vantage testing, the 4670 again does fairly well for the type of card it is.
FAR CRY 2

Far Cry 2, released in October 2008 by Ubisoft, was one of the most anticipated titles of the year. It's an engaging state-of-the-art First Person Shooter set in an un-named African country. Caught between two rival factions, you're sent to take out "The Jackal". Far Cry2 ships with a full featured benchmark utility and it is one of the most well designed, well thought out game benchmarks we've ever seen. One big difference between this benchmark and others is that it leaves the game's AI (Artificial Intelligence) running while the benchmark is being performed.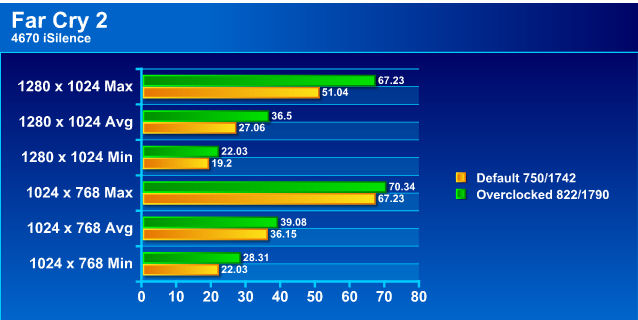 Now with Far Cry 2 we see this game work the 4670 quiet well. But keep in mind I am using a 4xAA while testing this game. COnsidering how i Tested the 4670 in this game the 4670 did fair pretty good.
F.E.A.R. 2 DEMO
F.E.A.R. 2 Is a highly anticipated sequal to F.E.A.R.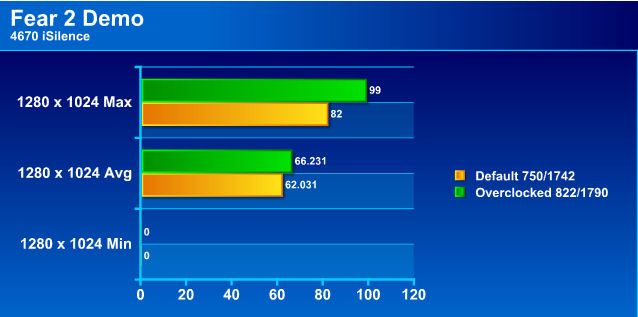 Even at 1280 x 1024 with Fear 2 demo we see that the 4670 has no problems on handling this game, even with 4xAA and 4xAF. The 0 minimum frame we see here is because at certain points of the demo the game would stop responding and then continue. Not micro studders, but a complete pause.
MIRROR'S EDGE

Mirror's Edge is a first person action-adventure video game developed by EA Digital Illusions CE (DICE). The game was released on PlayStation 3 and Xbox 360 in November 2008. A Windows version was also released on January 13, 2009.
The game was announced on July 10, 2007, and is powered by the Unreal Engine 3 with the addition of a new lighting solution, developed by Illuminate Labs in association with DICE. The game has a realistic, brightly-colored style and differs from most other first-person perspective video games in allowing for a wider range of actions—such as sliding under barriers, tumbling, wall-running, and shimmying across ledges—and greater freedom of movement, in having no HUD, and in allowing the legs, arms, and torso of the character to be visible on-screen.
The game is set in a society where communication is heavily monitored by a totalitarian regime, and so a network of runners, including the main character, Faith, are used to transmit messages while evading government surveillance.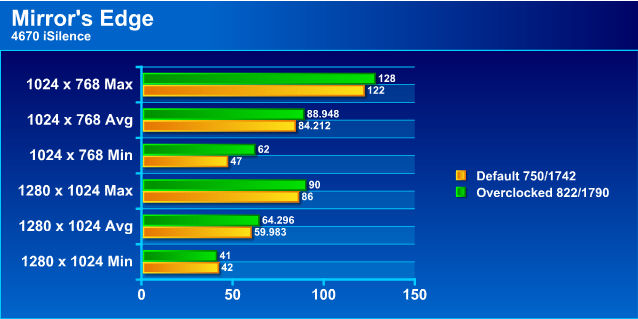 As we seen with Fear 2 demo, Mirror's Edge is no match for the 4670.
CRYSIS WARHEAD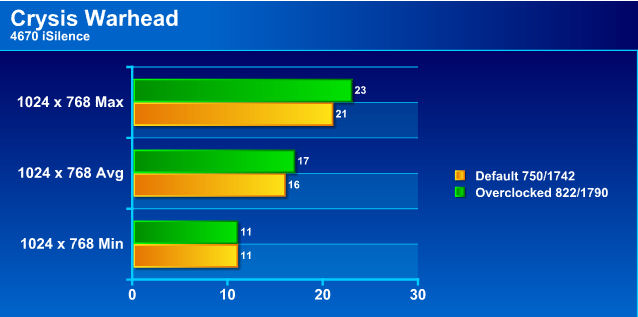 Now Crysis Warhead still shows us that this game just does not like ATI cards no matter what they are. 
TEMPATURES

To get our temperature reading, we ran 3DMark Vantage, looping for 30 minutes to get the load temperature. To get the idle temp we let the machine idle at the desktop for 30 minutes with no background tasks that would drive the temperature up. Please note that this is on an open test station, so your chassis and cooling will affect the temps you're seeing.
| | |
| --- | --- |
| Default 750/1742 | Overclocked 822/1790 |
| 34°C Idle | 34°C Idle |
| 50°C Full | 55°C Full |
 The iSilence cooler that HIS used on this GPU shows that it is more then capable of handling the heat out put of this card. Barely topping at 55°C and that was when the video card was overclocked.  
CONCLUSIONS
Its not everyday that a reviewer like myself gets a chance to look at the other side of the fence. What I mean here is, even I, get caught up in the gotta have the biggest, baddest video card money can buy. Overlooking the more affordable mainstream video cards out there. So every once in while we get reminded that not everyone can afford 200+ dollar video cards, these types of people are no different from us with high end machines, they just want to play games. HIS and ATI has teamed up and giving those who want a good performing card at an affordable price, while at the same time making this video absolutly dead silent.
Throughout my assult on the iSilence 4670 video card, I was not disapointed in the level of performance I recieved. With making a few tweaks here and there in my games I could have both visual quality and a maintain a good level of frame rates I needed to make my gaming experience enjoyable. We can also look at another aspect that video cards are becoming more and more popular, HTPC's. This video card is a perfect canidate for those who want the power to watch your favorite BLU-RAY movie in full 1080p while not producing any noise at all that will interupt your movie watching experince.
A quick glance around the internet, I seen this video card go from 100-120 USD, making the iSilence 4670 video card a perfect price for those on a tight budget but still wants to be able to play games with out sacraficing to much as far as visual quality. The HIS iSilence 4670 will do just that, give the user a good performing card that is silent.
We are trying out a new addition to our scoring system to provide additional feedback beyond a flat score. Please note that the final score isn't an aggregate average of the new rating system.
 
Performance 9
Value 9
Quality 9
Warranty 9
Features 9
Innovation 9
Pros:
+Silent operation
+Good price performance ratio
+Decent overclockability
Cons:
–GPU cooler may interfere with large NB heat sinks
–No ATI crossfire ribbon
Final score of 8.0 out of 10 and receives the Bjorn3D Seal of Approval.