With all the new power supplies on the market today, which one is right for you? Do you only need 600W? Or are you looking for something bigger, badder and more 'future-proof?' How about a 1200W monster from In Win?
INTRODUCTION
So, it's that time of year again, huh? You know what I'm talking about. It's time to upgrade the computer, with all those post-holiday sales and what-not! Whether you decide to add another video card for SLI or Crossfire or you decide to upgrade to the new Intel Core i7, there's one upgrade that needs to be on your list as well. I'm talking, of course, about a power supply. Once, the component added to the end of your list almost as an afterthought, the power supply has moved up the list to become one of those critical components that you are certain to spend a little time researching.
Enter the In Win Commander series of power supplies. Designed with the enthusiast/gamer in mind, they promise to deliver clean, stable power while maintaining a high efficiency rating. We have been blessed with the opportunity to review the 1200W version, but they are available in anywhere from 650W all the way up to 1500W. For many users, 600W is more than enough. But there is a certain group, a rather large group, that believe too much power is never enough. I, of course, happen to fall into the latter group. Why settle for 600W when you can have 1200W? It can offer several benefits. Not the least of which is higher efficiency. Many users mistakenly believe that when they hook up a 1KW power supply their power bill will go up as a direct result. When you have a highly efficient power supply, however, you're not drawing any more wattage from the wall than you would with a smaller PSU, you simply have more room to grow.
So the question, then, is whether or not the Commander 1200W will provide that clean, stable power. Let's find out as we put the power supply through its paces!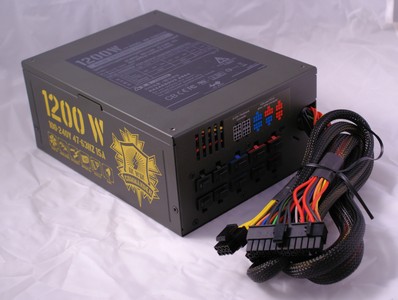 ABOUT IN WIN
IN-WIN Development Inc., an ISO 9001 manufacturer of professional computer chassis, power supplies and digital storage devices, is the leading provider of enclosure solutions to system integrators worldwide. Founded in 1986, IN-WIN provides high quality chassis that conform to all safety regulations, as well as unsurpassed customer service.
In Win was well trained to become a top-notch manufacturer of core technology to enhance internal core competence to meet what customer and market needs constantly. Top Management has been executed four major elements to reach our growing goal: Innovation, Service, Speed, Value, Safety, Warmth, Faithful, Diligence in order to remain our leading edge position and differentiate with other players.
IN WIN'S GOALS
Your partner of choice
Product quality assured
Constant product innovation
High environmental standards & social responsibilities
Continuing the highest demands of service
FEATURES AND SPECIFICATIONS
As with any new component, the first thing everybody wants to see is what it promises. Believe me, there is no shortage of features with this PSU. I am especially a fan of modular cabling. You see, my test rig is housed inside of an acrylic case, the Danger Den Tower 26 to be exact, and it's hard to keep it looking nice when you have to worry about where to stick all the extra cables. It's a nice feature to be able to simply remove them.
FEATURES
14CM double ball bearing fan for cool and quiet operation
Modularized cabling
High efficiency, up to 88%
SLI and Crossfire ready with 8 PCIe connectors (4 x 6+2 pin, 4 x 6 pin)
Four 12V+ rails
Automatic fan speed control
Active Power Factor Correction (PF > 0.99)
Supports ATX 12V 2.3/EPS 12V 2.91
MTBF > 120,000 Hours
Over-current, over-voltage, over-power, under-voltage, and short circuit protection
Japanese Industrial Grade Components (Capacitor, etc.)
80 Plus certified
3 Year Warranty
SPECIFICATIONS
Check out the chart below for the important numbers. As you can see the Commander puts boasts some pretty impressive specifications, enough to run anything you can throw at it.
IN WIN COMMANDER 1200W SPECIFICATIONS
100-240V 10A 47 – 63Hz 15A

DC Output

+3.3V

+12V1

+12V4
+5V

+12V2

+12V3

-12V

+5Vsb
30A

20A

36A
30A

20A

36A

0.8A

3.5A
600W
600W

9.6W

17.5W

Total Power

1200 Watts
FIRST IMPRESSIONS
When I received the Commander, I was pretty impressed with the packaging. The outer cardboard was marked with the pertinent information and some barbed wire printed on it. Once I opened it though I was impressed to see a nice retail box with all the pertinent data that you're looking for when you're standing around trying to figure out which PSU is right for you.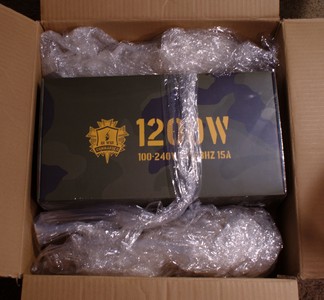 Here's a shot of what it looks like fresh out of the cardboard.
I happen to like the camouflage look…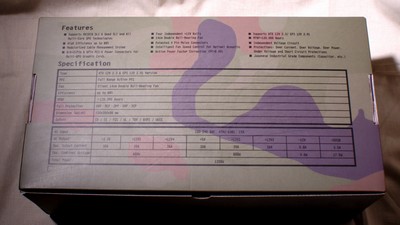 We can't by any means leave out the shots of the box! It's nice to see some easily readable specs on the outside of the box in case you forget to do your research before you stumble into your local computer shop.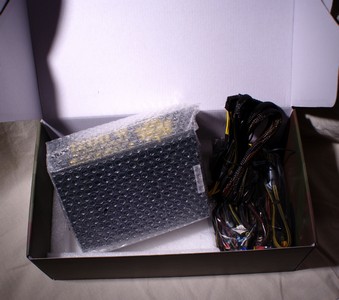 One of my pet peeves is poorly packaged computer gear. That's not a problem here though. The Commander was well protected after being packaged in foam and bubble wrap.
WHAT ABOUT THEM RAILS?
We have all, no doubt, been told that when purchasing a power supply that the number to look for is the amps on the 12V rail. What are each of the different rails for though, and why is the 12V rail typically the most important? Why the heck are they called rails? Let's take at look at each and see.
-12V – This rail is pretty much obsolete now and is only kept on to provide backward compatibility with older hardware. Some older types of serial port circuits required both -12V and +12V voltages, but since almost no one except industrial users use serial ports anymore you as a typical home user can pretty much disregard this rail.
-5V – Again this is another obsolete rail, the -5V was used for old school floppy controllers and some ISA bus cards. Again, no need for the typical home user to worry about this rail.
0V – Though not listed on any manufacturer spec sheet, every power supply has a 0V ground line. The ground signal is used to complete circuits with other voltages and provide a plane of reference against which other voltages are measured.
+3.3V – Finally we are starting to get into something useful! The +3.3V rail was introduced with the ATX form factor in order to power second generation Pentium chips. Previously the CPU was powered by the +5V rail (along with the system memory and everything else on the motherboard), but a reduced voltage was needed in order to reduce power consumption as the chips got faster. Until just recently, the +3.3V was used to exclusively power the CPU as well as some types of system memory, AGP video cards and other circuits.
+ 5V – As mentioned above, the +5V used to run the motherboard, CPU and the majority of other system components on older pre ATX based systems. On newer systems, many of the components have migrated to either the +3.3V or +12V rails, but the motherboard and many of its onboard components still use the +5V rail so it is of importance to the typical home user.
+5V SB – The +5V Standby or "Soft Power" signal carries the same output level as the +5V rail but is independent and is always on, even when the computer is turned off. This rail allows for two things. First, it allows the motherboard to control the power supply when it is off by enabling features such as wakeup from sleep mode, or wake on LAN technology to function. It also is what allows Windows to turn your computer off automatically on shutdown as opposed to previous AT supplies where you had to bend over and push the button. Every standard ATX power supply on the market will include this rail.
+ 12V – The +12V, also known as the mother of all rails, is now used to power the most demanding components in your system including the CPU, hard drives, cooling fans, and graphics cards. Historically the +12V rail was used only to power drives and cooling fans. With the introduction of the 4-pin CPU plug on P4 motherboards and then eventually AMD based motherboards, in order to supply newer power hungry CPUs, the +12V rail suddenly started to grow in importance. Today, dual core based motherboard require an 8-pin +12V connector to supply their power needs. High end GPU cards have also jumped on the +12V rail, which has required PSU makers to adapt. Where previously there was only a single +12V rail, there are now two or more, each designated to power specific devices in order to ensure that nothing is underpowered.
Now as to why they are called rails, the best explanation that I can find is that the term comes from the wacky world of electronics and it refers to a long metal bar or strip that is used to provide a particular voltage level. I have heard rumors lately that it may be related to the third rail used in subways. Perhaps someone with a deeper understanding of all things electrical could let me know whether or not that is true.
ATX 12V V2.3 Standard
ATX 2.3
2.3 is the current standard and has been the standard as of March 2007. The 2.3 standard calls for an efficiency requirement of a minimum of 65% or greater and a recommended level of 80% or greater. The +5VSB rail has also been increased to 2.5A peak current maximum.
In short, any power supply post 2.0 will do the job for you. The biggest advantage of purchasing a latter standard model would seem to be the increase in efficiency rating.
EPS12v Standard
The EPS12V specification is one of those standards that most people have heard about, but very few know what it actually does. The EPS spec itself is defined in the Intel Server System Infrastructure (SSI) spec and is currently at v2.1.
The EPS12V spec dictates that Power Supply units must have a 24pin 12V connector as well as one additional 8-pin 12V connector. If a PSU is noted as EPS12V compliant you can be assured that it will have all the connections you need to power your new dual core based system, however it should also be noted that units do not necessarily have to meet EPS12V spec to include an 8-pin 12V connector.
Our "What About Them Rails?" section needs a little updating but it'll provide enough current information that it's still useful for the novice hunting for a viable PSU for that gaming monster their building.
Enough of the boring stuff lets get on to some Packaging and Bundled Accessories!
PICTURES
Okay guys, this is usually my favorite part of the review. I'm sure some of you have the same feeling. We've got plenty of pictures for you of the Commander 1200W, so without further ado: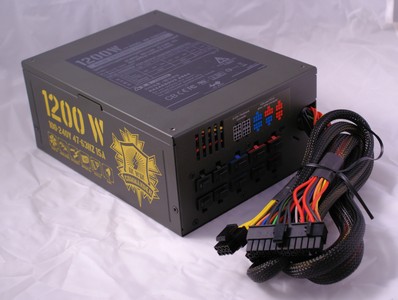 It can be hard to tell the color from a picture but the PSU is actually what those in the military know as "olive-drab." Essentially a dark, flat green. You've got your labels with all the specs and the big flashy yellow label on the side, designed to look like the markings on military crates. Something else that should be noted, this is a big PSU. It's bigger than a standard PSU with actual dimensions of 5.9″W x 7.87″L x 3.38″H.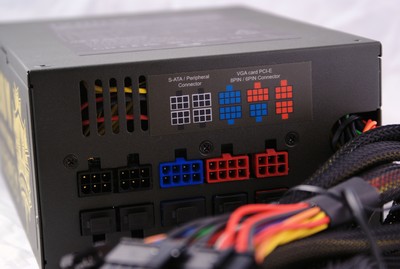 Here's an up-close look at the modular plugs on the PSU. I liked the idea of having dust covers for all the ports. The top ports are simply shown without them in place. Everything is broken down and color coded. As best I can tell from the manual the 24-pin ATX cable runs off the 12V1, the CPU 4+4 pin runs off the 12V2, the CPU 8-pin runs off of the 12V2 and the 12V3,  Molex and SATA run off of the 12V2, and the PCIe ports are split between the 12V3 and 12V4, though they are the only cables that are clearly marked with the rail that supports them.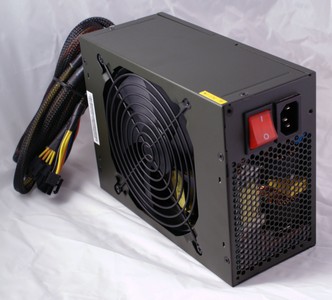 Here's a good look at the massive 140mm cooling fan. The advantage to having a larger fan is more than just the ability to move more air. It's the ability to move more air QUIETLY.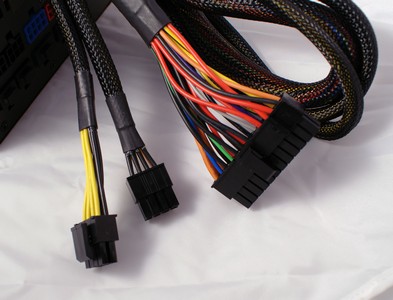 Of course, we need a close-up of the cabling options! These are the only three that are permanently attached. The one in the middle is the 8-pin CPU, the one on the left is a 4+4 pin CPU plug and let's not forget the 24-pin ATX, no 20+4, which shouldn't be a big deal for most users.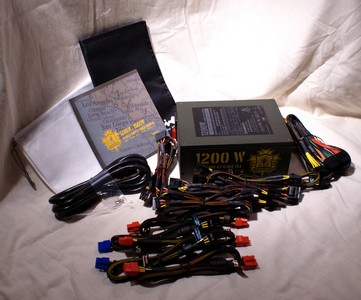 As long as we're looking at cabling we might as well check out the whole bundle, right? You can see it's quite the bundle. Every cable you could ask for, some case screws, a case for the cables, even a big white anti-static cloth bag to carry the unit around in, should you so desire.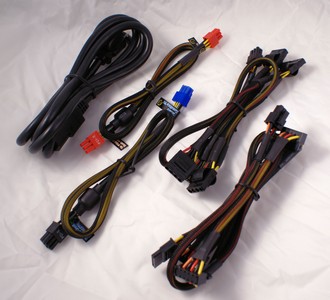 Here's a close-up of the cables. Some were left out for clarity, but you get to see one of each type!
TEST SETUP
For testing purposes, we will be looking at voltage output and the fluctuations, both at idle and load. We are looking for as little fluctuation as possible and as close to the desired voltage as possible. The industry standard is to have no more than 5% fluctuation on all rails. We here at Bjorn3D.com like to see no more than 3% fluctuation. After all, computers are expensive and it just won't do to have them destroyed by a bad power supply!
We are not looking to push this power supply to its breaking point. It's just not informative, nor is it feasible. Synthetic testing is great, and it has its place, but it's not what we do here at Bjorn3D.com. Here, we take a more "real-world" approach. We test each component in a system that, while cutting edge, is not out of the realm of possibility for the average enthusiast. Recently, I heard rumors of a 1300W power supply being demonstrated by running two full quad-core systems, with no hiccups, at one of the recent technology conventions, though I have not been able to substantiate it. That kind of testing just isn't feasible for us, nor is it for you, our readers. A much more measured approach is often appreciated, and our testing, in my opinion, is far more realistic.
I did however, beef up the test rig with everything I had available. Using seven USB devices, three HDD's, pushing the voltage way up on the CPU and memory and overclocking the video card, we can certainly put enough load on the PSU to verify that its stable, even if we can't get it smoking.
IN WIN COMMANDER 1200W TEST SETUP


Case

Danger Den Tower 26

Motherboard

EVGA 790i Tri-SLI

CPU

Q6600 1.432v @ 3.2 GHz

Memory

Kingston DDR3 1800 @ 8-8-8-21

GPU

EVGA 8800GT SC 714/1779/1032

HDD

2 X WD Caviar SE 160GB RAID 0

1 x Samsung 120GB

PSU

ThermalTake PurePower 600W

OCZ ModXStream-Pro 600W

InWin Commander 1200W

Cooling

Laing DDC 12V 18W pump

MC-TDX 775 CPU Block

Ione full coverage GPU block G92

Black Ice GTX480 radiator

Software

Prime95

Nvidia PhysX Particle Fluid Demo
For measuring results, we will be using a Kill A Watt meter to determine the total load, in watts, exerted on my wallet. We will use a Craftsman digital multimeter to measure the individual voltages and their fluctuations at the connectors. For idle testing, all non-essential processes were stopped and the system was allowed to idle for ten minutes. For load testing, Prime95 was run with the "small FFT's" test to maximize CPU usage in addition to using the [email protected] GPU2 client to load the GPU, along with the "Nvidia PhysX Particle Fluid Demo" to further tax the system.
If you don't know what [email protected] is, you can read about it in our forums here. It's for a good cause and we at Bjorn3D.com would welcome your participation. Just remember that we are team #41608. And by the way, if you stop on in at our forums, why not go ahead and join? It's simple. It's easy, it's free, and we give away prizes monthly (shameless plug).
The current ATX 2.3 specifications allow for the following variation in voltage outputs:
3.3 Volt Rail:   3.135 – 3.465V
5 Volt Rail:      4.75V – 5,25V
12 Volt Rail:   11.4V – 12.6V
TEST RESULTS
Power Output Results(V)
Measured With Craftsman Multimeter
Power Rail
OCZ ModXStream-Pro 600W

ThermalTake PurePower 600W

In Win Commander 1200W


Idle
Load

Idle

Load


Idle
Load

3.3v

3.36


3.34

3.33

3.31

3.30

3.29
5v

4.95


4.97

5.07

5.11
5.02
5.00
12v1

12.33


12.21

12.05

12.07

12.04

12.02
12v2
12.35
12.28
12.08
12.09
12.00
12.00
12v3
–
–
–
–
12.00
12.00
12v4
–
–
–
–
12.08
12.09
5vSB

5.11


5.10
5.04
5.08
5.11
5.10
Wattage Used
232
371

235W

372W

230W

372W
You can see by the numbers that the In Win is an impressive example of stability. With less than one half of 1% difference between the idle and load numbers, it doesn't get any better than this. Above and beyond that is the fact that all the voltages were so close to spec. Compare that to the ModXStream-Pro. The numbers there are still well within spec, but it's always nice to see them right on target, if for no other reason than peace of mind.
Power Factor Percentage
Measured with a Kill-A-Watt

Power Supply

Idle

Load

In Win Commander 1200W


0.98

0.99
The power factor here is incredible and at 99%. It's among the best. We're seeing more and more power supplies that meet that 99% standard, which is great for your equipment and your wallet. Here is a little description of what power factor means (Source):
Power factor is the ratio of true power or watts to apparent power or volt amps. They are identical only when current and voltage are in phase, then the power factor is 1.0. True power or watts can be measured with a wattmeter. If the true power is 1870 watts and the volt amp reading is 2200, then the power factor is 0.85 or 85 percent. True power divided by apparent power. The power factor is expressed in decimal or percentage. Thus, power factors of 0.8 are the same as 80 percent. With low power factor loads, the current flowing through electrical system components is higher than necessary to do the required work. This results in excess heating, which can damage or shorten the life of equipment. A low power factor can also cause low-voltage conditions, resulting in dimming of lights and sluggish motor operation.
CONCLUSION
Well, after all that testing, I am impressed. It's not every day that you test a power supply that will put up numbers like that. I simply cannot get over the miniscule amount of ripple we experienced with this PSU. It's well within that 3% that we recommend and so far below the 3% that it makes that seem like a big number.
For my money, In Win has a real winner on their hands. There are those of us out there that are willing to spend a little extra money for a higher quality product and some peace of mind. The Commander 1200W has delivered both. They can also be had for a reasonable price. With some discount e-tailers offering them for under $300, the price falls somewhere in the middle for a PSU of this wattage.
Perhaps the greatest compliment that I can offer to In Win and the Commander PSU is that it has graduated to Test Rig status. That's right, it's going to stay on for all future hardware testing because I trust it. I trust that it will continue to produce the same clean and stable power that it exhibited for this round of testing.
Perhaps the greatest compliment my wife can give it is allowing it to run without the case side panels because it is that quiet. If I could get rid of that pesky Northbridge "cooling" on the 790i, I wouldn't be able to hear the computer at all (More importantly, neither would she!).
The only downside I see to this PSU is that it has not made it onto the SLI Certified list yet. I have no doubt that it will power three GTX 280's, but it is still very new and hasn't made the list just yet. I suppose the color scheme could go either way. I don't think it's intrusive at all, but if you don't like big yellow lettering, or the green just doesn't do it for you, don't put it in an acrylic case. I happen to like it though and think it matches all the tubing for my cooling system, not in color but in style.
Please note that this PSU has been tested by Nvidia at this point and has passed SLI testing. This is an update to the article after checking with In Win and Nvidia. The PSU will be listed on the Nvidia site and packaging updated accordingly but it has been approved.
The updates just keep coming! In Win has extended the Warranty on the Commander 1200 to limited lifetime if you register it on their website. Might want to surf that way and register this puppy if you've purchased one.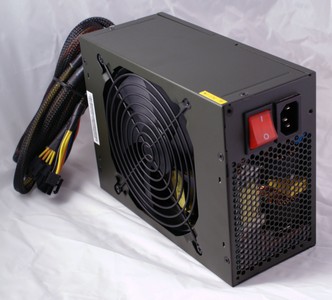 We are trying out a new addition to our scoring system to provide additional feedback beyond a flat score. Please note that the final score isn't an aggregate average of the new rating system.
Performance 10
Value 9
Quality 10
Warranty 8
Features 10
Innovation 9
Pros:
+  Modular
+  Extremely quiet
+  Unique color scheme
+  Plenty of cabling options included, nice bundle
+  Nice long cables
Cons:
– 1200W is still not cheap
– Unique color scheme
With the performance numbers exhibited by the In Win Commander 1200, it has earned:
Final Score: 9.5 out of 10 and the Bjorn3D Golden Bear Award.