XFX has announced they will be adding ATI to their line of products. The announcement came as welcome news to GPU enthusiasts that favor XFX support and rock solid warranty.
XFX adds ATI Graphics Cards to their line of products!
In an almost surprise move XFX has announced the planned release of ATI based GPU's (Graphics Processing Units) adding to their existing line of Nvidia GPU's! Early this morning (12/16/2008) while browsing the XFXForce website we stumbled across confirmation that XFX is indeed adding ATI GPU's to their line of high quality video cards. XFX has been one of the most desirable brands of GPU's in the United States and Canada because of their Modder Friendly Double Lifetime Warranty. They are also known around the world for their high quality GPU's and have been known to make many Geeks drool uncontrollably over their line of products. Now they will have twice as many choices! Kudos XFX!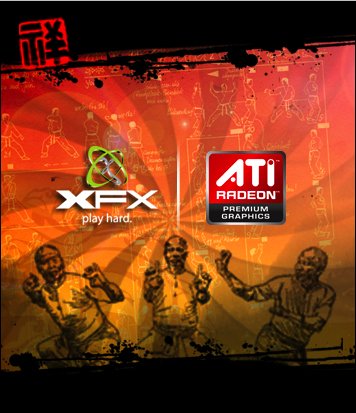 Rumors of the move first came to our attention through leaks on somewhat unreliable websites like Fudzilla. Looks like even a blind dog (Fudzilla) gets a bone once in a while. If you'd like to take a peek at the ATI related pages on the XFX website you can see the XFX ATI Press Release Here. If you want to see a little bit more to wipe the sleep out of your eyes you can get further confirmation Here.
The announcement comes as a welcome move to those of us who know and love XFX products, support and warranty! Congratulations on the expansion of your line of fine GPU's XFX!
For your convenience we are reproducing the textual content for you, the following content is from the XFXForce website.
XFX Adds Mad New Skills.

XFX, known for its high-performance NVIDIA™-based products, is pleased to announce the addition of AMD/ATI as a new technology partner. This new collaboration enables our R&D teams to work with a variety of new technologies, specifically the award-winning ATI Radeon™ HD 4000 series GPUs. We look forward to bringing you a variety of new products that meet your unique and specific needs.

Best of all, our ATI-based cards will come with all of the popular features that XFX is known for, including our unparalleled 5-Star support, access to customized drivers and factory overclocking.

Look for our new ATI-based cards in early 2009.

Press Release

December 16, 2008

XFX Partners with AMD: Collaboration Gives Gamers More Options at Every Price Point Ontario, Calif., December 16, 2008 – PINE (HKSE: 8013.HK) today announced that its graphics division, XFX, is partnering with AMD. The collaboration will incorporate the award-winning ATI Radeon™ HD 4000 series GPUs into XFX's already impressive line of extreme performance graphics cards.

"We are delighted as this partnership allows us to incorporate the current and future AMD graphics technology into our future graphics card designs, and enables our R&D teams to develop an even wider range of graphics products for our worldwide customers," said Michael Chiu, Chairman and CEO of Pine Technology Holdings.

"In the world of PC gaming, XFX is synonymous with the extreme performance that enthusiast's crave," said Rick Bergman, senior vice president and general manager, Graphics Product Group, AMD. "Their decision to partner with AMD and launch AMD GPU-based XFX graphics cards speaks to the level of excellence achieved by the ATI Radeon™ HD 4000 series."

XFX will debut its first ATI Radeon™ HD 4000 series-based cards in early 2009. The XFX-partnered Radeon™ products will come with all of the popular features that XFX is known for, including XFX's unparalleled 5-Star support, access to customized drivers, and factory overclocked XXX series.

To learn more about XFX, its products, or its partnership with AMD, please visit www.xfxforce.com.

About XFX

XFX is a global presence in the world of electronic gaming. With its focus on taking gaming to the extreme, XFX has developed an exciting array of video cards and accessories that are designed to maximize the entire entertainment experience. A division of PINE Technologies, XFX operates its own manufacturing facility and maintains an R&D team that features some of the industry's most renowned talents. Learn more about XFX at www.xfxforce.com.

About AMD

Advanced Micro Devices, Inc. (NYSE: AMD) is an innovative technology company dedicated to collaborating with customers and partners to ignite the next generation of computing and graphics solutions at work, home and play. For more information, visit http://www.amd.com.

5 Star Support

Five-Star + Five-Star = a Perfect 10.

At XFX, we've always done things a bit different, and our XFXpert support program is no exception. Unlike the traditional "support-as-an-afterthought" fix-it-if-it's-broken program, our XFXpert Support program begins in R&D and is woven through our entire manufacturing process. How is that better? Simple. Our XFXperts know everything about your card, because it has been tracked since its first moments in our factories. And that's why we can provide you with immediate answers for your specific products through:

Support Central. Forget wading through pages of irrelevant information, Support Central takes you directly to your registered product(s) files.
Support Files. Our comprehensive serial number tracking system gets you the exact product revision you need for your specific card.
Message Boards. Find the latest product announcements and driver information here.
Live Help. Real technicians in real time provide real answers. And, your session is saved along with your profile in case you need further assistance or a service ticket.
Ticket System. Speaking of tickets, if you need one, we'll connect you with one of our technicians through our message board system. Every message gets a response in a timely manner, with no lost or ignored emails.

Our Five-Star Support Has Five-Star Support!

Driver Downloads. The latest isn't the greatest. We load the drivers that are optimized for the best performance for your specific product. All we need is your serial number and our system does the rest.
Help Guides. Written by our technical support team, our Help Guides highlight the features and troubleshooting solutions for your specific card series.
Support: It's in the Box. Open any XFX box and you'll find either a door hanger or a card that has your product's serial number on it. Simply register your product so that when you do have a question, you won't be hunting for a serial number. Our XFX Driver searches our database for drivers, BIOS and documents specific to your card.
Multilingual. We speak your language. Whether it's English, German, Dutch, Russian, French, Spanish, Portuguese, Italian or Chinese, our translation tools enable us to talk with your in your native tongue.
RMA Handling. Tracks your product throughout the ticket lifecycle.
Five-Stars Plus Five-Stars is a Perfect 10!