If you're looking for the perfect gaming accessories, Razer is the place to look. Their Lycosa Mirror keyboard is an example of their mastery in gaming peripherals.
INTRODUCTION
With today's computers it's really hard to find the right balance between features and price. And with a slew of companies that offer a variety of standard, multimedia, wireless, and gaming keyboards, you really have no idea where to start looking. Many enthusiasts and gamers are really picky and stubborn when it comes to finding the right keyboard and these guys are the ones that manufacturers find are hard to win over.
Razer is a company that is known for their excellent gaming equipment, and it comes at a nice price. It's hard to come up with the perfect combination of features, price, and most importantly, looks, but today we have the Razer Lycosa Mirror Special Edition, and we think Razer may have come up with that nice combination of everything we want. 
Let's head on over to the mad scientist's lab where we will put this keyboard through hours of gaming (I mean hard testing) and see if it lives up to the Razer name.

Razer: The Company
"Razer collaborates with gamers to develop, manufacture and market cutting-edge gaming peripherals utilizing proprietary technologies that give gamers the competitive edge. We reinvented the computer gaming industry by bringing this competitive edge to gamers when professional computer gaming was in its infancy. In the mid 90s, with the advent ofnetworked gaming and competitive first-person-shooter (FPS) games, gamers found that their legacy peripherals were inhibiting rather than enhancing their gameplay."
"Having led the technology arms race and overpowered competitors, Razer once again stamped its authority in gaming technology in the fall of 2005, by launching the Razer Copperhead™."
"Right about then, Microsoft and Razer decided to co-develop and co-brand Microsoft's next generation of gaming peripherals, culminating in the Microsoft|Razer Habu gaming mouse, and the Microsoft|Razer Reclusa gaming keyboard."
"Undoubtedly, Razer is the worldwide leader in terms of professional gaming peripherals. While we are light years ahead of our competitors in terms of technology, design and ergonomics, we are not resting on our laurels but are developing other key products and peripherals with the gamer in mind to bring that competitive edge to gameplay that Razer is synonymous with."
"Headquartered in Carlsbad, California, Razer collaborates with gamers to develop, manufacture and market cutting-edge gaming peripherals utilizing proprietary technologies that give gamers the competitive edge. Razer products have earned critical praise and won multiple awards from around the world for their precision, sensitivity, usability and distinctions in product design. Engineered to near perfection, Razer's reputation of being the leader in gaming peripheral technology is embodied in every single Razer product. For more information, please visit www.razerzone.com"
"Razer – For Gamers. By Gamers™."
FEATURES AND SPECIFICATIONS
Taking a quick peek at the Features and Specifications, you can see that the Lycosa can and will give you some significant advantages over your opponents.
Razer® Lycosa
Detailed Specifications
Keytop
Non-slip rubber finish
Lighting
Backlight illumination with WASD cluster lighting option
Keys
Fully-programmable keys with macro capability
Gaming Cluster
Anti-ghosting capability
Keycaps
Slim keycap structure with Hyperesponse™ technology
Multimedia
TouchPanel™ easy access media keys
Gaming Mode
Deactivates the Windows key
Profiles
10 customizable software profiles with on-the-fly switching
Polling
1000Hz Ultrapolling™ / 1ms response time
On Board Audio Jacks
Earphone-out and microphone-in jacks
Ergonomics
Detachable wrist rest
USB
One integrated USB extension port
Size
469mm (length) x 221mm (width) x 15mm (height) – with wrist rest
The Lycosa makes darkness your friend with its backlit keys and WASD lighting option. With the right keys lit you can be assured of in game precision.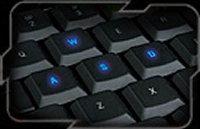 With fully-programmable keys with macro capability you can be one step ahead of the competition with fully-programmable keys with macro capability that enable instantaneous command executions thanks to the 1000Hz Ultra Polling and 1ms Hyper response time.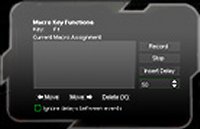 Execute complex combat maneuvers with swift dexterity. Launch your assaults timed to perfection. Annihilate your enemies and reign supreme on the battlefield. You now have the tactical advantage on every terrain, and your enemies' fate is in your hands.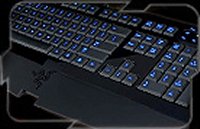 With its non-slip rubber finish, the Razer Lycosa offers optimum tactile comfort and makes slipping up in the heat of action a thing of the past.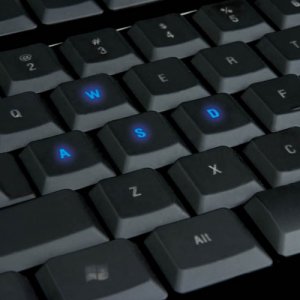 System Requirements
Razer® Lycosa
System Requirements
Operating System
Windows® XP / x64 / Vista / Vista64
Port Requirements
PC with built-in USB ports
Optical
CD-ROM drive (for drivers)
Disk Space
At least 35MB of hard disk space (for drivers)
Razer is going modern with the Lycosa. In order to use it, you're going to have to have Windows XP or Vista. That's to be expected. To go any earlier than that with support you'd be running a six to eight year old Operating System that wouldn't support modern games anyway. To fully utilize the onboard ports you'll need two USB ports, one for the keyboard and one for the on keyboard USB port. Due to the 1000Hz Ultra Polling and 1ms response time, the Lycosa wants its own USB port for ultra high speed communication. I would have liked to see that one extra port split into two or four ports, but that many wires hanging from a keyboard might be annoying. It is handy having another USB port on the keyboard. In our case, we hooked the Razer Lachesis gaming mouse to the extra USB port on the Lycosa and the Razer Piranha Headset to the on Keyboard Microphone in and Headset out, and it freed up our desk from those pesky wires. No degradation of audio signal or mouse response time was noted from hooking in to the onboard ports, indicating they're of superior quality.
PACKAGING & BUNDLE
I was extremely excited to open the box and see this keyboard when I looked at the packaging. It just makes you feel like you're going to own when you game using this keyboard.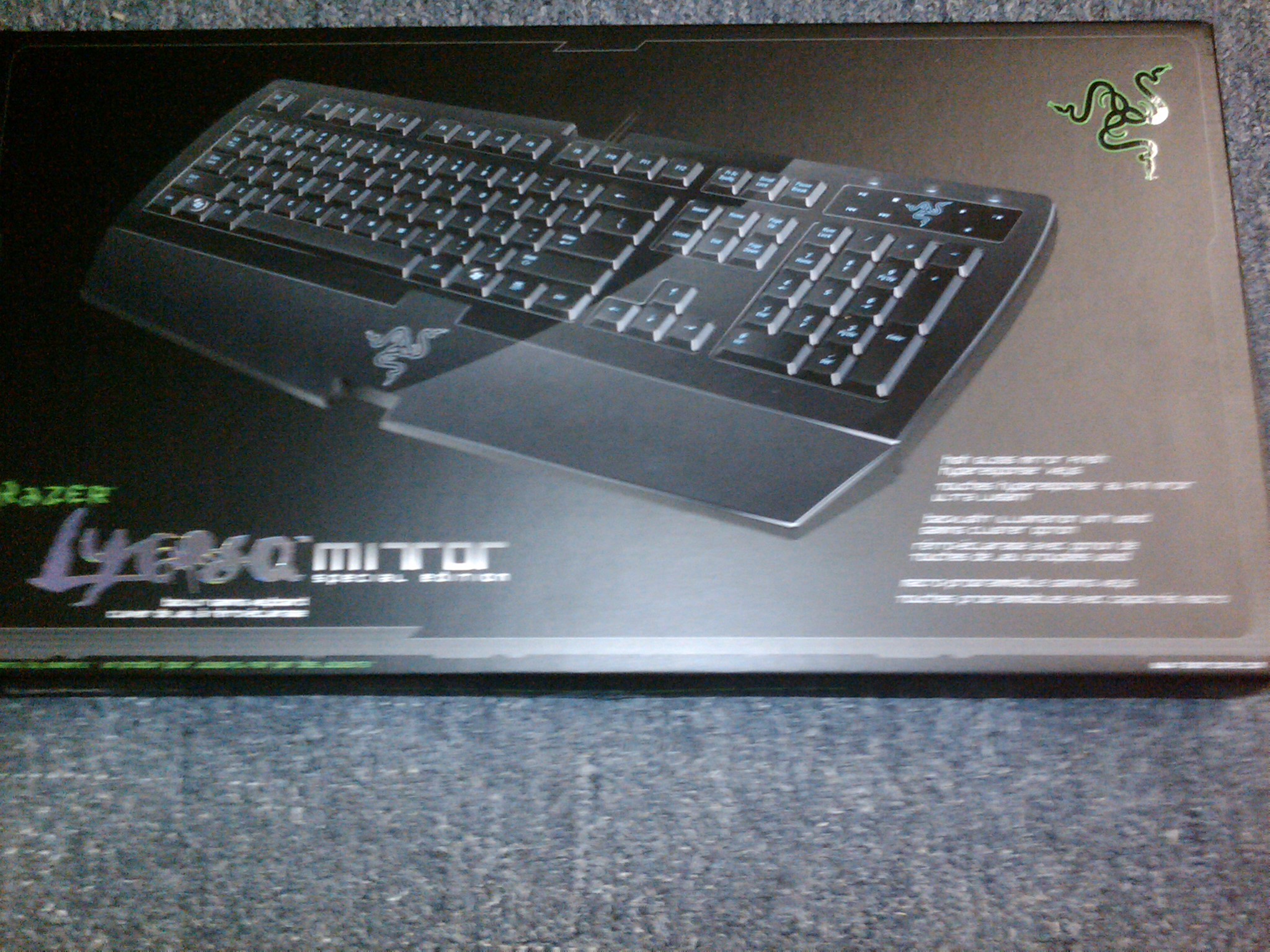 The front of the box shows you a small description, the keyboard, and the name.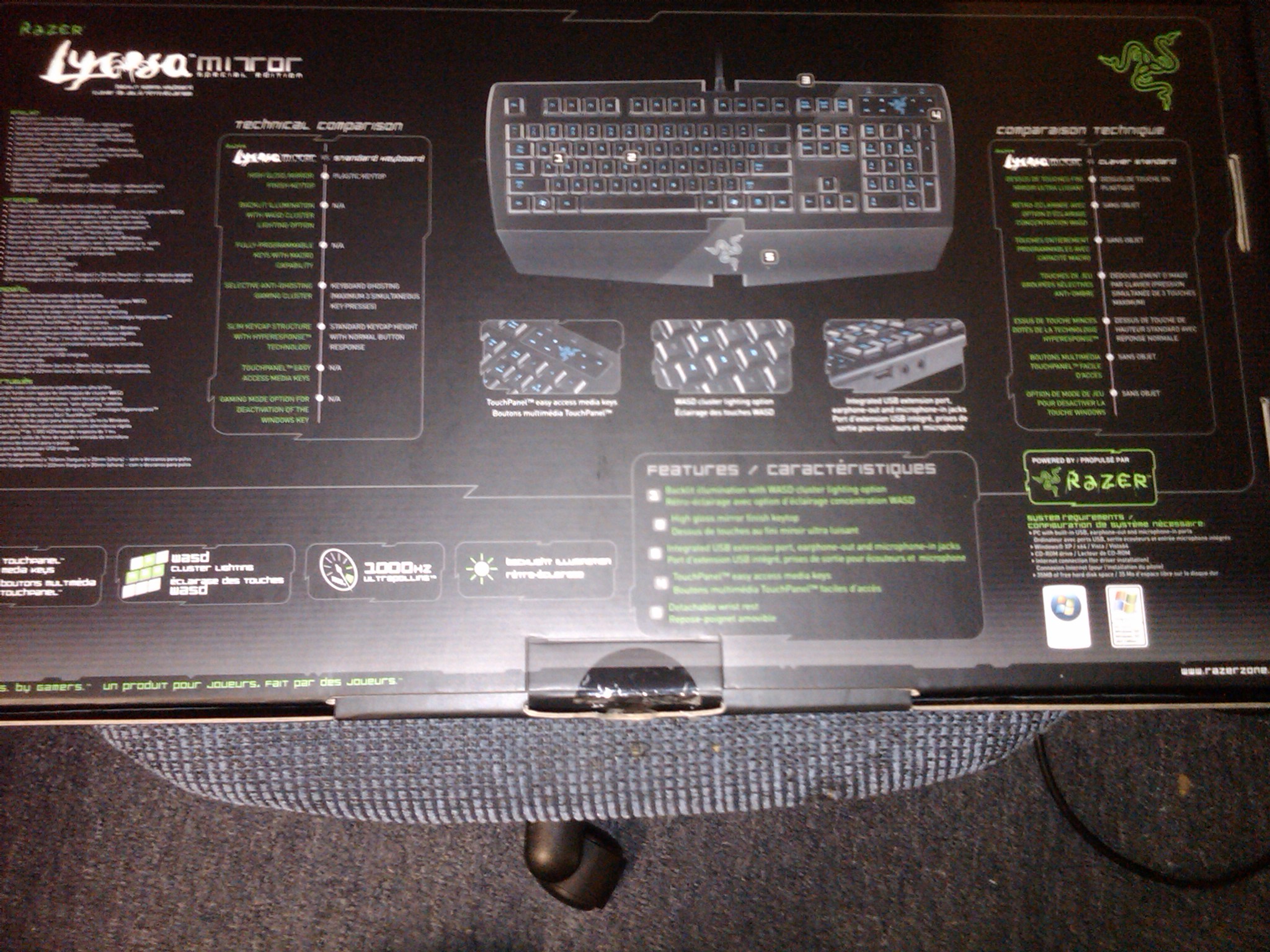 The back of the box shows a more detailed description of the board and its nifty features. You should really be able to make an informed decision with this information in hand. Aún en Español!
Let's take a look at the inside now shall we? Boxes are pretty, but the keyboard is even better!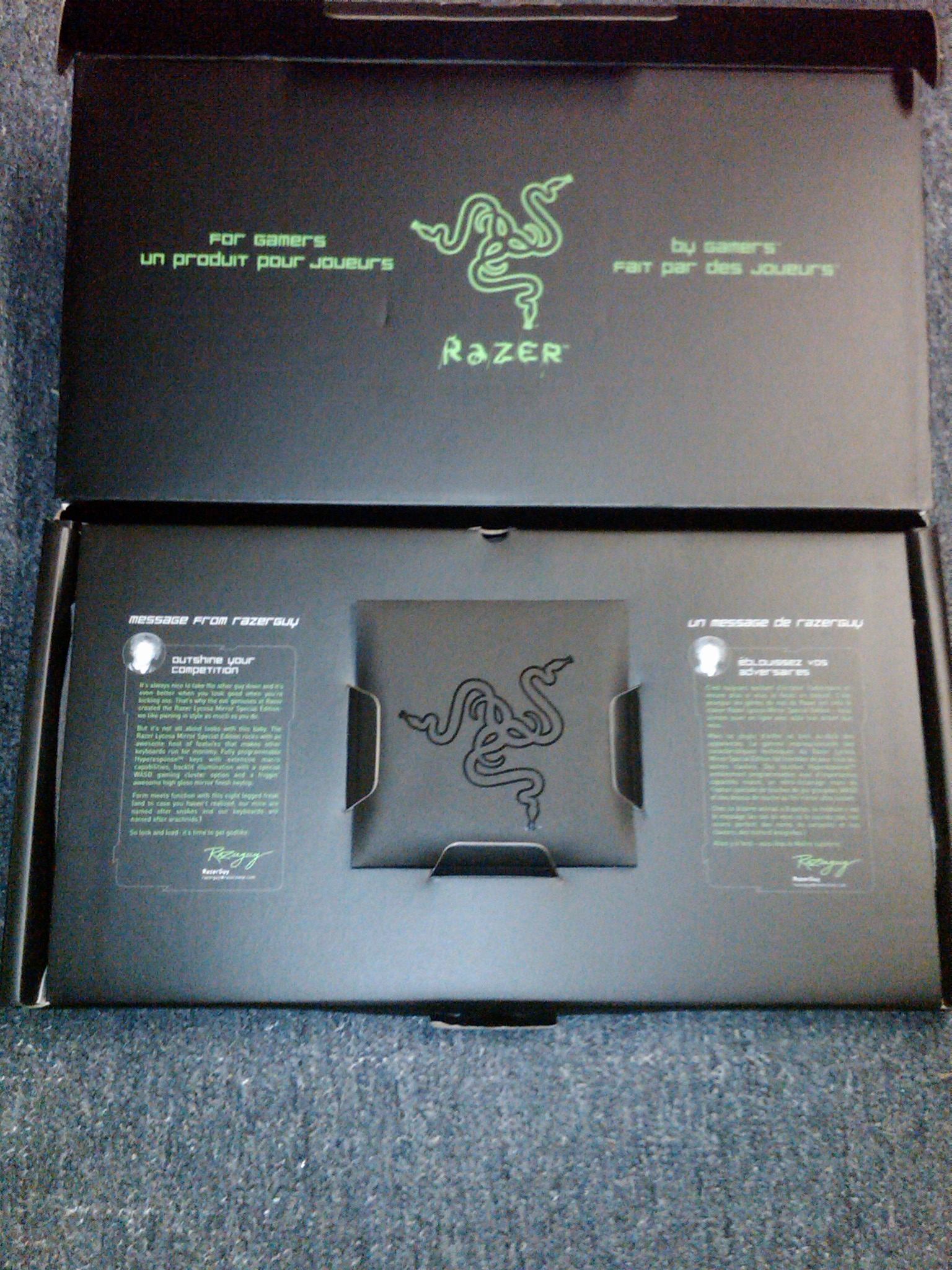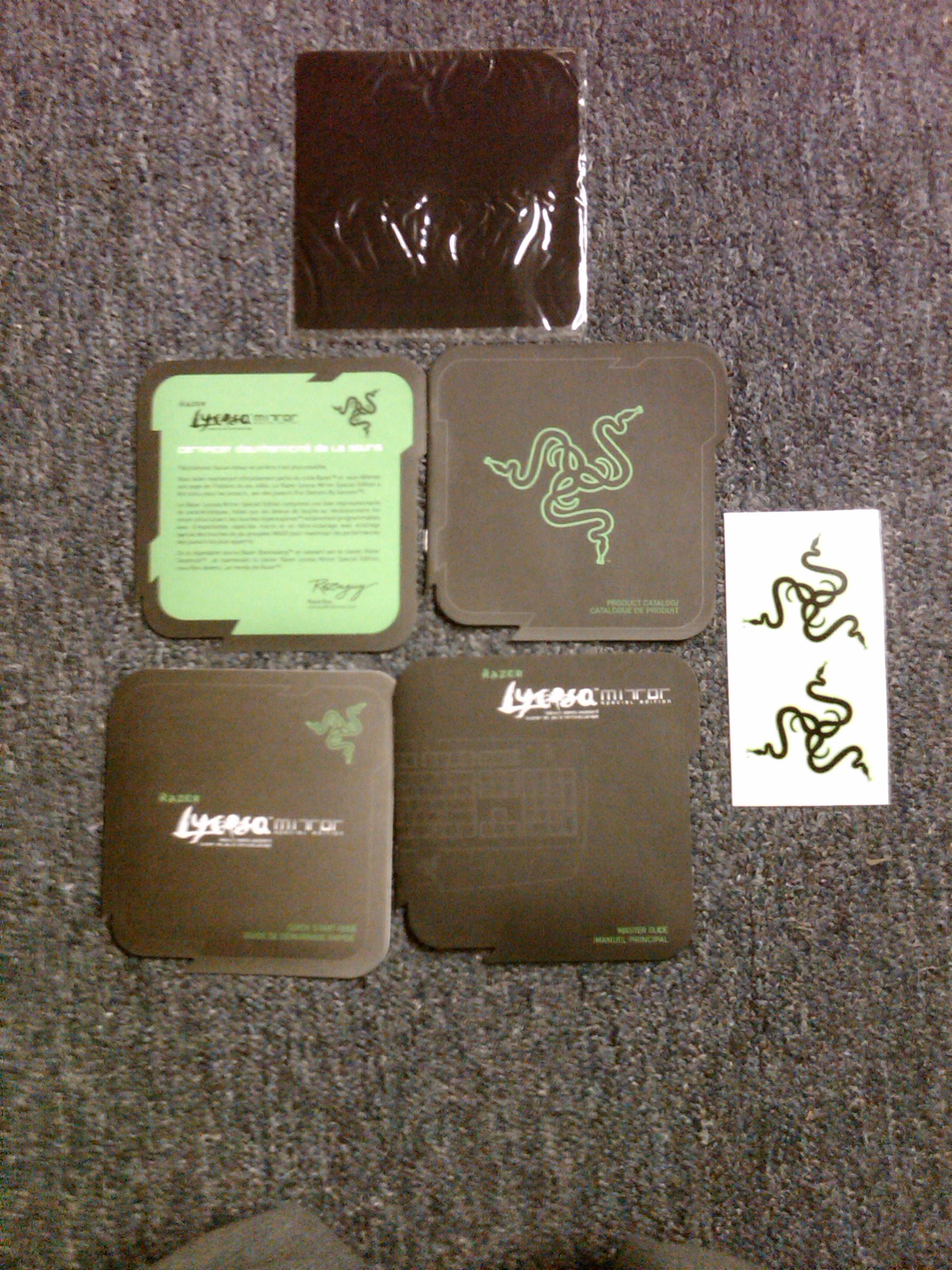 Razer has packaged the keyboard nicely for transit and they include a nice bundle too. Contents include a brochure, a disk containing the program you need for the profile switching, some stickers for your case, an easy to read manual that's translated, and a microfiber cloth to take the finger prints off your shiny keyboard after long hours of gaming.
A CLOSER LOOK
A Glimpse at the Keyboard Itself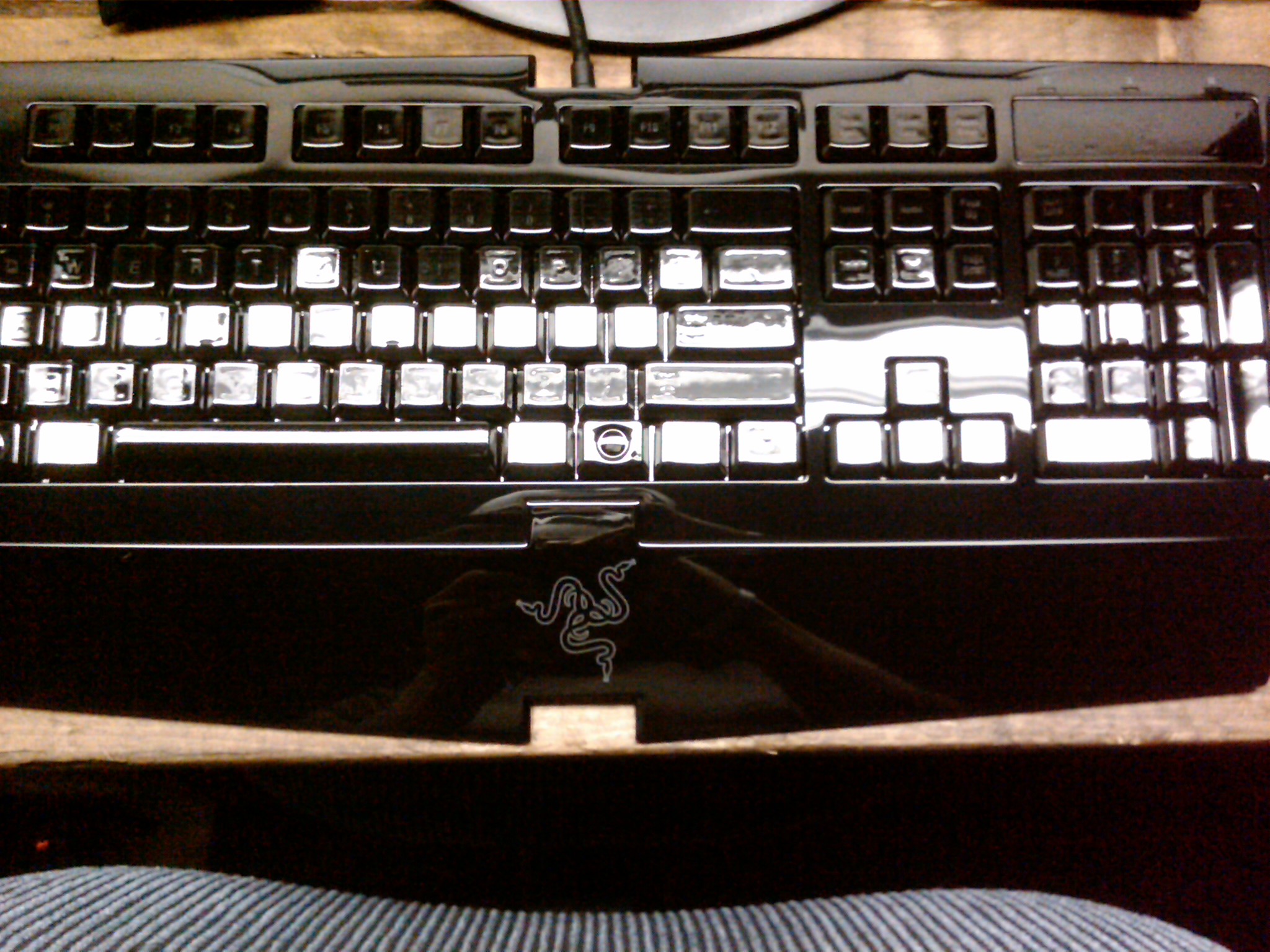 There's no doubt why this keyboard is called the Mirror. It lives up to its name with its glossy finish. Indeed, it is a marvelous product.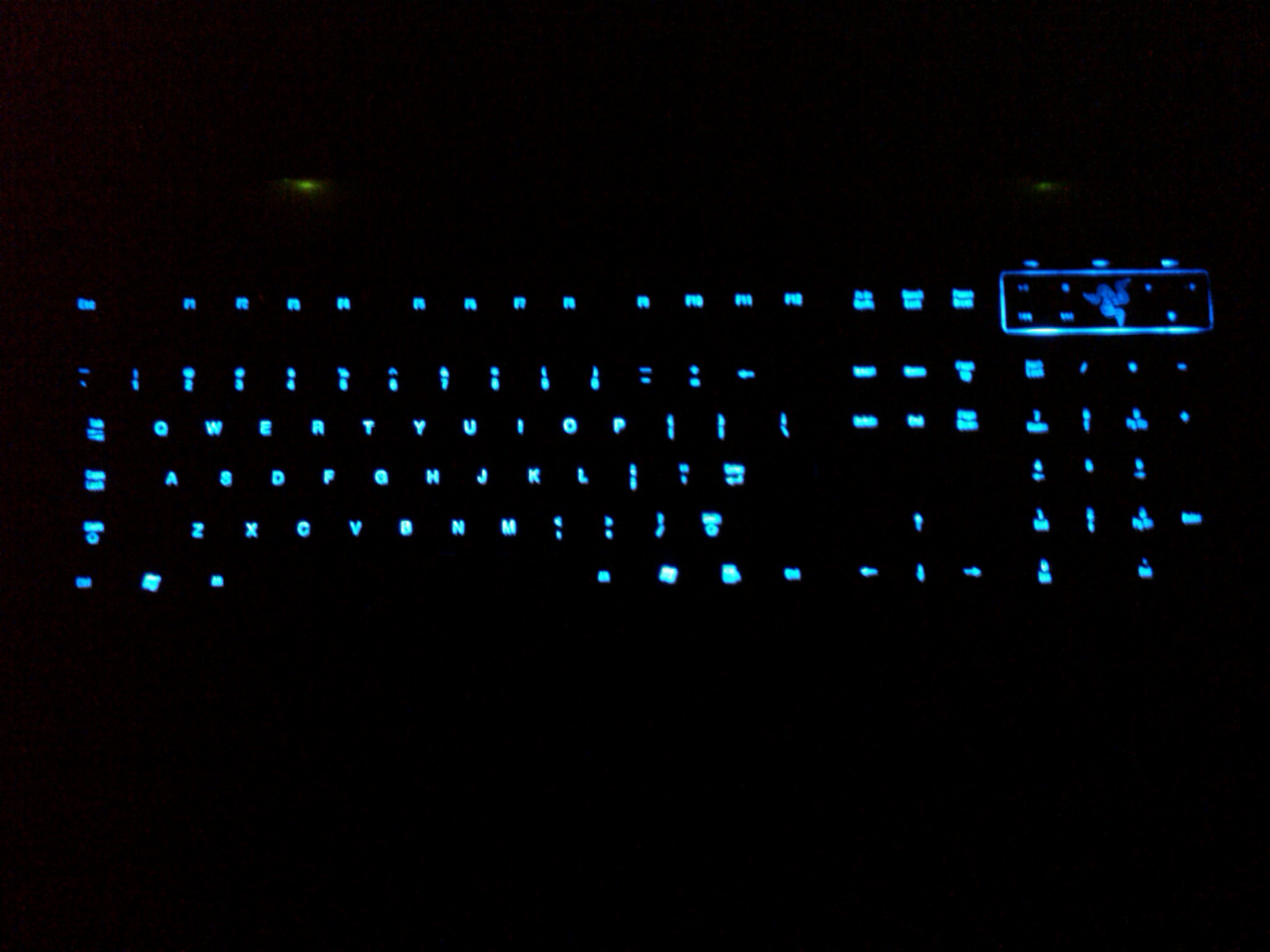 Pictures can't describe how nice this thing looks in the dark. The letters are very readable in pitch black dark lighting, and it's easy to game with as well. Razer sure knows what they are doing when it comes to peripherals.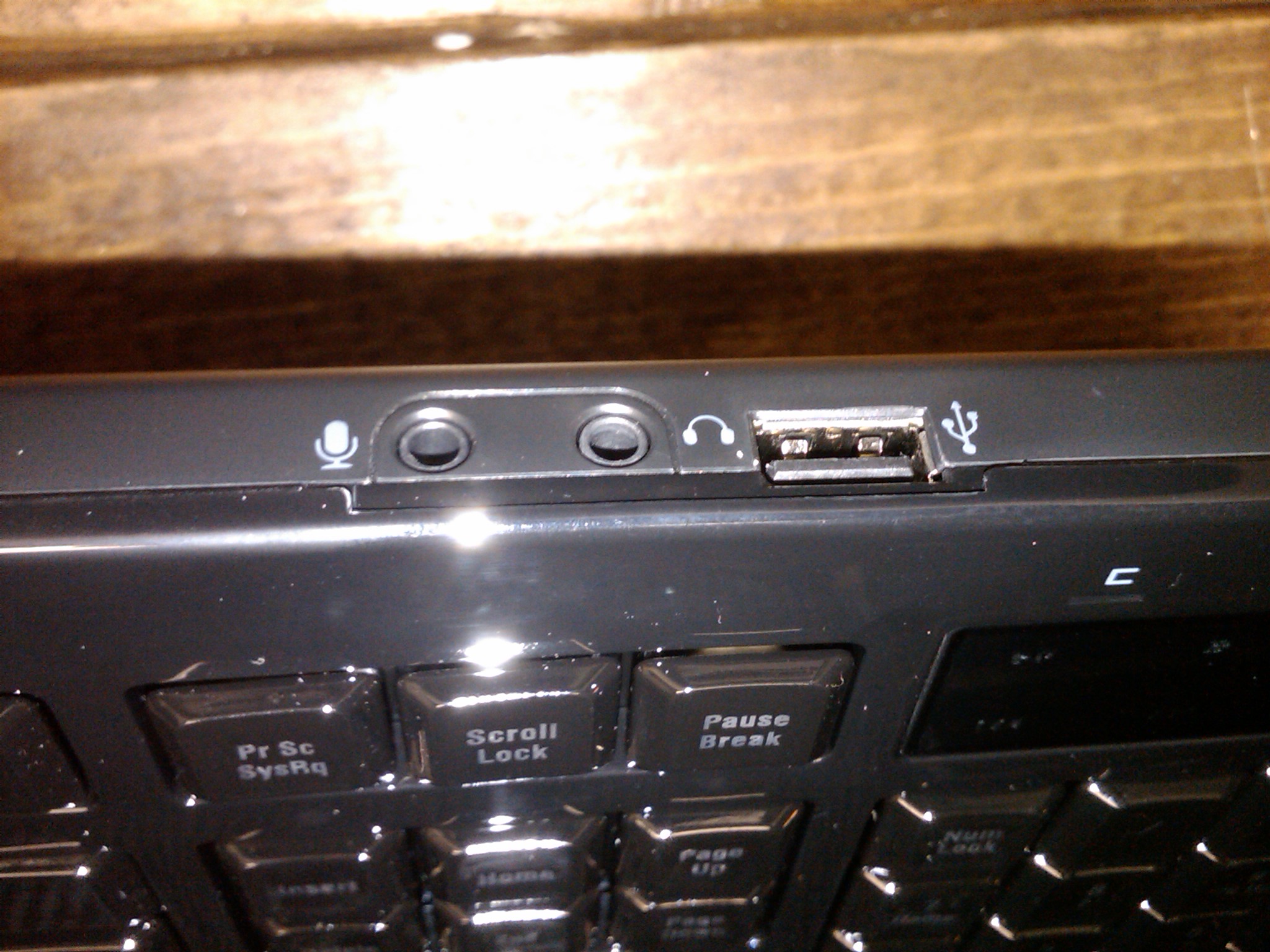 One of the nicest features of this keyboard is right here. Having extra audio jacks and a USB port right in front of you can be very convenient. I think it would have been nice though if Razer had decided to light up the mic and headphone icons on the keyboard. In a LAN environment where it's pitch dark it's hard to see little pictures, and lighting them up with blue LEDs would have kept the black and blue theme of the keyboard.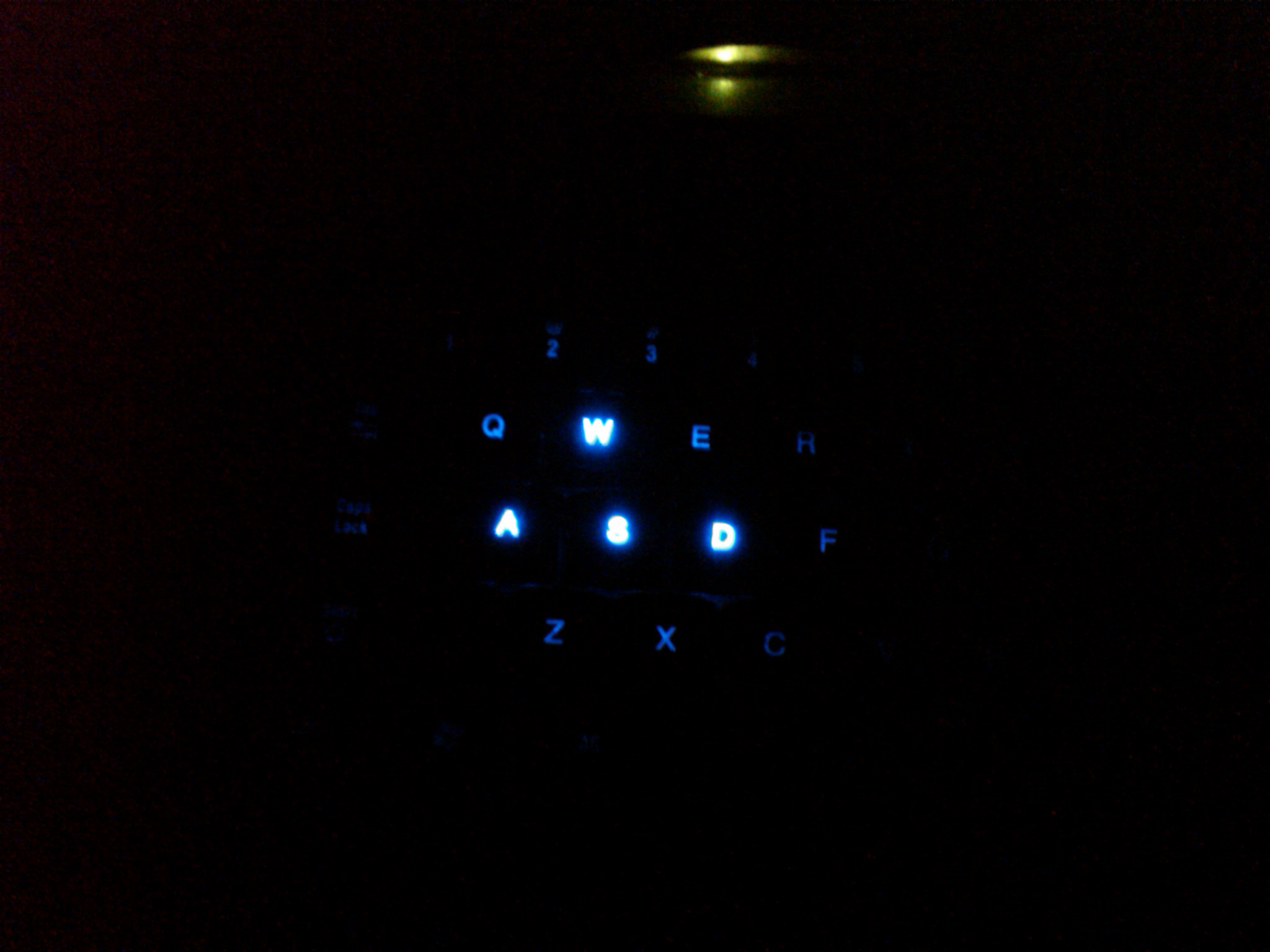 There's a gamer point of view. It just screams, "Play me!" Also pictured is the WASD lighting. It's a good idea but it makes it kind of hard to see the other keys while gaming. I suppose if you're a die hard gamer you won't even need to look down! Let's move on to testing shall we?
MAD LAB TESTING
Well, this isn't your typical GPU or motherboard review that includes spiffy charts and jazz, so you get to read about my experience with this keyboard. For testing this keyboard I typed…….a lot. For instance, I typed this review with it, helped write a friend's essay with it, typed on various forums and websites, and of course, I gamed. Spending long hours into the night I grew very fond of this keyboard. Let's move on to my experience.
Putting It Through Its Paces
The first thing I did was install the software. It's pretty easy to figure out and programming your ten separate profiles is a breeze. With the program you can control your lighting and what media player you want to set your media control keys to operate. Since my room is typically dark, I have the keyboard fully lit up. One thing I noticed that I didn't like was the fact that you can only program your media keys to certain media players (Windows Media Player, iTunes, Real Player, and WinAmp). This disappointed me because not everyone uses one of those players, including me. I use Media Player Classic and my old Microsoft Wireless Desktop Keyboard is compatible with all players that have a play button. Of course, when you're gaming you don't need such nonsense!
Moving on, I decided to post on many different forums. I noticed that this keyboard's response time is extremely fast. It's so fast it almost makes me want to overclock my USB bus to keep up with it! With my old Fatal1ty keyboard, when I was typing fast, I sometimes experienced a bit of lag. I figured it might have been my PC being slow or something. I found out it was not my PC. So far, I am impressed with this keyboard.
While typing on forums I noticed this keyboard is extremely comfortable. I almost wanted to take the detachable wristrest off, but decided to leave it on because it actually helps. Your fingers stick to the keys you want, and while typing, you notice that you don't get any extra unwanted letters in there. The rubberized surfaces on the keys actually help for almost any kind of keyboard use instead of just gaming. While continuing to play with this keyboard a bit before hardcore gaming, I noticed that the touch multimedia function keys are easy to use. If you actually use one of the supported media players these buttons come in handy a lot. I decided to use Windows Media Player for testing. The first thing I noticed was it barely takes a tap to make them work and you can be quick about it. Most touch functions on devices require some sort of messing around with to make them work. The Razer buttons on the other hand are extremely quick and responsive. For the volume buttons you can tap them or hold them down to increase or decrease volume. Pretty nifty! Now enough with that nonsense, let's go play some games!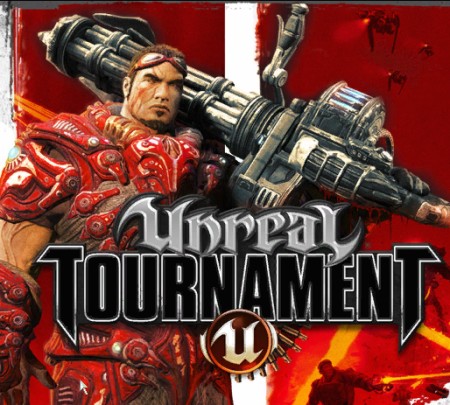 My game of choice is Unreal Tournament 3. Unlike most games, it's extremely fast paced and your macro skills have to be up to par. Not only that, but I need a great keyboard to keep up with me when I'm playing this game. I'm always tapping my spacebar really fast, and strafing is my key. My friend and I decided to play some matches together with some bots set to experienced. That's pretty easy for me and my keyboarding wasn't tested enough. So, we bumped it up a few notches and then the heat was on. I don't think there was even one time where I hit the wrong key. The rubberized surfaces and back lighting helped me a lot. The keyboard was amazingly responsive to any command I gave it. From changing macros to extreme strafing techniques, it was right there with me. Apparently, the 1000MHz polling and 1ms response time is no marketing bullhonkey. They mean what they say. One thing I've learned to love is the gaming mode. While playing any game that requires shift for crouching, Windows likes to kick you out and pull up the sticky keys box. I don't know about you, but that is very annoying. With Razer's program and Gaming mode, all Windows keys are disabled, so that won't happen in an intense firefight.
After a few hours of gaming we decided to quit so I could write about my experiences. After all that time, my wrists didn't hurt and I still enjoyed typing on this keyboard. Razer has made a fabulous piece of equipment here. Now that we're done, let's move on to the conclusion, shall we?
CONCLUSION
I admit that before this review I wasn't really a big fan of Razer products. When I saw the box though I think that changed. After putting this keyboard through its paces I doubt seriously I'll use another brand. Between its high class looks, programmability, and downright ownage, this keyboard will leave you hooked. When you add the extra features this thing has, it makes it a worthy ally for your gaming needs.
The USB port and audio jacks also make this keyboard stand out exceptionally well apart from others. I think those two innovative ideas are what make Razer stand out from the rest of the crowd. On top of all that, you have the profile switching and media keys, which make this keyboard a must have product. The gaming mode keeps annoying Windows features from popping up in the heat of the battle. That is a big plus.
The 1000MHz polling and 1ms response are definitely there and you will notice a big difference when switching from your old keyboard. Coupled with the backlighting and WASD lighting, you'll be fragging all night long, and doing it accurately as well. I think all this outweighs the downfall of having only a few media players supported for the media touch keys. The Lycosa Mirror most definitely offers an exceptional gaming and typing experience.
Pros:
+  1000MHz Poll and 1ms Response
+  Great back lighting
+  10 profiles for macro switching
+  All keys macro programmable
+  Multimedia touch buttons
+  Looks intimidating
+  On keyboard USB and sound ports
Cons:
–  One USB port
–  Finger Prints show up harshly
–  Multimedia keys only compatible with certain programs
–  In WASD mode in darkened room other keys hard to see
Final Score: 8 out of 10 and the Bjorn3D Seal of Approval.