What happens when two titans in memory produce a kit of Ram so similar that on paper they could be brothers. An SPD shootout happens. HyperX and Dominator in one spot.
INTRODUCTION
Kingston Technology Company, Inc. has been an industry leader in computer memory technology arena for as long as some people can remember. Producing high quality ram since 1987 Kingston has been in on every phase of computer memory manufacturing, worth mentioning that we can think of. Then some time back they started producing enthusiast level memory with their HyperX line. We have seen HyperX and tested HyperX and we'd have to say HyperX is some seriously great ram.
Every once in a while two of the titans in memory manufacturing produce a kit that could almost be twin brothers on paper. When that happens it's that rare time when we can do an SPD shootout. By that we mean we can compare two kits that will run at the same speed with the same timings against one another with a level playing field. In this case a 6 GB kit of Kingston HyperX DDR3 1600 and a kit of Corsair Dominator DDR3 1600. In all fairness to the Corsair Dominator kit the specified timings are 8-8-8-24 @ 1.65v and the Kingston kit is rated to run at 8-8-8-20 1.65v so there is that minor difference in the kits.
We'll be running the kits at their rated timings, timing the kits differently will result in slightly different results.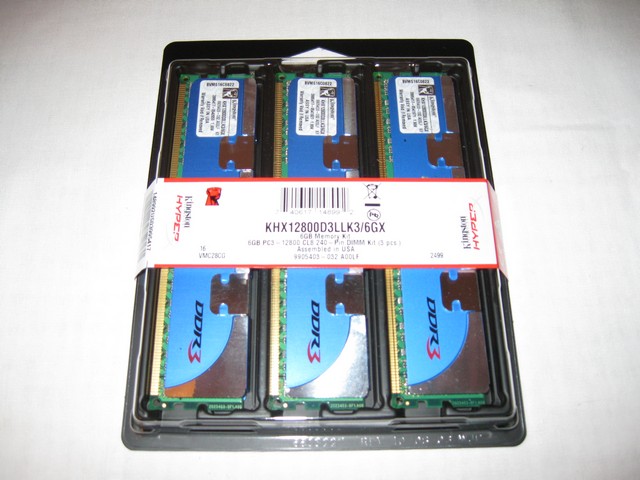 About Kingston
Kingston Technology Company, Inc. is the world's independent memory leader.

Founded in 1987 with a single product offering, Kingston® now offers more than 2,000 memory products that support nearly every device that uses memory, from computers, servers and printers to MP3 players, digital cameras and cell phones. In 2007, the company's sales exceeded $4.5 billion.

With global headquarters in Fountain Valley, California, Kingston employs more than 4,500 people worldwide. Regarded as one of the "Best Companies to Work for in America" by Fortune magazine, Kingston's tenets of respect, loyalty, flexibility and integrity create an exemplary corporate culture. Kingston believes that investing in its people is essential, and each employee is a vital part of Kingston's success.

Kingston serves an international network of distributors, resellers, retailers and OEM customers on six continents. The company also provides contract manufacturing and supply chain management services for semiconductor manufacturers and system OEMs.

At the Forefront of Memory: The History of Kingston

Kingston Technology grew out of a severe shortage of surface-mount memory chips in the high-tech marketplace in the 1980s. John Tu and David Sun were determined to find a solution. They put their engineering expertise to work and designed a new Single In-Line Memory Module (SIMM) that used readily available, older technology through-hole components. A new industry standard was born — and, on October 17, 1987, so was Kingston Technology.
SPECIFICATIONS
Kingston Kit
Part Number KHX12800D3LLK3/6GX
Kit Size 6GB (3x2GB)
Kit Speed 1600MHz
Ram Type DDR3 Triple Channel
Non-ECC LowLat CL8
Intel XMP (Extreme Memory Profile)
Chip Configuration Standard 256M X 64
Voltage 1.65v
Timing 8-8-8-24
The Corsair Dominator Kit (For easy reference)
Each three module set is tested at 1600MHz
Packaged together immediately following system test
Tested together at 1600MHz, Vdimm = 1.65V, at latency settings of 8-8-8-24 on X58-based motherboards.
SPD programmed at: XMP 8-8-8-24 values at 1600MHz
JEDEC standard 9-9-9-24 values at 1333MHz.
6144 Megabytes of DDR3 memory
Three matched 2GB modules
100% tested at 1600MHz in X58-based DDR3 motherboards
Lifetime warranty
DHX technology provides maximum cooling
Pictures & Impressions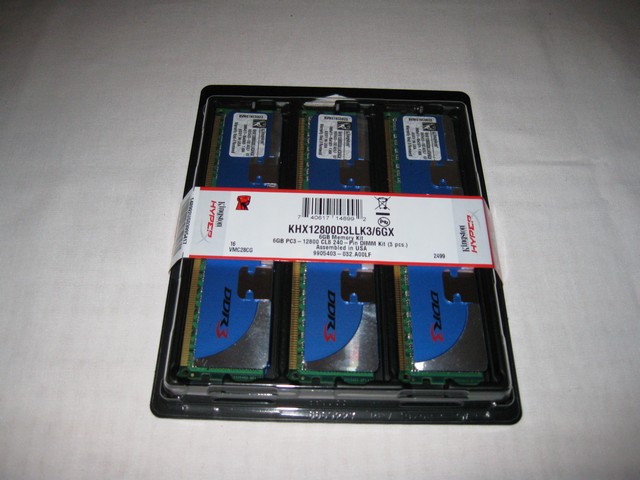 The Kingston HyperX 6GB kit of triple channel ram comes on a hang card like most ram we see these days. The sticker shows the number that uniquely identifies the kit in Kingston's inventory.
Click Image For a Larger One
We got a close up of the sticker for those of you that like a little more detail.
The Kingston stickers don't give the timings but you can see them in CPU-Z or take our word for it they're 8-8-8-24 timed.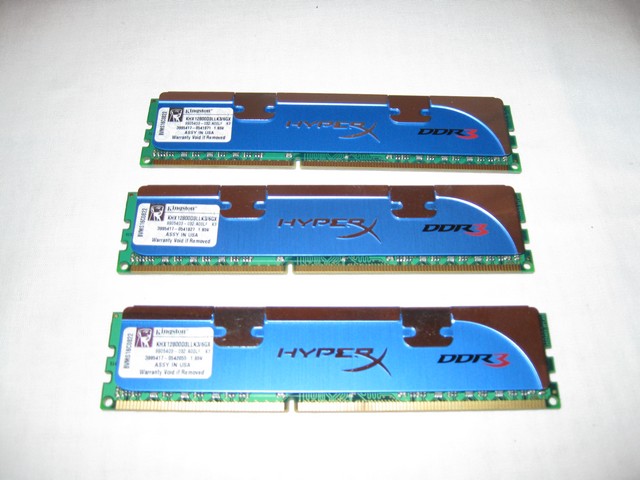 Kingston's HyperX ram has their distinctive blue heat spreaders that really make them stand out on you board. They are a very efficient design and even during overclocking we didn't detect any noticeable rise in temperatures on the ram. We can tell you the HyperX looks good in the test rig.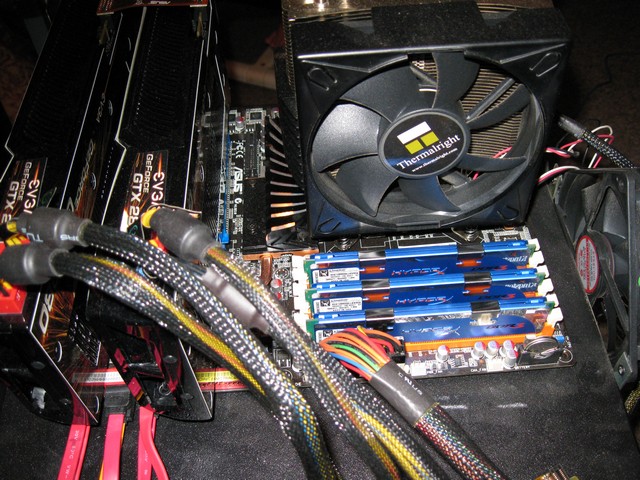 We wanted to do things a little different this time, so we're giving you a beauty shot of the Kingston HyperX DDR3 1600 triple channel kit an installed shot then a gallery of photos you can click on to enlarge if you want to see more.
Click to enlarge
Here's the first set of Gallery images. Pretty good looking ram isn't it.
Click to enlarge
Here's the second set of Gallery images.
TESTING & METHODOLOGY
We first ran 10 complete passes of Memtest86 to check the Kingston Triple Channel DDR3 1600 for errors and it passed with flying colors immediately. The XMP profile and SPD timings tested error free and the RAM booted up and ran good every time. We're not even into testing and already this kit is impressing us. The extensive testing also gives the RAM a little break in time which a lot of people don't do, but we like to do a little burn it so the RAM had a chance to settle and run a while. We ran the tests a total of three times each, and the average of those runs is reported here.
Then we did normal every day activities for a couple of days to get a feel for the RAM, playing with its speeds and timings. Really though, it's so plug and play that there's no need to tinker and tweak it. We just like tinkering and tweaking. Let's take a look at the CPU-Z story.
CPU-Z CPU
We're testing on out Core i7 965 Extreme CPU with the speed set to 3.742 GHz done with a multiplier overclock. The excepttion to that is when we test at the highest ram Overclock speed. To test the ram overclocked we dropped the multiplier from 28 to 26 and raised the FSB until we attained the desired overclock on the Ram. CPU speed, FSB speed, and ram Overclocks were kept exactly the same for both sets of ram at every speed.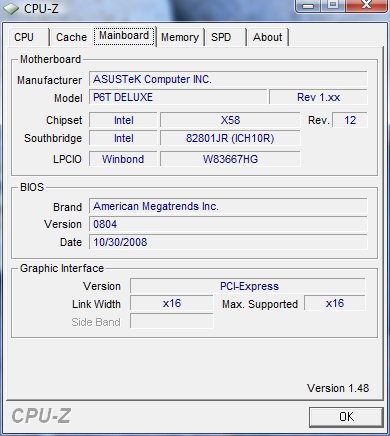 CPU-Z Mainboard
We're using the Asus P6T Deluxe Palm OC Edition that we've been using for a test rig for a while now. It's turned out to be an excellent motherboard for all of the reviews we've done on it.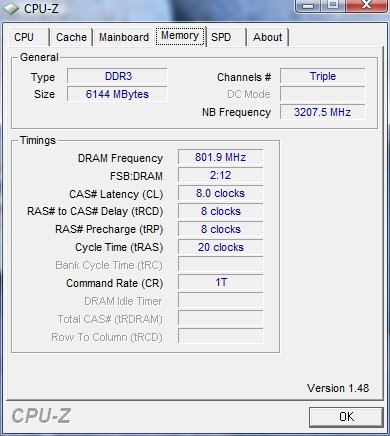 CPU-Z Memory
Then here's the Kingston DDR3 1600 running at stock speed and timings set to 1T which was plug and play and entirely stable the whole time we were testing it. All we had to do was enable the Intel XMP (Extreme Memory Profile) hit F10 to save the BIOS settings and we were up and running without any tweaking or manual settings.
CPU-Z SPD
Then here's the CPU-Z story on the SPD settings available for the HyperX 6GB 1600 kit. For testing purposes we kept the ram at 8-8-8-20 while running at 1600, 1333, and at 1066 we tightened both kits to 6-6-6-20. We had no problems running at these timings and the kit ran marginally better keeping the tighter timings at the lower speeds.
Test Rig
Test Rig
"Quadzilla"
Case Type
Top Deck Testing Station
CPU
Intel Core I7 965 Extreme (3.74 GHz 1.2975 Vcore)
Motherboard
Asus P6T Deluxe (SLI and CrossFire on Demand)
Ram
Kingston HyperX DDR 3 1600 (8-8-8-20 1.65v) 6 GB Kit
Corsair Dominator DDR3 1600 (8-8-8-24 1.65v) 6 GB Kit
CPU Cooler
Thermalright Ultra 120 RT (Dual 120mm Fans)
Hard Drives
Intel 80 GB SSD
Optical
Sony DVD R/W
GPU's Tested
EVGA GTX-280's in SLI Drivers 180.43
Case Fans
120mm Fan cooling the mosfet cpu area
Docking Stations
None
Testing PSU
Thermaltake Toughpower 1K
Legacy
None
Mouse
Razer Lachesis
Keyboard
Razer Lycosa
Gaming Ear Buds

Razer Moray
Speakers
None
Any Attempt Copy This System Configuration May Lead to Bankrupcy
Test Suite
Synthetic Benchmarks & Games
SANDRA XII Professional
Everest Ultimate Edition v.4.50.1330
SuperPI Mod 1.5XS
WinRar v.3.71 Compression Benchmark
SISOFT SANDRA 2009 SP1
"SiSoftware Sandra (the System ANalyser, Diagnostic and Reporting Assistant) is an information & diagnostic utility. It should provide most of the information (including undocumented) you need to know about your hardware, software and other devices whether hardware or software. It works along the lines of other Windows utilities, however it tries to go beyond them and show you more of what's really going on. Giving the user the ability to draw comparisons at both a high and low-level. You can get information about the CPU, chipset, video adapter, ports, printers, sound card, memory, network, Windows internals, AGP, PCI, PCI-X, PCIe (PCI Express), database, USB, USB2, 1394/Firewire, etc."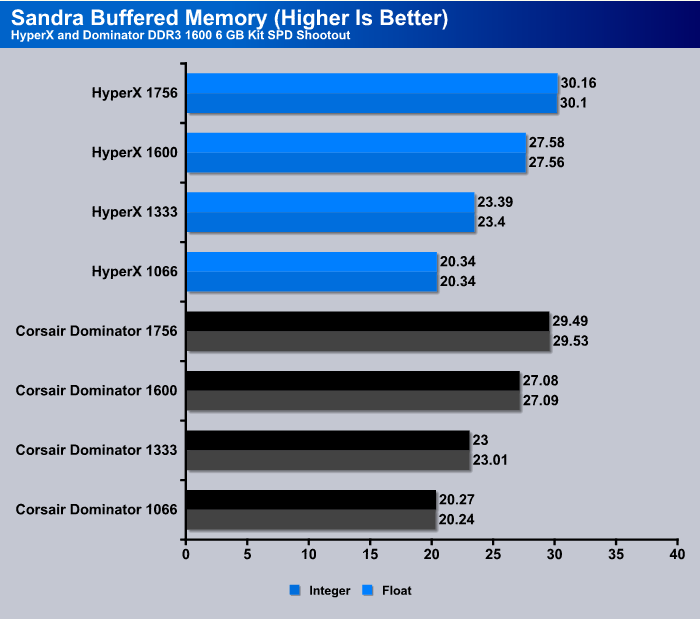 We put a lot of faith in Sisoft Sandra's results, Sandra has been around and on our test bench for a long time. When we look at the results at 1066 keep in mind that we tightened the timings on both the kits to 6-6-6-20. The Kingston kit edges out the Dominator kit which as we mentioned is 8-8-8-24 while the Kingston Kit is 8-8-8-20 we ran both kits at their rated timings for all the tests but the 1066 MHz test. For the 1066 test we ran both at 6-6-6-20. The greatest difference we see between the two kits is about .5 GB/s in favor of the Kingston kit.
SUPERPI & WINRAR
SuperPi
SuperPi is the "Gold Standard" for many when it comes to judging system performance. We ran 1 and 2 MB calculations, again running each test three times and reporting the average of the results.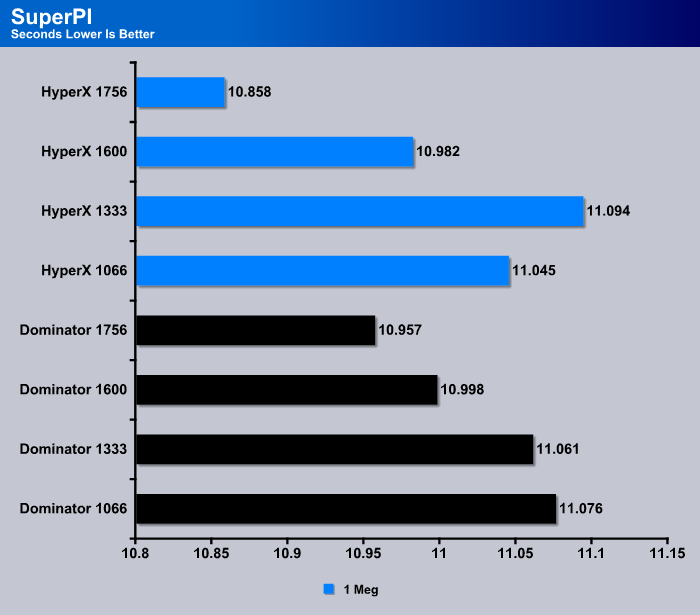 When it comes to SuperPi we're talking differences of tenths and hundredths of seconds so make sure you take note of the scale used. What looks to be a huge difference can be a very small diference. At 1066 MHz the Kingston was 31 thousandths of a second faster. At 1333 MHz the Kingston ran 33 thousandths of a second faster. Running at 1600 MHz the gap got even smaller and the we ran thm at Kingston came in ahead by 16 thousandths of a second faster. Then at the highest overclocked speed we ran 1756 MHz the Kingston came in almost 1 tenth of a secod faster. These results are an average of three runs at each test speed. Minor variations in background tasks can affect the runs. We weren't running anything in the background but the tasks needed to run Vista but even those can affect test runs to some degree. With the tests soming in the ranges we were seeing we'd have to say that both kits performed equally well with indications that the Kingston kit was a hair faster.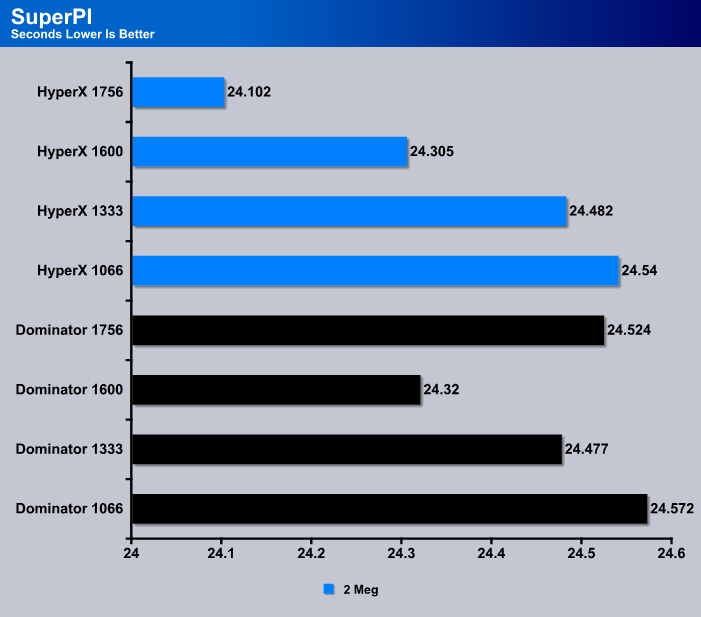 In the 2 MB test we see just about the same kind of performance, test times running in the hundredths and thousandths of a second differences. There was enough of a difference in the 1756 test to comment on. Testing showed the Kingston kit to be 4 tenths of a second faster at 1756 MHz. Again that diference might be attributed to background tasks or it might be a difference in the kits. The Dominator kit has a voltage regulator on the memory IC's and we might have been approaching it's limits at that speed causing a minor slow dawn, it's hard to say. Havinga voltage regulator on the IC's means that applying more voltage isn't going to make a difference. Like most testing sites we're limiting our voltage to 1.65v to avoid potential damage to the CPU. In the case of a voltage regulated IC it wouldn't make much if any difference anyway. Both kits performed really well and again with indications that the Kingston kit was just a hair faster.
WinRar v. 3.71
This module in WinRar generates random data, which contains specially introduced redundancy, increasing the load to both the processor and memory. Data is the passed through RAR compression and decompression algorithms, and the output of the decompression algorithm is compared to the source data. If any differences are found, WinRAR then reports "Errors found – Yes" in the command window. WinRAR displays a size of processed data and compression speed, current and resulting, in kilobytes per second.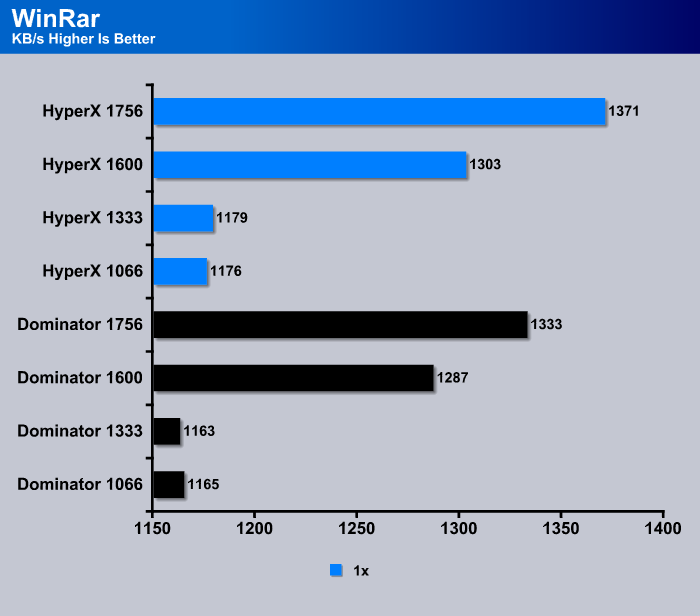 In the WinRar single threaded test the Kingston kit ran better than the Dominator kit. The test measures KB/s so the largest lead we're seeing here is 38 KB/s. Credit where credit is due though the Kingston kit did perform marginally better.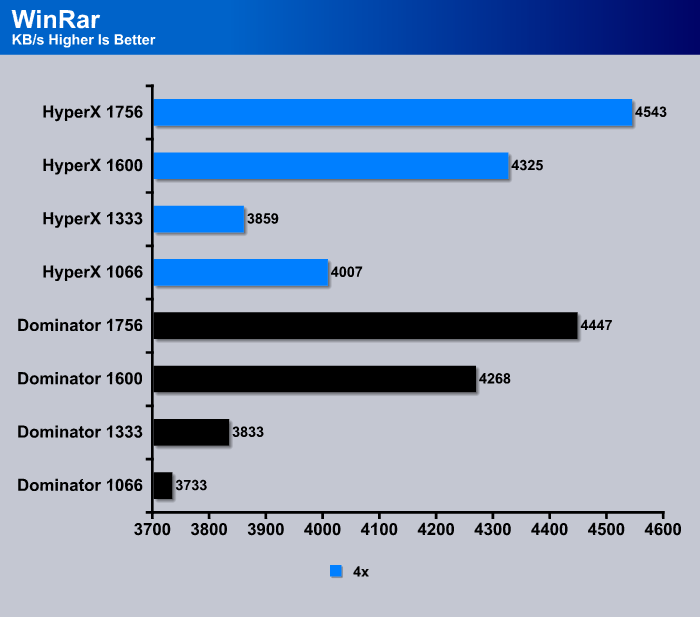 When we went to the multithreaded test the Kingston did better by 74 KB/s at 1066 MHz, and 36 KB/s better at 1333 MHz. Then at 1600 the Kingston HyperX jumped out to a 57 KB/s lead and finally at 1756 MHz the Kingston lead with 96 KB/s advantage over the Dominator kit.
EVEREST ULTIMATE
"EVEREST Ultimate Edition is an industry leading system diagnostics and benchmarking solution for enthusiasts PC users, based on the award-winning EVEREST Technology. During system optimizations and tweaking it provides essential system and overclock information, advanced hardware monitoring and diagnostics capabilities to check the effects of the applied settings. CPU, FPU and memory benchmarks are available to measure the actual system performance and compare it to previous states or other systems. Furthermore, complete software, operating system and security information makes EVEREST Ultimate Edition a comprehensive system diagnostics tool that offers a total of 100 pages of information about your PC."
The way we have the results formatted in Everest is in GB's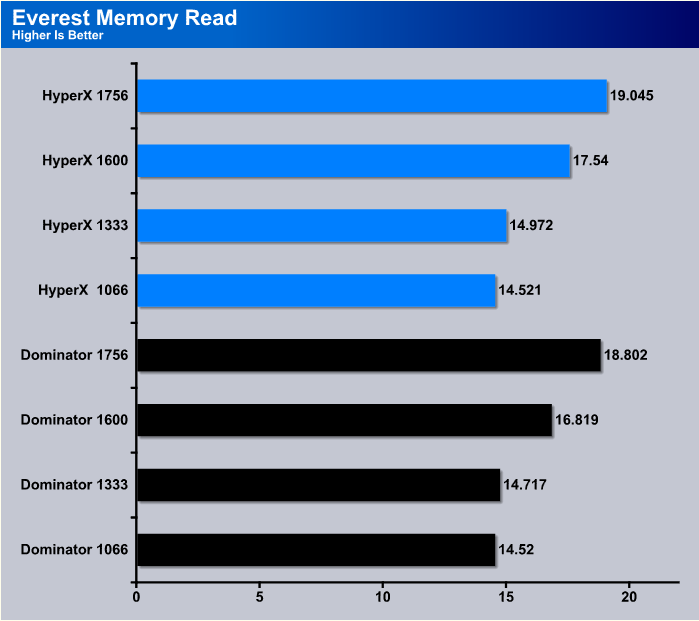 Running at 1066 MHz with timings set to 6-6-6-20 on both kits we'd have to call that a wash, 1 one thousandth of a GB is to close to call. At 1333 MHz with the kits running their timings at default the Kingston kit ran 255 MB/s faster than the Dominator kit. At 1600 the rated sped of both kits the Kingston kit ran 721 MB/s faster. Then at the highest speed tested the Kingston HyperX kit ran 243 MB/s faster. With the Dominator kit running at 8-8-8-24 and the Kingston kit running at 8-8-8-20 the difference in the timings aren't enough to completely explain the speed differences. In this test the Kingston kit is a little faster.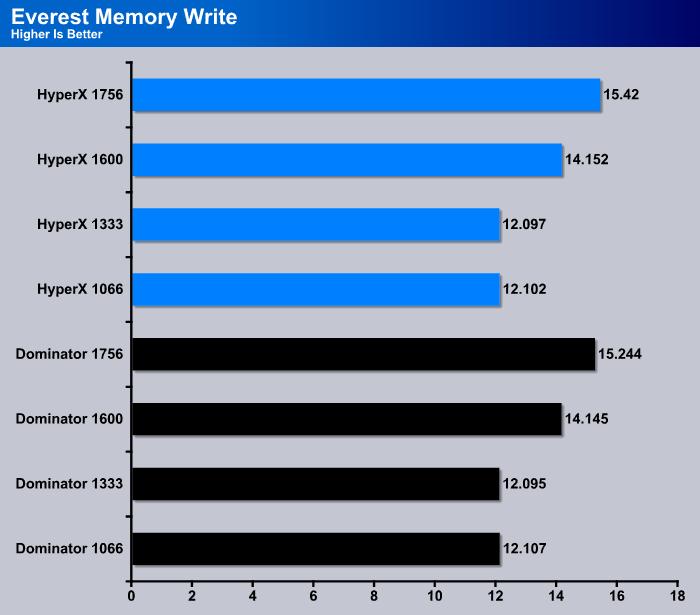 In the Everest memory write test from 1066 to 1600 MHz we'd hate to make a judgment, again thousandths of a GB/s is just to small a difference to declare one better than the other. When we got to 1756 MHz the Kingston kit came out a winner by a nose.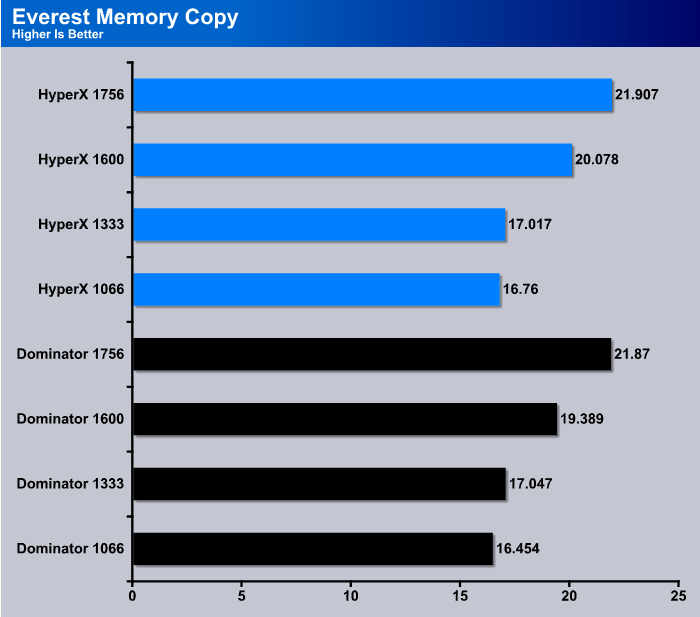 In the Memory Copy test the Kingston came out ahead in 3 of the 4 tests with the Dominator in the lead at 1333 MHz by a hair. Both of the kits have nothing to be ashamed of and perform remarkably well.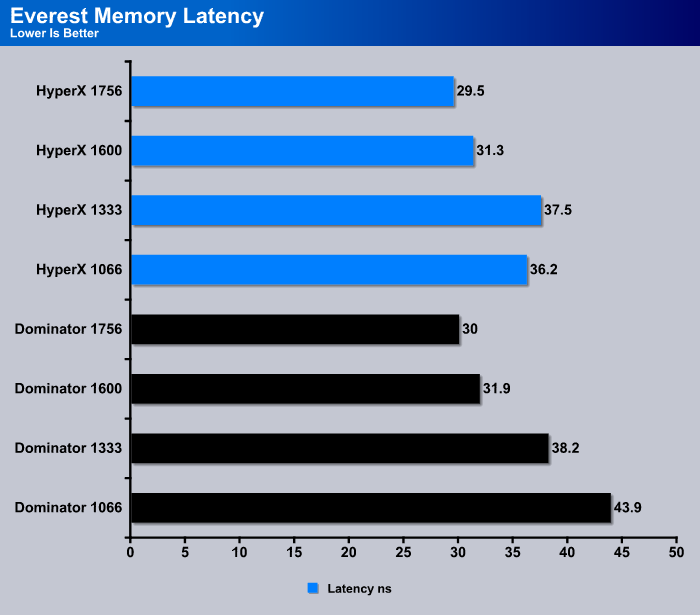 The Latency Test explains a lot if you know what your looking at. Overall the Kingston kit has slightly better latency. Lower being better. While it might be just a fraction lower on latency that fraction happens a tremendous amount of times. Take that small advantage and mutiply it across all the transactions performed in RAM and that's probably the single largest reason the Kingston HyperX came out just a hair faster than the Dominator kit.
CONCLUSION
We saved the Overclocking results for the conclusion and we'll get right to those without dragging it on any. Well lets drag it out just a little bit. We checked the speeds with CPU-Z and a few other utilities like Everest and Sandra. Several of them were having trouble reading the Cas# Latency on both kits. BIOS was reporting 8-8-8-24 (Dominator) and 8-8-8-20 (HyperX) correctly all the way up to 1756 MHz. Then at 1756 MHz CPU-Z was reading 9-8-8-24 (Dominator) and 9-8-8-20 (HyperX) so we assume CPU-Z and Everest (which was showing ?-8-8-20 and ?-8-8-24) were in error and reading the memory timing for Cas# Latency wrong. Since it was reading both kits at 9 for Cas# Latency we went ahead and ran with the tests but we reported what BIOS was telling us 8-8-8-xx.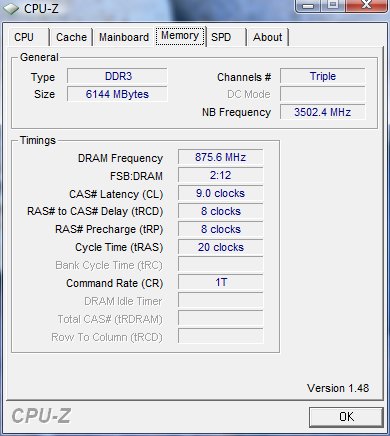 Both kits clocked up to 1756 quite easily. We stopped there on the Kingston kit because we wanted to keep the clock speeds the same across all the tests. There might be a little more there to get you'd have to discover that for yourself.
The Kingston kit performed as well as the Corsair Dominator kit and in most cases a little better. That might be due to the slightly tighter timings on the Cycle Time (tRAS). None the less it performed a little better and if we had to call a winner we'd say the Kingston HyperX DDR3 1600 triple Channel kit won the SPD Shootout.
That being said though both kits performed like champions and we wouldn't have a problem recommending either kit.
The Kingston kit was completely plug and play at every speed up to and including 1600 and we only had to drop the multiplier from 28 to 26 and crank up the FSB a little to overclock it to 1756. No adjustments to voltage were made it ran at 1756 at the same 1.65v it ran at when we had it clocked to 1600. Needless to say the 156 MHz boost we got with no voltage increase was quite pleasing. The ram was ultra stable during testing and during normal every day use.
We don't have any qualms about making the occasional play on words so wait for it: The Kingston DDR3 1600 Triple channel kit refused to be Dominated by the Corsair Dominator and shows itself at least the equal of the highly touted Dominator kit. In most cases the HyperX was a tad faster. We like faster.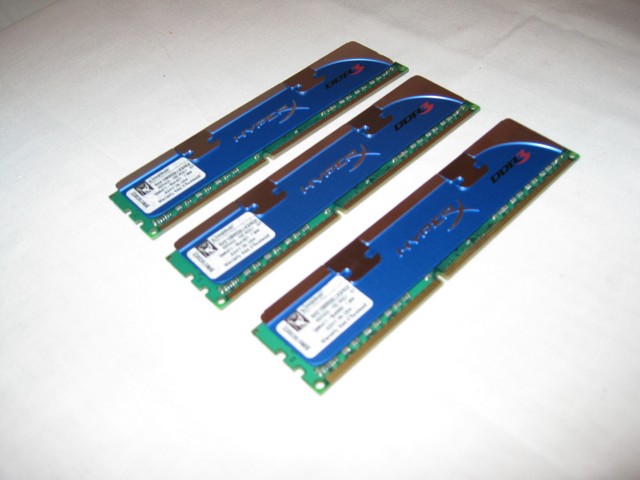 We are trying out a new addition to our scoring system to provide additional feedback beyond a flat score. Please note that the final score isn't an aggregate average of the new rating system.
Performance 9.5
Value 9
Quality 10
Warranty 10
Features 10 (XMP On The Kit Is Excellent)
Innovation 10
Pros:
+  Great Performance
+  Looks Nice
+  Ran Really Cool
+  Performed As Well As If Not Better Than The Dominator Kit
+  Very Stable
+  Plug And Play
+  System Was Snappier
Cons:
–  DDR3 Triple Channel In General Is A little Expensive
The Kingston DDR3 1600 6GB (3 x 2GB) Triple Channel Kit is some seriously fast ram. Paired with Core i7 it's a force to be reckoned with.
Final Score: 9.5 out of 10 and the Bjorn3D Golden Bear Award.