As files keep getting larger, there is a need to keep increasing the size of devices to transfer these files. Today Patriot has brought us a 64 GB flash drive.
INTRODUCTION
At one time, it was believed that the 1.44 megabytes of data that a floppy drive held was more than enough. Now we realize that this is not the case. Files keep on getting larger and there's no sign of that slowing down. This has given rise to the need for larger and larger capacity storage devices such as flash drives. Today, the largest flash drive available at larger retailers is 64 GB. Patriot has sent us their crack at making a supurb 64 GB flash drive. Will it compare to other makers' efforts in the field?
A plus for many people when it comes to flash drives is that they are much smaller than portable hard drives. Many times they only need a storage device on the fly. Portable hard drives are just too bulky to carry around all the time. Then comes the argument of space, but 64 GB this is no longer a issue.
One drawback that should seem obvious is its sheer storage space, and how it manages it. Generally, larger hard drives take longer to read and write information. Can these same concepts apply to a flash drive?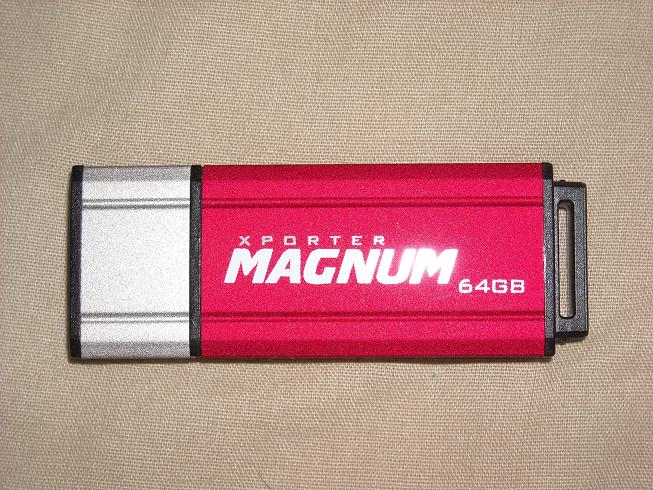 About Patriot
Company Profile
Established in 1985, Patriot Memory builds a full range of memory module and flash memory products, offering a perfect blend of quality and value. Patriot products include Extreme Performance (EP), Signature Lines (SL) and Flash Memory solutions (FM)
Product Design
We understand the value of designing and responding quickly and intelligently to the rapid changes inherent in the memory module industry. This commitment to R&D enables us to deliver the best quality memory modules powered by the latest innovative technology.
QA/QC Testing
Patriot Memory ensures that every module meets or exceeds industry standards. The manufacturing process begins with high-quality components and ends with rigorous functional testing to ensure each module's reliability and compatibility.
Patriot Memory modules are approved by leading motherboard and system manufacturers such Intel, Tyan, Supermicro and Iwill. Patriot Memory is a member of Apple Developer Connection. Awards from such leading product review sites as XBit Labs, Anandtech, Tom's Hardware and Hot Hardware.com demonstrate Patriot EP and DC+XBLK memory modules set the standard for performance and reliability.
SPECIFICATIONS
I M A G E   C A P A B I L I T I E S


(Approximate number of images per card)

Type of Camera
*File Size (MB)
128MB
256MB
512MB
1GB
2GB
4GB
8GB
16GB
| | | | | | | | | | |
| --- | --- | --- | --- | --- | --- | --- | --- | --- | --- |
| 2 Megapixel | 0.86 | 148 | 296 | 592 | 1191 | 2381 | 4763 | 9526 | 19051 |
| 3 Megapixel | 1.17 | 109 | 219 | 438 | 876 | 1750 | 3501 | 7002 | 14003 |
| 4 Megapixel | 1.90 | 67 | 134 | 269 | 538 | 1078 | 2156 | 4312 | 8623 |
| 5 Megapixel | 2.54 | 50 | 100 | 201 | 403 | 806 | 1613 | 3225 | 6450 |
| 6 Megapixel | 3.04 | 42 | 84 | 168 | 336 | 674 | 1347 | 2695 | 5390 |
M U S I C   C A P A B I L I T I E S
(Approximate number of minutes per card)
**Capacity
*MP3
*WMA
 
Normal
(128 kbps)
Fine
(160 kbps)
Normal
(96 kbps)
Fine
(128 kbps)
128MB
142
106
164
125
256MB
284
213
328
250
512MB
568
426
656
501
1GB
1137
853
1312
1003
2GB
2274
1706
2624
2006
4GB
4548
3412
5248
4012
8GB
9096
6824
10496
8024
16GB
18192
13648
20992
16048
 BUNDLE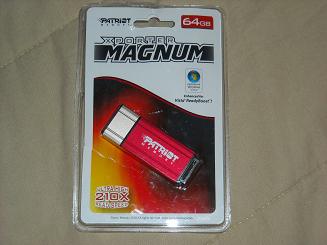 Front of package
The package is pretty standard for a flash drive. There is a plastic cover that keeps the contents in and provides protection from damage. This product is Windows Vista Certified, so you can be quite sure that you won't have any issues using this on a system with Vista. They also mention it as a 210x speed flash drive. I am not familiar with this measurement, and most likely Patriot has made it up to show their performance compared to other flash drives.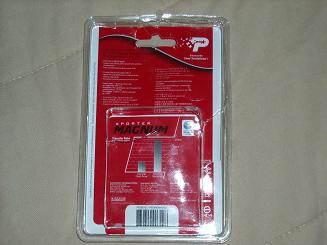 Back of package
On the back Patriot has printed a graph that shows their performance compared to a 50x Flash drive. Put quite simply, this flash drive easily surpasses the 50x flash drive. Some testing should clear up if 50x is referring to a normal flash drive.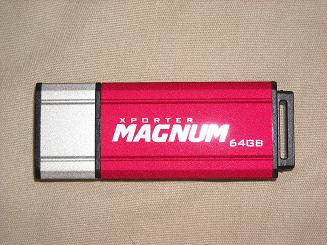 Front of flash drive
With my first look, this flash drive looked to be of a very high quality. Upon further investigation, the looks are backed up by its feel. It feels very sturdy. I even think it may be possible to run it over with a car, and no damage would be done to the flash drive.
Back of flash drive
The design is exactly the same as the front, only the text is different. Here you can see the business end of the flash drive, the connector. USB is standardized, and it's no different here. I would have preferred that Patriot made the connector slide out, like in the SanDisk Cruzer micro flash drives, but the cap works just as well.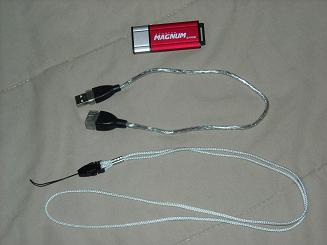 Accessories
There isn't much that comes with the Xporter, but it is just a flash drive, so there's not a whole lot of things you can add to the bundle. There is a USB extender cable (for when you have to plug the flash drive into a tight space) and a lanyard (for keeping the flash drive around your neck).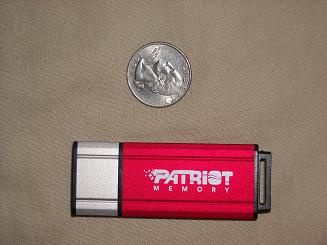 Quarter

The flash drive is quite a bit larger than a quarter. This is definitely the largest flash drive that I have ever seen.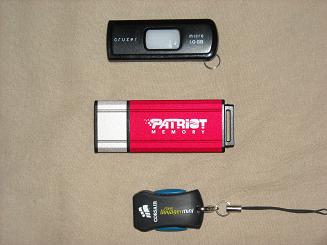 Other flash drives
The Patriot is large when compared to other popular flash drives like the Sandisk Cruizer Micro and the Corsair Voyager Mini. Though large, it is not so large that it wouldn't fit in your pocket.
METHODOLOGY
Test Setup

CPU
Intel Q9550 @ 3.7 GHz
Motherboard
DFI X48 T3RS
Case
Tagan El Diablo Advance
Memory
G.Skill Pi 1333 @ 1454, 6-6-6-14
Video Card
Sapphire 4850 Dual Slot
Hard Drive
 Western Digital SE16 640 GB
Cdrom Drive
Lite On IDE DVD Burner
Power Supply
Corsair HX1000W
Operating System Used
Microsoft Windows Vista 64 bit Ultimate
Type of Software Used During Testing
Sisoftware Sandra, HD Tach, HD Tune
For each test I used a Corsair Voyager Mini and a Sandisk Cruizer Micro to provide a comparison between the Patriot and similar flash drives. This will also serve as a comparison between sizes of memory. The Corsair is a 4 GB drive and the Cruizer is a 1 GB drive. Each test was done twice to be sure that no random numbers where obtained. For HD Tune, I used the Benchmark tab. I then recorded the average read, latency, and burst speed.
HD Tune 3.1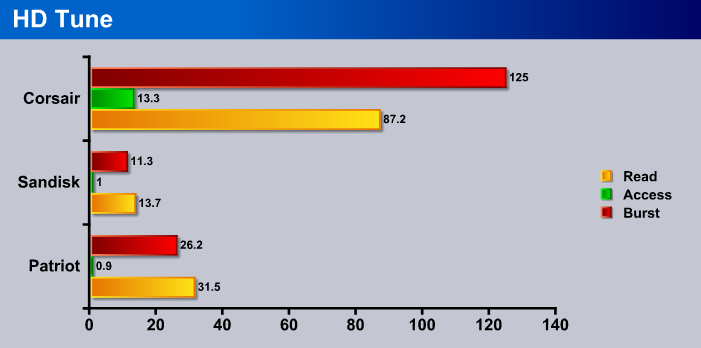 The higher the burst speed the better, the lower the access the better, and the higher the read the better. The Corsair drive was the clear winner in the read and burst categories. It completely smashed the competition, but the Patriot had the lowest access time, thus evening out the field a bit. Despite its small size, the Sandisk did not pose a threat. In fact, it was beaten by a fair margin by the Patriot drive.
HD Tach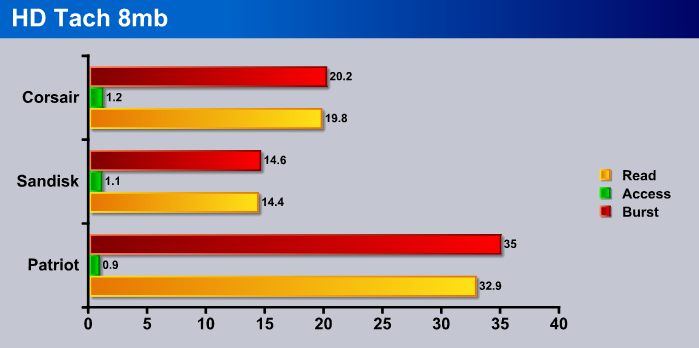 As with the last test, the higher the burst speed the better, the lower the access the better, and the higher the read the better. The Patriot was the clear winner here. It easily managed almost two times the performance over the Corsair drive.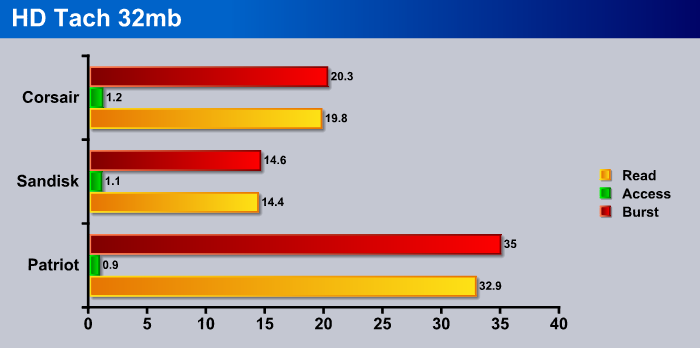 The results were exactly the same in this test as the last one, except a 0.1 increase in burst speed on the Corsair drive. The Patriot drive is doing very well so far, especially for it being 16 times bigger than the Corsair drive and 64 times bigger than the Sandisk drive.
SiSoft Sandra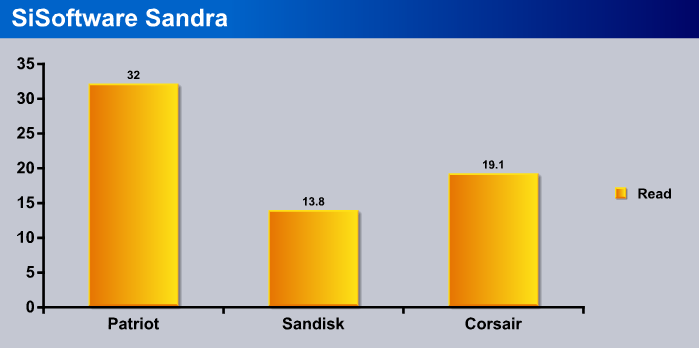 In this test the higher the score the better. Once again the Patriot drive wins out over the other drives. The Patriot went 2 for 3, quite an impressive streak. I was really disappointed in how bad the Sandisk performed. I was really expecting it to do the best since it has the least memory to manage, but this proved to be the opposite.
CONCLUSION
With access to faster internet there is even more need for massive amounts of space. Patriot attacks this need with their 64 GB flash drive. It does the job exceptionally, even being able to compete and in many cases beat other similar flash drives. This is a very amazing accomplishment for a flash drive that is so much bigger than the competition. The performance for the size was my only really real concern with this flash drive, but that concern was quickly shot down when I saw the test results. 
The price is the only big downfall of this drive. With a MSRP of $150, you can buy a 1 TB hard drive for less than this. That is just the cost of portability. If you happen to not mind carrying around a hard drive, then I would suggest grabbing a hard drive and enclosure. You will get more space for your money. For the size this drive is simply an unbeatable storage solution.
Though it is a fair margin larger than other flash drives, its not overly large. If you are on the fence about buying one of these drives because of the size, then I suggest you get one. I was easily able to put it in my pocket. This drive really is a great all in one drive no matter what data you have to store, and you can be sure you will have enough speed and space.
Pros:
+
 Impressive Performance
+
 Storage space
+
 Appearance
Cons:
–
 Price
–
Larger than others
With a final score of 8 out of 10 the Patriot Xporter Magnum 64 GB Flash Drive receives the Bjorn3D Seal of Approval.