With new CPU's comes New Chipsets with New chipsets come more and features and better overclocking. MSI has giving us all of the features the Intel X58 chipset has. Lets look at the X58 Platinum.
INTRODUCTION
With the introduction of the Intel's newest CPU's, Intel has also released a new chipset along with it. The X58 has proven to be an absolute power house in terms of all-out performance, and not just in gaming performance, but in anything we put it through. This X58 Platinum motherboard is just that, an MSI power house. 
So, before I give it all away in the introduction, let's step inside and see how this motherboard stacks up.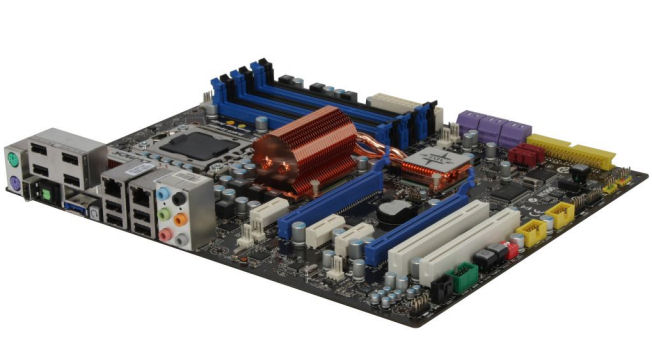 About MSI
Founded in August 1986, MSI has continued to uphold a business philosophy that stresses "Award-winning product quality and outstanding customer service." MSI specializes in the design and manufacture of mainboards, graphics card, add-on cards, servers/workstations, iPC, barebones, communication devices, CE products, Notebooks, and car PC products.
"Quality Products Create Faithful Customers" is a motto that guides all that we do at MSI. For this reason, MSI goes all out to be the best of the best in research and development. Currently, 2,500 experienced engineers staff our research and development department. This talented team carries out its work with the latest research equipment, continuing to raise the bar on product quality and innovative product features.
At MSI, we put our motto — "Quality Products Create Faithful Customers"–into living practice. In 1995 and 1996, we received ISO-9002 and ISO-9001 product quality certification, respectively. In 1999, MSI received ISO-14001 environmental certification, affirming our commitment to the environment. Furthermore, MSI products undergo rigorous quality control testing, attaining a 99.6% quality rate, a level far higher than the industry standard. MSI's superior product quality has garnered exceedingly favorable coverage from the global media, countless awards, and a very enthusiastic customer response.
In recent years, MSI has aggressively expanded into mainland China to meet the needs of our global customers. In the first quarter of 2001, the Baoan Plant in Shenzhen started production, vastly increasing MSI's production output as well as revenue. Aside from the Baoan Plant in Shenzhen, MSI has also established production facilities and a research and development center in Kunshan, China in 2003. The mainboard annual production is expected to reach 20.8 million units and the annual graphics card production is expected to reach 11.8 million units. Combined with the production from Taiwan, MSI is now becoming one of the biggest mainboard and graphics card manufacturers in the world.
To keep abreast of the global market and offer our customers the best service, speediest product delivery, as well as sales and technical support, MSI has established subsidiaries in mainland China, Czech Republic, Hong Kong, Japan, Korea, India, Taiwan, the U.S.A., Canada, Brazil, Germany, France, Australia, the Netherlands, Turkey, U.K., Russia, Ukraine, Serbia, and Poland.
To broaden our global market and to build a good image, we keep striving on marketing promotions, for example, posting advertisement on some reputed media, releasing news information, improving product box design, holding many promotion activities and attending all important PC exhibitions in the world. Apart from developing the mainboard, graphics card, server/workstation, and barebone, MSI has also introduced the communication, CE, Notebook, iPC, and car PC products to bridge the transition to the post-PC world. MSI adopts a diversified business model, and is transforming itself into a leader in the Consumer Electronics age.
Together, we are entering a greatly-accelerated world. Let MSI be the first to welcome you into this exciting new Digital Universe!
SPECIFICATIONS
Specifications
Socket
1366
CPU (Max Support)
Core i7
FSB / Hyper Transport Bus
6.4GT/s
Chipset
Intel® X58
DDR2 Memory
N/A
DDR3 Memory
DDR3 800/1066/1333/1600
DIMM Slots
6
Max Memory (GB)
24
PCI-Ex16
2
PCI-Ex8
N/A
PCI-Ex4
N/A
PCI-Ex1
3
PCI
1
IDE
1 JMicron controller
SATA
8 6 ICH10R, 2 Jmicron controller
RAID
0/1/5/10/JBOD
LAN
10/100/1000 x 2
TPM
1
USB ports (Rear)
8 total on board 12
Audio ports (Rear)
6+Optical SPDIF
Serial ports (Rear)
N/A
Parallel ports (Rear)
N/A
1394 ports (Rear)
1
eSATA
1
VGA
N/A
DVI
N/A
HDMI
N/A
Display Port
N/A
Form Factor
ATX
DrMOS
YES
APS
YES
SLI
N/A
3-way SLI
N/A
Hybrid SLI
N/A
CrossFire X
YES
Hybrid CrossFire
N/A
As we look over the specifcations, notice that this motherboard only supports ATI crossfire X for multi GPU configurations. If you want an SLI Capable Motherboard, check with the manufacturer first to make sure that board supports both ATI CrossFire X and Nvidia SLI. MSI Does have an SLI capable X58 Platinum motherboard, but this one is not.
PACKAGING
To get a better picture of each of the images please feel free to just click on the image for it to expand to a larger size.
We are going to start off with the top edge of the packaging. We see that MSI uses a handle so you can tote the motherboard box around pretty easy. On the bottom side of the top of the box, we have the product's name, "X58 Platinum", written with pearl type lettering.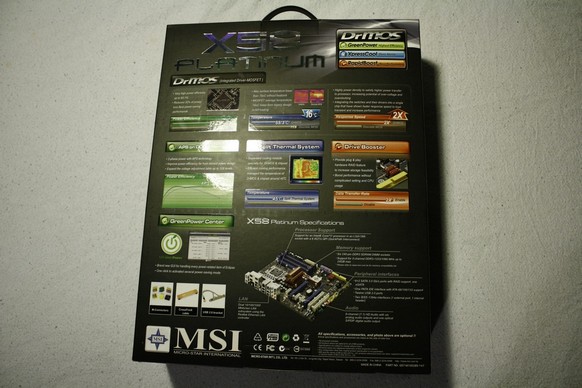 Flipping the box over to the back side, MSI has listed specifications of the motherboard, features, and other useful information about the X58.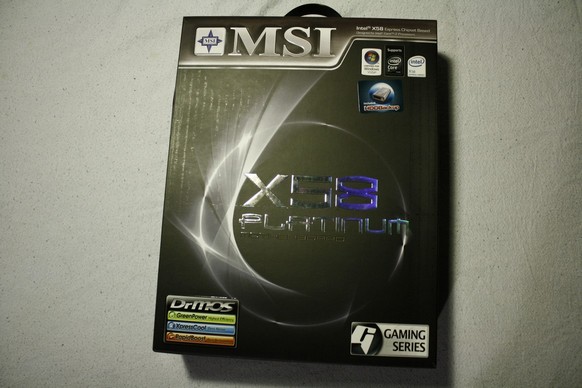 Now its time to check out the front of the box. Right in the center of the box MSI put the name of the motherboard, X58 Platinum in a pearl type lettering. Glancing up towards the left hand corner of the box, MSI included a HDD back up software.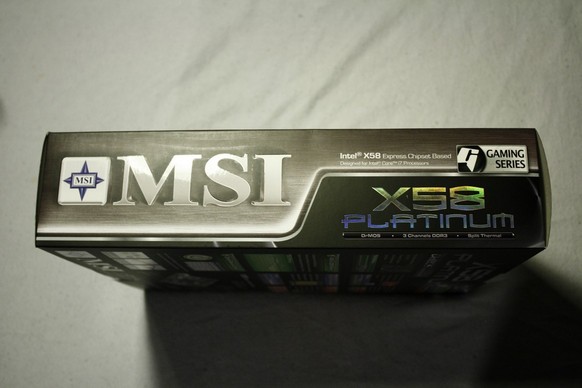 The side of the packaging.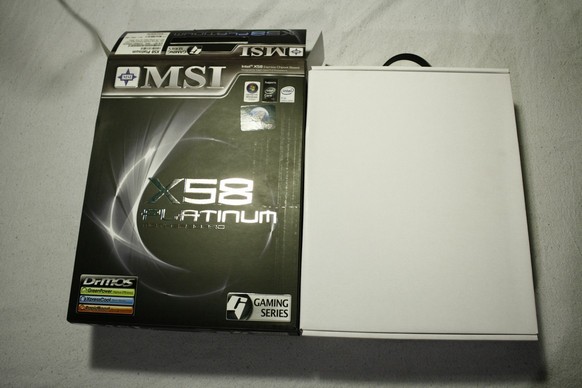 Once we open the box we are greeted with another box. Boy, you just gotta love these box packages.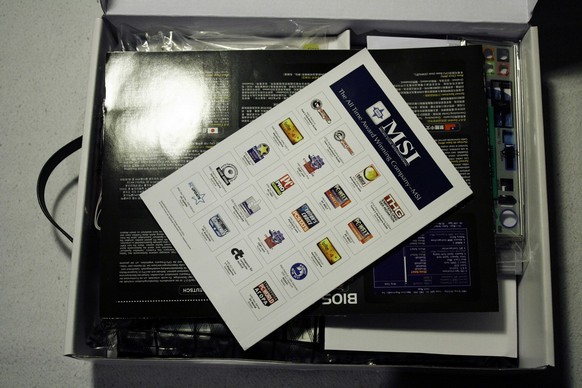 Opening the the second box, we finally see what's inside of it, but not the motherboard yet. We are greeted with the normal paper work we see with MSI motherboards. I will go more in depth of what comes with the box in a few.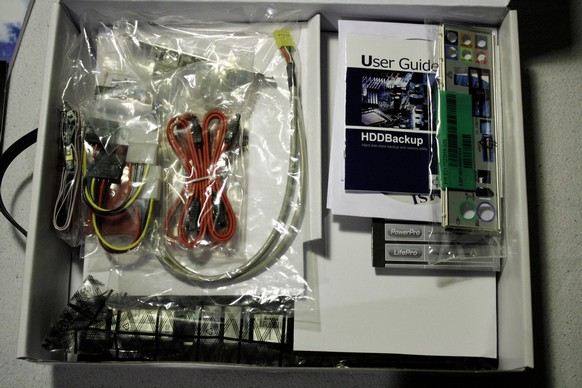 Upon removing the paper work, we are greeted with some SATA cables, and the rear I/O plate. These are on top of a card board insert that sits right on top of the motherboard. So we have to remove these items and a cardboard insert to see the motherboard. MSI made sure that the motherboard would not be harmed during transport.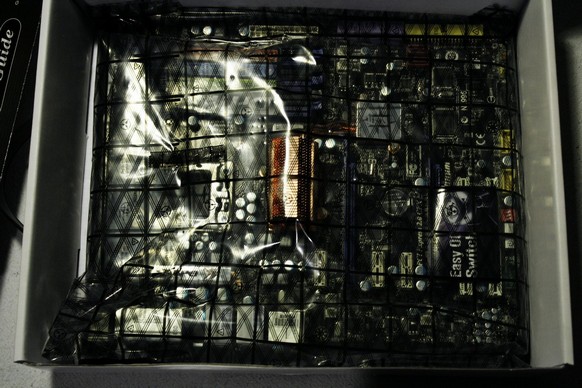 After removing everything that was on top of the cardboard insert, we finally see the motherboard in all its glory, protected in the antistatic bag.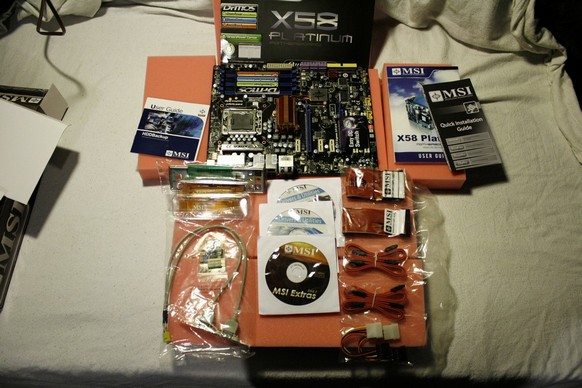 These are the contents of the box laid out. In the top center of the layout, we have the MSI X58 Platinum motherboard. To the left of the motherboard is the HDD back up guide, and moving to the far right of the motherboard we have the quick installation guide and instruction manual. Right below the motherboard, we see the rear IO plate, two ATI crossfire ribbons (this motherboard is only ATI crossfire capable, not SLI), a bag of IO port extensions, and a USB PCI connector. In the center is three discs, one Vista driver disc, one XP driver disc, and an MSI extra utilities disc (do not get confused with the driver discs). To the right of the discs, is the IDE, Floppy ribbons (Okay, I am a bit confused on the floppy cable. I looked around the motherboard for a floppy connector and did not see one, looked again to make sure the floppy connector wasn't masquerading as an IDE port again. Nopers. Needless to say, there is NO floppy connector on this motherboard. HOORAY! They finally did away with it.) So, for those still holding on to the ever ancient device known as the floppy drive, they can no longer can use it. Right below the IDE and floppy ribbons we have four SATA cables, and two Molex to SATA power adapters. I did not see a D-LED display at all (this will be covered on the other page).
MOTHERBOARD LAYOUT
To get a better picture of each of the images please feel free to just hover your mouse over on the image for it too expand to a bigger size.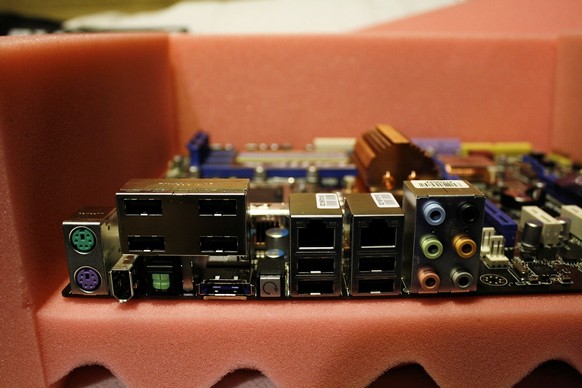 We need to start somewhere so lets start off at the rear IO ports of the MSI X58 Platinum. We are going to start off from the left and move to our right. To the far left MSI is still including the use of PS2 mice and keyboard ports. To the right we see a fire wire port, an digital audio out, and a e-SATA port. Now right above the Fire wire, digital audio, e-SATA ports, MSI placed a 4 port USB header here. Moving to our right, We see a rear ward clear CMOS button, its nice to see manufacturers starting to include this little feature. To the right of the clear CMOS button, we notice 2 ethernet ports fallowed by 2 USB ports per. Giving us a grand total of 8 USB ports on the back of this motherboard alone. Now finally we see the 7.1 Realtek audio out puts.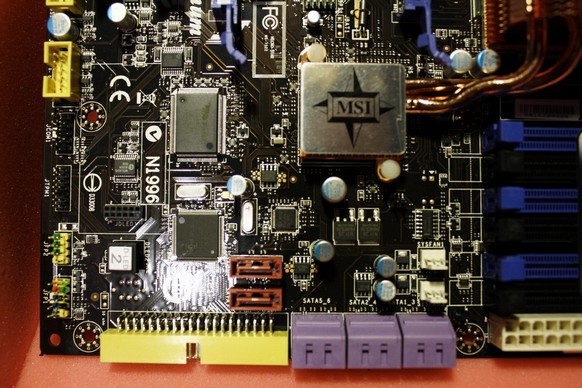 Moving to the bottom left corner of the motherboard starting from the top left of the picture then work my way around from there. Top left corner, we see a USB front IO port, moving downwards to the very bottom corner of the mother board. This is where MSI placed the front IO ports, the on/off, power/hdd leds, and the pc speaker. To the right of the front IO ports we see MSI has included a strange button and a plug in port of some kind here labled D-Led. This is for some front diagnostic device we can use to display any errors we may revcieve with this motherboard. Just 1 small problem here, this board did not come with it. Right below the D-Led button MSI included a IDE port and if you look right above this port you will see 2 red 90° SATA ports, all three of these ports are ran off the JMicron controller and they are not native to the ICH10R southridge. Moving to the right of the IDE port we see MSI used 6 180° SATA ports colored purple, these are native to the ICH10R southbridge. Nestled right above the far right SATA ports we see fan header 1/2 (I am just numbering as i see em to keep track of how many fan headers there are). Directly above the 6 180° Ports we see the ICH10R southbridge. While looking at the southbridge, we notice 3 heat pipes coming from this heat sink going towards the IOH (NB).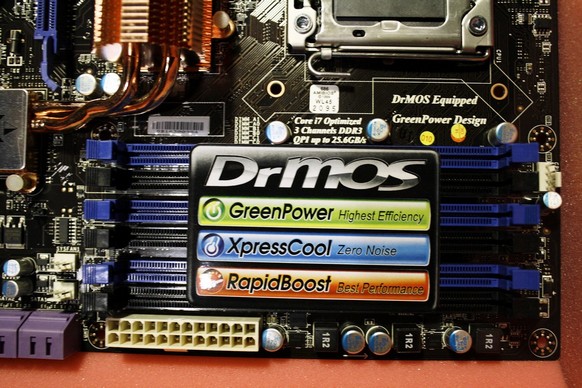 Moving to the right of the motherboard. Right next to the 180° SATA ports we see the main 24 pin power plug. Looking right still, se begin to see that MSI used a 2 phase analog power for the memory. of coarse looking right above these we see the 6 memory ports. This motherboard supports up to 24 Gigs of memory (from what the instruction manual telling me). To the far right of the top 2 memory ports we see fan header #3 (CPU fan). Remember the lettering right above the memory slots here, the one that says 25.6 GBs of theoretical memory bandwidth.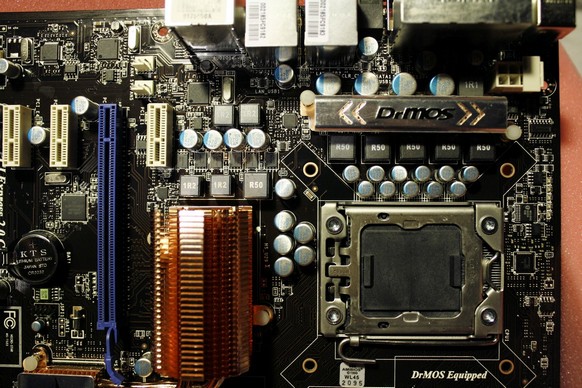 Now lets move over the CPU socket and the IOH area's. Starting at the CPU socket looking right above this we see a long heat sink and 5 ferrite chokes in front of this heatsink, MSI uses a 5 analog phase power to feed the CPU with power. Up to the far right hand corner MSI placed the 8 pin EPS power plug here, awkard placement, getting to this Pllug with an extension cable my prove to be a challange when using this motherboard in a case. Moving to the left of the CPU socket, we notice a cooper heatsink with 3 heat pipes coming from the southbridge. This is the X58 IOH (northbridge for those who still call it this). Looking right above this heatsink we see 3 more ferrite chokes, well thats right MSI used a 3 phase analog power system for the IOH as well. Moving left again, we see a PCI-E 1x port, then right in front (roguhly) are fan headers 4,5.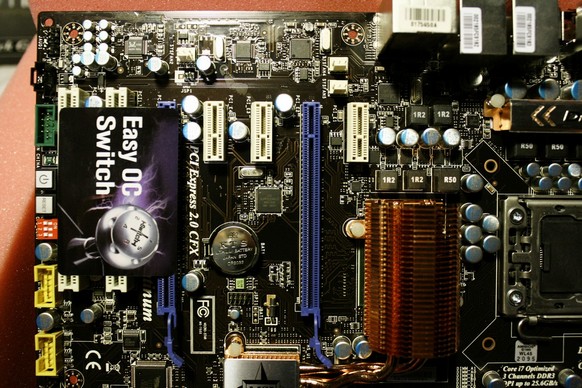 Looking over the PCI-E 16x ports. Both of these are full 16x 2.0 compliant ports, basically when we run Crossfire on this board the video cards will remain at a full 16x not 8x. inbetween the 2 16x PCI-E ports MSI included 2 more PCI-E 1x ports giving us a grand total of 3 PCI-E ports. Nestled right in front and in between the last PCI-E 3 port and the second PCI-E 16x ports we see fan header #6. Moving left, We see MSI also included 2 PCI ports for those still using the ever aging PCI bus (well I am one of them still). In the next picture I am going to go over the little red thingy we see in this picture that is right next to the last PCI port.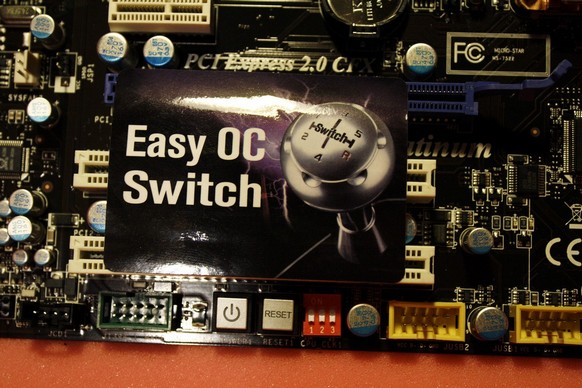 And here it is, the red thingy. Or better known as a DIP switch. This is an easy overclocking part, basically if you dont want to fiddle in the bios you can set the FSB of this motherboard to 133, 166, or 200 therefore giving you an overclocked CPU. If you going to use the BIOS to overclock or dont wish to overclock your CPU then set this to 133 FSB. The DIP switch is not set properly so make sure you do a visual walk around the motherboard prior to installing it. To the left of the DIP switch, we see MSI used on board power and reset buttons, now these are definetly in an awkward spot, situated right below the last PCI port, if this motherboard is in a case be really hard to get to these if we need to. to the right of the DIP switch we see our last USB header port, giving us a grand total of 12 USB's.
These next few pictures, are for your viewing pleasure. I just randomly took snap shots of key areas of the MSI X58 Platinum motherboard to give you a better idea on how it looks. Enjoy.
MSI included 2 ATI crossfire ribbons. Notice that they are slightly longer then the ones we get included with our ATI video cards. May prove to be usefull for those with big heatsinks and needs that extra length on our ribbons to do crossfire.
INSTALLATION
To get a better picture of each of the images please feel free to just hover your mosue over on the image for it too expand to a bigger size.
It only seems fitting that we start on the CPU installation. Now be careful on this part. I was fortunate enough to have the little hold down lever spring back and whap my poor cold fingers. Needless to say, my finger was cursing me out for a couple of hours afterwards.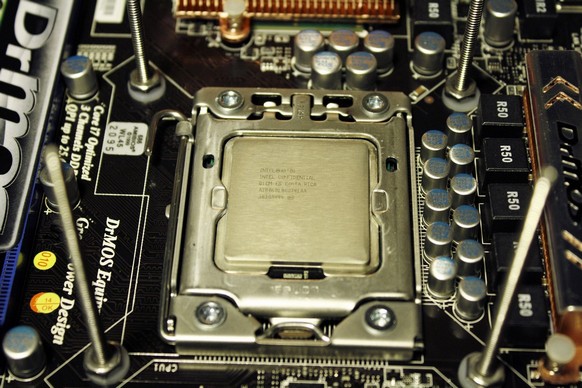 The CPU firmly in its rightful spot. Whap my fingers now sucka, LOL.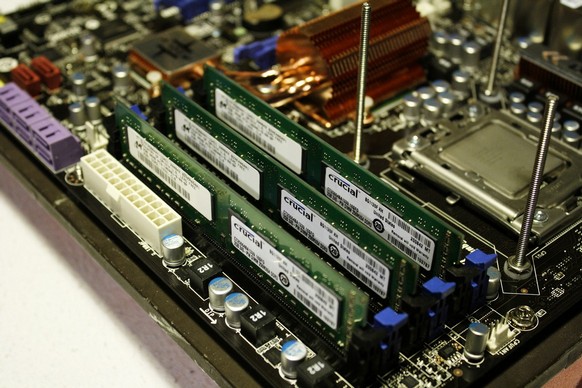 Next is the memory installation part. It's pretty simple and there's nothing new on installing memory since the days that SDRAM first came into our lives. We just do more of them now.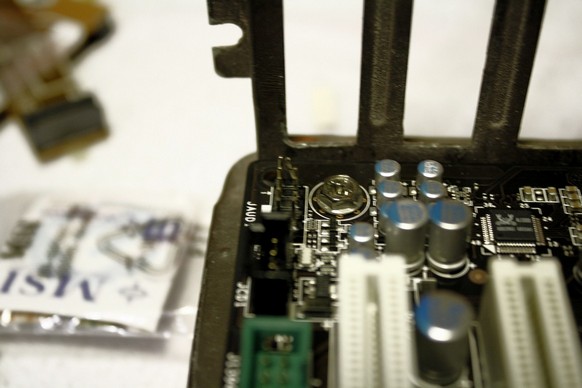 Now this was odd. The motherboard had a bent pin. It was especially odd because of where this one is located. This is the external front I/O headphone header. Things happen. So make sure that on all of your new motherboards you get you do a "Good Visual" walkthrough on it. Make sure everything is where it supposed to be.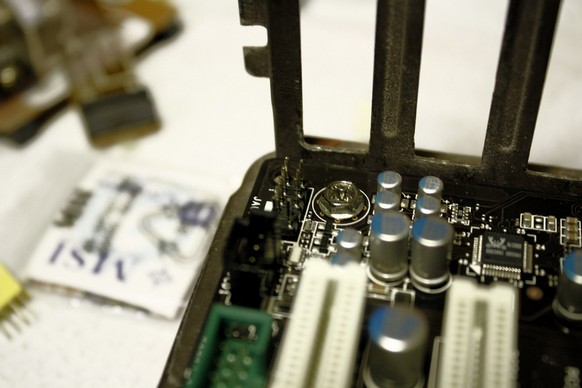 I took a little flat head screwdriver and straightened the pin up.
MSI used an extension plug for various ports around the motherboard. This comes in handy for those plugs that have multiple pins that go in one specific area (i.e., the front power I/O panel).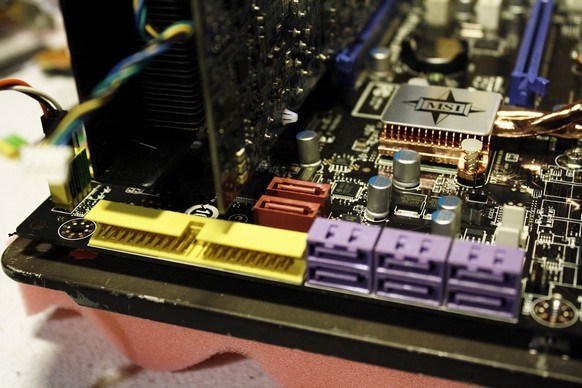 I am moving a Sapphire Radeon 4870 1 gig video card around the PCI-E ports and taking snapshots of it (this is the only video card with a full heat sink that I have) to show you the clearances on or around the PCI-E ports. Here we can see the two red SATA ports are really close to the second PCI-E port and may be difficult to access if using these SATA ports.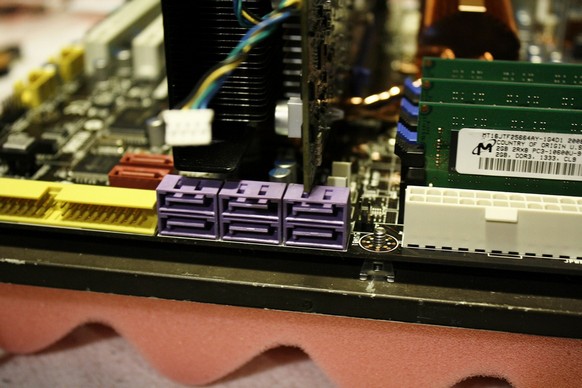 MSI used 180° SATA ports on the six primary SATA ports and these don't hinder the video card and the video card itself doesn't hinder getting access to these ports.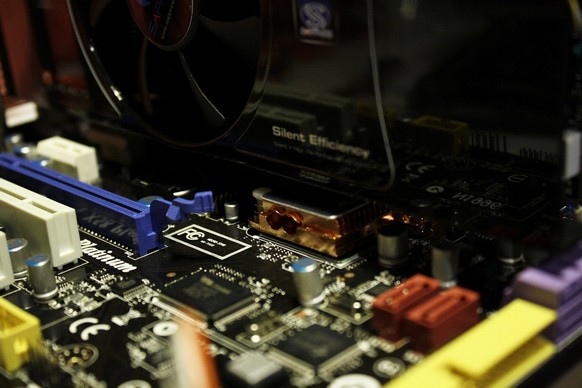 Looking at the Southbridge chipset. Yes, it sits right behind the first PCI-E port and underneath the primary video card.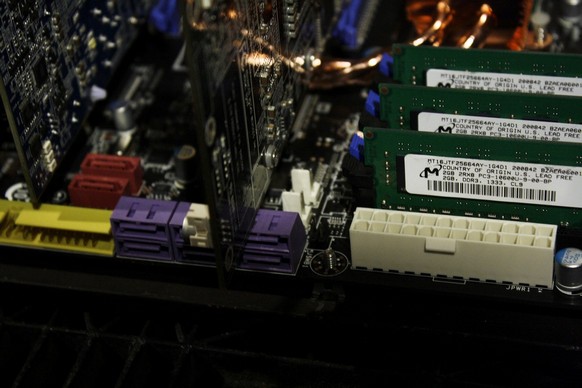 Looking right behind the primary video card at the fan headers here. We see that they do sit real close to the video card.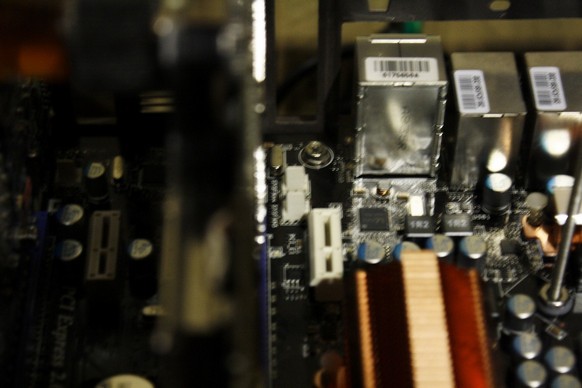 Looking at the two fan headers near the rear of the motherboard. These sit in-between the PCI-E 1x and the PCI-E 16x ports. If you plan on using these fan headers with cards in both of these PCI-E slots getting to the fan headers will be rather difficult. 
Looking at the difference between the Included ATI crossfire ribbon and MSI's included crossfire bridges. I used the included ATI ribbon during testing.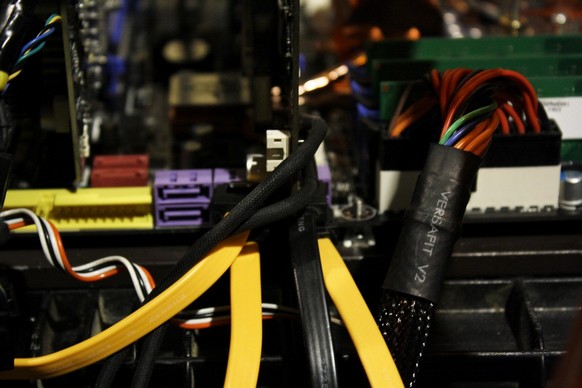 Here's looking at the first two fan headers. Once fans are connected, they are close to the video card. But, we can still use 'em.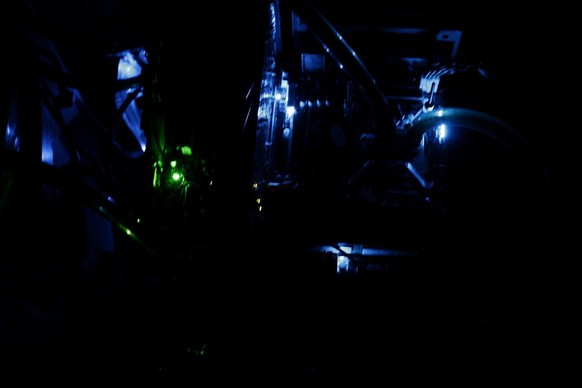 Night time shot of the MSI X58 Platinum motherboard. Oh, pretty. In the BIOS, you can turn these lights off if it suits you.
BIOS PART 1
I am not going to get into a great amount of detail in the BIOS. There are just way too many screen shots to do so. If there's a reason for me to bring it to your attention, I will do so. The BIOS is very well laid out and all the adjustments were easily located. MSI used a standard layout we have all come to know. Also, the BIOS was really easy to navigate through and all the settings that pertained to a specific function of the motherboard were in one spot.
Time for the BIOS screen shots.
Now since we have gotten the first part of the BIOS knocked out, it's time to explain the next few in detail.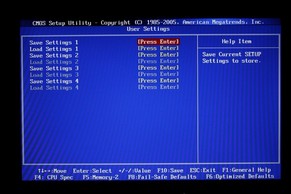 This is the BIOS part where we can save up to four personal BIOS settings. It will save every one of our personal settings we make in the BIOS. We can also load each specific setting here as well. Keep in mind, that you cannot rename them. MSI should have allowed us at least to rename the personal settings to make it easier for us to keep track on what personal setting does what.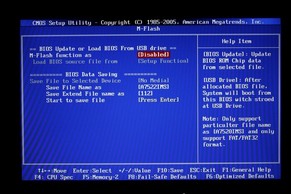 This is a unique feature MSI included on this motherboard. This BIOS portion will allow us to use a USB flash drive to either save the original BIOS.rom to it (or updated BIOS.rom downloaded from MSI). All we need to do is put it on the root directory of the flash drive and tell the X58 Platinum BIOS to boot from the USB flash drive so we can flash the BIOS. Pretty simple stuff really. I would like to say "Good Job MSI" for thinking of this feature.
BIOS PART 2
Again, I leave the best for last such as MSI Core Cell, where we overclock our CPU, memory, and other such adjustments. I just like keeping the overclocking portion separate from the rest of the BIOS as it has a lot of adjustments and needs its own page. Again, I am going to do just a hit and miss on these adjustments. Each adjustment has a setting that it pertains to. MSI also has the min and max off to the left side of the screen.
Please DO NOT copy these settings if you are using a MSI X58 Platinum. I have taken any and all precautions I can think of to keep the motherboard, CPU, and memory from getting damaged during my rigorous overclocking and testing. I am a "Highly Trained Half Crazed Lunatic."
As we can see, MSI did a good job on keep all of the overclocking adjustments in one spot of the BIOS, the Core Cell. As well as giving us plenty of information per adjustment, so we are not shooting in the dark when making these adjustments.
TESTING METHODOLOGY
Test Setup &Testing Methodology
CPU
Core i7 920
Motherboard
MSI X58 Platinum
Case
Open Bench Testing Case
Memory
Crucial DDR3 1333 MHz
Video Card
Sapphire 4870×2/4870
Hard Drives
 3 x 160 Gig Sata2 Western Digital, 2 in raid 0, 1 back up
Cdrom Drive
Lite On Sata1 Dvd Burner
Power Supply
Coolermaster U.C.P. 900watt 80+ Silver
Type Of Coolers Used
DD MC-TDX , Koolance VID-487X2 (Dual Loop)
CPU Speeds Used
2.66GHz, 3.8GHz, 3.990GHz
Operating System Used
Microsoft Windows Vista 64 bit Ultimate
Type of Software Used During Testing
Everest, SiSoft, wPrime, Super PI, 3DMark06, 3DMark Vantage, Far Cry2, CineBench, X3 Terran Conflict Demo, POV Ray, Dead Space, WIn RAR
I used the above listed programs, and ran each of them three times, looking for consistency, and making sure no erroneous readings were present. Throughout my testing I used a fan on the IOH cooler (NB heatsink) to keep this component from cooking itself. The video cards were left on their default settings of high quality in ATI CCC. For the gaming testing sequence, I used the highest quality obtainable from the game and used a 4x AA per game at 1680 x 1050 resolution. For 3DMark benchmarks I only used the default runs (3DMark06) and or performance run (3DMark Vantage). I will only use the GPU type scoring and CPU scoring of these benchmarks, as the total score doesn't mean squat when trying to gauge a motherboard's performance. I used an HD4870 and an HD4870X2 in Crossfire X (better known as Tri-Fire or 3/4 Crossfire). For WinRar testing, I only allowed WinRar to count to 500 MBs and recorded the time it took to get there and how fast the result was.
With Dead Space, I did not have this game during my time on the Smackover X58, so I am using this as an indication of the type of performance you should expect when using the X58 Platinum motherboard while using a 4870×2 and a 4870 in Crossfire X. The video cards were not overclocked on any of the benchmarks or games that I used on either of the X58 motherboards.
OVERCLOCKING RESULTS
Overclocking the MSI X58 Platinum was real simple. After a couple of posts and a swift kick in the butt, I was sitting at 4GHz at a 20x multiplier and 200 FSB (It really helps to know your CPU and memory limits, as it pays off in the end). This overclock wasn't exactly 100% stable when I did my battery of testing. The MSI X58 Platinum ended up failing on my last test wPrime 1024 calculations, so I ended up having to reset the computer as it locked up (just when everything going just perfectly, someone tosses in the monkey wrench). I re-entered the BIOS added CPU voltage and tried again. When calculating 1024 million with wPrime, it failed. After about an hour or so on trying different combinations of voltages, FSB's and such, I finally came to the conclusion that I could not go above 4GHz on this Core i7 920 CPU. So, I decided to try out my trusted 3.99GHz overclock I had with the Smackover X58 motherboard. Well, in this area, the X58 Platinum did not disappoint me at all. I was able to reach 3.99GHz with ease and it was stable. So close to 4GHz but, yet so far away. It's enough to drive someone like me nuts (Oops. Too late. LOL).
Being armed with the knoweldge of not being able to go over 3.99GHz (grrr) on the Core i7 920 CPU, I decided to see how far the X58 Platinum could go as far as FSB wise. I dropped the multiplier on the CPU to 12 and started to up the FSB by 3, reboot, run tests, and if all was good, repeat. Well, long story short, my memory was hitting a wall of 215 FSB x 8 (2:8 or 1:4) = 1720 MHz. So again, this ended that adventure real quickly (just when things were going so well). I could not slow down the memory speed by using a lower divider of 6 (2:6 or 1:3) and I ended up in a Blue Screen of Death once Windows loaded. Since this was the second motherboard where I was unable to lower the divider below an 8 (4 MSI), I came to the conclusion that this CPU is unable to use an 800MHz divider (133 x 3 = 399 x 2 = 800, or in simpler terms 133 x 6 = 800). So, I decided that using an 18 CPU multiplier with 215 FSB (3817MHz CPU) would be slower than a 210 x 19 combination (3990MHz CPU). I went ahead and used a 210 x 19 combination instead for my testing purposes as higher CPU frequency outweighs having a higher memory frequency.
After finally using the default CPU speed of 266 (133 x 20), and trying the higher memory dividers, The MSI X58 Platinum motherboard would not ramp up the memory speed. No matter where I put the divider, whether it was a 5, 6, or 7 divider, it kept the memory at 1066 or on a 4 memory divider. For actual memory speed when using the X58 Platinum, multiply the FSB to the memory divider and then multiply that number by 2 to get actual memory speed (i.e., 133 x 5 x 2 = 1333 effective memory speed). The MSI X58 Platinum kept messing with the memory timings as well (the CAS), when using a 210 x 19 CPU frequency combination, giving me a memory speed of 1680 and memory timings of 10-10-10-20, despite the fact that I had them set at 9-10-10-20 in the BIOS. When I brought the FSB to 133 x 20 (default CPU speed) and used a divider of 6 (memory should have been at 1600MHz 133 x 6 x 2 = 1600), it kept the memory speed of 1066 with 9-10-10-20 timings, regardless of my set memory divider and timings. So this ended any possibility of me using a high memory speed while using a default CPU speed of 2.66 GHz.
Update: After spending a few more days on this motherboard, and making a few switchouts with components. I all of a sudden had memory divders and my memeory timings started working properly. This one confuses me myself. But unfortunetly i will leave these screen shots up because this is what I based my review on.
CPU-Z Screen Shots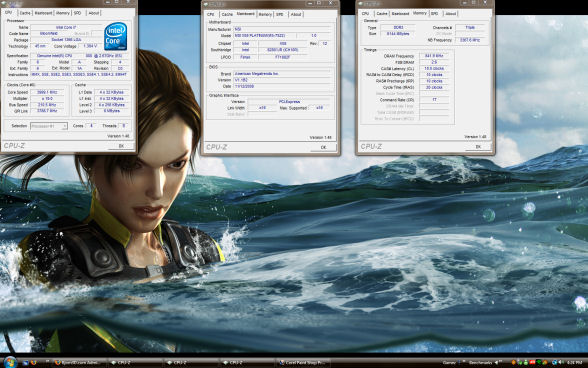 Overclocked to 210 FSB x 19 giving me a grand total of 3.99GHz. If you look closer to the memory part of CPU-Z, you can see that my memory timings are 10-10-10-20, when in fact they are set at 9-10-10-20 in the BIOS. But also look at the Command rate. It's at 1T instead of 2T.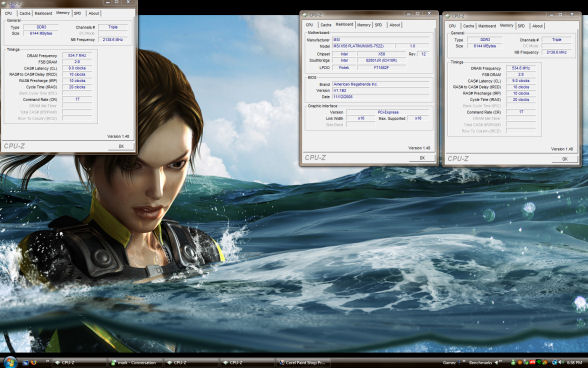 The stock run of the MSI X58 Platinum. Here we see that the X58 Platinum is running my memory the way I have it set at in the BIOS 9-10-10-20. Also with a command rate of 1T.
With the following Benchmarks, while dealing with the stock CPU clock speeds, both X58 motherboards were matched, memory speed to memory speed, FSB to FSB and CPU core speed to CPU core speed, and timings to timings. The CPU core speed was 2.66GHz, memory speed was 1066MHz, the timings were 9-10-10-20, and the FSB was 133.
To get a better picture of each of the charts please feel free to just click on the image for it too expand to a bigger size.
EVEREST
"EVEREST Ultimate Edition is an industry leading system diagnostics and benchmarking solution for enthusiasts PC users, based on the award-winning EVEREST Technology. During system optimizations and tweaking it provides essential system and overclock information, advanced hardware monitoring and diagnostics capabilities to check the effects of the applied settings. CPU, FPU and memory benchmarks are available to measure the actual system performance and compare it to previous states or other systems. Furthermore, complete software, operating system and security information makes EVEREST Ultimate Edition a comprehensive system diagnostics tool that offers a total of 100 pages of information about your PC."
| | |
| --- | --- |
| Lower is Better | Higher is Better |
| | |
| --- | --- |
| Higher is Better |   |
Everest is showing that while both of the X58 Motherboards are at stock CPU clock speeds, the MSI is just a tiny bit faster. Now, with both X58 motherboards being overclocked, the MSI X58 Platinum takes the lead. It also helps that one is slightly higher clocked then the other.
SiSoft
"SiSoftware Sandra (the System ANalyser, Diagnostic and Reporting Assistant) is an information & diagnostic utility. It should provide most of the information (including undocumented) you need to know about your hardware, software and other devices whether hardware or software. It works along the lines of other Windows utilities, however it tries to go beyond them and show you more of what's really going on. Giving the user the ability to draw comparisons at both a high and low-level. You can get information about the CPU, chipset, video adapter, ports, printers, sound card, memory, network, Windows internals, AGP, PCI, PCI-X, PCIe (PCI Express), database, USB, USB2, 1394/Firewire, etc."
| | |
| --- | --- |
| Higher is Better | Higher is Better |
| | |
| --- | --- |
| Higher is Better | Lower is Better |
With SiSoft memory Latency, while at stock CPU speeds, both X58 motherboards tied. In the rest of the benchmarks, while at stock CPU clock speeds, we again see the MSI is just a tad bit faster. As I overclocked both boards, again the motherboard having the highest CPU core speed wins. Remember, when I mentioned to remember the 25.6 GBs of theoretical bandwidth of the MSI X58 Platinum during the layout portion? Well, having 27.21 GBs definitely blows that one out of the water doesn't it.
wPrime
wPrime is a benchmarking application designed to use a highly multithreaded approach to calculating the square-roots of large amounts of numbers (up to 32 billion)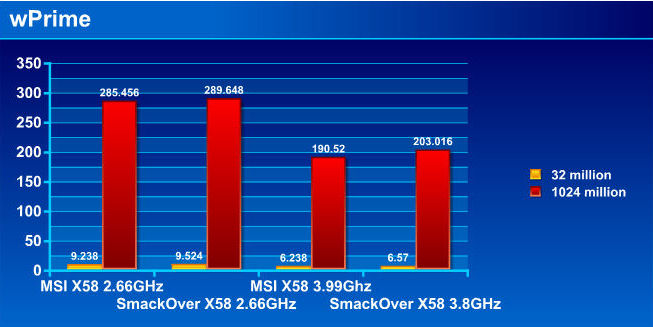 Lower is Better
wPrime again shows us the MSI X58 Platinum still leads over the Smackover X58 with stock CPU clock speeds. As I bring up the CPU core speed, the MSI takes a commanding lead.
WIN RAR
WinRar generates random data, which contains specially introduced redundancy, increasing the load to both the processor and memory. Data is the passed through RAR compression and decompression algorithms, and the output of the decompression algorithm is compared to the source data. If any differences are found, WinRAR then reports "Errors found – Yes" in the command window. WinRAR displays a size of processed data and compression speed, current and resulting, in kilobytes per second.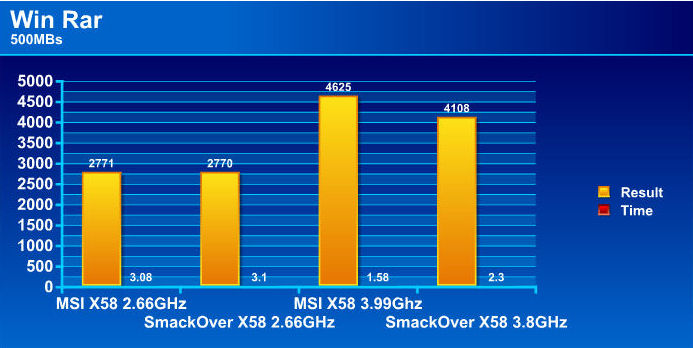 Result=Higher is Better, Time=Lower is Better
Both X58 motherboards tied when using a stock CPU clock speed in both time and results. Again, once the FSB started to rise and the CPU speed started to increase, so did the results and the time got shorter.
SUPER PI
Super Pi is a program that calculates pi to a specified number of digits after the decimal point up to a maximum of 32 million. The Gauss-Legendre algorithm which is a windows version of a program used by Yasumasa Kanada in 1995 to compute Pi to 232 digits.
Super Pi is used by many overclockers to test performance and stability of their systems. In this community, Super Pi has become the standard for providing benchmarks to compare pi calculation times and demonstrate their overclocking skills. The program can be used to also test the stability of a particular overclocking speed. If a computer can calculate PI to the 32 millionth place after the decimal without a mistake, it is considered moderately stable in terms of RAM and CPU performance. More intensive CPU and RAM tests include calculations that run for hours instead of minutes and better test system stress levels.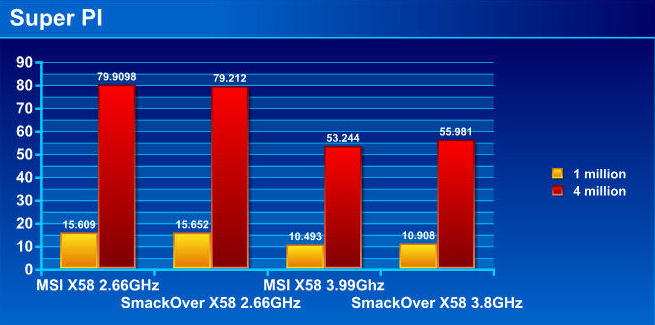 Lower is Better
With super pi when calcualating the 4 million pi ttest the Smackover X58 wins this round, at default CPU speed of 2.66GHz. The MSI X58 Platinum takes the lead in the 1 million calculation with default CPU speed and when the CPU was overclocked.
CineBench
CINEBENCH runs several tests on your computer to measure the performance of the main processor and the graphics card under real world circumstances. The benchmark application makes use of up to 16 CPUs or CPU core.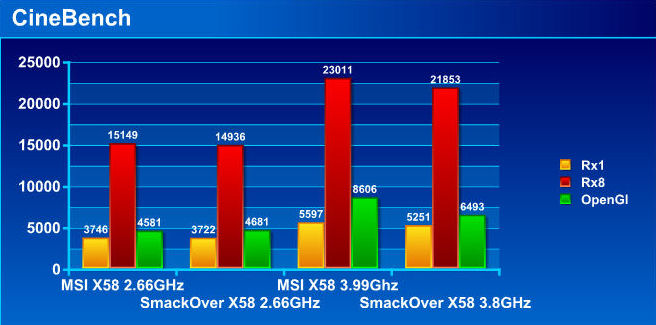 Higher is Better
Lets look at something here. When the CPU was clocked at 3.8GHz on the Smackover X58 in OpenGL testing, I only recieved 6493 points., But on the MSI X58 Platinum, when I had the CPU at 3.99GHz, I received an astonishing 8606 points. Now, how can it jump that high? As we have seen with the Stock CPU clock speeds, the Smackover X58 clearly won. I re-ran these tests on the MSI x58 Platinum a dozen times and re-did my drivers too (yes, this is on a fresh install as well) and this is not an erroneous reading. In fact, it is because I was able to bring up the PCI-E volts from 1.5 to 1.65 and increase the PCI-E frequency from 100 to 115 on the MSI X58 Platinum. This showed the benefits of this setting on the OpenGL testing in CineBench.
3DMARK06

 3DMark06 developed by Futuremark, is a synthetic benchmark used for universal testing of all graphics solutions. 3DMark06 features HDR rendering, complex HDR post processing, dynamic soft shadows for all objects, water shader with HDR refraction, HDR reflection, depth fog and Gerstner wave functions, realistic sky model with cloud blending, and approximately 5.4 million triangles and 8.8 million vertices; to name just a few. The measurement unit "3DMark" is intended to give a normalized mean for comparing different GPU/VPUs. It has been accepted as both a standard and a mandatory benchmark throughout the gaming world for measuring performance.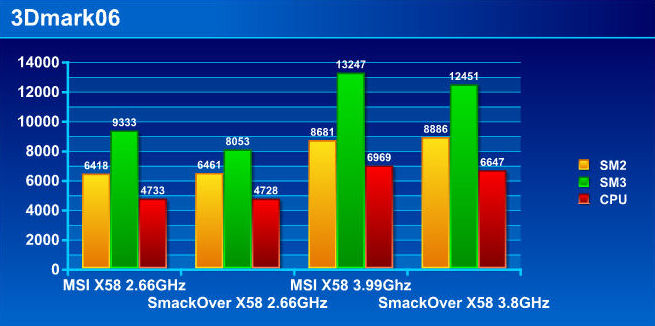 The Smackover X58 did fair better then the MSI X58 Platinum on the SM2 test of 3DMark06. In the SM3 and CPU scoring the MSI X58 Platinum did far better then the Smackover X58.
3DMARK VANTAGE

The newest video benchmark from the gang at Futuremark. This utility is still a synthetic benchmark, but one that more closely reflects real world gaming performance. While it is not a perfect replacement for actual game benchmarks, it has its uses. We tested our cards at the 'Performance' setting.
Currently, there is a lot of controversy surrounding NVIDIA's use of a PhysX driver for its 9800 GTX and GTX 200 series cards, thereby putting the ATI brand at a disadvantage. Whereby installing the PhysX driver, 3DMark Vantage uses the GPU to perform PhysX calculations during a CPU test, and this is where things get a bit gray. If you look at the Driver Approval Policy for 3DMark Vantage it states; "Based on the specification and design of the CPU tests, GPU make, type or driver version may not have a significant effect on the results of either of the CPU tests as indicated in Section 7.3 of the 3DMark Vantage specification and white paper." Did NVIDIA cheat by having the GPU handle the PhysX calculations or are they perfectly within their right since they own Ageia and all their IP? I think this point will quickly become moot once Futuremark releases an update to the test.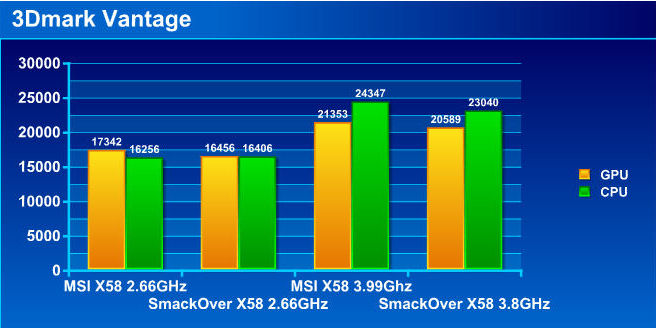 The Smackover X58 motherboard faired a bit better on the CPU portion of Vantage while the CPU was at a stock frequency of 2.66GHz. On the other hand the X58 Platinum motherboard did fair better in the GPU scoring portion of testing while using the CPU default speed of 2.66GHz out of the 2 motherboards.
FAR CRY 2

Far Cry 2, released in October 2008 by Ubisoft, was one of the most anticipated titles of the year. It's an engaging state-of-the-art First Person Shooter set in an un-named African country. Caught between two rival factions, you're sent to take out "The Jackal". Far Cry2 ships with a full featured benchmark utility and it is one of the most well designed, well thought out game benchmarks we've ever seen. One big difference between this benchmark and others is that it leaves the game's AI (Artificial Intelligence) running while the benchmark is being performed.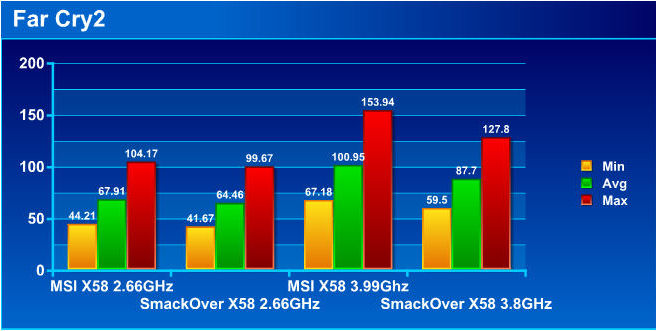 The Smackover X58 did not stand a chance against the MSI X58 Platinum motherboard.
X3 TERRAN CONFLICT DEMO
I just wanted a little different benchmark other than the normal everyday ones we see all over the place. I felt like, why not? It looks like a cool game and not only that, the graphics are beautiful.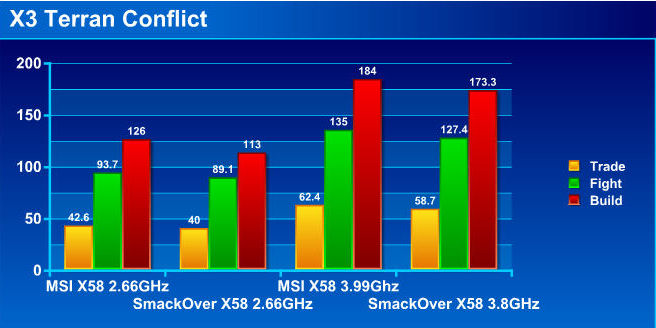 Same story here as we seen with Far Cry 2. The MSI X58 Platinum is clearly the superior one here.
DEAD SPACE
This is just here to give you an idea of the performance you may get when using a ATI Crossfire Tri-Fire (HD4870X2 + HD4870) set up when using a MSI X58 Platinum. These cards were not overclocked at all. I played this game for over a couple of hours.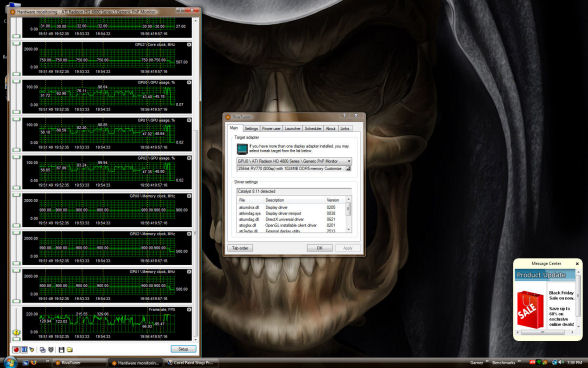 Now this is a screen shot of Riva Tuner's monitoring chart. As one of our great editors mentioned "Its a bunch of Jibberish to me.". We gotta love our Great editors. Well back to the chart, If you look at the very bottom entry in the chart that is the Frame Rate monitoring portion, by looking at this chart, we see I was getting roughly 68 frames a second as a low and as high as 128 frames a second. I cannot count the extremly high frames of 200 – 300+ because these might have been when I was buying or upgrading my weapons.
CONCLUSIONS
The performance of the X58 Platinum motherboard, was admirable. I was not at all disapointed with the level of performance I recieved in both stock and overclocked. What really impressed me, was the increase i recieved during gaming. This is where the X58 Platinum motherboard definetly showed its raw power. The onboard on/off power switch has become more and more mainstay these days as a lot of us are not using cases for when we really start overclocking our rigs. Its good MSI has still continued this. Another feature we are seeing more and more of is the clear CMOS button to the rear of the motherboard in the rear IO ports, I never had to clear the CMOS on this motherboard because if it did go a little to far, the BIOS would default my CPU and memory speeds and post with those so I can change a setting that caused the no post. Having the BIOS being able to be flashed right from the USB flash drive (thumb drive) is definetly a unique but good feature. This will allow those who need to flash the bios quick and far less painfull then relying on a floppy drive.
The are a few complaints that I have with this motherboard. There is no active cooling on the IOH (Northbridge) chipset, and when I went to touch it, I just about hollered upstairs to my pops for him to bring the frying pan down so we cook up some bacon and eggs just using the IOH as a heat source (in shorter terms, it got really hot). After placing a 40mm fan on it, the IOH did cool down considerably and provided me with enough stability for the motherboard. The memory slots are numbered oddly, having the first one start off blue, then black, blue, black, blue, black, but only having to use the black ones when using three or less sticks of memory will get confusing when installing the memory.
Having a price point on around $220 USD makes this motherboard one of the cheapest performance based motherboards out there. If you are looking for a motherboard with great overclockability and a lot of nice features, the MSI X58 Platinum would not disappoint.
Pros:
+ All Solid capacitors
+ Great overclockability and ease of use
+ Clean layout of motherboard components
+ USB BIOS flashing capabilities
Cons:
– No D-Led diagnostic screen included
– No active cooling on the IOH
Final score of 8.5 of 10 and receives the Bjorn3D Seal of Approval.