Eagle Tech's iNeo I-NA205UE is an external hard drive enclosure that also functions as internal enclosure with the included mounting kit. The enclosure accomodates 2.5" SATA hard drive and will benefit from the onboard eSATA port for better transfer performance. Take a look at our review as we take a closer look at this little handy tool for those wish to have portable storage.
INTRODUCTION
Although, the 2.5'' hard drives may not have the same performance as the 3.5'' desktop drives, they are an excellent choice for data storage on the go. Currently, you can find 500GB of 2.5'' SATA hard drive as cheap as $110. It's hard to argue any other better means of portable storage. Simply put a 500GB 2.5'' HDD to an enclosure and it's ready to carry any data you wish to throw at it.
There are many manufactures that sell 2.5'' SATA enclosures. Often, these enclosures are basically the same. They are a tad bigger than the hard drive and usually are made with aluminum for better cooling. They usually will come with a mini or full USB port for data transfer. Some manufactures even have an enclosure that will also be able to use as internal drive with a simple dock.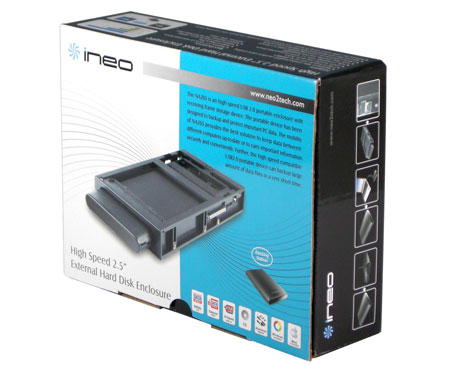 Ever since SATA has gained its popularity, I have been wondering when we are going to see an enclosure that has a SATA/eSATA port onboard so that users can take the advantage of the faster transfer rate than that of USB. Since SATA is designed to be hot-swappable and with almost all of the motherboards that come with eSATA (external SATA port), it is time that manufactures start to embrace the technology. We have seen that many 3.5'' enclosures have taken the advantage of eSATA, but so far we have yet to see any 2.5'' enclosure bundle with an eSATA port until today. Man, it has been a long wait, especially since SATA came to the market in 2003. Finally, after all of this time waiting, we have finally gotten an enclosure that includes an eSATA port, courtesy of the folks at Eagle Tech. Today, we will take a look at the Eagle iNeo I-NA205UE 2.5"/3.5" SATA to USB/eSATA docking station with enclosure.
EAGLE TECH
Eagle Tech is a trusted supplier to many Original Equipment Manufacturers. Our extensive experience in manufacturing high quality PC components that meet and exceed customer application requirements has enabled us to grow beyond manufacturing. We are not just a manufacturer, but a high quality technology solutions provider dedicated to the modern computer users market – both mainstream and enthusiast.
We know how important your data is and we strive to provide our customers with reliable power supplies and thermally efficient chassis like external HDD enclosures. We constantly monitor consumer needs to ensure our product lines are always up-to-date with the latest innovations. If there is an easier and safer way to store and access your important data, we will work hard to make it happen for you – at affordable prices, rugged constructions and stylish designs.
Most importantly, everything we do is based on a culture of customer care and trust that makes it an enjoyable and hassle-free experience. We guarantee it!
Eagle iNeo I-NA205UE
As the name implies, the Eagle iNEO I-NA205UE is a SATA to eSATA external enclosure. In fact, this is not just an ordinary 2.5'' SATA enclosure. It also can be used as an internal enclosure with the included 3.5'' docking station. Basically, it will house the 2.5'' SATA hard drives and has both USB and eSATA connectors on the enclosure for the data transfer. Simply dock the enclosure to the 3.5'' docking station and you can use your 2.5'' SATA disk as internal hard drive on your desktop.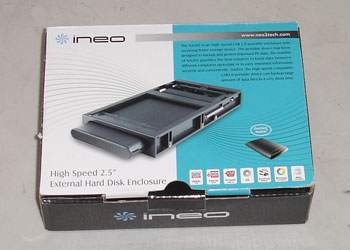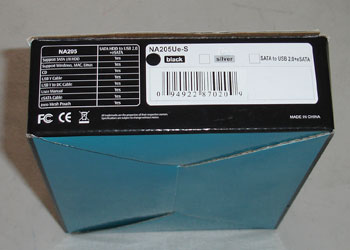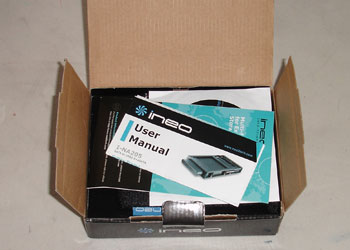 Although the box of the enclosure is not too flashy, it nonetheless shows the basic information that a customer needs when making his/her purchasing decision. Looking on the label on the box, it looks like Eagle Tech may have other options to choose from. The unit we received is the black version. Lifting up the cover of the cardboard box, we can see that the enclosure is being placed on the bottom of the box with the manual and the driver CD on the top.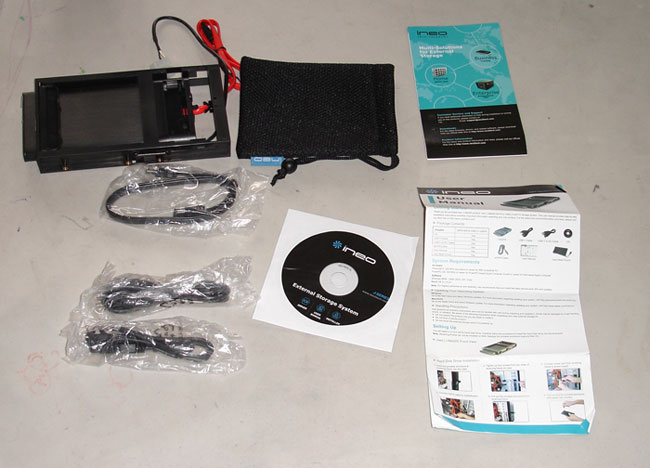 Here is what you will get:
2.5" enclosure
3.5" docking station
Resource CD
Quick installation guide
Certified USB 2.0 and eSATA cables
A carrying bag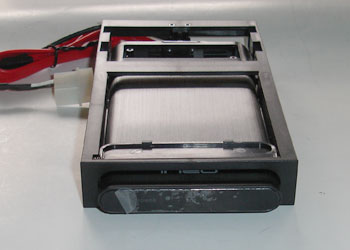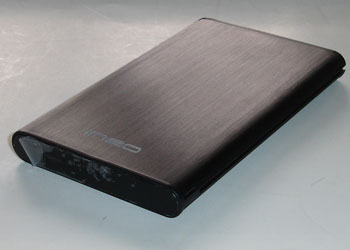 The external enclosure looks really nice. I like black and the brushed aluminum look fits my taste. The enclosure is extreme slim, just a tad thicker and taller than iPod Touch. With 5.1 x 3.2 x 0.7 inch of dimension and 0.9 lbs. of weight, it sure will fits nicely even in your pocket. Eagle Tech places four little rubber feet on the bottom of the enclosure to prevent any scratches on the surface.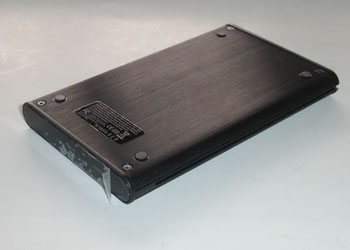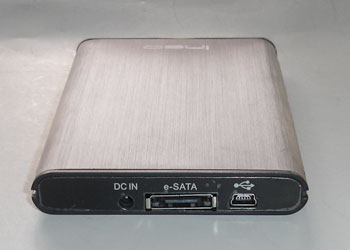 The enclosure is made with a two piece aluminum cover and a plastic frame. On the back is where you will find the eSATA port, mini-USB port, and the DC-in port. On the front, you will find a power and R/W indicator which will lights up when the unit is connected. The LED will light up whenever the drive is connected. However, they stay at solid blue rather than blink whenever the drive is being accessed. I prefer to have a hard drive activity indicator as that would give me some idea as to when it is safe to disconnect the hard drive.
3.5'' Frame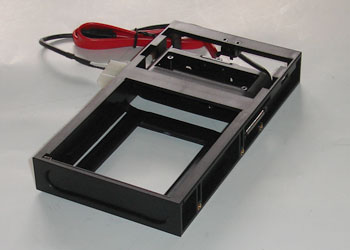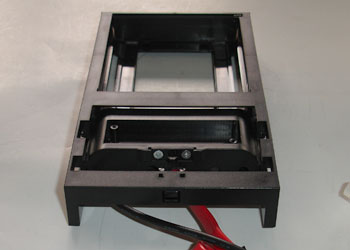 The 3.5'' docking station is made with plastic and on the back of the frame you will find the internal SATA cable and the power connector. I like the fact that Eagle Tech choose to use a 3.5'' Molex connector instead of the floppy connector like some other manufactures, because you probably will have more 3.5'' Molex connectors than floppy connectors. Although, it may have appreciated if the docking station actually was powered by a SATA power connector instead, as many manufactures are actually bundling less olex connectors with their PSU's. It is, nonetheless, not a deal breaker.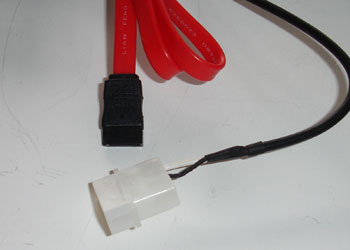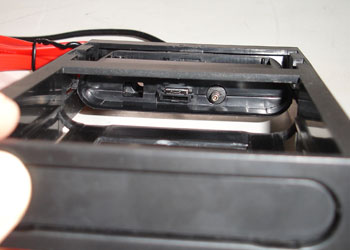 There is a cover on the front of the docking station to prevent any dust from going into the system when the hard drive is not connected.
The enclosure basically will be connected to the dock via the eSATA port and the DC-IN for power. Upon the insertion of the enclosure, the back of the dock will be pushed back of the frame. The enclosure can be ejected from the dock by simply pushing on the enclosure and it will eject itself from the dock.
There is no lock or any kinds of mechanism to prevent the hard drive being ejected by accident, which in my opinion is somewhat of an oversight. Although it is probably unlikely that you will be ejecting the hard drive while it's in use, it is a good idea to have a way to secure the hard drive to the docking station so it won't be ejected by accident.
FEATURES
Two-in-one storage solution
2.5" solid aluminum enclosure
3.5" plastic docking station
Tool less, hot swappable and dockable
Just snap-in your drive and it is ready for use
Patented F.I.T. (Fast Installation Technology)
Plug-n-Play via USB 2.0
3.0Gbps eSATA
Usage: Stay mobile and synchronized at multiple locations
SPECIFICATION
Type: External drive enclosure
Form Factor: 2.5"/3.5"
Hard Drive Compatibility: 320GB
Internal Interface: SATA I/II
External Interface: Hi-speed USB 2.0 and eSATA
Data Transfer Rate: 480Mbps and 3.0Gbps
Power Source: USB or eSATA powered
Power Input: 5V DC
Certification: FCC, CE Certified and RoHS compliant
O.S. Required: Microsoft Win98SE/Vista/ME/2000/XP Mac OS 9.0 or higher Linux
Dimension: 5.1 x 3.2 x 0.7 inch
Weight: 0.9 lbs
INSTALLATION AND IMPRESSION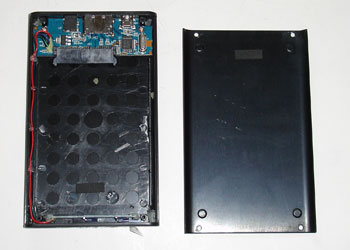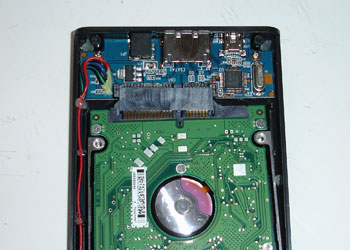 Installation of the enclosure cannot be any easier. Simply lift the cover of the enclosure up and align the hard drive to the SATA data and power connector on the PCB board. Afterwards, put the cover back on the enclosure and screw four little screws to secure the enclosure. That is it.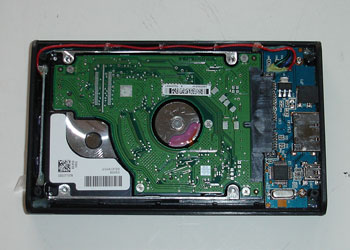 I do have a couple of complaints about the installation process. First, due to the space of the enclosure, it is a bit hard to align the connectors as that would require lifting up the connector on the PCB board slightly. I was a bit afraid that I may break the connector. To make sure I did not break it, I loosened the PCB board's screw slightly so I could lift it to align the connectors.
Also, I do like the fact that the hard drive is not being screwed onto the enclosure. As you can see, the hard drive is simply being held onto the enclosure by the SATA connector which means that it may wobble slightly inside of the enclosure as there is nothing on the other end to hold the hard drive firmly in place.
In addition, I would recommend that Eagle Tech get rid of the plastic housing for the hard drive and simply have a full metal surface to allow better heat transfer. It may help to keep the hard drive run cooler.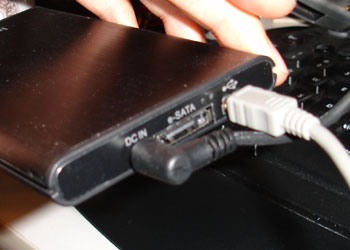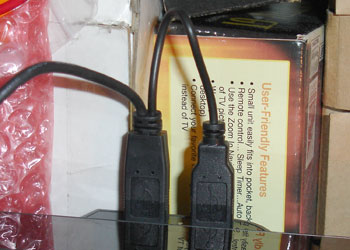 The enclosure actually comes with a buzzer that if you hook the drive to an USB port that does not have enough power, the buzz will buzz continuously until you hook the included USB to DC-IN power cable or disconnect the enclosure from the USB port. Many USB hubs do not have external power to supply the needed power and also many case's front panel USB port may not have enough power for the enclosure. Most motherboard's USB ports on the back I/O on the other hands should not have any issue. In order to use the USB to DC-In cable, two USB ports are needed. I would prefer to see a cable with USB extension so it can actually use one of the two ports as a data port in addition to power the drive in case there maybe a shortage of USB ports in the system. Eagle Tech does include another USB Y cable where it has two USB ports onboard for additional power but I won't be able to get it to work with my hard drive. It is possible the hard drive that I am testing simply uses more power than two USB is able to power it.
TESTING
System Configuration

Processor

Intel E6600 Core 2 Duo

Motherboard

EVGA nForce 680i SLI (BIOS P30)

Memory

Team Group TXDD2048M800HC4DC-D

Hard Drive

Seagate Barracuda Barracuda 7200.10 SATA ST3400620AS (16MB cache) 

 Western Digital WD2500KS-00MJB0 SATA (16MB cache)

Graphics Cards

Foxconn 8600 GTS

Sound Card

Creative X-FI

Operating System

Windows XP SP2
The test is conducted with the Seagate ST96023AS (60GB, 7200 rpm, 8MB cache) hard drive installed in the Eagle Tech iNeo NA205UE. In addition, we threw in a few extra SATA and IDE enclosures we have in our lab. For the SATA enclosure (ICY DOCK MB633UR-1S and Eagle Tech ET-CS2LSU2-BK), we used the same 2.5" SATA hard drive but for the IDE enclosure (MB448UR), we paired it with the Toshiba 8026GAX (80GB, 5400rpm, 16MB cache). Do keep in mind that the result is highly dependant on the hard drive that is used.
RESULT
HD Tach
| | | | | | | | | |
| --- | --- | --- | --- | --- | --- | --- | --- | --- |
| Feature/Specification | Eagle Tech I-NA205UE (SATA) | Eagle Tech I-NA205UE (USB)  | Eagle Tech ET-CS2LSU2-BK |  ICY DOCK MB663UR-1S with Seagate ST96023AS (internal) | ICY DOCK MB663UR-1S with Seagate ST96023AS (external) |  ICY DOCK MB448UR with Toshiba 8026GAX (internal) |  ICY DOCK MB448UR with Toshiba 8026GAX (external) | SanDisk Curzer Micro (512 MB) |
| Burst Speed | 129.9 MB/S | 35.3 MB/s | 35.2 MB/s | 37.5 MB/s | 35.4 MB/s | 35.1 MB/s | 35.1 MB/s | 10.7 MB/s  |
| Average Read | 36.9 MB/S | 33.3 Mb/S | 33.2 MB/s | 33.3 MB/s | 33.3 MB/s | 29.6 MB/s |  29.5 MB/s |  9.9 MB/s |
| Random Access | 14.9 ms | 15.2 ms | 15.3 ms | 15.2 ms | 15.2 ms | 18.2 ms |  18.3 ms |  10.3 ms |
| CPU Usage  | 2% | 7% | 4% | 5% | 4% | 5% |  3% |  2% |
We can clearly see the benefit of using SATA connector. When the enclosure is connected to the SATA port, we see a much greater burst transfer speed than when it is connected to the USB port. We also see a slightly better average read speed, better access time, and also less CPU usage when it is using the SATA connector. So, it is definitely an all around good choice of a connector for external storage. Keep in mind that the hard drive we have used for the review is an older hard drive that uses SATA 1 connector. If you have a newer drive that uses SATA 2, you would definitely expect to see a much better burst speed and most likely also better read speeds as well.
We see a slightly higher than usual CPU usage when we connect the enclosure to the USB port. The transfer rate for the Eagle Tech NA205UE is consistent with other Eagle Tech enclosure and the ICY Dock's enclosure. Generally speaking, the performance of the hard drive enclosure depends on the internal controller rather than the enclosure, so it is expected to see all of them perform comparatively against each other.
TEMPERATURE 
To test the cooling, we ran the hard drive continuously for approximately 10 minutes. Initially, the hard drive would be idling at around 40°C. After 10 minutes of continuous use, the temperature would climb up to 44°C during hot mid-day. So, the enclosure does a very nice job in keeping the hard drive running cool.
CONCLUSION
eSATA port has become almost a standard among all the motherboards produced over last year, so it is time to really take the advantage of such technology. And the Eagle Tech iNeo I-NA205UE is a perfect enclosure for anyone who needs or wishes to take such advantage and carry a large amount of data on the go. It has the right combination of ports for those who wish to make use of the faster eSATA port, while the included USB port would also satisfy the need for the system which lacks the eSATA port. In addition, it can even serve as internal storage to convert any 2.5'' SATA drives to internal 3.5'' drive with the included dock. That would surely come in handy. I especially love the fact that the dock uses SATA port for data transfer rather than the slower USB port like many other internal SATA enclosure.
The enclosure is not perfect. We would love to see a better way to secure the hard drive and also a slightly better way of installation. Despite this, it is nonetheless good enough for us to recommend it to anyone who needs an external storage enclosure. For a mere $20, the Eagle Tech iNeo I-NA205UE enclosure will surely prove itself to be one of the best investments you can make.
Pros:
+  eSATA and USB port
+  Price
+  Included 3.5'' docking station
+  Power indicator
Cons:
–  Installation can be improved slightly
–  No HD activity indicator
–  A better way to secure the hard drive would be appreciated
The Eagle Tech iNeo I-NA205UE will receive a score of 9 out of 10  (Very Good) and Bjorn3D's coveted Seal of approval for its budget pricing yet stylish enclosure that functions as both an external and internal enclosure.