With the introduction of Intel's newest CPU's and chipset's comes a newer way of handling memory. With this newer way of handling the memory, Intel decided to drop Dual channel and go with a much more needed new way of handling memory, by introducing Triple Channel. Today we are going to look at a set of Tri channel memory from Crucial, A set of 3 1333 MHz DDR3 modules.
INTRODUCTION
Since the introduction of DDR3 memory a few years back, with the Core 2 Duo/Quad CPU's, along with the P35, X38, X48 , and the P45 chipsets, we, as users, have never really seen a significant increase in our memory bandwidth over using DDR2 memory. It wasn't until Intel introduced the Core i7 CPU's and the X58 chipset with their capability of handling not just Dual Channel, but Tri Channel capabilities, that we finally saw a significant bandwidth increase with our memory. But with these newer CPU's, Intel also has imposed a memory voltage limitation of 1.65 volts max to the memory modules. Intel states that going over this amount of voltage can and will damage your CPU because of the way the IMC (Integrated Memory Controller) handles the memory.
Crucial, a very well known memory manufacturer, has come up with a solution within Intel's low voltage limitation of the Core i7 CPU's. It's a three piece set of memory modules rated at 1.5 volts and 1333MHz with a timing of 9-10-10-20. Before you think that there's no way memory with such high latencies could ever perform, well, I'm here to tell you that these little beasties do.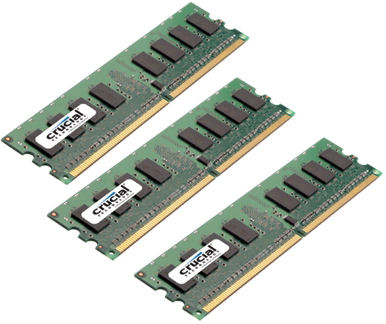 About Crucial
Crucial is a key brand in the Lexar Media family of products. As the Memory Experts™, we're the only DRAM supplier that's part of a major memory manufacturer.
A wholly owned subsidiary of Micron Technology, Inc., Lexar Media, Inc. boasts one of the most comprehensive offerings of memory product lines in the industry. We deliver high-quality, award-winning products in every memory category: USB flash drives, all popular form factors of memory cards and card readers, DRAM computer memory for PCs and Mac systems, and solid state drives (SSD). We back our products with outstanding customer support and industry-leading warranties, and we strive to expand our offerings to meet the ever-changing needs of our customers — customers just like you.
The Lexar brand has long been synonymous with reliable, high-performance products, which is reflected in the award-wining memory products and USB flash drives sold under the Lexar name.
Our Crucial brand reflects our status as the only consumer memory upgrade supplier that's part of a major DRAM manufacturer. We sell high-quality memory that has been qualified and approved by most major original equipment manufacturers (OEMs). The Crucial.com website features innovative online tools and an intuitive design that makes it easy to find compatible memory and recommended upgrades. And because we carry over 280,000 upgrades for more than 40,000 systems, we've got options for nearly every system out there.
Lexar Media has more than 10 years experience in the memory industry. Our strong retail brands, along with our direct online and OEM presence, make Lexar Media a global player in every major customer channel, including value-added resellers, system builders, and e-commerce. And we've built a name synonymous with quality, innovation, and customer service.
Lexar Media. If it's important to you, it's safe with us.
SPECIFICATIONS
Memory Specifications
Module Size
6GB kit (2GBx3)
Package
240-pin DIMM
Feature
DDR3 PC3-10600
Specs
DDR3 PC3-10600, CL=9, Unbuffered, NON-ECC, DDR3-1333, 1.5V, 256Meg x 64
PACKAGING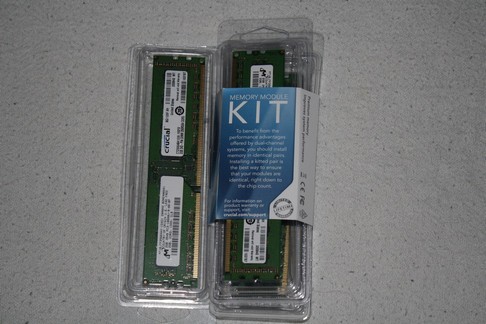 Packaging of the Crucial memory is pretty plain. This kit had three individual plastic containers in which each one contained one stick of 2 gigs of memory, two of which were bound together while the third was separated. These memory modules did not have a fancy heat spreader or anything else on them other then the rating sticker.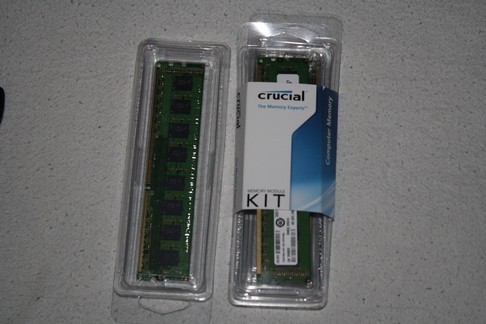 Just the flipped over packages.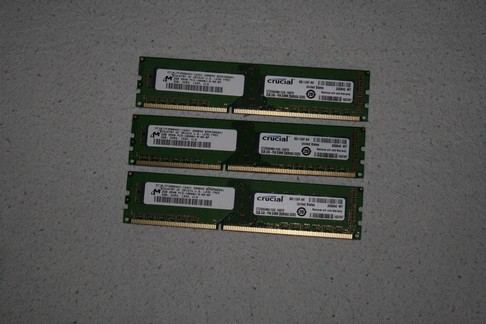 The three sticks of DDR3 1333MHz memory are shown here, out of the plastic packaging on their side with the sticker telling us their rated speed and timings. I did not see any voltage settings written here, but after visiting Crucial's web site, it tells us these are rated at 1.5 volts.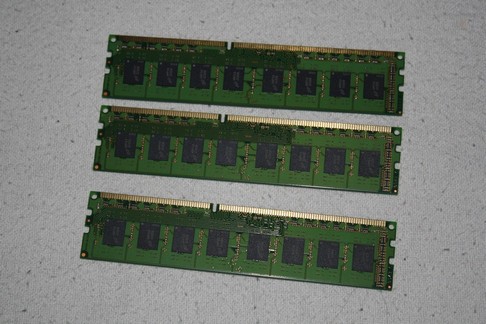 This picture shows us the back side of the memory modules themselves. We can see what Crucial used for memory chips here. 
Here is a close up of one of the memory chips. So if you want to Google the numbers, go for it.
INSTALLATION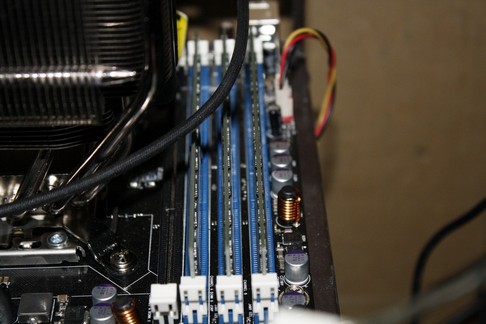 I installed these on my Smackover X58 motherboard. Again, there's nothing really fancy here.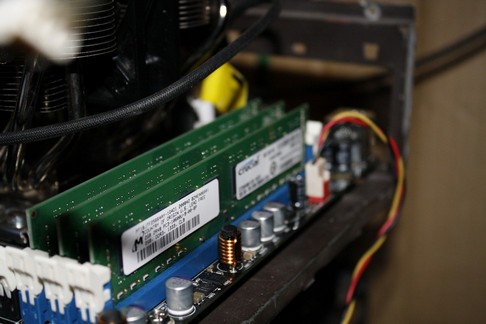 Looking at the side of the memory modules, we see the sticker that Crucial put on the one side. It is not always about the looks, but how well the memory performs.
TESTING METHODOLOGY
Test Setup &Testing Methodology
CPU
Core i7 920
Motherboard
Intel Smackover X58
Case
Open Bench Testing Case
Memory
Crucial DDR3 1333
Video Card
Sapphire 4870×2/4870 ( 1 gig models)
Hard Drives
3 x 160 Gig Sata2 Western Digital, 2 in raid 0, 1 back up
Cdrom Drive
Lite On Sata1 Dvd Burner
Power Supply
Coolermaster U.C.P. 900watt 80+ Silver
Type Of Coolers Used
DD MC-TDX , Koolance VID-487X2 (Dual Loop)
CPU Speeds Used
3.3GHz, 3.8GHz, 4.08GHz
Operating System Used
Microsoft Windows Vista 64 bit Ultimate
Type of Software Used During Testing
Everest, SiSoft, wPrime, Super PI, WinRar
I was unable to compare the Crucial memory with any other type of memory because I did not have any other triple channel memory available to do a proper comparison. The dual channel memory that I do have does not work with this motherboard properly. I am sorry for this slight inconvience this may have caused.
For testing purposes, I ran each benchmarking utility a total of three runs and ran each benchmark consecutively to ensure my results were consistent and that no erroneous readings were present. I used the default memory divider of 8 on the Intel Smackover X58 motherboard. There were no other memory dividers available to me to use where I could just increase the memory speed by itself. Unfortunately, the only way I could increase the memory speed was by overclocking the motherboard's FSB, which in turn overclocked the CPU. I started the memory at its default rating of 1333MHz and timings of 9-10-10-20 and I set the memory voltage to 1.62 volts. Your results will vary from system to system and may not mimic my exact results that I received with these memory sticks.
OVERCLOCKING RESULTS
The Crucial DDR3 1333MHz memory overclocked really easily. By setting the max memory voltage of 1.62 volts and keeping the timings at 9-10-10-20, I was able to get these memory modules to 1720MHz. I started at 1066MHz (133×8) to verify these memory sticks worked. I then increased the FSB to 166. I knew how far this CPU motherboard combo could go as far as CPU speeds and FSB, so I was able to skip the normal up 5, check, up 5 again, check routine. Once I was at 166 FSB (1333MHz rated memory speed) I ran some quick tests to make sure everything was stable. I then rebooted back into the BIOS and set the FSB to 200. The computer posted. The memory was now pushing 1600MHz with 9-10-10-20 timings with only 1.62 volts. Once it booted into Windows, I started my testing phase again and after the second test, my applications were freezing up on me and I was beginning to see an ATI diag. error with a blue screen of death. I restarted the computer, re-entered the BIOS, looked at my settings, and I decided that the Northbridge voltages and the QPI voltages (Quick Path Interconnect) were too low to sustain the FSB range I was currently at (oops, forgot to adjust these up the first time). Also, I had to adjust the multiplier on the CPU from 20 to 19 at 200 FSB because this added another possible cause of the system instability I was recieving as well. After making a few minor tweaks, rebooted in Windows Vista, then re-ran all my testing, and this time I had stability. I left the memory speed at 1600MHz with 9-10-10-20 timings here for a few days to make sure everything was okay with these memory sticks. After a couple of days I decided that 1600MHz was just not enough speed. I wanted MORE and MORE. I shall have it. He he he he. After a few dozen times of trying to get the motheboard above 200 FSB range, I finally settled at a memory speed of 1720MHz with 9-10-10-20 timings while my voltage remained 1.62 volts. Here are the CPU-Z screen shots of the memory clock speeds I used for testing. I should mention that I did, at one point, manage to tighten the memory timings up a bit from 9-10-10-20 timings to 9-9-9-20 timings, and found out it made no real difference in the bandwidth or the speed I was getting for the Crucial DDR3 1333 Tri Channel memory sticks.
CPU-Z Screen shots
Here are the final CPU clock speeds and the memory speed I used during testing.
| | |
| --- | --- |
| | |
|  CPU at 3.3GHz |  Memory 1333MHz 9-10-10-20 |
| | |
|  CPU at 3.8GHz |  Memory 1600MHz 9-10-10-20 |
| | |
|  CPU 4.08GHz |  Memory 1720MHz 9-10-10-20 |
wPRIME
wPrime is a benchmarking application designed to use a highly multithreaded approach to calculating the square-roots of large amounts of numbers (up to 32 billion)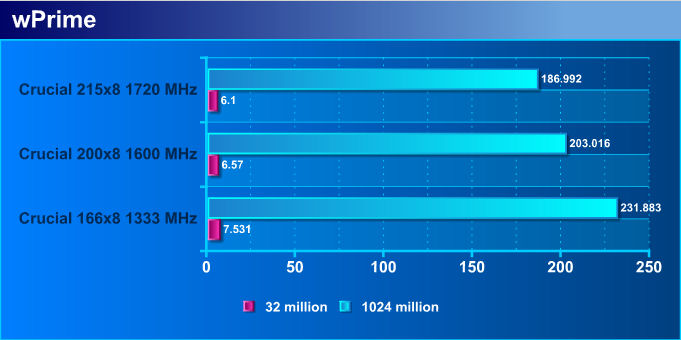 Lower is Better
With wPrime, we see a nice looking stepping pattern as the memory and CPU frequency is increased. Looking at the 32 million testing we see how the difference is between each of the three frequencies, gaining a full second from 1333MHz to 1600MHz and only 0.47 seconds from 1600MHz to 1720MHz. That tells us that bandwidth does not play a significant role here. But looking at the 1024 million testing, we see a 28.867 second difference from 1333MHz to 1600MHz and a 16.024 second difference from 1600MHz and 1720MHz. Even though we know the CPU is doing most of the work again, the memory bandwidth does play a minor role during this testing.
Super Pi
Super Pi is a program that calculates pi to a specified number of digits after the decimal point up to a maximum of 32 million. The Gauss-Legendre algorithm which is a windows version of a program used by Yasumasa Kanada in 1995 to compute Pi to 232 digits.
Super Pi is used by many overclockers to test performance and stability of their systems. In this community, Super Pi has become the standard for providing benchmarks to compare pi calculation times and demonstrate their overclocking skills. The program can be used to also test the stability of a particular overclocking speed. If a computer can calculate PI to the 32 millionth place after the decimal without a mistake, it is considered moderately stable in terms of RAM and CPU performance. More intensive CPU and RAM tests include calculations that run for hours instead of minutes and better test system stress levels.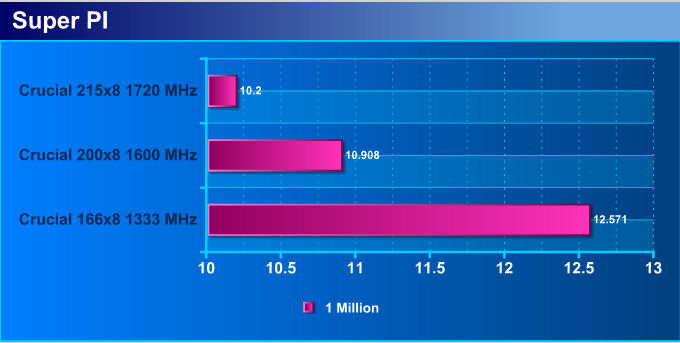 Lower is Better
 Super Pi was a completely different story. Super Pi is still limited to the CPU total frequency output.
WinRar
WinRar generates random data, which contains specially introduced redundancy, increasing the load to both the processor and memory. Data is then passed through RAR compression and decompression algorithms, and the output of the decompression algorithm is compared to the source data. If any differences are found, WinRAR then reports "Errors found – Yes" in the command window. WinRAR displays a size of processed data and compression speed, current and resulting, in kilobytes per second.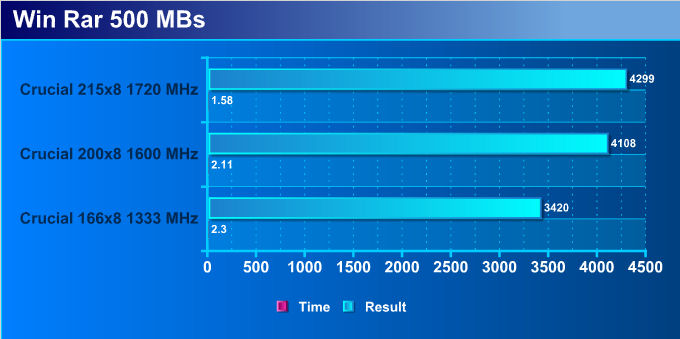 Time = Lower is Better

Result = Higher is Better
Even with WinRar, during Multi-Core testing, the higher the CPU core speed achieved, the better our scoring became.
EVEREST
EVEREST Ultimate Edition is the cutting-edge benchmarking and diagnostics tool to maximize security, performance, and trouble-shooting capabilities for home and home office PC environments, PC Professionals and consulting firms as well as OEM partners and Configuration Centres worldwide.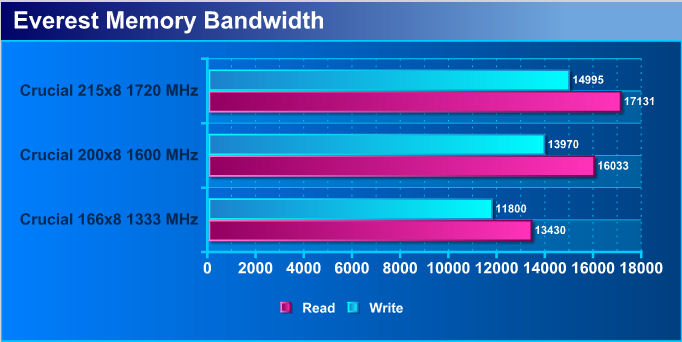 Higher is Better
 As always, as the frequency went higher, so did our memory bandwidth.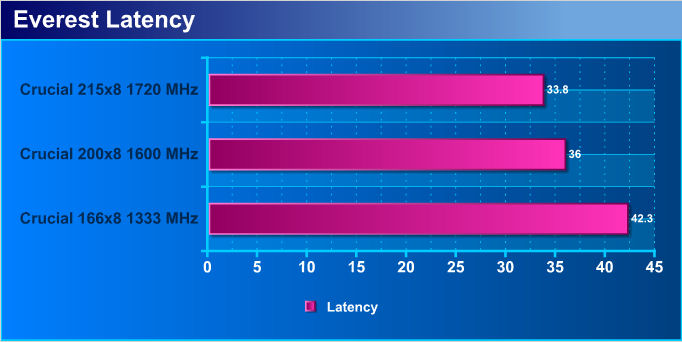 Lower is Better
As I get the memory bandwidth higher, the latency of the memory gets lower.
SiSoft
SiSoft has always been at the forefront of the technology arena, being among the first providers of benchmarks that show the power of emerging new technologies like multi-core, GPGPU, AMD64/EM64T/x64, IA64, NUMA, SMT (Hyper-Threading), SMP (multi-threading), AVX, FMA, SSE4.2, SSE4.1, SSE4A, SSSE3, SSE3, SSE2, SSE, MMX, Java and .NET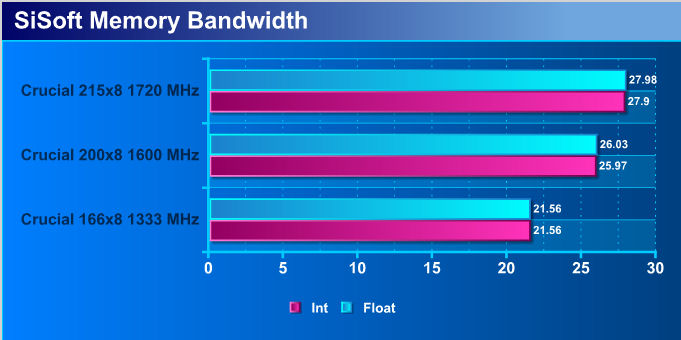 Higher is Better
Now with Sisoft we see a serious kick in the amount of bandwidth we received as the memory frequency increased, almost giving me 28GB's of memory bandwidth with a 1720MHz memory frequency.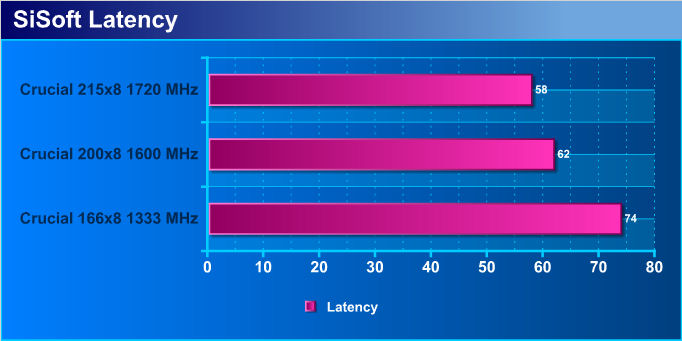 Lower is Better
The same story applies here as it did with Everest. The higher the memory frequency achieved, the lower the memory latency we received.
CONCLUSIONS
Crucial's DDR3 1333MHz memory performed exceptionally well. It is common place to see memory gain any where from 100-200MHz with only a voltage increase, but it's rarely heard of memory doing almost 400MHz with just a voltage increase and not needing to seriously tweak the timings and give them an insane amount of voltage to sustain that set frequency.
Not having to spend hours and hours tweaking the memory to give me a balancing point between memory bandwidth and CPU core speed definitetly outweighs the looks of the memory. I had more trouble on getting my CPU and motherboards FSB stable then I did on getting the memory stable at high frequency. That in my book is what matters most. Also, having a price point at or around the $210 USD mark makes the Crucial DDR3 1333MHz set of memory very enticing to purchase.
Pros:
+Excellent Overclocking ability
Cons:
–None
Final Score: 9 out of 10 and the Bjorn3D Golden Bear Award