With GPU's constantly getting hotter and hotter, a aftermarket heat sink is becoming more needed. Thermalright has stepped up to the plate this time to deliver what looks to be a outstanding aftermarket GPU cooler.
INTRODUCTION
With GPU's getting hotter and hotter, it is starting to be impossible to overclock a graphics card with a stock heat sink. This is where Thermalright comes in. They have designed what looks to be an amazing cooler. With the ability to have two 92mm fans or one large 120mm fan, it should cool much better than any stock heat sink.
The problem is what is a good heat sink without a good graphics card? You can't enjoy a great game without having a GPU that has the power to display all of the eye candy. With a better cooler you can crank up the GPU clocks, alowing you to acheive more frames, and thus smoother gameplay. That is why Thermalright has made the T-Rad 2 able to run on a majority of the current high end GPU's.
It would be a smart thing to invest in one of these coolers to gain more game performance at a low price. And with your card running cooler, its life span will improve by a fair margin. This will help lower the chances of needing to RMA a dead card, so you won't have to miss playing any of your favorite games. With this cooler, your card will last longer, which will allow you to hold off that upgrade until your card struggles to play new games.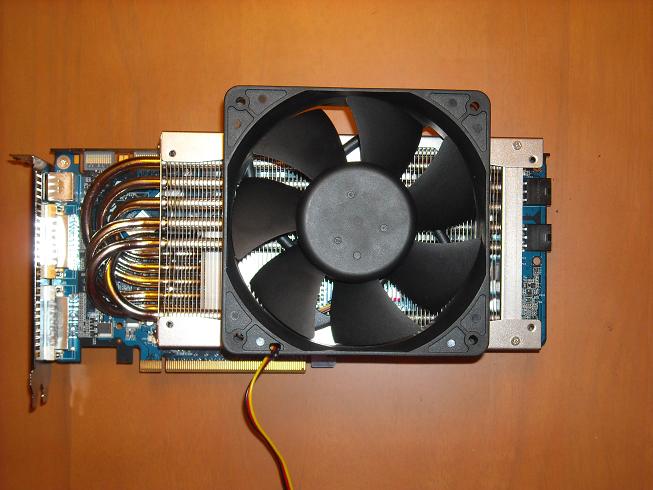 About Thermalright
Thermalright is an elite design house that manufactures cooling products for computer components for the best quality and performance your money can buy. In 2002, AMD released its first generation Thunderbird CPU and since then we have been there every step of the way to counter high voltage and high heat with innovative design and highly acclaimed cooling solutions not only for AMD but for Intel as well. One of early well known solutions was the SK-6. With many positive and rave reviews under its belt Thermalright bolted to the top as the heat sink manufacturer mostly preferred by Overclockers and enthusiasts around the World. To this day, innovation never left our vocabulary as we keep coming up with leading edge designs staying ahead of the competition.
SPECIFICATIONS & PACKAGING
Specifcations
Thermalright TRUE Black 120

GPU's Supported

Nvidia – 9800GTX, 9600GT, 8800 GTS (G92), 8800 GT (G92)

ATI – HD 4870, HD 4850, HD 3870, HD 3850

Cooler Base

Copper

Heat Pipes
6 heat pipes
Cooler's Dimensions
228 (L) x 104 (W) x 24.3 (H) mm
Cooler's Weight
360g (Heatsink Only)
Recommended Fan
2 – 92x92x25mm or 1 – 120x120x25mm fan
The ability to run twin 92mm fans or one 120mm fan is a nice option. Some poeple want more airflow with two fans, while having less noise, while others want the pure CFM (Cubic Feet per Minute) a 120mm fan can put out. Technically, if you add up the CFM, two 92mm fans would be able to put out more CFM in total. Thus, maybe two 92mm fans would be the best chioce for this cooler. I had an extra Ultra Kaze fan laying around so I decided to use it.
Packaging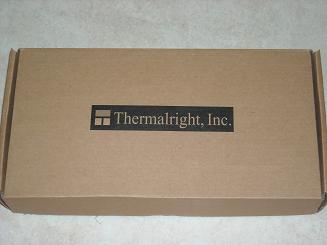 Outside of box
As you can see, the box is quite plain on the outside. Something I have come to expect of Thermalright, as this is generally what the box looks like that all of their products come in. This is not at all a bad thing, as most of the information on the back of most boxes serves no use. Though it would have been a little better touch to add a little flair in the form of maybe a graphic or something.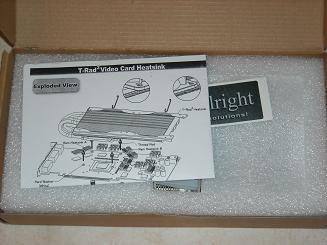 Inside of box
On the top is an instruction manual and a Thermalright sticker. The manual was very short and to the point, but it really wasn't very difficult to follow. I found the directions meaningful, along with bring short enough to read the whole thing, and not forget all of what I had just read.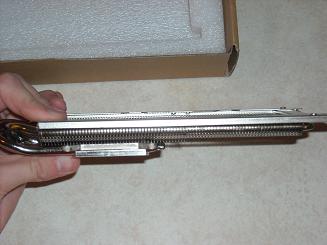 Side of heat sink
As you can see, this is a very thin heat sink. I am quite impressed at its small size, I hope this doesn't hurt its cooling performance.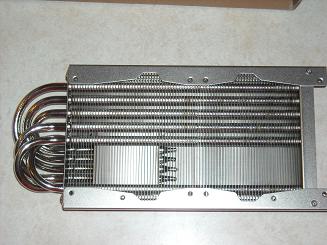 Top of heat sink
It is very easy to see down through the top. This is, in a way, bad. The more fins that are present, the more surface area is available to dissipate heat. This might help the RAM though, as there will be more air able to move through the heat sink easier and cool the RAM.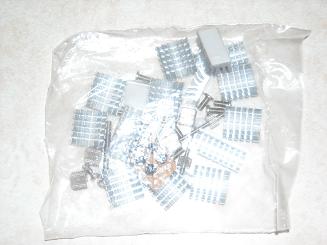 Included accessories
This cooler comes with a variety of things, including RAM sinks. These will certainly help cool the RAM, leading to a better RAM overclock.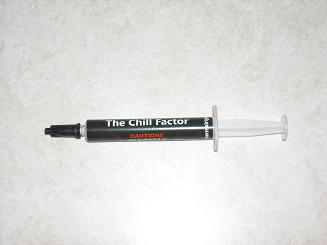 Thermal paste
Thermalright was kind enough to include some thermal paste for those of us who don't have any on hand. The only thing that bothers me about this, is that it is the first Chill Factor. This cooler is very new, and the TRUE Black 120 shipped with Chill Factor 2, so I am not sure why this only came with Chill Factor 1.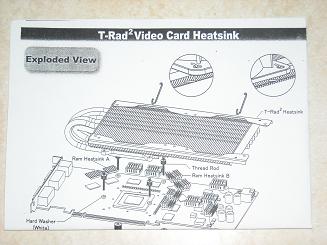 Directions
There is always one good thing to do before you try to install something like this, read the directions. Next, I will show you step by step how to install this, in case you're not one to follow them on paper.
INSTALLATION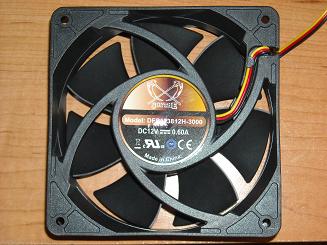 The fan used was a Scythe DFS123812-3000 "ULTRA KAZE". This fan blows out 133.6 CFM and is rated at 45.9 dBA. This fan happens to be quite loud, but not that bad after you get used to it. The fan itself is wider than most fans, exceding that of Thermalright's reccomendations, but the system is not an SLI or Crossfire system, so I did not run into any issues. If you are running a multi GPU solution with only one slot between your PCIE slots, then you wont be able to use this big of a fan.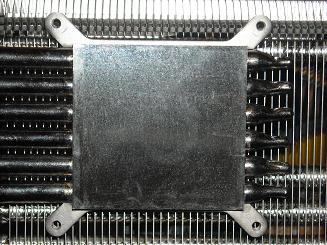 Cooler base
The cooler base doesn't look like copper to me, which is kind of disappointing. According to Thermalright, it is copper. Perhaps you would start to see the copper color if you lapped the base. I hope that this finish on the cooler base doesn't affect performance. The heat pipes are all very close, meaning that they have excellent coverage of the base. I believe that this is probably one of the best features in this cooler. I have not seen another GPU cooler with this many heat pipes on it. The surface looks quite flat, so it should get great contact with the GPU.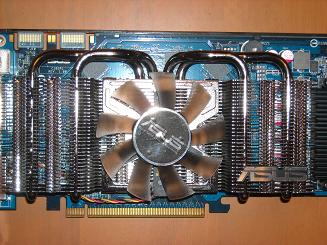 Asus card
For the graphics card, we will be using the Asus 9800 GTX+ Dark Knight edition. This card already comes with a very good cooler that includes heat pipes. It will be interesting to find out if the T-Rad's six heat pipes will beat the four heat pipes on the Asus stock cooler.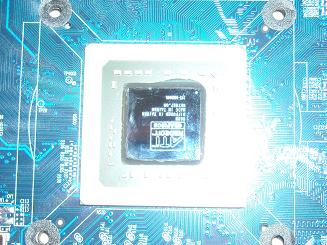 GPU
The first thing is to take off the stock cooler. Once you have that off, you want to make sure that you wipe off any excess thermal paste on the GPU, as you will be applying new thermal paste. I would recommend you do this on a hard floor, not carpet. One wrong move, and a electrical discharge could fry your GPU. I would also recommend using a solution designed to take off thermal paste, as this is the easiest way to get it off. Make sure that the cloth you use is not rough, you don't want to scrape up the GPU surface.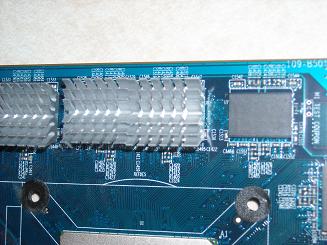 RAM sinks
The RAM sinks were very easy to install. Thermalright did a nice move here, and made the sink's adhesive matetrial extra sticky, so you don't have to wait for thermal glue to dry. I particularly liked this feature because I don't like having to wait for that stuff to dry. I would much rather get back to playing games!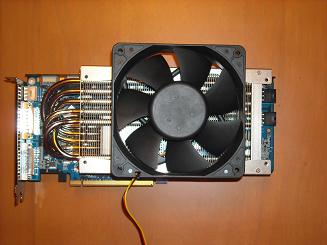 Cooler on GPU
As you can see, the cooler takes up the whole face of the card. A nice thing is that it does not extend past the card, so if you have limited space you won't be even more limited. I can think of one issue for this design though. If you have PCIE power connectors facing upwards then you will probably have issues plugging them in. Also, some cards are engineered different. For example, my Sapphire 4850 Dual Slot will not work with this cooler because the Mosfet is moved to the other side of the card and interferes with the heat pipes on the GPU cooler. Now, on to some testing.
METHODOLOGY & RESULTS
Methodology
 
Test Rig

Case Type
Antec 1200
CPU
AMD X2 6000+ @ 3.3 GHz
Motherboard
Asus M2N SLI Deluxe
Ram

Corsair XMS2 @ 825 5-5-5-16

CPU Cooler
Artic Freezer 64 Pro
Hard Drive
WD 250 GB SATA
Optical
Samsung DVD R/W
GPU's Tested

Asus 9800 GTX+ Dark Knight @ 740MHz core/1100MHz mem


Case Fans

Intake Front – Three 120mm @ 80 CFM
Extake Top – 200mm @ 138 CFM
Extake Back – Two 120mm @ 80 CFM
Intake Side – One 120mm Blowing on Graphics

Testing PSU
Ultra 650 watt PSU
I used Nvidia Smoke Demo running for about 45 minutes to verify the max temperature and I let the computer sit doing nothing for 45 minutes to achieve the minimum temperature. The Nvidia smoke Demo really taxes the graphics card, causing it to easily crash if your graphics overclock is not stable. All of the temperatures were measured in degrees Celius. Take in mind that a GPU can take a lot more heat than a CPU.  Often times, GPU's are fairly safe running at 80°C, though I reccomend running the card as low as you can get it.
Results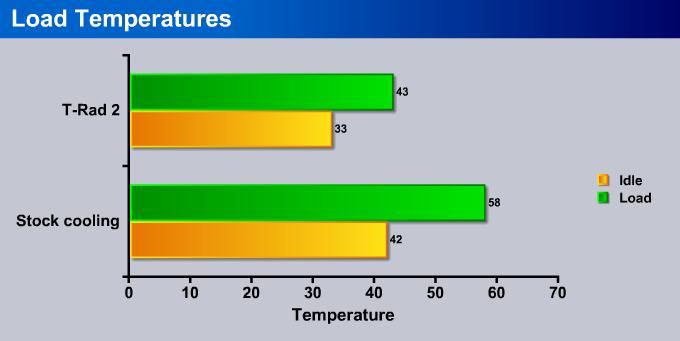 I am quite impressed with the results. The T-Rad 2 was easly capable of beating the stock cooling on the Asus 9800 GTX+. It even did so well as to come within a degree of having a load temp the same as the idle temp with the stock cooler. That is quite a accomplishment. This is deffinatly a great showing of just how much this cooler helps with lowering temperatures. 
Overclock
What would a GPU cooler be good for if you couldnt overclock the heck out of your graphics card? With the stock cooler, I was able to reach 835 core and 1100 memory speed. Though this cooling is better, I wouldn't expect a much better overclock, but perhaps it will be enough to gain a frame or two in your favorite game. This would be especaly good in Crysis, as the game is so demanding, it makes all current GPU's come down to their knees at higher resolutions.
With this cooler I was able to acheive a core clock of 845, but the memory just would not budge. It's a little better overclock, but the temperatures far makes up for the ability to only improve the overclock a little. I believe that the RAM chips are already at their max speed, so this would be the reason why they would not go any higher than they currently are.
CONCLUSION
The T-Rad 2 is an exceptional addition to any overclocker's custom PC. It excelled in its cooling ability, proving that a stock cooler, no matter how good, will be out done by a high quality aftermarket cooler. On the side of temps, it kept the load temps well under what Nvidia claims is a safe level. Even if you live in a hot climate you will still see amazing results from this cooler.
One bad point about this cooler is its cost. At around $52 USD, this is by no means a cheap cooler. It does offer great performance for the price though. So, you can be rest assured that you spent $52 wisely on this cooler.
On the overclocking aspect of the T-Rad 2, it really depends on the card you are useing. Had my HD 4850 worked, I might have gotting a huge overclock with that card. The 9800 GTX+ really seemed to be limited by the voltages on the card's RAM and GPU. Had this cooler worked for a card such as the 4870X2, which is severly limited with the stock cooler, there may have been a significant gain in overclock because of the cooler temperatures.
The look is a toss up. It certainly doesn't have the look that some CPU coolers have such as the Thermalright TRUE Black 120, but nonetheless, it's not that bad. The finish on it is at least polished, so it doesn't look like someone took a grinder to your cooler. The design is not really all that important considering the cooling ability of this cooler, but it adds a nice finished touch that defines the cooler, making it identifiable at the first look.
Pros:
+  Cools exceptionaly
+  Option for different size fans
+  Solidly built
+  Fits latest cards


Cons:
–  Looks
–  Price
With a final score of 8 out of 9 the Thermalright T-Rad 2 receives the Bjorn3D Seal of Approval.