The APOGEE GTZ replaces their out going APOGEE GTX water block and it's designed to offer the end-user a high performance solution to Swiftech's own top model.
INTRODUCTION
Swiftech has been a leading innovator in the computer cooling business almost from the very beginning. And by offering the computer enthusiast nothing but the best in quality and performance, they have earned themselves a reputation that's second to none among water cooling enthusiasts. Today we're going to be looking at their newest release in their water cooling line of products, the APOGEE Extreme Performance CPU Water block. The APOGEE GTZ replaces their out going APOGEE GTX water block and it's designed to offer the end-user a high performance solution to Swiftech's own top model.
With water cooling considerably more than air cooling, enthusiasts are looking to get the most performance out of their hard earned dollar. So that being said, we're going to see just how well Swiftech's new CPU water block stands up to the performance of their own last generation king, the APOGEE GTX.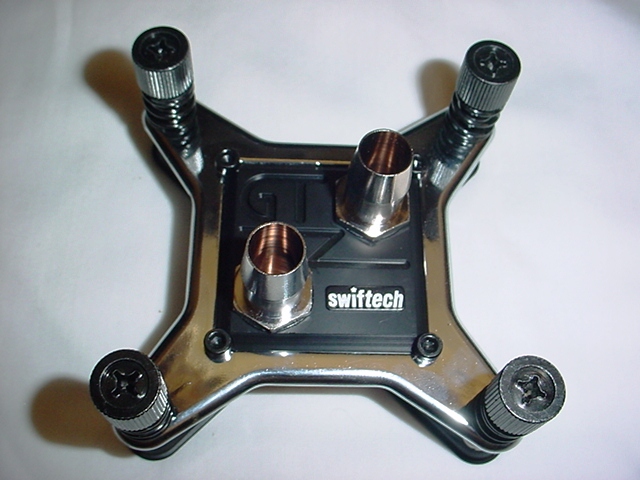 About Swiftech
Founded in 1994 by Gabriel Rouchon, Swiftech™ has emerged in the last seven years as one of the leading forces driving the high-end thermal management scene in the personal computer industry.
Pioneering work, innovation, and an uncompromising dedication to high performance and quality have resulted in award winning products setting standards for others to follow.
Swiftech was established in 1994 and incorporated in 2001. Its sales skyrocketed in early 2001 following the release of the MC370 line of heatsinks. Reviews of the heatsink in the Internet Press propelled Swiftech into the limelight as the number one source for high-performance heatsinks in the aftermarket computer parts Industry.
FEATURES & SPECIFICATIONS
Features
Mechanical design of the copper base plate is optimized for Intel® socket LGA 775 and 771. The assembly features a patent pending design characterized by a topographically mapped CPU contact area which results in a 75% and up to 300% improvement in TIM joint thermal resistance compared to the Apogee™ GT/GTX series. Other types of sockets such as AMD® socket F, AM2, and 940 as well as upcoming sockets similar in design to that of socket 775 may also benefit from the enhanced contact area.
The CNC machined C110 copper base is lapped, passivated (to maintain a bright finish) and features a 225 µm (0.009″) micro pin matrix.
The base plate features a rich mirror finish.
The cold plate surface is topographically mapped to provide an optimized TIM joint with socket 775 & 771 processors. As a result, the Apogee™ GTZ requires a specific mounting orientation with respect to the CPU socket in order to optimize performance.
The housing is CNC machined out of durable Delrin material, and designed for impingement cooling over the CPU hottest area. The flow path, as illustrated below shows that the Apogee™ GTZ is port specific: inlet and outlet cannot be interchanged.
The Apogee™ GTZ ships pre-installed with chrome plated high flow 1/4″ BSPP x 1/2″ barbs and also includes a pair of 3/8″ barb fittings.
An enhanced tool free retention system using thumb-nuts paired with a universal socket 775 motherboard back-plate guarantee high quality, safe and repeatable mounts.
Flow Chart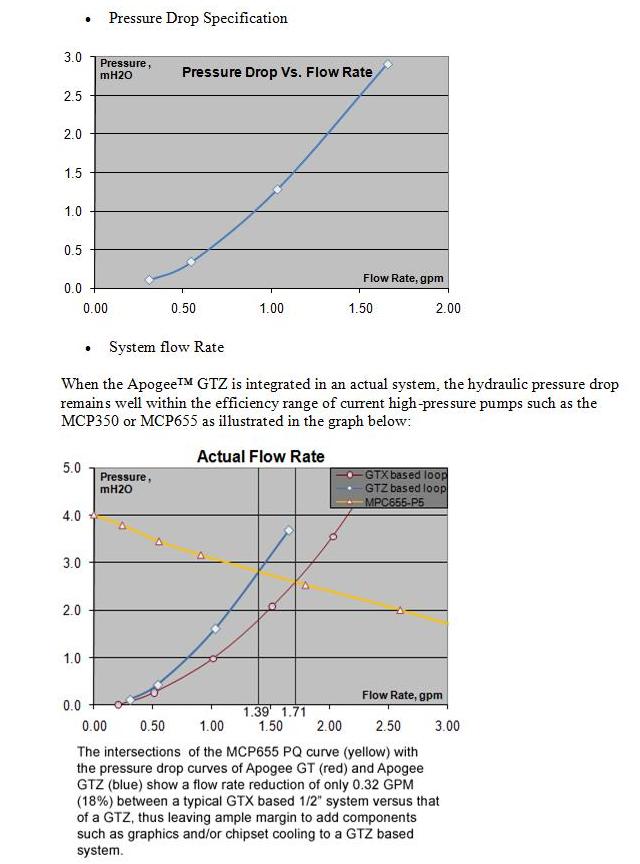 As you can see from Swiftech's own charts, the APOGEE GTZ is somewhat more restrictive than the older APOGEE GTX. The added restriction will have an impact on overall performance to a point, but by looking at the charts of the two most common pumps in use today, there should be plenty of headroom for multi block loops along with a bit better performance.
Motherboard and CPU Compatibility
The Apogee™ GTZ is shipped with an Intel® Core™ 2 (socket 775) compatible hold-down plate and complies with socket 775 keep-out specification, thus guaranteeing compatibility with all socket 775 type motherboards.
Two optional hold-down plates provide compatibility with the following processors:
* Part # Apogee-GTZ-1U-S-HD, provides compatibility with
  Intel® Xeon socket 771, and legacy 603, 604
  AMD® socket F, and legacy 754, 939, 940
  Due to the hybrid nature of this hold-down solution, users are advised to check for possible clearance issues with their particular motherboards.
* Part # Apogee-GTZ-AM2-HD, provides compatibility with AMD® Socket AM2, and is fully compliant with the component keep-out specification.
So as you can see from what is published by Swiftech, you shouldn't have any issues fitting this cooler to any of today's modders processors, but anything other than the Intel socket LGA775 will cost you a little extra cash. So if you want to install this on any of the other CPU types, don't forget to order the correct adapter along with the APOGEE GTZ.
PICTURES & IMPRESSIONS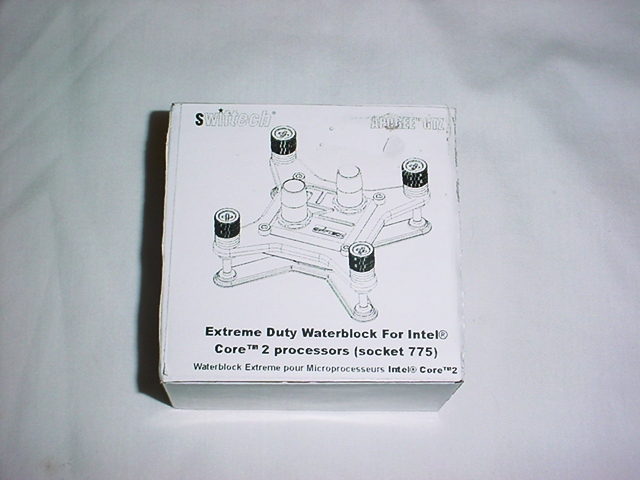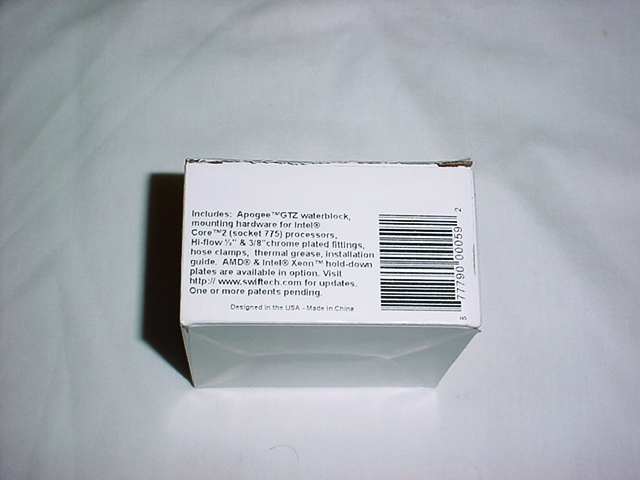 The APOGEE GTZ comes in a basic white box with not much more than a picture of the water block and its name on the top and a list of contents on one side. All in all it's pretty basic and there's not much to see, but it gets the job done and protects the assembled contents very well.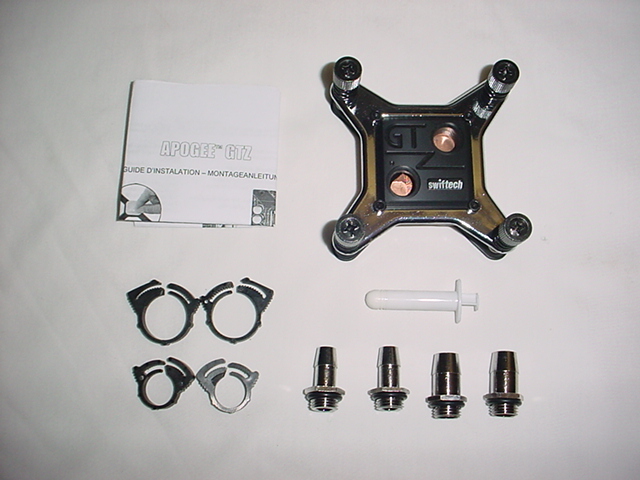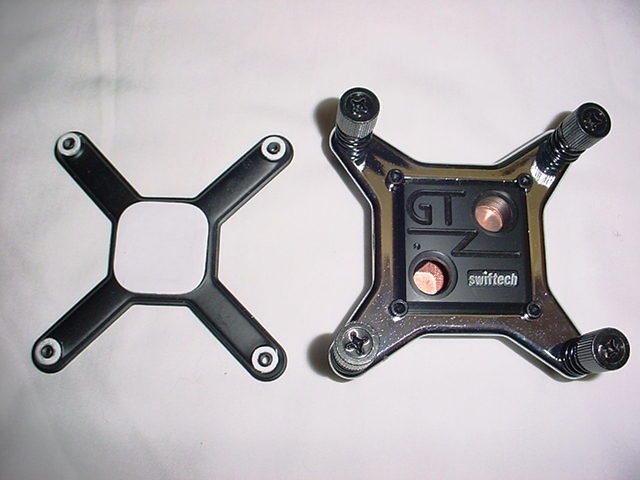 Inside the box you'll find everything you need to install the APOGEE GTZ to get your system up and running fairly quickly. Just install the correct barb size for your system and you're ready to get started. The barbs used on the GTZ are standard 1/4″ BSPP with pre-installed "O" rings just like the type used on the earlier GTX model, so there's no worry about getting a leak proof seal between the barbs and water block top housing.
The down side of this system is that if you don't already have a Swiftech back plate installed, you're going to have to remove the mother board to install the included plate. There's no other way around it.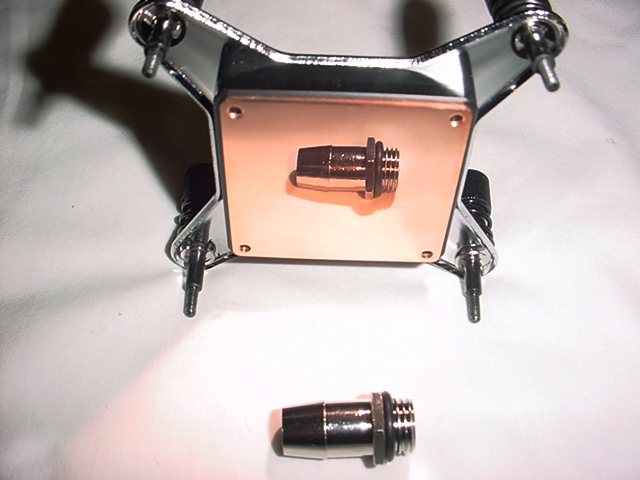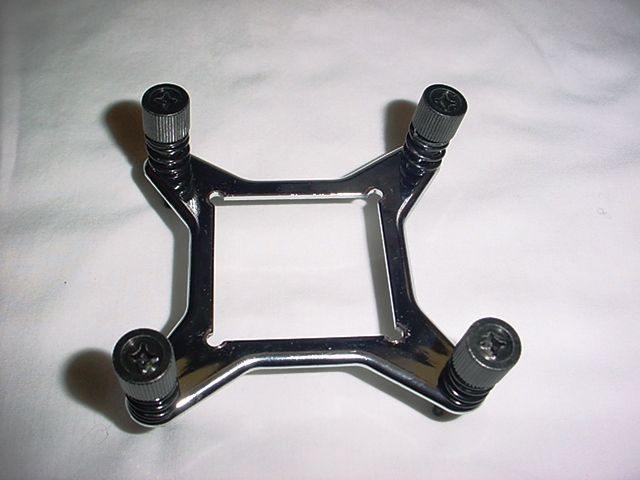 As I stated above, the block is completely pre-assembled, all the way down to the mounting screws, tension screws and retaining clips. This should eliminate any fears from the beginner water cooler from installing any of them incorrectly. There are however a few installation cautions that need to be carefully followed in order to get the most out of the GTZ, but we'll get into that a little later on.
One thing I almost failed to mention here, notice the extremely smooth and shinny base, I haven't seen one that nice in some time now.
PICTURES & IMPRESSIONS CONT.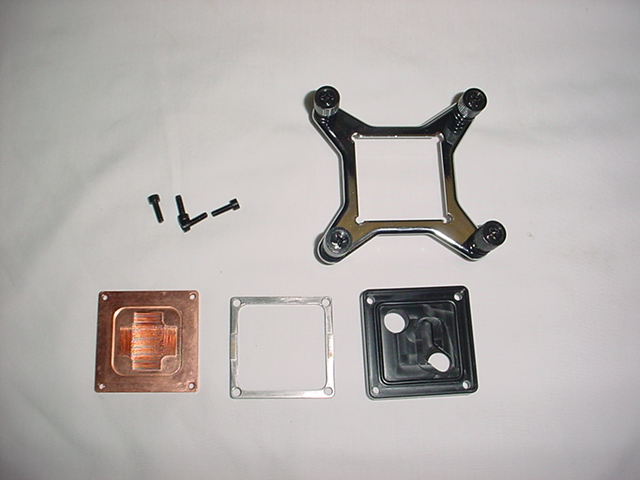 Here's a shot of the block broken down into its major parts. We'll cover each one a little more in-depth below.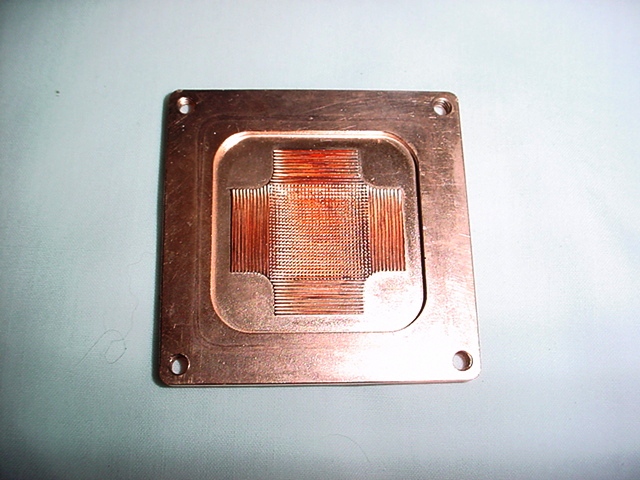 In this picture you can see the internal design of the GTZ; it's completely different than what Swiftech has done in the past. Swiftech has gone with a micro pin matrix design in order to attain their lowest ever thermal resistance, although it is somewhat more flow restrictive as I noted earlier.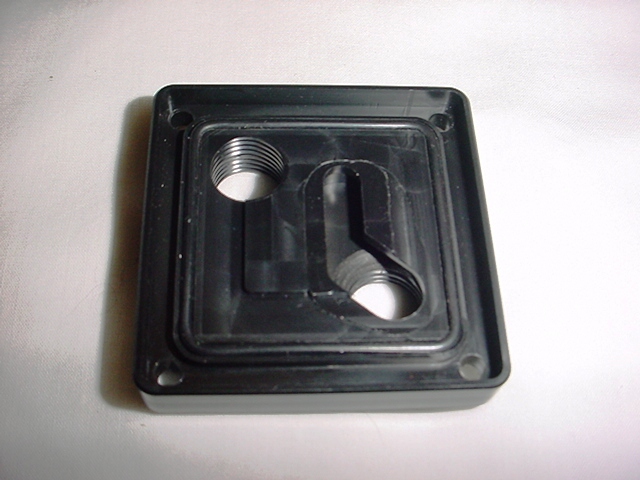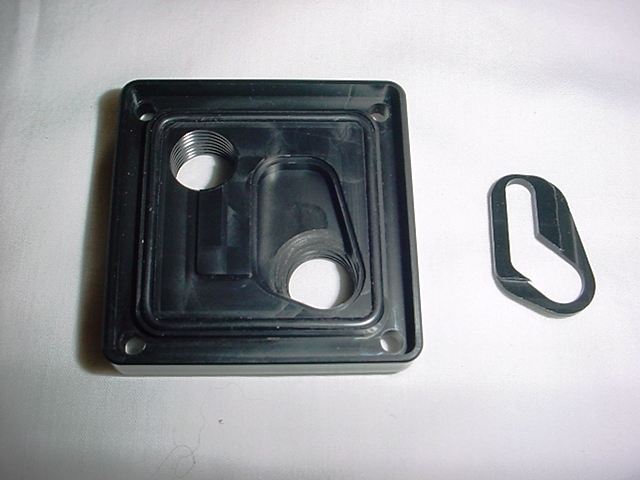 The top of the GTZ water block is CNC machined out of Delrin instead of aluminum like the GTX. Enthusiasts have been looking for Swiftech to get away from the use of aluminum for some time now because of the high risk of corrosion between mixed metals. It's good to see that Swiftech has listened to its user base.
In these two shots of the inside of the top you'll notice a small plastic insert. This is an inlet nozzle that directs the incoming water directly over the hottest part of the CPU itself. And for that reason here is the first installation caution; there is only one inlet and one outlet. Don't get them inter-changed or the block won't perform correctly.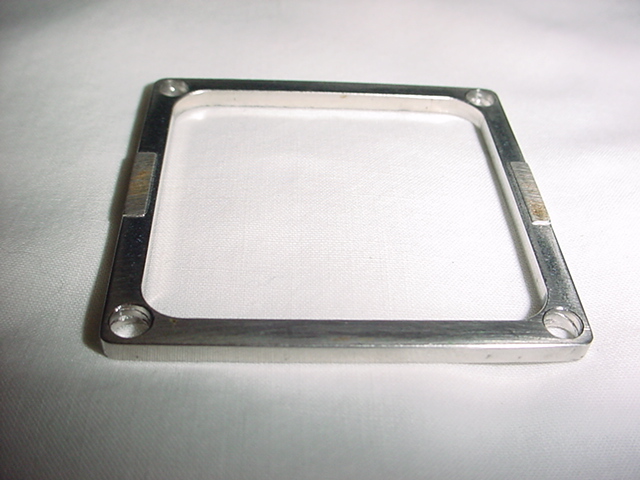 Here we have the bowing plate; the 2 small raised portions on the plate cause the base of the block to bow along the "X" axis which in turn helps the block make better contact with the hottest part of Intel socket LGA775 CPUs. This is what Swiftech calls a "topographically mapped CPU contact area."
Because of this bowing (topographically mapped CPU contact area), it is extremely important that the block be installed in the correct orientation.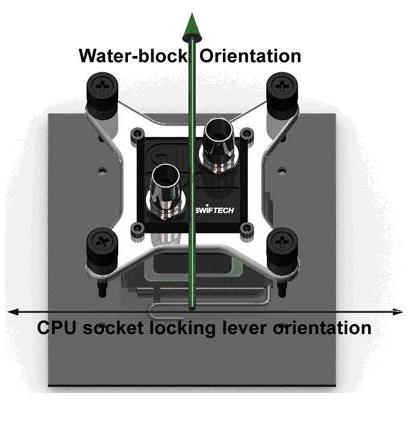 TESTING & METHODOLOGY
All temperatures were taken using RealTemp v2.79.8 and HW Monitor v1.11. Idle temps were taken after the system sat idle in Windows for 30 minutes. Load temps were taken after running Prime95 v25.6 for 30 minutes. Room temps were maintained as close as possible to 20°C throughout the testing. The CPU core and waterblocks were cleaned and a fresh coat of thermal paste (Arctic Silver Céramique) was applied between each test water block and each was burned in for 24 hours before testing started. Each waterblock was removed and reinstalled three times to ensure that there wasn't an error in mounting that resulted in incorrect temps. The temps from these tests are only a sample of what these cooling solutions can do on my computer system. Your results will vary as the temps are reported from the system CPU and no two report exactly the same. But the CPU reading will show if one block performs better than the other on the same system given voltages and overclock settings are kept the same. The reported temps will have an error of 0.5 degrees C as the reporting software either rounds the temp to the nearest whole number.
Testing was done at the following settings; System default (2.4 GHz) and a OC of 400×9 (3.6 GHz) at 1.45v. These different setting should show how each water blocks performance scales to the different heat loads.
Test Rig
"Monster Rig"
Case Type
Mountain Mods U2 UFO
CPU
Intel Q6600 @ stock and 3.6 Voltage 1.45 vcore
Motherboard
MSI P35 Platinum
Ram
Patriot DDR3-1600
CPU Cooler

Watercooling, loop #1
Pump – MCP655
Radiator  – Thermochill PA120.3
Reservoir – 5.25 dual bay res
Water Block – Swiftech Apogee, Apogee GTX, Apogee GTZ
Appropriate1/2 inch hoses and fittings
3 x Thermaltake 2000rpm 80CFM Fan @ 7v

Hard Drives
Seagate 250 Gig Sata 2
Optical
Lite-On DVD R/W
GPU
BFG 8800GT OC
Case Fans
8 x 120mm fans total
Testing PSU
OCZ Game XStream 700w
Mouse
Logitech
Keyboard
Saitek
Just a every day little rig.
RESULTS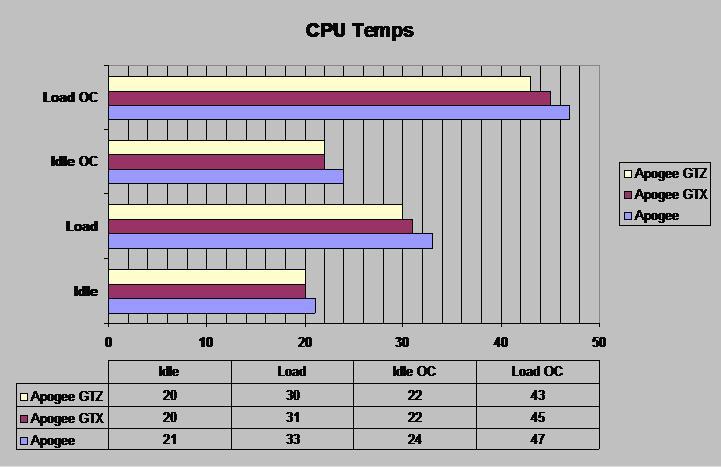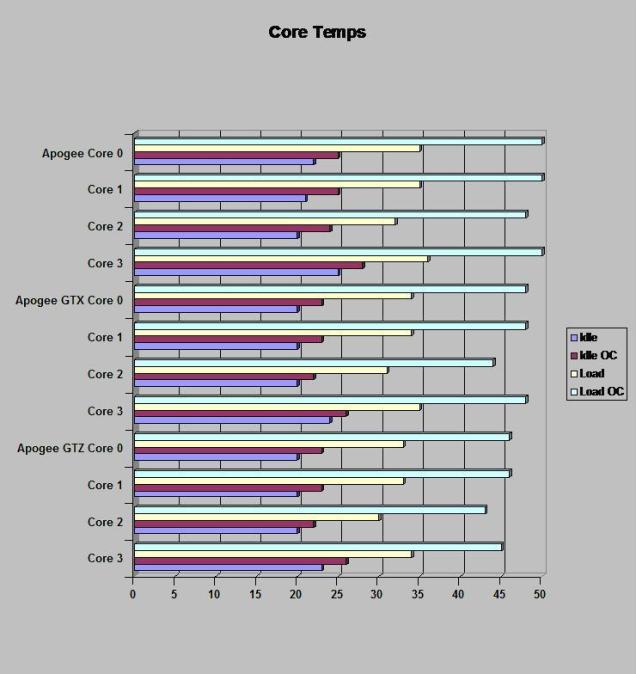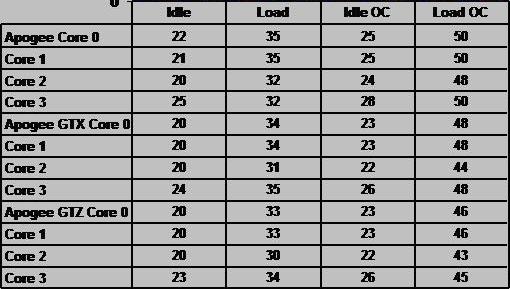 As you can see from the results charts, each new generation of the APOGEE has made an improvement on cooling performance. Some folks looking at the charts will say that 2°C isn't a big improvement, but it takes a lot of additional engineering and time to gain that much improvement at those CPU loads. Due to the higher flow restriction, I'm sure even better performance can be had from the GTZ by installing a higher pressure (Head Pressure) pump like Swiftech's own MCP 355 (with modded top) which has Nominal head of 15 ft (4.5 m) vs. 10 ft (3.1 m) from the MCP655. Even though the MCP655 has tons more flow, all that flow is a total waste if the pump doesn't have the pressure (Head) to push the water through the restriction of the block and other components.
CONCLUSION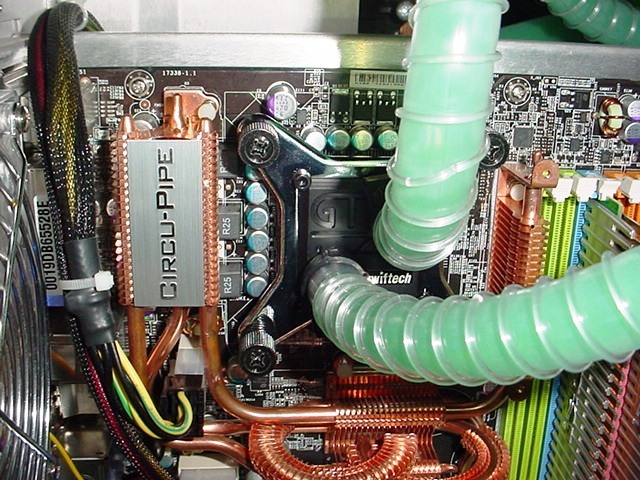 To be 100% honest, when I first read about the new APOGEE GTZ and saw the performance charts, I was expecting a bit more performance out of it. But if you take into consideration the added flow restriction of the block and the fact that I'm using an old MCP655 from when they were first released, gaining an additional 2°C is no small feat in its self. It speaks tons for Swiftech's engineering staff.
As I mentioned earlier, a higher pressure pump should net even better performance over what we're already getting, but that's for another review down the road.
I can't say enough about the retention system. It is simple to work with (after the back plate is installed the first time) and it makes for getting consistent installs a breeze. And last but not least, there's the new CNC machined Delrin top which takes the worry out of mixing metals in your loop (at least for the CPU block).
One last thought though, I'd really like to see Gabe and crew come out with a few different nozzles for the top to see if it's possible to fine tune it a bit more for dual or quad core CPU's.
Pros:
+  Great Performance
+  Extra Headroom For Overclocking
+  Delrin top removes aluminum from system (no mixed metals)
+  Fantastic retaining system (even if you do have to remove the mother board)
+  Excellent craftsmanship

Cons:
–  Price is a little on the high side, but as they say, you get what you pay for.
Final Score: of 9 out of 10 and the Bjorn3D.com Seal Of Approval.