if you're on short purse strings, but need a new video card to play today's current games at reasonable settings, you should be giving the Sapphire HD 4830 a look.
INTRODUCTION
After taking a look at my last Sapphire video card and being totally impressed, I was more than willing to take a look at their latest offering in the 4800 series family. The HD 4830 is basically a cut down version of Sapphire's HD 4850, and by doing so, Sapphire is able to offer it at a much lower price point while offering pretty close to the same overall performance, or so that's what Sapphire is saying anyways. We'll find out just how well (or bad) the card does soon enough.
So, enough of the formalities. Let's get on to looking at the card and see just how well it'll stand up to the Nvidia competition. It'll also be interesting to see just how well this little card overclocks, considering I was able to max out ATi's Catalyst Control Center Overdrive utility with Sapphires HD 4870 Toxic.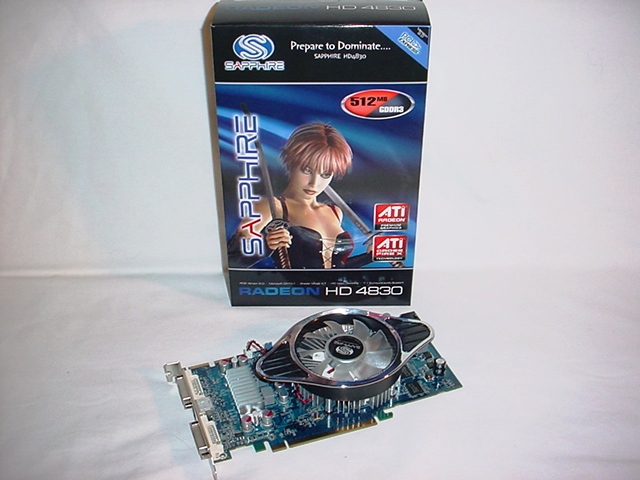 About Sapphire
Welcome to the SAPPHIRE Family 

Pioneers in a new era of how data is displayed and games are played, Sapphire shepherds the performance oriented with ground-breaking solutions to an environment that remains in a constant state of flux and ultimate evolution. For over ten years Sapphire has held true to its unwavering commitment, the commitment to deliver the most feature rich and soundly engineered products. Because of Sapphire's firm position on achieving excellence with each product that leaves our ISO9001 and ISO14001 certified factories, you can rest assured that your customers will recognize YOUR commitment to selling only the highest of quality components.

Since ATI announced its manufacturing & distribution relationships with ODMs and AiBs in June of 2001, SAPPHIRE has been THE key ATI Graphics Boards Supplier worldwide and now stands poised and ready to capture the mainboard audience of those who seek a stable platform for their mission critical operations.

All SAPPHIRE ATI video boards are manufactured under 100% ATI production criteria including QC and outgoing system. Our monthly video board production capacity can reach a lofty 1.8 million and often topples this landmark figure. Our factory has always been the major manufacturer on ATI boards for most of the top ten tier 1 OEMs worldwide. With this background, you should undoubtedly be guaranteed of the impeccable quality, production capacity and product reliability of all ATI video boards and mainboards from SAPPHIRE. Be they business oriented or something just off center of the crosshairs, Sapphire has a solution for you and we look forward to an exciting and prosperous relationship with you!
FEATURES
The new SAPPHIRE HD 4830 shares the award winning graphics architecture used in the existing HD 4800 series and offers the same features, but with an optimised specification and lower price point to deliver the best performance in its price category. With 640 shader engines and clock speeds of 575 MHz (core) and 900MHz (memory), it offers similar overall performance to the HD 4850 model but at a reduced price point.
TeraScale Graphics Engine
The powerful new TeraScale graphics engine features deliver high resolutions and fast frame rates.
 
Enhanced Anti-Aliasing & Anisotropic Filtering
High performance anisotropic filtering and 24x custom filter anti-aliasing (CFAA) smooth jagged edges and create true-to-life graphics, for everything from grass to facial features.
DirectX 10.1
Play today while preparing for tomorrow with state-of-the-art DirectX 10.1 graphics capabilities.
ATI CrossFireX™ Technology
ATI CrossFireX™ technology with up to quad GPU support offers superior scalability so your system is ready to level up when you are.
PCI Express 2.0
Support for PCI Express 2.0 will prepare you for bandwidth-hungry games and 3D applications.
Power to Spare
This GPU has the brute processing power needed for physics, artificial intelligence, stream computing and ray tracing calculations.
Unified Video Decoder 2
Unified Video Decoder 2 frees up your CPU for other tasks so you get The Ultimate Visual Experience™ for even the most processing-intensive content, including VC-1, H.264 and now MPEG-2. Also, take full advantage of Blu-ray functionality with dual-stream, picture in picture (PIP) capabilities.
Upscale Beyond 1080p
Watch the hottest Blu-ray movies or other HD content at full 1080p display resolution and beyond.
On-chip HDCP
On-chip HDCP (High-Bandwidth Digital Content Protection) makes life easier by allowing you to playback HDCP protected content.**
HDMI
Enjoy the latest audio technologies using HDMI with 7.1 digital surround sound support. Also, xvYCC support allows the user to enjoy a wider range of color when connected to a capable HDTV.

ATI PowerPlay™ Technology
ATI PowerPlay™ Technology delivers high performance when needed and conserves power when the demand on the graphics processor is low.
Energy Efficient Manufacturing Process
Second generation 55nm chip uses the industry?s most energy efficient manufacturing process.
SPECIFICATIONS
Sapphire HD 4830


Specification

Fabrication Process
55nm
Core Clock

575 MHz
Shaders Cores
640
Memory Clock / Data Rate
900 MHz / 1800 MHz
Memory Interface
256 bit
Memory Size
512 MB
ROPs
16
Texture Filtering Units
32
HDCP Support
Yes
HDMI Support
Yes (Using DVI to HDMI adaptor)
Connectors
2 x Dual-Link DVI-I
1 x 7-pin HDTV Out
RAMDAC's
400 MHz
BUS Technology
PCI-Express 2.0
Form Factor
Dual Slot
Power Connectors
1 x 6-pin
Here's a quick little comparison of how the Toxic's specs match up to ATI's other cards in the 4800 family of video cards. As you can see from the chart, besides the clock speeds being lower than its bigger brothers, it also has 160 fewer Shader Cores and 8 fewer Texture Units.
Sapphire 4870 and 4850 Specifications
GPU

HD Toxic 4830

HD 4850
HD 4870
GPU frequency
575 MHz
625 MHz
750 MHz
ALU frequency
575 MHz
625 MHz
750 MHz
Memory frequency
900MHz
993MHz
900MHz
Memory bus width
256 bits
256 bits
256 bits
Memory type
GDDR3
GDDR3
GDDR5
Memory quantity
512 MB
512 MB
512 MB
Number of ALUs
640
800
800
Number of texture units
32
40
40
Number of ROPs
16
16
16
Shading power
740 GFLOPs
1 TFLOPs
1.2 TFLOPs
Memory bandwidth
57.6 GB/s
64.0 GB/s
115.2 GB/s
Number of transistors
965 mil
965 mil
965 mil
Process
55nm
55nm
55nm
Die surface area
260mm²
260mm²
260mm²
Generation
2008
2008
2008
Shader Model supported
4.1
4.1
4.1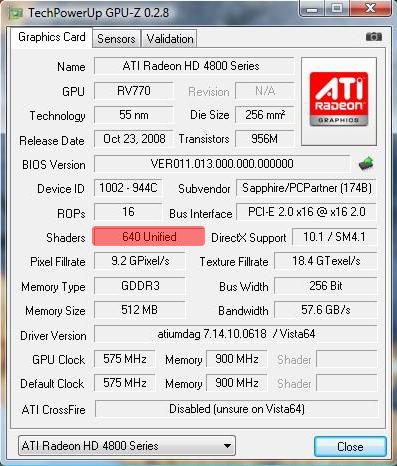 PACKAGING
Like all Sapphire products, the HD 4830 is shipped in a heavy brown cardboard box that's sleeved in a colorful retail outer box. As with all retail video card products I've seen, the packaging is full of marketing graphics as well as a full list of features, specifications, and minimum system requirements, all of which the end user should be 100% familiar with before purchasing a new video card or any computer part, for that matter.
BUNDLE
The bundle that's supplied with the HD 4830 is what I would call the bare minimum. It has everything that you need to install the card and get it up and running with just about any type of display. The only complaint I have with the bundle is that Sapphire did not include a Crossfire Bridge in the box, which in my opinion should be supplied with every Crossfire capable card.
1 – Sapphire 4830 GPU
1 – Manual & Driver Disk
1 – Molex to PCI-E 6 pin adapters
1 – DVI to VGA Adapter
1 – DVI to HDMI Adapter
1 – Component Cable Adapter
1 – Svideo to Component Adapter
IMPRESSIONS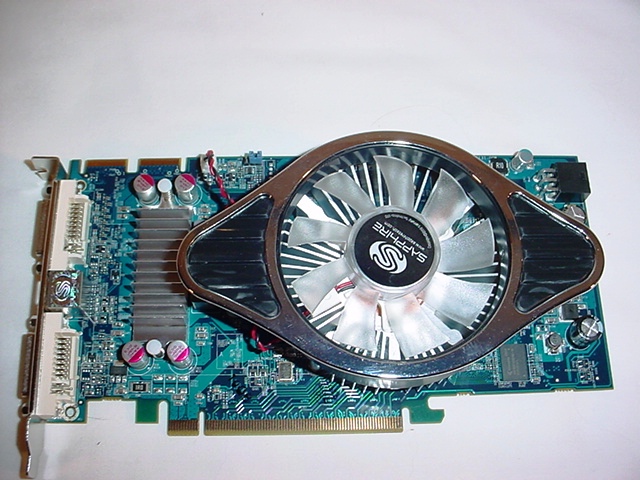 You'll notice the PCB is Sapphire's own make, using their typical blue coloring as well as a different PCB layout than reference ATi HD 4830 cards. Sapphire also opted to use a huge dual slot cooler on their card which should keep the card plenty cool while also keeping the noise levels as low as possible.
Click on a picture for a larger image
As I mentioned above, the Sapphire PCB differs from the reference layout to some degree. If you look at the front of the card in front of the GPU cooler, you'll see that the VRM (Voltage Regulator Module) cooling is taken care of by a separate heat sink pinned to the PCB. On reference boards the VRM's are located at the rear of the PCB next to the PCI-E power connector.
Another thing to note about this cooling setup is that there aren't any heat sinks on the video ram and not only isn't there any cooling for the ram besides air, there isn't any room to install any type of heat sinks even if you wanted to.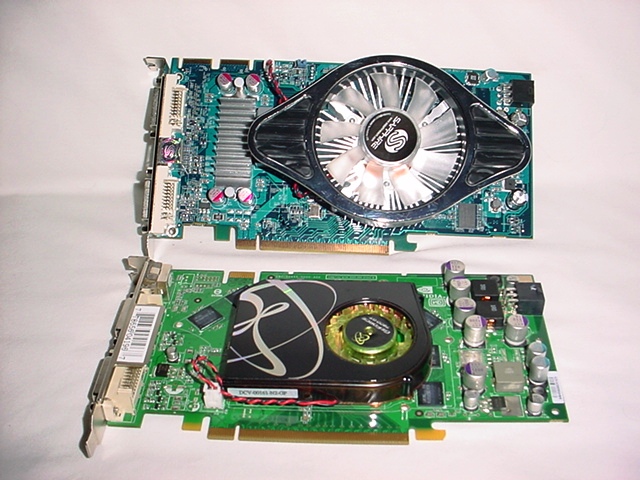 Here's one important comparison that is sure to be of interest to some folks. In this photo of the Sapphire HD 4830 and Nvidia 7900GT, you'll see that they are pretty much the same size, although it's shorter than either series of the Nvidia based 8800/8900, or ATi 4800. This will make it extremely easy fitting the Sapphire in just about any chassis, even if you're lucky enough to be able to run CrossFire.
TESTING & METHODOLOGY
The Move To Vista 64
We've had to face the reality that Vista is here to stay for a while so we're doing most of our testing in Vista 64 bit. We've held on to the aging Windows XP platform for two years since Vista came out, and Windows 7 is just around the corner so we're in the process of standardizing to Vista 64 in preparation for Microsoft's latest and greatest offering.
For testing purposes I'll be running the Sapphire HD 4830 against BFG 8800GT OC. Basically, an 8800GT is a rebadged 9800GT without a few features. All of our synthetic and gaming tests will be run at 1280 x 1024 and 1680 X 1050, with no Anti Aliasing or Anisotropic Filtering, and then with 4X Anti Aliasing and 16X Anisotropic Filtering. Each of the tests will be run individually and in succession three times, and an average of the three results calculated and reported. F.E.A.R. Benchmarks were also run with soft shadows disabled. All other games were run with everything set to max. 3DMark06 and 3DMark Vantage were run at default settings, and just to keep things fair as well, we turned off PhysX for the BFG 8800GT OC runs. DirectX 10 games are tested in DirectX 10, and DirectX 9 games are tested in DX9, which should be fully expected.
The Test Rig
Test Rig
"Monster Rig"
Case Type
Mountain Mods U2 UFO
CPU
Intel Q6600 @ stock and 3.6 Voltage 1.45 vcore
Motherboard
Gigabyte EP45T Extreme
Ram
Patriot DDR3-1600
CPU Cooler

Watercooling, Loop #1
Pump – MCP655
Radiator  – Thermochill PA120.3
Reservoir – 5.25 dual bay res
Water Block – Apogee GTZ
Appropriate1/2 inch hoses and fittings
3 x Thermaltake 2000rpm 80CFM Fan @ 7v

Hard Drives
Seagate 250 Gig Sata 2
Optical
Lite-On DVD R/W
GPU

Sapphire HD 4830, Catalyst 8.11 Drivers

BFG 8800GT OC, 178.24 Geforce Drivers

Case Fans
8 x 120mm fans total
Testing PSU
OCZ Game XStream 700w
Mouse
Logitech
Keyboard
Saitek
Just an every day little rig.

Synthetic Benchmarks & Games
Synthetic Benchmarks & Games
3DMark06 v. 1.10, Default
3DMark Vantage, Default
Company of Heroes v. 1.71, All maxed, 4xAA, 16xAF in drivers
Crysis v. 1.2, All max, 0xAA, 0xAF
World in Conflict Demo, All max, 4xAA, 16xAF
F.E.A.R. v 1.08, All max. Soft Shadow Off, 4xAA, 16xAF
3DMark06 V. 1.1.0
3DMark06 developed by Futuremark, is a synthetic benchmark used for universal testing of all graphics solutions. 3DMark06 features HDR rendering, complex HDR post processing, dynamic soft shadows for all objects, water shader with HDR refraction, HDR reflection, depth fog and Gerstner wave functions, realistic sky model with cloud blending, and approximately 5.4 million triangles and 8.8 million vertices; to name just a few. The measurement unit "3DMark" is intended to give a normalized mean for comparing different GPU/VPUs. It has been accepted as both a standard and a mandatory benchmark throughout the gaming world for measuring performance.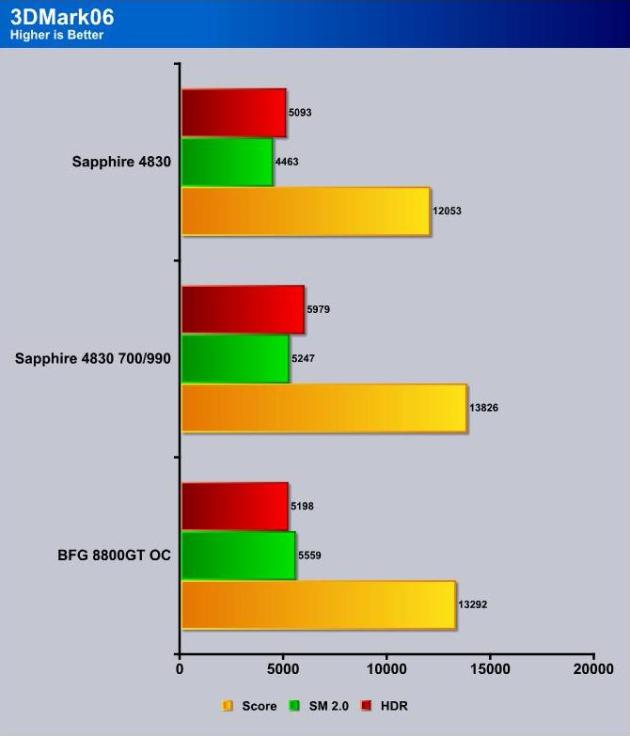 At stock speeds, the HD 4830 lagged behind its 8800GT counterpart by more than a 1000 points in 3DMark06, but as soon as you tossed in a little overclock, the HD4830 easily passed the overclocked 8800GT by over 500 points. 
3DMark Vantage 
For complete information on 3DMark Vantage Please follow this Link: www.futuremark.com/benchmarks/3dmarkvantage/features/
The newest video benchmark from the gang at Futuremark. This utility is still a synthetic benchmark, but one that more closely reflects real world gaming performance. While it is not a perfect replacement for actual game benchmarks, it has its uses. We tested our cards at the 'Performance' setting.
Currently, there is a lot of controversy surrounding NVIDIA's use of a PhysX driver for its 9800 GTX and GTX 200 series cards, thereby putting the ATI brand at a disadvantage. Whereby installing the PyhsX driver, 3DMark Vantage uses the GPU to perform PhysX calculations during a CPU test, and this is where things get a bit gray. If you look at the Driver Approval Policy for 3DMark Vantage it states; "Based on the specification and design of the CPU tests, GPU make, type or driver version may not have a significant effect on the results of either of the CPU tests as indicated in Section 7.3 of the 3DMark Vantage specification and white paper." Did NVIDIA cheat by having the GPU handle the PhysX calculations or are they perfectly within their right since they own Ageia and all their IP? I think this point will quickly become moot once Futuremark releases an update to the test.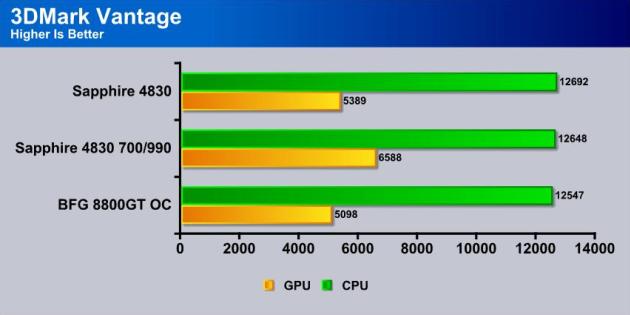 Here in the 3DMark Vantage runs, the HD 4830 walked all over the 8800GT even at stock speeds and it made the 8800GT look completely under powered after it was overclocked. 
COMPANY OF HEROES v. 1.71
Company of Heroes(COH) is a Real Time Strategy(RTS) game for the PC, announced on April, 2005. It is developed by the Canadian based company Relic Entertainment and published by THQ. COH is an excellent game that is incredibly demanding on system resources thus making it an excellent benchmark. Like F.E.A.R., the game contains an integrated performance test that can be run to determine your system's performance based on the graphical options you have chosen. It uses the same multi-staged performance ratings as does the F.E.A.R. test. Letting the games benchmark handle the chore takes the human factor out of the equation and ensures that each run of the test is exactly the same producing more reliable results.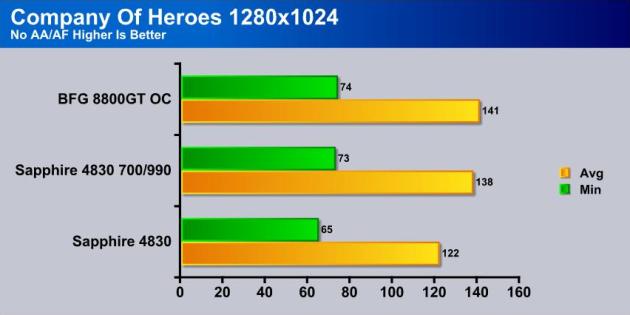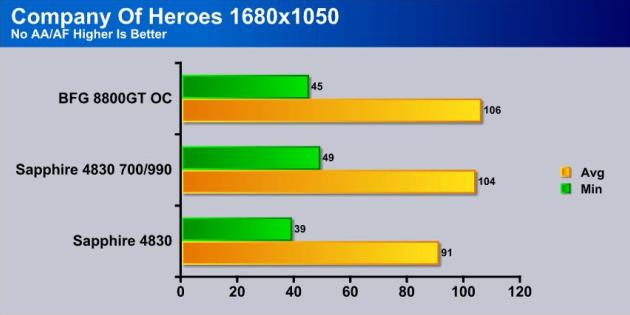 With AA/AF turned off, the 8800GT was the better card. Things did get much closer with the HD 4830 overclocked, but the 8800GT still had the win by a couple of FPS. Regardless of the winner here, both cards provided excellent game play at these settings.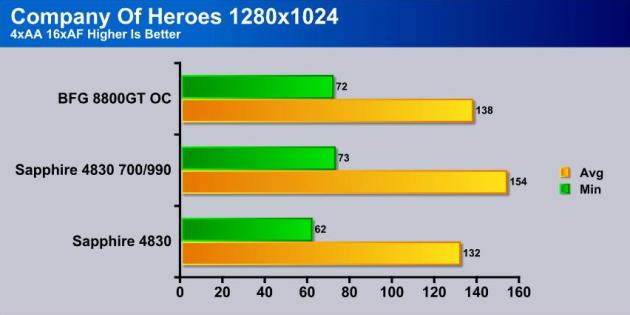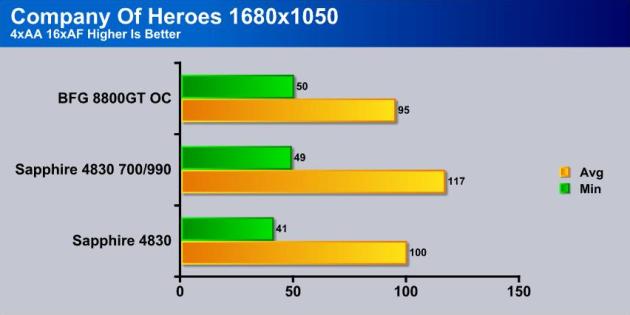 After turning AA/AF on, the benchmarks were pretty much split at stock speeds, but when the HD 4830 is overclocked, it again walks away from the 8800GT.
WORLD IN CONFLICT DEMO
World in Conflict is a real-time tactical video game developed by the Swedish video game company Massive Entertainment, and published by Sierra Entertainment for Windows PC. The game was released in September of 2007. The game is set in 1989 during the social, political, and economic collapse of the Soviet Union. However, the title postulates an alternate history scenario where the Soviet Union pursued a course of war to remain in power. World in Conflict has superb graphics, is extremely GPU intensive, and has built-in benchmarks. Sounds like benchmark material to us!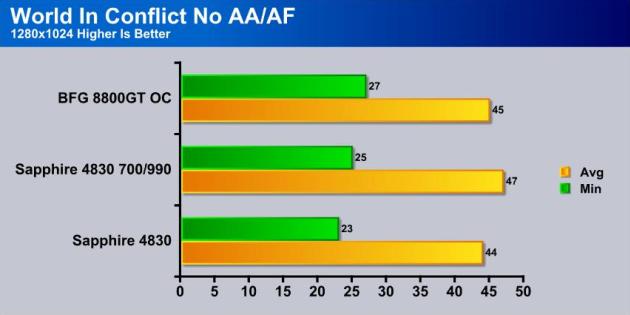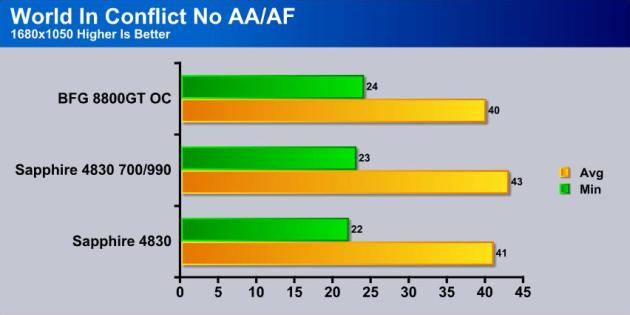 I'm going to have to call World in Conflict basically a tie with AA/AF turned off as there was only two frames separating them at any one time.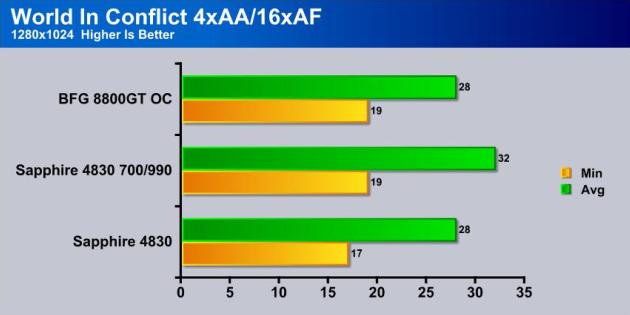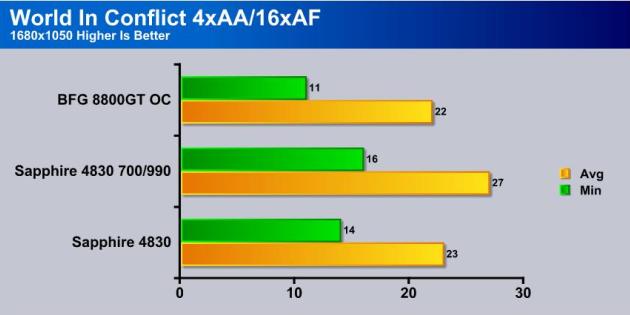 Even with AA/AF turned on, the scores were fairly close with the overclocked HD 4830 pulling ahead by 4 to 5 FPS. 
FEAR V. 1.08
F.E.A.R. (First Encounter Assault Recon) is a first-person shooter game developed by Monolith Productions and released in October, 2005 for Windows. F.E.A.R. is one of the most resource intensive games in the FPS genre of games ever to be released. The game contains an integrated performance test that can be run to determine your system's performance based on the graphical options you have chosen. The beauty of the performance test is that it gives maximum, average, and minimum frames per second rates. F.E.A.R. is a great benchmark, and one heck of a FPS.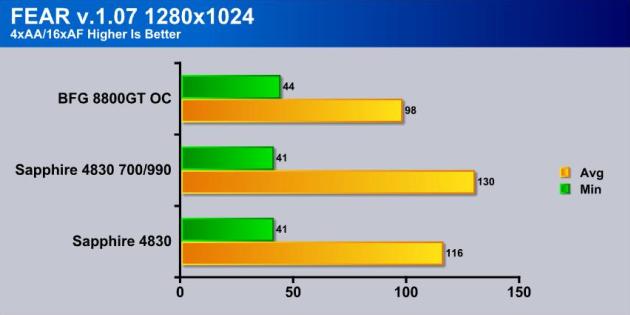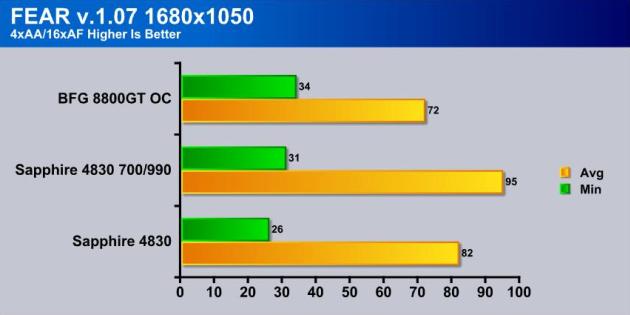 Here again in F.E.A.R, even at stock speeds, the HD 4830 was the clear winner, and when you toss in the overclock, well, then it turns into a pure beating.
CRYSIS v. 1.2
Crysis is the most highly anticipated game to hit the market in the last several years. Crysis is based on the CryENGINE™ 2 developed by Crytek. The CryENGINE™ 2 offers real time editing, bump mapping, dynamic lights, network system, integrated physics system, shaders, shadows, and a dynamic music system, just to name a few of the state-of-the-art features that are incorporated into Crysis. As one might expect with this number of features, the game is extremely demanding of system resources, especially the GPU. We expect Crysis to be a primary gaming benchmark for many years to come.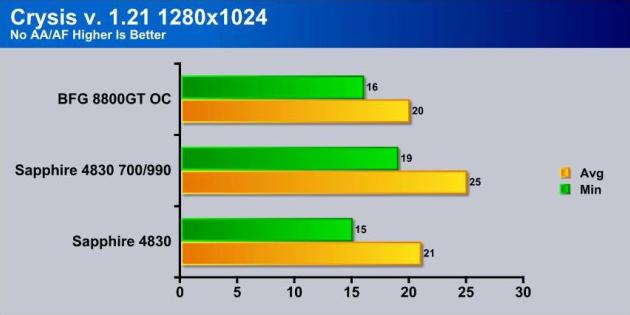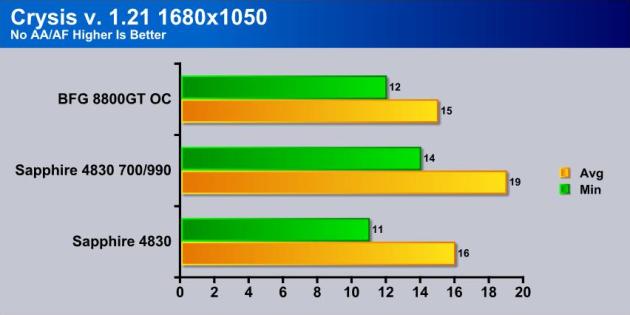 You won't really even get to play Crysis at max settings with any sort of enjoyment. Frame rates are extremely low and the game stutters a lot, but the overclocked HD 4830 did produce slightly better results nonetheless.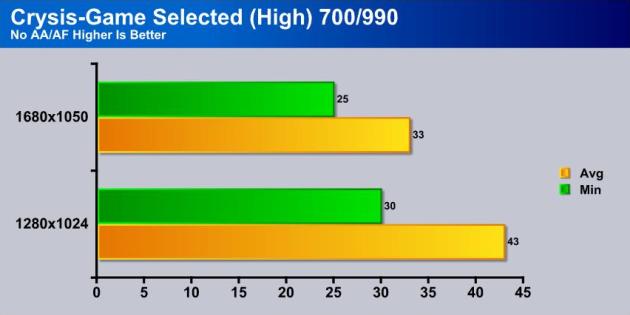 I did try the default game select setting for the Sapphire HD 4830 and it came up with everything on high, which looks pretty good and offers acceptable play frame rates.
OVERCLOCKING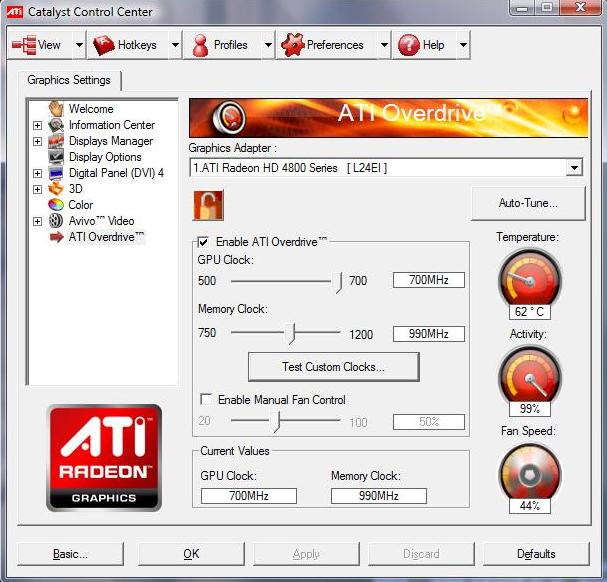 Overclocking the Sapphire HD 4830 is a breeze, at least the GPU is anyways. I easily maxed out the Catalyst Control Center Overdrive utility. I'm sure that there's still more to be had with this card using another overclocking program. The memory on the other hand is another story. I was only able to squeeze another 90 MHz out of it, which isn't what I would consider good. I'm sure that the poor memory overclock is mainly due to the fact there isn't any real type of cooling for it and that with a different GPU/memory cooler, the overclocks might be much better.
 
TEMPERATURES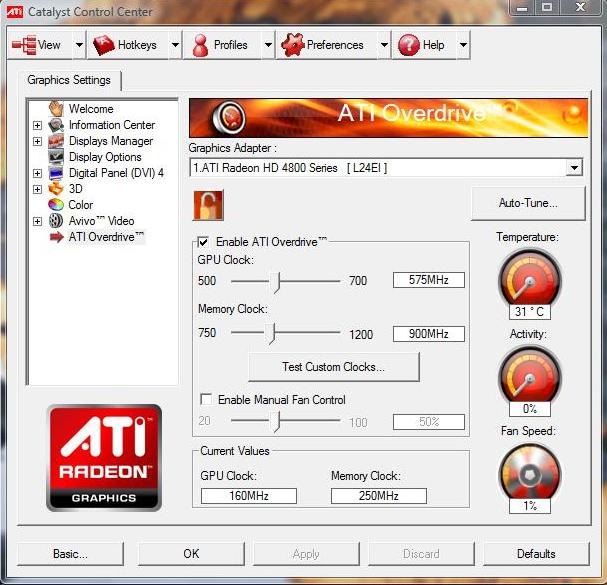 GPU Temperatures
 
Idle
Load
BFG 8800GT OC

41°C
77°C
Sapphire HD 4830 700/990

32°C
62°C
Sapphire HD 4830

31°C
58°C
The Temperatures at idle were taken after 30 minutes at the desktop with nothing but essential background tasks running. Load temps were taken with 3DMarks06 looping for 30 minutes at a resolution of 1680 x 1050 and default settings. Even at the max overclock, the GPU stayed fairly cool and running on the average 15°C cooler than the 8800GT. But I'll have to qualify that a little, as my 8800GT is one of the first generation releases with the small fan cooler installed. The newer Nvidia cards should run much cooler.
Power Consumption

GPU Power Consumption
GPU
Idle
Load
BFG 8800GT OC

181 Watts
274 Watts
Sapphire  HD 4830
165 Watts
253 Watts
Total System Power Consumption
In my tests the Sapphire card used less power at idle and load. But again, the newer generation of Nvidia based cards have a Hybrid Power saving feature of their own, so in real life, these cards should be fairly close together power usage wise.
CONCLUSION
Overall, I am completely pleased with the performance of the card. It beat the 8800GT OC in the majority of the test runs and, in my opinion, the image quality is slightly better. There are a few shortfalls that I noted throughout the review, but some are a give and take sort of issue to keep the cost low and competitive. Not including a full version of a current game isn't what I would call a deal breaker and the lack of a Crossfire bridge isn't either, although it would be nice to have one included so you could run a budget CrossFire setup if you're in the mind to without going through all the hassle of ordering a CrossFire bridge separately.
About the only thing that I'm really not that big on is the lack of cooling on the video memory. This impacts the cards overclocking potential on the memory a lot in my opinion. When looking around at other vendor's HD 4830's, there are a few that have their video memory clocked at default speeds higher than I could get this card to go, but they had coolers that cooled both the GPU and video memory. This tells me that the memory needs better video memory cooling.
Now on to the final verdict. I'm impressed with the performance of the card mainly for what you have to pay for one. Currently, they are about the same price as the Nvidia based 9800GT out there depending on where you shop and who has what for a mail-in rebate going this week. So, if you're on short purse strings, but need a new video card to play some of today's current games at reasonable settings, you should be giving the Sapphire HD 4830 a look. It'll be worth your time.
I'd be interested in trying out a set in a budget CrossFire setup just to see what kind of performance $200 will get you these days. It'd be interesting to see if the HD 4830's would beat out an HD 4870.
 
Pros:
+Great Performance (bang for your buck)
+Overclocking Ease
+DX 10.1
+Crossfire Ready
+Good Cooling Solution (except for video ram)
+Price

Cons:
–Exhausts Hot Air into Chassis
–No Game in Bundle
–No heat sinks on video ram
–Doesn't come in a 2 pack
–No CrossFire bridge included
 Final Score of 8 out of 10 and the Bjorn3D Seal of Approval.