Are you tired of taking off the stock heat sink so you can put an aftermarket cooler on your graphics card? Well Asus hopes to solve this problem for you with the 9800 GTX+ Dark Knight. The cooler on this card has a total of 4 heat pipes to dissipate heat better than stock cooling could ever do.
INTRODUCTION
With the release of the newest Batman movie, there has been a lot of talk about the Dark Knight lately, so much so that Asus decided to name a custom card using the same name. This card has four heat pipes. Heat pipes have been proven on many occasions to help the flow of heat immensely. Rarely do you ever see heat pipes used on any video card, even special edition cards. Heat pipes are usually reserved for the best after market GPU coolers. It should be interesting to see how these heat pipes affect overclocking.
What would the Dark Knight name be without a cool design to go with it? That is why Asus has painted the GPU cooler a cool black/silverish color along with a blue PCB. I feel that Asus really succeeds with the look of the Dark Knight, but can it perform just as good as the true Dark Knight? With the custom GPU cooler, Asus hopes that you will be able to overclock your heart out with this card, and thus achieve higher frame rates.
As many of us know, generally, if you lower temperatures, your max overclock will be increased. With higher overclocks more performance is possible. Today, we will see if this cooler is up to the task of doing a lot of overclocking, and ultimately performing better than ATI's competing card, the HD 4850.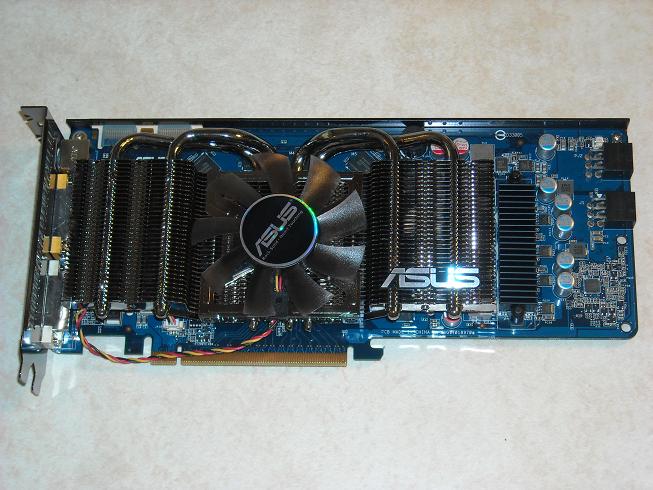 About Asus
ASUS, a technology-oriented company blessed with one of the world's top R&D teams, is well known for high-quality and innovative technology. As a leading company in the new digital era, ASUS offers a complete product portfolio to compete in the new millennium.
In 2007, one in three desktop PCs sold was powered by an ASUS motherboard; and the company's 2007 revenues reached US$6.9 billion.
ASUS products' top quality stems from product development. It's like learning Chinese Kung-Fu; one must begin with cultivating the "Chi" and inner strength. Besides innovating cutting-edge features, ASUS engineers also pay special attention to EMI (electromagnetic interference), thermal, acoustics and details that usually go unnoticed to achieve complete customer satisfaction. ASUS notebooks are the first TCO'99-certified notebooks worldwide.
The requirements for this honor include radiation emission control, energy (battery consumption), ecology (environment friendly) and ergonomics. To succeed in this ultra-competitive industry, great products need to be complimented by speed-to-market, cost and service. That's why all 8,000 over employees of ASUS strive for the "ASUS Way of Total Quality Management" to offer the best quality without compromising cost and time-to-market while providing maximum value to all customers through world-class services.
With unyielding commitment to innovation and quality, ASUS won 2,568 awards in 2007, meaning on average, the company received over 7 awards every day last year. BusinessWeek has ranked ASUS amongst its InfoTech 100 for the 10th straight year; and the company is ranked as No.1 in quality products and services by the Wall Street Journal. ASUS has also achieved the number one title on the annual league table of Taiwan Top 10 Global Brands with a brand value of 11.96 billion US dollars.
FEATURES & SPECIFICATIONS
Specifications
This table shows the differences between all of the cards included in the tests.
GPU

9800 GTX+


8800 GT


HD 4850

GPU Frequency

740 MHz

625 MHz

750 Mhz

Memory Frequency

1100 MHz

900 Mhz

993 Mhz

Memory Bus Width

256-bit

256-bit

256-bit

Memory Type

GDDR3

GDDR3

GDDR3

# of Stream Processors

120

112

640

Texture Units

32

32

32

ROPS

16

16

8

Bandwidth (GB/sec)


70.4

57.6

32

Process

55nm

65nm

55nm
Judging from the graph, the HD 4850 is the winner, but we all know how well these stats reflect real world performance. Though the 9800 GTX+ has a much lower Stream Processor count, its SP's are clocked higher, thus making up for the fact that there are fewer of them. All of the cards here are of the smaller 55nm manufacturing process.
Here at Bjorn3D we like to take a GPU-Z screen shot to verify that the card meets the stats as stated by the manufacturer.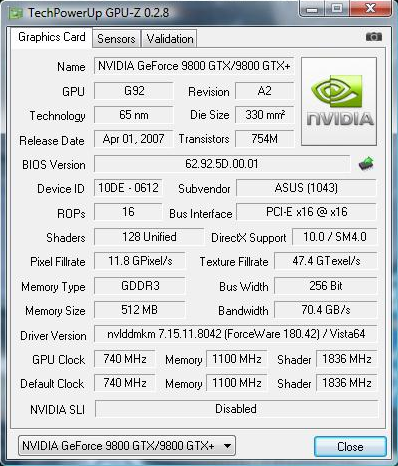 Looks like everything checks out here. All the speeds are at default, so Asus hasn't tried to sneak in a small overclock to make the card perform a bit better.
FEATURES
Experience Marvelous Gaming Performance with ASUS EN9800GTX+!

 
 
 ASUS Exclusive Innovations
 ASUS Features
Enthusiastic 4 Heat-Pipe Dark Knight Cooler
HDMI output support
ASUS Splendid:
Watching movies on PC is as good as on Top-of-the-line consumer television
ASUS Gamer OSD:
Real-time overclocking, benchmarking and video capturing in any PC game!
ASUS Smart Doctor:
Your intelligent hardware protection and overclocking tool
 Graphics GPU Features
NVIDIA® GeForce 9800GTX+
PCI Express & PCI Express 2.0 support
Microsoft DirectX 10and Shader Model 4.0 support
OpenGL®2.0 support
HDCP compliant
NVIDIA PureVideo HD technology—Essential for the Ultimate HD Movie Experience on a PC
NVIDIA Quantum Technology— Advanced Shader Processors architected for physics computation
I/O Specifications

PCI-Express 2.0
HDTV-out
DVI x 2
D-Sub
HDMI
HDCP compliant
PACKAGING
Front and Back of the Box
The box is pretty standard. On the front of the box, Asus shows off their four heat pipes, and call it "Enthusiastic". They also show that it is PCIE 2.0, along with the video memory. On the back they go into more detailed stats, including them in eleven different languages. I was quite surprised at all the different languages, I have never seen anything like it. Since there are so many languages, not as much information is displayed as in most cards, but this can easily be ignored, as there is no new information there.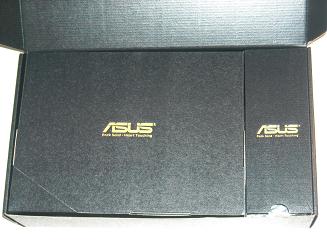 Inside of the Box
This card was very nicely packaged. Having the Asus logo on the top was a nice touch. The card board was quite thin, but felt very durable.
Card Packaging
The card has plenty of foam to cushion it in case it happens to be punted to your door by the UPS driver. This is more foam than graphics cards normal come with, Asus was very generous here. There is also a anti-static bag covering the whole card, so you don't accidentally zap it while pulling it out of the packaging.
BUNDLE
Contents
It comes with the basic contents. These include a 4 to 6 pin PCIE connector. There is an included HDMI adapter with the cable that you will need if you want audio going to your TV. This connector plugs into your motherboard, and Asus has included detailed instructions as to how to install it.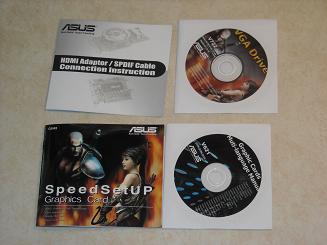 Instructions & Discs
I guess that we have become to advanced in this day and age paper is too old, so Asus included the instruction manual on a disk. There is also a HDMI adapter installation booklet, along with a CD with drivers that are outdated.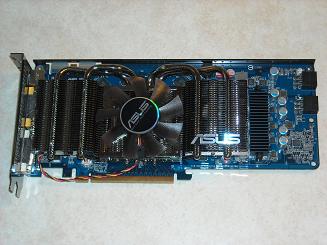 Top of Card
As you can see Asus has taken the basic card and just put a different cooler on it. The fan is of some interest to me. Asus claims that it is nearly silent. This could either mean it is a cheap fan that doesn't blow a lot of air, or a good quality fan that is built to be quiet. Lets hope for the latter.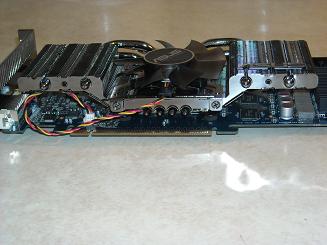 Bottom Side of Card
If you compare this cooler to the Zalman VF1000 you will notice that they are quite close in design. Taking that in mind, this card should cool exceptionally well. They also decided to keep the same back on the stock 9800 GTX+ despite the fact that not a lot of air would exit out of it.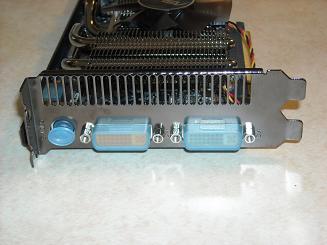 Back panel of card
This is the same as a stock 9800 GTX+. They did put in a nice touch by putting a cover over the video ports to keep dirt and other foreign objects from getting caught in the connectors, and destroying the port.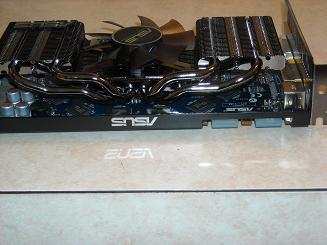 Top Side of Card
From this side you can get a really good look at the heat pipes. They look of good quality construction. The Asus logo on the side just sweetens the look of the card.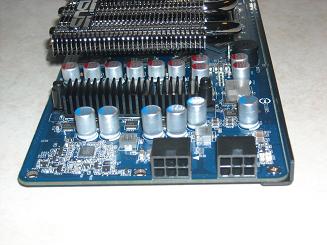 Back of Card
As you can see, this card has two PCIE connectors. Make sure that your PSU at least has one PCIE 6 pin connector. You do not want to run this card with two Molex to PCIE connectors. Take note that the HD 4850 only requires one PCIE connector. That would most likely mean that the 9800 GTX+ requires more power to run.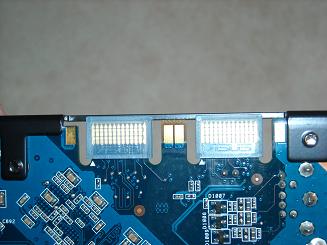 SLI connector
This card also features two SLI connectors. This will allow you to run 3 of these cards in SLI provided you have a motherboard that supports that feature. If you are using only two cards in SLI then you only need to use one connector, but if you run Tri-SLI you will need to use the connector with two connectors for each of the three cards. Asus was kind enough to include covers so the SLI connector doesn't get damaged.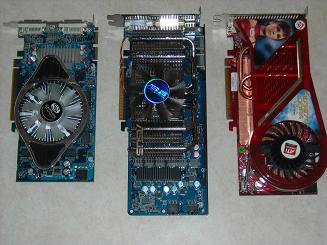 Size comparison
This card is quite a bit larger than the HD 3870 and HD 4850. A warning to those with mid towers, this will probably not fit in your case, depending on how your HDD bay is set up.
Asus doesn't say much about their warranty for graphics cards beyond that it covers 3 years. This is a normal warranty time for graphics cards, but since Asus is such a big company I kind of expected more from them.
SYSTEM & METHODOLOGY
All the tests were done in 1280 x 1024 (1280 x 960 was used in F.E.A.R.), 1600 x 1200, and 1920×1080. All of the tests were performed five times to ensure accuracy. Crysis was run with all settings on Very High with no AA or AF due to its huge demands. Company of Heroes was tested with all settings maxed and with Model Detail was set all the way to the right. F.E.A.R. was run with auto settings. The CPU was set to High and the Graphics option was set to Maximum. In World in Conflict the Graphic Detail was set to Very High, and 4X AA and 4X AF were used. I used the Performance preset in Vantage, and the default settings for 3DMark06.
The Test Rig
 
Test Rig

Case Type
Tagen El Diablo A+
CPU
Intel Q9550 @ 3.4 GHz
Motherboard
DFI Lanpart LT X48
Ram
G.Skill Pi DDR3
CPU Cooler
Thermalright TRUE Black 120
Hard Drive
WD SE16 640 Gig 7200k RPM
Optical
Lite-On DVD R/W
GPU's Tested
Asus 9800 GTX+ @ 750/1000 Drivers – 178.13


Diamond HD 3870 @ 777/2400

Drivers – Catalyst 8.10


Sapphire HD 4850 @ 625/993

Drivers – Catalyst 8.10
Case Fans

Two 180mm top extake
One 180mm back extake
One 240mm front intake
One 330mm side intake

PSU
Corsair HX1000W
Synthetic Benchmarks & Games
 
Synthetic Benchmarks & Games
3DMark06 v. 1.10
Company of Heroes v. 1.71 DX 10
Crysis v. 1.2 DX 10
World in Conflict Demo DX 10
F.E.A.R. v 1.08 DX 9
3DMark06

3DMark06 developed by Futuremark is a synthetic benchmark used for universal testing of all graphics solutions. 3DMark06 features HDR rendering, complex HDR post processing, dynamic soft shadows for all objects, water shader with HDR refraction, HDR reflection, depth fog and Gerstner wave functions, realistic sky model with cloud blending, and approximately 5.4 million triangles and 8.8 million vertices; to name just a few. The measurement unit "3DMark" is intended to give a normalized mean for comparing different GPU/VPUs. It has been accepted as both a standard and a mandatory benchmark throughout the gaming world for measuring performance.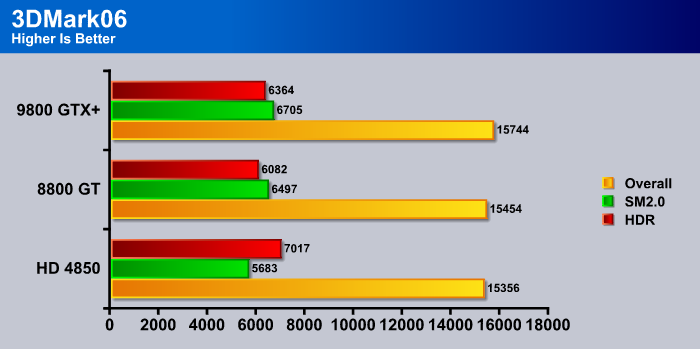 Despite the overclock on the HD 4850, the 9800 GTX+ was still able to beat it. Even the 8800 GT managed to beat the HD 4850 in this test. The 8800 GT was close to the 9800 GTX+, but it just couldn't crank out enough to match it.
3DMark Vantage

3DMark® Vantage is the new industry standard PC gaming performance benchmark from Futuremark, newly designed for Windows Vista and DirectX10. It includes two new graphics tests, two new CPU tests, several new feature tests, and support for the latest hardware. 3DMark® Vantage is based on a completely new rendering engine, developed specifically to take full advantage of DirectX10, the new graphics API from Microsoft.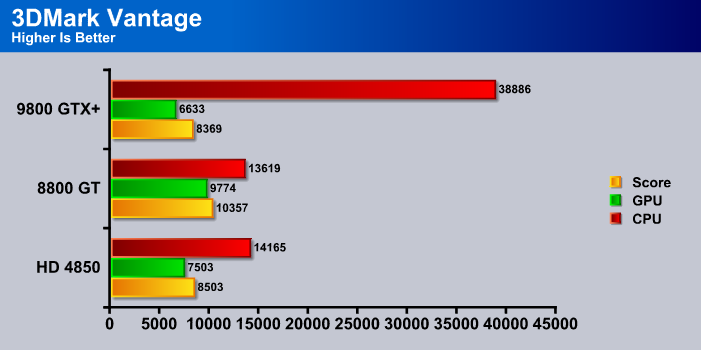 In this, test PhysX was disabled on the 8800 GT, but not on the 9800 GTX+. Had it been disabled the CPU score would have been closer. Despite this, the 9800 GTX+ still had a lower Performance score than the HD 4850. This is due to its sub par GPU score.
Company of Heroes

Company of Heroes(COH) is a Real Time Strategy(RTS) game for the PC, announced on April, 2005. It is developed by the Canadian based company, Relic Entertainment, and published by THQ. COH is an excellent game that is incredibly demanding on system resources thus making it an excellent benchmark. Like F.E.A.R. the game contains an integrated performance test that can be run to determine your system's performance based on the graphical options you have chosen. It uses the same multi-staged performance ratings as does the F.E.A.R. test. Letting the games benchmark handle the chore takes the human factor out of the equation and ensures that each run of the test is exactly the same producing more reliable results.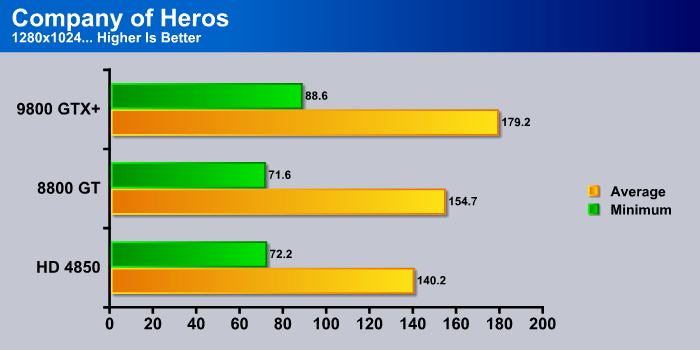 Company of Heros is much more optimized for Nvidia cards, so it is no surprize that the 8800 GT and 9800 GTX+ were able to beat the HD 4850 by a fair margin. The 9800 GTX+ was able to easily beat the 8800 GT by more than 20 frames on average. This is quite an impressive lead.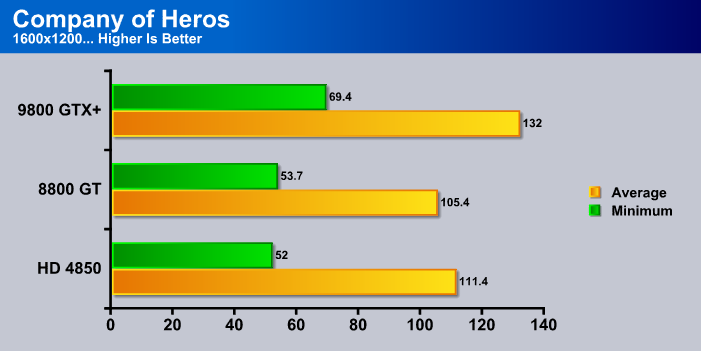 As we move into a higher resolution, the HD 4850 manages to beat out the 8800 GT in average frame rate. The 9800 GTX+ still holds the lead by a large margin.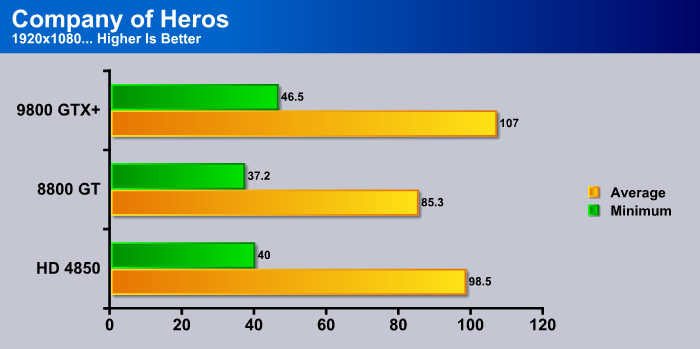 Into an even higher resolution, the HD 4850 manages to gain some ground on the 9800 GTX+, but it still falls a fair amount short. The 9800 GTX+ is the clear winner in Company of Heros.
Crysis

Crysis is the most highly anticipated game to hit the market in the last several years. Crysis is based on the CryENGINE™ 2 developed by Crytek. The CryENGINE™ 2 offers real time editing, bump mapping, dynamic lights, network system, integrated physics system, shaders, shadows and a dynamic music system just to name a few of the state of-the-art features that are incorporated into Crysis. As one might expect with this number of features the game is extremely demanding of system resources, especially the GPU. We expect Crysis to be a primary gaming benchmark for many years to come.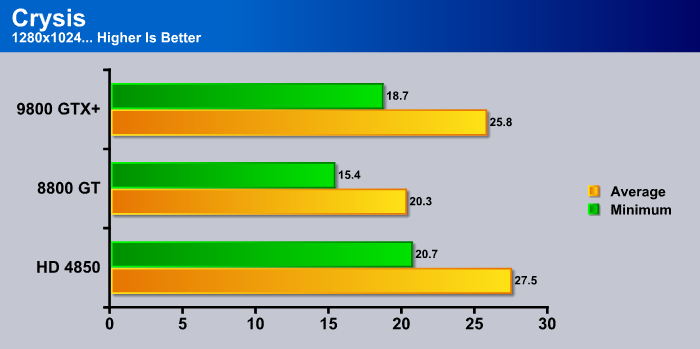 The 9800 GTX+ just barely gets edged out by the HD 4850 in this test. Generally, I have had better performance when I use Nvidia cards in Crysis, but this test says otherwise.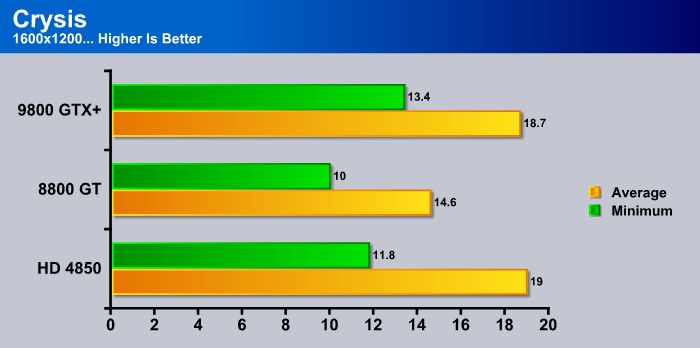 Once again the HD 4850 just edges out the 9800 GTX+. The 8800 GT has really taken a beating so far in this test. It has not been able to get near the 9800 GTX+ or HD 4850.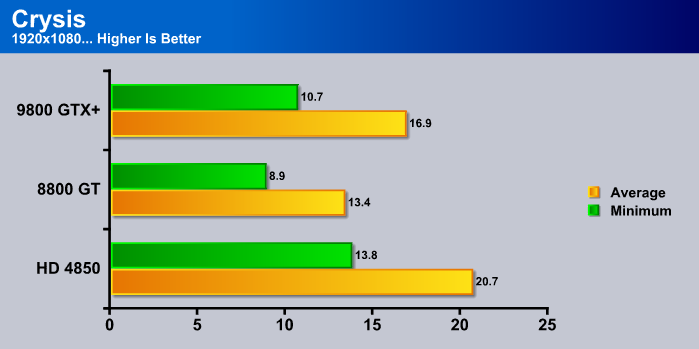 As we go up even further in resolution the HD 4850 pulls farther ahead from the 9800 GTX+. The 9800 GTX+ was able to hang in near the HD 4850 in this test, but was not able to surpass its ATI rival.
World in Conflict

World in Conflict is a real-time tactical video game developed by the Swedish video game company Massive Entertainment and published by Sierra Entertainment for Windows PC. The game was released in September of 2007. The game is set in 1989 during the social, political, and economic collapse of the Soviet Union. However, the title postulates an alternate history scenario where the Soviet Union pursued a course of war to remain in power. World in Conflict has superb graphics, is extremely GPU intensive, and has built-in benchmarks. Sounds like benchmark material to us!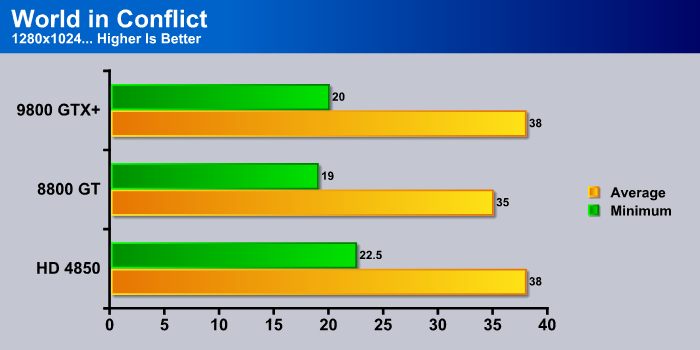 The 9800 GTX+ was very close to the HD 4850, even being able to match its average FPS, but the HD 4850 acheived a few more frames on the minimum score.
The HD 4850 is slowly starting to pull away from the 9800 GTX+. Surprisingly, the 8800 GT is quite close to the 9800 GTX+ in performance. So far, it is doing quite good for a older and cheaper card.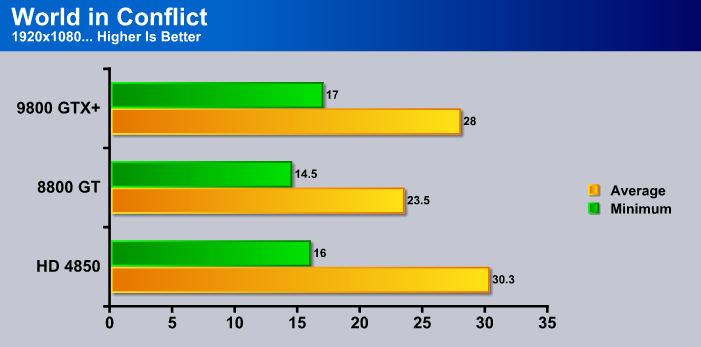 The 9800 GTX+ manages to recover some lost ground here, but it is still not enough. The HD 4850 easily takes on the 9800 GTX+ and wins, while the 8800 GT shows that the older cards can still hang in there at lower resolutions.
F.E.A.R.

F.E.A.R. (First Encounter Assault Recon) is a first-person shooter game developed by Monolith Productions and released in October, 2005 for Windows. F.E.A.R. is one of the most resource intensive games in the FPS genre of games ever to be released. For this test I played the first section of the first level and did the same multiple times for all of the cards to insure accuracy.
I am not sure what went on, but F.E.A.R. would not allow me to select a higher resolution on the TV, so due to this I could not test it at 1920×1080.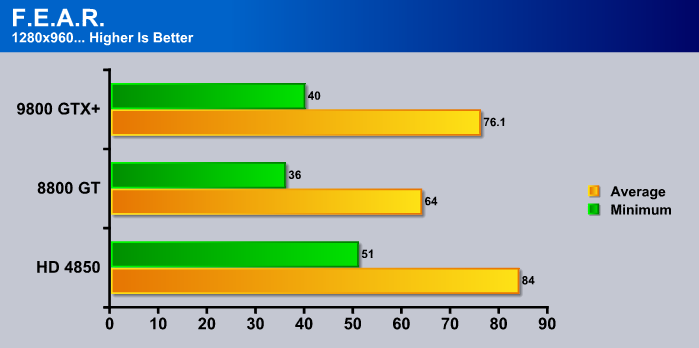 FEAR seems to be a little bit more optimized for ATI cards, as shown here. The HD 4850 really puts a good lead on both the 9800 GTX+ and 8800 GT.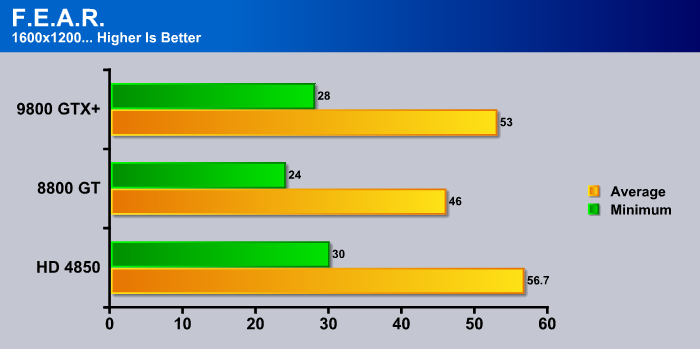 The 9800 GTX+ manages to catch up a bit to the HD 4850 in the higher resolution. The 9800 GTX+ really has not had much problem, at least keeping close to the HD 4850 despite the fact of the HD 4850 being overclocked.
TEMPERATURES  

GPU Temperatures

Idle
Load
42°C
58° C
The 9800 GTX+ was quite cool, managing to stay under 60°C. Take in mind that this is with default fan speeds. You will probably be able to drop temps even more if you crank the fan up faster. This should leave plenty of room for some serious overclocking. But going beyond overclocking, the cooler temps will allow your card to have a longer life, so you can put off getting that new card until you really want to.
OVERCLOCKING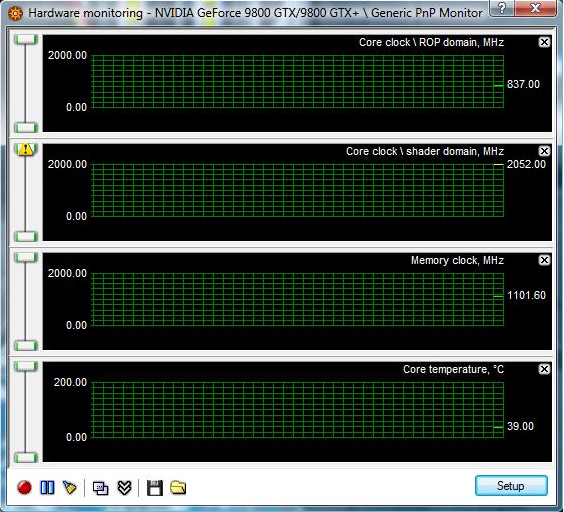 The stock clocks for this card are 740MHz and 1100MHz respectively. 835MHz was quite a good overclock on the core. That's almost a 100MHz increase. The memory was really more of a disappointment, with not even a MHz increase. It looks like the RAM chips Asus decided to use are already at their max stock clocked. I feel as though Asus cheaped out on this move. Hopefully, they start using better RAM chips soon, or this could be a real bad side to buying one of these cards. The shader clock got to a nice 2052MHz. This is quite good, and will help a lot when a game like Crysis tries to bring this card to its knees.
CONCLUSION
There are many good things that accompany the Asus 9800 GTX+ Dark Knight edition. It is the culmination of many high end features that are sure to help you play all of the latest titles at max without a hint of lag, and stay extrememly cool while doing it.
The cooler on this card is very nice, and is of quality construction. I love the way the paint looks. You can really say it looks like a secret weapon that Bat Man would put into his computer. The paint is very cool, and the overall look of the cooler makes this all the better.
Don't count this card out for overclocking either. With the help of the Dark Knight cooler, the 9800 GTX+ is able to overclock very far. This will certianly give you a few more frames, and help to make some of the most demanding games playable in the most demanding of fire fights.
Overall I feel that the Asus 9800 GTX+ Dark Knight is a very good and capable card to play anything you throw at it. There was no point in testing that I felt like it was a serious let down, in fact the opposite is true. This card kept up with a overclocked HD 4850, and on a few occasions managed to beat it.
Another great point about this card is its price. It is on par with prices of normal 9800 GTX+'s yet it has the much better cooler. This will certainly prove to be an attractive offer for anyone looking to put some life back into their gameing computer. The Asus 9800 GTX+ Dark Knight did exceptionaly well in everything and looked good while doing it, and I feel that Asus went above and beyond with this card.
Pros
+  Great performance
+  Awesome cooler
+  Great core overclocker
+  SLI & Tri-SLI certified
+  Price
Cons
–  Memory doesn't overclock at all
–  No bundled game
With a final score of 8.5 out of 10 the Asus 9800 GTX+ Dark Knight receices the Bjorn3D Seal of Approval.