Lian Li has been making aluminum computer cases for over twenty years, maybe even yours. And they may make your next one. Will the Lian Li PC-V2010 be your next full tower chassis?
INTRODUCTION
Lian Li introduced the full tower PC-V2010 PC chassis early in 2008. It's almost a mirror image of their PC-V2000, but at the same time it's not. It looks strikingly similar upon first glance, but upon closer inspection, you can easily see that it's a whole different beast. And I do mean beast. The Lain Li PC-V2010 is large by any standard. I mean, it's HUGE! And it's beautiful. 
Gone from the LIAN Li PC-V2010 are all the little holes that perforated the front, rear, and bottom of the PC-V2000. However, all seven of the 5.25″ front bezels on the PC-V2010 are vented and include air filters. The PC-V2010 also incorporates a 14cm intake fan, a 12cm exhaust fan, as well as a 12cm fan mounted on the graphics card holder to cool the memory and north bridge chip, all controlled by a three-speed fan controller that is new to this chassis. Lian Li has maintained its rounded edge design, still using a hair-lined brushed anodized aluminum finish with their all aluminum chassis. 
Another difference that can been seen upon closer inspection is that the multimedia I/O ports have been upgraded to include e-SATA and two additional USB ports. It's located on top now and includes a dust-free cover. There are two more dust-free covers on the top towards the rear. These cover the holes that support liquid cooling systems. But outside appearances aren't the only thing that sets this chassis apart from its previous incarnation. There are a multitude of internal improvements that have been made as well. Though it's still a tool-less design, when you remove the side panel with the tool-less latch, this time it's from the left hand side and not the right. The PC-V2010 has been redesigned so that the motherboard tray is rightside up and not upsidedown. Also, the motherboard tray is removable, and that's a very welcomed feature, indeed.
Let's look at the PC-V2010 now and learn a little bit about Lian Li before we move on.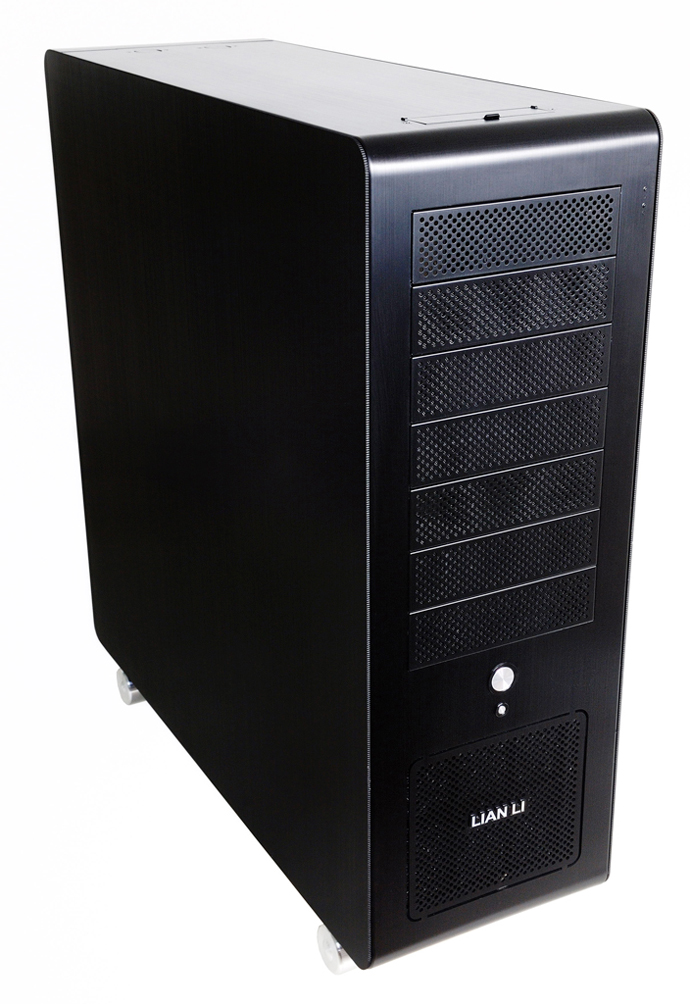 About Lian Li
Lian Li Industrial Co., LTD was founded in 1983. We are the one of the largest and most reputable manufacturers of aluminum PC cases in Taiwan. With over twenty years of experience in the computer products field, our dedicated team of engineers, production specialists, and adminstrative staff provide the finest quality accessories available on the market.
In 1993, Lian-Li introduced new lines of computer hardware, including brackets ( for cases& interfaces), Mobile racks (for H.D.D.), mounting kits (for FDD & HDD), aluminum PC cases, IPC, external cases, server cases and more. We also provide OEM & ODM services. You are assured of designs that will meet your exact specifications and innovative ideas in manufacturing that will give your products an essential market edge.
 
Our outstanding quality has earned us ISO 9001 certification for all of our products. In addition, we back up our quality assurance with a two-year guarantee on most of our products.
R&D is one of the reasons why Lian Li is able to offer quality products to the market.  Whether it is for OEM or ODM projects, our experienced mechanical and electrical engineers are capable of providing our customers with the best solutions in product design.
SPECIFICATIONS
Lian Li PC-V2010 Specifications
Model
 PC-V2010A/B 
Case Type
 Full Tower 
Dimensions 
 210 x 620 x 590mm (W, H, D) 8.3″ x 24.4″ x 23.2″ (W, H, D)
Front bezel Material
 Aluminum 
Color
 Silver / Black 
Side Panel
 Plain 
Body Material
 Aluminum 
5.25″ drive bay (External)
 7 
3.5″ drive bay (External)
 0 
3.5″ drive bay (Internal)
 8 
Expansion Slot
 8 (Support CrossFireX, Quad SLI) 
Motherboard
 E-ATX, ATX, M-ATX 
System Fan (Front)
 14cm x 1 (3-speed 800 ~980~1180 RPM)
 Factory setting to Mid Speed @980RPM 
System Fan (Rear)
 12cm x 2 (3-speed 1020~1240~1500 RPM )
 Factory setting to Mid Speed @1240RPM 
I/O Ports
 USB2.0 x 4, IEEE1394 x 1, E-SATA x 1, HD+AC97 Audio 
FEATURES
Lian Li PC-V2010 Key Features

Hand Crafted,
Made in Taiwan
Hair-line Brush & Anodized Finishing

 

Heat Zone Design (Separated into Two Heat Zones)
Huge Internal Space, Fits E-ATX and Graphics Cards upto 400mm (15.7″) Long
Graphics Cards Support Holder 
Huge Internal Space Holds Dual Power Supply Units upto 220mm (8.6″) Long
140mm Huge High Air-Flow Sient Fan
120mm Silent Fan for Memory and Northbridge Chipsets, Highly Adjustable!
120mm Huge Silent exhaust Fan 
Built-in Three Speed Fan Controller
Intake Fan With Washable Air Filter
PCI Brackets with Vent Holes, Vents for Optional Graphics Card Cooler
Optional Graphics Card cooler, 120mm (BS-03) or 140mm (BS-06)
Silde-out Power Supply Tray, Can Rotate 180 Degrees
Removable Motherboard Tray
Tool-less Side Panel Latch with Lock
Anti-Vibration Kit on Chassis
Anti-Vibration HDD Racks
Lian Li Patented Power Supply Holder

Multi-meida I/O Ports on Top of the Case
5.25″ Bezel with Vent and Filter
Supports Liquid Cooling Systems
Dust-Free Covers included
OVERVIEW
Lian Li PC-V2010 Overview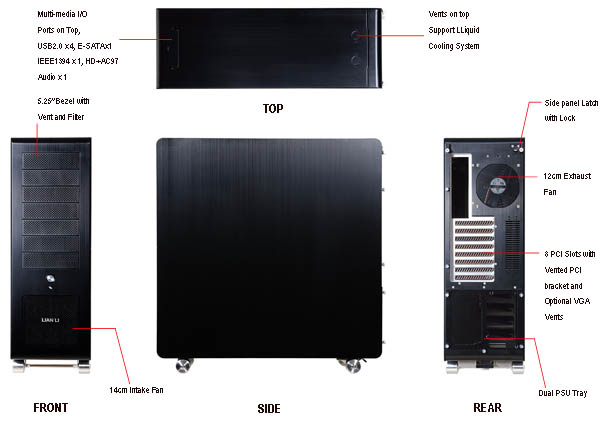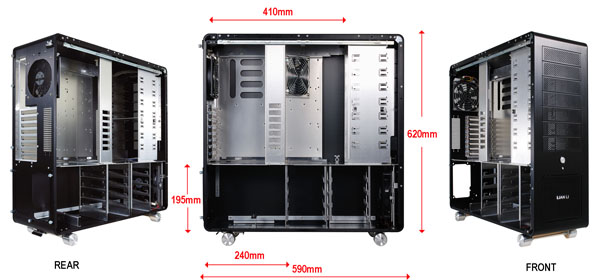 (Click to Enlarge)
PACKAGING
When the knock came at my door at eight-thirty in the morning I was a little surprised. I wasn't expecting any visitors and I was fairly certain that none of my bill collectors were smart enough to figure out where I lived. But when I opened the door I saw this teeny tiny little woman wearing a postal worker's uniform and a pith helmet. She was about five foot nothin' and every bit of ninty-five pounds. She said that she wanted to make sure that someone was home before she went and got this very large package from her truck. I wasn't expecting a very large package so I was surprise for the second time that morning. She brought it to me, carrying it about a half an inch off the ground. About half way towards me I realized what it was, a Lian Li PC-V2010 case for review. Wham! Third time's a charm. I was surprised once again. I hadn't been expecting this case because, even though I had requested a case from Lian Li for review, I hadn't heard back from anybody. But there it was. I'm not sure who was happier, me or her, but we both had a smile on our face.
 Click to Enlarge
The 2 liter bottle of Diet Coke is not a product placement. It's there for relative size camparison.
The case was sent directly to me, and I do mean direct, from Taiwan. If you look closely at the top left picture you can see the US Postal Service sticker on the box and the plastic banding. This was a box that was not in a box. What you can't see is the Express Mail Service sticker from the Postal Admnistration Republic of China that was on top. Nor can you see the MCO baggage/package sticker on the other side. This package came to Orlando International Airport via JFK. MCO is what the FAA calls Orlando International Airport because OIA used to be McCoy Air Force Base a lifetime ago. But that's neither here nor there. But what is here is the Lian Li PC-V2010.
FIRST LOOK
Though it is a really big case, the PC-V2010 is incredibly lightweight due to its all aluminum construction. Its hair-lined brushed anodized aluminum finish and its rounded edge design are truly a sight to behold. Lian Li says that some unique techniques can't be replaced by machines and that they still use handcrafting in certain steps of production, and I believe them. The fit and finish is remarkable.
 Click to Enlarge
 The Lian Li PC-V2010 is big. Then again, it's really big! It measures 210 x 620 x 590mm (W, H, D).
BUNDLED ACCESSORIES
Lian Li bundles a whole bunch of goodies and places them inside of a little cardboard box that they tie-wrap to the inside of the case. Being experts as they are, where I am not, they can fit them all in there, where I could not once I took them all out. But who cares anyway? I'm going to use them and show you a picture of them to boot.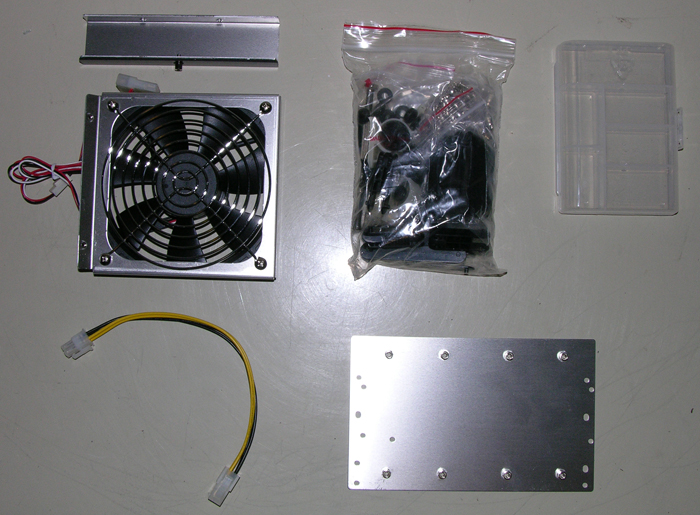 PSU adapter, northbridge chipset/memory fan, bag o' goodies, spare parts box, PSU to motherboard 12V P4 extention cable, Intel Xeon moutining plate, mounting plate for dual PSU's (not shown)
INSTALLATION
The Lian Li PC-V2010 is a large beast and I plan on taking advantage of that. It sports seven 5.25″ external bays and I have plans for every single one of them. Though the case does not provide a bay adapter for the use of a 3.5″ floppy, I'm old school and I still use a floppy drive for any motherboard BIOS updates that it might need so I'm going to get one of those adapters when time allows. That will take up one of the seven 5.25″ bays and my two DVD's will take up two more. The fourth goes to the 5.25″ SoundBlaster I/O device that I have so that will leave me with three bays open where I'll probably stick a Scythe Kama Bay 12cm fan. You can never be too cool.
My Intel Core 2 Duo E6700 has a stock speed of 2.66GHz but I overclock it to 3.2GHz and it runs pretty stable. The three video cards that I plan on using run fairly cool, considering that I fold with them 24/7. If you don't know what [email protected] is, you can read about it in our forums here. It's for a good cause and we at Bjorn3D.com would welcome your participation. Just remember that we are team #41608. And by the way, if you stop on in at our forum, why not go ahead and join? It's simple. It's easy. And it's free. We give away prizes (shameless plug).
Components for "Cerberus Mk. II"
Processor
Intel Core 2 Duo [email protected]
Motherboard
EVGA 780i Model No. 132-CK-NF78-A1
CPU Cooling
asetek Waterchill Xternal
Memory
2 GB (2 x 1 GB) G.Skill DDR2 800
Drive(s)
2 – Western Digital 120GB SATA
Optical Drive(s)
Plextor DVDR PX-708A
Teac DW-548D
Graphics
(3) XFX Geforce 9600G XXX Alpha Dog
Sound
Creative Labs Soundblaster Audigy 2 ZS Platinum
Display
Dell 24″ 2405FPW
Legacy
Floppy Drive
Adapter needed for 5 1/4″ Bay
Mouse
Logitech G-7
OS
Windows XP Pro 32-bit
 Click to Enlarge
An empty factory fresh Lian Li PC-V2010 on the left and w/PSU mounted on the right.
Once you remove the side panel with the tool-less latch, the PC-V2020 starts to reveal some of Lian Li's updated design work and innovations. There is a caveat to that though. Though this is a tool-less design, what I think that Lian Li must mean by that is that it it tool-less once you have used a screwdriver to loosen all the screws. I don't believe that there was a single thumb screw on this case that was not tightened first with super human Taiwanese strength. I hope it was the men that were handcrafting this aspect of the case, because it it were the women who were responsible for this, I am both frightened, and impressed. And perhaps a little bit intrigued.
The Lain Li PC-V1020 is separated into two heat zones. There is one zone on top for the motherboard, graphics card and optical drives (or other 5.25″ bay devices), and one zone on the bottom for the hard disk drives and power supply unit or units.I used a single power supply unit. The PSU mounts on the bottom of this chassis and it pretty much was a straight-forward affair. You take off the PSU mounting plate, attach it to the PSU, slide the PSU in, and secure it to the chassis. At this point the chassis gains some weight and the center of gravity lowers, giving the case better balance. The bare-boned case is slightly top heavy when it is completely empty.
As you can see in the pictures above, the cables from the multi-media port run along the top. They are held in place by a plastic cable management clamp that is stuck to the inside top chassis with tape. I should use these more often, but I more often collect them than use them. I definately should break myself of this habit. But old habits die hard.
Looking still at the pictures above on the top left side of the chassis, you can see a 4-pin Molex connector hanging down. It's not hanging down from the 12cm exhaust fan, it's actually hanging down from the three-speed fan controller. All three of the included fans use the smaller 3-pin connector and all three of these fans can be connected to the three-speed fan controller. Also, on the top right picture you can probably make out that all of the PCI brackets are vented to improve heat dissipation from the lower motherboard area.
 Click to Enlarge
Removable motherboard tray is show on the left and the mobo & PSU mounted shown on the right.
Once you remove the other side panel you can get to the back of the motherboard tray. While this is not particularly exciting with many chassis' designs, with the PC-V2010 it is. That's because the motherboard tray on the PC-V2010 is removable. There are two thumb screws on the back of the chassis and three regular phillips screws (Eek! Oh no! Non-tool-less no less!) on the top of the motherboard tray. Once these five screws are removed, the motherboard tray moves slightly forward, up, and out. Also note, that while not pictured, there are some cutouts behind the CPU area to accomodate airflow. Unfortunately, none of the cutouts are large enough to allow unfettered access the the rear of the motherboard's CPU area. Sadly, you cannot attach or remove any CPU cooler backplate without first removing the motherboard from the motherboard tray. Perhaps this is something that Lian Li will address in the future.
With the CPU and RAM in place, and with the motherboard securely mounted and the removable motherboard tray firmly attached, things are starting to take shape. There is a miazma still, left over from the twisted mass of power cables coming from the PSU. Fortunately, with the PC-V2010's dual PSU design, if only one PSU is used, there is plenty of hiding room on the other side. Take note of the graphics card holder. It's the post just off left of center on the top half of the case and has the seven horizontal cutouts. When the case is empty (or near empty), like in the photos above, it looks like there appears to be plenty of room to work in. But I assure you, that once you start filling up the PCI slot with cards, it becomes challenging, to say the least. 
 Click to Enlarge
Picture on the left is sans water cooling kit and on the right it shows the Asestek Waterchill Xternal.
In the top pictures, the first thing to note is the PSU placement. Though I had installed it on the other side of the chassis, the 12V P-8 motherboard power connector proved to be too short, and the PSU to motherboard connector that Lian Li provided proved to be 4-pin. Perhaps this is something else that Lian Li will improve upon in the future too. One thing that you can't see in the photos is the Lian Li patented power supply holder. Umm… that would be a screw with a nut encased in rubber. I can just imagine what some Einstein thought when that one came into the patent office.
Mouting the DVD's and the Soundblaster I/O device was a pretty straight-forward affair. The 5.25″ bay bezels remove easily enough and the 5.25″ devices mount in the bays in a typical fashion, using screws. Mounting the hard drives was a bit different. A thick rubber washer attaches to the hard disk drive mounting screw which then attaches to the HDD's. Then, the drives slide in from the backside and slip into a cradle. Lian Li shows in their instruction manual that you can add an extra screw for security,and it doesn't look easy as that would mean removing the HDD cage, but it can be done. I opted not to do that. Security be damned! I'm living on the edge.And speaking of edges, the Lian Li PC-V2010 is not as free from sharp edges as Lian Li would have you believe. It it very quite possible, even very quite likely, to endure some sort of cut injury from the hard disk drive cage. Caveat lector.
The video cards and the audio card are best mounted bottom to top. That means that they are best removed top to bottom. However, in a pinch, you can do it the hard way. But that's usually more trouble than it's worth. Of course, that's no trouble at all if you decide to remove the graphics card holder. I did just that on a previous install with a Lian Li based based design, my Koolance PC4-1036BK Watercooled Case.However, I'm starting to see the benefits in using the new and improved redesigned graphics card holder. For one, it holds the graphics cards. Well duh! But it also has a place to mount the 12cm fan that can be used to cool the northbridge chipset and the memory. Wow! Why didn't I think of that? Well, I don't have to now. Lian Li has thought of that for me. The big redesign is none other more that a couple of slots added to the graphic card holder, but yeah, those two slots mean something. Thay may not mean much to the guy at the patent office, but they mean something to me, and that something is lower temperatures on one of the hottest spots on my motherboard, the northbridge chipset. Thanks Lian Li. Another benefit of using the graphic card holder is that it helps with cable management. Now to be honest, I am a Messy Marvin. I just don't have the inate abilty nor the inclination to be a neatnik. But by using the graphics card holder for cable support and routing, I'm starting feel as though I may not be too far gone to be saved.
So now I've saved the best for last or maybe I only think it's the best because it's last. Things are looking pretty good, cable management ain't half bad, and there should be plenty of airflow inside the case. The final picture shows the Asetek Waterchill Xternal mounted on top of the Lian Li PC-V2010 chassis. That yucky brown tubing isn't as yucky in real life as it is in the picture, but the picture has inspired me (or shamed me) to take action. When I order the Scythe Kama Bay 12cm fan and the 5.25″ bay adapter for the 3.5″ floppy drive, I'm going to get some new tubing and some pretty blue liquid to go with it. Retail therapy is good for the soul. I wonder if I can patent that?
CONCLUSION
The Lian Li PC-V2010 is not your every day run-of-the-mill chassis. It is a superb chassis, designed and manufactured with thought and care, and built with quality that you can see, and touch, and feel. And with that comes a price. And that price ain't cheap. But then again, neither are the high-end components that would fill up this case cheap. This is not a chassis for the masses. It is far too expensive for that. However, the Lian Li PC-V2010 is a chassis for those looking for the best chasis to house the very best that they own.
To say that I was impressed with the Lian Li PC-V2010 would be an understatement. As a fellow reviewer told me recently, "Every enthusiast should own at least one Lian Li." I can attest that his statement was not misguided. The Lian Li PC-V2010 chassis is an impressive work of craftsmanship. There may be others like it, but there may be none better. Still, having said that, it is not perfect. But with a few minor tweaks it could be. I can only hope that the Lian Li design team is up to the challenge. Lian Li has set the bar extremely high with the PC-V2010.
Pros
+  It's Big! It's Really Big! Fits E-ATX Motherboards and Long Graphics Cards Upto 400mm in Length
+  Stylish Lightweight All ALuminum Tool-less Design
+  Quality You Can See, Feel, and Touch
+  Redesigned Multi-media I/O Ports Now Includes e-SATA Support
+  12cm Fan For Northbridge Chipset and Memory Cooling
+  Removable Motherboard Tray
+  Dual PSU Support
Cons
– Contrary to Lian Li's Claims, There are Sharp Edges Inside Chassis
– Included PSU to Motherboard 12v P4 Extension Cable Should be P8 Connector
– Though Aluminum Motherboard Tray is Removable & Lightweight, It Can Easily Bend
– Removable Motherboard Tray Doesn't Have Cutout Large Enough to Access CPU Cooler Mounting Brackets
The Lian Li PC-V2010, with its stylish design, is an impressive work of craftsmanship. For its outstanding quality and numerous features, it recieves a 9 (extremely good) out of ten and the Golden Bear Award.