Today we have the Eagle Tech WiiPAL. This is a peripheral designed for the Wii, and hopes to bring you back to the old arcade days. It certainly looks like a shotgun light gun that you could find in any arcade, but does it feel the same?
INTRODUCTION
Anyone old enough to remember the old arcades of the 80's would tell you the main thing that they would love to see in a console is the ability to play like they did in the arcade. There is no feeling like holding that plastic gun in your hand and crazily pulling the trigger for dear life. There are not nearly as many arcades as there once were, but what if you could have that same arcade feel in the comfort of your own home, with your own games? That is what Eagle Tech hopes to help you with. Today they have given us the chance to review their WiiPAL Infrared Shotgun attachment for the Nintendo Wii. The product certainly looks like a shotgun that was attached to arcade games of years past, but does it have that same feel? Read on to find out the answer to that pressing question.
EAGLE TECH
Eagle Tech is a trusted supplier to many Original Equipment Manufacturers. Our extensive experience in manufacturing high quality PC components that meet and exceed customer application requirements has enabled us to grow beyond manufacturing. We are not just a manufacturer, but a high quality technology solutions provider dedicated to the modern computer users market – both mainstream and enthusiast.
We know how important your data is and we strive to provide our customers with reliable power supplies and thermally efficient chassis like external HDD enclosures. We constantly monitor consumer needs to ensure our product lines are always up-to-date with the latest innovations. If there is an easier and safer way to store and access your important data, we will work hard to make it happen for you – at affordable prices, rugged constructions and stylish designs.
Most importantly, everything we do is based on a culture of customer care and trust that makes it an enjoyable and hassle-free experience. We guarantee it!
PACKAGING & INSTALLATION
Packaging
Front and Back of Box
The packaging looks pretty standard for just about every other product we review here. It includes the name of the product on the front, and some basic information about it on the back. They even include screen shots of different games that they recommend you use it on.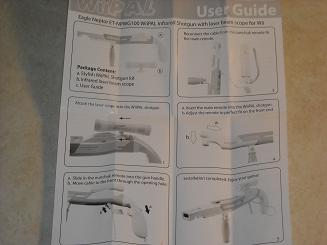 Directions
The only other thing in the box besides the actual product was this instruction manual. After looking it over, and trying to install it following the directions, I quickly threw them away. If you follow these instructions there is no possible way you could put this together. They say that you can plug the Nunchuck in when the Wii controller is inserted. This simply isnt possible.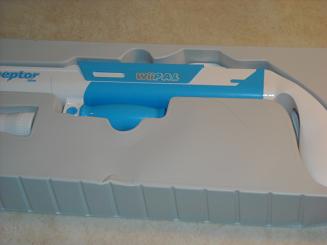 Inside of Box
The packaging was alright for what the product is. The plastic felt extra cheap, but its not like the WiiPAL itself is in any danger of breaking.
Installation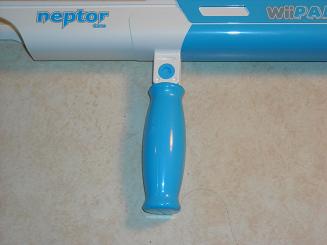 WiiPAL Handle
A nice feature of this shotgun is the included handle. You can either have it down, or flip it up. It has a very comfortable grip, and is easy to flip down out of the way.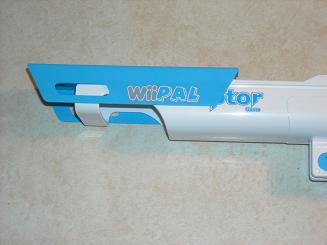 WiiPAL Holder
The front clip helps hold the controller in the WiiPAL, though it seems out of place. When you clip it into place it barely covers any part of the remote.
Side of Laser Site
The laser site is merely a glorified laser pointer. It took me some time to figure out how to install the batteries, but with a hard pull to one end, I was able to open the battery compartment.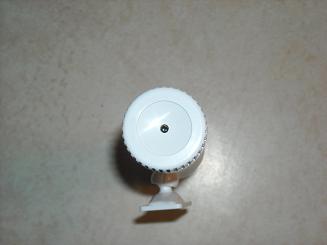 Top of Laser Site
Eagle Tech could have done a better job of hiding the fact that this was a simple laser pointer by just putting a sticker around the laser site, that would have made it a little nicer looking.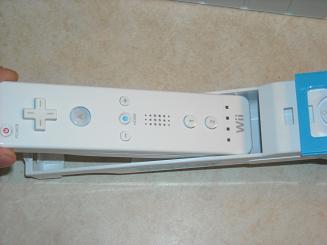 Inserting Wii Controler
Inserting the Wii controller was very easy. I did not have to press hard at all, and I could tell it was secure.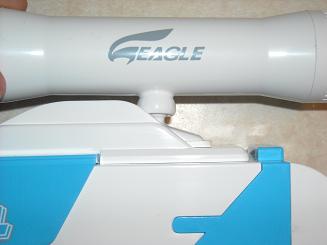 Laser Site Mounting
The laser site was also very easy to mount. All I had to do was line up the slots, and pull it until it locked into place.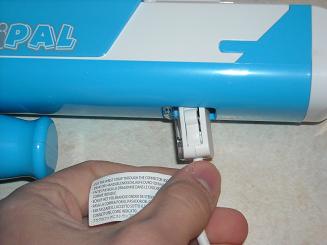 Inserting Nunchuck Cord
To be able to use the Nunchuck attachment, you have to push the plug in end through a hole and route it to the Wii controller. This was the hardest part of the whole installation, and it was fairly easy, so there should be no stressing out because you can't install it correctly.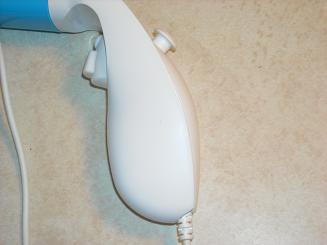 Nunchuck Installation
To put in the Nunchuck, all you have to do is snap it in. It doesn't take much effort, so don't over do it, or you may end up snapping something that shouldn't be snapped.
TESTING & RESULTS
Testing
I used the product on a couple of games that I had. The games are as follows: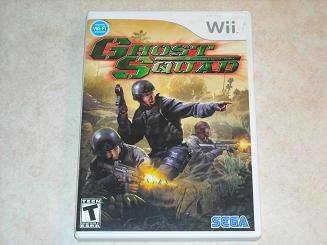 Ghost Squad
Ghost Squad, made by Sega, is a FPS that is styled very much like an arcade game, the kind of game perfectly fitted to this attachment.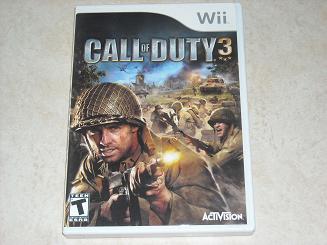 Call of Duty 3, made by Activision, is a FPS set on the battlefield of WWII. You are a soldier who fights through many battles with just you and your squad.
Results
After much game playing I was able to come away with enough usage to draw a conclusion of the product. Though its not quite the same as the arcade, it certainly is comparable. The pull away grip is absolutely necessary in Ghost Squad. When you have to use the Action button it is much more accessible when it is down, but I like to hold the handle while I shoot. I was able to flip it down when I needed to use the Action button with ease.
The opposite is true in Call of Duty 3. There are a lot of buttons you have to use on the Wiimote. These are very hard to reach, and it was a pain. Call of Duty 3 is definitely a game that I don't recommend this device for.
This device certainly isn't made for games that take heavy use of the buttons on the Wiimote. This would be a very bad thing for a product that's primary game genre is FPS.
CONCLUSION
The Eagle Tech Neptor ET-NPWG100 WiiPAL Infrared Shotgun with laser beam is a good product for certain FPS games. As stated earlier, it is a huge pain to use if the game requires you to use buttons on the Wiimote. The problem is that most FPS titles for the Wii require you to use the buttons on the Wiimote. This is were the market for this product becomes fast shrinking. While there are games like Ghost Squad that work with this perfectly, there are a half dozen other games behind it that don't work well with it.
The laser pointer on the gun takes awhile to get used to, but after you do it's nice to have. I became more accurate using it, and it also improved my reflexes some. If you are truly looking for that genuine arcade feel, look no further. This product easily fills that void, but it could have done it better.
Pros:
+  Arcade Feel
+  Looks Nice
+  Grip Handle
+  Laser Site


Cons:
–  Feels a Bit Cheap
–  Not the Greatest Design
–  Games Limited


The Eagle Tech Neptor ET-NPWG100 WiiPAL Infrared Shotgun with laser beam is a pretty good product for anyone looking for that old school arcade feel, but it's not practical for using in a majority of FPS games, so it's hard to recommend.
With a final score of 7 out of 10 the Eagle Tech Neptor ET-NPWG100 WiiPAL is a very cable product for anyone with a Wii, and an arcade addiction.